The beginning of the year 2020 has been full of novelties for Oris, which is why it chose to unveil a series of diving watches that are as beautiful as they are functional. But the merits of some of these models lie beyond just their outstanding performances. In fact, they are helping establish partnerships in favour of water protection around the world: a cause that the independent Swiss company holds dear. Here is a presentation of four references that will not fail to seduce diving enthusiasts who both love the deep blue and have a green soul.
Chloé REDLER with Nicolas YVON
Diving has been a favourite theme at Oris since the 1960s. It is a field in which the independent Swiss company is recognized among professional circles for the robustness and functionality that come in its instruments.
The year 2020 marks the arrival in the collection of new models equipped with the full arsenal of technical attributes of modern watches dedicated to deep-sea diving: unidirectional rotating bezel, screw-down crown and back, high water-resistance, luminescent hands, indexes and markers. Robust, reliable, functional and ultra-readable: some of them in particular underline Oris' commitment to environmental protection along with its action to safeguard the world's seas. As mentioned in a previous article, published on our website in June 2019 (read HERE), the watch brand presented its 'Oceans' project with the idea of raising awareness of the problems of sea pollution—supporting clean-ups and preserving the oceans both—through partnerships with pioneering and innovative associations.
Oris Lake Baikal Limited Edition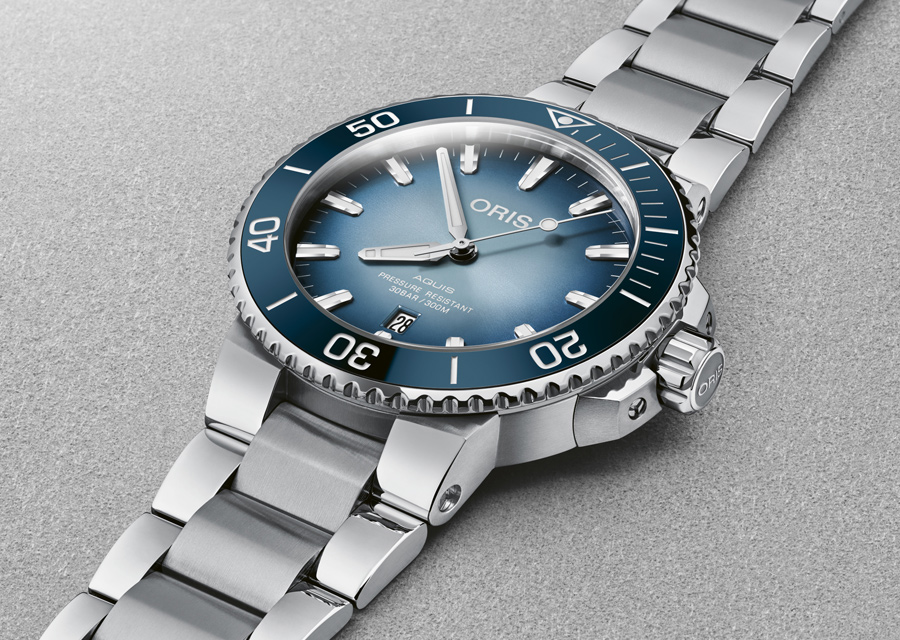 Oris Lake Baikal Limited Edition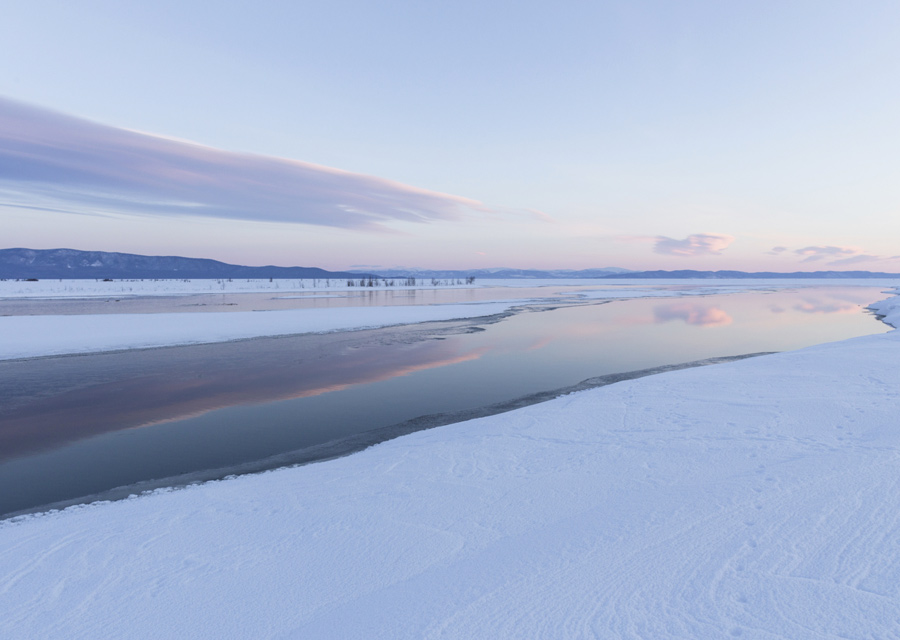 Lake Baikal is the largest freshwater reserve in the world.
In order to fulfil its oath, this year Oris presents to us the Lake Baikal Limited Edition watch in collaboration with the Lake Baikal Foundation, an organization that works to conserve the world's largest freshwater reserve: Lake Baikal in Siberia. This special edition is limited to 1,999 pieces, a number that was not chosen lightly since it refers directly to the year in which the Baikal law protecting the lake was adopted by Russia. With the sale of these timepieces, the watch company intends to participate financially in the 'Point No 1' project that is being orchestrated by the Scientific Research Institute of Biology of the Irkutsk State University. This large-scale plan is the most precise environmental water monitoring program, and its duration of activity is the longest ever recorded in scientific history. The 43.5 mm-diameter steel box is decorated on the caseback with a very original design inspired by the lake's ice. This automatic version takes the design of the emblematic Oris Aquis up a notch, all the while preserving the instrument's diving technical features: water resistance up to 300 metres, screw-down crown and back, and large luminescent hour markers and hands.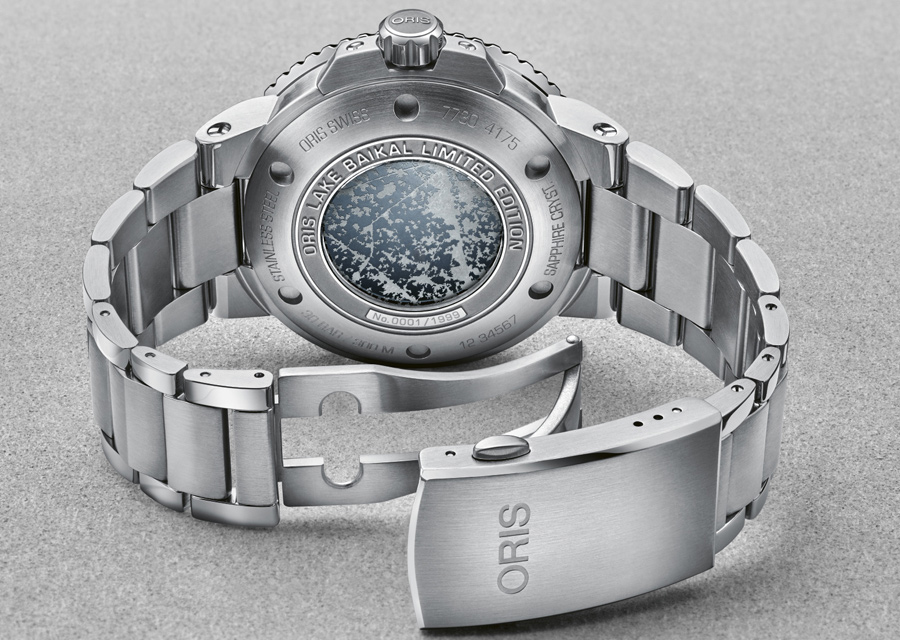 Oris Lake Baikal Limited Edition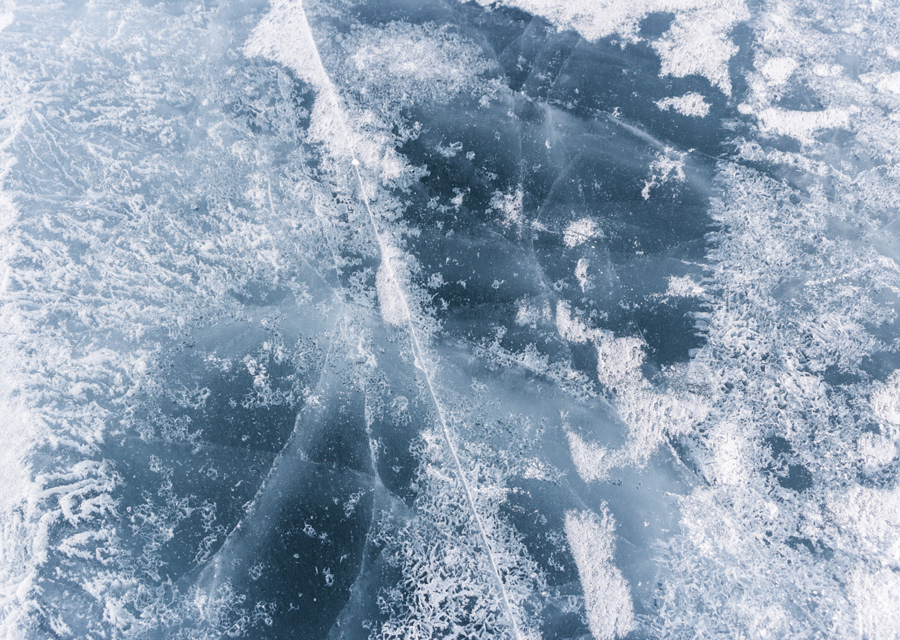 The frozen surface of Lake Baikal
Carysfort Reef Limited Edition
Oris also illustrates its charitable nature with the Carysfort Reef Limited Edition watch—a 43.5 mm-diameter limited edition of 50 pieces. This model endorses a partnership with the Coral Restoration Foundation, a world-renowned organization that is committed to coral restoration. This is not the first time that the watch manufacturer has pledged itself to the preservation of these marine ecosystems. Prior to this launch, it had already been supporting for several years the action of the Reef Restoration Foundation, which is working to safeguard the Great Barrier Reef in Australia (see the Great Barrier Reef Limited Edition III watch).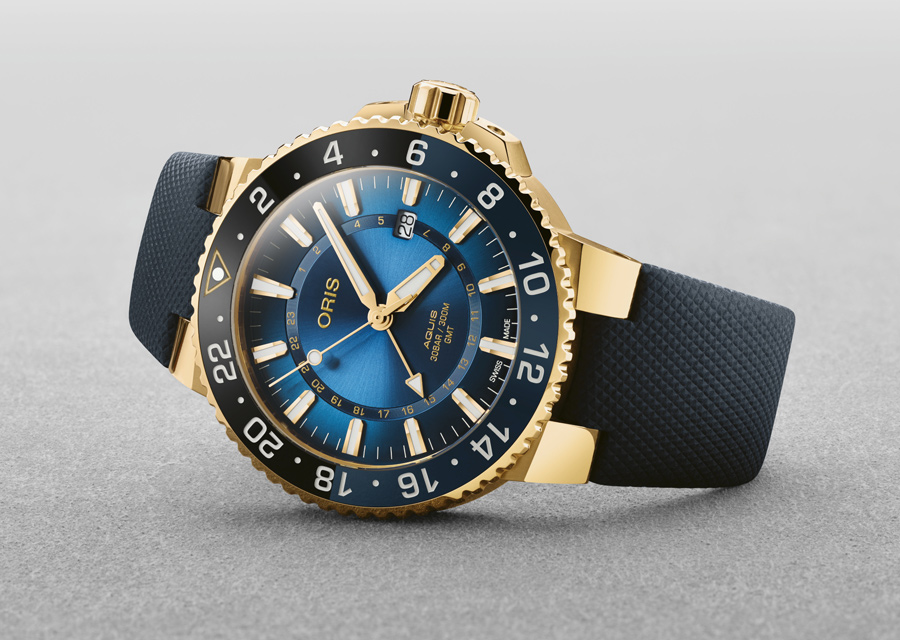 Oris Carysford Reef Limited Edition
In 2020, the release of the Carysfort Reef Limited Edition showcases a great victory for the foundation, which will have succeeded in a few months to reach its goal of planting 30,000 coral units on the Carysfort Reef in Florida (which explains the specifically decorated caseback). A long-term restoration project that will hopefully restore the natural balance of this environment, which is home to a rich and varied ecosystem. And Oris is playing its part in it by preparing to raise funds to support the Foundation by putting to auction three pieces out of fifty that will be produced (the ones bearing the numbers 02/50, 03/50 and 04/50).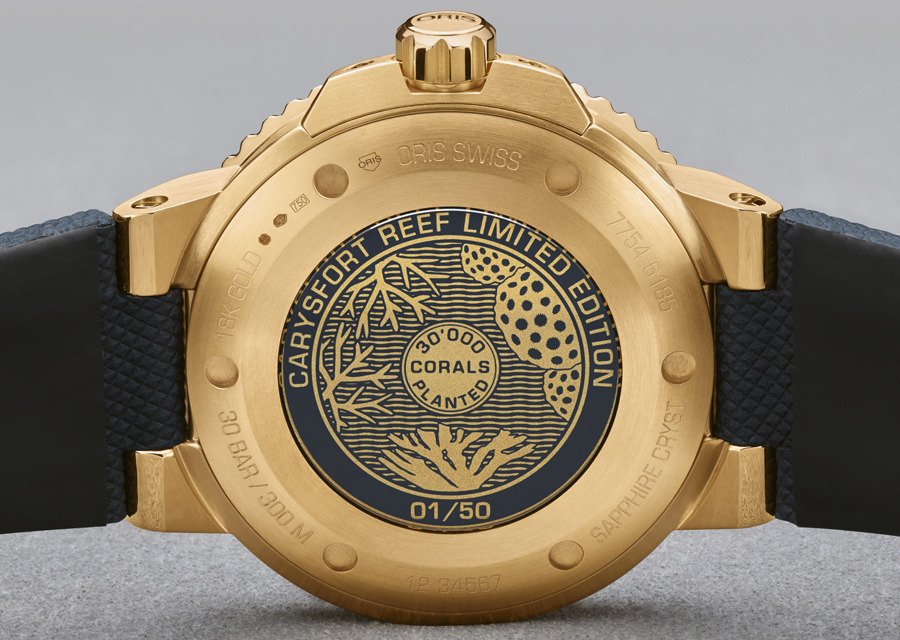 Oris Carysford Reef Limited Edition
The Oris Carysfort Reef Limited Edition is the first Aquis timepiece to be crafted in solid yellow gold. It is a crossover between a diver's watch and a model with a GMT function which would normally be dedicated to globetrotters. It features an additional small central hand with a triangular point that moves over 24 hours, which indicates a second time zone on the fine scale at the centre of the dial. This same hand will even indicate a third time zone on the 24-hour graduation of the rotating bezel whose two-tone black and blue insert (which serves as a day/night indicator) is machined in ceramic. It is water-resistant up to 300 metres, and this technical instrument's display of robustness serves to protect a beautiful satin-finished sunburst-like rayed dial with a subtle blue gradation, whose seconds hand adopts a 'lollipop' shape. It is served on a blue leather strap encapsulated with rubber, and delivered in a special wooden case.
Aquis Date
In addition to these partnerships and limited editions, Oris has also created two new versions of the iconic Aquis model in order to expand its collection. One is 39.5 mm in diameter—which is a first in the Aquis line—and the other's is 41.5 mm-wide. The watches also differ in the colour of their sunburst dials: a new turquoise blue for the smaller one and a midnight blue for the larger one.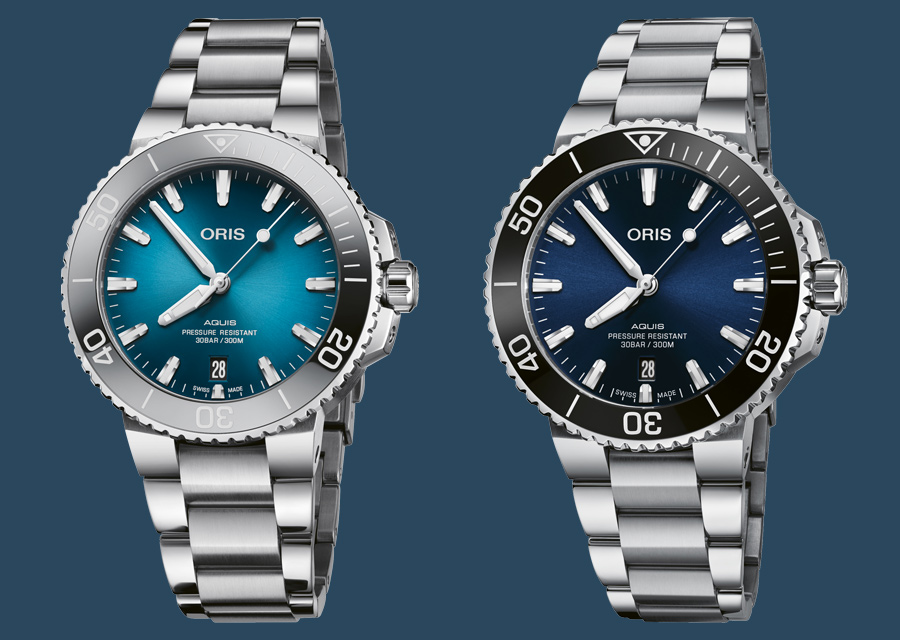 The new Oris Aquis Date in 39.5 mm and 41.5 mm
Although they are designed for immersion in deep water, they both share the same features and performance: water resistance up to 300 metres, a unidirectional rotating bezel with a 60-minute graduation scale for measuring immersion times, a screw-down crown and back, and last but not least, Superluminova-covered hands and hour markers. Each complete their look with a steel bracelet that features an extension buckle, the 41.5 mm version also being available on a rubber strap. This particular model also comes with a folding clasp—a smart safety device that prevents the watch from falling off the wrist in the event of an accidental opening. One final detail which brand aficionados will be able to check through the transparent caseback: both Aquis are powered by an automatic red rotor calibre, a distinctive element of Oris watches.
Oris Carysfort Reef Limited Edition - 2,150 euros
Oris Lake Baikal Limited Edition - 17,200 euros
Oris Aquis Date - 39.5 mm - 1,950 euros
Oris Aquis Date - 41.5 mm - 1,950 euros
For more information: https://www.oris.ch/en/collection/oris-aquis