With its brand new RM11-05 model, Richard Mille is introducing grey Cermet to the watchmaking world. As hard as a diamond, yet as light as titanium, this exclusive material makes up for a bulletproof bezel on the manufacture's emblematic chronograph.
Nicolas YVON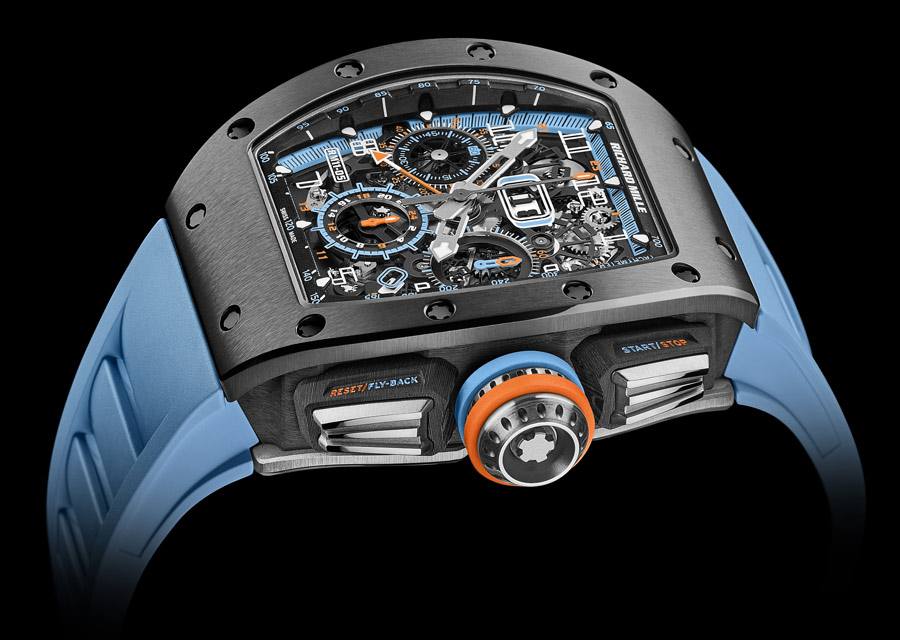 The New RM11-05 Is a Limited Edition of 140 Pieces
Richard Mille's irredeemable perpetual quest for new high-tech materials is what allowed the watchmaking Maison to create incredibly innovative—and one could even say futuristic!—timekeepers. Allow us to demonstrate with the latest version of the RM11 chronograph. It is a barrel-shaped instrument that rose to fame thanks to being worn by Brazilian Felipe Massa, who tested it in real-life Grand Prix conditions. The limited-edition RM11-05 comes equipped with an automatic skeletonized movement, and the exclusive 140 pieces will also feature a machined grey Cermet bezel. While the watchmaking use of this material has only ever been found in Richard Mille, this high-tech element has already been acclaimed in other cutting-edge fields for its characteristics. As a matter of fact, grey Cermet has a density that is lower than that of titanium, yet its hardness is of 2,360 Vickers, which is almost as hard as diamonds' (2,400 Vickers). This explains why it is already used in ballistic protection, but also in the aerospace sector for vehicle fuselage, as well as in competitive racing car's brake systems.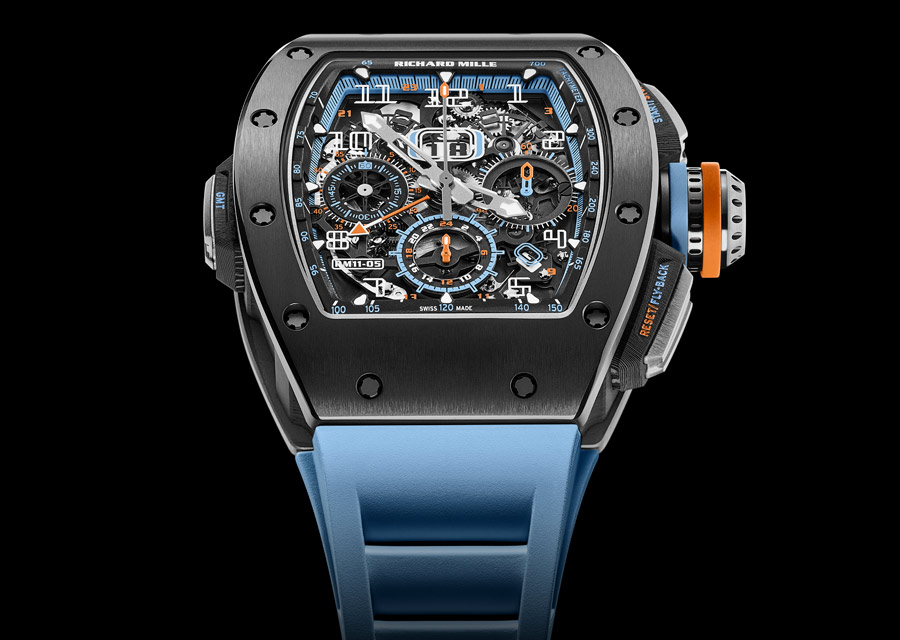 The bezel of this Richard Mille chronograph is in grey Cermet, a composite as hard as diamond and as light as titanium.
The fruit of many years of R&D work in collaboration with the IMI Group, which specializes in microtechnology, Cermet—'cer' for ceramic and 'met' for metallic—owes its grey colour to the presence of a metallic zirconium matrix associated with high-performance ceramic. The production process of this composite is a real challenge because it involves heating and forming such different materials together at high temperature without altering their respective properties. All the more so because, in order to be fully REACH compliant (Registration, Evaluation and Authorization of Chemicals, the regulation for the safe manufacture and use of chemical substances in European industry), Richard Mille and the IMI Group have decided not to use nickel or cobalt—metals that are usually used as binders in this type of high-tech recipe. The solution came with the development of an innovative process, a technique known as 'flash sintering,' which combines high-voltage electrical pulses with traditional hot-stamping. This shock treatment makes it possible to increase the speed of the chemical reaction during the sintering phase, which is a crucial stage in which the powder particles clump together under the effect of the heat before being pressed into the mould to create a block of unalterable material that is particularly light and scratch-resistant.
Richard Mille has also added to this grey Cermet bezel other ultra-modern materials known for their lightness and robustness by choosing TPT® Carbon for the case middle, and grade 5 titanium for the case back—a combination that 'contributes to lowering total weight [of the RM11-05]', according to Richard Mille. This is information that will obviously be of interest to the enthusiastic customer. Balance results speak for themselves since this chronograph weighs only 71.5 g (without the bracelet).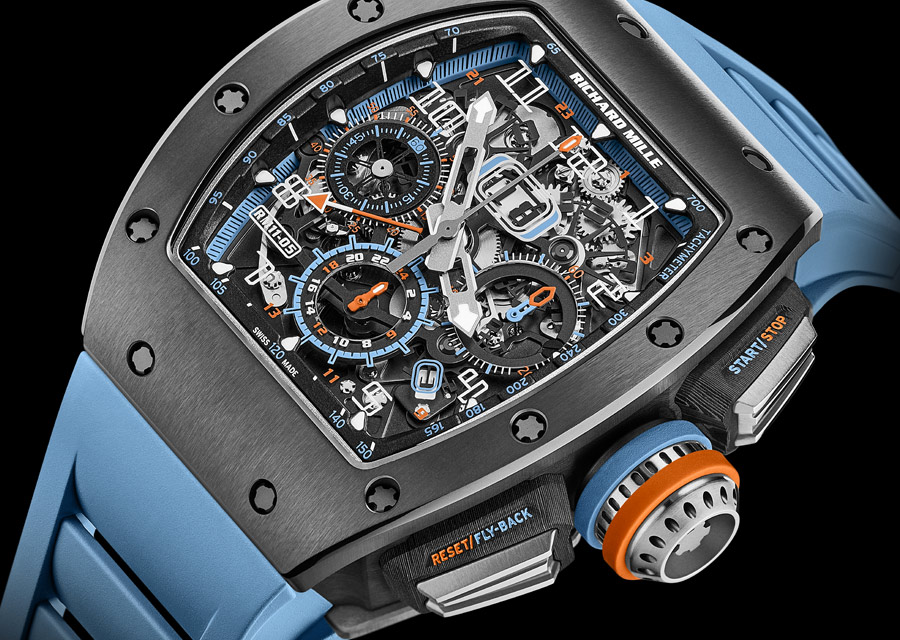 To reach a featherweight, the RMAC3 calibre combines the skeletonization of its components with a plate and bridges in grade 5 titanium.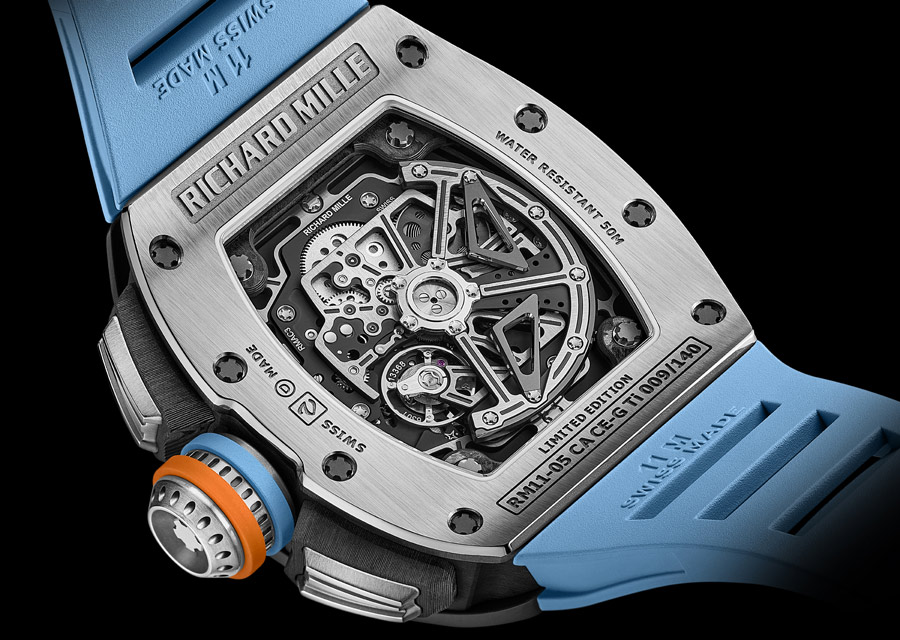 The automatic movement—visible from the case glass—has a variable geometry oscillating movement.
On the inside, the RMAC3 calibre with a variable geometry rotor visible on the back also contributes to the great lightness of the whole. Not only does its atypical construction shine the spotlight on the skeletonization—with parts hollowed out to the maximum—but also incorporates a plate and bridges made of grade 5 titanium. This allows the automatic movement to combine mechanical subtleties and complications while keeping a featherweight of 22.13 g precisely: chronograph with flyback function, chronometer and countdown minute counters (at 9 o'clock), hours counter (at 6 o'clock), small seconds (at 3 o'clock), second time zone over 24 hours (orange central GMT hand), oversized date and current month regulated by an annual calendar device (only one adjustment per year is needed when going from February to March).
Lightweight and high-performance, this RM11-05 once again confirms Richard Mille in his favourite role: a watchmaker of real 'racing machines.'
RM11-05 Automatic Flyback Chronograph GMT
Price on request