Culture
10 fashion exhibitions to discover
Cartier, Jaeger-LeCoultre, Vogue Paris, Cinémode… the list of exhibitions in Paris goes on. Showcasing fashion icons, they are a must-see before the end of the year. So book your tickets!

By Chloé Redler
Cartier et les Arts de l'Islam. Aux sources de la modernité.
After wandering for an hour and thirty minutes through a scenery and a circuit well-designed, you will certainly leave the exhibition feeling absolutely amazed. Indeed, as a perfect illustration of how Islamic art has influenced the manufacture of jewels and objects by Cartier, the exhibition immerses the visitor into the rich period of creation of the Maison from the 20th century to present day.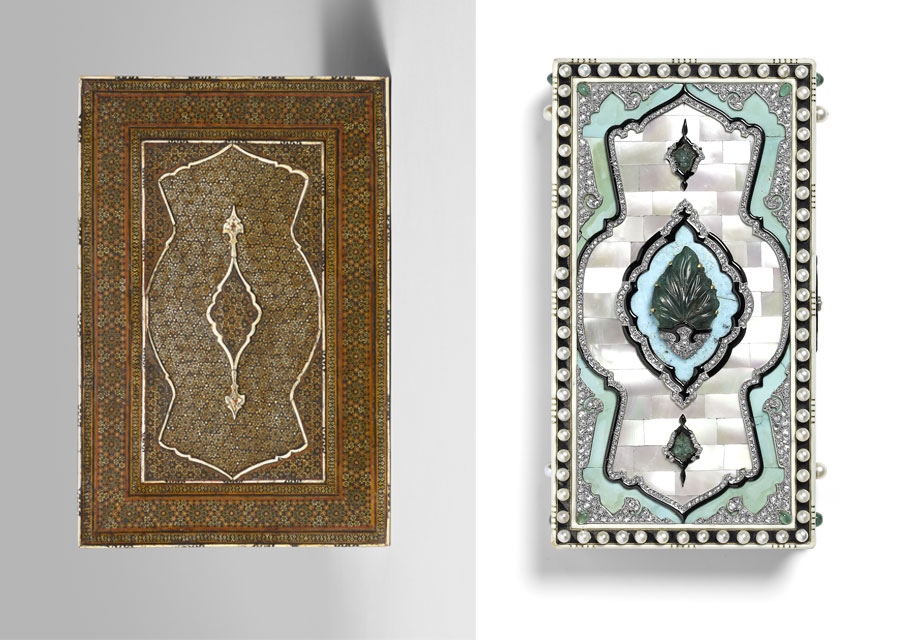 Cartier is a family of collectors and they are particularly fond of oriental motifs. Which are featured on many drawings, books, photographs and archive documents. The influence is the result of Jacques Cartier's many trips to the princely peninsula in India to meet with princes and maharajas. There, he developed his clientele. Then, took back to France, old and contemporary pieces that inspired him and which he recreated. This aesthetical enterprise was then perpetuated by his grandson Louis Cartier and Jeanne Toussaint in the 1930s. With the reinterpretation of forms and manufacture techniques. Egrets, pompons, colours, materials, necklaces, Tutti-Frutti, big jewels, bags and also accessories called "apprêts" have flooded the creations of the Parisian luxury brand.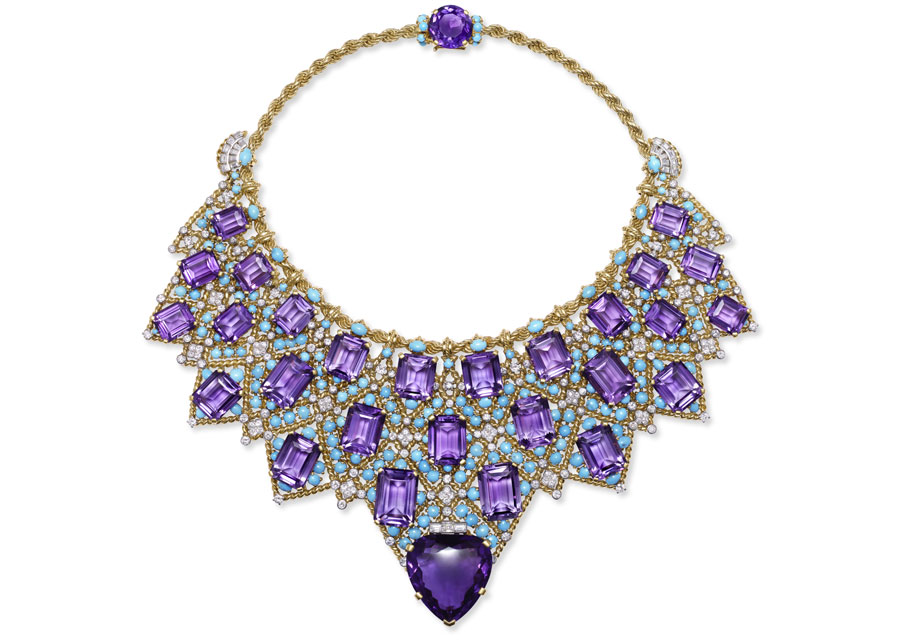 You will certainly fall in love with the central nave with these two digital installations. Created by the teams of Elisabeth Diller from Studio DS+R in order to create a monumental dimension for the jewels. Grandiose!
From October 21, 2021, through February 20, 2022 – Musée des Arts Décoratifs – 107, rue de Rivoli, Paris 1er – www.madparis.fr
Jaeger-LeCoultre – The Reverso stories
Created for the 90 years of Reverso, this exhibition traces the evolution of the emblematic watch of Jaeger-LeCoultre manufacture. It explores its creation and technique during its history. Some highlights include this stunning installation by Michael Murphy. Spacetime send us to the 4th dimension with an anamorphic work. The artist has also separated each element of this icon to tell its story and explain how it works. You have to face it and then move around to see all of its inner workings. Fascinating…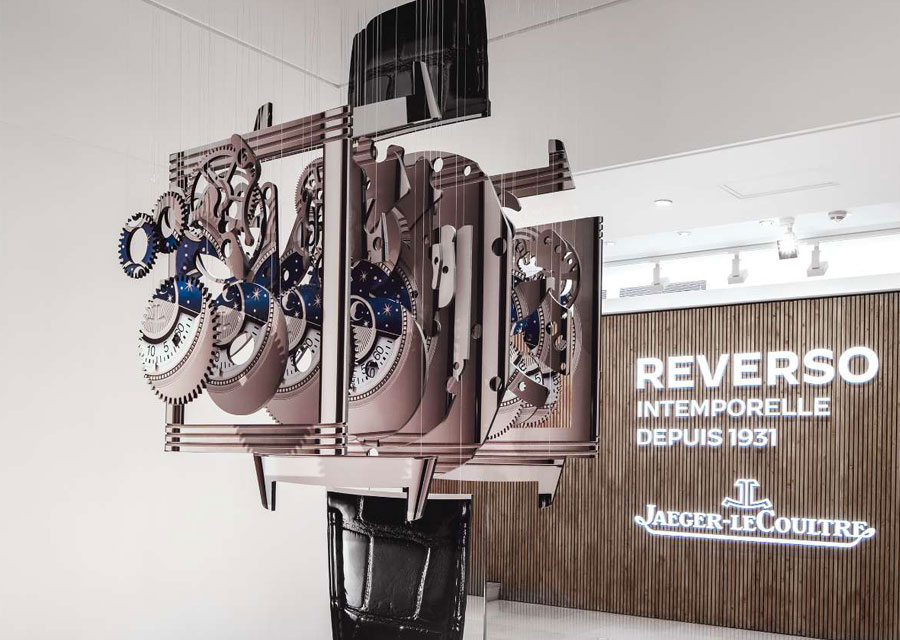 Originally created to protect the dial and crystal of the watch (see our article on the Reverso Tribute Nonantième: a great birthday gift), the reverse side express all of its creativity under many shapes: coat of arms, personalised patterns, messages or initials. Make way for the Métiers d'Art!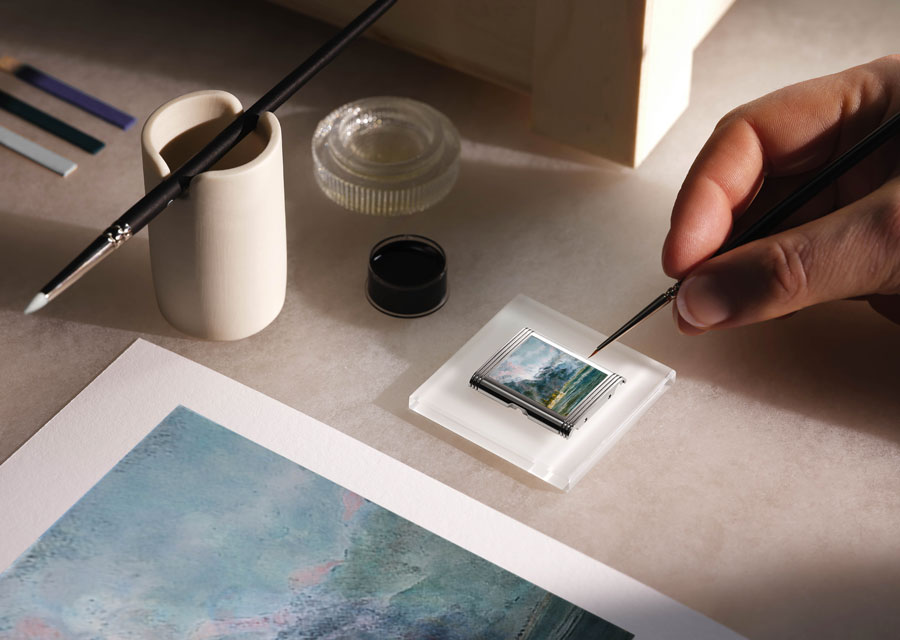 The space dedicated to Reverso Tribute Enamel Trésors Cachés also needs a special mention. Indeed, these three exceptional editions are just like the three paintings of Coubert, Van Gogh and Klimt. Which were lost then found and authenticated. The remarkable trio illustrates the savoir-faire of the ateliers of Jaeger-leCoultre. That is the Grand Feu enamel technique, the miniature enamel painting and the guilloché dial. You be the judge!
Cherry on the cake with the 1931 café located on the last floor. The Art Déco decoration and patisseries of French chef Nina Métayer brings the exhibition to its climax.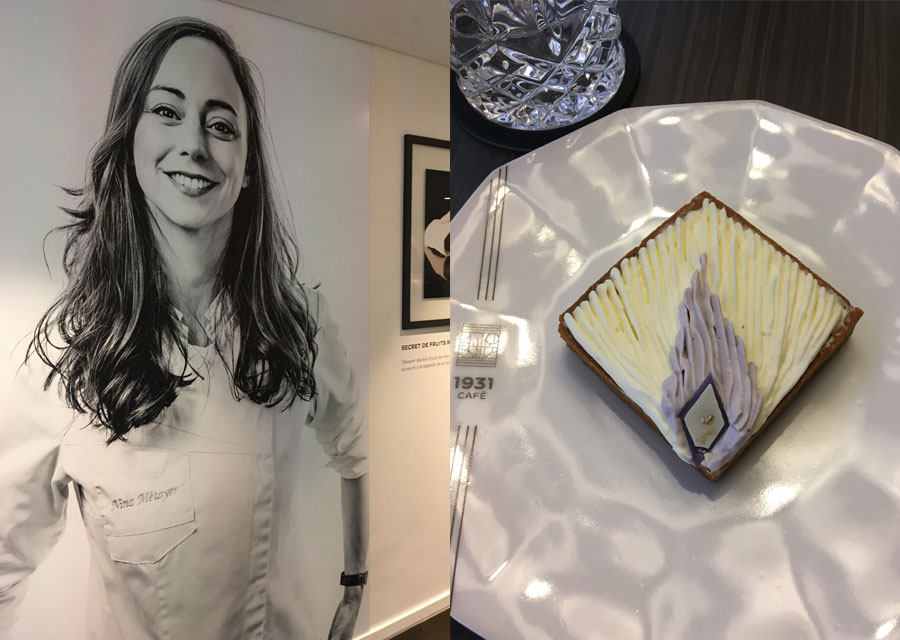 We strongly recommend the Silence de Myrtille dessert, with its shortbread pastry, almond cream, pan-fried blueberries, and whipped cream flavoured with lemon zest. Finish the exhibition with this sweet moment where time seems to have stopped.
From October 21st 2001 to December 24th 2021 – 15 rue du Faubourg Saint-Honoré, Paris 8th – www.jaeger-lecoultre.com
Cinémode by Jean-Paul Gaultier
Movies stars make their way into Jean Paul Gaultier's world. The stylist, who is a movie buff at heart, has indeed always been fascinated by the elegant dresses worn by Marilyn Monroe, Audrey Hepburn and Catherine Deneuve, by Rocky Balboa's shorts, by Superman's justaucorps, or by the falbalas in Jacques Becker's movie. Just like his fashion shows, based off a scenario, a sound orchestration, and a complex scenography, this exhibition is a mix of genres, both atypical and eccentric. With ultra-feminized femmes fatales of Hollywood, French starlets, cow-boys, superheroes, androgynous heroines, powerful women who claim their superficiality, etc.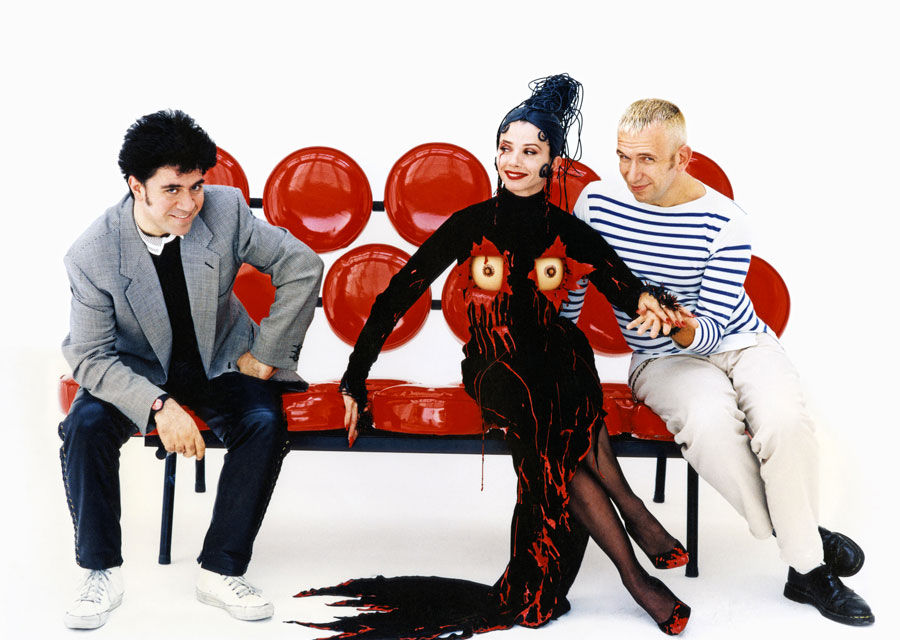 Heterogeneous and queer characters revealing different types of bodies are the kind of people that the "man who wears the marinière" (which he has reinterpreted, by the way) loves to choose for his shows. For him, highlighting differences is an art, his seventh maybe…
From October 6th to January 16th – Cinémathèque 51 rue de Bercy Paris 12th – www.cinematheque.fr
Thierry Mugler, Couturissime
For Thierry Mugler, "Couturissime" could also rhyme with "Futurissime" for its creations look like something coming out of a sci-fi movie. "Fanstastic" is certainly the word that comes to mind after seeing this exhibition. Whether we like it or not, the incredible and eccentric 150 outfits and accessories presented embody the audacity of the Maison. At the beginning of his career, the stylist was part of the "young creators" movement of that time (Claude Montana, Kenzo Takada, Jean Paul Gaultier). And his sculptural approach on the human body is his signature move.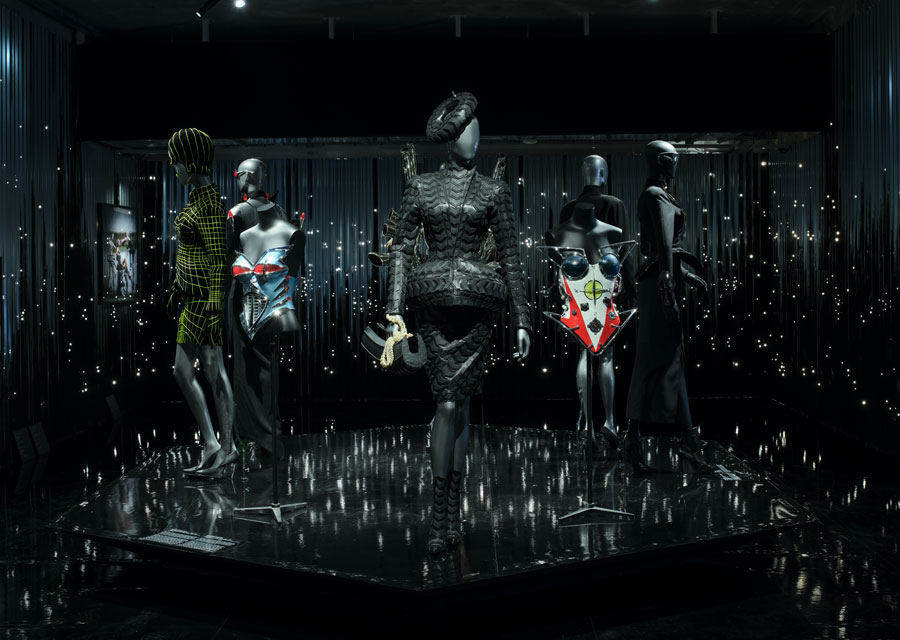 More than a simple presentation of clothes, they are instead compared to true extravagant shows. It is no surprise to find Mylène Farmer, Lady Gaga, Kim Kardashian or Cindy Lauper among his clients; they trust him and also share his eccentric ideas. When fashion rhymes with extravagance, it's Thierry Mugler. 
From September 30th 2021 to April 24th 2022 – Musée des Arts Décoratifs – 107, rue de Rivoli, Paris 1st – www.madparis.fr
Sneakers at the museum!
They have found their place in the museum, at last! This fan of sneakers is overly excited to announce you this exhibition that is no short in originality at the Musée de l'Homme. Original but not surprising considering the big success of sneakers these past few years. Qualified as a true phenomenon of society, they have become an object of mass consummation. Nowadays, it has become the ultimate fashion accessory and we regularly see them on the Haute-Couture runways. Made with rubber, the sneaker is above all a symbol of freedom and emancipation of the hip-hop movement born in the USA.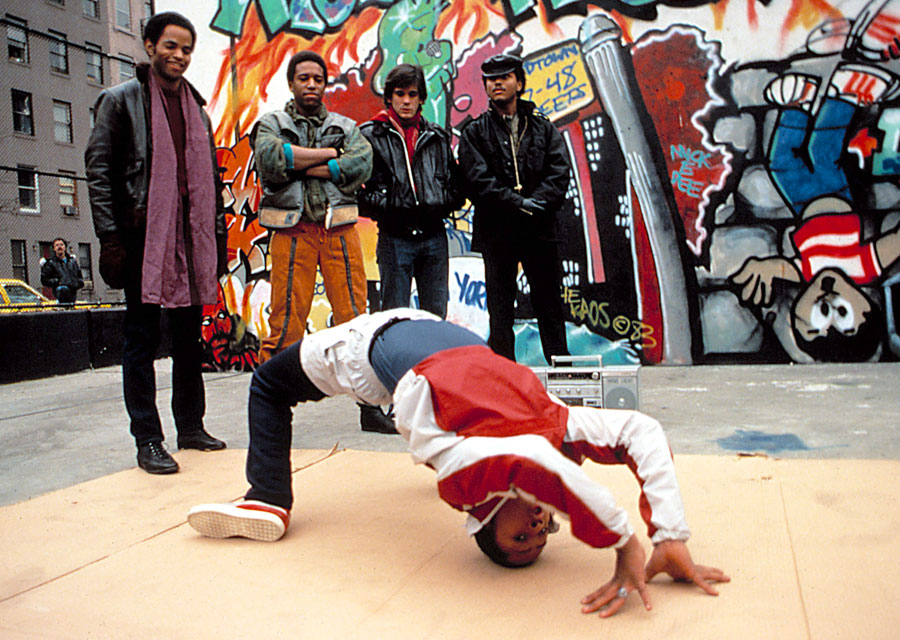 Beyond the borders, the sneaker has become more than popular which has led to an innovation race between all brands. Thanks to this, more than 70 pairs are exhibited, and some of them are true icons. It might be a good moment to start a collection…
From October 13th 2021 to July 25th 2022 – Musée de l'Homme – 17, place du Trocadéro, Paris 16th – www.museedelhomme.fr
Vogue Paris 1920-2020
The most in vogue Parisian exhibition (no pun intended) Vogue Paris 1920-2020 celebrates the 100th anniversary of the eponymous and emblematic magazine founded by Condé Nast. The oldest of French fashion magazines, still published nowadays, Vogue Paris shows us its iconic photographs, drawings and unpublished archives at the Palais Galliera. Through a chronological circuit of remarkable iconography, we discover just how much the magazine played an important role to turn Paris into the international capital of fashion.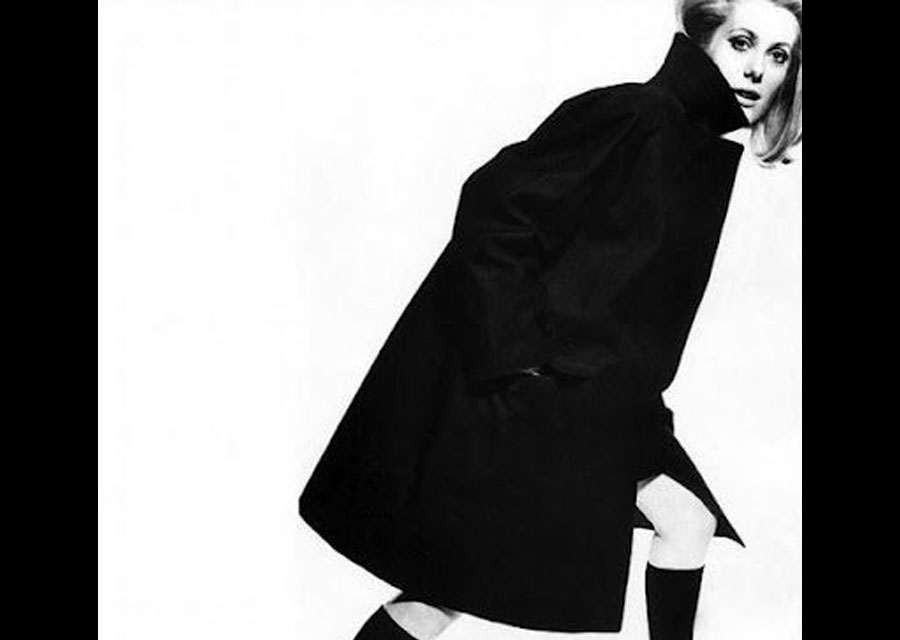 Vogue Paris is also, and furthermore, marked by its famous editors: Michel de Brunhoff, Emmanuel Alt, Edmonde Charles-Roux, Francine Crescent or Carine Roitfeld. It has also served as an artistic springboard for many renowned illustrators and photographs (Bourdin, Klein, Lindbergh, Testino, etc). But it is also a high place for exchanges and collaborations with stylists. Just like Karl Lagerfeld and Yves Saint Laurent, whose muses Catherine Deneuve and Kate Moss are still the embodiment of the Vogue woman. 
From October 2nd 2021 to January 30th 2022 – 10, avenue Pierre 1er de Serbie, Paris 16th – www.palaisgalliera.paris.fr
On stage! Costume designs from the Edmond de Rothschild Collection
Another period, another atmosphere, but also a very fascinating one. This exhibition reunites a hundred of drawing of costumes for balls, ballets and theatre during Louis XIV reign. A remarkable collection offered by the Baron Edmond de Rothschild (1845-1934) to the Louvre museum. The extraordinary thing about these drawings is that they constitute an extraordinary resource for the history of costumes, dance, music and also fashion in France at that time.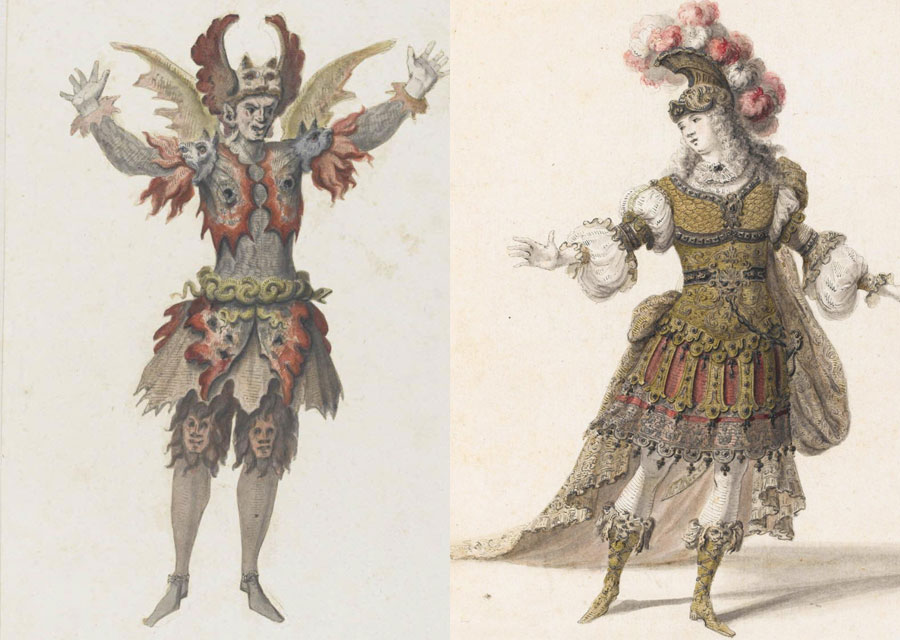 Even if the costumes have completely disappeared, we still have them on paper. A great way to discover the main types of spectacles at that time: balls, ballets, mascarades, horse divertissement and operas, for example. In short, a true wonder for passionate drawers. 
From October 28th 2021 to January 31st 2022 – Rue de Rivoli, Paris 1st – www.louvre.fr
Jean
At the Cité des Sciences et de l'Industrie, you will see this wardrobe timeless essential in many ways. In order to attract a diverse and young public, this fun exhibition (with games, films, manipulations, multimedia and videos) invites the visitor to discover what makes jeans a mythical garment.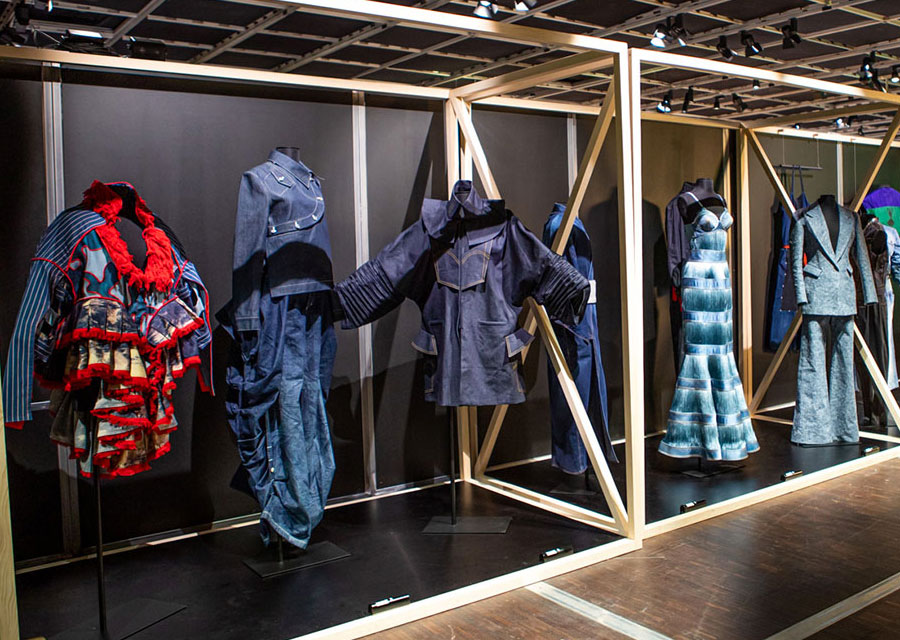 An immersive experience well designed, on the origins and the history of these pants. Featuring some collection pieces from the late 19th century to 1945. We also discover the different stages of its manufacture, and the extraordinary "fabricshelf" where multiple models of the denim are exhibited.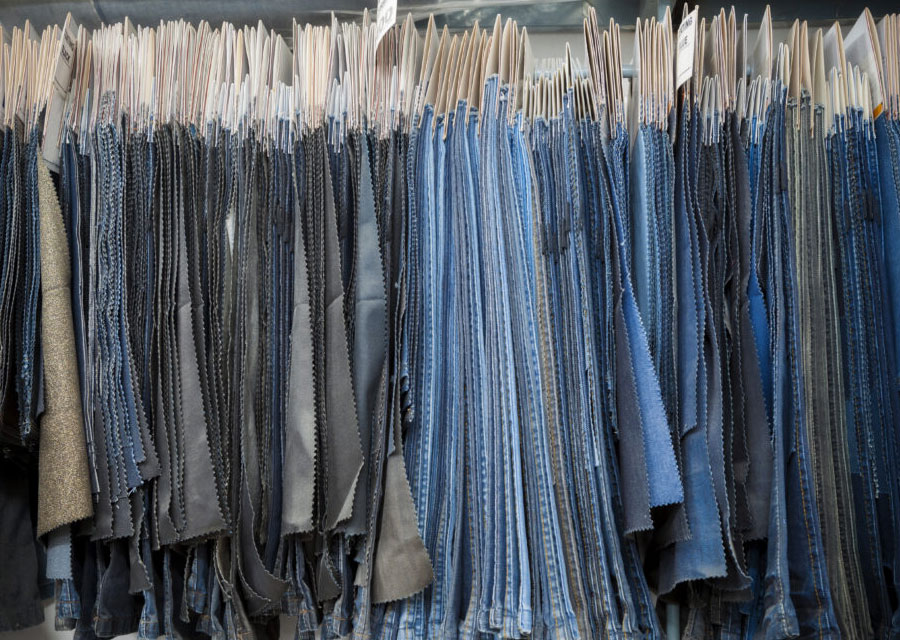 A movie also alerts about the alarming production process: overconsumption of water and pesticides in the cotton culture, working conditions, "fast fashion", etc. A wake-up call that offers an alterative for a new type of jeans, more eco-responsible. The new challenge for today's fashion sphere.
From December 8th 2020 to May 8th 2022 – Cité des Sciences et de l'Industrie – www.cite-sciences.fr
Printemps Department Store: Secrets & Backstage
It is impossible to talk about fashion without mentioning one of its sanctuaries, entirely dedicated to it. With its Haussmannian façade classified as a historical monument, the famous Parisian store is the perfect illustration of the technical and aesthetical evolutions that have transformed the capital during the 19th century. These changes also happened in the way upper class uses fashion. Just like in Émile Zola's book Au Bonheur des dames, fashion is within reach in its smallest details.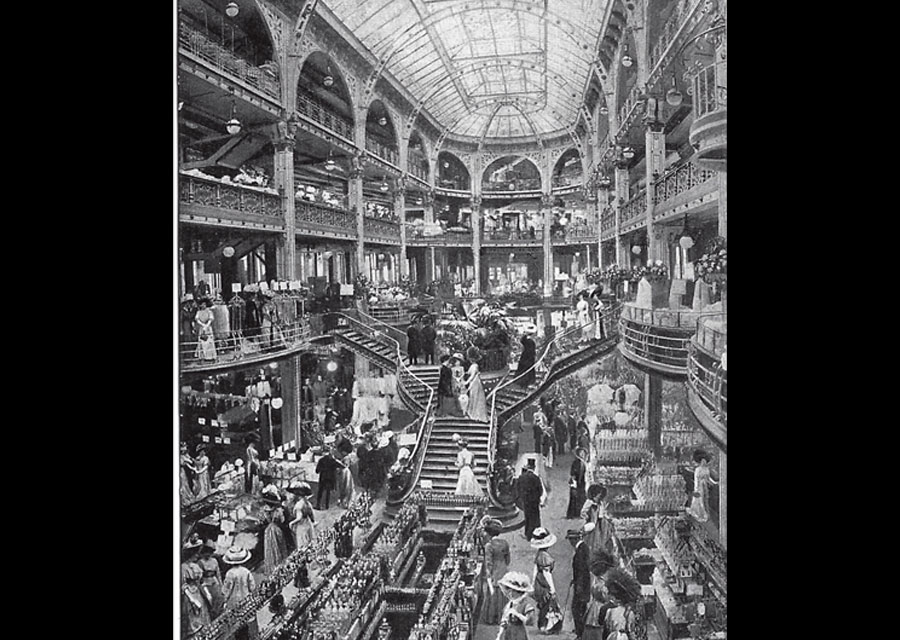 Some weeks ago, we have been invited by Cultival (an organism that provides guided tours of places we thought were inaccessible) to discover the backstage of this mythical store. From the basement to the dome Binet, and the ateliers Pont d'Argent, we were charmed by this visit arranged by our guide. After climbing worn out stairs and walking through narrow corridors, our group finally arrived in the "double skin" (inside) of the dome with its breath-taking view. Just being able to be there and discover the behind the scenes was already an immense privilege, literally.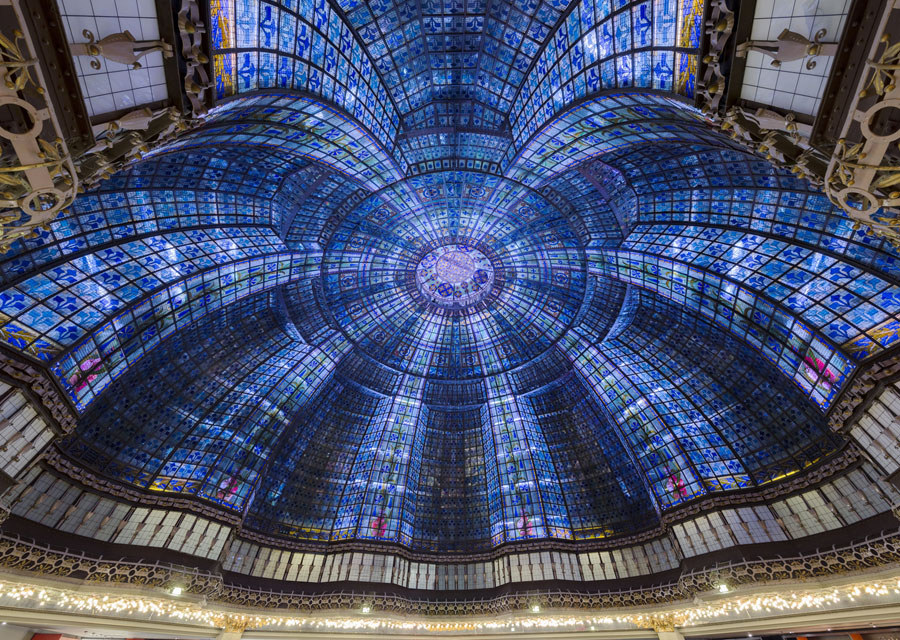 The designer Charles Kaisin embellished the second dome, known as "Binet", restored after being closed for many years. Lastly, the cherry on the cake is the terrace, with a magnificent view of Paris.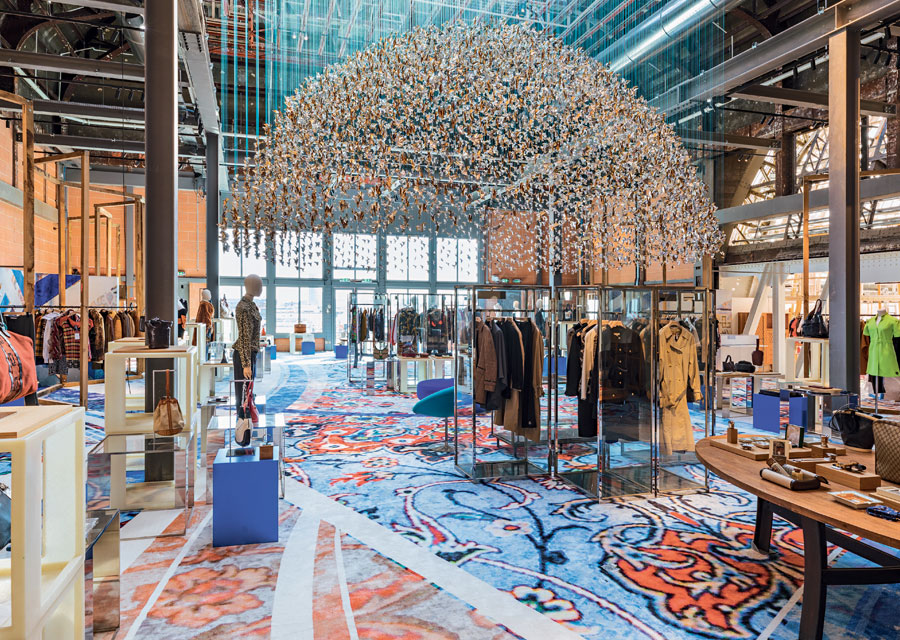 Year-round – 64 boulevard Haussman, Paris 9th – www.cultival.fr
Christian Louboutin, the exhibitionist
A brief word about this "exhibition" because we already mentioned it in our dossier The "Pigalle": Louboutin's iconic shoes. Upon entering the imaginary world of the stylist ad shoemaker, the visitor is immersed in his crazy and humorous aspirations. Multiple stilettos, a feminine icon, are presented, bearing the emblematic red sole. Some of which have never been exhibited before. A beautiful retrospective that will make you go red…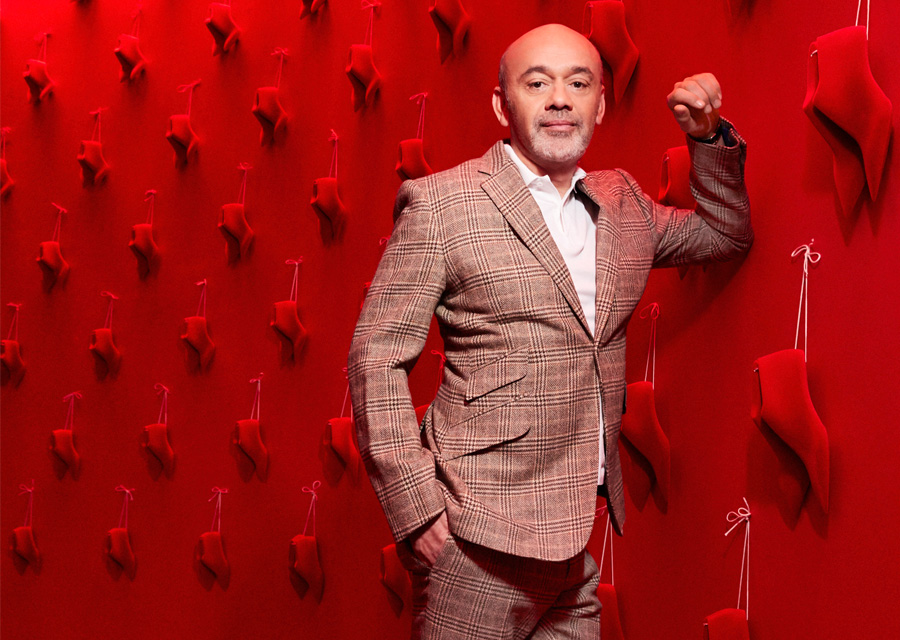 Until January 3rd 2021– Palais de la Porte Dorée – www.palais-portedoree.fr