Chanel's new arrivals
Chanel's new jewellery watch, an ode to Mademoiselle
No two press meetings are the same, and neither are the jewellery pieces they introduce. But some are more eye-catching than others. It's easy to create something people will talk about, harder to make them fall in love at first sight. This is the feat Chanel has achieved with the new oversized watches from the Mademoiselle Privé Pique-Aiguilles collection. So stunning you could hear a pin drop...

By Chloé Redler
Mademoiselle Privé Pique-Aiguilles: a tribute to the Métiers d'Art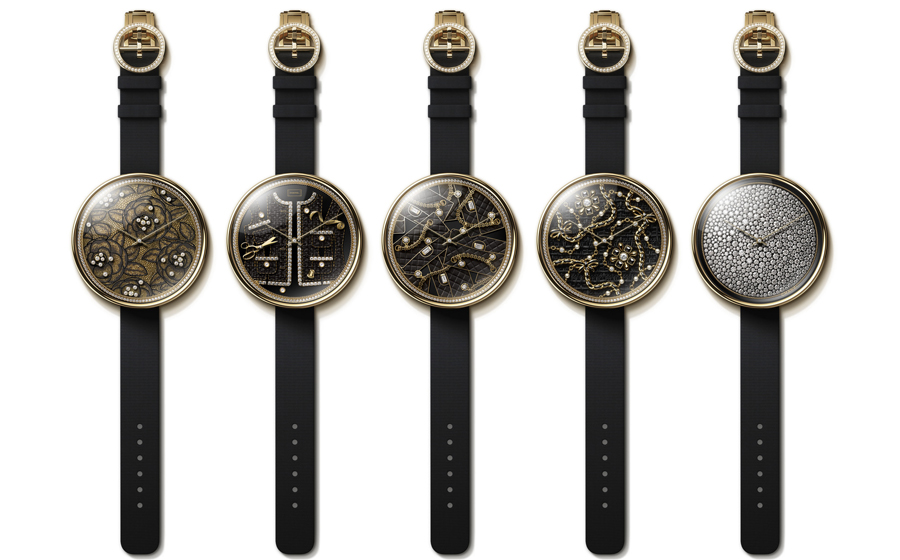 Mademoiselle Privé Pique-Aiguilles is a love letter to Gabrielle Chanel. This new collection is comprised of five watches, each limited to only twenty pieces. Chanel never comes short of surprises, and this extremely oversized watch is the latest trick up the maison's sleeve. It's only fair that these exquisitely delicate dials should be given a large diameter: 55mm. The many hands of the maison's ateliers have done remarkable work. The result is incredibly detailed – and thoroughly couture. Each piece invites you to delve deeper into the universe of the mythical creator: tweed jackets, legendary bags, iconic chain-link jewellery, precious diamonds and exquisite floral lace.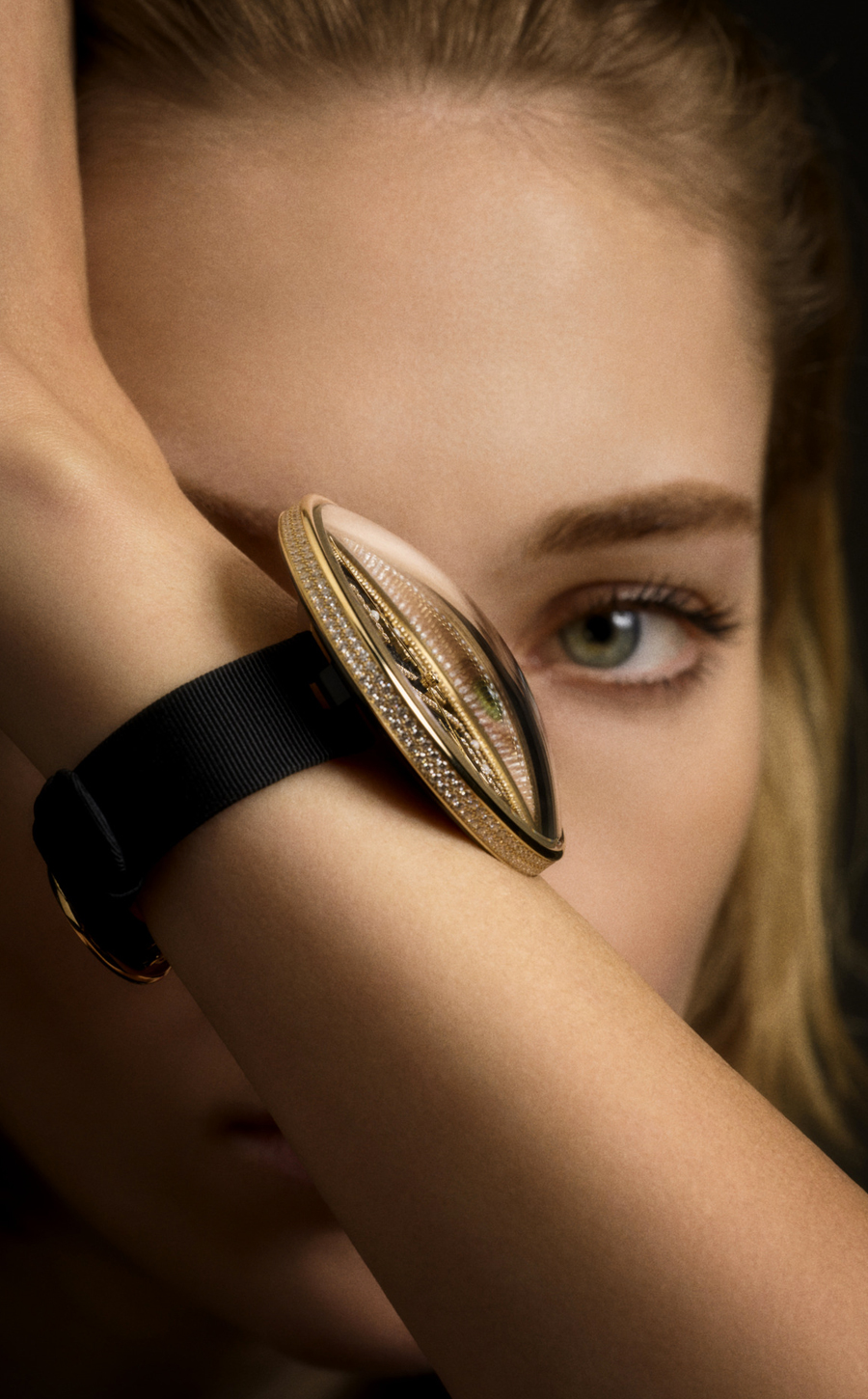 The soul of a seamstress
To create the couture-inspired collection, Arnaud Chastaingt, director of the Watchmaking Creation Studio at Chanel, borrowed a dressmaking essential: the pincushion (pique-aiguilles in French). Seamstresses keep the pins used in their craft on massive fabric domes strapped to their wrists . This trusty tool is now given the prestige and distinction it deserves. The domed case of the watch is a nod to the pincushion's shape – a bold reinterpretation, but it works. With a glamorous black fabric bracelet, the watch perfectly hugs the wrist.
Mademoiselle Privé Pique-Aiguilles: to each her own history
The Chanel spirit is unequivocally present in the nostalgic melody of this quintet of watches. They are all unique, and yet linked by a common thread . Choosing just one seems impossible, and it just makes you want to collect them all… One can dream.
The Pearls Motif…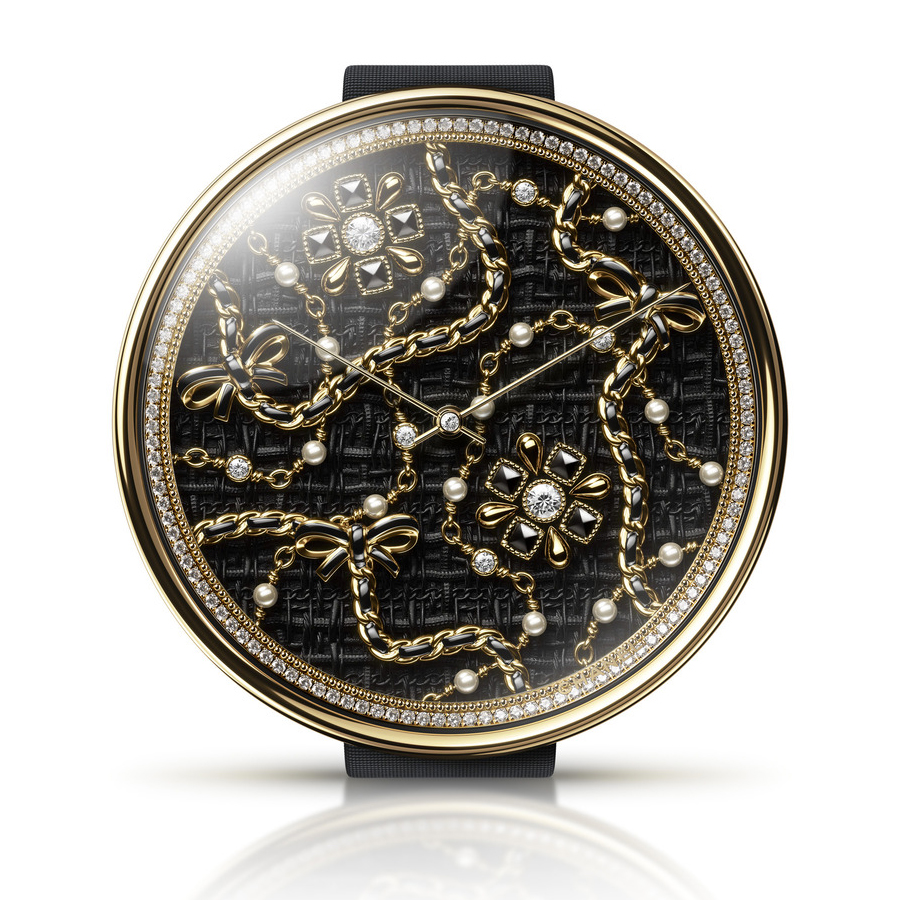 Housed in a yellow gold case set with 211 diamonds, the dial of this watch boasts a tweed design strewn with finely sculpted yellow gold jewels. Keen eyes will spot one black-lacquered long necklace, another set with pearls and five diamonds, and two Byzantine brooches in onyx and diamonds, scattered over the dial in controlled chaos.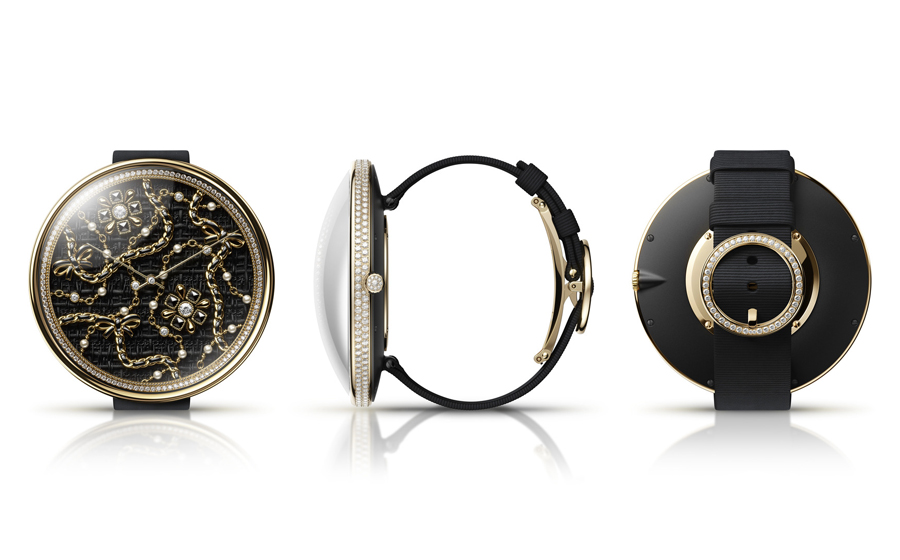 Price: €210,000
… Lace Motif…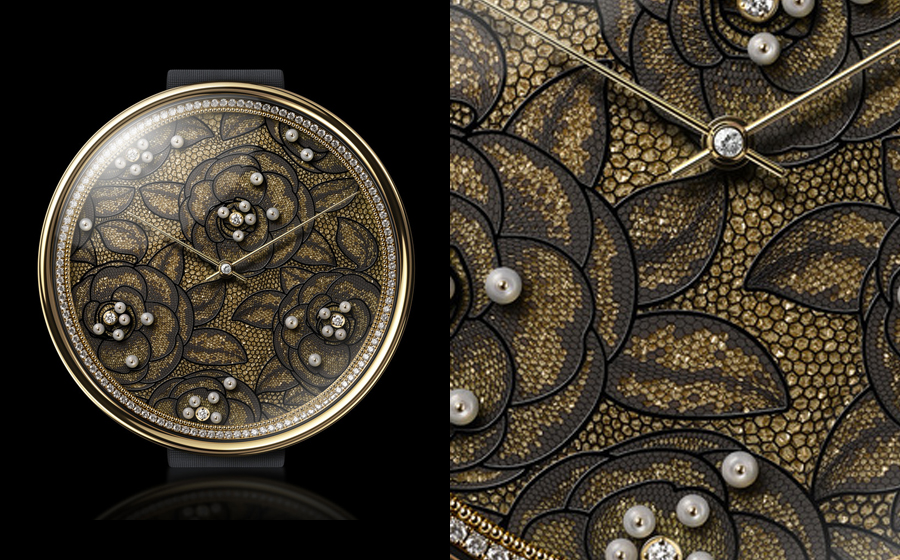 The next model is just as technical, and several specialised métiers d'art were necessary to create its dial. The yellow gold surface of the dial was engraved by hand to give it its texture, then coated with translucent "Grand Feu" enamel that provides depth and shine. The delicate lacework of the camellia pattern was created using several overlaid decals. Pearls and diamonds are stippled throughout.
Price: €175,000
… Tweed Motif…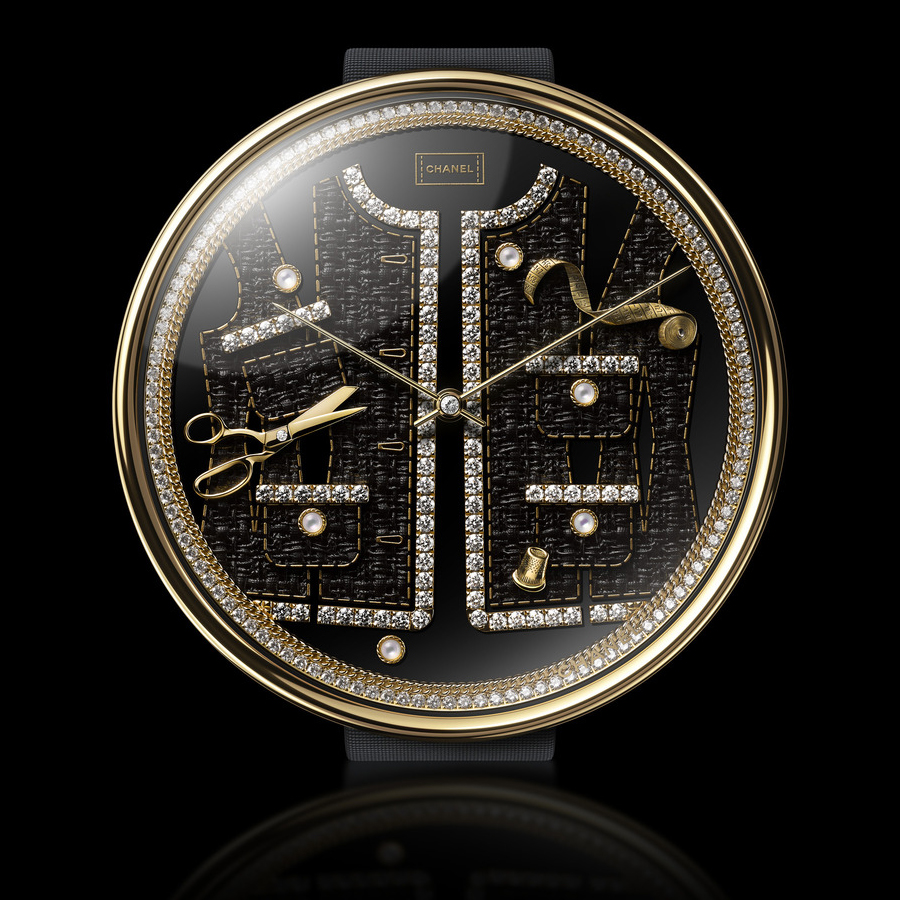 In a playful twist , this couture-inspired watch displays a pattern of the black tweed jacket, a hallmark of Chanel collections. This miniature sewing workshop has it all: thimble, scissors and tape measure, highlighted in yellow gold. As a nod to the design of the jacket, the dial is trimmed with 92 diamonds.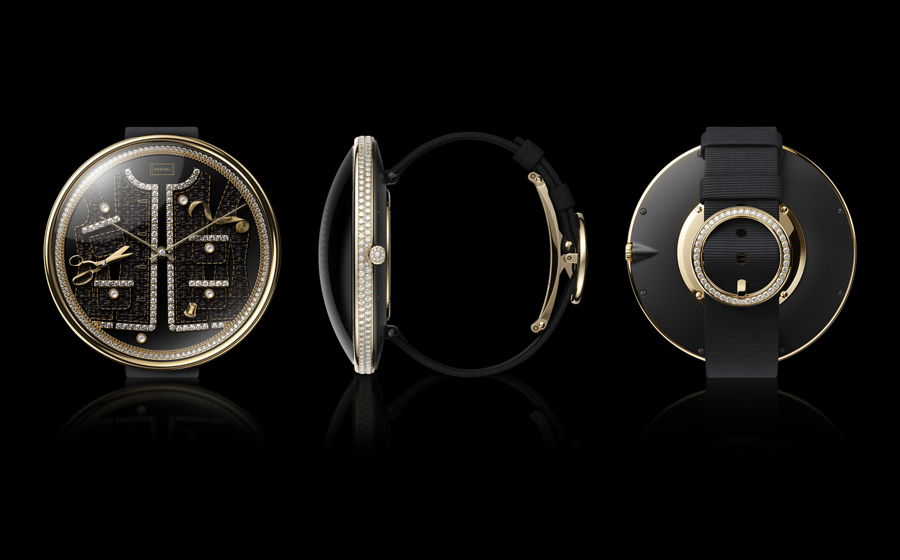 Price: €250,000
… Embroidery Motif…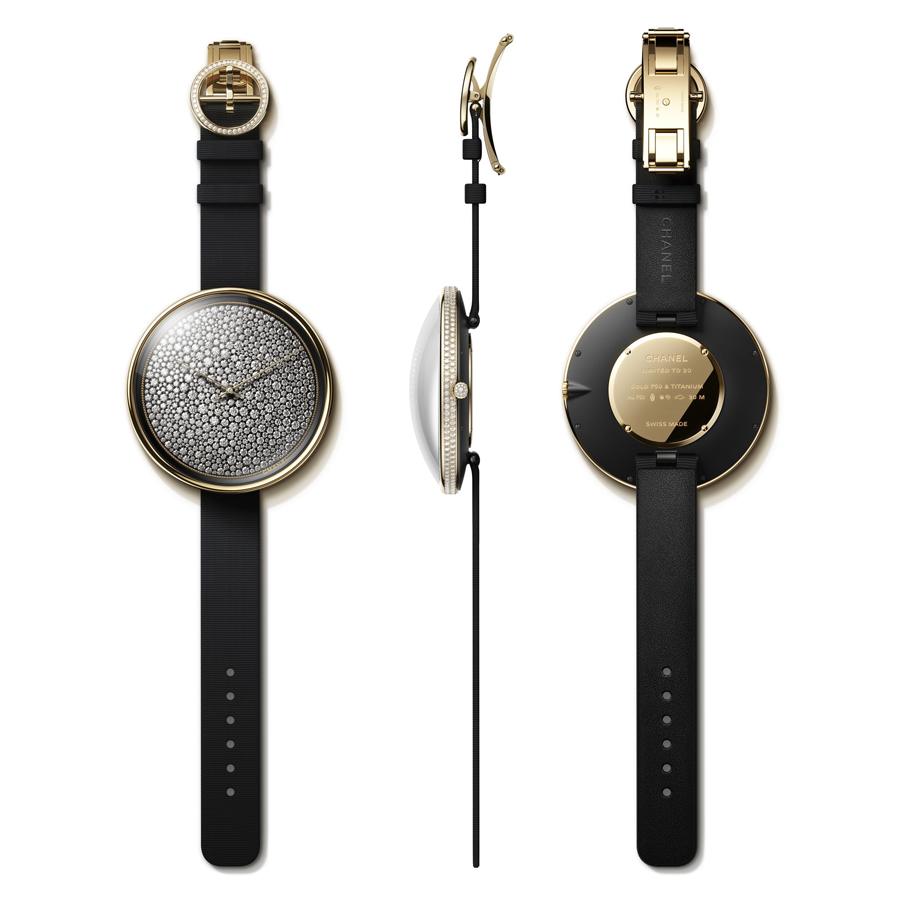 Mademoiselle Chanel could not get enough of sequins and diamonds. The dial of this hand-crafted piece pays tribute to her scintillating extravagance with a 250 brilliant-cut diamond pattern like fresh fallen snow. The result is hypnotising.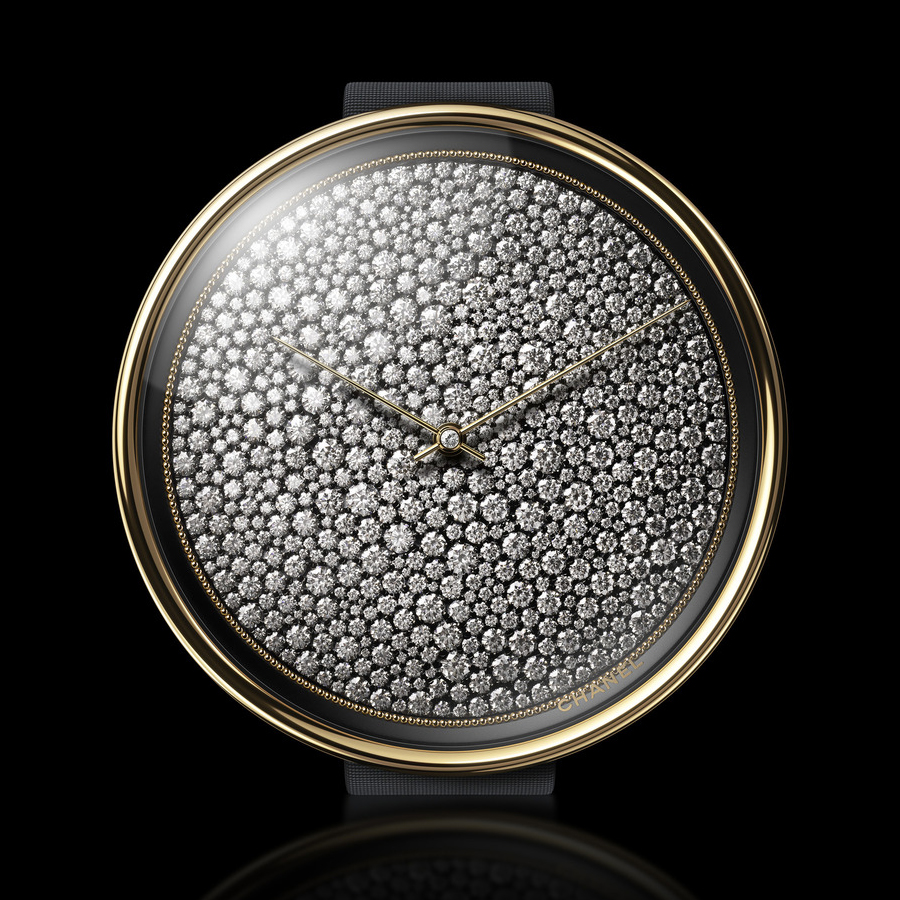 Price: €180,000
… and Quilted Motif.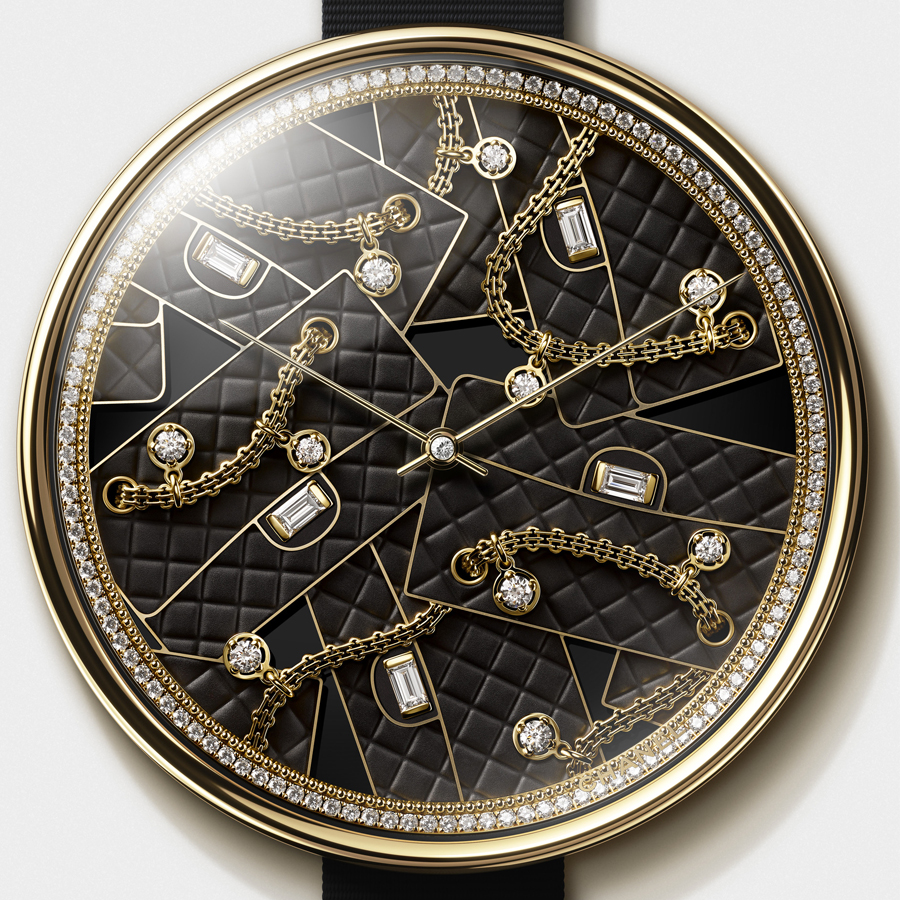 To complete this unique, atypical collection, the yellow gold dial of the Quilted Motif watch bears a miniature Chanel bag. An abundance of them, in fact, all with their quilted black leather and their iconic chain strap in yellow gold, ornamented with diamond pendants. The devil is in the details, but these are heavenly, with the addition of a baguette-cut diamond standing in as the bag clasp.
Price: €205,000
See our technical specifications for the Mademoiselle Privé Pique-Aiguilles.
See also:
Read Also: