A watch for Valentine's Day
By MyWatch
As with every Valentine's day ever, February 14th is a special day in the hearts of lovers. It is the ideal time to declare one's love, or to strengthen a relationship. In either case, a red or pink rose bouquet—or a masculine clothing accessory—is an absolute requirement that one can complement with a nice surprise by choosing to gift their significant others a watch. Here is a short curation of the most elegant timepieces—with which one can form some lovely couple.
The editor
For Him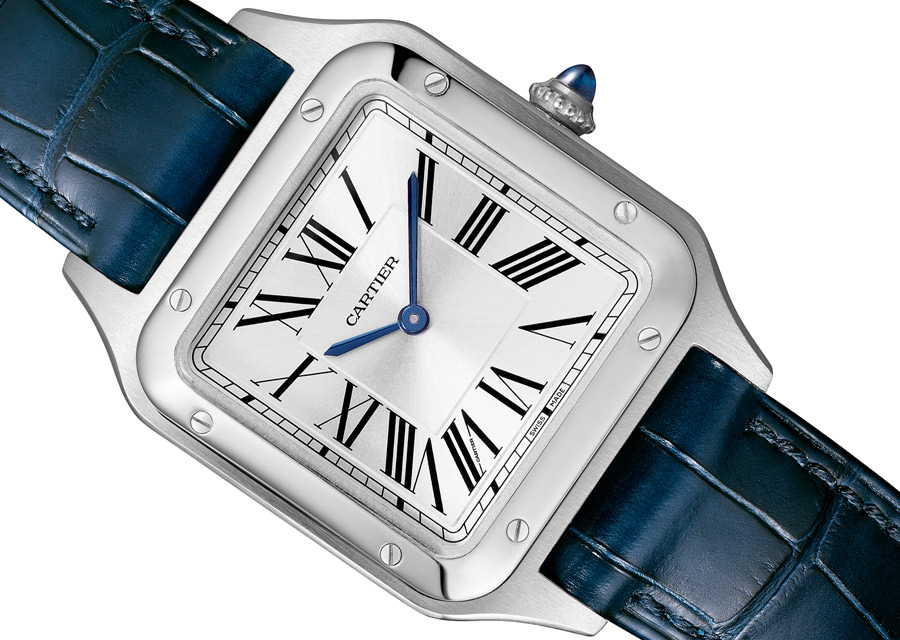 Cartier Santos-Dumont, small steel model, alligator leather bracelet – €3,500
Forever and ever
The square wristwatch was created in 1904 by Louis Cartier for aviation pioneer Santos-Dumont, whose eponymous name was then given to Cartier's iconic square "shaped-watches" cases. This instrument's historical and aesthetical legacy is elegantly rejuvenated with every new reference, including this "small model" steel version with blue hands and bracelet. It is a watch that adds to its retro look modern technology of a high-precision quartz movement equipped with a long-lasting battery guaranteeing 6 years of autonomy.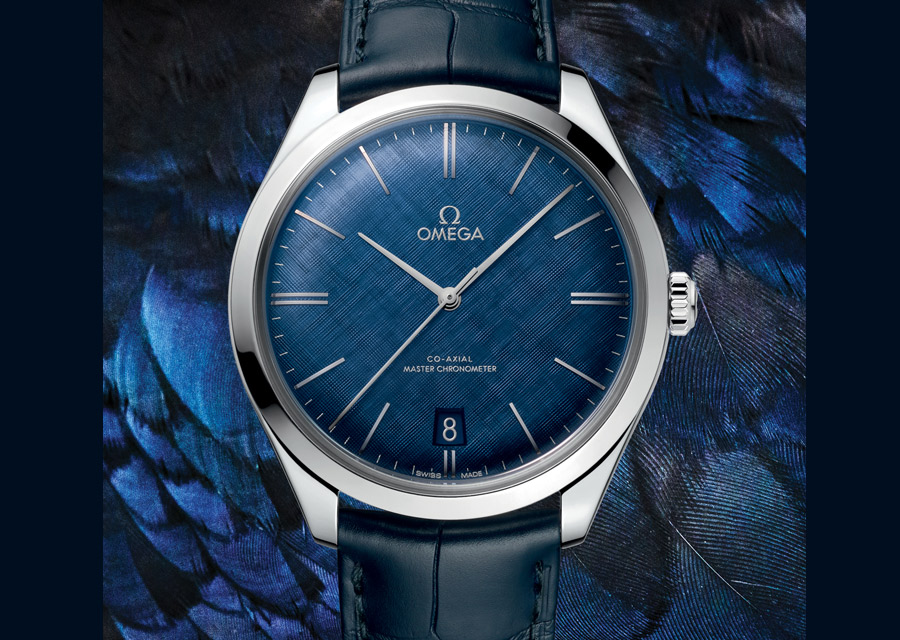 Omega De Ville Trésor Master Chronometer, steel with leather – €6,100
Blue eyes don't tell lies
Omega's saucy De Ville Trésor catches the eye with its denim-like blue dial. Equipped with white-gold hands and markers, this 40 mm-diameter steel edition's backside unveils an automatic movement of great precision that is a certified Master Chronometer, and decorated with "Côtes de Genève." It is presented on a leather strap in a colour coordinated with the dial, and will appeal to urbanites who love casual chic.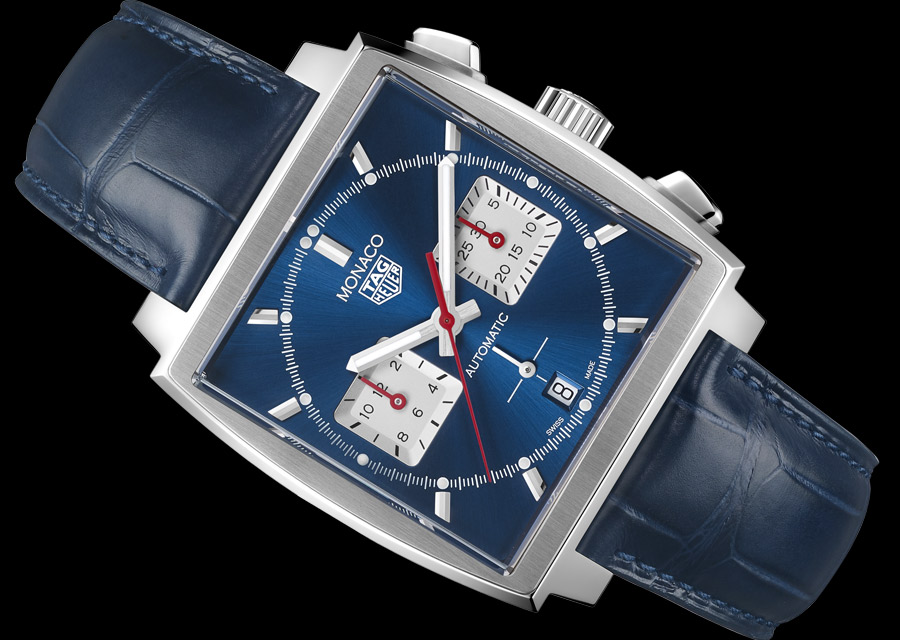 Tag Heuer Monaco Heuer 02, steel, alligator leather strap – €5,400
Fair and square
It became a legend in 1971 when Steve McQueen wore it on his wrist for the movie picture Le Mans, and ever since the King of Cool set his ice blue gaze on the watch, the Monaco owed him a solid. The emblematic Tag Heuer square chronograph is now available in a new reinterpretation that is blue, much like the original, but that also comes equipped with the manufacture's next-gen automatic movement—the Heuer 02 calibre—whose gears are visible from the backside. It is a brand new engine, which explains why the crown is positioned on the same side as the push buttons, instead of on the opposite side as was the case at the time.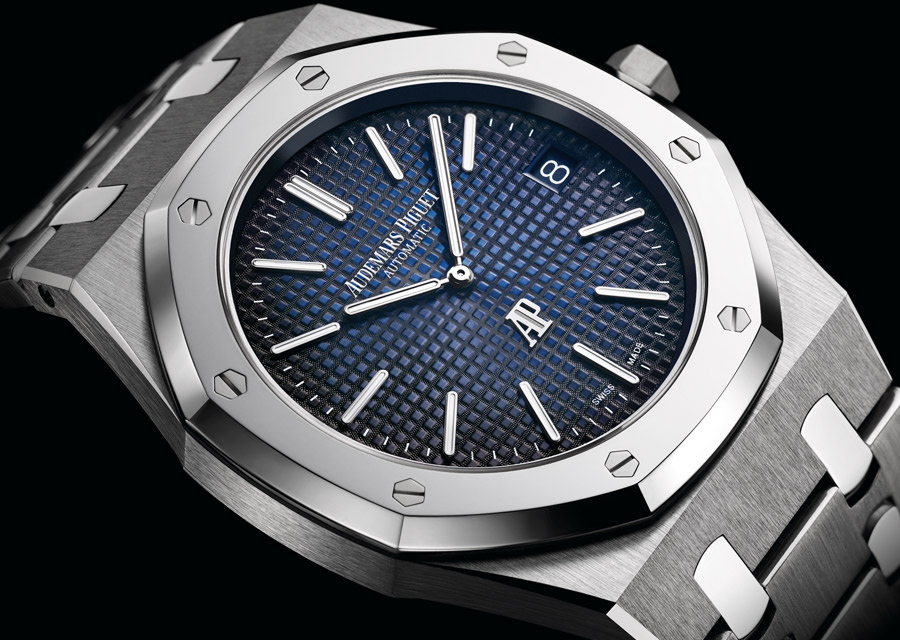 Audemars Piguet Royal Oak Jumbo Extra-Plat, titanium and platinum – €35,400
The motif of pleasure
Audemars Piguet's Royal Oak was created in 1972, and it now undoubtedly belongs to the select circle of the watchmaking icons. Ever the faithful to the original, the 39 mm Jumbo Extra-flat titanium version features a polished platinum octagonal bezel with eight visible screws and houses a blue dial with a geometric "Petite Tapisserie" motif. Sporty and urban, with a vintage touch, this referenceis offered in a limited edition of 250 pieces.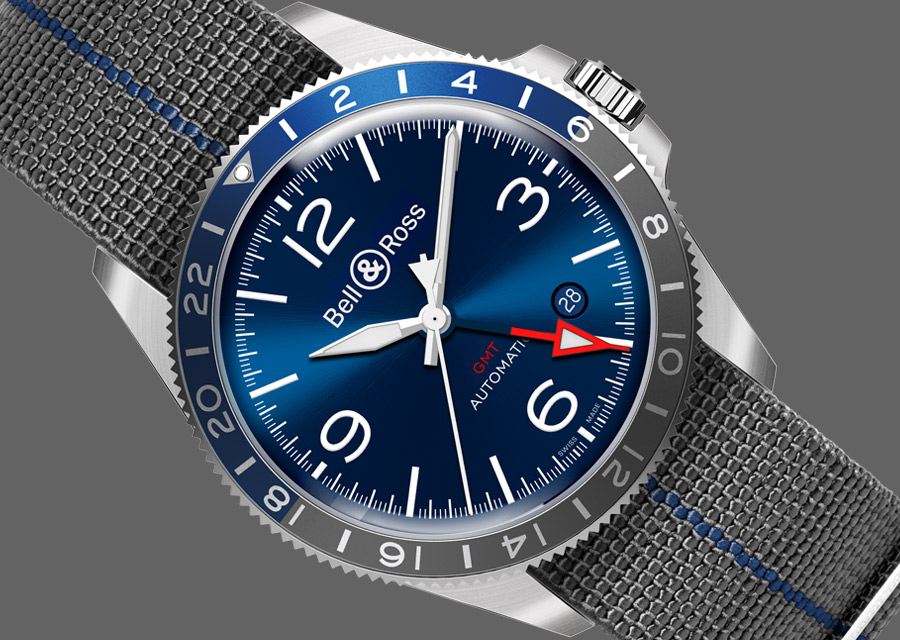 Bell & Ross BRV2-93 GMT Blue, steel, Nato Stretch strap – €2,900
Invitation on a journey
This February, Bell & Ross is expanding its very trendy men's collection with the new steel BRV2-93 GMT Blue. It is dedicated to globetrotters with a sporty and relaxed taste, and features an additional central hand with a red arrow pointing to a second time zone on the 24-hour scale of the two-tone bezel, for a day/night indication. This automatic tool-watch is keeping up with the times with its water resistance of up to 100 metres, and has an innovative Nato Stretch bracelet (elastic fabric strap) that is both very practical and comfortable.
For Her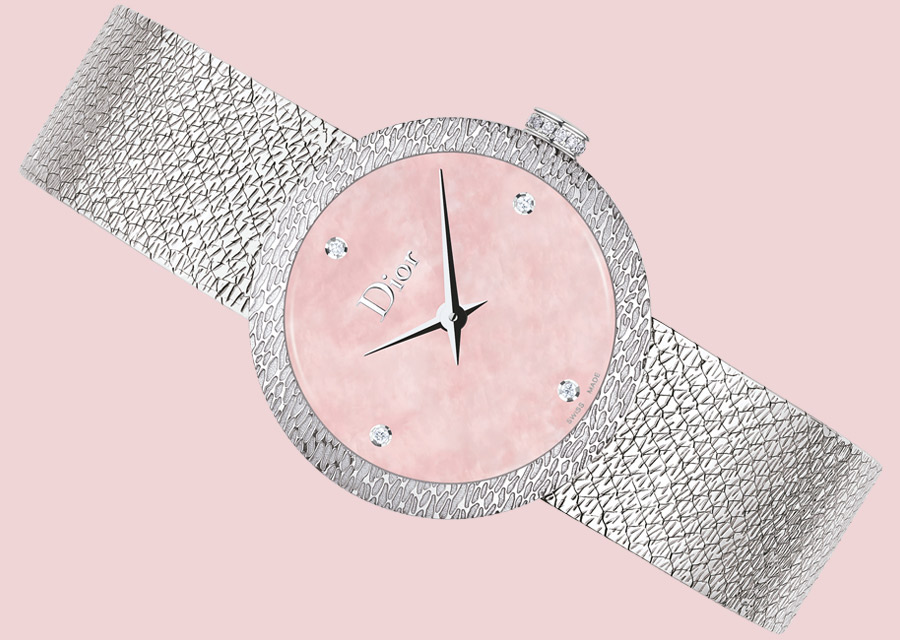 La D de Dior Satine, steel, pink mother-of-pearl dial, and diamond markers – €2,900
Soft as satin
It was imagined by Victoire de Castellane, a French jeweller and the artistic director of the Maison. La D de Dior reflects her creativity, and how she feminized the sober and classic lines of the 1970s ′ masculine watches by playing with case sizes, colours, textures, materials and precious stones. Highly seductive and romantic with its delicate, uncluttered pink mother-of-pearl dial just punctuated by four diamond markers, this Dior Satine D edition of 25 mm in diameter features an original decoration on its bezel and Milanese mesh bracelet. This relief pattern is created by striking the metal with a die in order to reproduce it infinitely. The highly graphic result of the process also gives the surface of the elements a particularly soft texture… close to satin.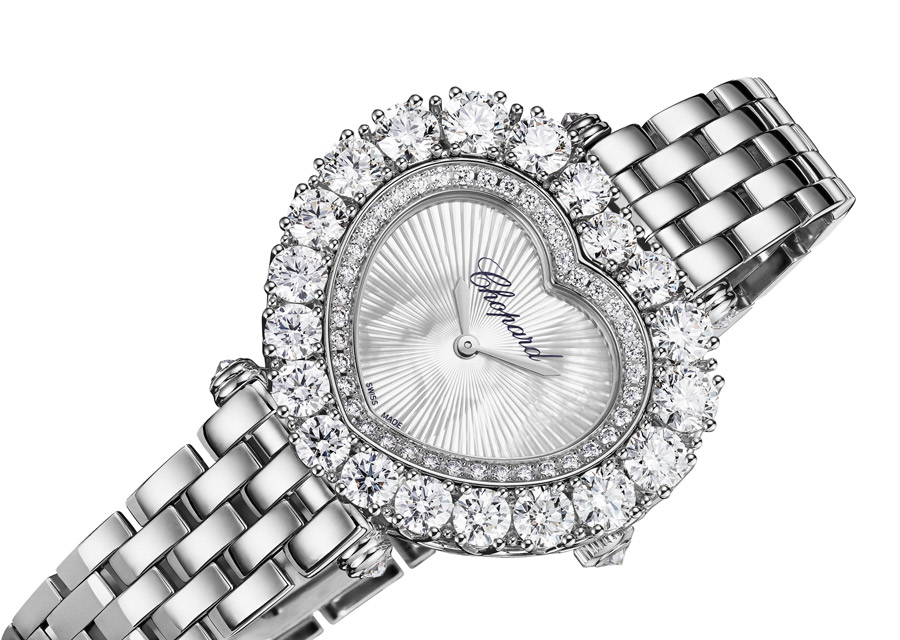 Chopard L'Heure du Diamant, gold and white mother-of-pearl – €75,900
Heartthrob
In the candlelight of a romantic dinner, Chopard's L'Heure du Diamant will shine bright before the eyes of its lover. A tribute to the gem setting art—that is mastered to perfection by the watchmaker jeweller—this sparkling white-gold version joins the collection for Valentine's Day. Which is why it has a heart-shaped diamond-highlighted case, which forms a precious backdrop to the white mother-of-pearl dial that is guilloché for a radiant motif. This version is intended for lovers of exceptional jewellery pieces, and is presented on a white-gold bracelet.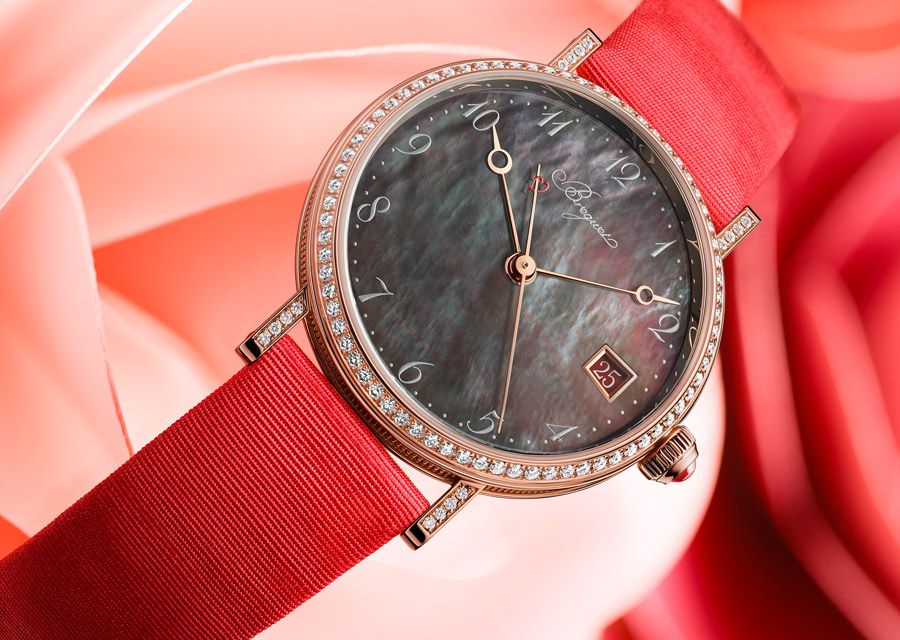 Breguet Classique 9065 in pink gold, diamonds and Tahiti mother-of-pearl with a satin bracelet – Price upon request
Passion Red
The Breguet manufacture illustrates yet again its mastery of artistic craftsmanship. The Classique 9,065 watch is equipped with a Tahiti black mother-of-pearl dial, whose dark and moiré reflects are associated with the chromatic intensity of a bright red satin bracelet. This elegant pink gold limited-to-28-pieces edition is set with eighty-eight diamonds, and powered by an automatic movement decorated with "Côtes de Genève"—whose gold oscillating weight is hand-guilloché. Last but not least, a romantic detail: on the dial side, this special series—which is only available in a selection of Breguet boutiques around the world—has a central second hand whose long counterweight pierces a small heart, like Cupid's arrow.Price upon request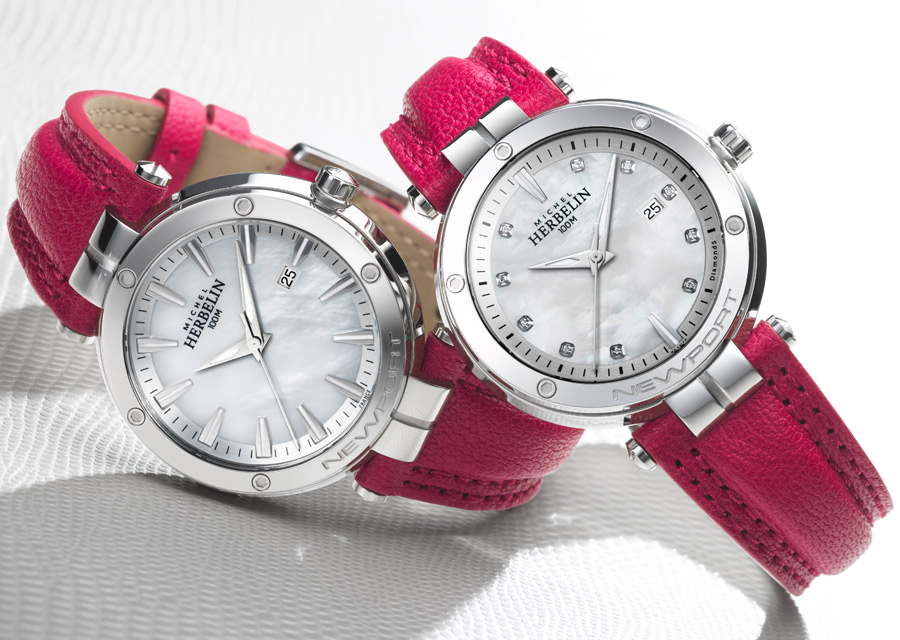 Michel Herbelin Newport Dame, steel and white mother-of-pearl, leather strap – Starting at €490
Women's sports-chic
We have every reason to believe that Michel Herbelin paints the town pink upon discovering this 316L steel edition presented with a bright fuchsia-coloured leather strap. Both sporty and refined, the Newport Dame features a white mother-of-pearl dial punctuated by hour-markers in the shape of a sailing boat hull (€490) or small diamonds (€590), depending on the chosen version, and a date window at 3 o'clock. Historically and directly inspired by the nautical world, the boat porthole-shaped watch is 34.5 mm wide in diameter. It is equipped with a five-screw bezel reminiscent of the winches of sailing ships. Powered by a Swiss Made quartz movement, it will be perfect to electrify a moment of complicity.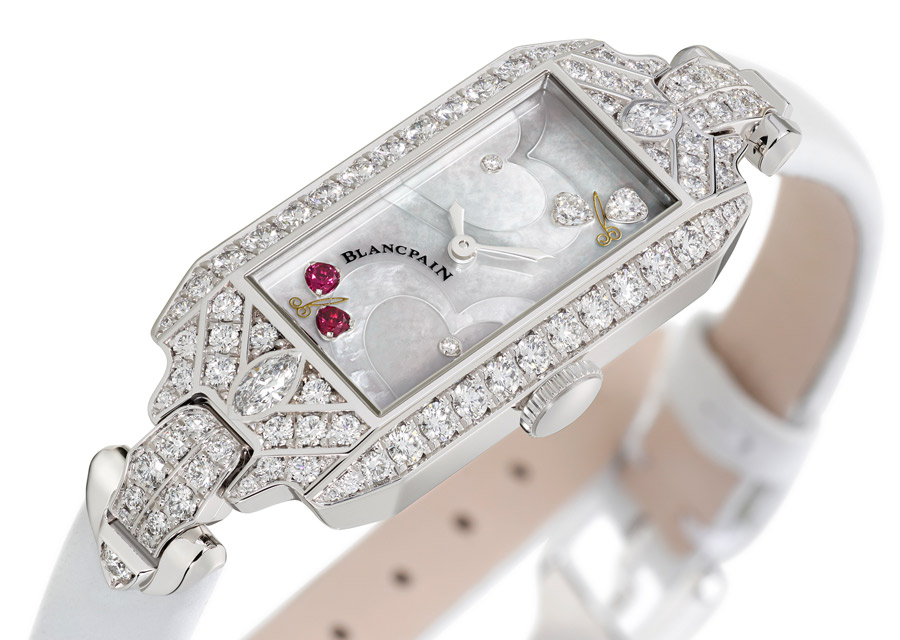 Blancpain Valentine's Day special watch in gold, diamonds, ruby and white mother-of-pearl, leather strap – €34,930
Diamonds are forever
This charming and daring "Valentine's Day" special edition watch signed by Blancpain was inspired by a cocktail watch that once belonged to Marilyn Monroe. Its seductive white-gold rectangular case is mounted on a white leather strap, and set with 84 diamonds. But the Maison's master craftsmen's real field of expression is the mother-of-pearl dial, which has been decorated with diamond and ruby butterflies twirling above two inlaid hearts. This true jewel that tells the time is part of a 14-piece limited series, and will symbolize an… exclusive love.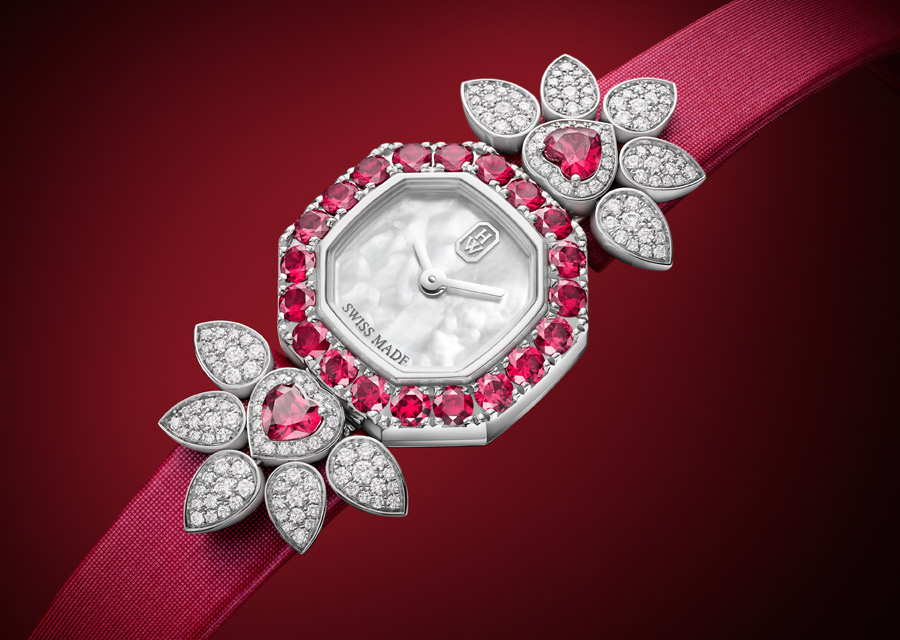 Harry Winston Precious Valentine's Day, platinum, diamonds, rubies and white mother-of-pearl—Price upon request
Precious bouquet
Made in all but 14 timepieces, Harry Winston's luxurious Precious Valentine's Day perfectly combines diamonds and rubies into a floral composition. Its octagonal platinum case is inlaid with twenty rubies and framed by two sparkly flowers whose pear-shaped petals are paved with diamonds, and whose centres house one ruby each. This superb timeless bouquet, which is presented with a red satin bracelet, is a priceless gift for any jewellery watchmaking lover.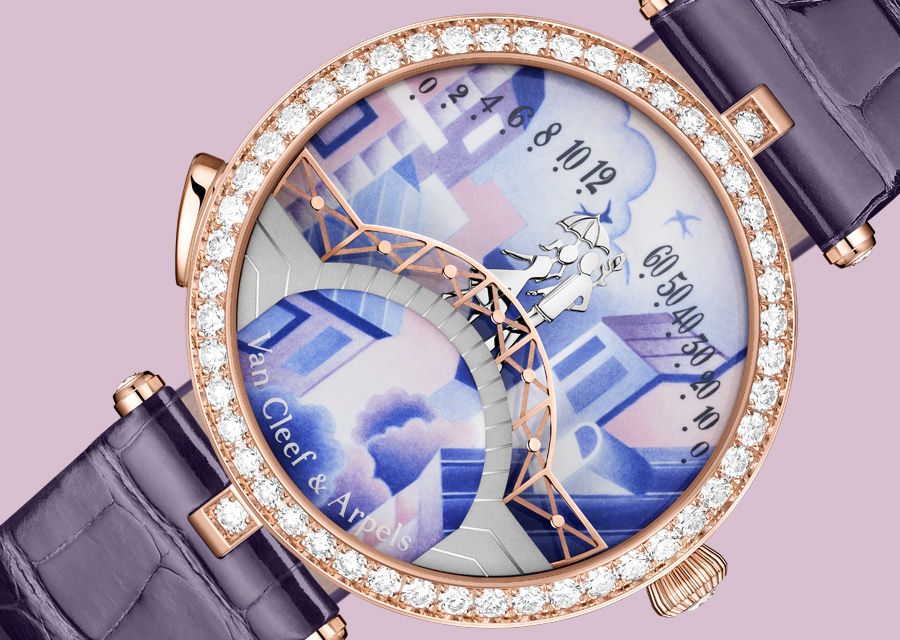 Van Cleef & Arpels Lady Arpels Pont des Amoureux Jour, rose gold, diamonds, enamel, alligator strap – €130,000
The lovers' watch
This love-inspired curation just could not end without presenting its most symbolic element: the Lady Arpels Pont des Amoureux, from Van Cleef & Arpels. It is a perfect symbiosis between watchmaking mastery and artistic craftsmanship. It represents a little couple made of white gold that, in order to indicate the time, moves towards one another on the famous Parisian Pont des Arts. This new 38 mm-diameter new automatic rose gold and diamond version houses a dial made of "grisaille" enamel with beautiful pastel colours. This work of art is a real miniature theatre sheltering a young woman and her beau that each move according to a retrograde motion—with the tip of her umbrella pointing at the hours, and the flower that he is hiding behind his back pointing at the minutes. What makes this device truly magical is the fact that the couple reunites to kiss twice a day, an absolutely romantic scene that is replayable on loop thanks to the push-button located on the case middle's left side. Love might be eternal after all…