Hublot creates the first vibrantly coloured ceramic
By MyWatch
Always unique, always different. This time, Hublot has devoted its innovative approach to ceramic. By creating a new material – the first vibrantly coloured ceramic – Hublot has once again used its limitless imagination to achieve a world's first. Exclusively designed and produced in-house, in the Hublot Research & Development (R&D) department, this invention has been patented. A triple tour de force, the coloured ceramic invented by Hublot is innovative both in terms of the material itself, and the manufacturing process. In addition to the vibrant colour it is also harder than conventional ceramics.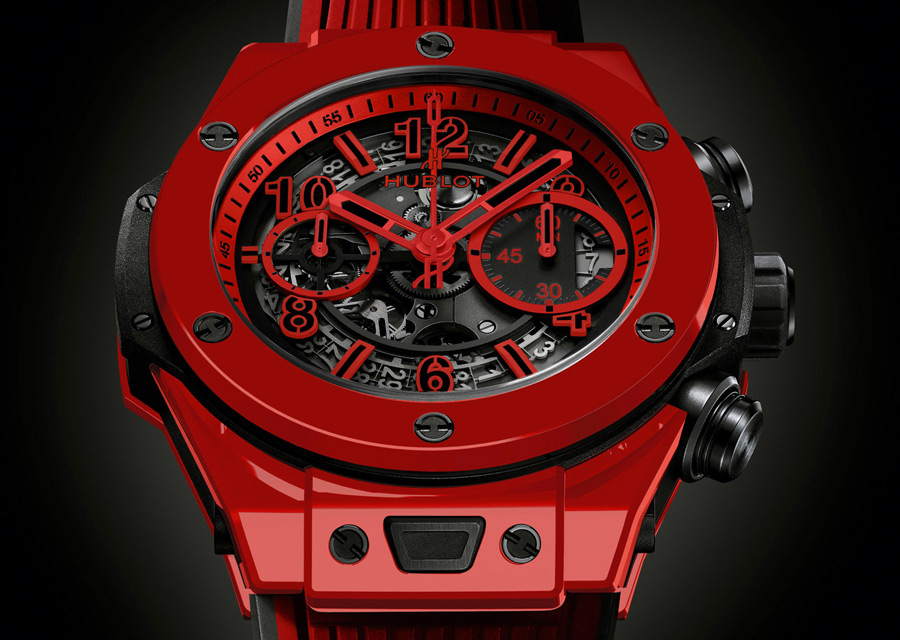 Hublot brings depths of colour to ceramic
The Hublot R&D department and Metallurgy & Materials laboratory have succeeded in inventing a magic formula that allows the creation of vibrantly coloured ceramics. This has previously not been done in industries using technical and aesthetic ceramics. In addition, Hublot has refined all the procedures necessary to produce every component of the watch case from this special material. In total, it took Hublot four years to master this discovery and develop it from initial idea to its industrialisation. The invention is 100% Hublot and the expertise has been patented. Hublot continues to make strides in the research into materials. This newly developed ceramic is incredibly dense, boasting a hardness of 1500 HVI compared to 1200 HV2 of conventional ceramics. This results in an extremely resilient material.
The colour is achieved through a major innovation whereby a fusion of pressure and heat sinters the ceramic without burning the pigments. Having mastered the basic hues with this method Hublot is now ready to introduce a whole new world of coloured ceramics to its watch collections.
The power of red
For this first coloured ceramic, Hublot has chosen a vivid red, which symbolises power, passion and glory. The Big Bang Unico Red Magic is undoubtedly an ultra-resilient ceramic watch full of fire.
With just 500 pieces released, its 45 mm case and bezel are made from Hublot's patented red ceramic, boasting a polished finish. The flange, indexes, minute and seconds counters, Arabic numerals and hands all match this hue, adorned in the same red to highlight the contrast with the mechanism of the Unico HUB124 manufacture movement and its column wheel, visible on the dial side through the sapphire crystal. This theme encompasses the entire watch, matched with a lined structured red rubber strap.
Drawing attention from every angle, and captivating all who see it, the red ceramic is set to be a showstopper. A major invention which once again demonstrates that Hublot is continuously pushing its Art of Fusion further, and that, under its impetus, the world of materials and alloys will never cease to beunique, be different!"