Breitling camps out a few days at Galeries Lafayette Haussmann
By MyWatch
For the occasion of the International Paris Air Show at Le Bourget, Breitling opens a pop-up store at Galeries Lafayette on the boulevard Haussmann until the 18 june. The occasion for the manufacture, which the story can't be seperate to the aviation's one, to present its new chronograph Colt Skyracer, around many activities which make discover the air acrobatics to the general public.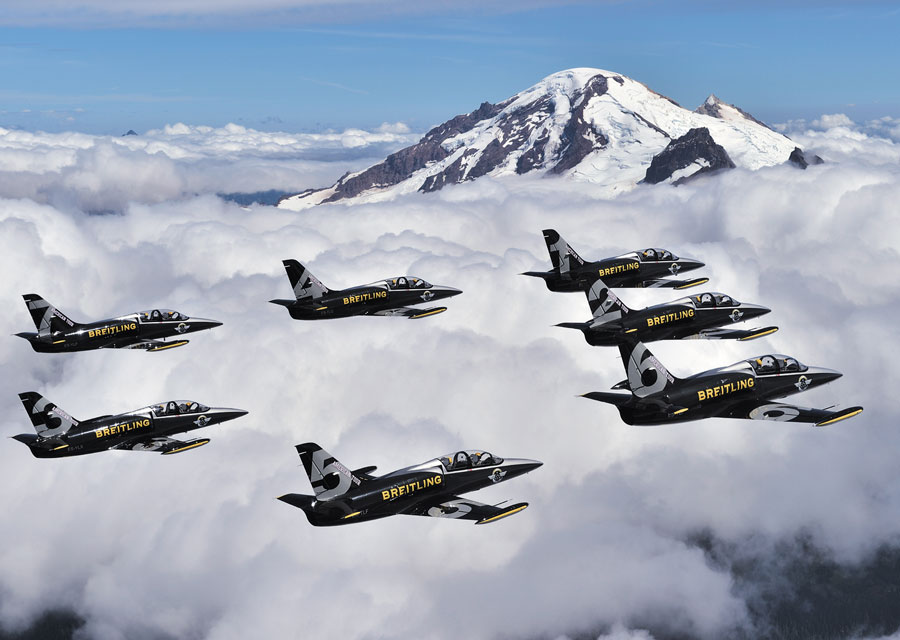 No more information about the pop-up store.
Further information about the Colt Skyracer :
The new-generation Breitling
The Colt by Breitling expresses its youthful, dynamic and winning spirit in a brand-new model dedicated to thrill-seekers, with an avant-garde case in Breitlight® and an ultra-technical black look. Code name: Skyracer, like that of the plane flying under Breitling colors in the fabulous Red Bull Air Race.
High-performance, efficient, ultra-reliable: the Colt has retained from its military background all the qualities of an authentic instrument for professionals. Breitling is propelling it towards fresh heights by launching a state-of-the-art model combining reliable technical assets with an original design and an extremely reasonable price. Exactly what it takes to make the Colt a new all-comers champion.
A champion of lightness and sturdiness, with a 45 mm case in Breitlight®. 3.3 times lighter than titanium and 5.8 times lighter than steel, yet significantly harder, this exclusive high- tech material is distinguished by numerous qualities: exceptional resistance to scratches, traction and corrosion; anti-magnetic, anti-allergenic properties; as well as a warmer 'touch' than metal and a slightly mottled effect accentuating its originality.
A champion of precision, with a thermocompensated SuperQuartzTM movement, ten times more accurate than standard quartz and chronometer-certified by the COSC (Swiss Official Chronometer Testing Institute).
A champion of legibility, with white luminescent hands and indications standing out against the black background, red accents reminiscent of instrument panels and a sapphire crystal glareproofed on both sides.
A champion of shock-resistance, with substantial reinforcements surrounding the screw- locked, rubber-molded crown, and a protruding bezel gasket perfectly protecting the crystal.
Equipped with a rotating rider tab bezel serving to memorize times and a dial with an additional 24-hour (military) scale, the Colt Skyracer (water-resistant to 100 m/330 ft) is also distinguished by its exclusive black rubber strap bearing various measurement scales that are useful to adventurers of all kinds: 1:25,000 and 1:50,000 scales on the 12 o'clock strap section, centimeters and inches on the 6 o'clock section. An ingenious removable fastening system enables the wearer to quickly and easily remove the section of their choice and use it as a measuring instrument, before refitting it just as smoothly.
Born for great feats, speed and challenges, the Colt Skyracer reflects the nature of the MXS-R "Skyracer", the high-performance plane on the Breitling Racing Team flown by aerobatics rising star Mika Brageot in the Red Bull Air Race World Championship.
A new generation destined to lead the field.
Movement: Breitling Caliber 74, officially chronometer-certified by the COSC, thermocompensated SuperQuartzTM. Battery end-of-life (EOL) indicator. Calendar. Case: Breitlight®. Water-resistant to 100 m (330 ft), Screw-locked crown. Unidirectional ratcheted rotating bezel. Sapphire crystal, glareroofed on both sides. Diameter: 45 mm. Dial: Volcano black. Strap: rubber Skyracer.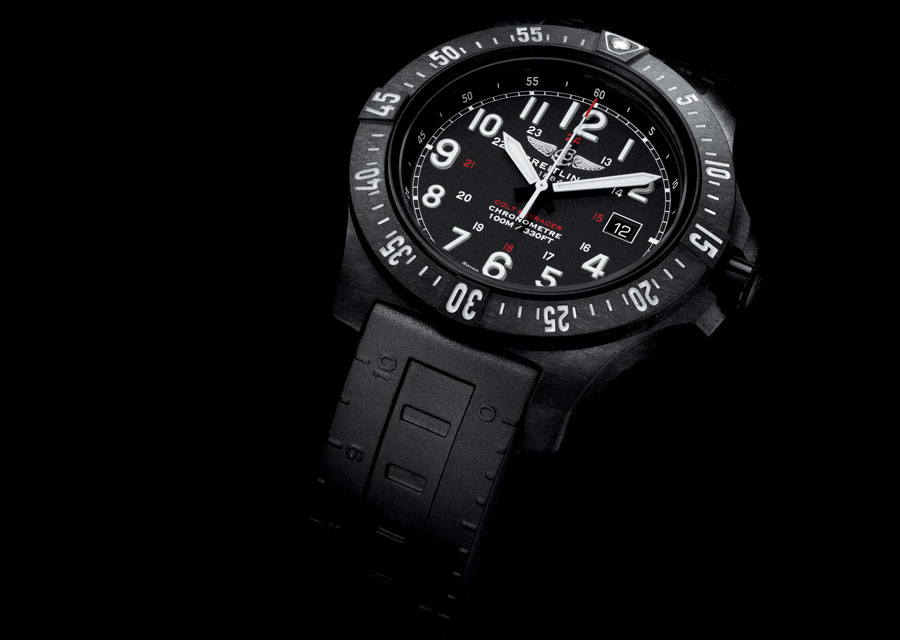 Further information on Breitling : www.breitling.com
Further information on Galeries Lafayette Paris Haussmann : http://haussmann.galerieslafayette.com/en/
Opening hours : 9:30am to 8:30pm from monday to saturday, 11:00am to 7:00pm on sundays.
Further information on the International Paris Air Show : www.siae.fr/en/