Bvlgari Bvlgari, a signature icon
By MyWatch
The Bvlgari Manufacture is revisiting the emblematic watch that has been bearing its name for more than forty years with strength and elegance. Men's editions that give pride of place to bronze and interchangeable bracelets, thinner female references in miniature size and combining metals, the collection is reinvented with brio, between classicism and modernism.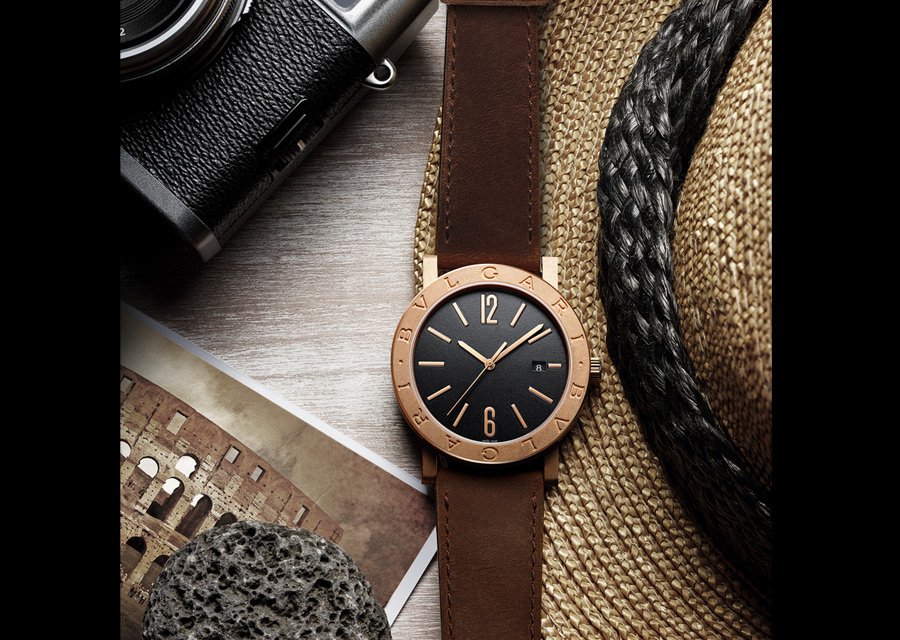 As a creative pillar of the Bvlgari watch collections for over 40 years, the Bvlgari Bvlgari line has been continuously reborn through new interpretations for both men and women. In a nod to the original introduced in 1975, neither bears the brand logo on the dial. The new Bvlgari Bvlgari 2018 reinvents itself yet again through an innovative approach involving the use of bronze and interchangeable straps.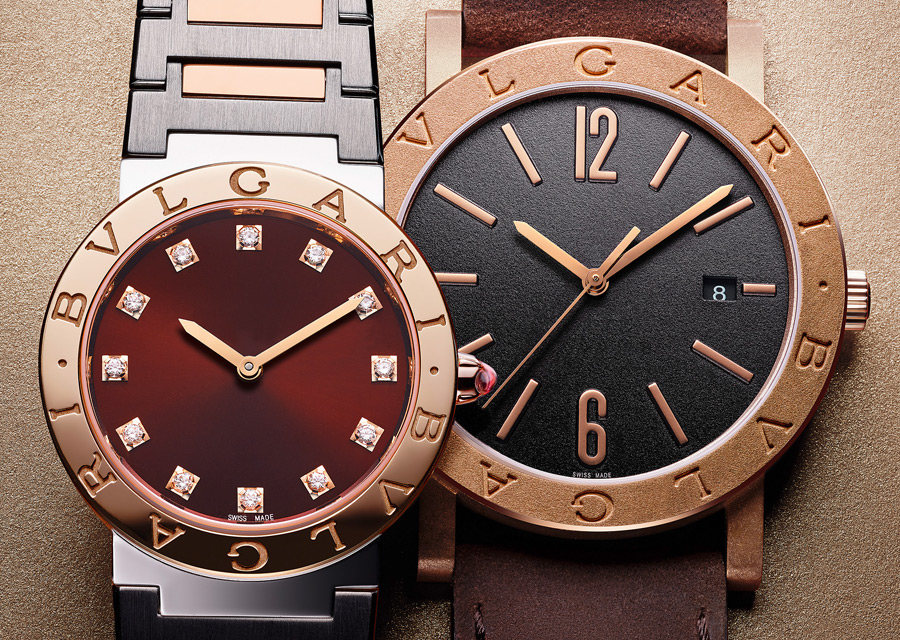 This collection stemmed from a gift idea. The three Bvlgari brothers, Nicola, Gianni and Paolo, decided to create a watch as an exclusive present for their 100 best clients. The result was beautiful and successful, entirely overturning existing aesthetic codes. Innovative, adorned with the Bvlgari logo engraved on its bezel inspired by the coins struck by the Roman emperors, this widely acclaimed timepiece was soon in great demand.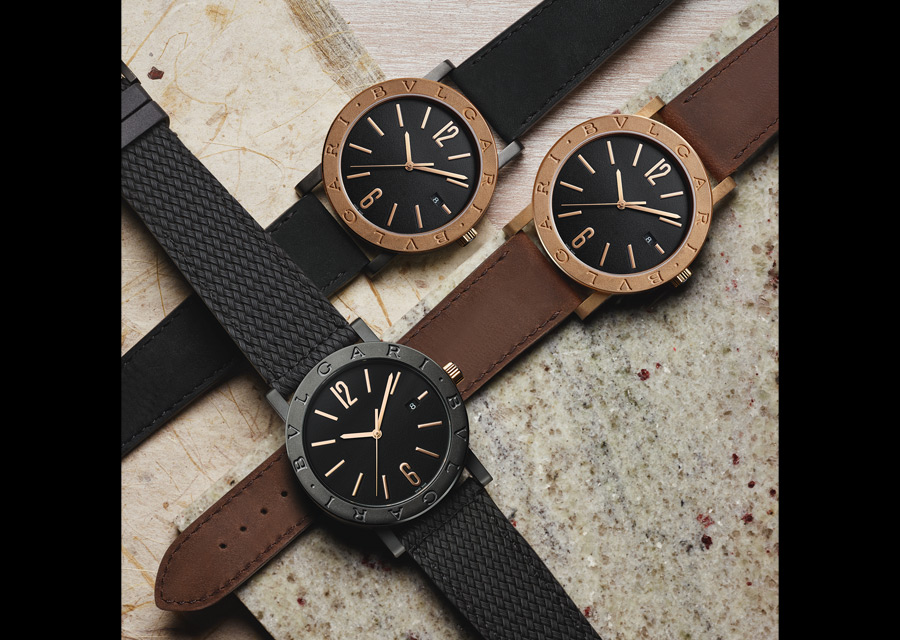 A new chapter dedicated to men
Firmly in tune with the times, Bvlgari Bvlgari is writing a new chapter in its history by playing with metal variations as well as adopting an intensely personalised approach. Classic yet epicurean, fanciful yet refined, it appears this year in three original versions of its classic case housing self-winding Bvlgari Calibre 191: one in bronze, the other two-tone with a black DLC-coated stainless steel case topped by a bronze bezel; and finally, a total-black DLC-coated stainless steel version. This unmistakably Bvlgari Bvlgari trilogy nonetheless succeeds in renewing the genre.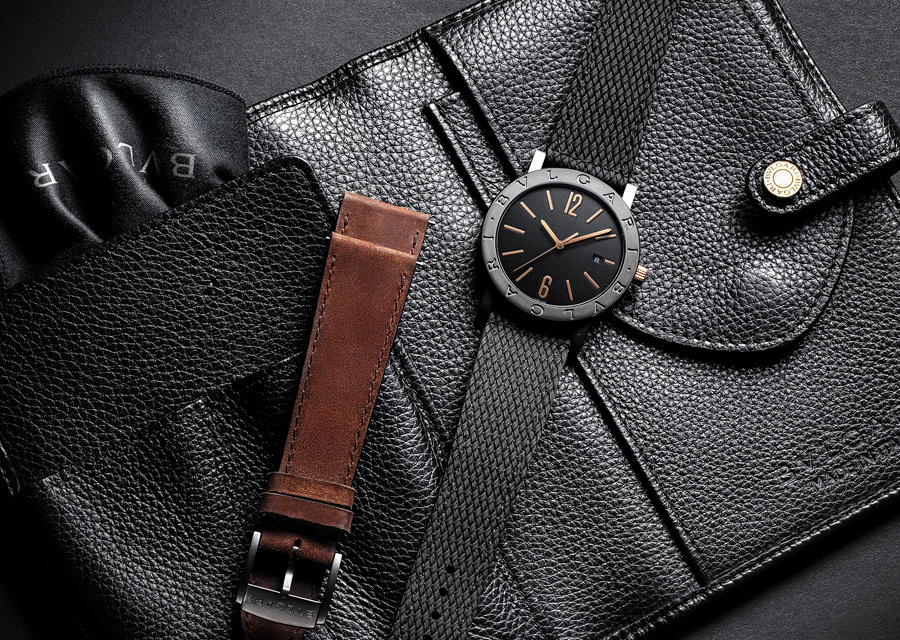 The new masculine Bvlgari Bvlgari is unique, due both to the random patina acquired by bronze and to the versatility resulting from its interchangeable straps.
Feminine elegance
The feminine version of the Bvlgari Bvlgari radiates all the timeless elegance of the original models, along with a contemporary twist. Available in an ultra-feminine 23mm-diameter mini-sized model, along with a modern interpretation with a 33mm diameter, the cases housing a quartz calibre are slimmer than ever and fitted with a metal bracelet recalling that of the original. This full-fledged piece of jewellery in its own right is both supple and flowing, two of the qualities that contributed to its initial success.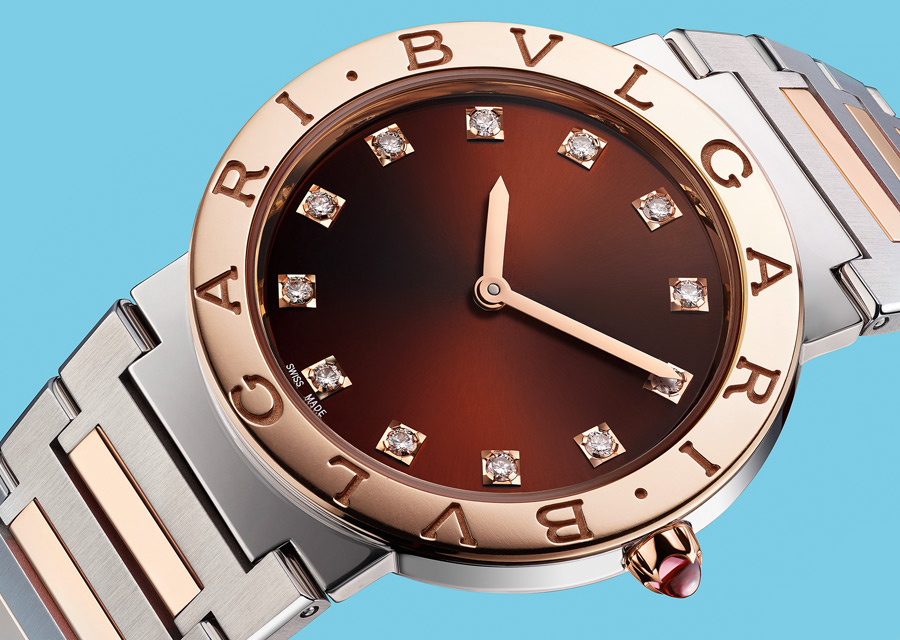 The dials come in several refined yet contemporary executions bearing applied or diamond hour-markers, with or without a date window, and in a choice of anthracite, black, brown or mother-of-pearl. These sophisticated watch faces are framed by stainless steel, two-tone 18kt pink gold or stainless steel.
This watch has been fascinating, surprising and enchanting one and all for more than 40 years. Few timepieces have been capable of establishing themselves so firmly over the years while looking perpetually new and consistently on point. Embodying existing trends as well as heralding up-and-coming fashions, while paying tribute to the fundamental elements of creation, architecture and design.