Chanel and artist Gad Weil transform the Place Vendome in wheat field
By MyWatch
Until tomorrow, impossible not to stop to admire the Place Vendôme spectacular work by Gad Weil. Backed by Chanel, sponsor of this installation, the artist has covered the famous Parisian place of a wheat field.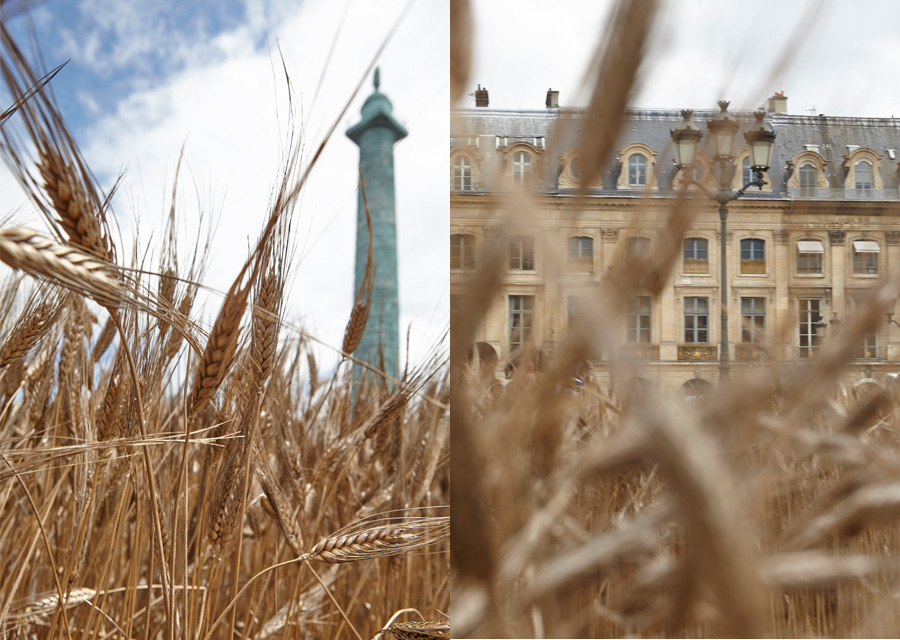 Behind the gigantic ephemeral creation " Blés Vendôme ", lurks a feat the figures: 1 million ears of wheat, 120 m3 of sand, 1 km from wood for the base, 4 tons of special paint, 500 people mobilized for installation ( farmers, painters, students in Art Schools, ESAT, street artists… ), 6 months preparation.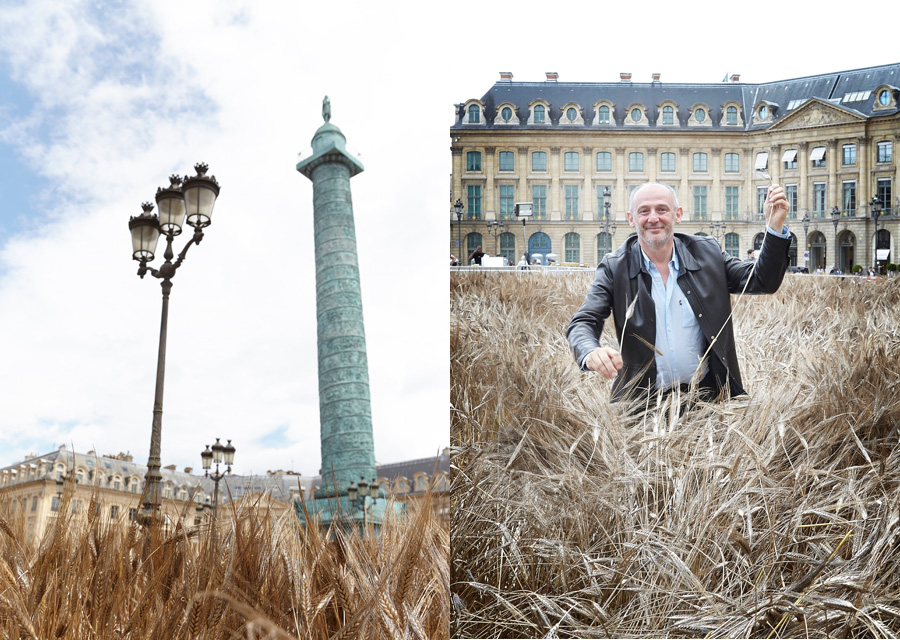 THE TEXT OF THE ARTIST GAD WEIL ABOUT 'BLES VENDOME'
Since the beginning of times and in all artistic disciplines, wheat has inspired artists, creators, thinkers.
Blés Vendome is the third act of an artistic vegetal installation, Nature Capitale, the flowering of cities, that began in 2010.
It is a tribute to wheat, universal symbol of perpetual rebirth, as wheat must disappear each year, in order to be reborn the following season.
Blés Vendôme is a golden, frozen moment in time.
It is a poetic installation made of wheat, wood and sand set on the Place Vendôme from the 1st to the 7th of July 2016.
Blés Vendôme is the hope that in the year 2016 – after the terrible scars left by the attacks in France – like wheat, we will collectively live our renaissance in a better society.
Blés Vendôme is a collective act of generosity shared with the public. It is the result of the work of hundreds of men and women, farmers, technicians, students, its author, its patron.
Blés Vendôme is an moment of poetry and generosity, where everyone, whoever he or she is, wherever he or she may created in the mind of mankind.
Blés Vendôme is also a shared meeting with CHANEL, sponsor of this work which will later be exhibited in Saumur, Gabrielle Chanel's birth city, who has always seen wheat as a lucky charm and has always surrounded herself with it.
With Blés Vendôme, I want to remind everyone how much the spirit of man, when acting with respect and care, knows how to interact with nature, draw from it inspiration to nourish and beautify mankind.