Chaumet connects to the stars
By MyWatch
For a total immersion in the new high jewellery collection 'Les Ciels de Chaumet', the famous french house on Place Vendôme is setting the web on fire with its mobile application Chaumet in the Sky. A luminous initiative that allows you to present sparkling jewellery creations worthy of the most beautiful stars in a playful and poetic way, simply by directing the screen of your phone towards the constellations visible in the sky.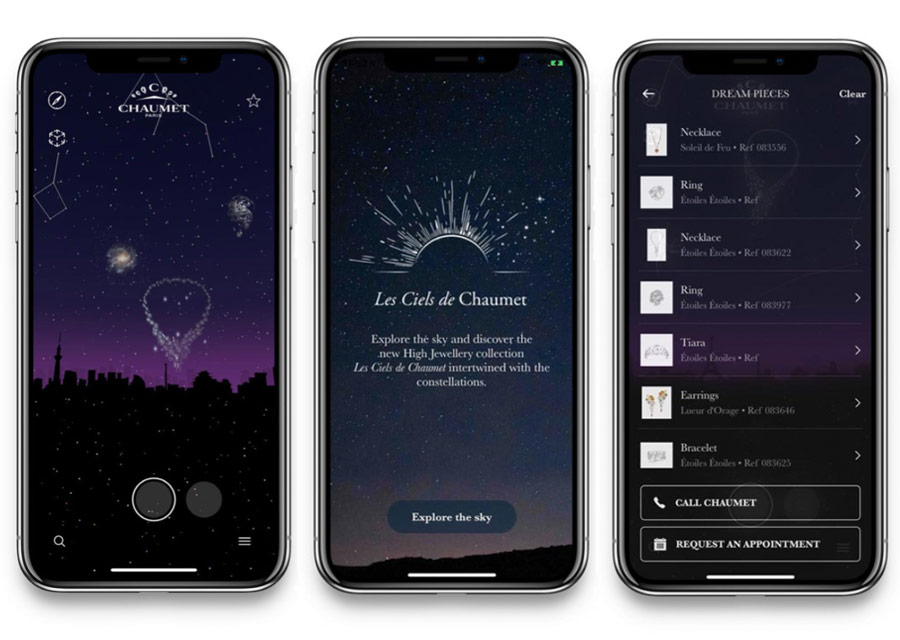 Available on iTunes, the Chaumet in the Sky application was designed and developed with the help of the astrophysicist and CNRS researcher Dr Patrick Michel. A world-renowned specialist and passionate about planetary sciences, he has made it possible, thanks to his multiple skills, to help Chaumet's teams to create a ludic, original and accessible application for everyone. Simple but magical, its principle consists in pointing your phone towards the sky and navigating among the main stars and planets. From stars all over the head, the user sees diadems, necklaces, bracelets, brooches, earrings and rings, sparkling models from 'Les Ciels de Chaumet' collection appear on the Milky Way. To consult the smallest details, simply click on the room of your choice to access its detailed file… and ask to be called to schedule a private presentation in store.
Inspired since its creation, nearly two hundred and forty years ago, by the celestial vault, Chaumet elegantly adorns delicate necks, slender ears, fine wrists and heads crowned with remarkable jewellery creations. Now reinterpreted, these many stars, sparkling or shooting, these blazing suns, these milky moons and rotating planets, play an air show to magically adorn these jewels made by the house's master craftsmen. Like this 2019 collection, 'Les Ciels de Chaumet', which is divided into four-stages to illustrate the aspects of a changing sky.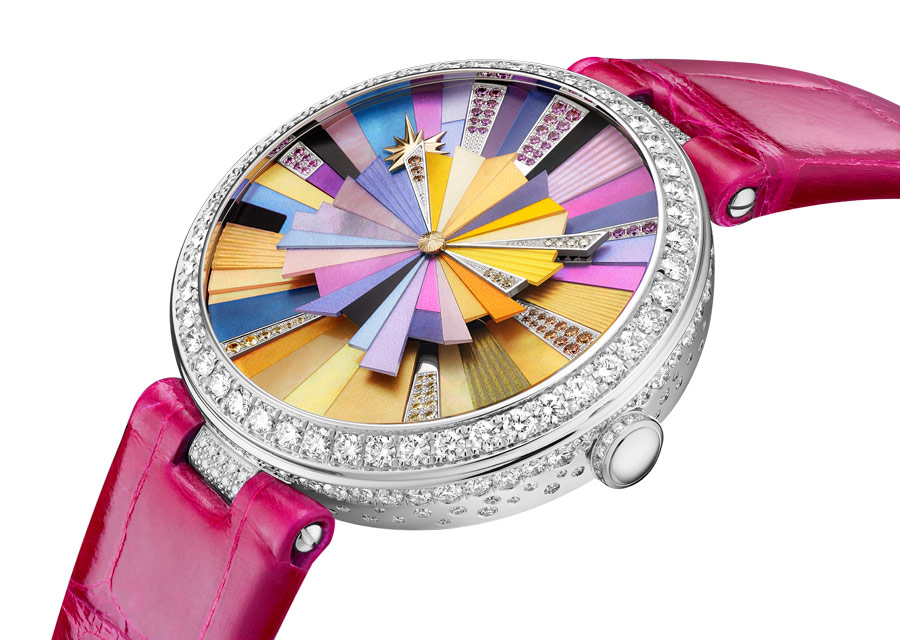 Between the light dance of clouds and the electrifying spectacle of lightning, 'Les Caprices du Ciel' presents a white and yellow gold necklace set with a majestic 37.68 carat imperial topaz but also sapphires, amethysts and tanzanites. Transformable, it can be detached for a shorter wear or clipped onto a diamond line. Among the rings and earrings of the same line, the Complication Créative Heure Sautante watch in white gold combined with a fushia pink alligator strap is decorated with a coloured mother-of-pearl inlay reminiscent of multiple flashes of light, some of which are inlaid with brilliant cut diamonds, yellow, orange and pink sapphires.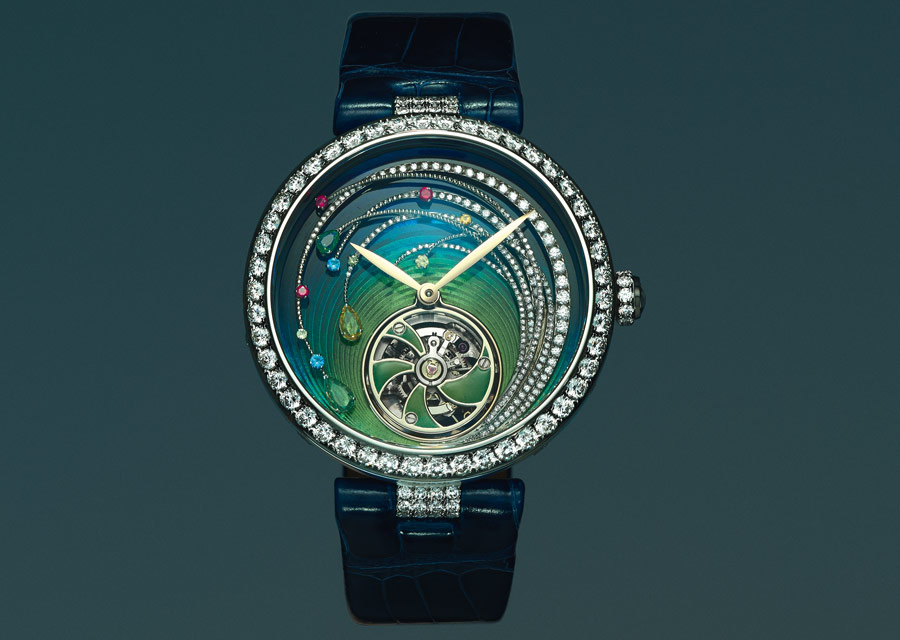 Evoking a radiant sun or simply a calm night, 'Les Couleurs du Ciel' models are adorned with multiple shades. Like the Tourbillon Volant watch in white gold with its "Grand Feu" enamelled dial in a gradient of colours, a remarkable technique of the House's master enamellers. Set with numerous diamonds, sapphires, topazes, garnets, tourmalines and rubies, this very precious case is accompanied by a white and yellow gold tiara. Worthy of the crowned heads, this sparkling piece is set with a Fancy Intense Yellow IF cushion-cut diamond of about 2.51 carats, twenty-one rock crystal and diamond cabochons, enhanced with brilliant-cut yellow diamonds.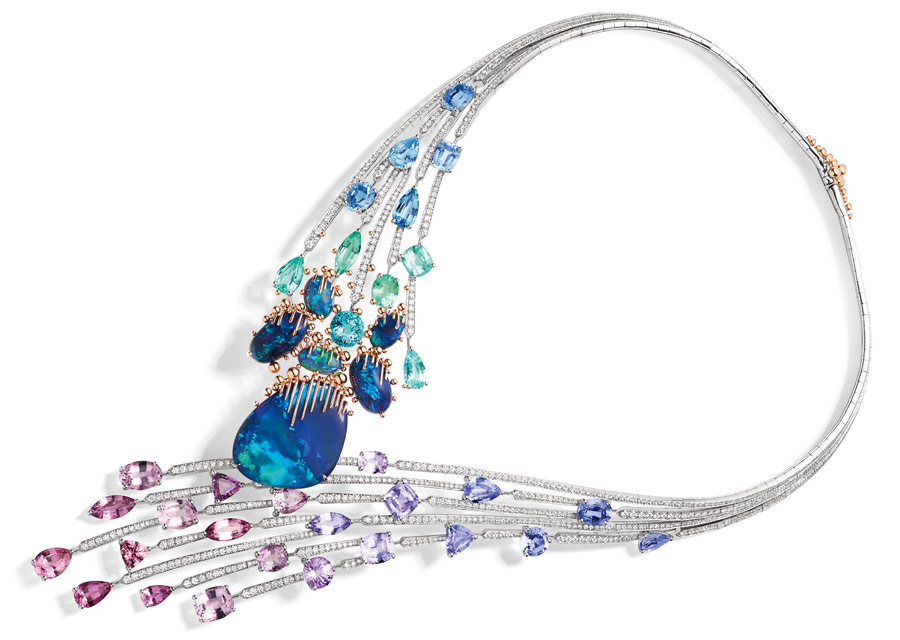 The line 'Les Fulgurances du Ciel', for its part, symbolizes the arrival of the stars at nightfall. Like this bracelet with shooting stars and its brilliant-cut diamonds that delicately follows the feminine wrists. A piece of ultimate fine jewellery, the necklace in white and pink gold hypnotizes the eye with its exceptional black opals from Australia, its Paraïba oval tourmaline from Brazil, its thirty-one multicoloured Paraïba fantasy-cut tourmalines from Mozambique and its brilliant cut diamonds. A great opportunity for the jeweller to highlight the meticulous work of his workshops to make the elegant ones more wonderful during festive evenings.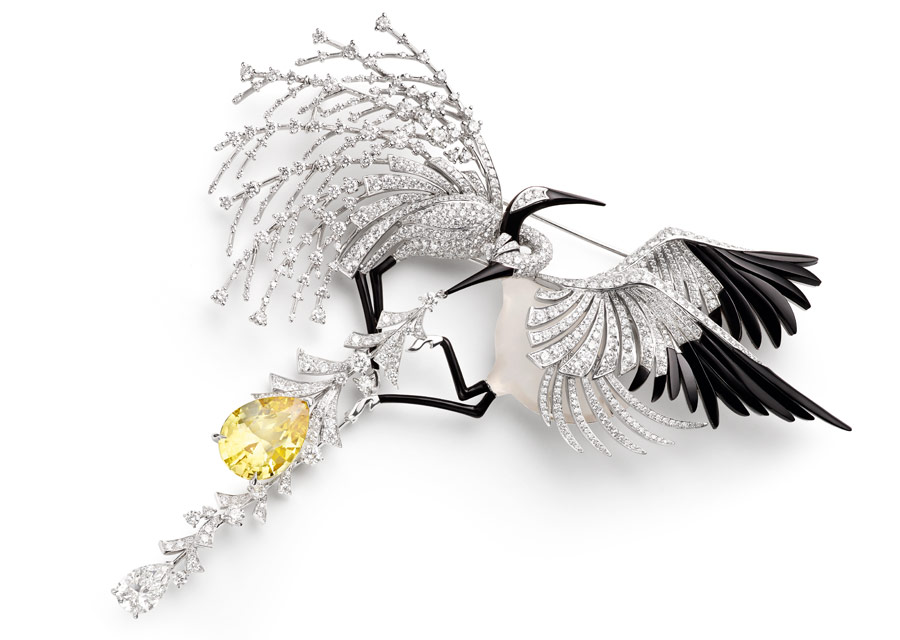 Important to Chaumet's bestiary, animals are an integral part of the line 'Les Habitants du Ciel'. Illustration by example with these two waders who seem to twirl on this white gold brooch encrusted with a Ceylon pear 'Golden Yellow' sapphire. Just like the self-winding white gold secret watch with a secret cover representing two set white gold swallows. This one reveals a lapis lazuli dial of an intense blue associated with a satin strap of the same royal shade.