Christmas shopping: affordable watches
Christmas is near, Frank Sans C turns into Santa Claus, and in his sleigh, there's something for everyone. For this video, he cooked up a selection of nice watches that won't break the bank to place under the Christmas tree. Can it be the 25th already?

By Chloé Redler
Whether you've been naughty or nice this year, our house YouTuber Frank Sans C has watches for every budget. With such a range of styles, colours, and materials, it's hard to choose just one. They make great gifts for family – or yourself. We won't tell… Better start writing your wish list!
VIGILO, it's a beautiful life
This winter, the young watchmaking brand Vigilo, launched in 2019 by two bankers, unveils its new, 1960s-inspired collection. "La Bella Vita" is the lovely name they have chosen for this first model. This piece harkens back to Federico Fellini's iconic film, La Dolce Vita, with Marcello Mastroianni and Anita Ekberg, and its sweet, romantic atmosphere.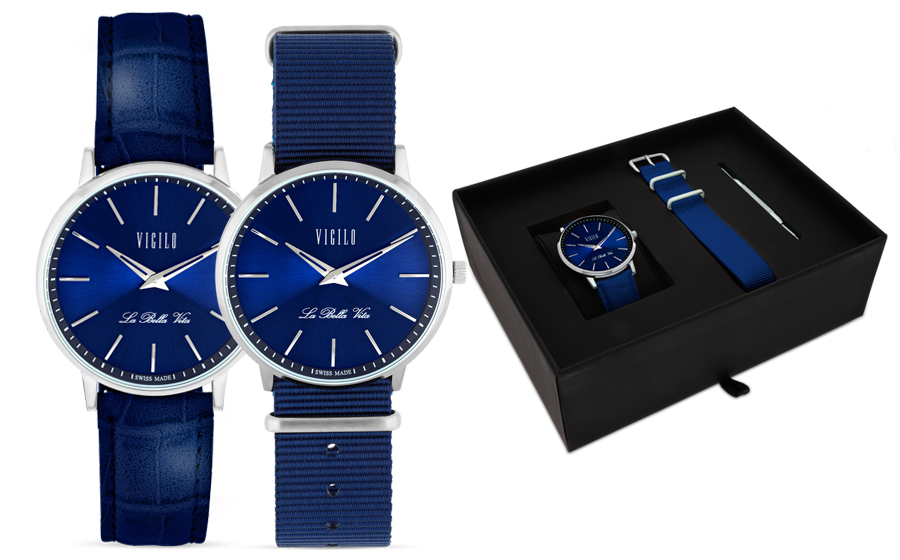 The 40mm quartz watch in 316L steel is limited to 100 pieces in each colour: midnight blue, jet black, candy pink, wine red and forest green. There might not be enough to go around! This elegant and timeless piece displays a refined sun-brushed dial, protected by mineral glass. It comes in its own case and with an extra interchangeable NATO-style bracelet, for a sportier style.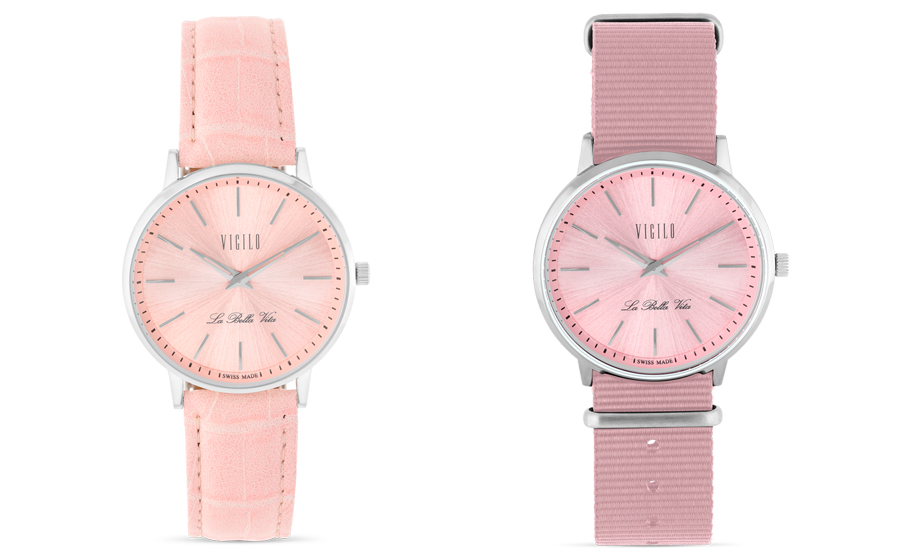 Price: €289
Technical specifications:
Quartz movement, Ronda Swiss made
Case: 40mm in 316L steel
Anti-glare K1 mineral glass
Interchangeable imitation leather and NATO straps
30m water resistance – rainproof
Limited to 100 pieces per colour
Unique number engraved on the caseback
TISSOT and timelessness
Frank Sans C introduces a classic and timeless pair: Tissot Everytime Gent and Lady. The design of these watches is light years away from the notorious PRX and stands out with a very thin bezel, letting the dial be the star of the show.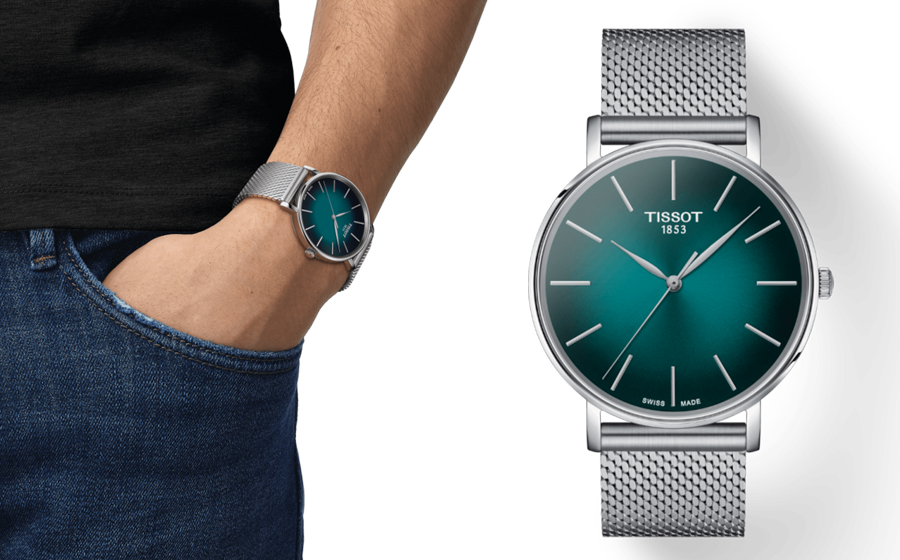 In gradient green or slightly iridescent white, the dial is protected in a round 316L steel case, water resistant to 50 meters. The two versions are powered by a Swiss-made quartz movement with EOL (End Of Life). This very handy function informs the watch wearer when the battery is about to run out. The seconds hand makes 4-second jumps to save battery life, all while displaying the correct time. These chic and minimalist watches are offered on a Milanese mesh bracelet for an undeniably comfortable fit.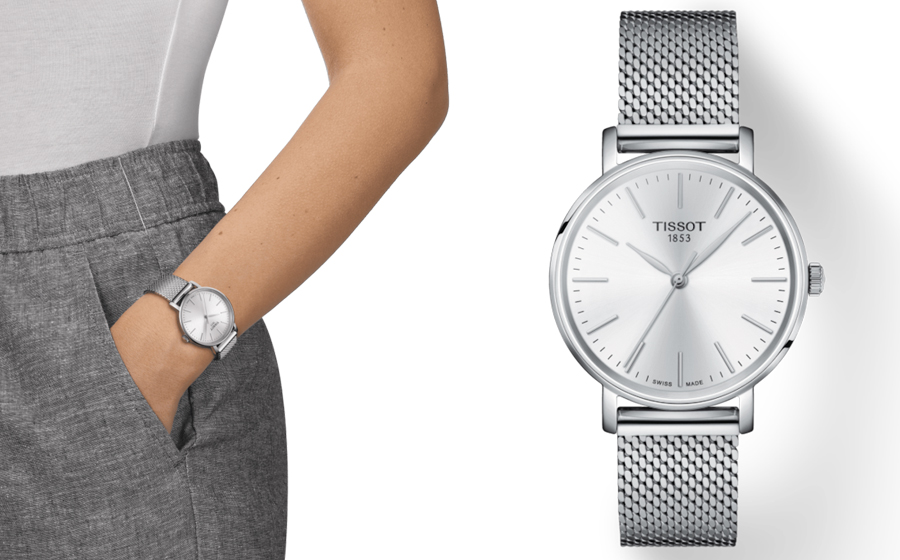 Prix :
Everytime Gent et Lady – 275 euros
Technical specifications – Tissot Everytime Gent:
Water resistance: 50 m
316L steel case
Round shape
Scratch-resistant sapphire crystal
Diameter: 40 mm
Swiss-made quartz movement
Hours, minutes, seconds
EOL(battery end-of-life indicator)
25.6 mm diameter calibre
Gradient green dial
Interchangeable 316L steel bracelet, jewellery clasp with safety
Technical specifications – Tissot Everytime Lady:
Water resistance: 50 m
316L steel case
Round shape
Scratch-resistant sapphire crystal
Diameter: 34 mm
Swiss-made quartz movement
Hours, minutes, seconds
EOL(battery end-of-life indicator)
23.30 mm diameter calibre
White dial
Interchangeable 316L steel bracelet, jewellery clasp with safety
SWATCH x Dragon Ball Z, a nostalgic piece
Since the latest special collection from Swatch came out, I can't stop humming the Dragon Ball Z theme tune to myself. Am I the only one? I know my fellow millennials will get it. This uncompromising, vibrant collection is delightfully peppy.
And for good reason: the colourful universe of the iconic manga, created by Akira Toriyama, is all over this collection, made up of seven pieces. Seven, like the number of crystal balls that must be reunited to grant one wish – the quest undertaken by the famous hero, Goku. Among them, the Vegeta watch: a representation of the prince from the fallen Saiyan race.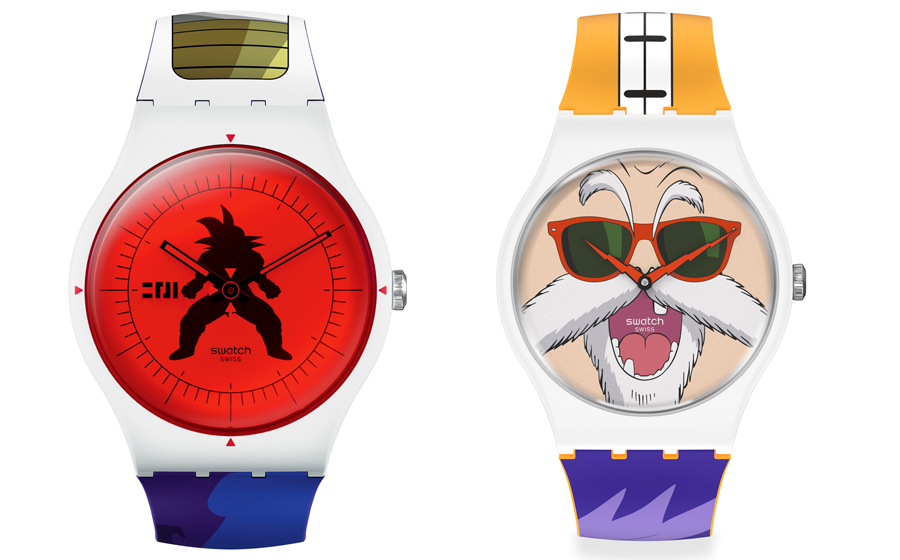 Its dial is protected by a translucent red glass and takes inspiration from Vegeta's scouter, a tool that calculates Goku's power level. On this new gent's model, the white dial is shielded by a black translucent glass. Another beloved character: Kamesennin, better known as Master Roshi in the English version. The face of this legendary martial arts master is displayed on the dial, with his iconic red-rimmed sunglasses. The gears of the quartz mechanism can be seen through the lens.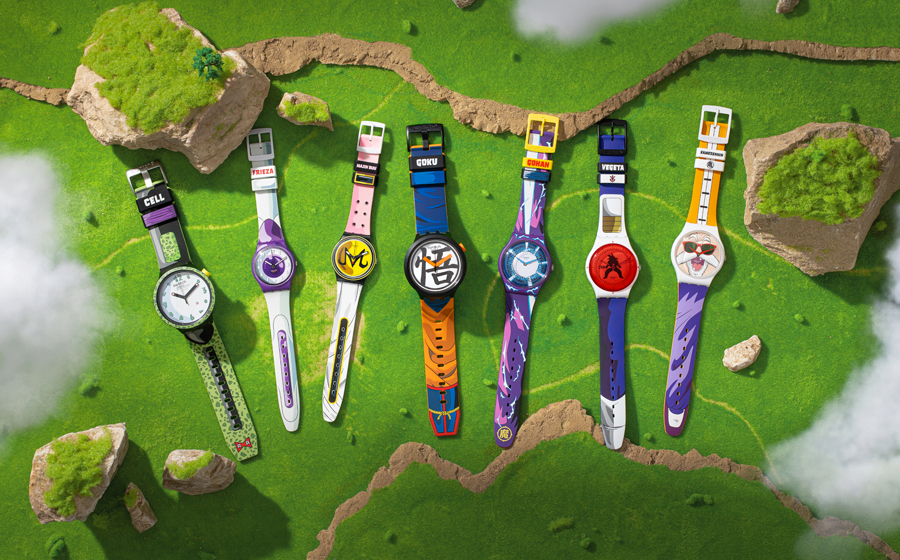 Prix : Vegeta et Kamesennin – 105 euros
Price: €105
Technical specifications:
Quartz movement
Water resistant to 30 meters
Silicone strap
Case material: plastic
Clasp material: plastic
Clasp type: buckle
Dedicated to die-hard fans, a special edition Shenron x Swatch box set is available, limited to 997 pieces. It contains the seven watches, each encased in a crystal ball, as well as an extra eighth one: the Shenron x Swatch Numbered.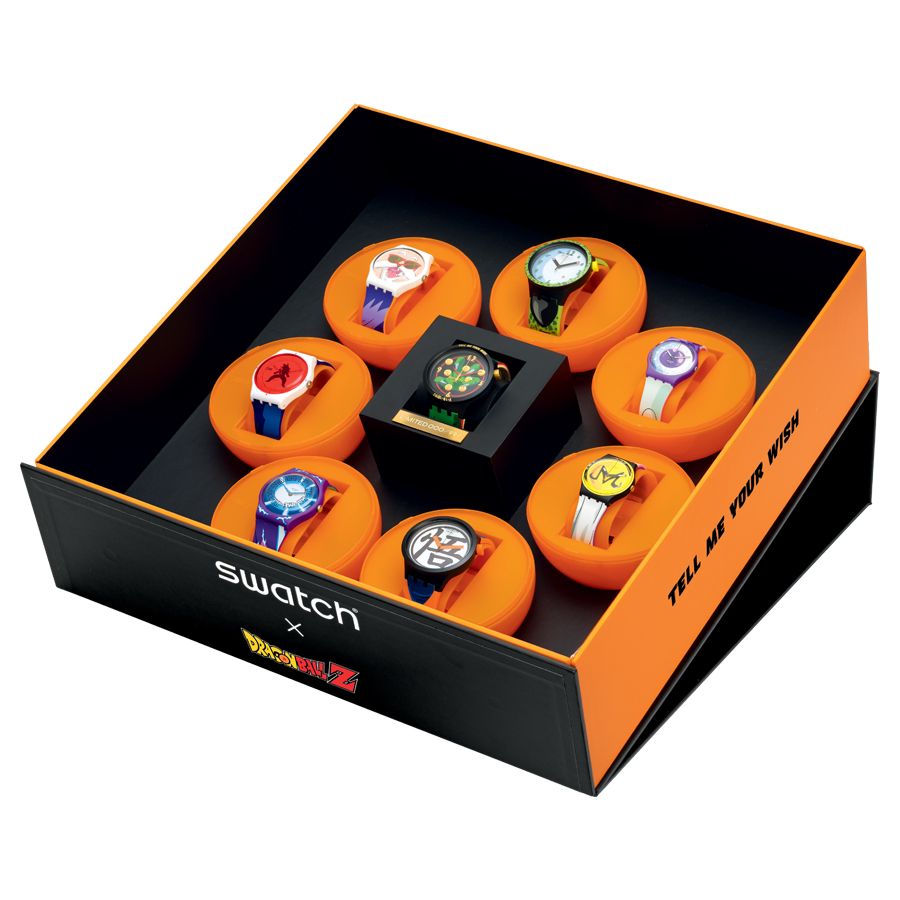 G-SHOCK, neo-futurist design
With the G-Shock GA-B001 and GA-B001G, the brand of the same name unveils four pieces with a new space-age case, inspired by gaming and VR. In the video, Frank Sans C showcases three versions: green, red, and translucent black.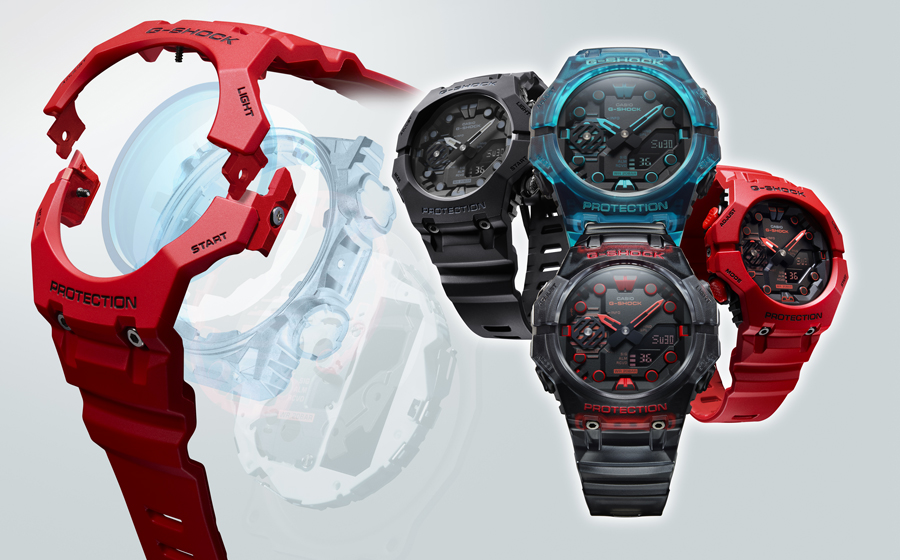 Crafted from resin and carbon fibre, they are ultra-lightweight, despite their impressive diameter. Although this is not obvious straight away, the shape of the watch offers a great fit that hugs the curve of the wrist. Among many functions, the watch offers a double display: analogue and digital. Built for the connected generation, the instrument is equipped with the Mobile Link function, allowing it to connect to a smartphone via Bluetooth. Accurate time adjustment is performed with the G-SHOCK Connected app A great feature for those who travel a lot.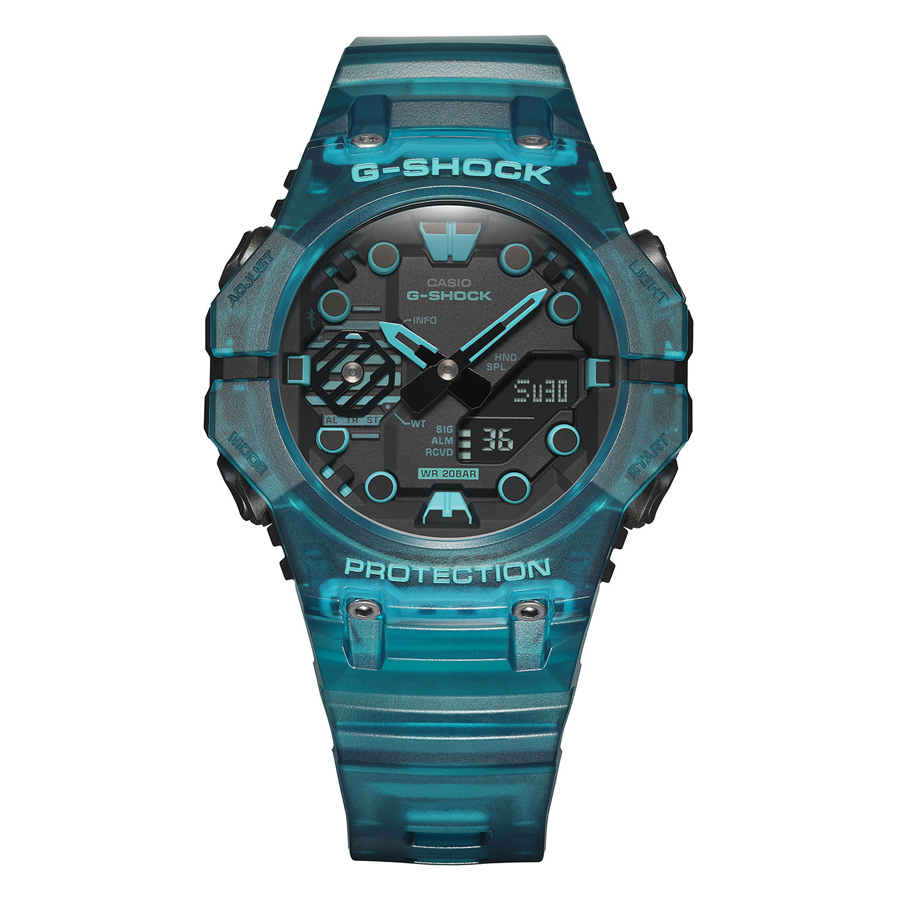 Price: GA-B001 – €129 / GA-B001G – €149
See all technical specifications on THE G-SHOCK WEBSITE.
LIP, the courtesy watch
In 1964, the French watchmaking maison Lip created a buzz with their concept of the "customer service" watch.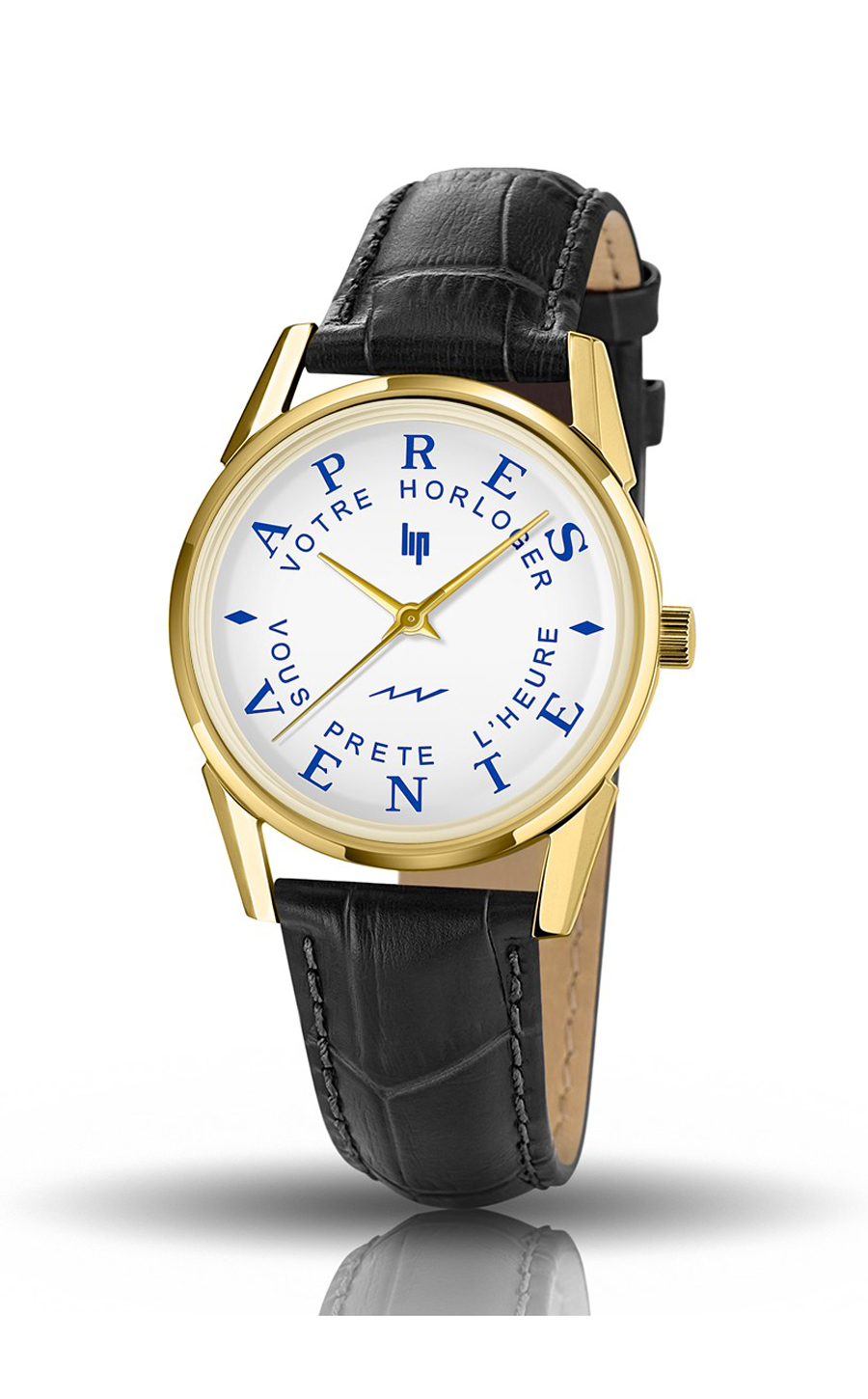 Here's how it worked: when a customer came to get their watch serviced, the retailer would lend a replacement watch, named "courtesy watch". This allowed customers to keep the time while they waited for the repairs to be done. This timepiece housed an electromechanical movement that was ahead of its time: accurate and battery-operated. Sometimes, customers would never give it back. Yes, really! Why would they bother returning a watch that was more modern and efficient than their own? Result: the marketing stunt was retired, and Lip courtesy watches became collector's items. Today, Lip revives this vintage icon. It's all there: the 35mm case, the battery-operated dial, and the dial, saying "SAV – Votre Horloger vous prête l'heure" ("customer service – your watchmaker lends you the time")
Price: €199
Technical specifications:
316L golden polished steel case
35 mm diameter
Steel caseback
Thickness (with glass): 10.6mm
Index-free white dial, 3 golden hands, with "Après-Vente" and "Votre horloger vous prête l'heure" writing in blue, blue thunderbolt at 6 o'clock
Mineral glass
Dark brown crocodile-style calfskin – width 18 mm
Golden barb buckle
Analog quartz RONDA 705 calibre
377 type battery
Water resistant to 30 meters
2-year warranty
ICE WATCH, for the glitterati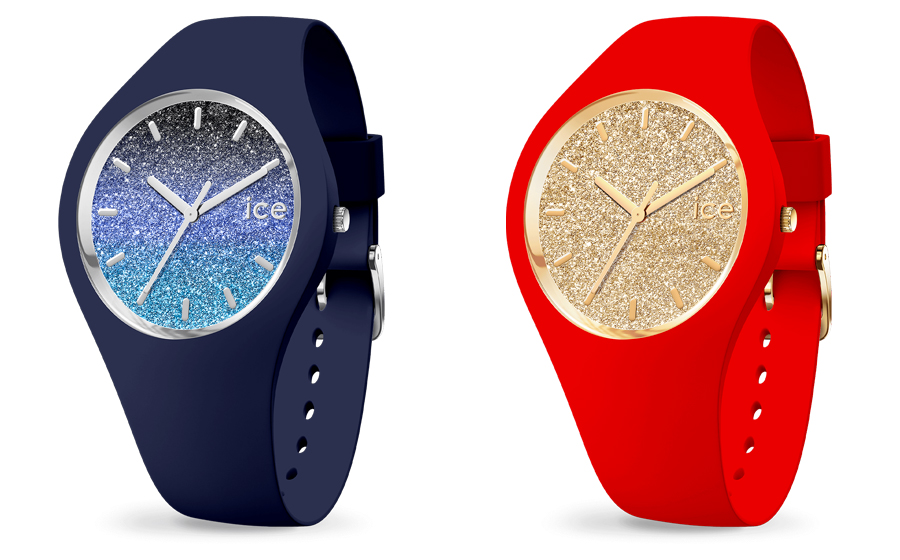 Sparkles are required! The new watches from Ice Watch are the perfect accessory to shine in your holiday outfits. The Red Passion edition is as glamorous as can be with its silky-smooth bright red silicone bracelet and its metallic golden dial. Its Midnight Blue counterpart boasts an iridescent sparkly dial on a backdrop of gradient blue. For a scintillating look.
Price: €109
Technical specifications:
40 mm diameter
Steel
Mineral glass
3-hand functions
Water resistance: 100 m
Silicone bracelet
FLIK FLAK, sparkles and chocolate
Getting a watch for Christmas is not just for grown-ups. Our very own Santa Claus selected these four children's models from Flik Flak.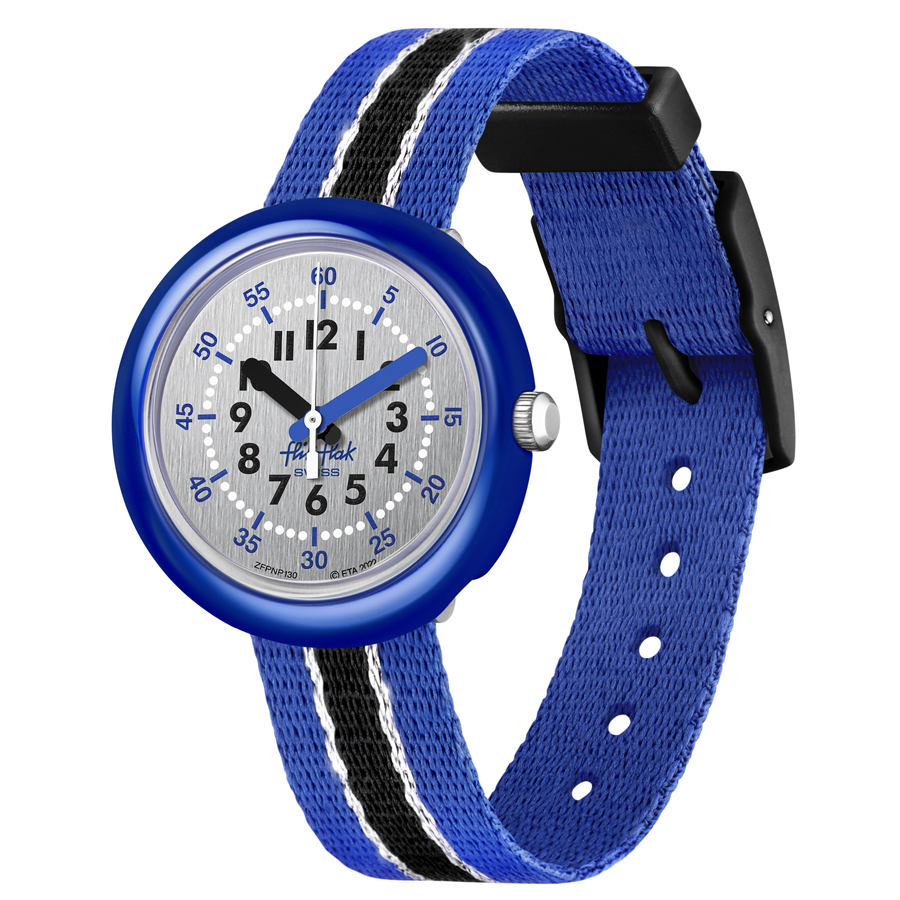 The Shine Bright collection sparkles and shines. It is comprised of two watches, named Shine in Rainbow and Shine in Silver. Shine in Rainbow comes on a gradient metallic rainbow strap, that perfectly complements the light blue of the dial and the bright pink of the hour markers and hand. Shine in Silver boasts a silver-coloured dial, a contrast to its electric blue and black strap and case.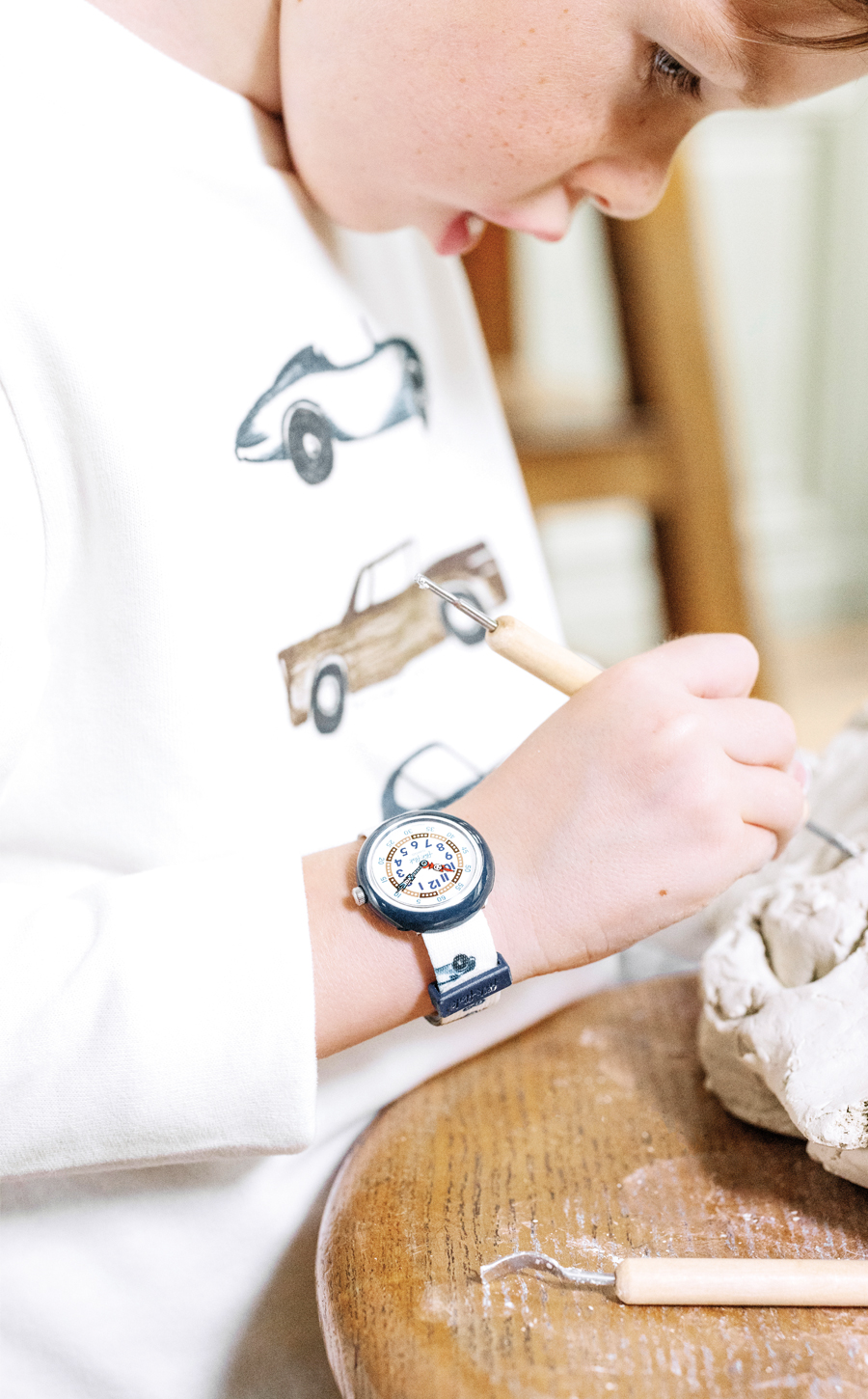 Another pair, this time in pastel tones: the Tartine et Chocolat x Flik Flak collab. Each watch is offered in its own pencil case, matching the colours of the children's clothing brand. One has grey and pink floral print, a sparkly case and a crystal-studded dial. The other has a blue and brown vintage car print.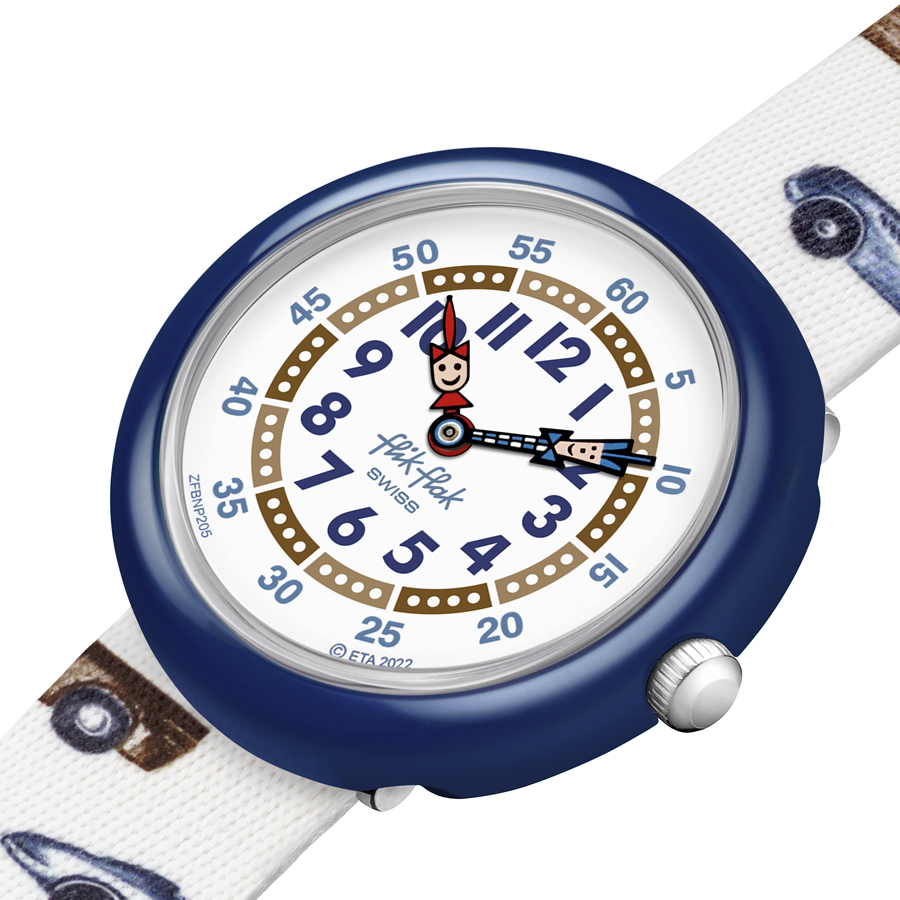 This quartet of watches is made from ecological materials and is available on recycled PET straps. A little bonus for parents: these can be machine-washed up to 40 degrees Celsius. A very good reason to let kids handle their new time-learning instrument to their hearts' contents.
Prix :
Shine in Rainbow et Shine in Silver : 48 euros
Tartine et Chocolat x Flik Flak – montre et trousse rose : 60 euros
Tartine et Chocolat x Flik Flak – montre et trousse bleue : 55 euros

Prices:
Shine in Rainbow and Shine in Silver: €48
Tartine et Chocolat x Flik Flak – watch and case set in pink: €60
Tartine et Chocolat x Flik Flak – watch and case set in blue: €55
Arriving on set: Hamilton Ventura, the rock'n'roll watch
The Hamilton Ventura, envisioned in the 1950s by American designer Richard Arbib, featured a case that was ahead of its time. With its graphic, triangle shape, it has since become an icon of industrial design and watchmaking.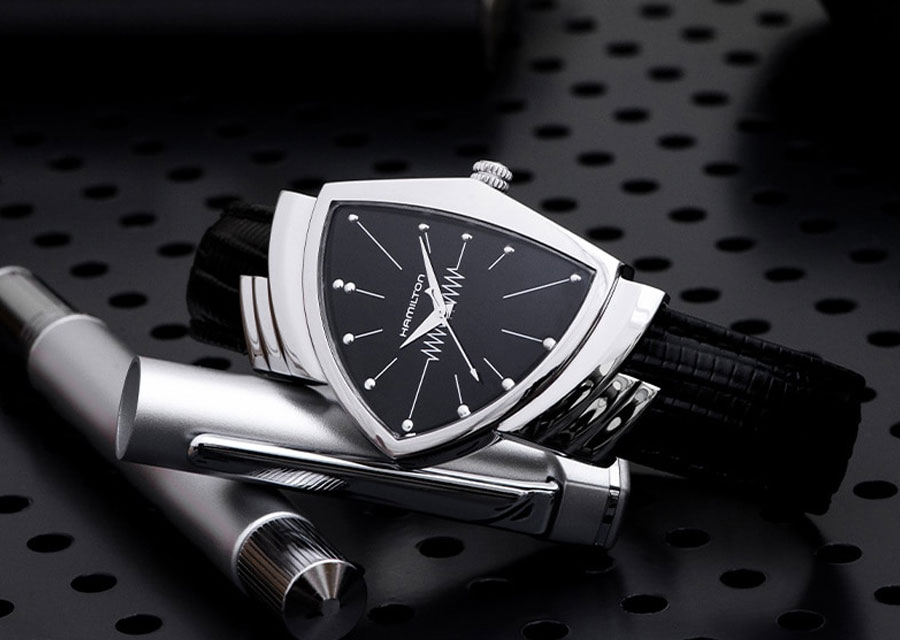 This retro-futuristic timepiece is an illustration of the transition from mechanical movements to quartz. It is powered by an electromechanical battery. The watch was brought to the limelight in 1961, when it was worn by Elvis in the musical Blue Hawaii. A legend was born.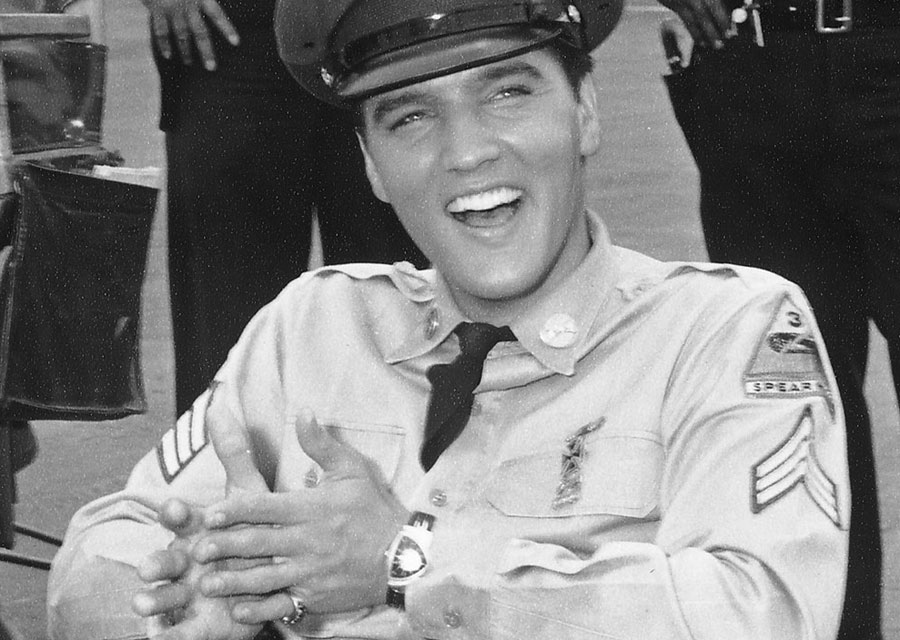 The quartz version above contains a black dial and is presented on a black leather strap, imitation lizard. For a guaranteed rocker look!
Price: €895
Technical specifications:
F03.101 calibre
Quartz movement
Case dimensions: 24mm x 36.5mm
Dial colour: black
Case material: stainless steel
Mineral glass
Lug width: 13mm
Water resistance: up to 5 bars (50m)
Calfskin leather strap, grained with imitation lizard
À voir aussi :
À lire également :