Artistic Crafts
Dior Grand Bal, all-singing, all-dancing
The Dior Grand Bal collection has become one of the brand's most emblematic set thanks to its fascinating and skillful alliance of Swiss watchmaking and fine craftsmanship. The watches are powered by an exclusive automatic calibre with the oscillating weight on the dial side. To decorate them, the Maison's artisans drew inspiration from the Haute Couture world. The latest series, called Grand Bal Masqué, is a pure marvel of creativity mirroring the Venetian masks exuberance.

By Chloé Redler, Nicolas Yvon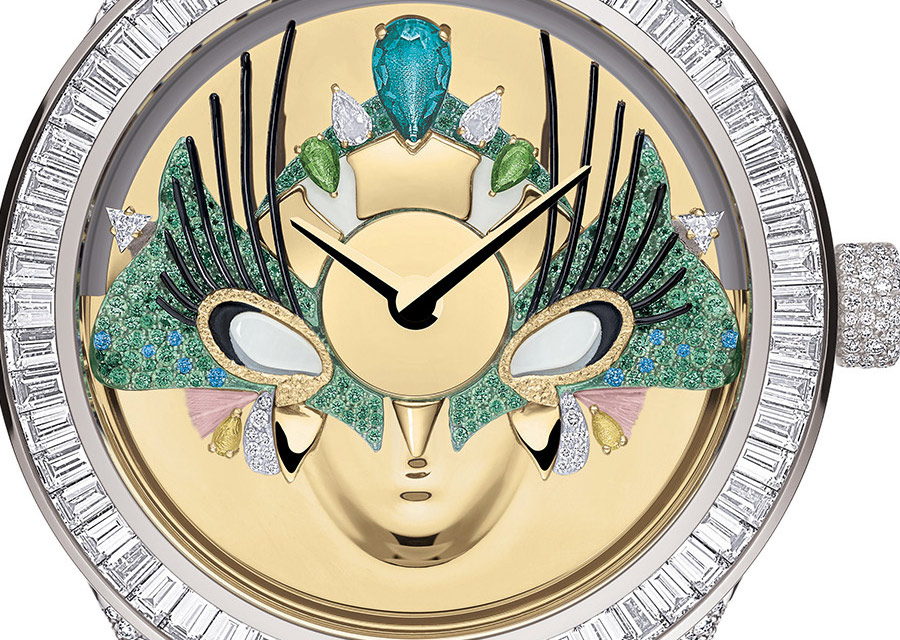 Giving it a whirl
Since the creation of the Dior Grand Bal watch in 2011, the collection has yet failed to surprise. This watch is recognizable among all with its patented Dior Inversé calibre, whose functional oscillating weight is placed on the dial side. A true miniature masterpiece that twirls at the slightest movement of the wrist like the dizzying swirl of a ball gown. A unique field of expression for the the devoted artisans who adorned every available techniques, gems and materials of their palettes. Each oscillating weight is profoundly delicate and was conceives with extreme meticulousness – exactly like a creation from a great designer would be. The first models had already set the tone: "Dentelle Frivole", "Broderie Anglaise" and "Plissé Soleil", then "Résille", "Plume" and "Drapé" in 2012, and finally "Fils de Soie" in 2014. The new pieces are now embellished such as a mother-of-pearl embroidery, or a beetle elytra and butterfly wings marquetry, woven gold threads even gold and diamond guipure…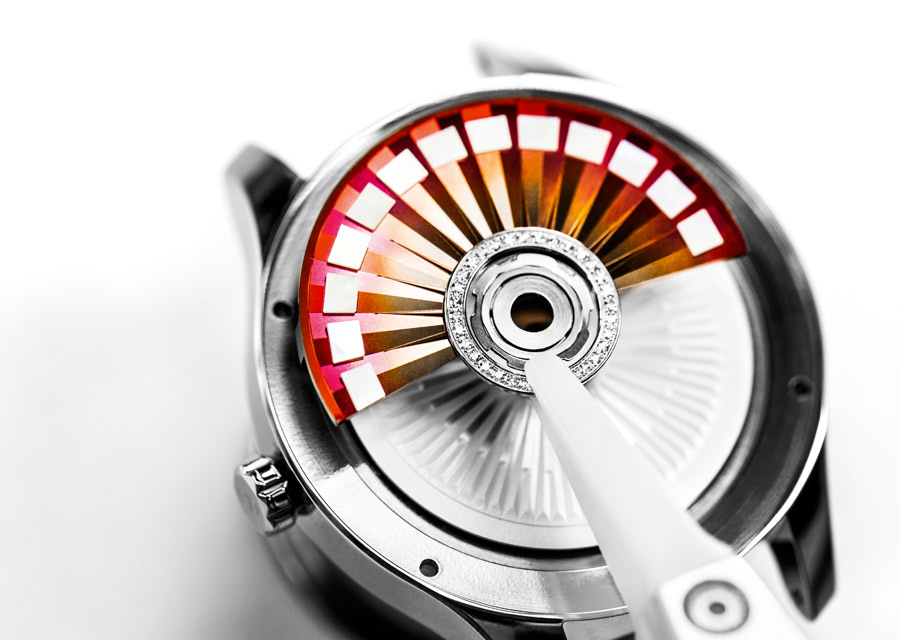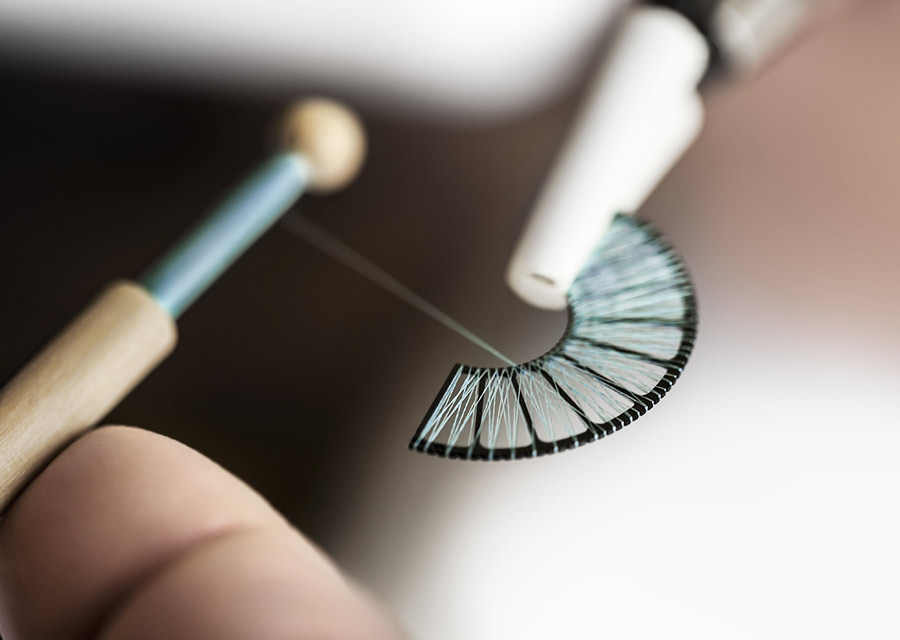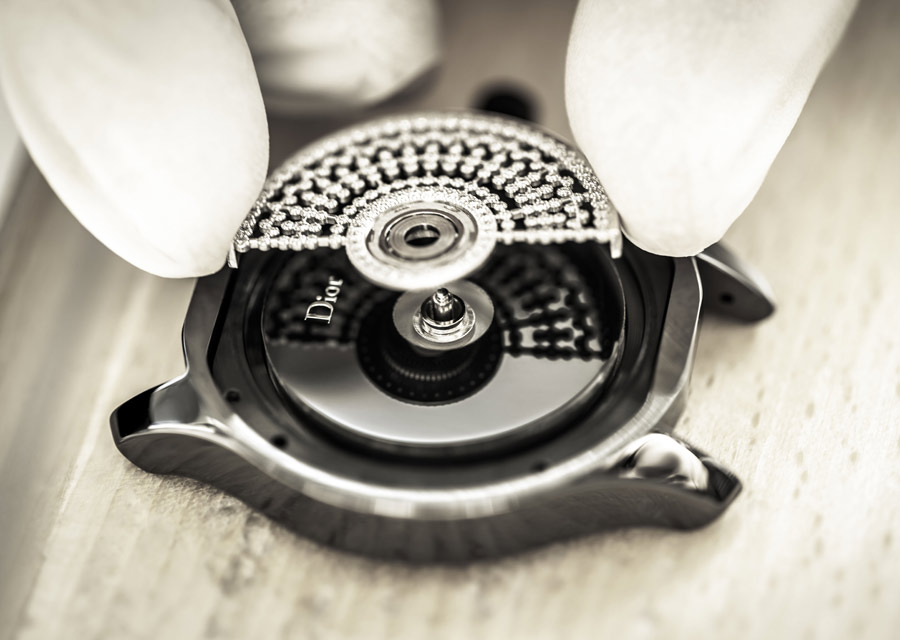 Much more than mere fashion accessories, the Dior Grand Bal collections is constantly looking for new techniques and possibilities while still embodying craftsmanship excellence. An ancestral savoir-faire at the origin of Haute Couture itself. When artisans take over our wrists, they inexorably spellbind the eye…and the instant.
The custom-made Bell of the Ball
In 2019, Dior shook the world to its foundations by allowing mechanics enthusiasts to compose their own Dior Grand Bal Couture. A rarity in the watchmaking world, which did not go unnoticed. This tailor-made creation service gives customers the opportunity to create their very own design, down to the smallest detail.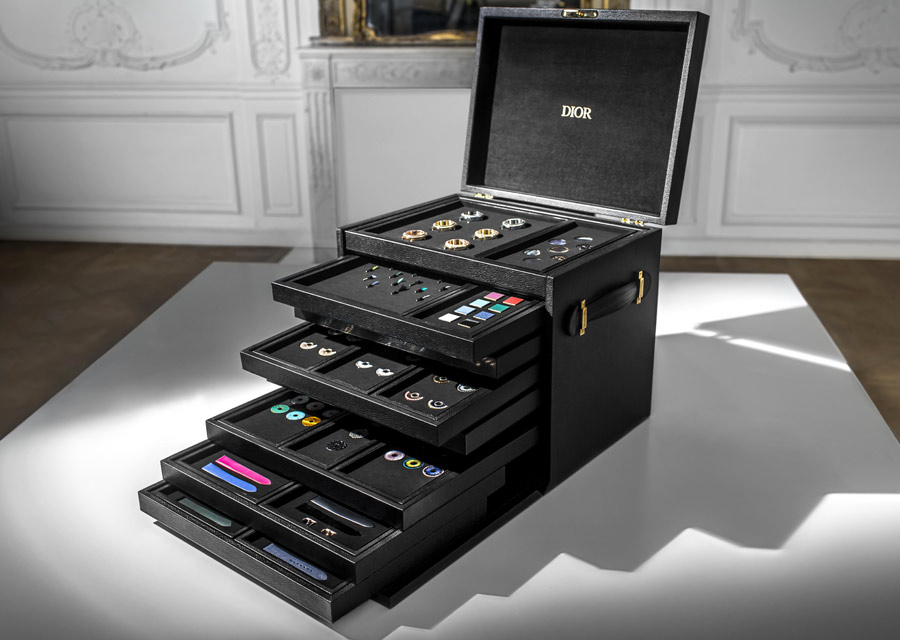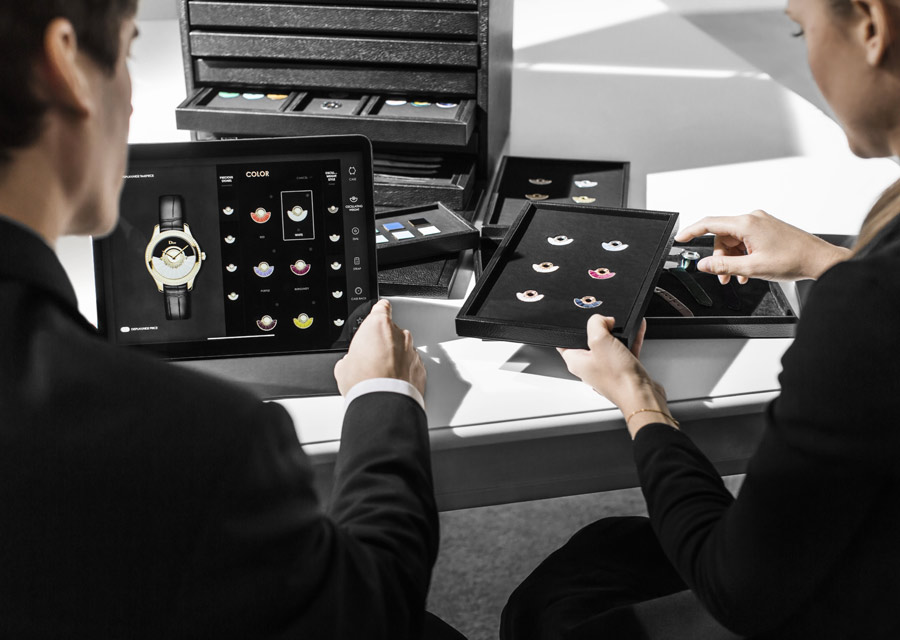 Under the guidance of a designer from the Maison, future owners can give free rein to their imagination. Among other options, one can play with gold alloys, fine or precious stones, natural materials and geometric patterns. From the buckle of the bracelet to the hands, the creative possibilities are quite limitless. Being able to choose from 525 oscillating weights, 16 bezels and cases, 42 dials, 16 case backs and 37 bracelets, more than 200 million unique combinations can be created!! Five months are then necessary before finally being able to wear one's dream watch. The best things are worth waiting for.
At The Masquerade Ball
Today, while the magnificent limited-edition 'Plume' and 'Ruban' watches already enrich the Grand Bal family, Dior is also showcasing a new series of absolutely fascinating one-of-a-kind pieces.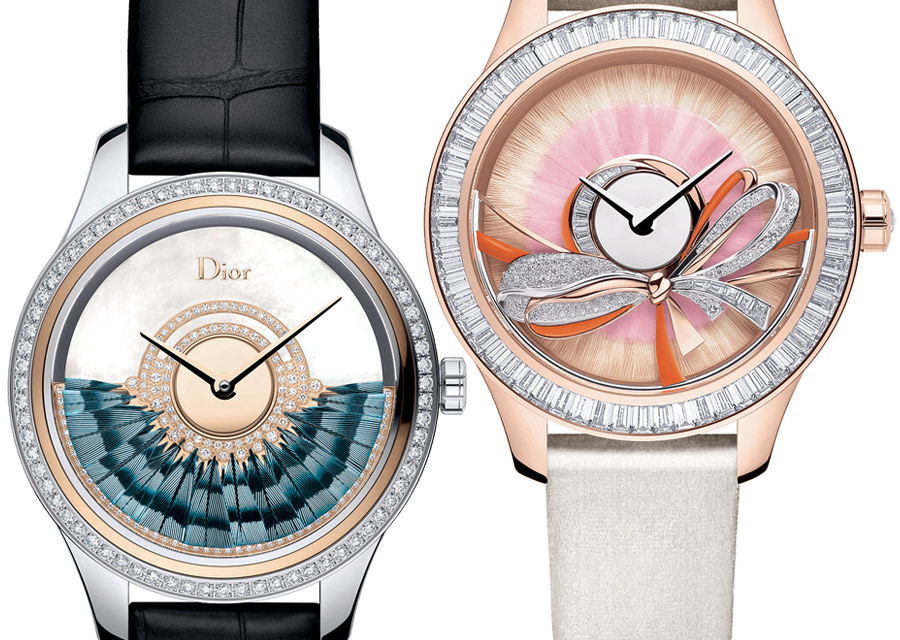 After the 'Pampille', 'Ondine' or 'Jardins Imaginaires' themes, the baroque universe of the Venice Carnival was the one who inspired designers to literally transform oscillating weights into exuberant miniature masks. A single glance is enough to understand that the twelve variations of the Grand Bal Masqué draw their inspiration from the famous and unmistakable Venice Carnival. More precisely still, they echo an unprecedented event organized in 1951 in Venice by Carlos de Beistegui which took place in his Palazzo Labia. Aptly called the 'Ball of the Century', this was one of the most extravagant and lavish evenings of the post-war period. It brought together 1,500 hand-picked guests. Personalities and artists had the honour of making use of their talents to contribute to this memorable moment. Among them was Christian Dior who, along with Salvador Dalí, Nina Ricci and Pierre Cardin, designed some of the many costumes worn by the guests.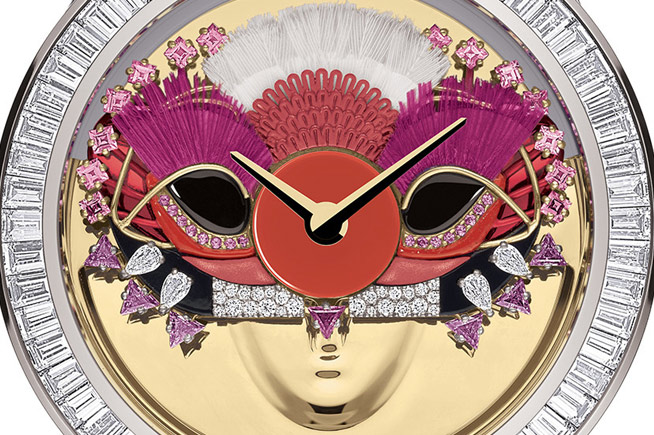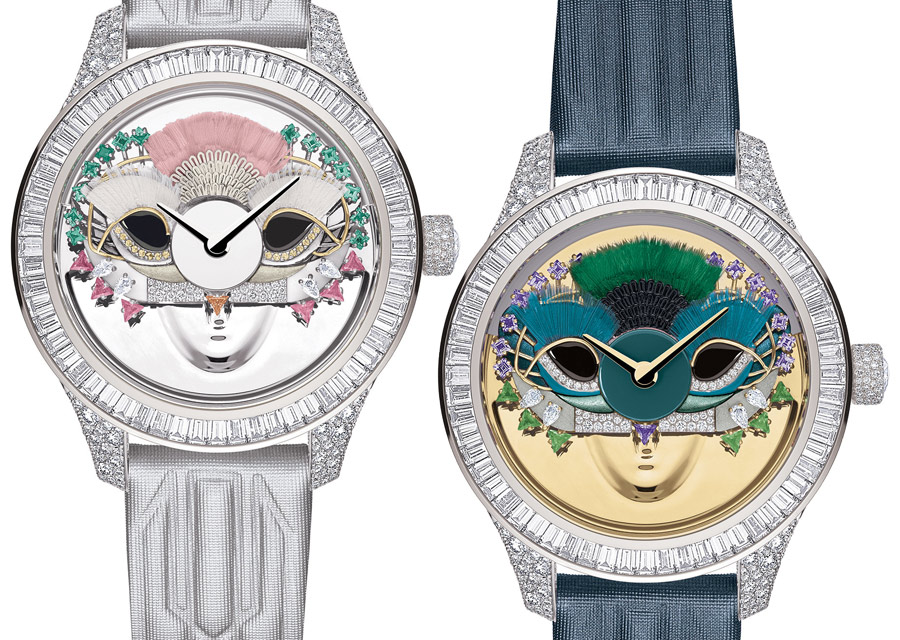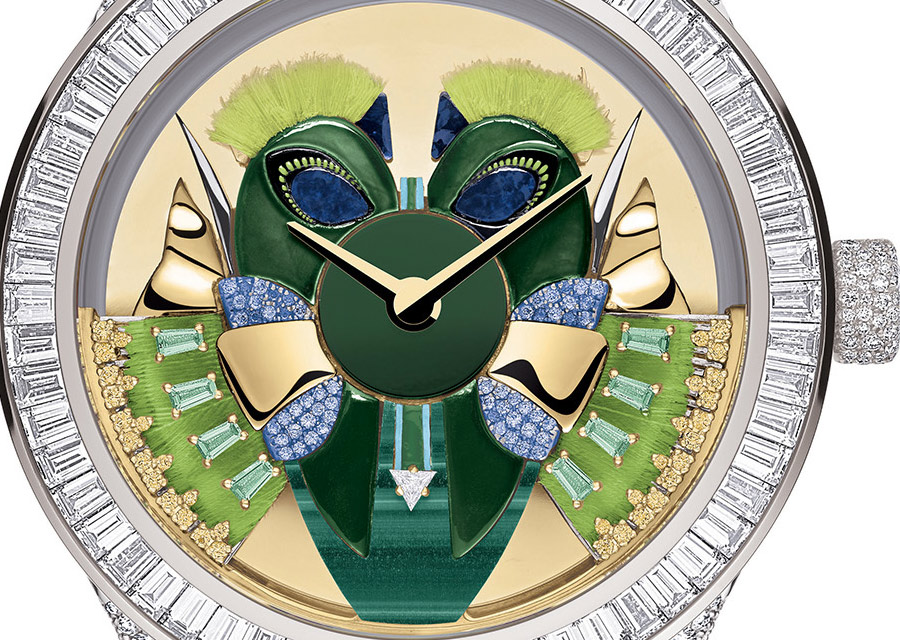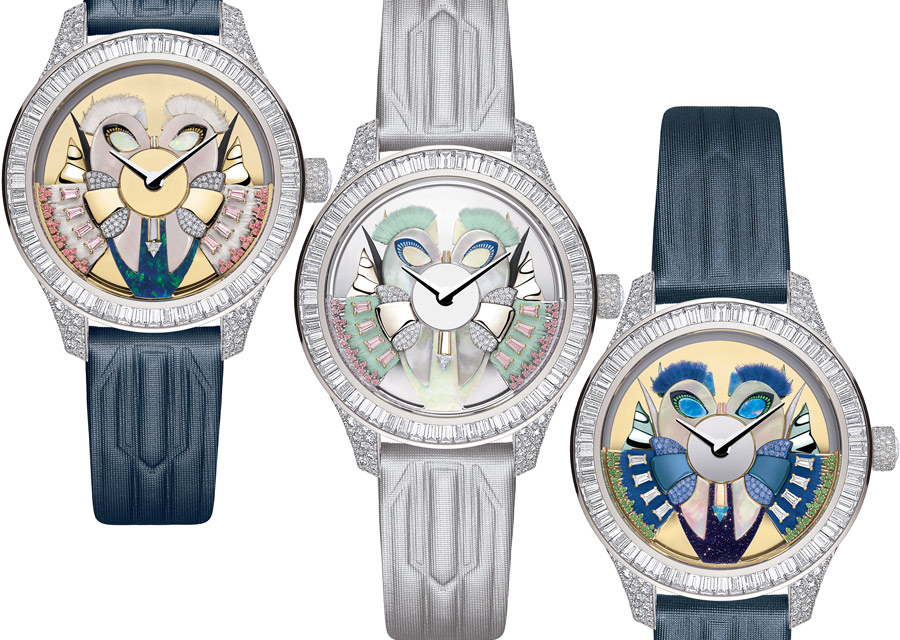 The Dior Maison has perfectly succeeded in recreating the beauty of Venetian masks and conveying it to its watches. These masks always remain upright since they are mounted opposite to the weight of the oscillating weight, which is shaped like the bottom half of a face. Gold, platinum, diamonds, spinels, coloured sapphires, rubies, emeralds, garnets, feathers…The 36 mm-diameter variations are served on a satin strap, and are a marvellous reflection of the Maison's flowing creativity. No doubt that these new Dior Grand Bal will turn many heads.