GENEVA SPECIAL
Geneva Watch Days 2023: episode #2
Prepare to be amazed by this second episode, it introduces watches by MB&F, JacobCo, Oris and Alpina. There is one for everyone's taste: precious, completely nuts, deep, sustainable, vintage… The choice is yours, but this presentation of the Geneva Watch Days novelties is here to help you. Watch out for the third and last episode of the series, as it will come with a bunch of surprises…

By Chloé Redler
MB&F, HM9 Sapphire Vision
A watch? Rather a watchmaking oddity! There is only one step between the two, and maison MB&F, created in 2005 by Maximilian Büsser, takes it with this strangely futuristic model. Propelled into the watchmaking world in 2018, the Horological Machine N°9, better known as HM9, is a watch with an avant-garde design that has more than one trick up its sleeve.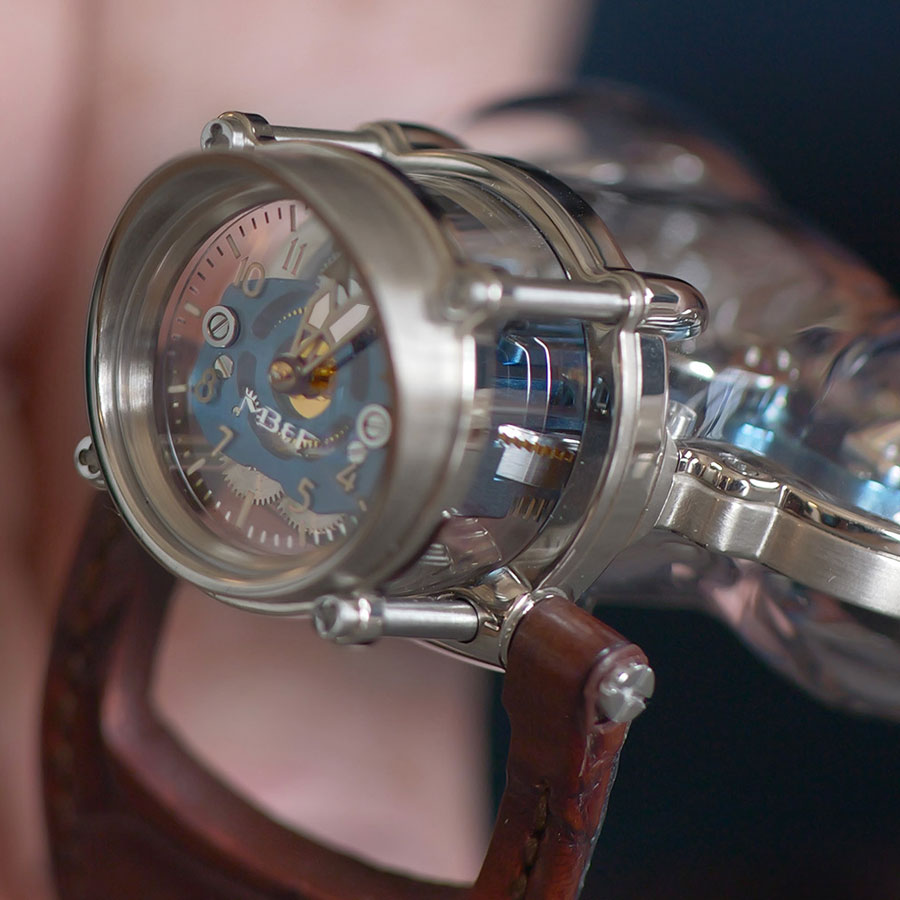 Inspired by the rounded lines of the cars and planes of the years 1940s-1950s, this new edition unveils all its gears through a case fully made of transparent sapphire crystal. This is a true watchmaking feat, considering how hard it is to machine such a material and to do it for three assembled parts. Around 350 hours of machining and polishing were needed to let the mechanism get on with its movements. This mechanism follows the design of the case, which is the result of three years of development within the manufacture.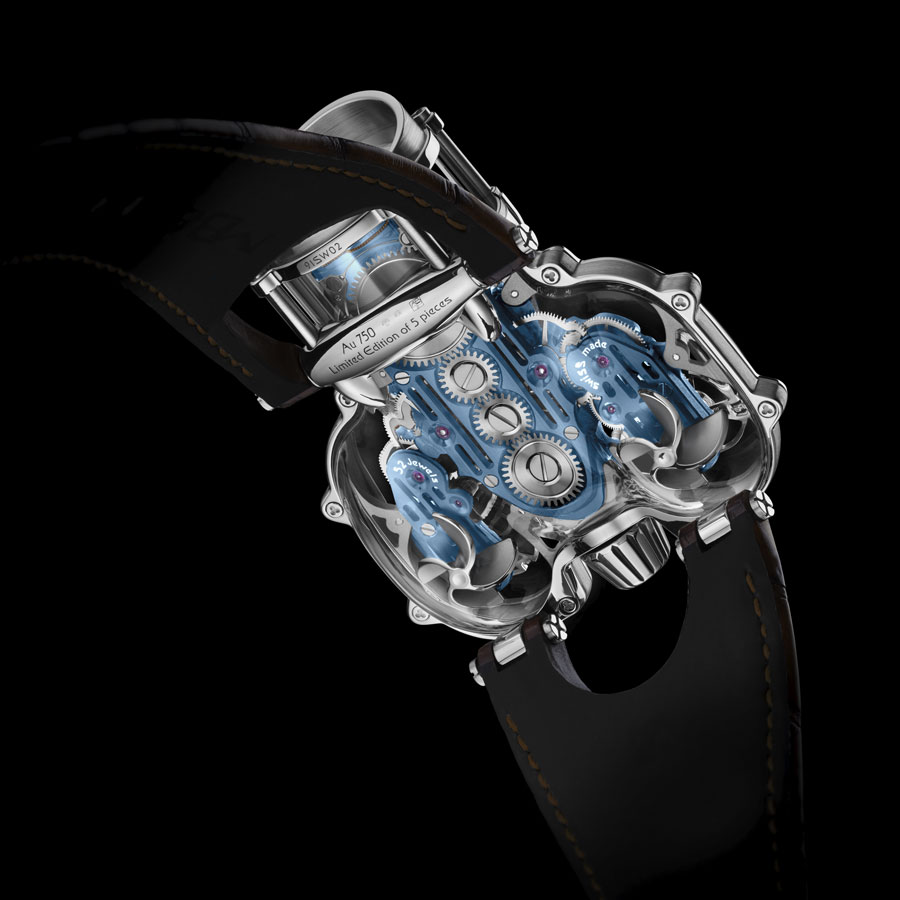 This challenged was completed with flying colours through the three-dimensional assemblage of wheels, gears, plates, and bridges which all form a sort of mechanical endoskeleton. Powered by a manual-winding calibre, the engine is PVD-coated in blue for the white gold version and in green for the yellow gold one.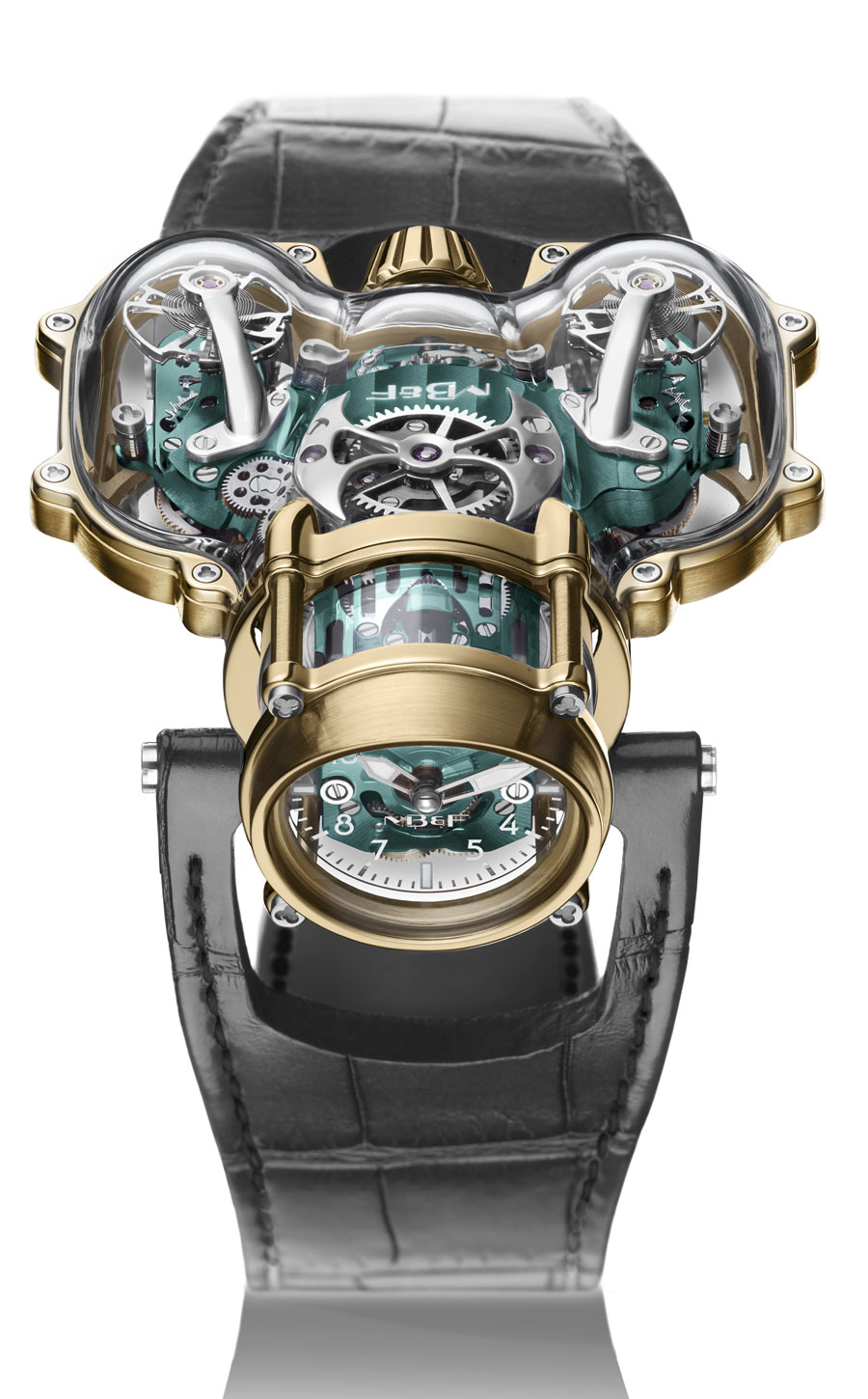 Last detail but not the least: the exceptional nature of the HM9 Sapphire Vision is confirmed by the way the time is displayed. If it happens to stop or break, the watch will still give you the time twice a day on the perpendicular dial. Spectacular!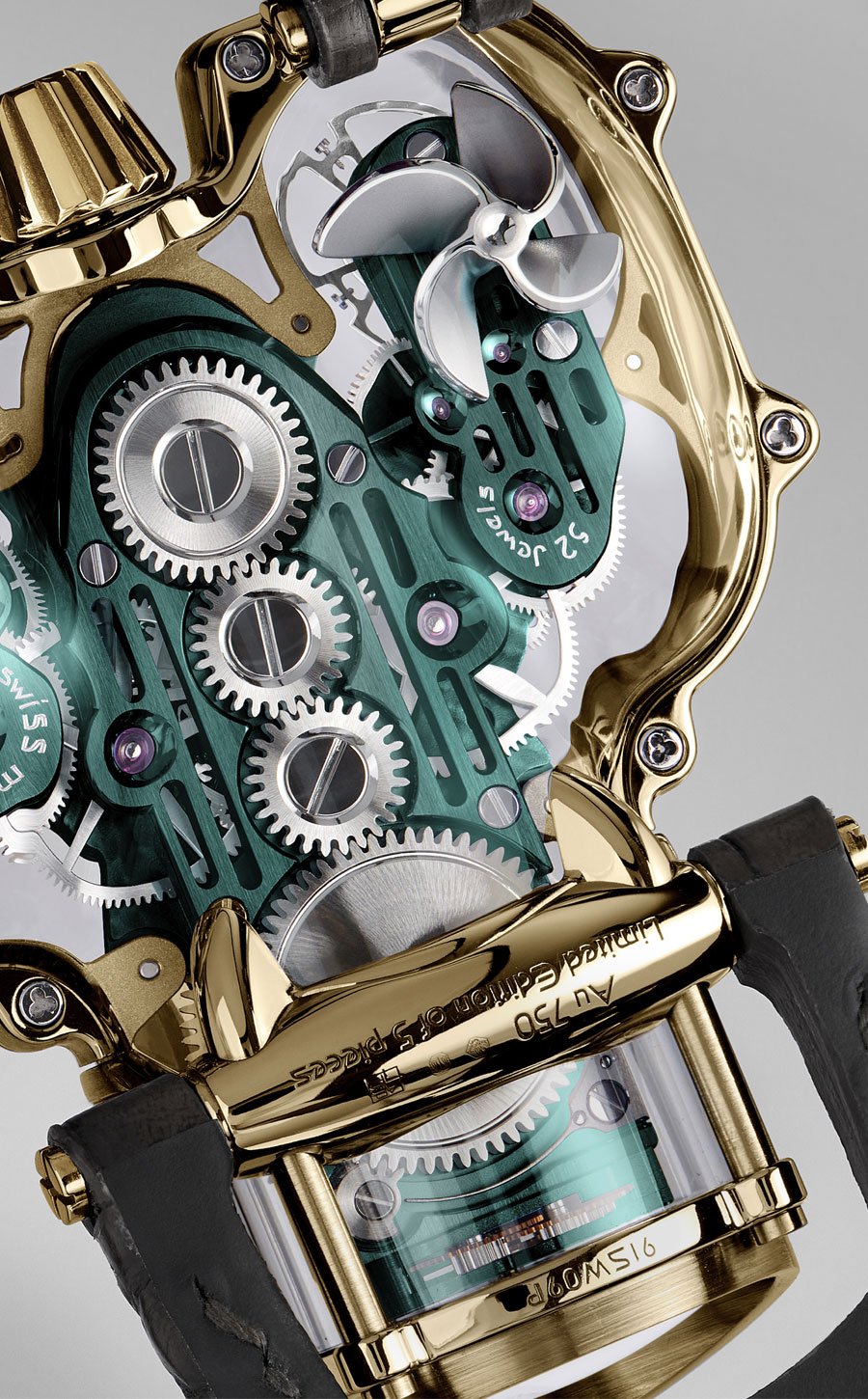 450 000 CHF
Click here to read the MB&F HM9 Sapphire Vision full technical sheet.
M.A.D.1 Green
An MB&F independent brand, M.A.D.Editions, presented its first opus in 2021, M.A.D.1 Red, then a second one, M.A.D.1 Blue. The concept? Ultra-futuristic watches at an affordable price. A worthwhile project coming from the label, which wishes to make high-end watchmaking accessible to amateurs and collectors of technical and atypical pieces.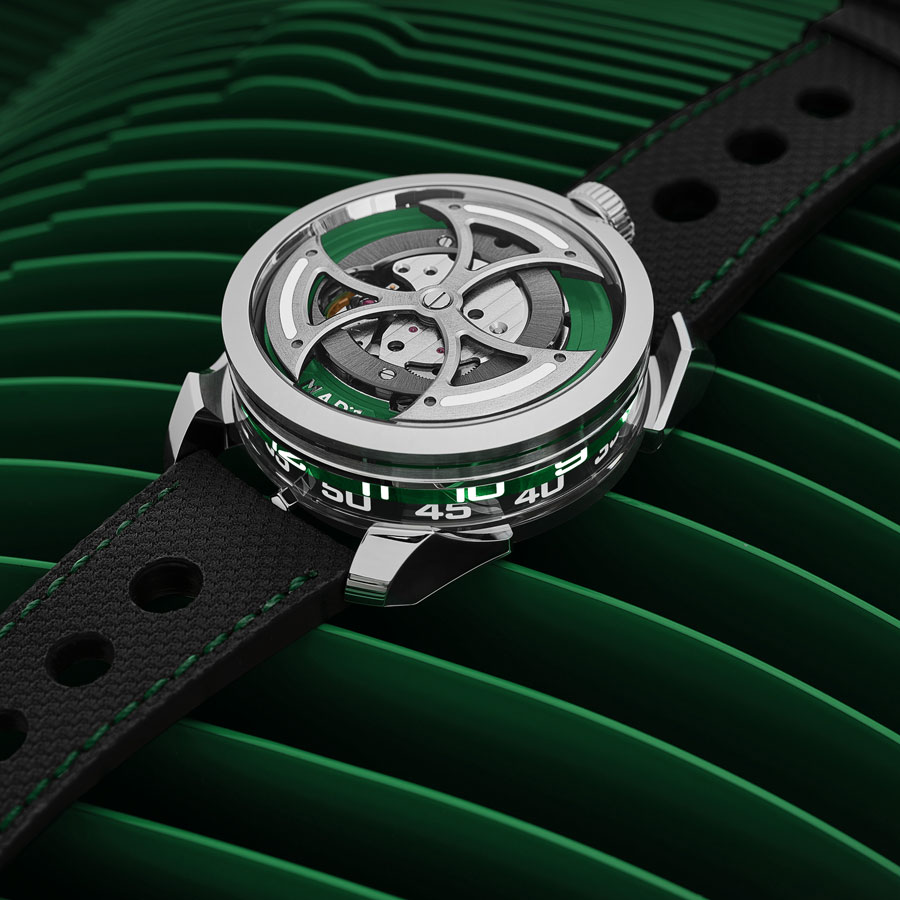 There is nothing like a little equity, that is why the limited-edition watches are sold through a raffle system – so that all buyers have equal chances of becoming owners of these coveted watches. The same system will be used for the new model M.A.D.1 Green, a watch clad in a very trendy green.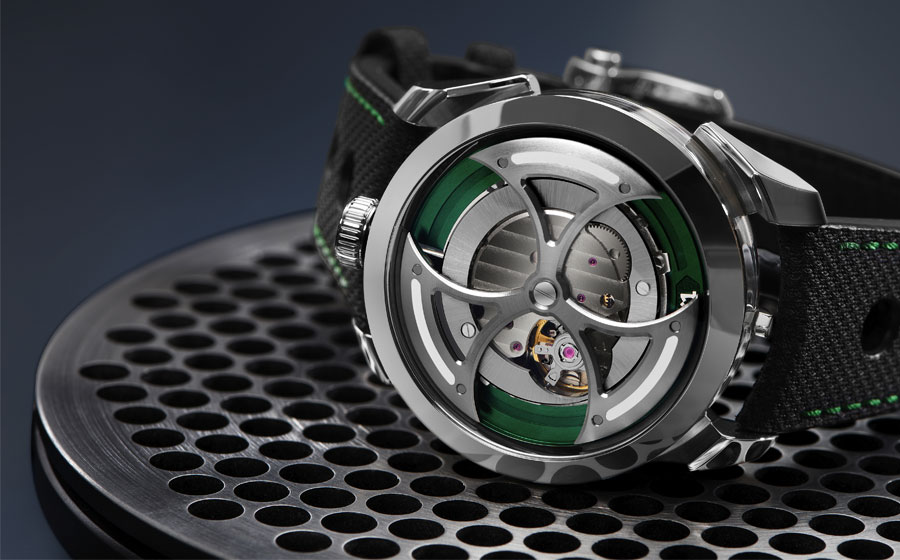 From a mechanical point of view, this oddity is ready for space, as it reveals a unidirectional winding system with a specially-developed triple-blade titanium and tungsten rotor on the dial side of the watch – enough to turn your head! On this side of the watch, you are in in for a show, but what about the time-reading aspect?! It is easier than it looks, the hours and minutes are positioned on revolving cylinders visible on the case band, and these are luminescent, providing you with a rare light show. Polarizing for some, the M.A.D.1 Green remains however a design object in its own right.
Registration for the raffle opened since the 12th September – results announced at the beginning of Octobre and deliveries to be expected between Octobre 2023 and April 2024.
3 125 CHF
Click here to read the MB&F M.A.D.1 Green full technical sheet.
JACOB & CO – "The World Is Yours" Dual Time Zone
Inspired by a double time zone watch that Jacob Arabov – one of the Jacob & Co founders – received from his father at the age of 13, "The World Is Yours" Dual Time Zone edition is a true miniature work of art.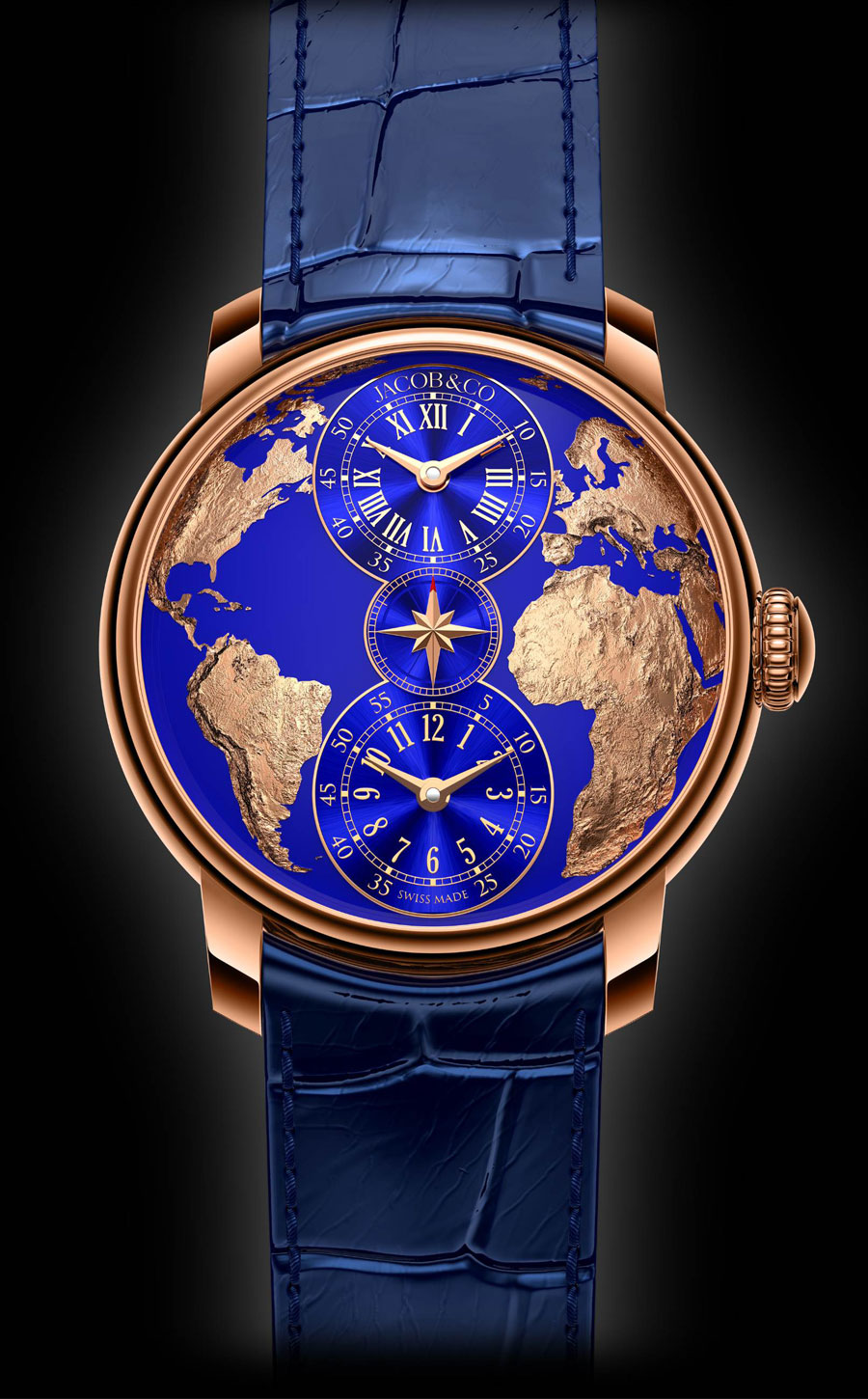 Contained by a 43 mm pink gold case, the dial is protected by a mesmerising domed sapphire crystal. Taking another look at the shape of the globe, this curved shape then displays an ultra-realistic depiction of the world. The Earth is the queen of this blue lacquered background. On each side of the Atlantic Ocean, America, Western Europe, and Africa establish themselves among a pink gold setting, meticulously laser engraved.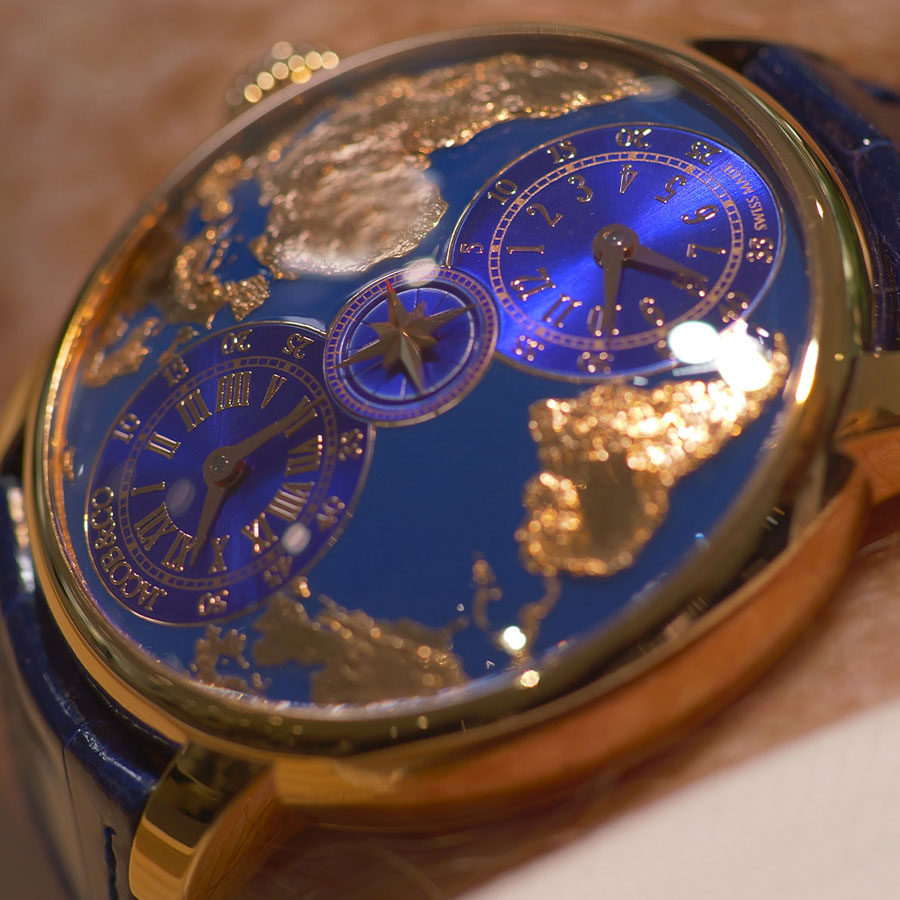 At the centre, two vertically aligned sub-dials indicate two different time zones on either side of a small seconds. The latter is shaped like a wind rose with four main arms, one of which is painted in red to act as a pointer. This watchmaking feat is powered by an automatic manufacture calibre with a 42-hour power reserve. That way, the world can be yours for a few hours…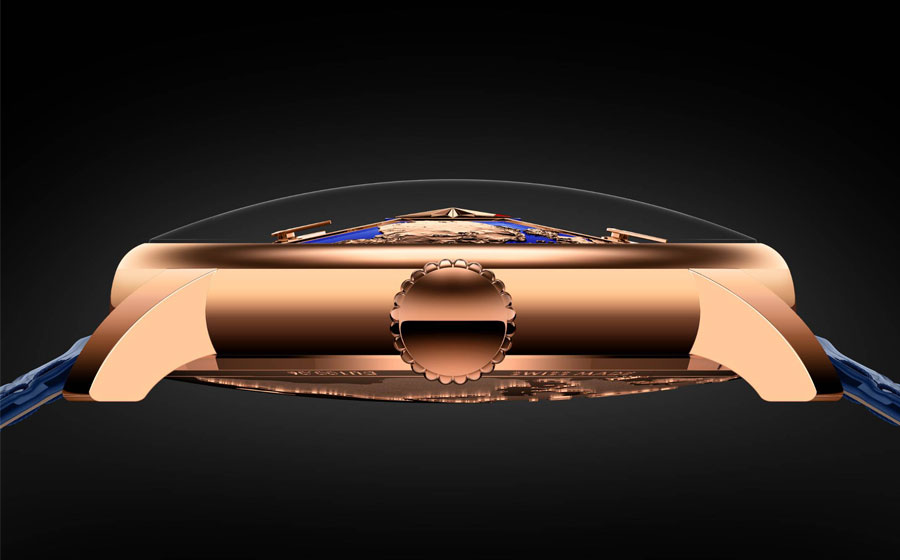 Limited edition of 999 pieces – €52 100
Click here to read the "The World Is Yours" Dual Time Zone by JACOB & CO full technical sheet.
ORIS
Oris x Bracenet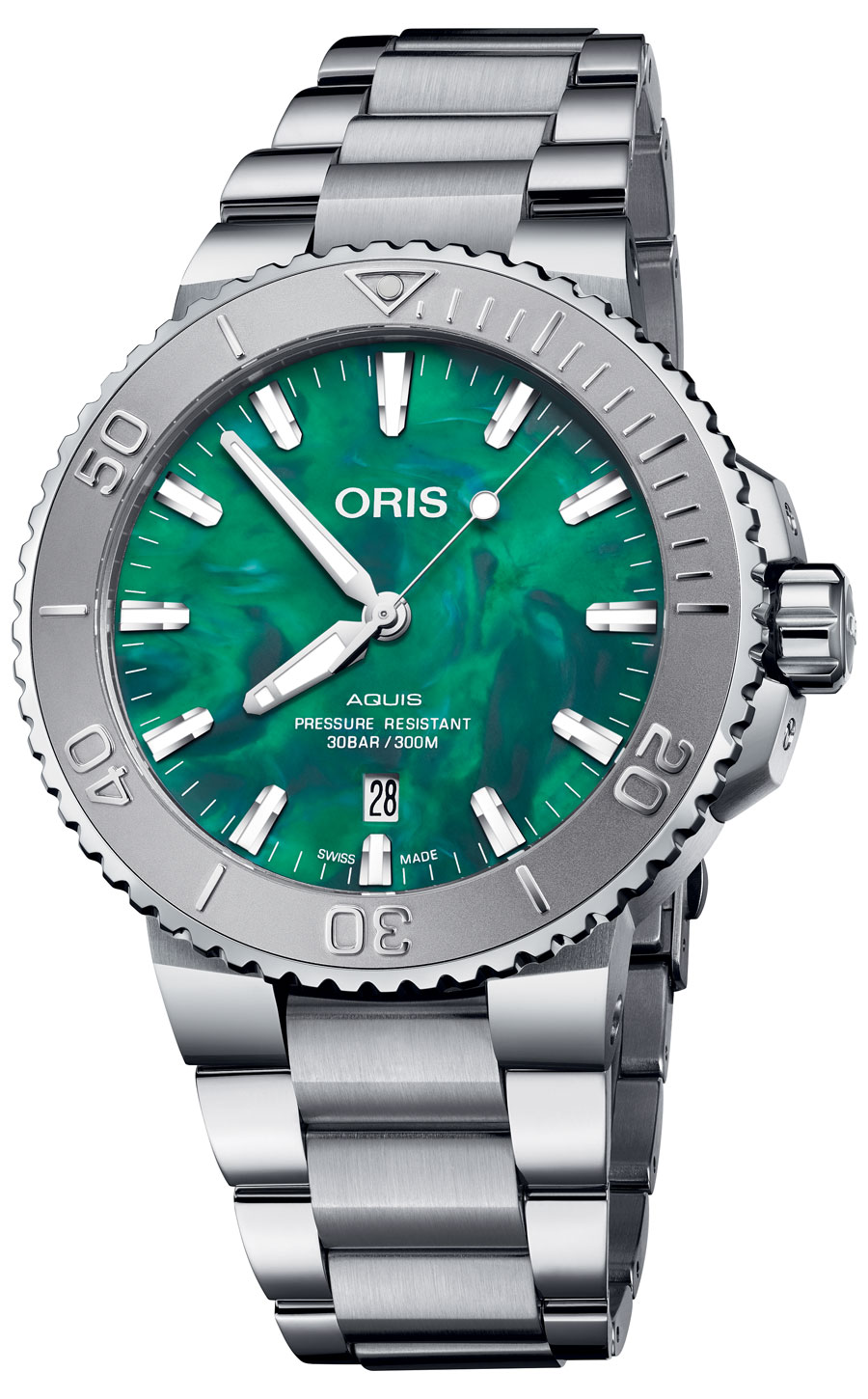 Oris is always there for watchmaking to become fully realized. True to its motto "Change for the Better", the independent Swiss watchmaking manufacture received the "climate neutral" status by the organisation ClimatePartner, and now presents its new partnership with Bracenet. This sustainable company created by Benjamin Wenke and Madeleine von Hohenthal transforms fishing nets wandering around the oceans into accessories. Today, it partners with the iconic diver's watch Oris Aquis Date to create a dial made of upcycled "ghost" nets.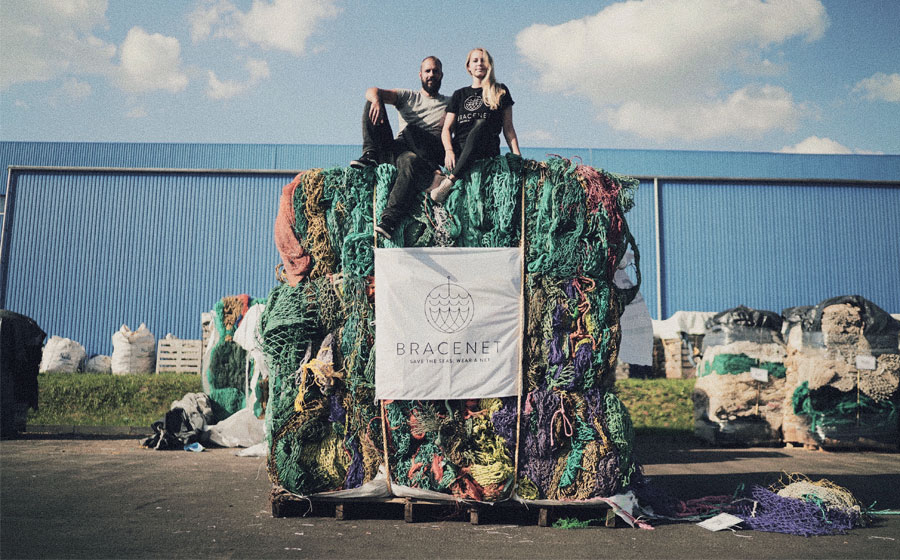 To create these multiple green, blue, and white shades, small scraps are mixed and heated. This creates a hard and thin sheet of material that is then cut into 0,3 mm thick pieces. This completely random process makes each piece unique.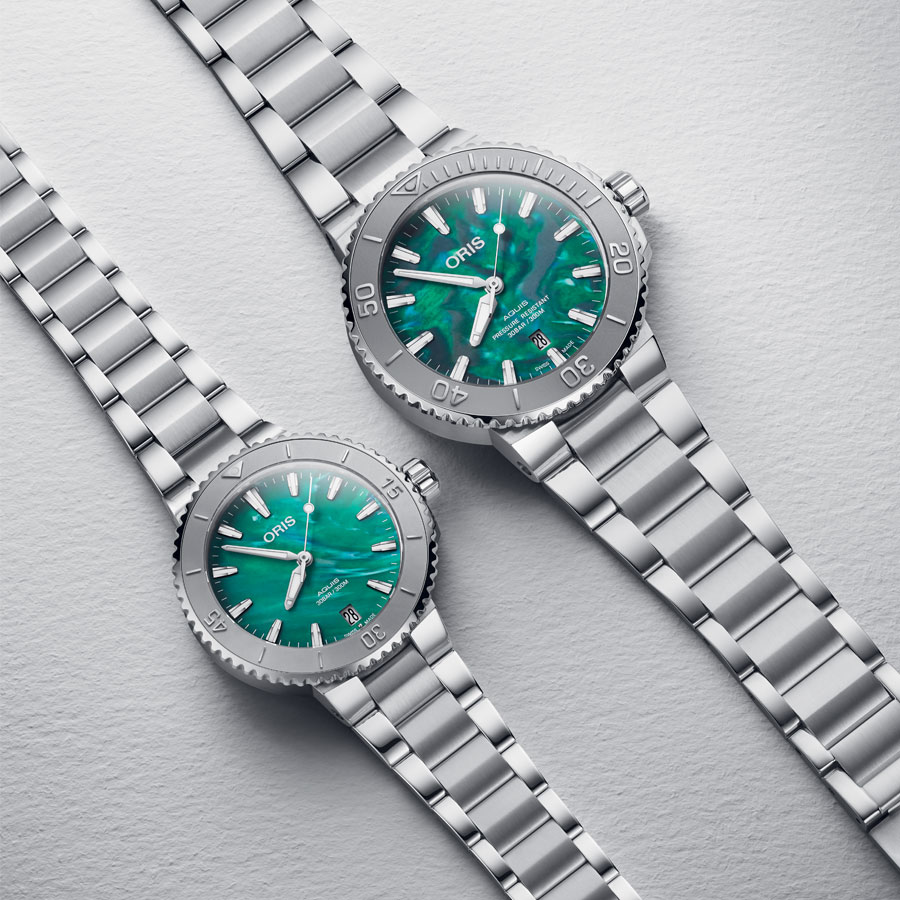 Available with a 36,5 mm and 43,5 mm steel case, the Oris x Bracenet has all the characteristics of a diving watch: rotating unidirectional bezel, screwed-down crown and case back, luminescent hands and indices and up to 300 meters water resistance. Both versions are powered by an automatic calibre providing a 38-hour power reserve. Its red rotor – characteristic of the Oris watches – is visible through a transparent case back.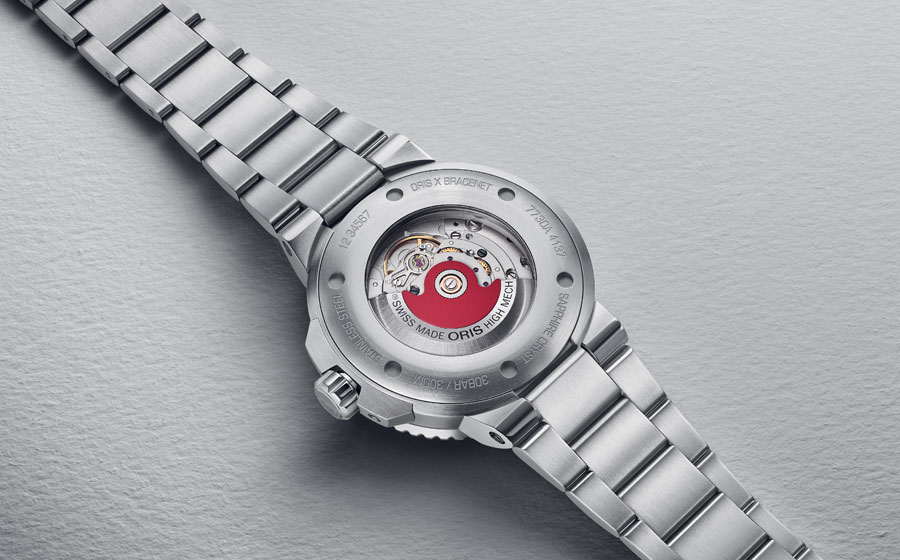 Models available in 43,5 mm – 36,5 mm – €2 350

Click here to read the Oris x Bracenet full technical sheet.
Aquis Pro 4000m
During the Geneva Watch Days 2023, Oris also had the occasion to create a sensation with the introduction of a beautiful new diver. The Aquis Pro 4000m is manufactured in titanium and – as its name suggests – is 4 000 m water resistant.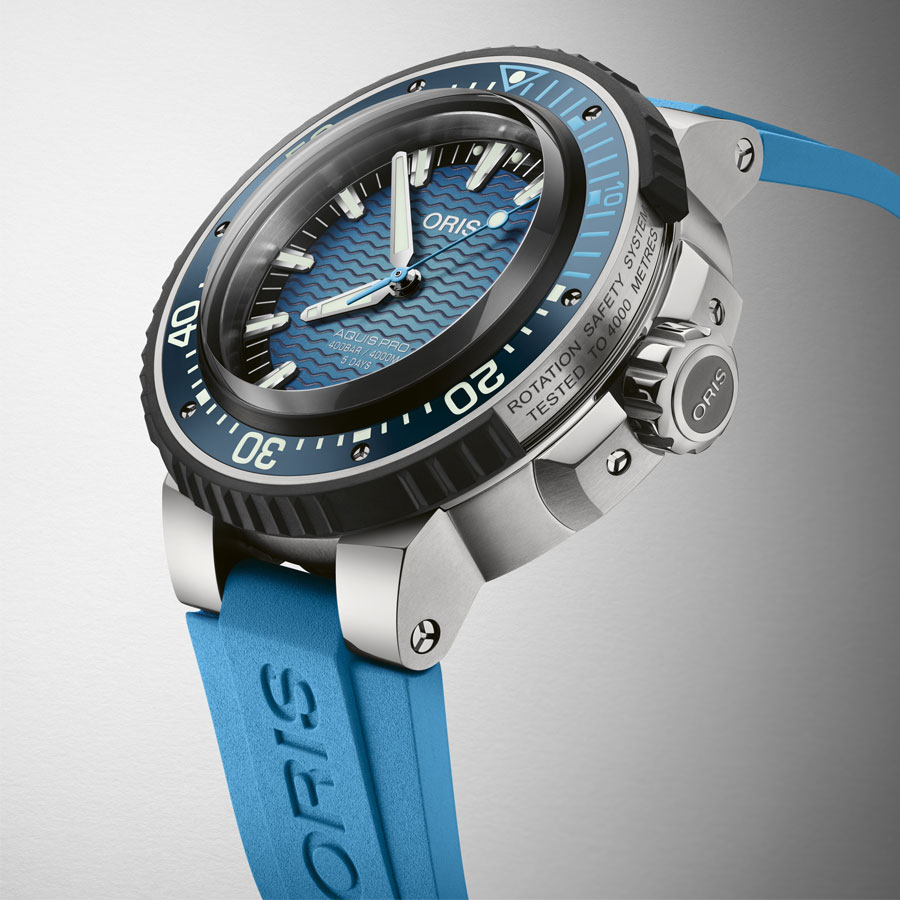 This technical feat was made possible thanks to patented Oris techniques, such as the Rotation Safety System, which protects the blue ceramic lockable bezel. This system was designed by working closely with professional divers to securely lock the bezel in place. As a nod to the marine history of the brand, the watch has a blue gradient dial decorated with a wave pattern.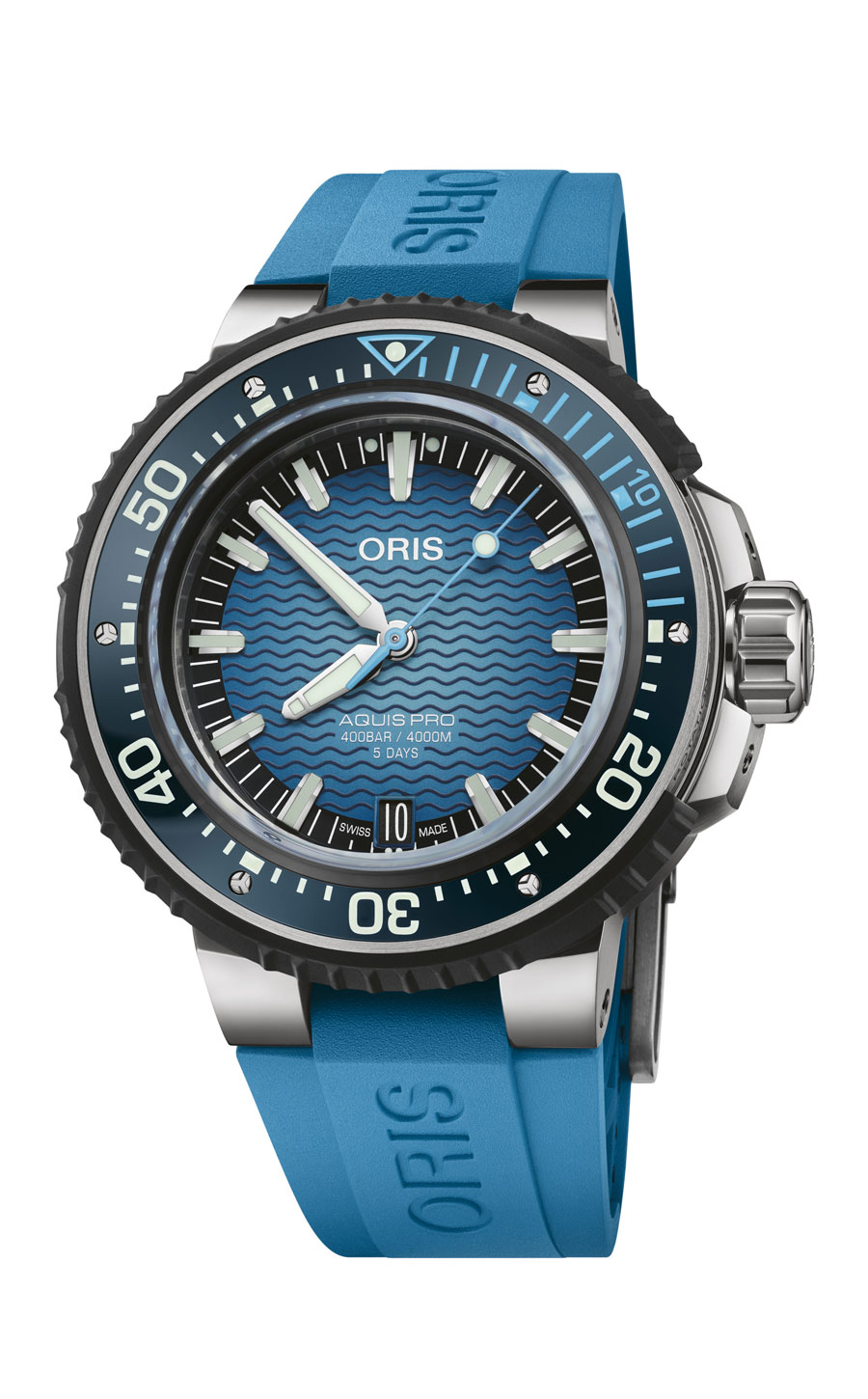 The whole thing has a blue rubber strap. To adjust it even on top of a wetsuit, the strap has a folding clasp extension system, both practical and user-friendly. Mechanically, it is impeccable. This sporty edition has a high-performing Calibre 400 with a high accuracy – to -3/+5 seconds a day – and a comfortable 120-hour power reserve. Despite its large 49,5 diameter, this piece can now be considered part of the closed circle of iconic diving watches.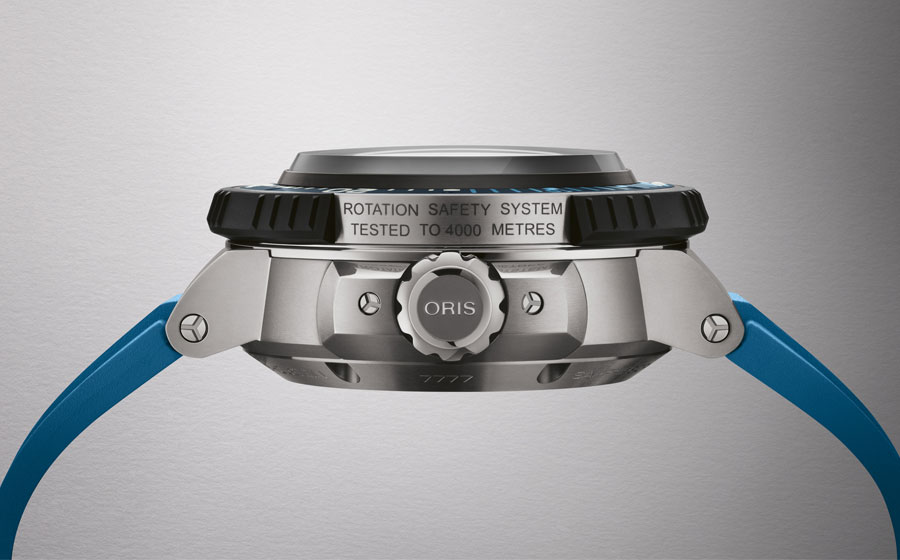 €5 700
Click here to read the Oris Aquis Pro 4000M full technical sheet.
Alpiner Heritage Carrée Mechanical 140 Years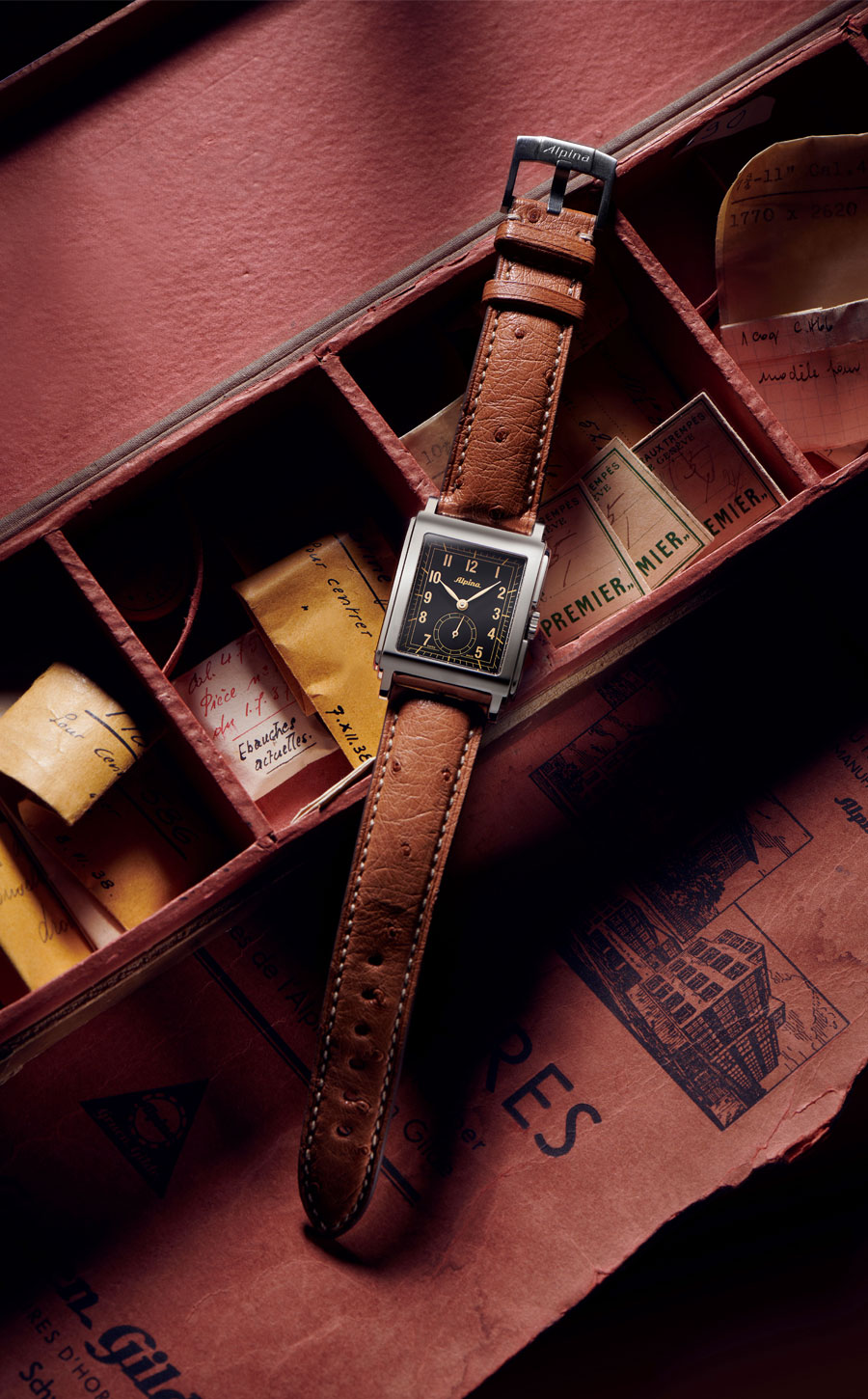 Last June for the 140 years anniversary of Alpina, the maison revealed 28 fully restored archive timepieces. The Heritage Carrée Mechanical 140 Years has an original and historical movement from 1938: the Calibre 490. The manual-winding movement offers a power reserve up to 42 hours and an 18'000 Alt/h oscillation, which is the reference frequency for 1930s pieces. Revolutionary at the time, this watch was endowed with the first elements protecting it against water and dust, like an Art Deco rectangular case (29,5 x 35,7 mm) made of polished silver and water-resistant up to 30 meters. Respectively limited to 14 copies, the black or silver dials are adorned with a minute track. The dials contrast with thin central hands and display a small seconds counter at 6 o'clock. The light brown ostrich leather strap gives a resolutely vintage look to these models.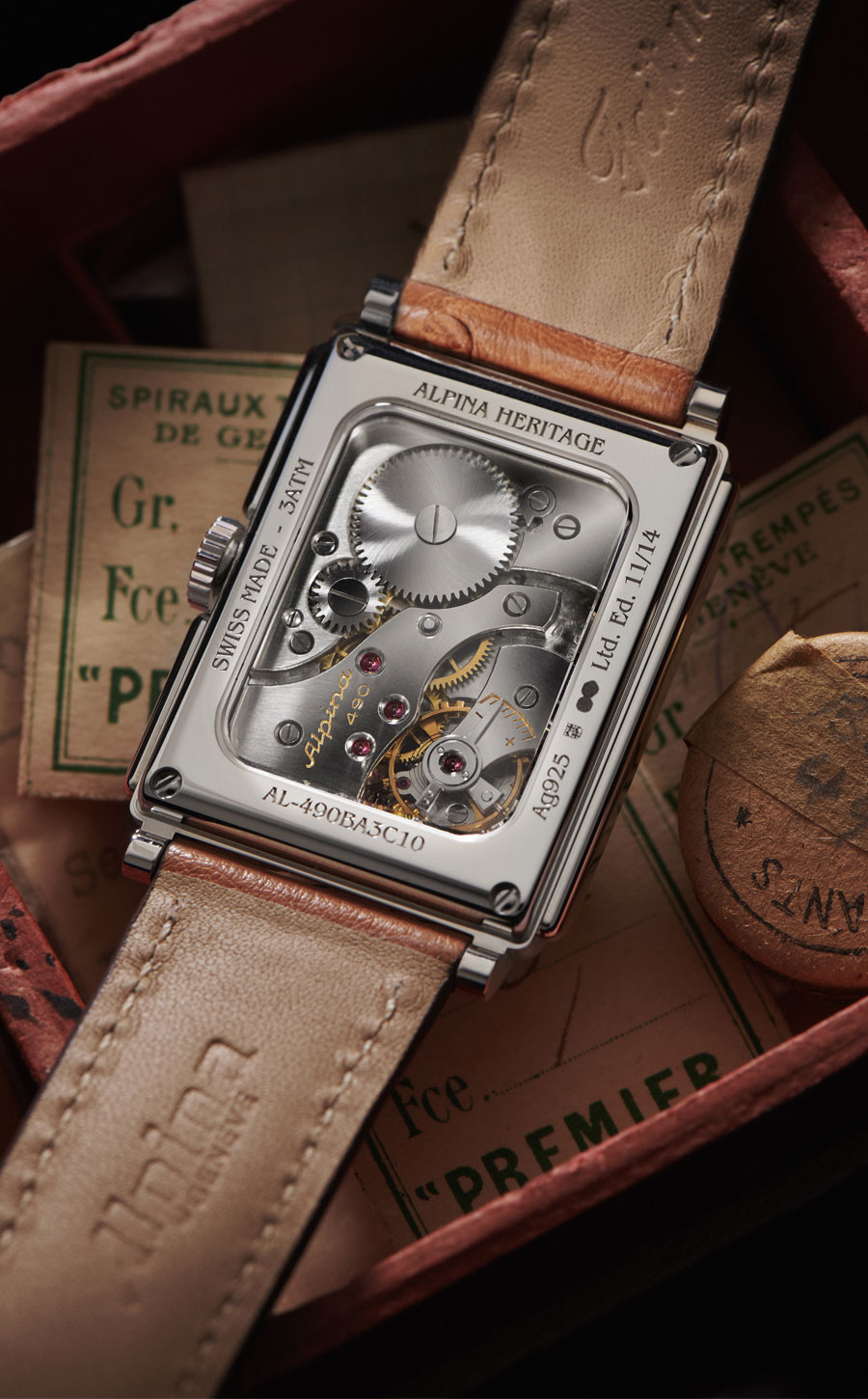 Each model limited to 14 copies
Black dial – €5 225
Silver dial – €4 995
Click here to read the Alpiner Heritage Carrée Mechanical 140 Years full technical sheet.
ALPINA – Alpiner Heritage Carrée Automatic 140 Years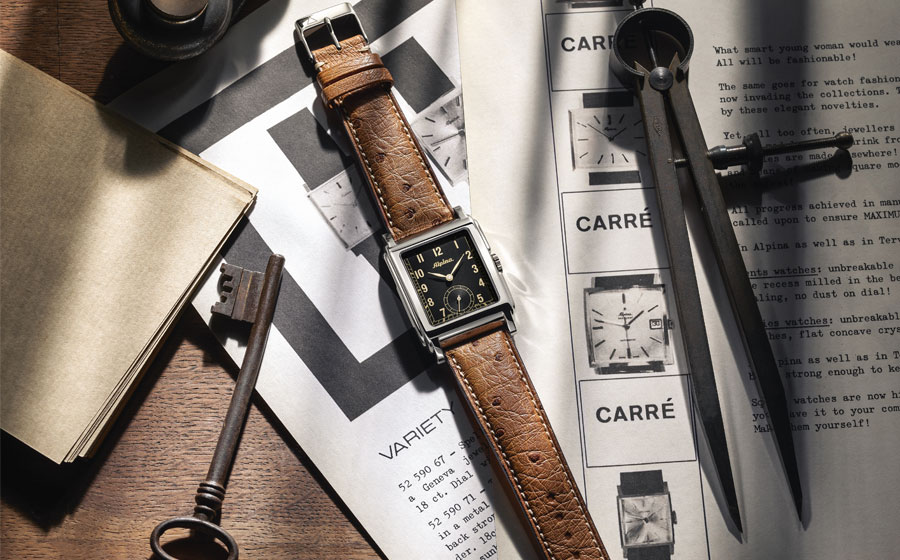 Now, the Alpiner Heritage Carrée Automatic 140 Years follows on from the original manual-winding model as it enters the current collection. This time, the release is not a limited edition, it is available to a larger public. Also available in two versions, this edition's dials keep the same two colours as before. Only the diameter and the material are different. These new versions of the Alpina are endowed with a brand new 32,5 x 39 mm steel case. They are powered by an AL-530 automatic calibre, which is visible through a transparent caseback, and which guarantees a 38-hour power reserve.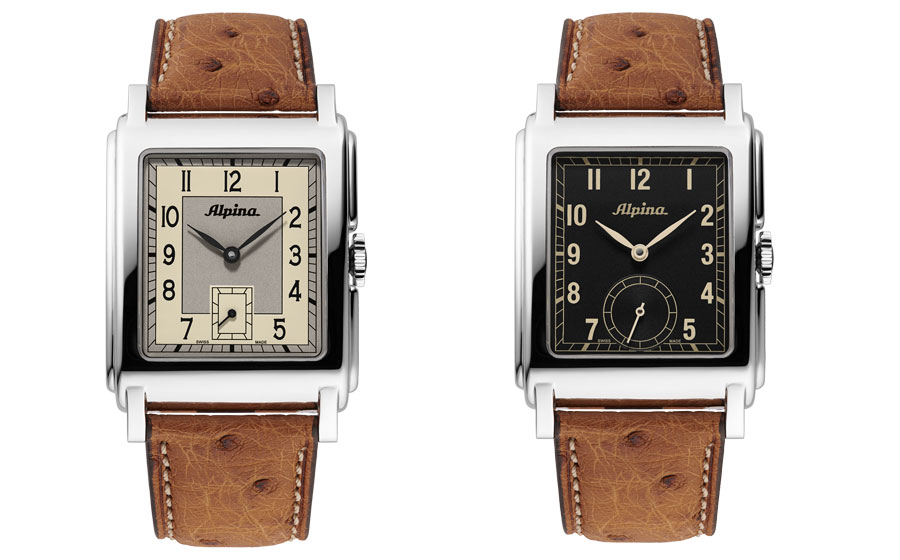 €1 450
Click here to read the Alpiner Heritage Carrée Automatic 140 Years full technical sheet.
See also:
Read also: