Hamilton becomes Official Timekeeper of the Red Bull Air Race World Championship
By MyWatch
In 2017 Hamilton becomes Official Timekeeper of the Red Bull Air Race World Championship, known as the new dimension of motorsports. Featuring 14 of the best race pilots, among which Nicolas Ivanoff, the brand ambassador since 2005, this pure motorsport competition is a visual spectacle unlike any other, combining speed, precision and skill. Using the fastest, most agile and lightweight racing planes, pilots navigate a low-level aerial track made of 25 meters-high air-filled pylons.
14 pilots are competing in the Master Class category in eight races across the globe for the title of Red Bull Air Race World Champion. The Challenger Cup, with 9 pilots, offers young talents the chance to develop their low-altitude flying skills and to experience the thrills of the sport.
The 2017 race calendar will take place in eight cities around the world starting with its first stop in Abu Dhabi on February 10-11, a celebratory event marking the diamond 75th Red Bull Air Race.
Aviation, skill and precision are also part of the Hamilton brand. This partnership will strengthen Hamilton's presence in the aerobatics world, in addition to its rich aviation heritage and collaborations with international airshows and squadrons.
Sylvain Dolla, Hamilton's CEO, commented, "Our brand has a prestigious history of serving the flying community, and this latest evolution in our partnership with the World Championship further strengthens our presence in aviation. Hamilton is taking aviation watches to new heights, and we're proud to be the Official Timekeeper of the Red Bull Air Race World Championship 2017."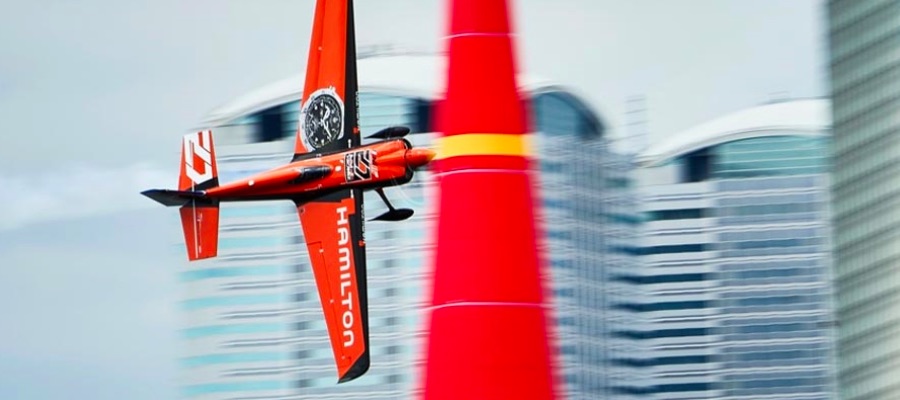 "The Red Bull Air Race and Hamilton have been partners for more than a decade, and it seems fitting that our relationship will only deepen in 2017, the tenth season of the World Championship," said Erich Wolf, the General Manager of Red Bull Air Race GmbH. "Our two brands share a passion for aviation and a dedication to the highest standards. We're looking forward to an exciting year of racing."
The brand has been timing the skies since 1919, when the pioneering pilots of the era put their trust in the precision of its watches and navigation instruments. In addition to keeping the first American airmail service on track, Hamilton became the official watch of TWA, Eastern, United and Northwest in the 1930s. Adventure joined accuracy as these instruments demonstrated their unrivaled expertise partnering the first American coast-to-coast air services which took commercial flying into the modern age.
Today, many squadrons use Hamilton watches as standard equipment, including South Korea's 121st fighter Squadron, the Patrulla Aspa from Spain, the Patrol Squadron Forty from United States, and the Apache and F-16 Demo Team from the Netherlands, among others. Hamilton uses these associations to deepen its understanding of pilot needs and the watch functions required to develop timepieces designed for pilots, such as the Khaki Takeoff for Air Zermatt, a transport and rescue helicopter unit in the Alps.