FRANK SANS C VIDEO
Hamilton Frogman Test: you must know how to invest yourself…
What could be better than an introduction with a four times freediving world champion to test the new Hamilton Frogman dive watch? Pierre Frolla raised to the challenge. Easy for the one who play with whales, less easy for the one who play with words. When we swim since always in the middle of whales, we easily bring under control a big white shake of the cities that look like a whale…

By Frank Declerck
PIERRE FROLLA – The man gets close to the abyss
They are meetings that matter. Mine with Pierre Frolla is one of these. It reminds me of the meeting with Mike Horn, a few years ago, or more recently the one with the Commando Hubert's soldiers. It is incredible like the exceptional people who live exceptional things are kind, good listeners and humble that honour them.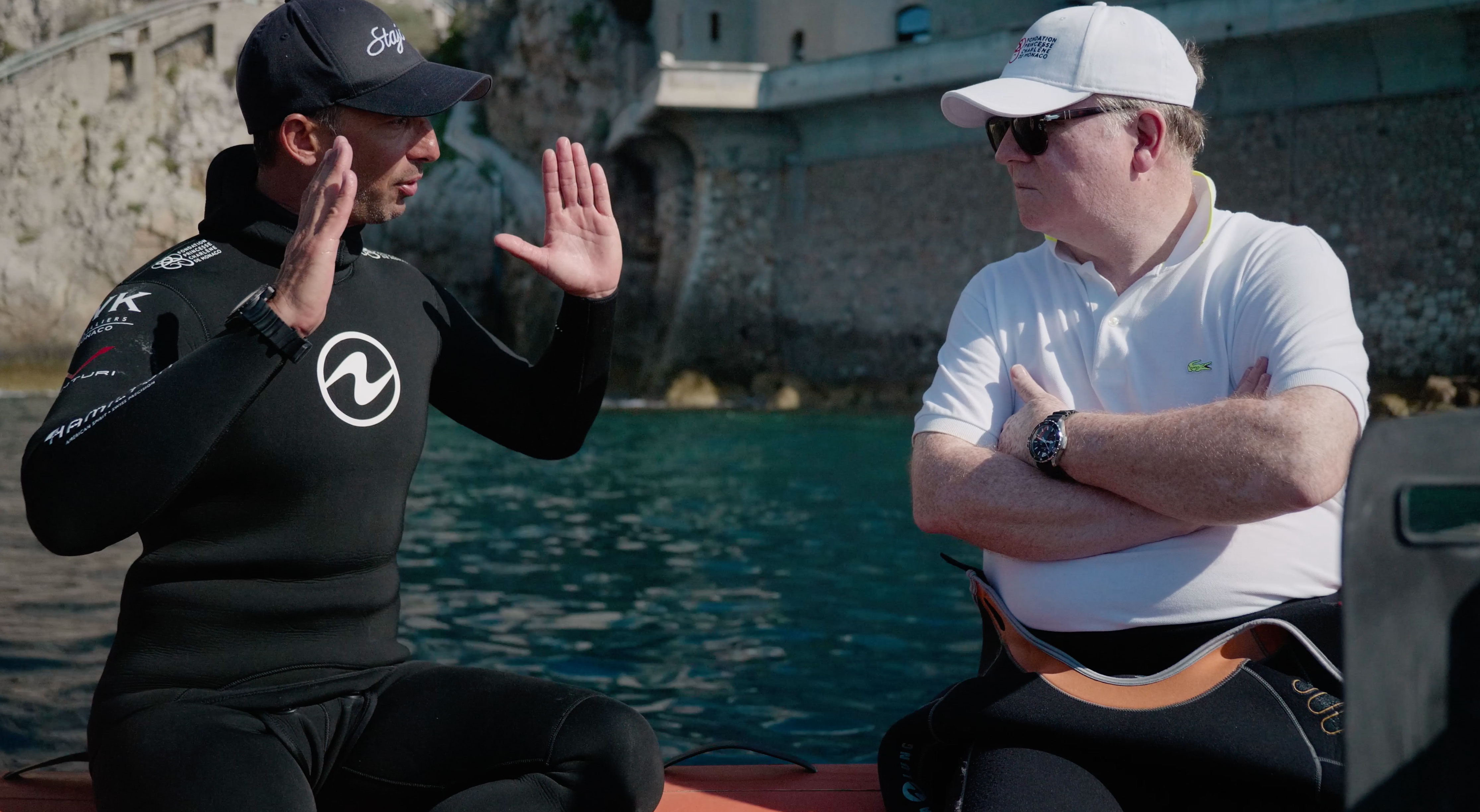 They could hold forth, show off and what not without us having anything to say about it. And in fact, no. It is the gift of the best. Just a crooked smile, a spark in the eye, a friendly gesture, a right word. It feels so good to know that these guys exist in this world today. Yes, they are true, sturdy, strong guys! They reconcile you with humankind.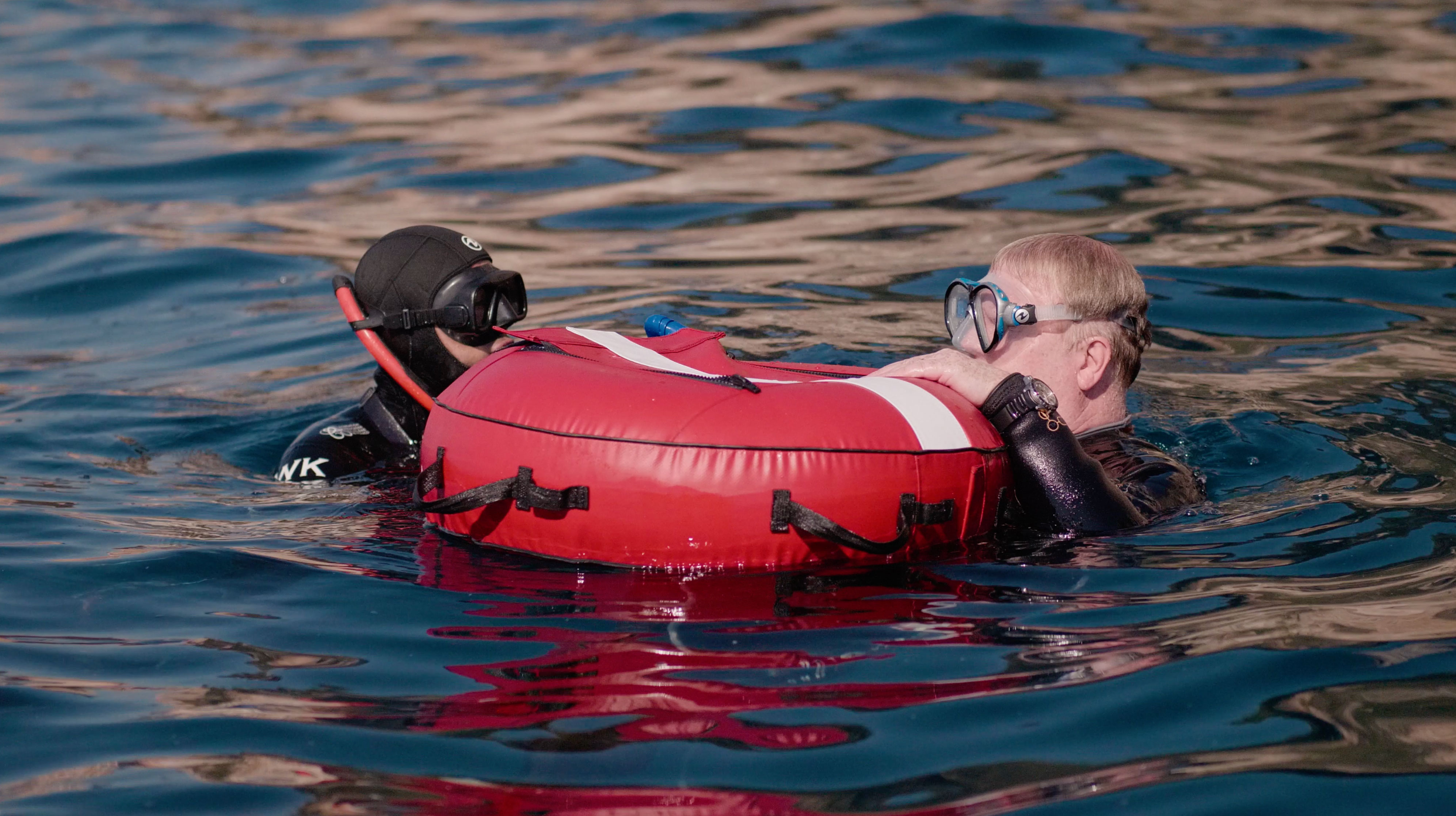 Pierre is one of those people. He has a big heart but also big lungs that allowed him to be 4 times freediving world champion. Honed like a Swiss army knife, his word is sharp, his view of the world also. I am not going to talk about him, I will say too much about him and certainly not enough.
Frank sans C: « Some will say that he is crazy, me, I prefer to say that he has a nerve… »
I just want to tell you that he is a passionate man, and he shares his passion easily. Passing on is very important for him, essential even. His school is one example. He trains the children scuba diving and the respect of the sea. Some parents should go there.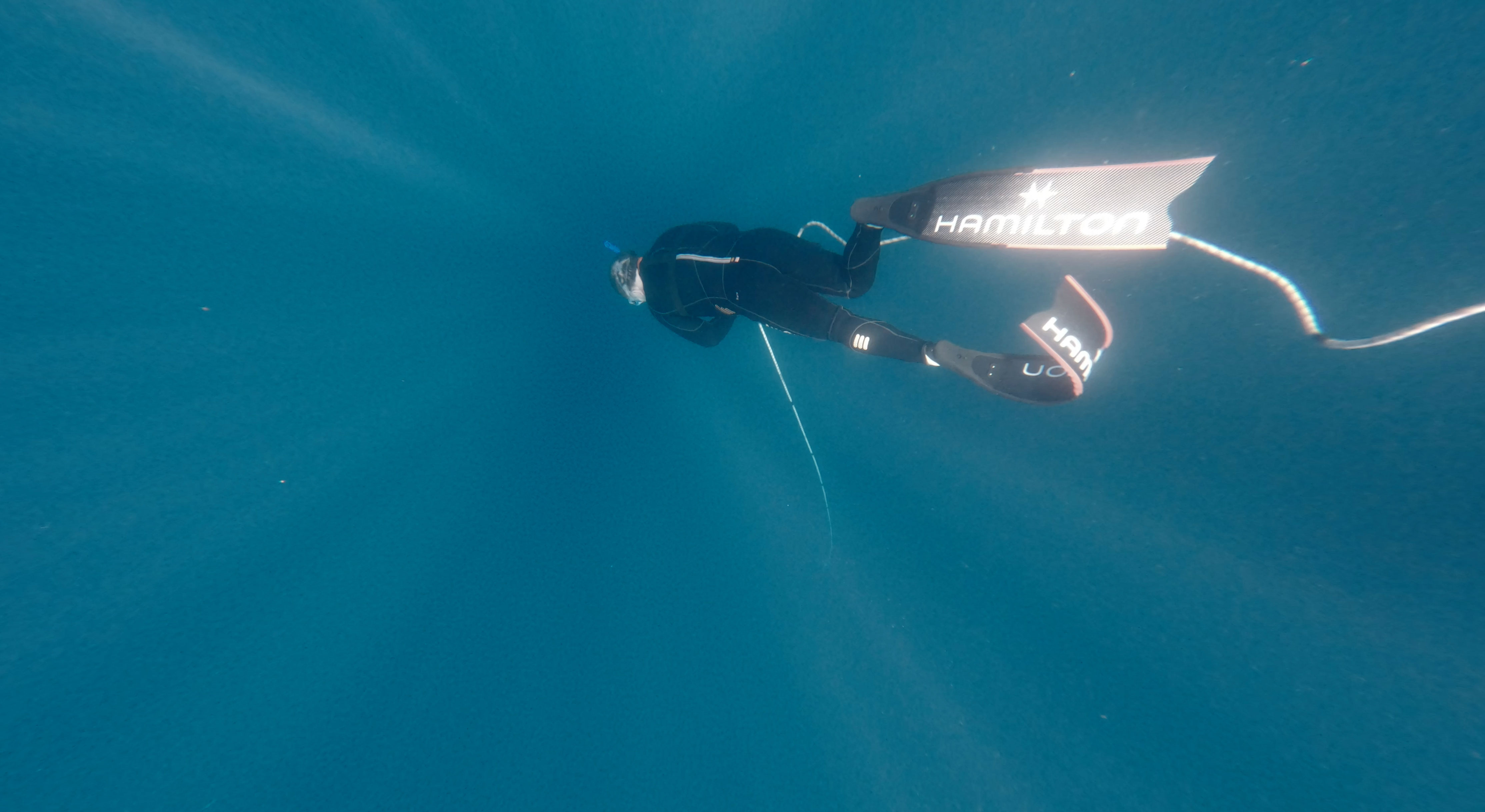 Pierre has seawater running through his veins. He gets close to whales and embraces sharks. He plays with crocodiles as we wear a Lacoste polo shirt. Go and see him, talk to him and if you are lucky, he will take you at dawn, facing his Monegasque Academy of the Sea to see the sunrise, barefoot in the sharp gravel, (it hurts like hell, but this is beautiful!).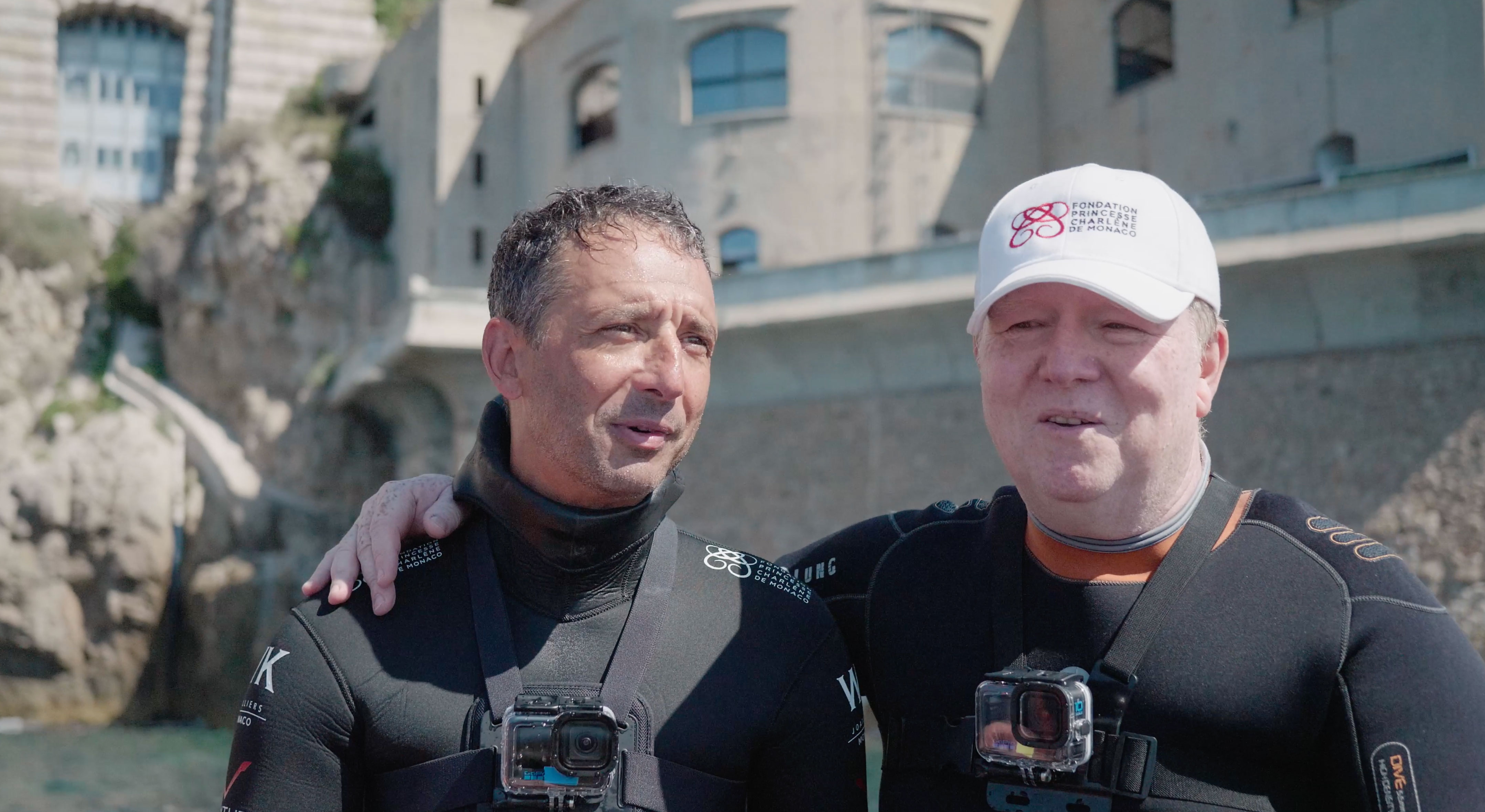 He will teach you breathing exercises that you did not know the meaning and significance. You will only understand when he will make you discover the Atlantic Ocean in silence and on site. Going around you for long minutes as he does it with sea animals. Maybe, you will then become an « abyss' pirate », it is the Legion of Honour given to fishmen.
There are two princes in Monaco. One in The Rock, the other on the coral. They like each other, this is not surprising.
Founded in 1892 in Lancaster, Pennsylvania, in the United States, the Hamilton Maison today established in Switzerland is member of the Swatch Group. Liked by the enthusiasts for its accessibility and admired by the film makers who have made appear its creations in more than 500 films, it built its reputation by manufacturing timepieces for the United States' railroads and supported the aviation pioneers and the United States' soldiers on the scene of hostilities. Focus on two pieces dedicated to scuba diving and tested by Frank sans C.
The Hamilton Khaki Navy Frogman Automatic, for the sea explorers
Attached to its history, the Hamilton Maison offers the new Khaki Navy Frogman Automatic to meet today adventurers' expectations. Called as such by the brave « frogmen » of the American navy during the World War II, the watch is inspired by its former piece combining style and a modern technology.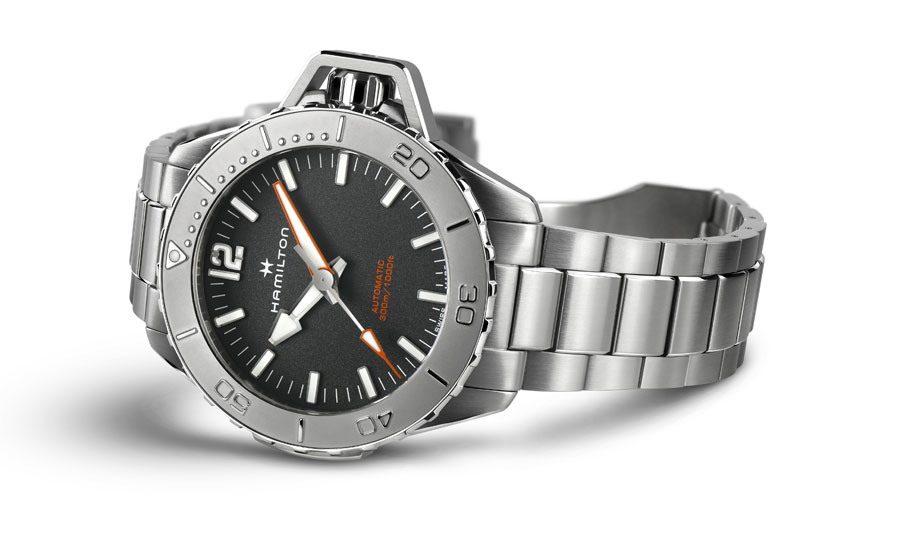 Its powerful satin-finished or PVD black coated stainless-steel case is 46 mm-diameter. It resists pressure equals to the one found at 300 meters depth. It also has a prominent crown protection, identical to the one we found on the old military watches.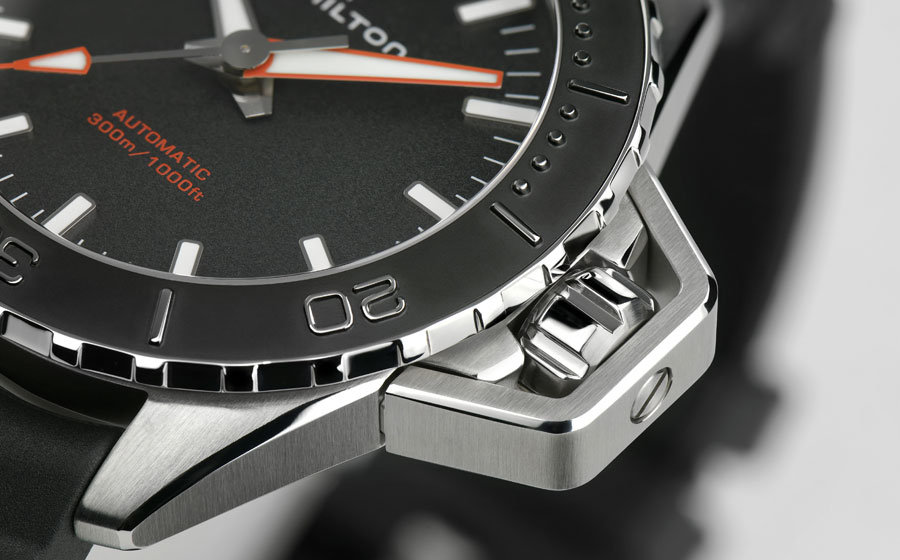 A way to relate to the pieces that made history in the world of scuba diving. Combined with a unidirectional rotating bezel, this robust element reinforces the robust nature of the instrument coming with a steel bracelet or a rippled black or khaki rubber strap.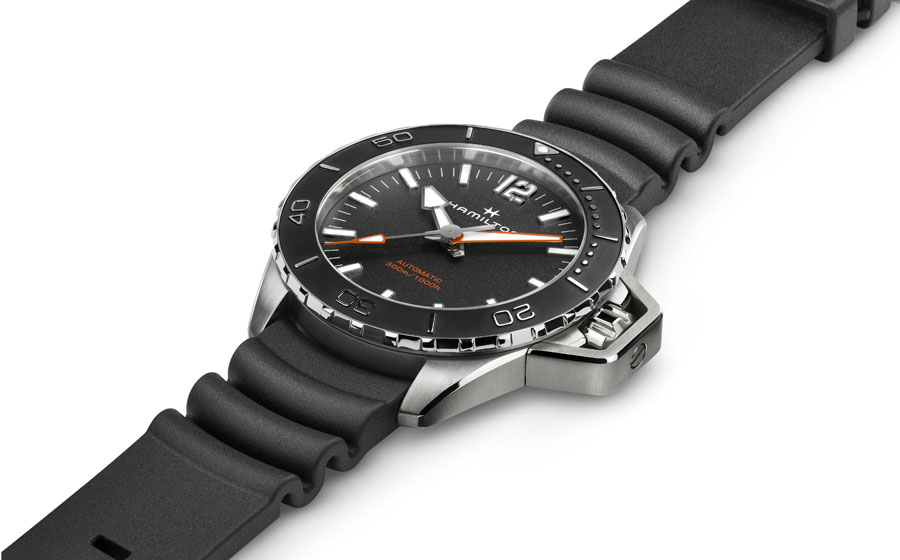 Resistant in the action and legible in any circumstances thanks to its dial equipped with luminescent material, the watch has the excellent Hamilton calibre H-10. This exclusive movement offers a great power reserve of 80 hours. With a great reliability, it also integrates regulating organs with a Nivachron™ balance spring. Advanced alloy resistant to shocks, temperature changes and magnetic fields. It increases the performance of this edition made to meet athlete's expectations used to push themselves.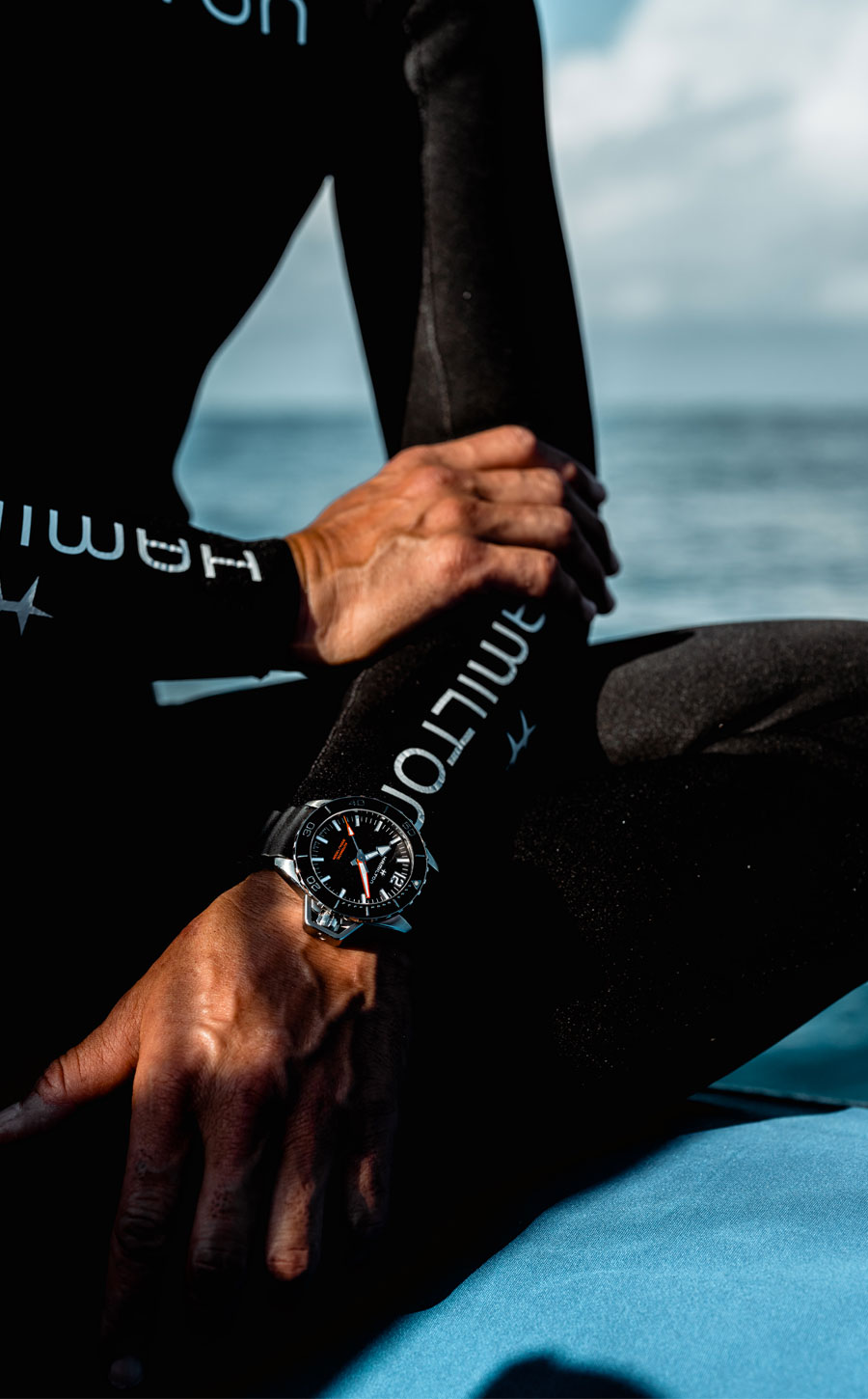 Price: from €1,175
Have a look at our technical specifications' sheets of the Hamilton Khaki Navy Frogman Automatic pieces, version on steel bracelet, black rubber strap, khaki rubber strap, and black PVD coating.
The Khaki Navy Scuba Automatic, ready to dive
More modern, the design of the Khaki Navy Scuba Automatic is inspired by the style and functions of the classic dive watches. Its 43 mm-diameter steel case is water-resistant to 300 m (read our article All you need to know about water-resistant of the dive watches) and equipped with a unidirectional rotating bezel. Its insert offered in black or blue is here made of high-tech ceramic to make sure this component exposed to shocks keeps its radiance permanently.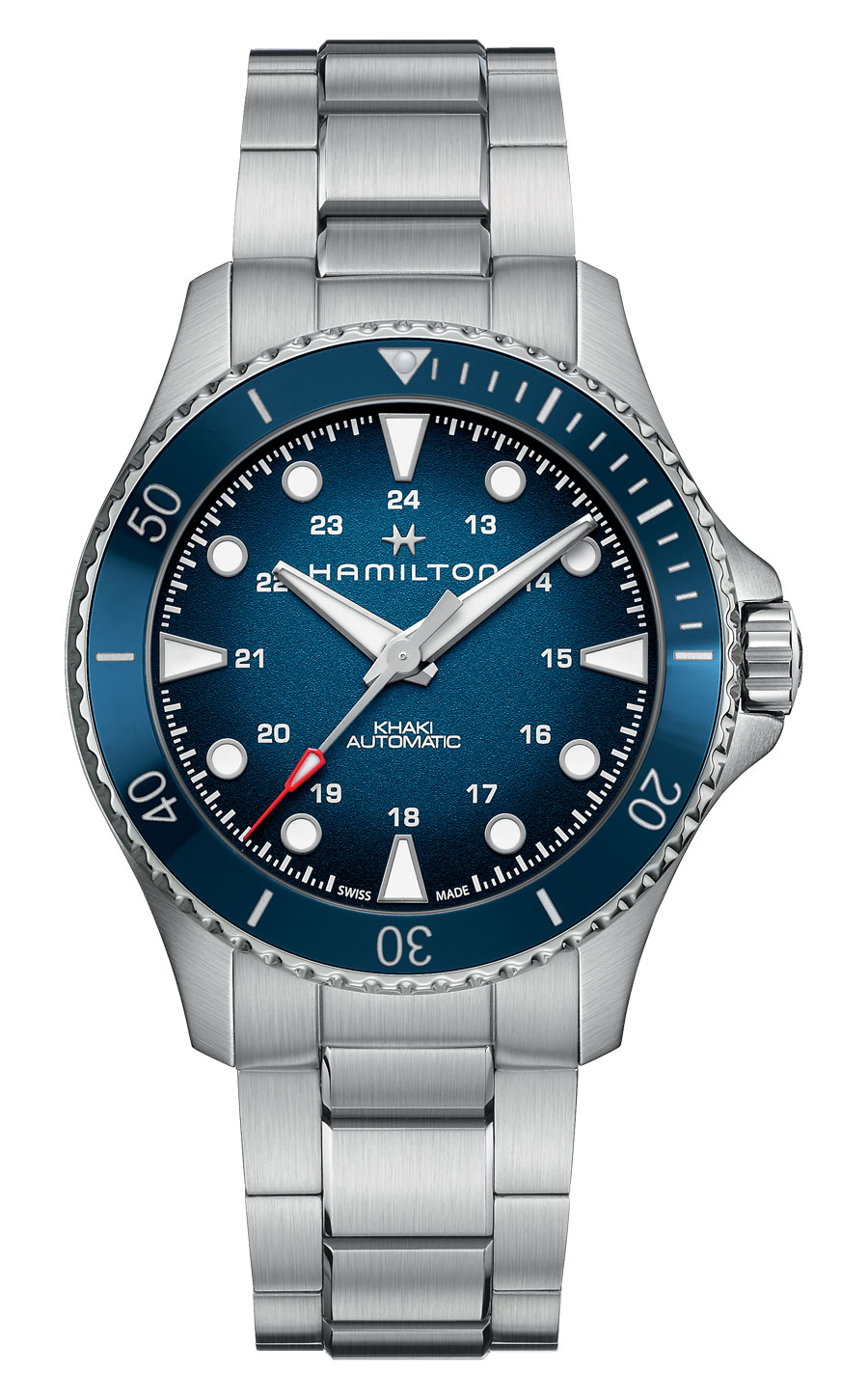 Offered on a textured steel bracelet or on a rubber link, this piece is powered by the famous Hamilton calibre H-10. Ensuring a power reserve of 80 hours, it is equipped with a Nivachron™ balance spring known for being more accurate, and above all more resistant to shocks and magnetic fields than a traditional balance spring.
Price: €995
Have a look at the technical specifications sheet of the Khaki Navy Scuba Automatic:
– Steel bracelet and blue dial
– Steel bracelet and black dial
– Black rubber strap and black dial
Monegasque Academy of the Sea: a sea of knowledge
It is a school like the others: the children screaming, playing and being happy. Except that they wear swimsuit or Aqualung wetsuit when we meet them. Frogmen and -frogwomen- in the making, these little ones obey the Abyss' Pirates, a kindly community composed of qualified professionals that is going to train them to scuba diving and aquatic subjects with, always in view, an essential environmental dimension. Creation of artificial reefs, marine biology class and clean-up campaigns are part of the training.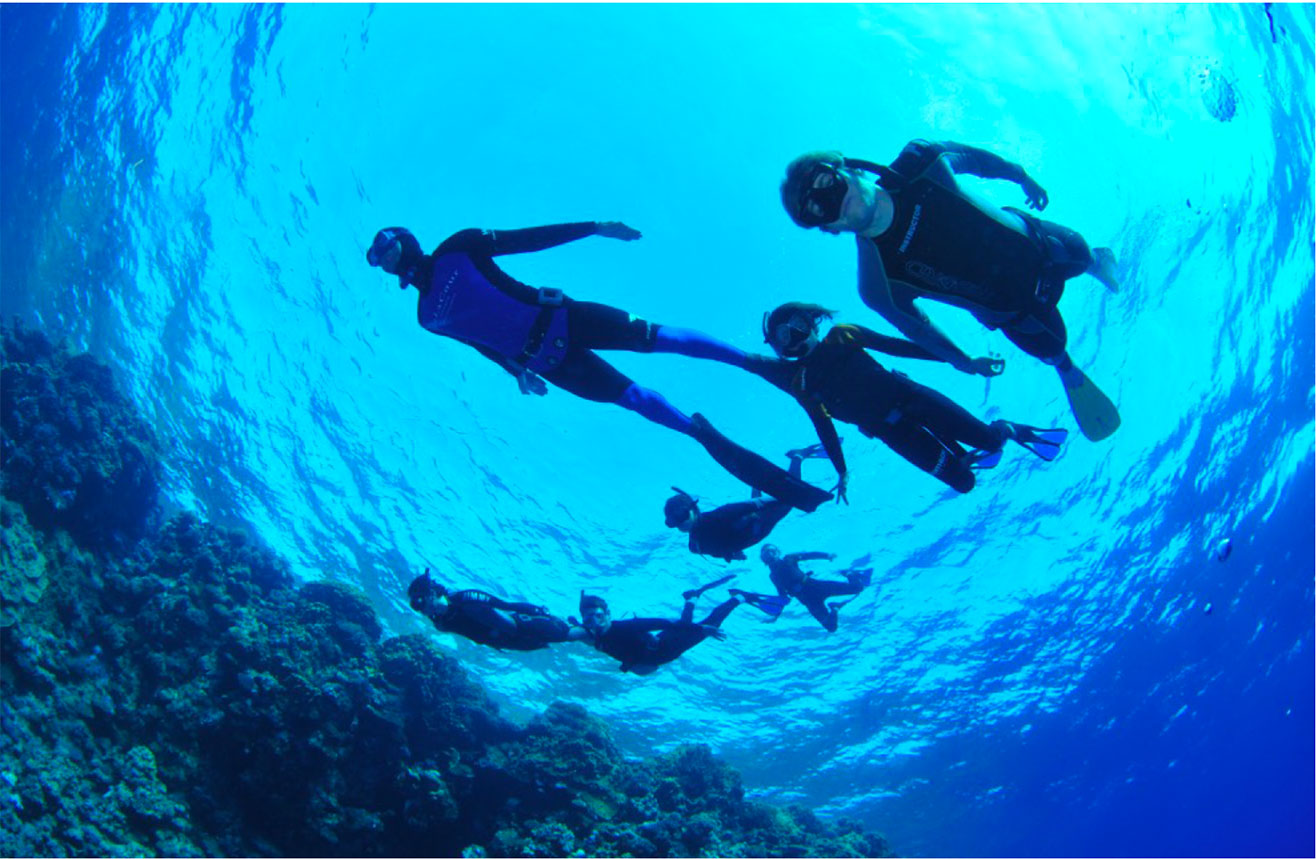 Because this school is a centre of sensibilisation and discovery of the Mediterranean plant and animal life for the children, from the age of 7 years old. On the schedule: scuba diving, snorkelling, freediving, sea rescue.
Unforgettable vacations with Pierre Frolla!
The courses are organised from Monday to Friday for the day or half the day, in July and August to make the vacations unforgettable in the submarine reserve of Larvotto or on-board catamaran « Pirates of The Abyss ». To follow in Cousteau's footsteps, the easiest today, is wearing the Pierre Frolla's flippers and going and learn how to play with the fishes. In safety, of course.
Registrations and informations: www.academiemonegasquedelamer.com
See also:
Read also: