Watchmaking secrets
All you need to know about water-resistance of the dive watches 
The ISO 6425 standard of the dive watches imposes a water-resistance to 100 m. Yet, you should not go scuba diving with a watch – only – water-resistant to 100 m. Explanations.

By Frank Declerck
To go scuba diving with compressed air tanks (oxygen and nitrogen), a watch water-resistant to 100 m is not sufficientaccording to the recommendations of most manufacturers. It is paradoxical because the very serious ISO 6425 standard imposes that to be called a dive watch, the instrument must have met the water-resistance to 100 m tests' expectations!
Even though a watch water-resistant to 100 m has always been tested to 125 m, it is not enough. It must be water-resistant to at least 200 m to go on an underwater exploration with an aqualung.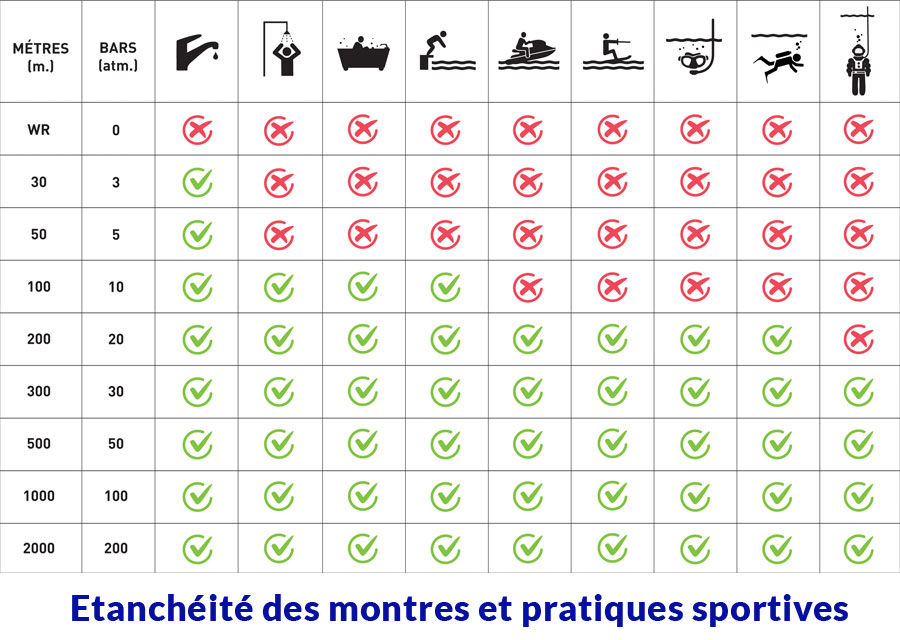 Dive watch: 200 m required
Regarding the free diving (flippers and snorkel), the manufacturers also recommend a water-resistance to more than 100 m. It is undoubtedly a bit exaggerated, but I understand them, they do not want to take the risk of having condensation into the watch.
If you just want to see the fishes by swimming peacefully on the surface with a mask or go paddling, a watch water-resistant to 100 m is well sufficient.
However, avoid wearing it for all the high-speed water sports and other extreme sports such as jet ski, water skiing, wakeboarding, surfing, kite surfing, flyboarding, etc. The risk is not playing but falling! The famous tubing at full speed is a trap we are not careful enough! Because falling with a high speed can lead to a pressure extremely high on a part of the watch like the crystal or the crown. This pressure can be higher than the one approved in laboratory for 10 bars (100 m). High speed water sports: 200 m required!
Rapture of the deep
For the « professionals » watches, it is indisputable. They are water-resistant to 500 even 1000 m or more and have, most often, a helium escape valve to evacuate the microscopic molecules entered despite the perfect water-resistance.
I talked about a Bell & Ross watch water-resistant to 10,000 m in my video on the Frank sans C YouTube programme! It was water-resistant to 11,000 m and the watch that was called Hydromax was full of a transparent fluoridated oil. Today, it is not in collection anymore and the scandalmongers say that it was not made properly and that some had air bubble defects.
Screw-down the crown of a dive watch
The dive watches have almost all a screw-down crown. This makes them water-resistant a bit like a submarine airlock. Always check that it is fully screw-down before go swimming. Because even though some manufactures assure that a « non-screw-down crown » keeps a water-resistance to the watch, it is a risk not to take. It happened to me several times to notice that the pushbuttons of my Rolex Cosmograph Daytona were non-screw-down without even touching them! Therefore, it is to check, before diving in the swimming pool or just for having a shower, because in this case the risk is the jet's pressure.
Last tips from frogman
– Avoid swimming with a leather strap that is not water-repellent
– When you are having a bath in salt water, always rinse your watch with freshwater (it also removes the very abrasive grains of sand)
– Go regularly to your watchmaker so that the water-resistance of your watch can be checked (every 5 years)
One of the dive watches' icons: https://www.rolex.com/watches/sea-dweller.html