High Jewellery Trait d'Éclat Watch : A stroke of genius in the kingdom of fine jewelery
By MyWatch
Presented as a preview of the SIHH 2017, the Watch of Haute Joaillerie Trait d'éclat concentrates the know-how of the Cartier house to sublimate the feminine wrist. The "jeweler of the kings and king of the jewelers" proposes here a luminous setting, fusing watchmaking prowess and high jewelry.
This Cartier evening watch was inspired by a set of 15 rubies. A glittering accessory designed for the dawdling hours of the day, dusk descends yet the re of the gemstones appears to ignite. The 15 rubies, with a total weight of 24.93 carats, exhibit a remarkably uniform colour: an intense deep red with a diamond-like sparkle partnered by the orangey-pink hue speci c to Mozambican rubies.
A ash of light
When carefully lined up for inspection on a workshop bench, the gems form a neat row, but they seem to slumber. Shaken awake by the touch of a hand, the stones suddenly blaze to life as the rubies catch re
in the light, their jostled pro les exposed in the chaos. It is this ash of re, described in French as a "trait d'éclat", that the master craftsmen reproduce in the nished piece. The rubies weave around the watch in a glittering ribbon accentuated with baguette-cut diamonds, curling around and caressing the dial that softly blends into the composition. Slipped into place on the wrist, the watch reveals the time with a dainty and feminine touch.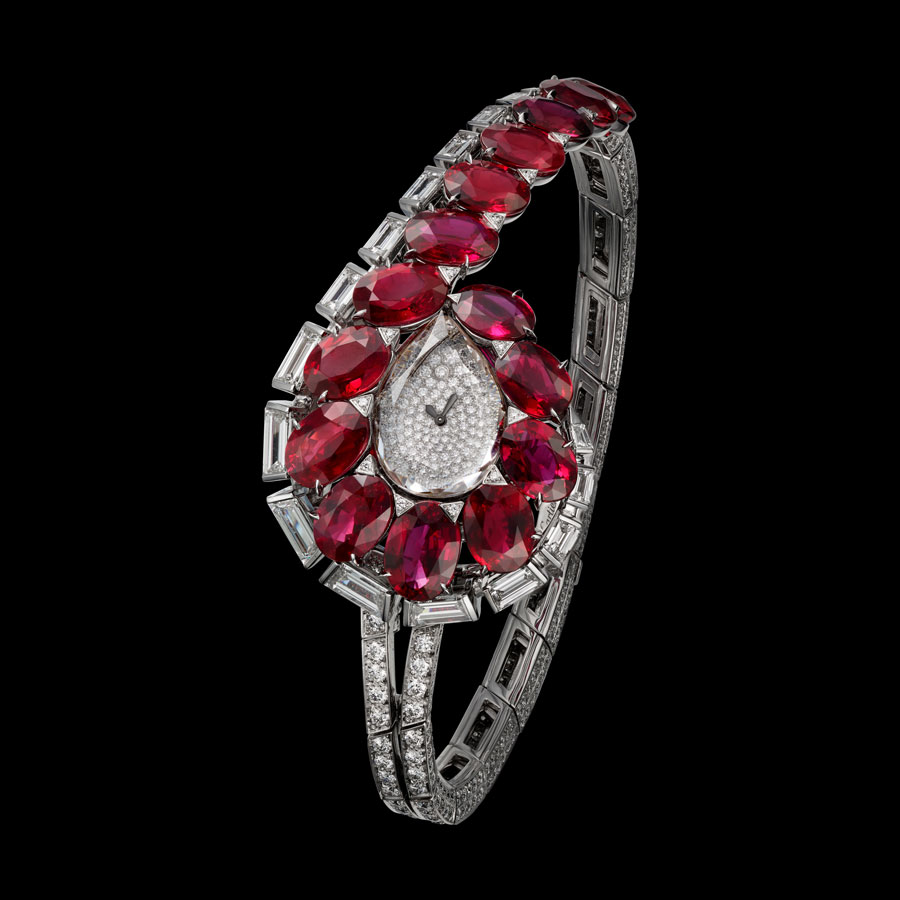 Trait d'éclat watch – white gold, 15 oval Mozambican rubies for a total weight of 24.93 carats, baguette-cut diamonds, brilliant-cut diamonds, mechanical movement with manual winding, calibre 101.
This creation brings together two beloved Cartier themes: rubies and ribbons. The ruby plays a key role in the history of Cartier style. Predominant in sumptuous commissions for Maharajas in the early 20th century, the ruby was later given pride of place in exquisitely feminine sets of jewellery designed by the Maison. In her of cial wedding photographs in April 1956, Princess Grace wore a Cartier tiara decorated with diamond arabesques and a trio of cabochon rubies. The removable motifs in this lace-like piece comprised a set ofbrooches that the Princess wore for the rest of her life. Elizabeth Taylor was gifted a suite of rubies interlaced with diamonds by her husband Mike Todd on "a day of perfect love" in 1957. Cartier, keen to explore new horizons and capture the spirit of the age, takes the ruby as inspiration in expanding its repertoire of feminine jewellery with a revival of a classic symbol of sensuality: the ribbon.