PHOTO GALLERY
It's Whisky time!
Now more than ever, it is time to treat yourself. Why not do so with a great whisky! Drink reponsibly of course.

By Frank Declerck
The time required to distill and enhance a savoury whisky deserves a photo series entitled "Beautiful watches and good whiskies". Edouard Bierry the photographer, while Nicolas Yvon staged the scene, and the only instructions were to taste the whisky only after the photos had been taken!
Tank Louis Cartier
Small model in rose gold, 29.5 x 22.0 mm, featuring a crown set with a blue sapphire cabochon, a silvered beaded dial, blued steel sword-shaped hands, a hand-wound calibre, a shiny brown alligator strap and a rose gold pin buckle.
€10,400 .
Buy the Tank Louis Cartier online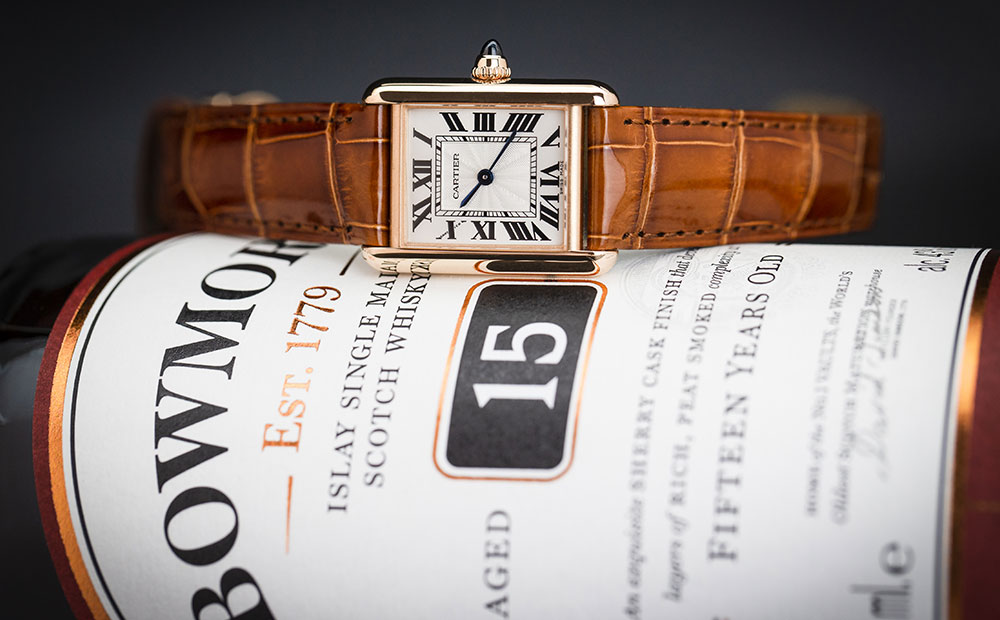 Bowmore 15 years old
The Bowmore distillery has been located since 1779 on the shores of Loch Indaal, an inlet, which opens onto the Atlantic Ocean. The proximity of the sea plays an essential part in the final character of the whiskies that gain a hit of a salty flavour during maturation. Matured in bourbon and sherry casks, the last three years spent in Oloroso sherry casks give this Bowmore 15 year old its bright amber colour. Why I like it: its balance, peaty nose, smoky palate and long-lasting finish with a hint of salt.
€69 .
TAG Heuer's Chronograph Monaco
All-steel model, square 39 x 39 mm case, including a black sunray-brushed dial with white 30-minute and 12-hour counters, small seconds, the date, luminescent hands and hour markers, a sapphire back and the Heuer 02 automatic movement with 80 hours power reserve.
€6,400 .
Our TAG Heuer Monaco technical data sheet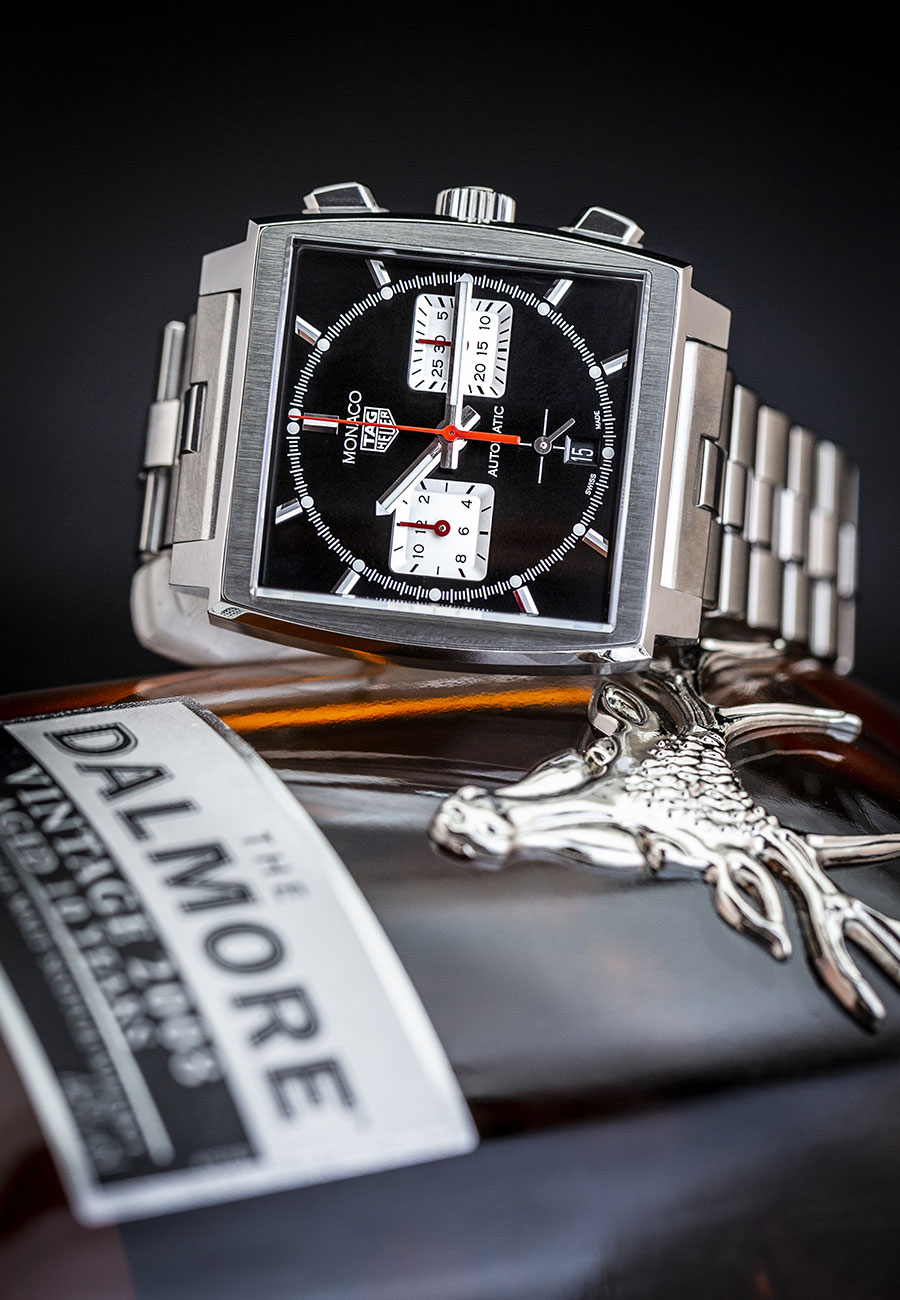 The Dalmore Vintage 2008
This is a particularly interesting Scotch because its complexity makes it actually, very easy to drink. Pleasant and smooth for a neophyte, it will also prove to be of great intensity for a connoisseur amateur. Its 10 years of maturation makes it an exceptional single malt. The nose is light, the palate intense and the finish lightly bitter.
€64 .
Piaget Altiplano
Limited edition of 300 pieces in rose gold, 40 mm diameter, with an ultra-thin case (6.36 mm thickness), a grey meteorite dial, gold indexes, a sapphire back, ultra-thin automatic calibre (3 mm thickness) and grey alligator strap.
€.28,200
Our Piaget Altiplano technical data sheet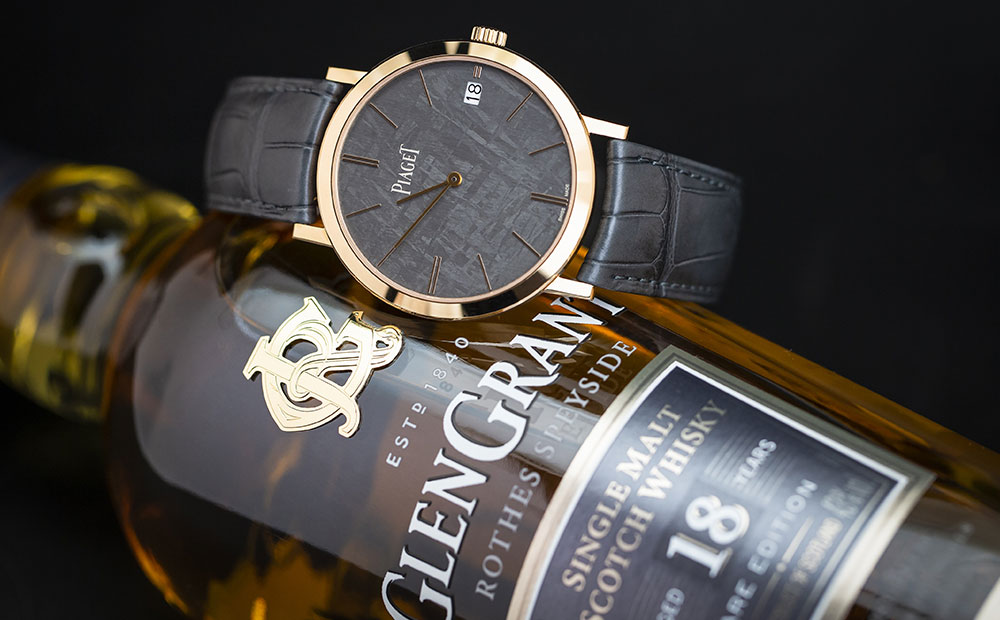 Glen Grant 18 years old single malt
"When the age is in, the wit is out". Admittedly, but perhaps when the age is in, so is the flavour! Indeed, this single malt, aged for a minimum of 18 years in carefully selected oak casks, is stunningly refined. A sublime golden colour and a character as rich as it is nuanced the perfect finishing touches: caramel, raisins, and hazelnut vanilla. The finish is smooth and creamy. Absolutely marvelous.
€120 .
Michel Herbelin Newport Régate Carbone
Limited edition of 300 pieces in forged carbon, 46.5 mm diameter, water-resistant up to 300 m, featuring a forged carbon dial, a 15-minute regatta counter and a 12-hour chrono counter, the day and date at 3 o'clock, a smoked sapphire back, an automatic chronograph movement and a high-performance FKM elastomer strap.
€2,990 .
Buy the Michel Herbelin Newport Régate Carbone online.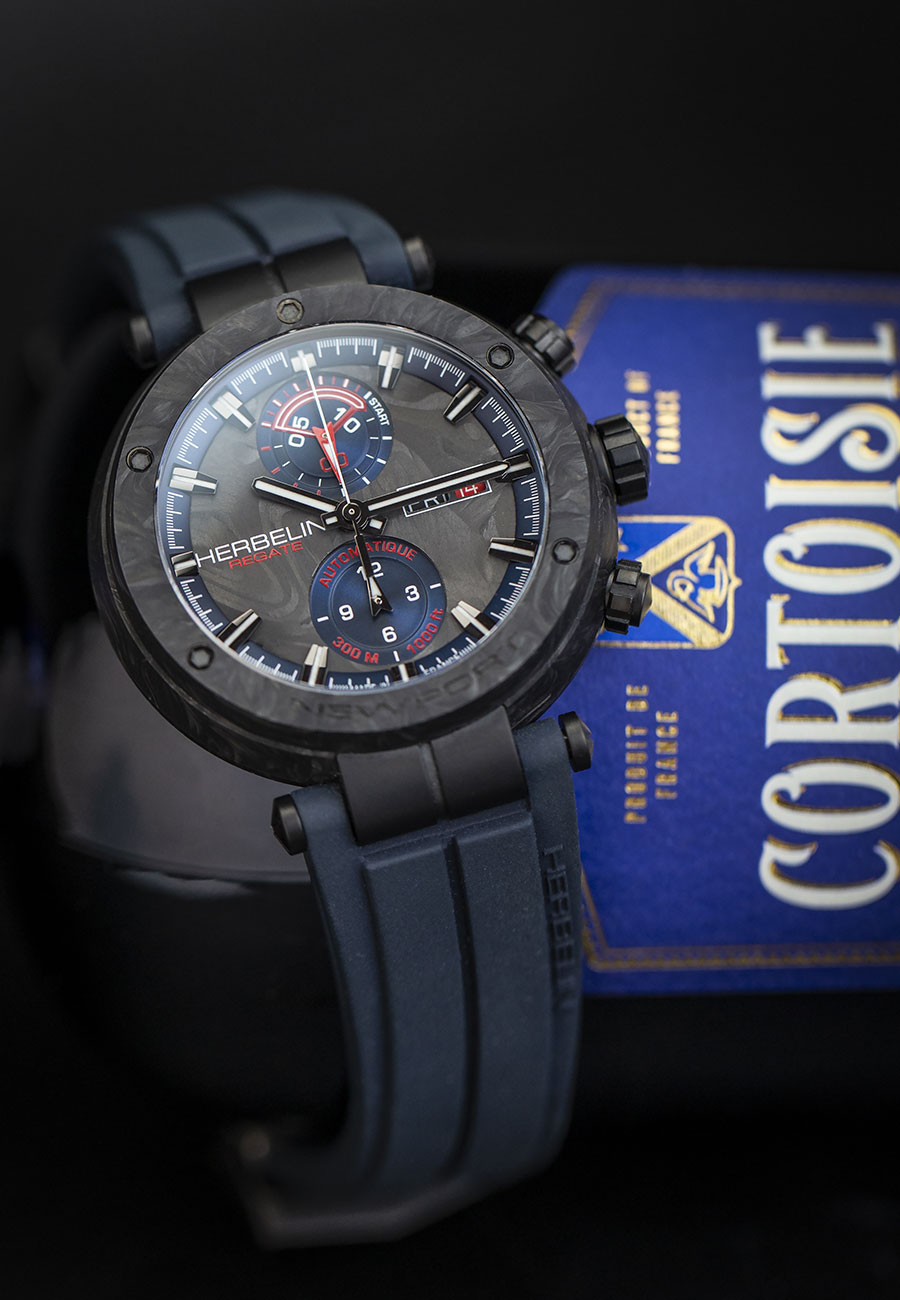 Cortoisie Exhalation, whisky Malt in France
This whisky, known as "Malt in France", is a favorite of mine. Among the peatiest French whiskies with a 35-PPM index, it is nonetheless very pleasant to the palate. Its slightly sunny colour does not foretell its powerful and smooth structure that distils smoky and iodine notes with a long enough finish. This first opus of the Ôdevie House – also known for the quality of its Gin (Generous Gin) and its Rums – has a very successful and smooth balance. I can't wait for the second opus!
€54,50.
Bell & Ross, BR 03-92 Diver
Limited edition of 250 pieces in steel, square case 42 x 42 mm, water-resistant to 300 m, ISO 6425 standard, with a unidirectional rotating bezel, a screw-down crown, an orange dial with luminescent hands and hour markers, an automatic calibre and an ultra-resilient orange canvas strap.
€3,500.
Our Bell & Ross, BR 03-92 Diver technical data sheet
The Glenrothes 12 years old scotch whisky
From the Soleo collection, which refers to a process of drying grapes that produces the best Sherries, this Glenrothes 12 year old whisky is the classic house style of the Glenrothes. Its character is sweet and fruity, marked by notes of melons (oh, yes!) and vanilla, which give it a particular elegance. Its colour is 100% natural as it was inconceivable to alter the colour given by its ageing inside casks so carefully selected by the "master of wood".
€60.
D de Dior Tiger's Eye
Steel watch, 25 mm diameter, including a yellow gold bezel and crown set with diamonds, a tiger's eye stone dial, polished Dauphine hands, a quartz movement, a Milanese mesh bracelet, and a diamond-set buckle.
€7,800.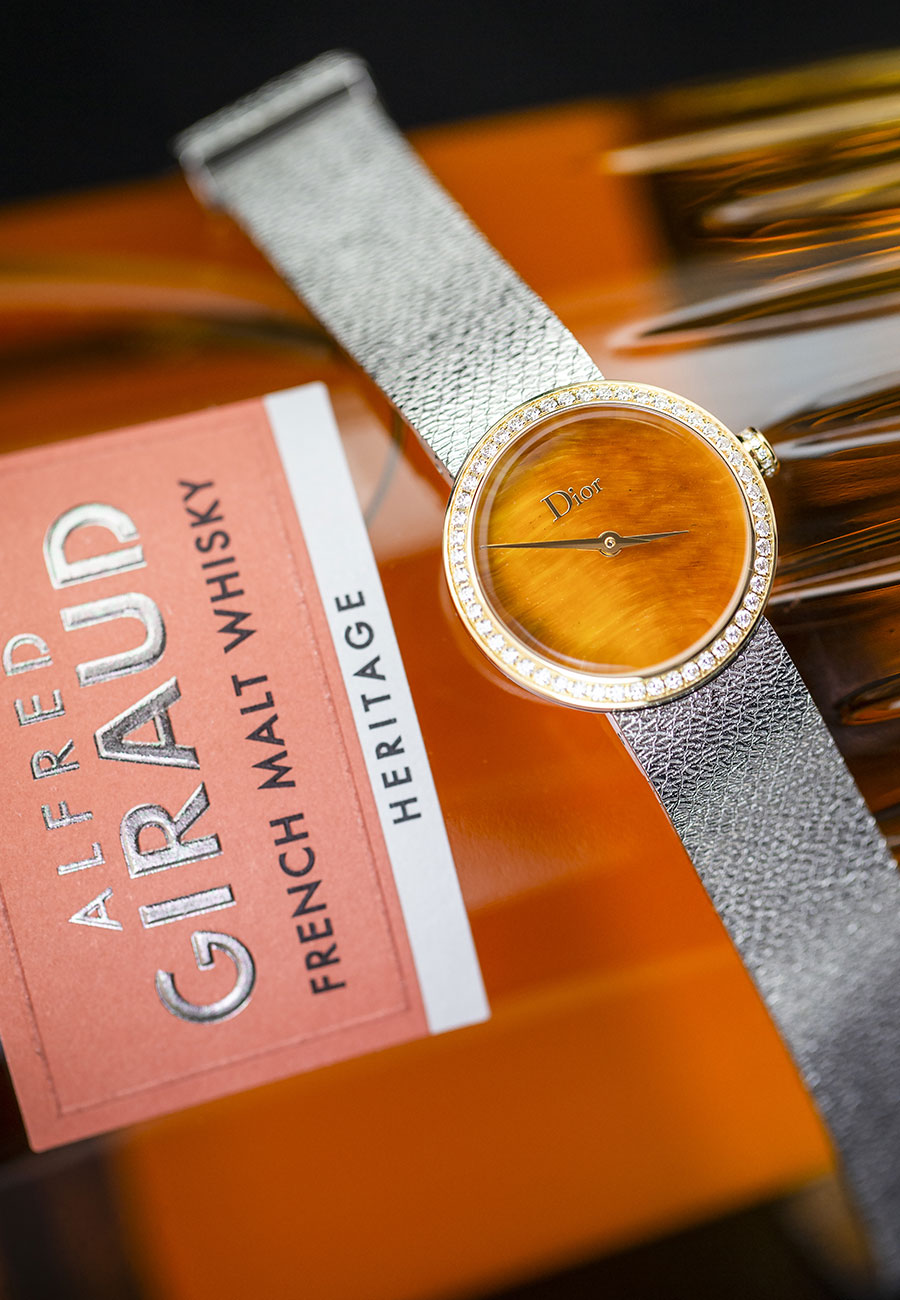 Alfred Giraud Heritage
Annual production: 23 casks, and not one more. It goes without saying that I was delighted to be able to taste this French whisky which bottle looks like a perfume! Triple malt, triple wood, natural colour, not chill-filtered… on paper it's a flawless performance. So let's give it a try! To the nose, no peat, but rather the scent of a bakery in the morning when the croissants invade the shop windows. To the taste, the wood dominates slightly and is quickly balanced by notes of vanilla. The finish is very subtle and its aromatic palette is reminiscent of old cognacs, as this whisky has finished its ageing in the same casks. Talk about coming full circle
€135.
Longines Conquest V.H.P. GMT Flash Setting
This is the famous watch that can be set with a smartphone (see the video about GMT on Frank Sans C's channel below).
43 mm diameter case, that comes with an extremely white dial, hands set by Flash Setting system via a dedicated application and the smartphone flash, a sensor on the dial inside the number 12 and a very high precision quartz movement.
€1,280.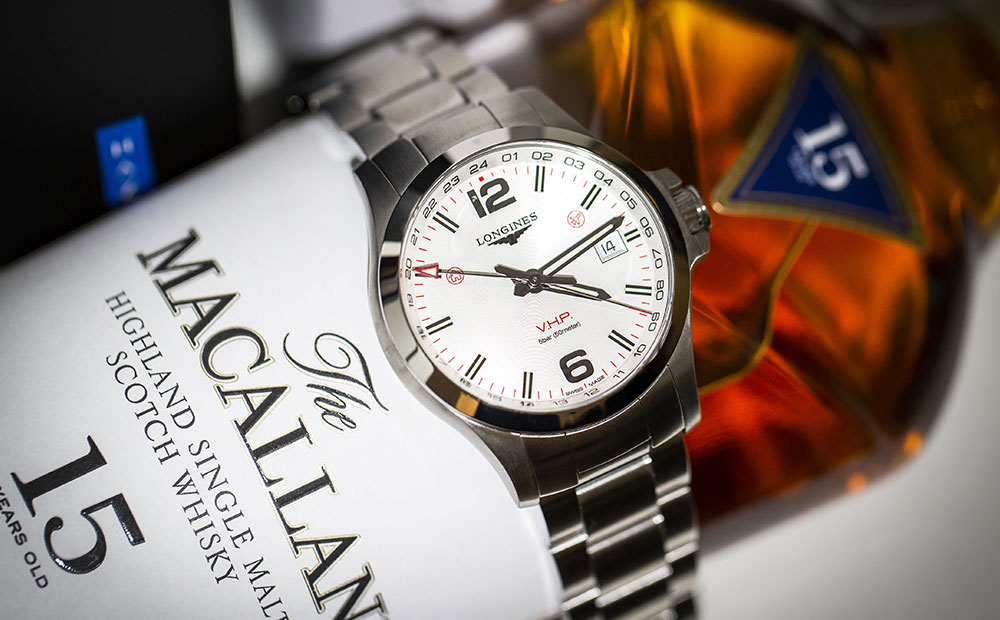 The Macallan Double Cask 15 years old
It is one of the favourite whisky houses among whisky lovers, some even consider it to be the best. It is a matter of taste, of course, but it is clear that these whiskies are absolute wonders. This 15 year old is no exception, with its beautiful caramel colour and its aromas of dried fruit, vanilla and English sweets. The finish is remarkably smooth with a delicate touch of ginger.
€165.
Photo series by Edouard Bierry and Nicolas Yvon
ALCOHOL ABUSE IS DANGEROUS FOR YOUR HEALTH, DRINK IN MODERATION