IWC and Hayden Cox Are in Upcycling Mode
By MyWatch
Watchmaker IWC (as in International Watch Co.) and surfboard designer Hayden Cox have released a new film showcasing their joined commitment for greater sustainability. Shot mostly at Haydenshapes Surfboards' floating pop up studio on Sydney's Pittwater, the film gets the viewers to experience firsthand the work of the famous Australian board shaper, whose innovative designs have been acclaimed by surfers worldwide. The film's synopsis aims at demonstrating how the company tries to reduce its impact on the environment.
Kassandre FRADELIN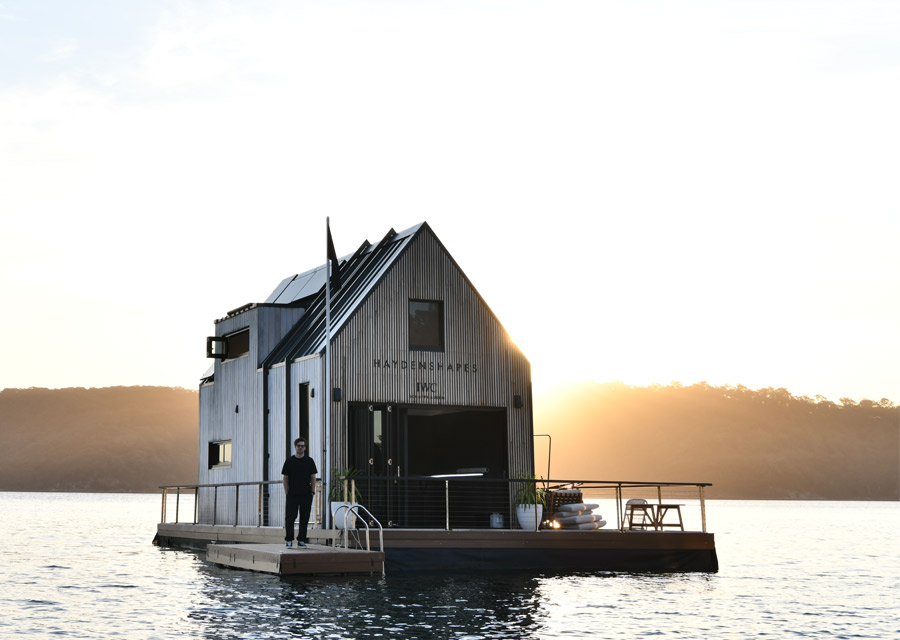 It was a trip Cox took to the IWC Schaffhausen factory that prompted his idea to reuse manufacturing waste and turn it into a brand-new, high-performance fabric. Swiss manufacture has been avidly seeking upcycling ideas for a long time, and has been committed to make its products more durable. "We see sustainability as integral to our future and it's at the heart of everything we do," Franziska Gsell, IWC Schaffhausen CMO said. "From powering the manufacturing process in a green way to developing new packaging for our finished watches, which uses 90% less plastic than previously, we are constantly striving to minimize the environmental impact of our business." Not only did the company sign up to the Ellen MacArthur Foundation's New Plastics Economy Global Commitment to avoid plastic waste, but also powers the new Manufacturing Centre, as well as the headquarters, with renewable electricity. Taking leftover manufacturing material and making new products with it is now common practice. And we have to say, all these commitments are very inspiring.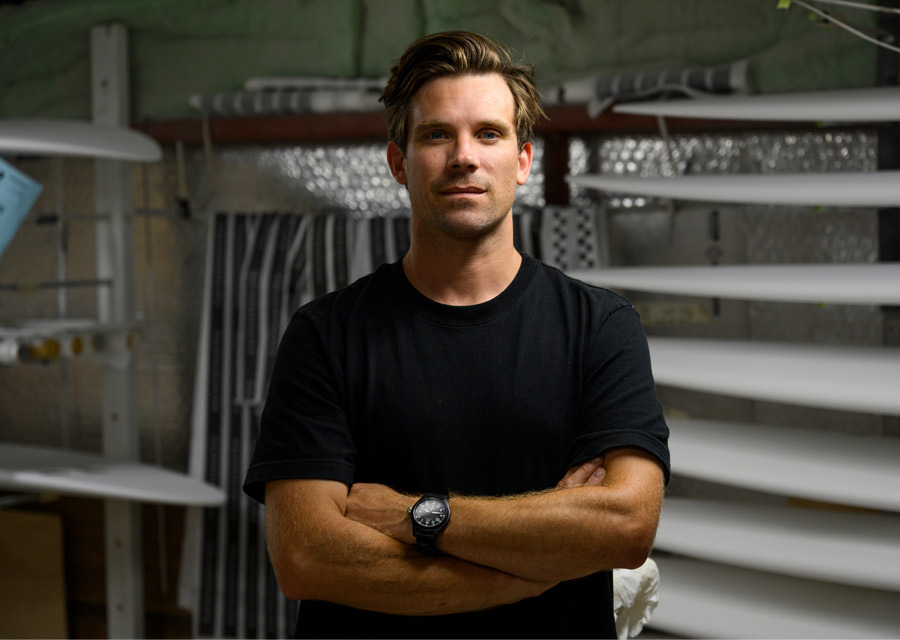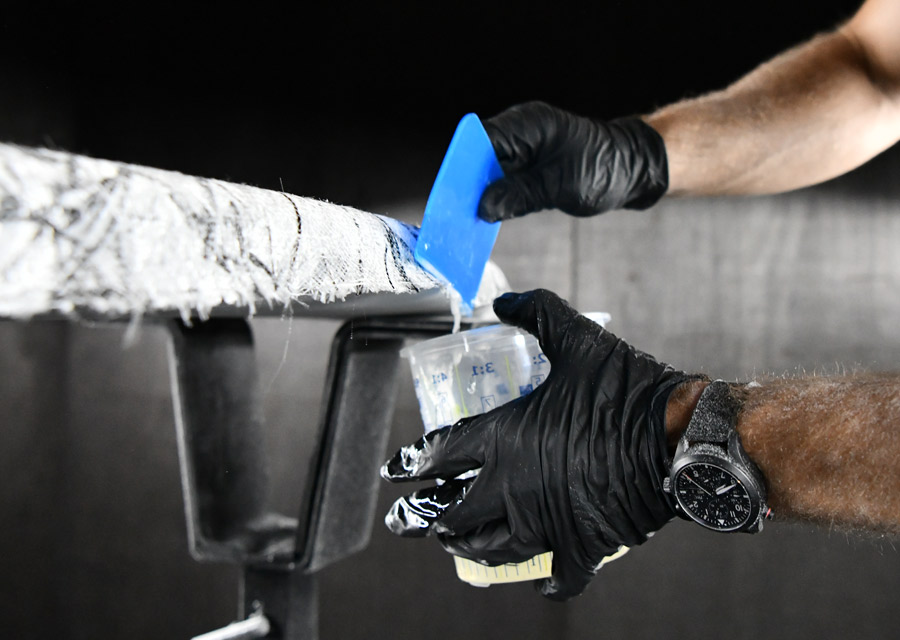 'As I was going around, I saw how all the metals and raw materials, which are offcuts from the production process, aren't wasted," Hayden Cox explained. "Instead, they are carefully gathered up, then melted back down and used for new watches. From that tour of the factory, the idea for our pioneering upcycling process in surfboard manufacture was born." Which is how the young Australian entrepreneur—who is also a proficient surfer—came to use leftover carbon and glass fibre from surfboard lamination to create a new innovative cloth. These leftovers are cut up, mixed together, and reintroduced into weaving machines to create a brand new fabric. Other waste like foam dust and bio-epoxy resin are also transformed into lightweight accessories like tail pads and fins. This upcycling perfectly illustrates Hayden Cox's desire, "to come up with an entirely new idea to regenerate that waste into surfboard components we can actually use." For the designer, it was essential to "think differently and do things [his] own way.'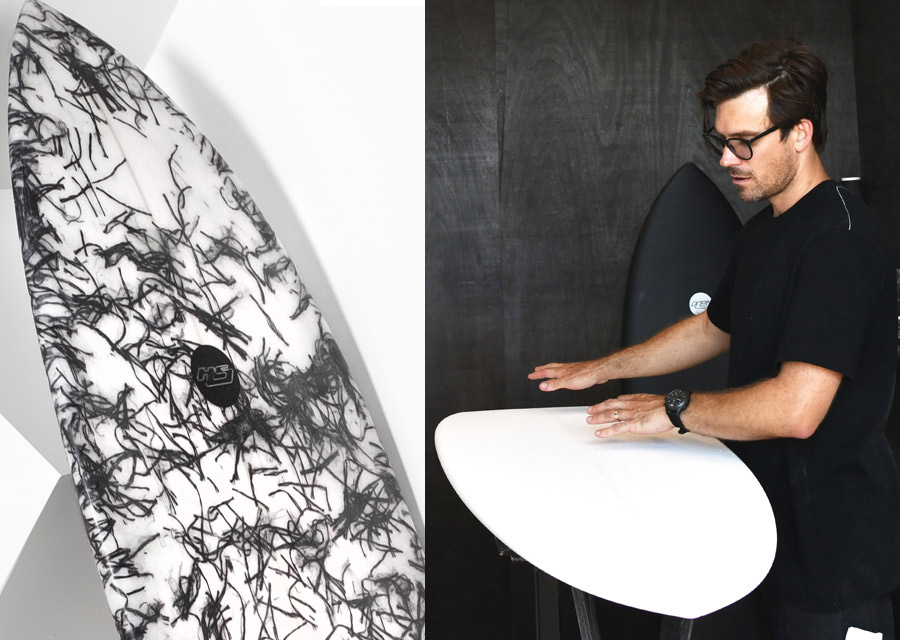 In the film, Hayden Cox wears two watches: the Aquatimer Laureus Sport for Good edition chronograph, and the Pilot's Watch Double Chronograph TOP GUN Ceratanium. The first one is water-resistant up to a 300-meter depth, and unveils a stainless steel case with a vulcanized rubber finish. This automatic model is equipped with a flyback function, and can stop an ongoing timing process while starting a new one simultaneously, in just one step. It features a magnificent blue dial with luminescent attributes. The Pilot Watch, on the other hand, is a chronograph that is water-resistant up to a depth of 60 metres, and which is equipped with a split-seconds hand—also called a "rattrapante"—that allows for intermediary times display. Once the measure is done, its particularity is to instantaneously catch up on the other hand. Another strong point is the instrument's black mat Ceratanium case. It is a patented alloy that combines titanium levity and durability to the inalterability and scratch resistance of ceramics.