LEWIS HAMILTON
A Hell Of An Ambassador
IWC pays tribute to the Formula One universe, by dedicating a special model to its ambassador and new six-time world champion Lewis Hamilton. The Schaffhausen manufacturer is also celebrating its partner's title—Mercedes-AMG Petronas Motorsport—with two models in the colours of the world champion team.

By Nicolas Yvon, Kassandre Fradelin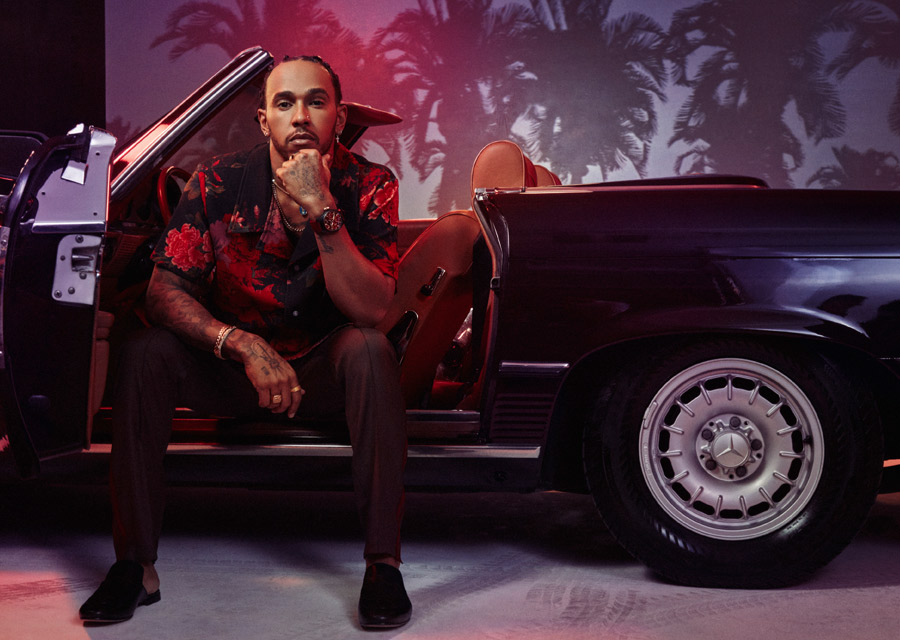 As Mercedes-AMG Petronas Motorsport's official partner, the Swiss manufacturer presents two models inspired by the world of Formula One in general—and the British team in particular—in order to celebrate its title of constructor world champion. They are equipped with a matt black zirconium oxide ceramic case and a carbon fibre dial. In this, both watches make their materials that are characteristic to Formula One single-seaters, and especially to the famous Mercedes-AMG F1 W10 EQ power +. With an emerald green dial elements and strap stitching, they both feature the Petronas team's colour. Another similarity resides in their calibres, though they are not equipped with the same complications. They do, however, benefit from an ingenious automatic winding system ensuring a substantial power reserve of 7 days.
A Champion's Colours
But IWC doesn't stop there in its tribute to motor racing. She also signs another special edition, based on the same QP but created in partnership with Lewis Hamilton, who was crowned for the sixth time Formula 1 world champion and still comes a little closer to the record (seven titles) held by Michael Schumacher.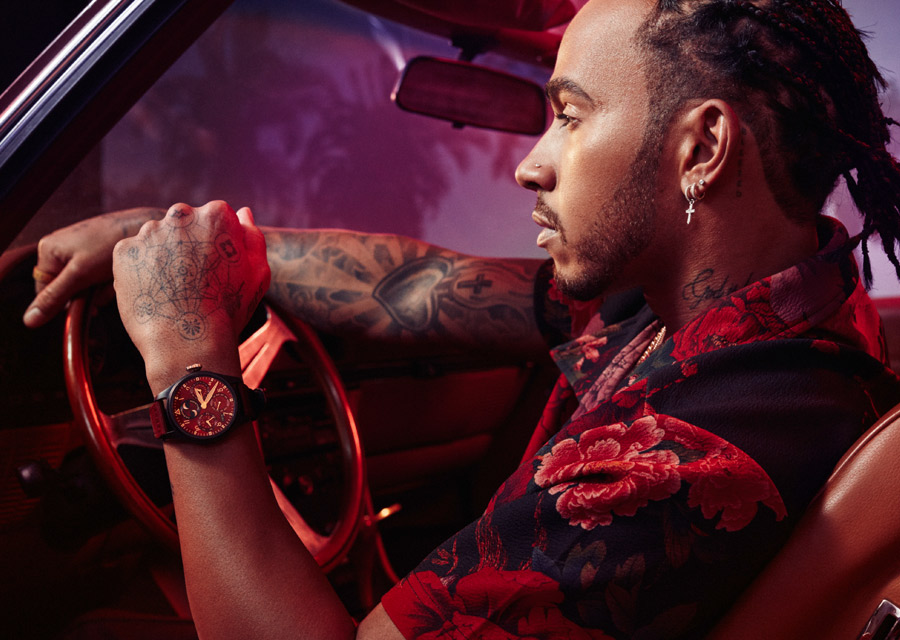 In addition to being the outstanding driver of Mercedes-AMG Petronas Motorsport, the 34-year-old is a true fashion icon and an essential lifestyle reference. His model, the "Lewis Hamilton" Big Pilot's Watch Perpetual Calendar Edition, has a sturdy ceramic case and features a Bordeaux-red dial.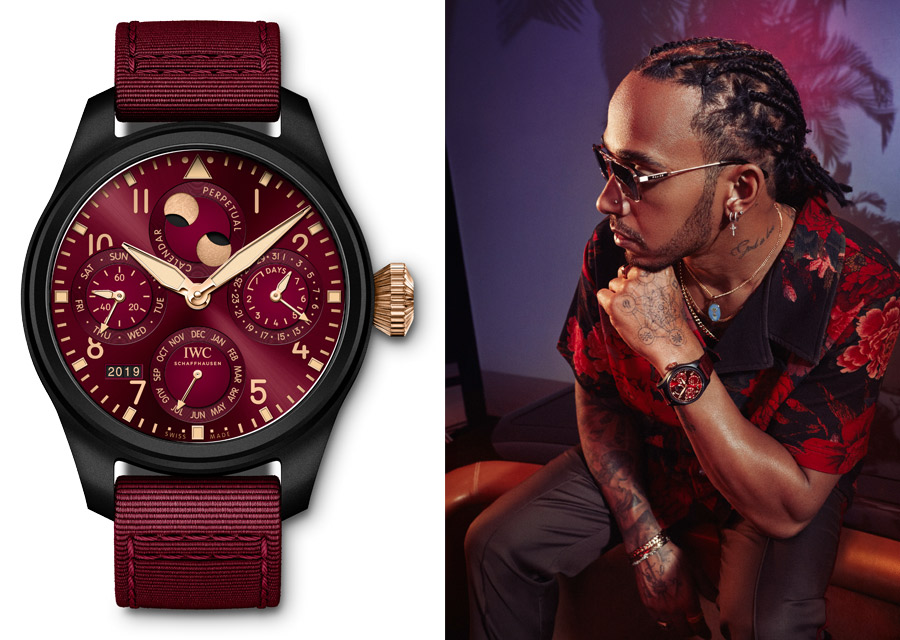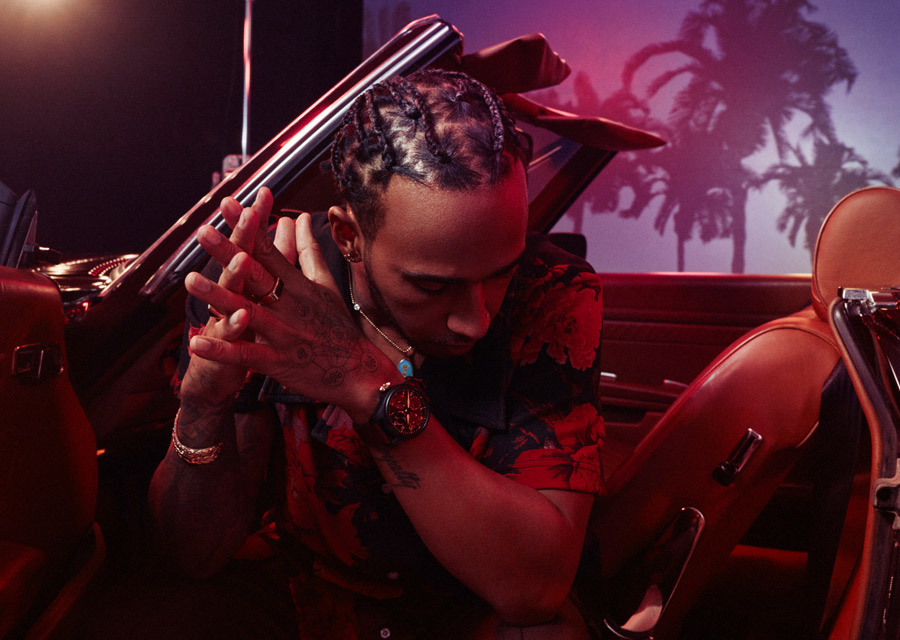 Highly seductive and original, the watch (yes, definitely the watch) as a whole, is a work of contrast, with its gold-plated hands, case back and movement rotor, along with its red gold 'cone crown.' These colours were chosen by Hamilton himself, a known Haute Horlogerie enthusiast. And he doesn't hide either his pride or his enthusiasm: 'this partnership with IWC was incredibly exciting for me, and it's been an honour to collaborate so closely with the watchmakers in Schaffhausen. Together we've designed a beautiful timepiece which combines two things I am really passionate about—craftsmanship and design—and I am so pleased with the result.' The instrument is indeed a true micromechanics jewel, and as such, it is issued to a limited 100-piece edition. Its generous 46.5 mm-diameter displays a perpetual calendar that is associated with a double moon phase display—one for each hemisphere—which only deviate a single day every 577.5 years from our satellite's natural cycle. Also noteworthy is the beautiful chromatic harmony between the dial and the ultra-resistant textile strap. It gives the model an undeniable style and an actual personality, both of which make this merging of modernity, originality, elegance and sportiness an absolute success.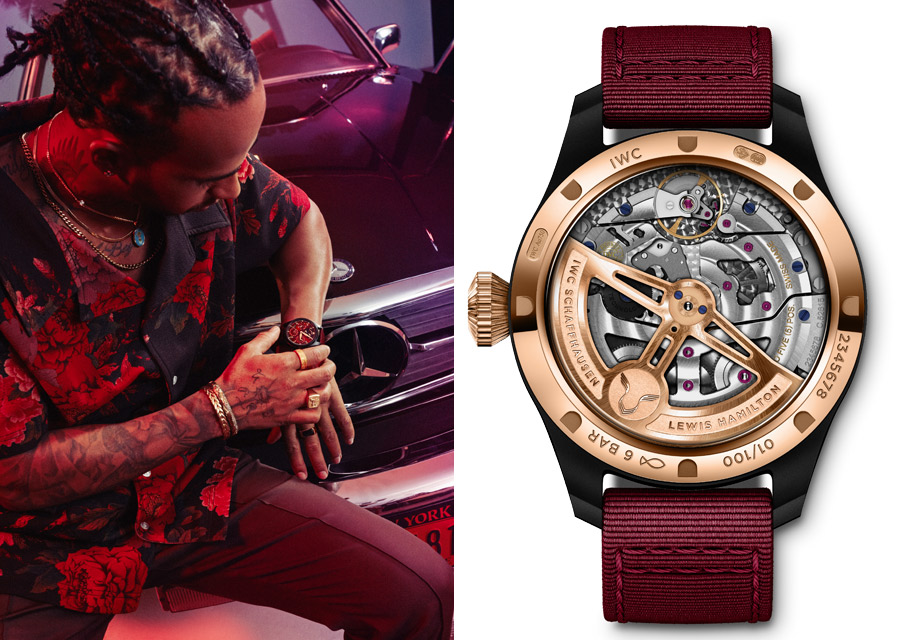 British team watches
The Pilot's Watch Chronograph Edition 'Mercedes-AMG Petronas Motorsport' is a 50 piece-limited instrument that is equipped with the flyback function—which allows the current timing to be stopped and a new one to be started in a single operation—an indispensable asset for measuring times on a race track.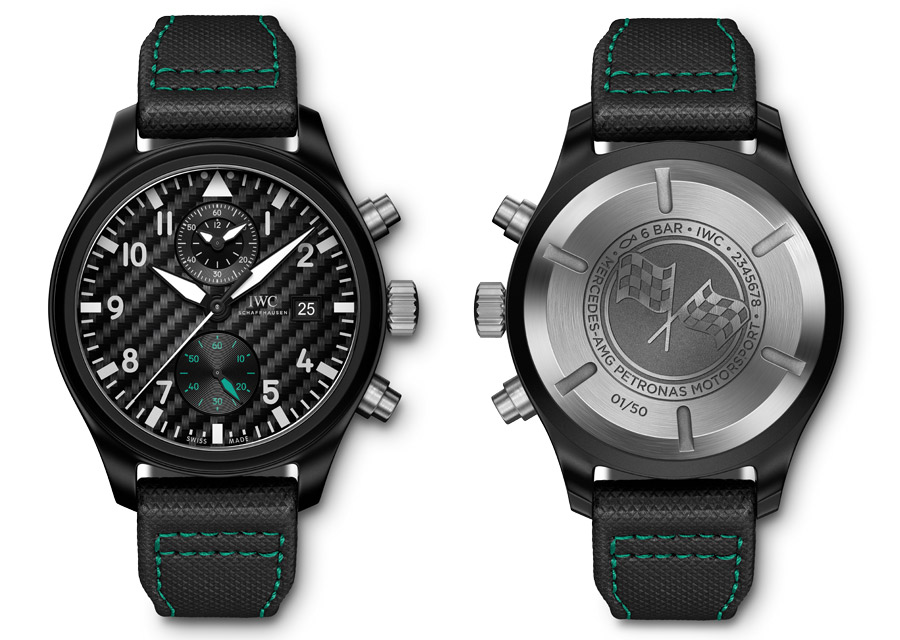 The Big Pilot's Watch Perpetual Calendar Edition is limited to a 10 piece-only series. As its name suggests, it is equipped with a perpetual calendar. This clever device displays the day, date, month and leap year, an information that will not require any adjustment until 2100, when our Gregorian calendar will see an exception. There is no need to worry about the notably heavy-duty components either: they are made from ceramic and are practically wear-free. The model also houses a two-phase moon system for both northern and southern hemispheres—also a 'perpetual' mechanism according to IWC—as it requires only one adjustment every 577.5 years!