Frank Sans C VIDEO
Longines Ultra-Chron: automatically super accurate
Attached to maintain the memory of its history of a traditional savoir-faire, the Longines Maison regularly launches models aimed to become landmarks in this memory work. Today, Longines launches the new Longines Ultra-Chron, an automatic model inspired by a legendary reference, too long forgotten.

By Vincent Daveau
Through communication from everywhere by watchmaking brands, the watch enthusiasts are sometimes lost when it is about to know what their specialities are. In the Longines's case, it would be fair that a true skills assessment is made because this august Maison has often been the origin of many technological advance in the world in which it was for a long time the best.
A little historical flashback
We know today that this pioneer company regarding industrial developments has been the first to offer, with the Zulu Time watch (see our article on the new Longines Spirit Zulu Time), a wristwatch equipped with a GMT function at the beginning of the 1930S. A date to which this Maison having wings on its logo, also felt the need to be in the aerospace industry. We also forget that Longines has an experience of more than a hundred years in the field of the high-frequency watchmaking. From 1914, it developed high-frequency movements oscillating at 36,000 vibrations per hour for its chronometers designed to measure sporting feats to 1/10th of a second.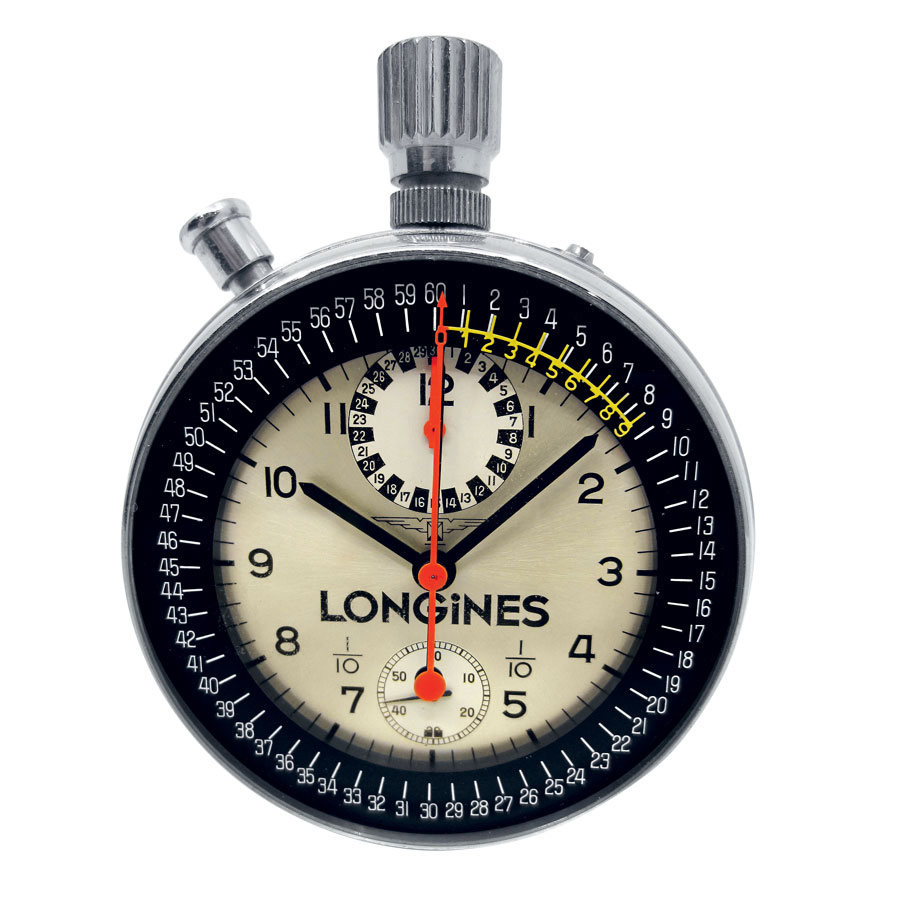 On its roll, it offered in 1916 a chronometer equipped with a balance wheel oscillating at the fast pace of 360,000 vibrations per hour (50 hertz) to accurately measure the time to 1/100th of second.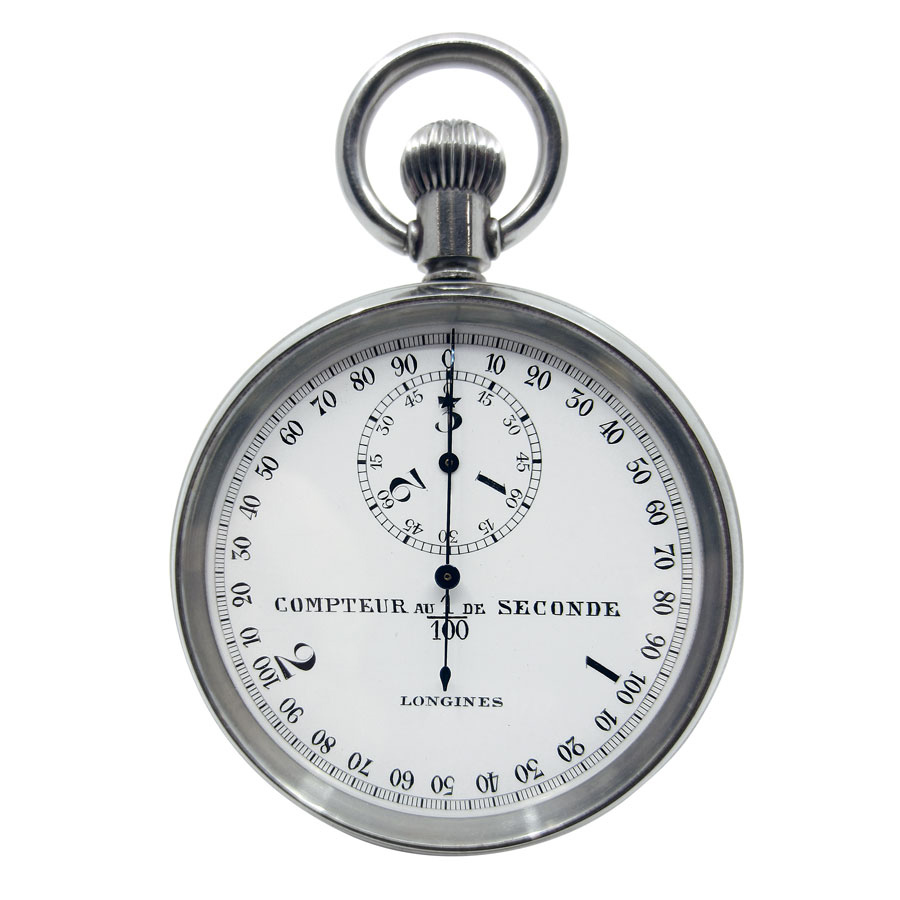 To guarantee the reading of these fractions, the second hand goes around the dial in 3 seconds and the instrument is made to give this time on a 3 minutes-duration (dial at 12 o'clock). Then came from 1959 the high-frequency wristwatches. If the first one, produced in 200 pieces between 1958 and 1963 was essentially intended for the observatory competitions that were animating the watchmaking community, the Ultra-Chron model of 1966 opened the era of mass-produced watches.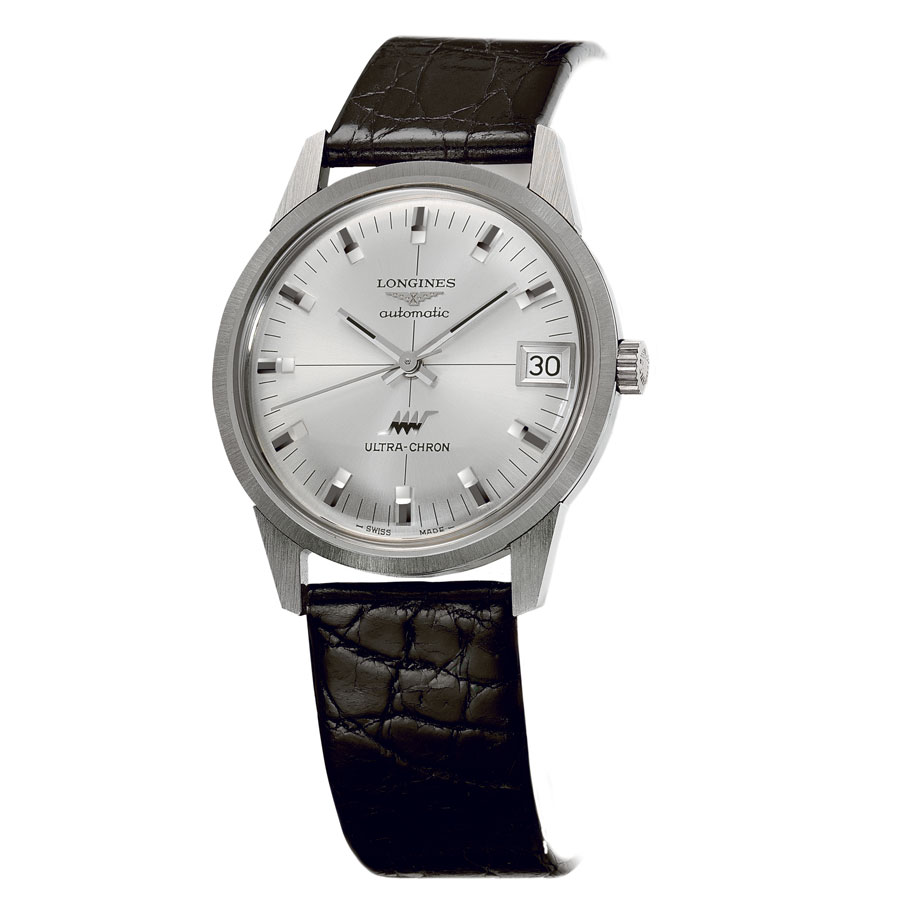 Ultra-accurate with an advance not going beyond the minute per month 2 seconds per day, these references meet with great success to precision's enthusiasts.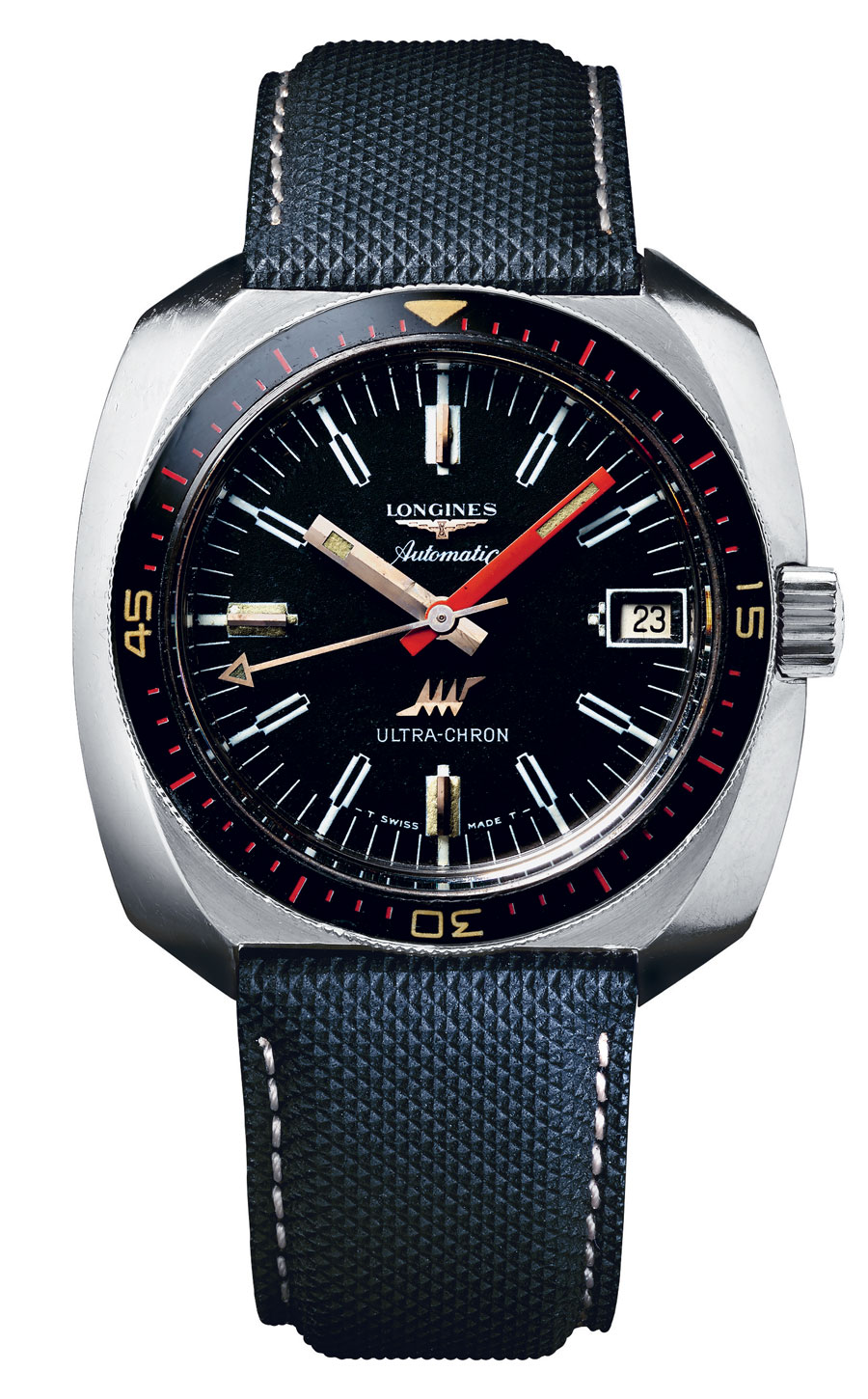 The piece is followed in 1968 by the Ultra-Chron Diver, the first high-beat watch under water.
A milestone between yesterday and today
This is very precisely from this watch that the Longines office was inspired to create this new generation of timepiece called Ultra-Chron. Like the model from 1968, this 43 mm diameter cushion-shaped steel piece is equipped with a unidirectional rotating bezel.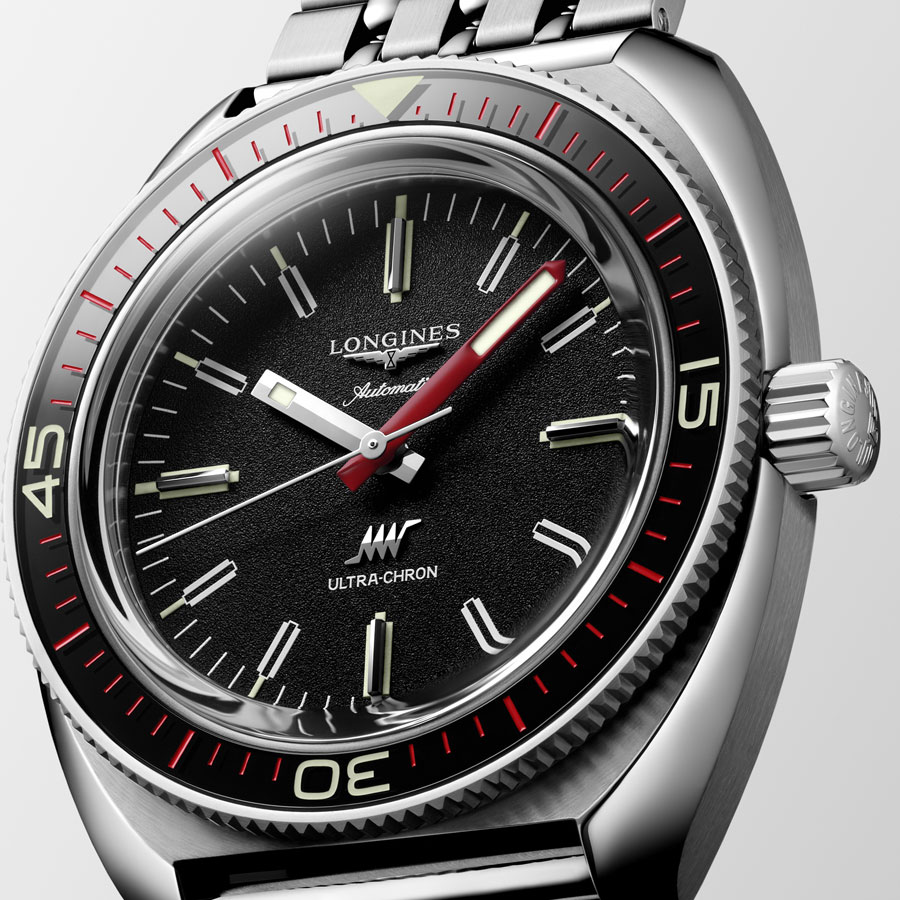 Modern, this component very exposed to impacts is this time equipped with a sapphire insert almost scratch-resistant with luminescent hour markers. Efficient, the beautiful watch with a very « seventies » design is also adorned with a beautiful black grained dial on which the baton hour markers stand out, the white motion work and the original logo from the old model. To facilitate reading while diving, this watch has a red-painted minute hand and coated like the luminescent hour hand. Graphically balanced, it is water-resistant to 300 m and can be worn either on a steel bracelet, leather strap or even on a NATO strap made of recycled materials, delivered in the case.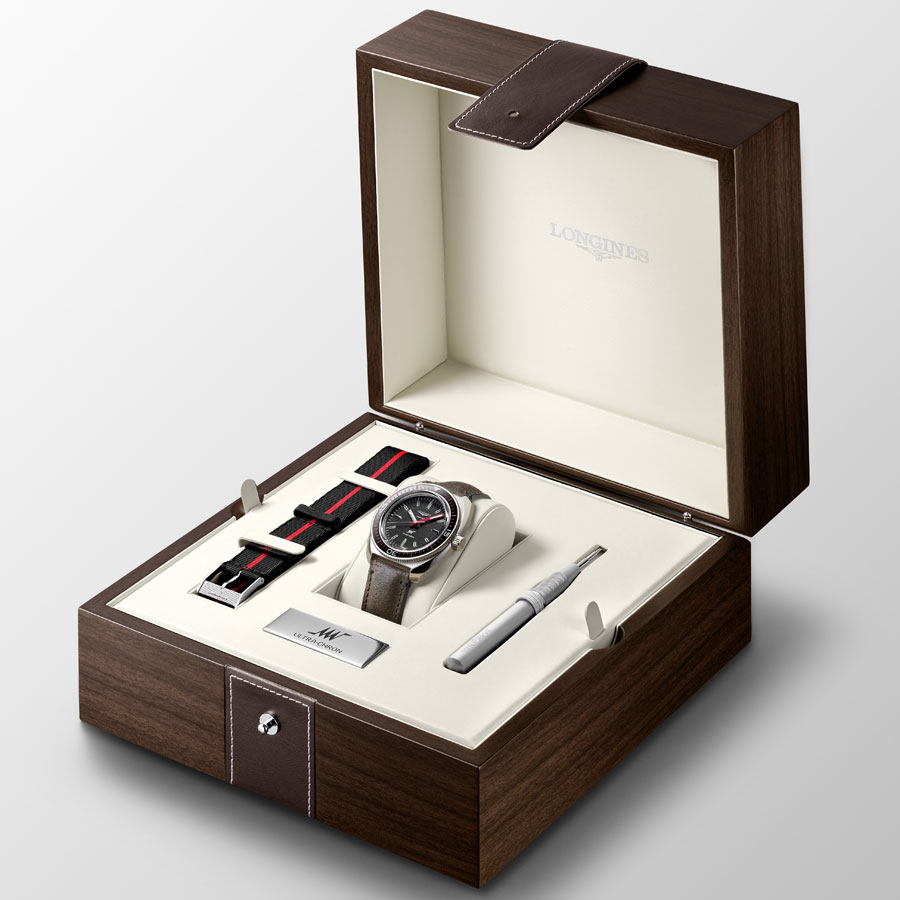 A heart with high output
Beautiful and eye catching, this reference is also very well motor-driven. It has a L836.6 high-frequency self-winding mechanical movement made « in house » as said in the technical specifications sheet. It is equipped with regulating organs whose balance wheel makes 36,000 vibrations per hour. Accurate to 1/10th of a second, this heart inherits a silicon balance spring, a material corrosion-resistant, insensitive to the usual temperature variations and magnetic fields. Thanks to its unique characteristics that help to improve the precision and longevity of the adjustments, the heart allows Longines to guarantee this watch for 5 years. Finally, to be able to bear the name of Ultra-Chron, this Longines novelty has been tested by TIMELAB, an independent laboratory located in Geneva. After several tests under three different temperatures for 15 days, the piece has received the « ultra-chronometer » certification, a designation indicating that its precision is very beyond the specifications kept by the COSC for the chronometers' certification whose average variation of a skilled piece must be in a slot between -4 and +6 seconds per day. Hard to beat!
Price:
Longines Ultra-Chron on leather strap: €3,030
Longines Ultra-Chron on steel bracelet: €3,280 euros – Box Edition with NATO strap : €3,540
Have a look at the technical specifications' sheets of the all-steel Longines Ultra-Chron and the Longines Ultra-Chron on leather strap.

Read also: