« Lost in Space » : Omega created a very big event in London to celebrate the 60th anniversary of the iconic Speedmaster
By MyWatch
At the end of April, it is in London that Omega celebrated the 60 years of its emblematic Speedmaster, where many VIP were reunited at the Tate Modern Museum during an evening under the theme "Lost in Space". George Clooney and Buzz Aldrin were the guests of honor of this event that paid tribute to the famous story of Omega's chronograph, entered to the legend by accompanying the first steps of the man on the moon in 1969.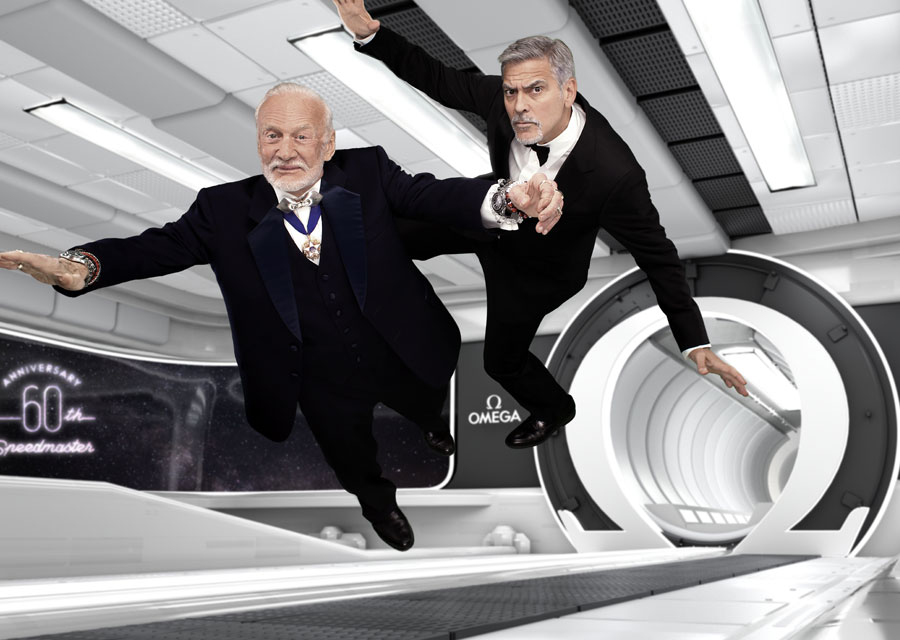 The night was hosted by Professor Brian Cox at London's Tate Modern which was transformed to give guests a truly sensory experience. Inside, the venue was given a sleek and futuristic touch with a centrepiece of 60 important Speedmaster models from 1957 to 2017.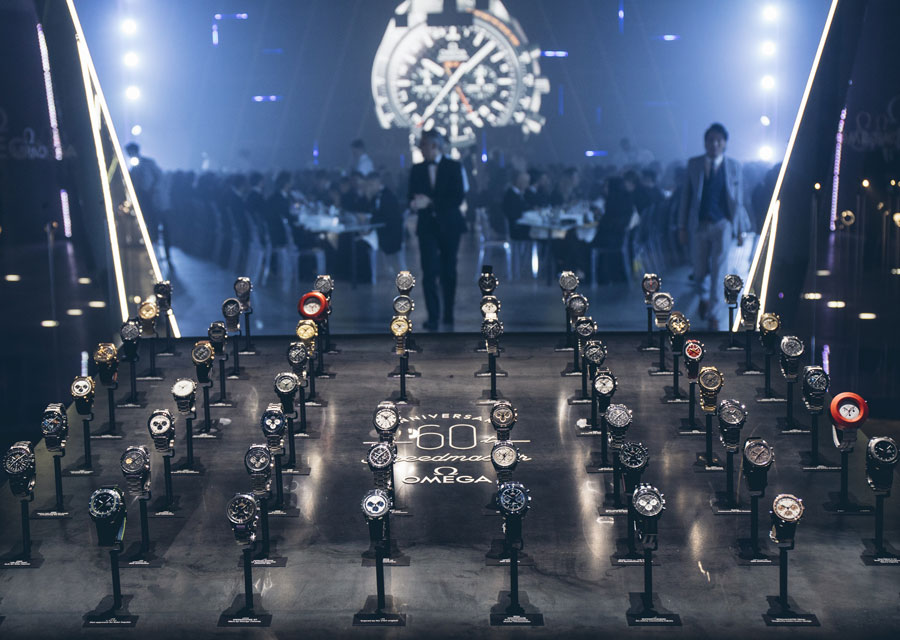 Raynald Aeschlimann, the President and CEO of OMEGA, was the first on stage and welcomed guests to the event with his thoughts about the brand's most well-known chronograph.
"The Speedmaster is one of the most, if not the most, iconic chronographs in the world. Not only for OMEGA, but for the many men and women who have worn and trusted it. Even after 60 years, its power and charisma has not diminished. We're so proud to have an event of this scale and to share it with the Speedmaster's biggest fans."
The OMEGA Speedmaster has enjoyed a long and varied history. The original model was the first watch in the world with its tachymeter scale on the bezel. Since then, the design has lasted the test of time, and it has been worn by astronauts, Air Force pilots, explorers, athletes and actors, as well as a growing community of fans from all around the world. Most famously, as part of Apollo 11 in 1969, Buzz Aldrin stepped onto the lunar surface and, in that moment, the OMEGA Speedmaster became the first watch ever worn on the moon.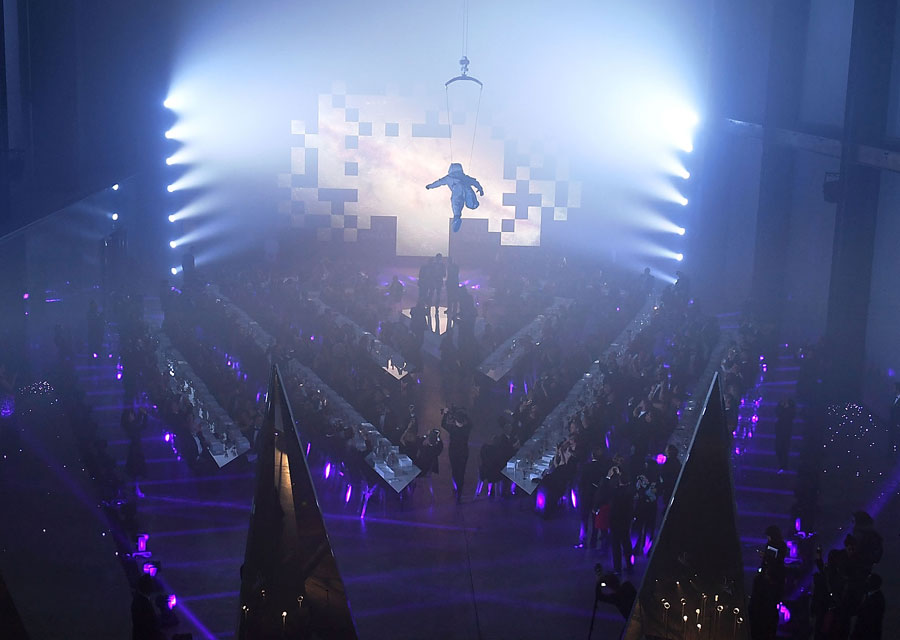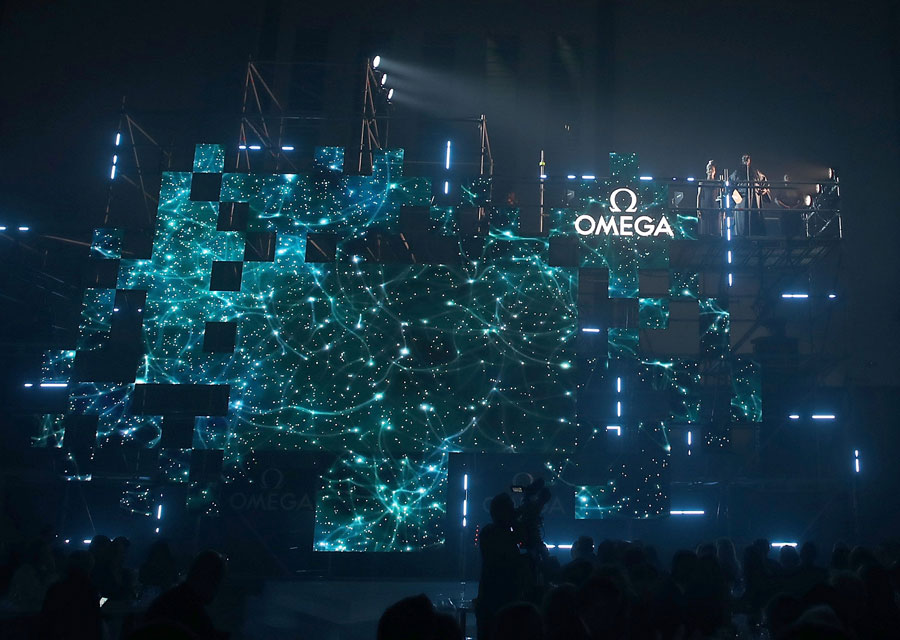 48 years later, Buzz appeared spectacularly in a spacesuit on OMEGA's stage. After a great applause, he later recounted his memories of his time in space."We weren't scared. More so, we were proud to have been able to represent everyone and to have the skills and the knowledge to carry out something that was very meaningful to us as astronauts, of course, but also to so many other people."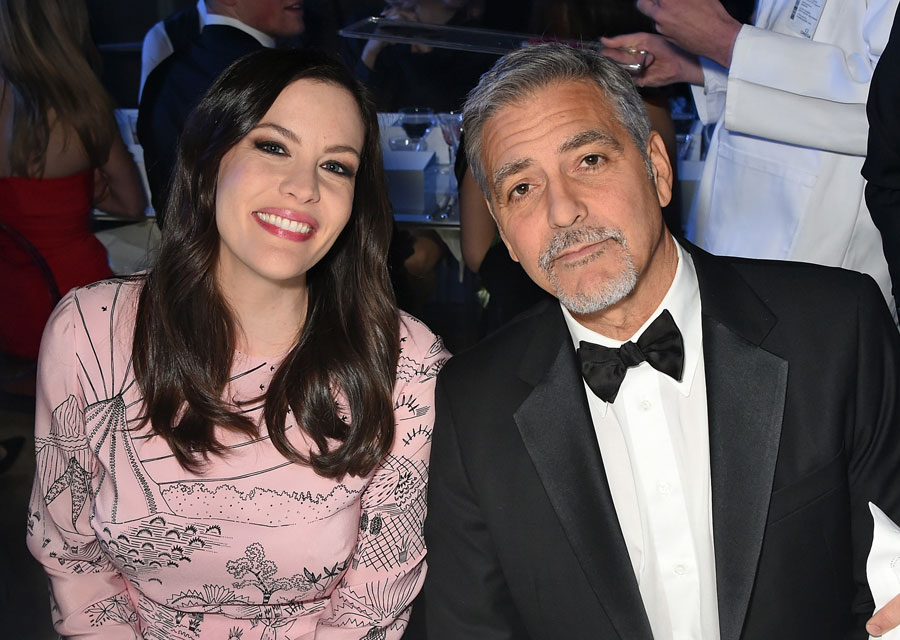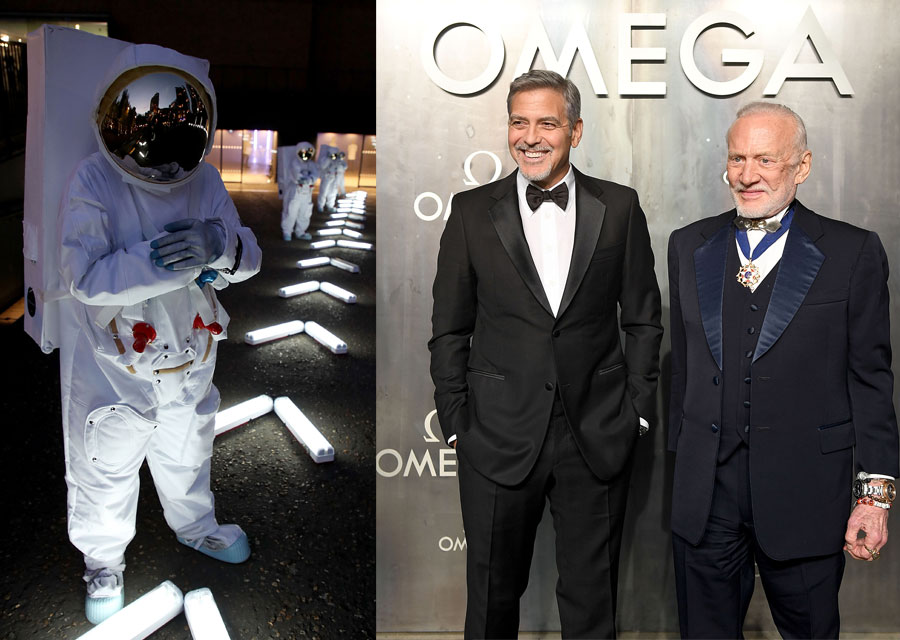 Standing alongside Buzz was the renowned actor George Clooney, who is not only a dedicated Speedmaster follower, but also a lifelong fan of space exploration. Since childhood, the Apollo missions and the OMEGA Speedmaster have been amongst his most treasured memories.
"Speedmasters were a big part of my growing up. My uncle and my father, we all had them because it was such a big part of the moon landing. And it was huge in our lives. My father gave me, as my graduation present, a Speedmaster. There's every reason to love them because they're elegant watches. But I also love them because of the history."
When asked about his memories of the moon landings, George gave a very personal tribute to Buzz. "It mattered to all of us. What you did mattered to all of us and I can't thank you enough for your courage, your leadership and everything you've done."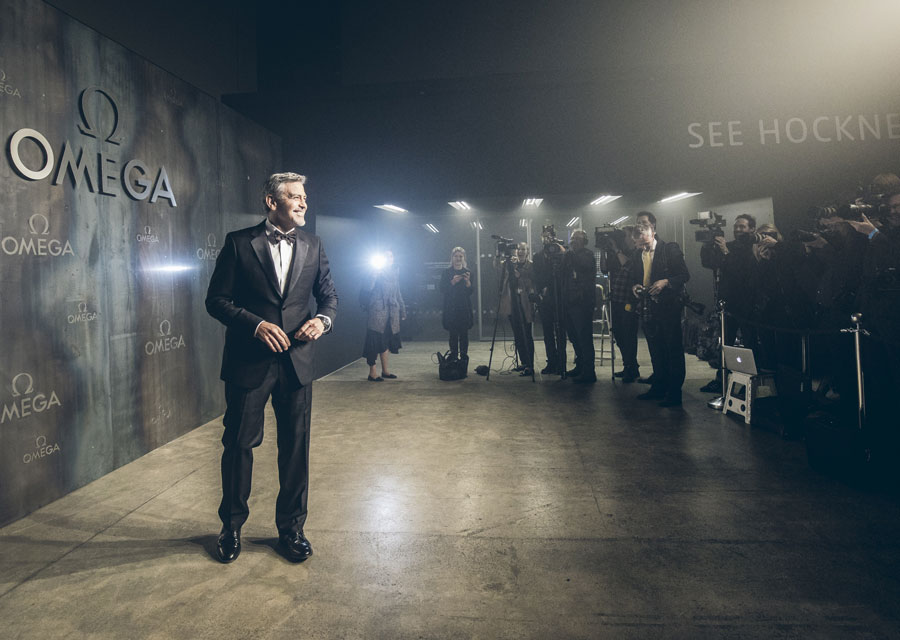 It has been more than 50 years that the OMEGA Speedmaster has been relied upon as an essential tool in space. In 1965, the watch was officially tested and qualified by NASA for all manned space missions. The man in charge of that process, ex-engineer James Ragan, was also at the event in London and spoke to guests about the Speedmaster's reputation within NASA.
"Of all the watches we tested in 1965, the Speedmaster was the only one that passed all the tests. The others got eliminated in the very first test. So it has a very good reputation with NASA and even today is still used in space. That says a lot about the watch."
The Speedmaster's impact has been truly far-reaching. Amongst the many VIP fans at the London event were; American actress Liv Tyler; British actress Gemma Arterton; British singer Ellie Goulding; French actress Clemence Poesy; British actress Joely Richardson; British singer Pixie Lott; American model Arizona Muse; British model Erin O'Connor; British model David Gandy; British actress Laura Carmichael; British model Amber Le Bon; Influencer Camille Charriere; Model and influencer Oliver Cheshire; British model Toby Huntington-Whitely; Celebrity chef Marcus Wareing; British boxer David Haye; British Olympic Games swimmer Adam Peaty; Chinese actress Liu Shishi. Italian swimmer Filippo Magnini; Japanese actor Shohei Miura; Thai actress and model Praya Lundberg; and Indonesian actor Nicholas Saputra.
The "Lost in Space" event concluded with a performance by ESKA, who gave a rousing rendition of David Bowie's classic song Space Oddity. It was a wonderful way to complete a night of pure entertainment and imagination.
WHAT THEY WORE:
Buzz Aldrin and James Ragan wore the Speedmaster Moonwatch Professional Chronograph. George Clooney wore the Speedmaster Moonphase and Raynald Aeschlimann also wore a Speedmaster Moonphase in 18K gold.