Connected object
Louis Vuitton Horizon earphones go green… neon green
The Louis Vuitton house continues its prospection of the new technologies market with a refreshing colour for its wireless earphones Louis Vuitton Horizon. Of a vibrant neon green, these connected luxury pieces with remarkable and remarked audio qualities are a true travel companion. Focus on a small technological marvel full of pep.

By Chloé Redler
The ultramodern design of the Louis Vuitton Horizon earphones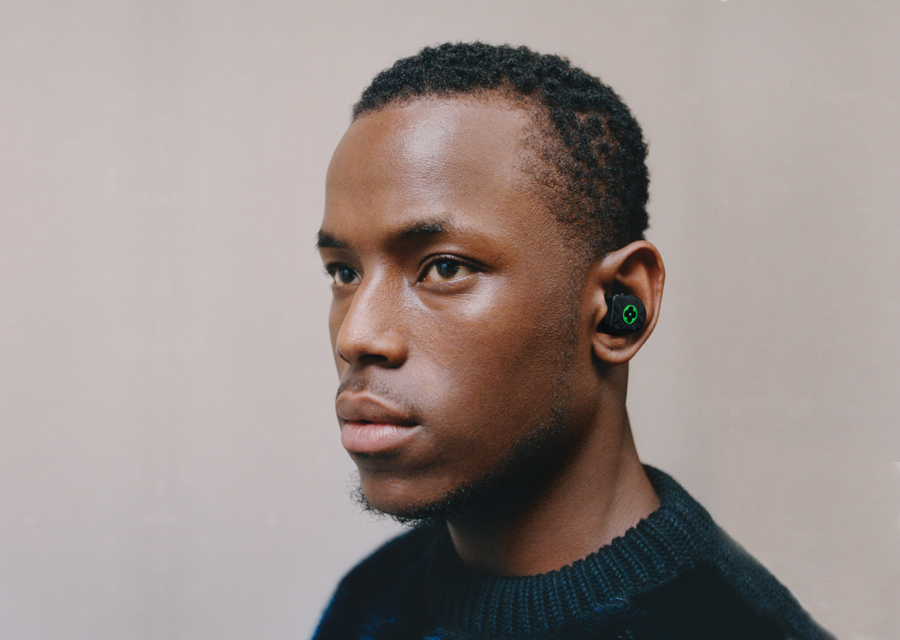 Combined with the timeless elegance of black, the neon green is a perfect contrast to bring chic and modernity to this accessory. Conceived and designed by Virgil Abloh – artistic director of Louis Vuitton's men's wear collection – the Louis Vuitton Horizon earphones are in acetate with an embossed Monogram pattern, signature of the Maison.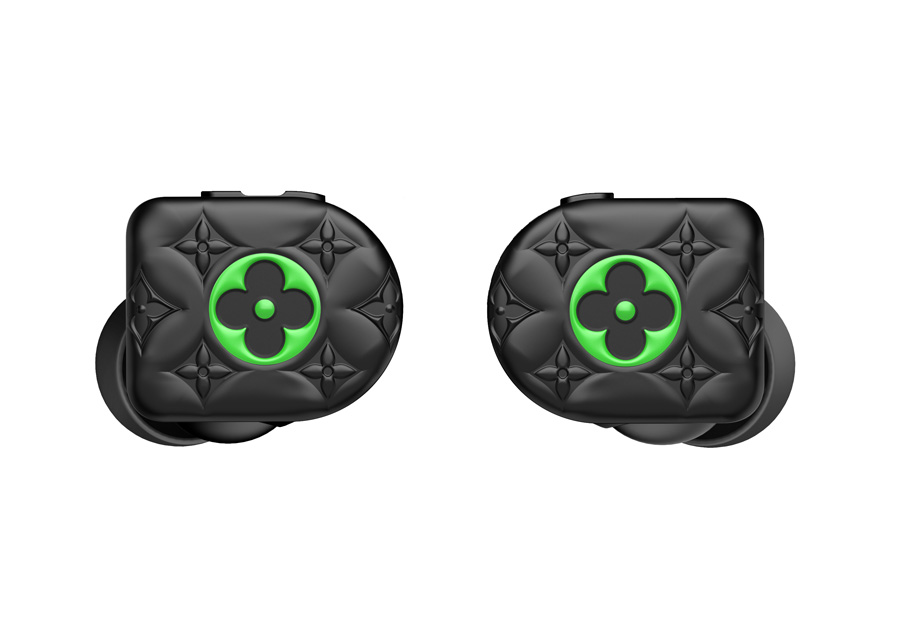 All the while, the silicone ear tips and fit wings are assuring comfort for the wearer. Nestled in a charging case evoking the dial of the Tambour Horizon connected watches, they indeed benefited from a small aesthetic evolution but nevertheless respect the technological codes of their predecessors.
The Louis Vuitton Horizon earphones, a concentration of technology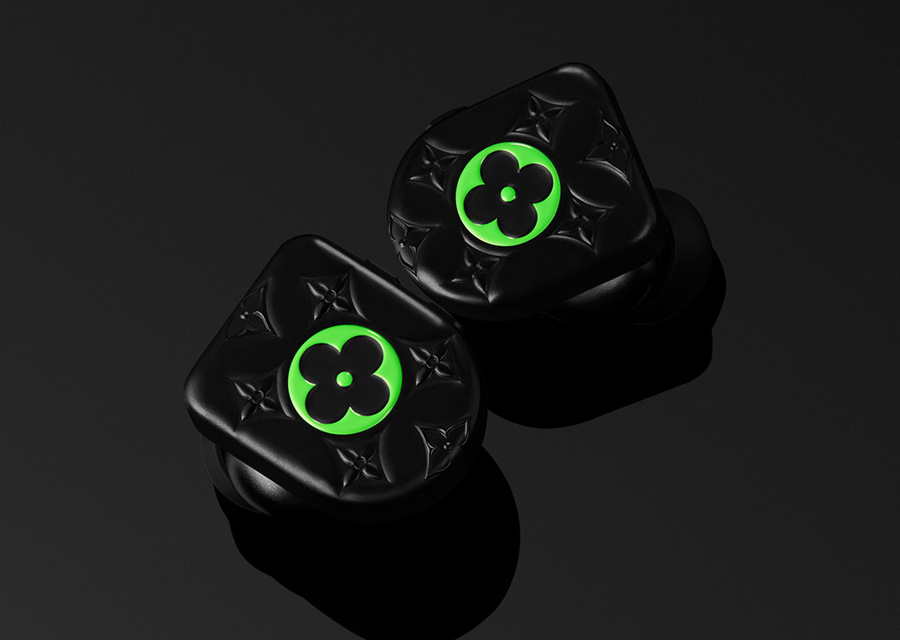 These accessories doubtlessly have an incredible audio quality conceived by Master & Dynamic, the specialist of high-end "True Wireless". Indeed, when the active noise cancelling mode is on, the parasitic sounds become negligible, which allows for a better, corrected listening. However, the ambient listening mode ensures a link with one's surroundings.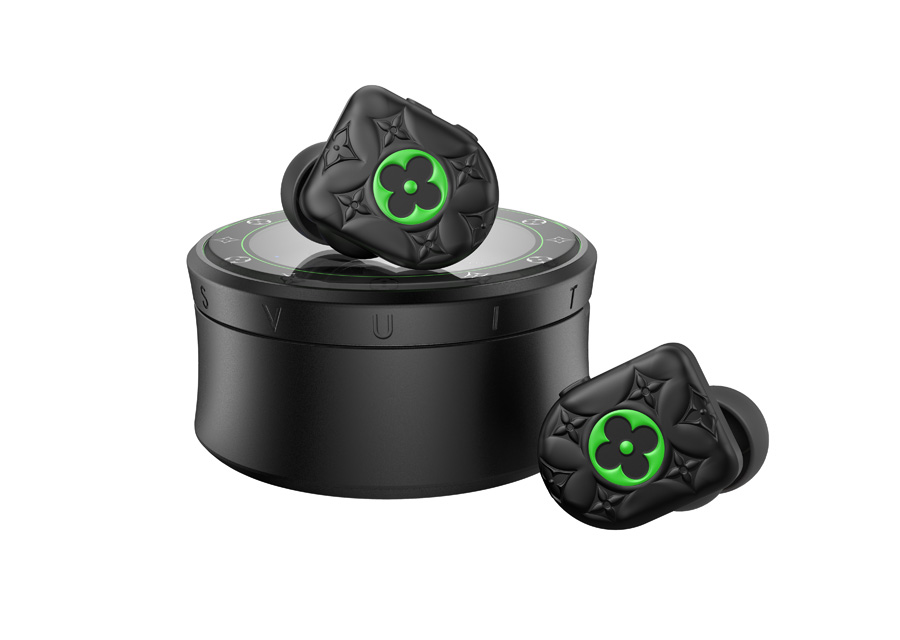 Charged by induction, the earphones have a comfortable total autonomy of thirty hours (3 times 10 hours) thanks to two additional charges to be found in their stainless steel charging case with black PVD coating. Small detail but not the least: the charging case is equipped with a LED battery level indicator.
Louis Vuitton Horizon black & neon green earphones – €1 010.
See the complete Louis Vuitton wireless earphones collection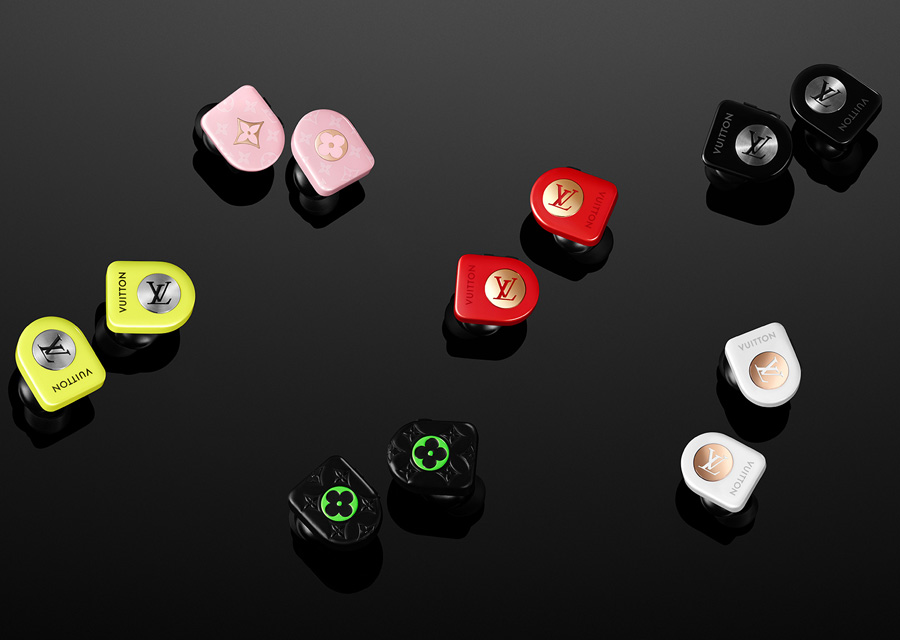 The case, an essential accessory
Superfluous luxury for some or must-have for others, the case of these cutting-edge technological pieces is available in different hues and formats.
Staying true to the Louis Vuitton House's leather goods collection, this timeless piece in natural cowhide covered in Monogram Eclipse canvas must be cited. Featuring a metal snap hook that can be attached to a bag handle or a belt, this travelling piece exists also in powdered pink adorned by the House motifs.
For average earphones users or the apple-brand aficionados, Louis Vuitton offers in a theme less discreet but more fun the "Cat" and "Rat" earphones cases – the last one especially conceived to celebrate this rodent's year in Chinese astrology.
Louis Vuitton Horizon wireless earphones case – €380
"Rat" and "Cat" earphones cases – €360
The connected watch Tambour Horizon collection, to wear with the earphones :
https://eu.louisvuitton.com/eng-e1/men/watches-and-jewelry/connected-watches/_/N-6furb6
Or the Tambour Moon Dual Time collection: https://eu.louisvuitton.com/eng-e1/magazine/articles/tambour-moon-dual-time#
Discover our datasheets on the Louis Vuitton watches