Mechanical passion: Richard Mille celebrates 50 years of Jean Todt's career
By MyWatch
The affinities between Jean Todt and Richard Mille around the haute horlogerie and the automobile do not date from yesterday. They have strengthened their friendship and common passions. To celebrate the professional jubilee of the President of the International Automobile Federation, Richard Mille wanted to devote 3 watches to him in limited series: RM 11-03, RM 050 and RM 056 Jean Todt 50th Anniversary…
50 years of automotive passion, 50 years down an exceptional career path. At Chantilly Art & Elegance 2016 the brand celebrated alongside the man who wrote the greatest pages of motorsport history with an amazing Jubilee. Jean Todt and Richard Mille have forged a strong friendship based on their shared passions: watchmaking, extreme technicity and all things automotive. «I love the watches designed by Richard. I love their lightness, their technicity and their exclusivity,» shares Todt. The two men agree to acknowledge one another equally obsessive, detail-oriented and demanding in their respective elds, as is clearly illustrated by the special series.
Presented last September, the RM 11-03 Flyback Chronograph is a resolutely sporty watch, wholly inspired by automobiles and their history while displaying the new visual codes of the brand. Powered by an architectural automatic calibre in grade 5 titanium, the RM 11-03 Jean Todt 50th Anniversary is protected by a new blue and white Quartz TPTTM case. Extremely resistant and light, this composite is obtained by stacking 600 layers of silica only 45 microns thick, which are then impregnated with an exclusive Richard Mille blue resin. The assembly is then heated to 120 °C before being machined in our factory.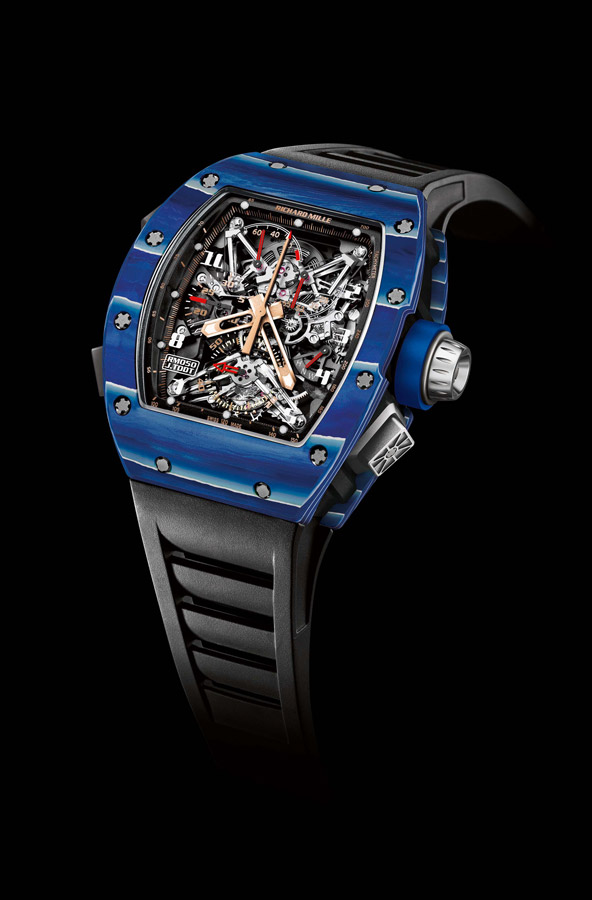 Blue Quartz TPTTM is also used for the case of the RM 050 Jean Todt 50th Anniversary. This calibre houses a split-seconds chronograph regulated by a tourbillon. The extreme skeletonisation of the bridges and baseplate, combined with the use of titanium and carbon nano bre made it possible to obtain a particularly light movement, weighing only 9.5 grams but offering startling performance.
This exceptional mechanism also animates the nal piece of the Jean Todt collection: the RM 056, which is housed in a sapphire case. Its construction and curvature require both human ingenuity and very long machining times, essential to achieving this level of ergonomics and nish, unique even in ne watchmaking. This case required no less than 1,000 hours of machining per case, including 430 hours devoted to grinding and 350 hours of polishing.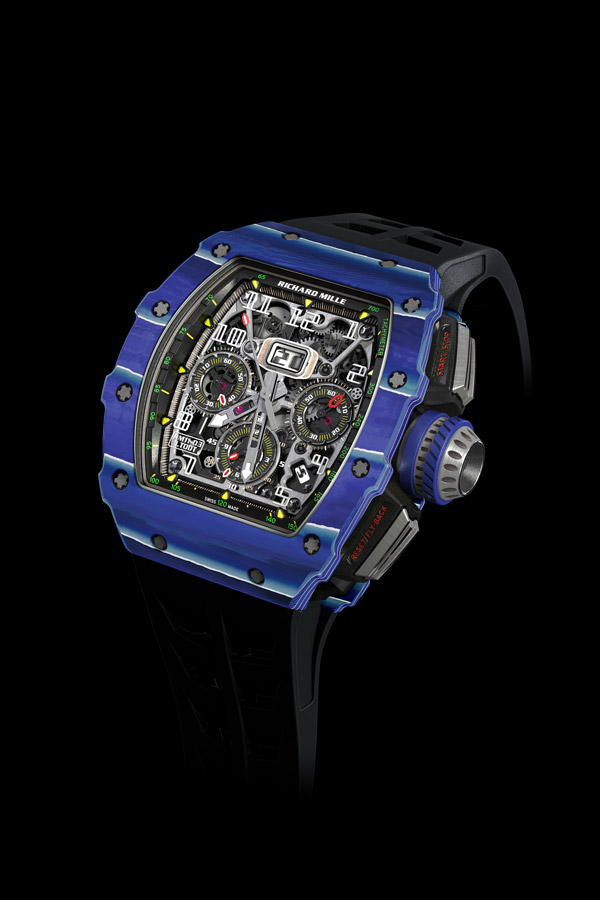 The RM 11-03, RM 050 and RM 056 will be produced in limited editions of 150, 5 and 3 pieces, respectively.