Frank sans C Video
Michel Herbelin, Longines, TAG Heuer, Mido, Rolex: dive with style
They are made for sports and being technical instruments is their calling: dive watches are made to help us discover the silent underwater world. A few stunning pieces were featured on the set of Frank sans C. Let's dive in.

By Frank Declerck
In most cases, dive watches are easy to notice. Indeed, they integrate specific features to accompany frogmen and mermaids in their discovery of coral reefs and of the depths of oceans.
Firstly, the cases of these models usually feature a uni-directional rotating bezel calibrated for 60 minutes, as well as luminescent markers. This secured device evidently needs to be synchronized with the minute hand. It measures immersion times, such as decompression stops.
And, of course, the oversized hands and indices glow in the dark. Nowadays, Super-LumiNova is the most used luminescent material.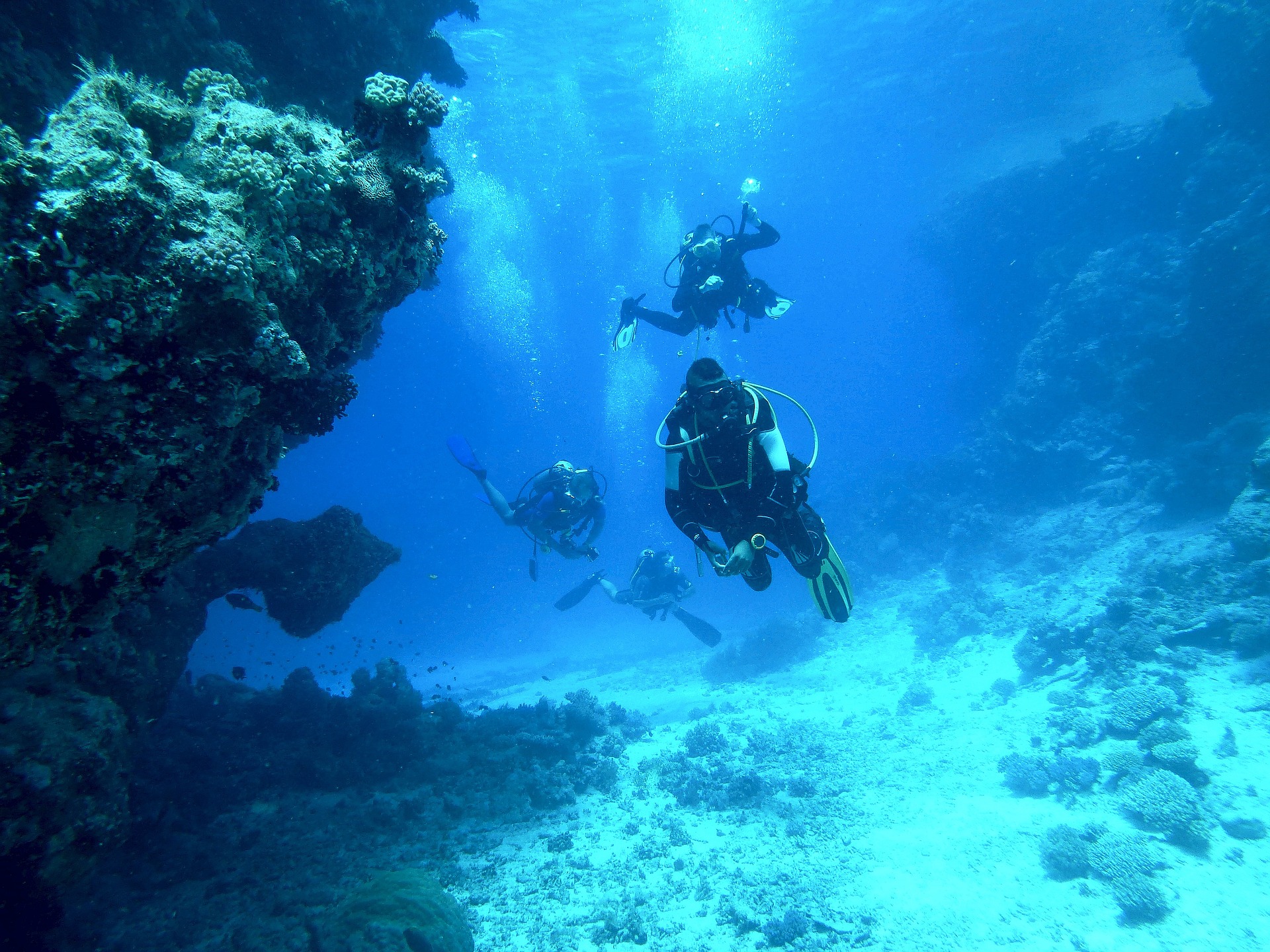 The three essential features of dive watches: luminescent indications, secured time measuring system and water resistance
The cases are composed of screwed down and jointed elements, such as the case back and the crown. Which is how they can be water-resistant in deep waters.
They must withstand diving in water at depths of at least 100 metres according to the ISO 6425 standard on "divers' watches". But we strongly suggest opting for a 200/300 metres water resistance at the very least. 
And for the strap, the buckle with diving extension is a real advantage which should not be overlooked. It guarantees comfort underwater when the dive watch is worn over a wet suit.
Now that the technical aspect is covered, you only need to choose the style and the material of the instrument. Vintage, modern, stainless steel, titanium, ceramic or even bronze (read our article on it), colours of the dial and bracelet: there is a myriad of different dive watches.
ROLEX Submariner green bezel version: hard to find? Maybe not as much as you'd think…
The craze surrounding "professional" Rolex watches is not about to stop. It is unlikely – and even close to impossible – to come into a Rolex store, say you want to buy a Submariner and leave with the model on your wrist.
It's the price the house has to pay for its many qualities – aesthetics, history, mechanics, innovation, popularity, etc.
And because of the ancestral principle of supply and demand, the prices evidently skyrocket. You want a Submariner? Well, you can. But you will have to dig deep as it usually costs twice the store price.
A lot of specialized watch websites market the references. Still, be careful because some websites are reliable when others, not so much… Be cautious about the one which are not well established or which are located in countries as "tropical" as the dials of the same name! Con artists display on their websites watches they don't have in order to get your email address and gather data. They always have the same laconic answer: "Sorry, the model was just sold". And sometimes it is even worse as your money disappears, just like the watch you will never receive. Good deals are not made on the internet.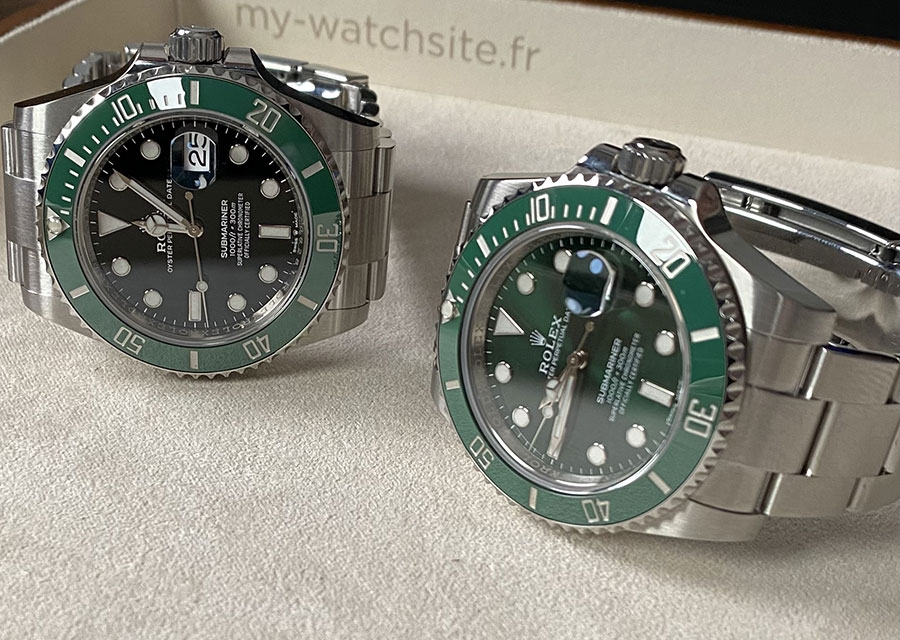 And what about the promises made on reliable websites? Are they really held? I decided to test it "live" for this video with the website Chronext – a big name in the domain with 15,000 watches in stock. I phoned the company on Friday morning and chose two versions of the Submariner: a vintage one – the Hulk – and a collector one – the Starbucks. On Tuesday morning, the watches were on my desk, with the original protective case and papers. That way, I was able to film the second video about dive watches without risking receiving once again the comments left on the first video, such as "this is not a true video about dive watches, you don't talk about the Submariner". Duly noted. Though there are other manufactures which makes really good diving instruments! And God knows that I love the spirit and the models of the house with the crown logo… In fact, I am often teased by fellow watch aficionados on the subject. But I can live with that.
Our green 2010 Rolex Submariner Date technical data sheet
Our green 2020 Rolex Submariner Date technical data sheet
TAG HEUER Aquaracer Tribute to Ref. 844: what a homage
TAG Heuer entirely redesigned the Aquaracer this year. And the manufacture did not forget to pay tribute to the historic piece which inspired the collection: the Ref. 844 designed in 1978.
The 2021 Tribute automatic model is a stunning reinterpretation which will be released in only 844 pieces made of grade 5 titanium. Not everyone will be able to get their hands on one! 
Just know that the model is already available on TAG Heuer's website (we checked just for you). But you need to be patient as you will only get it in September (delivery starts as of 05/09).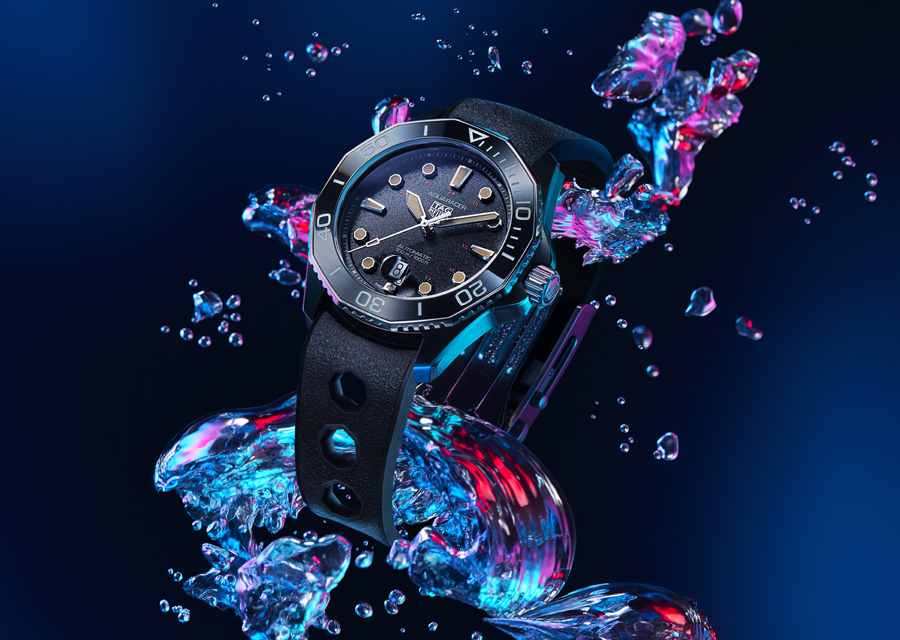 Its 43 mm diameter case is water resistant up to 300 metres. It is equipped with a dodecagonal (with 12 sides) uni-directional rotating bezel. Though the shape is rather original, it makes the bezel more ergonomic. It also comes with a black ceramic insert which luminescent graduation emits a blue glow. This is smart, because this colour creates a contrast between the minute hand and the other hands and indices which are green.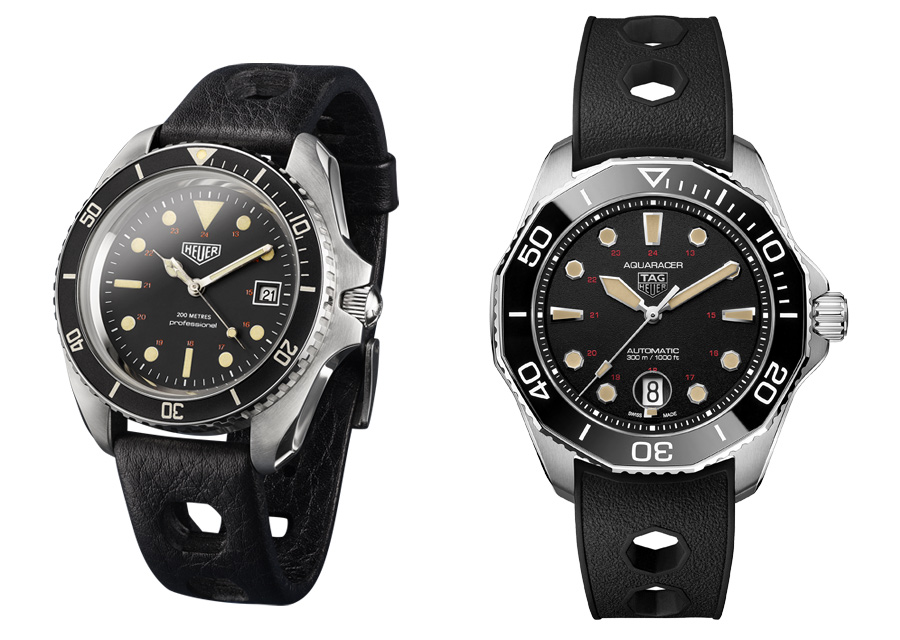 The Aquaracer Tribute to Ref. is very similar to the original watch. The 844 asserts its vintage look with a perforated rubber strap and the small red 13-24 hours indications in the centre of the dial. And we must mention the beige luminescent coating – with the "old radium" Super-LumiNova – which is reminiscent of older instruments.
Our TAG Heuer Aquaracer Tribute to Ref. 844 technical data sheet
LONGINES HydroConquest collection: modern dive watches, vintage hands
Longines – the winged-hourglass house – is inextricably linked with the story of aviation. Still, the house is not a novice when it comes to the underwater world. Indeed, it was already manufacturing wristwatch for the Royal navy divers back in 1942-1943.
And though Longines did brilliantly reinterpret some of its old models, such as the Legend Diver Watch from the 1950s (read our article on it), it also showed its expertise with its HydroConquest dive watch collection.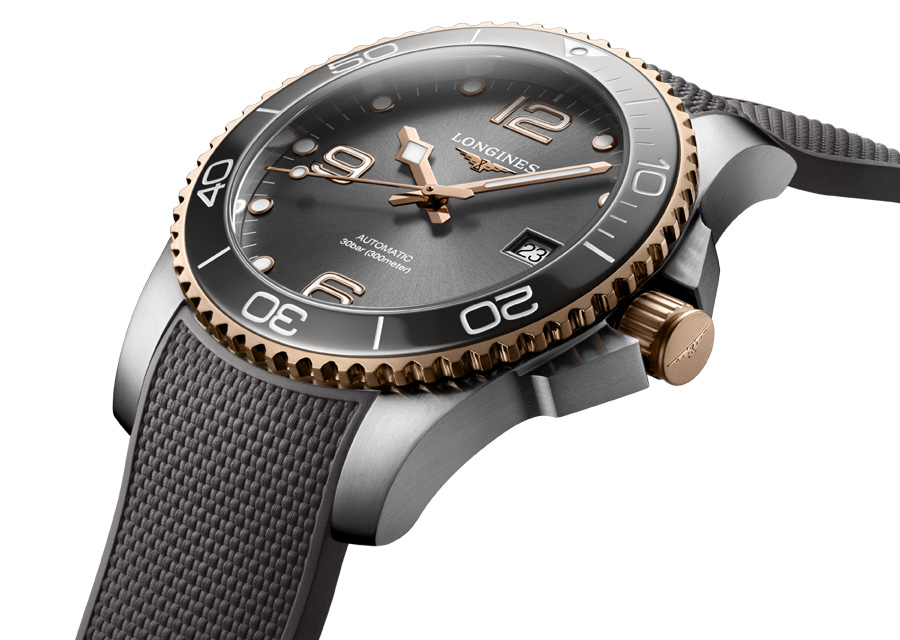 This 41 mm diameter reference is one of the latest versions and it is water-resistant up to 300 metres. It combines a steel case and rose gold PVD-coated bezel and crown. On this model, the bezel is equipped with a grey ceramic insert, featuring a luminescent dot on the zero marker. The colour of this element matches perfectly with the sun-brushed dial and the rubber strap.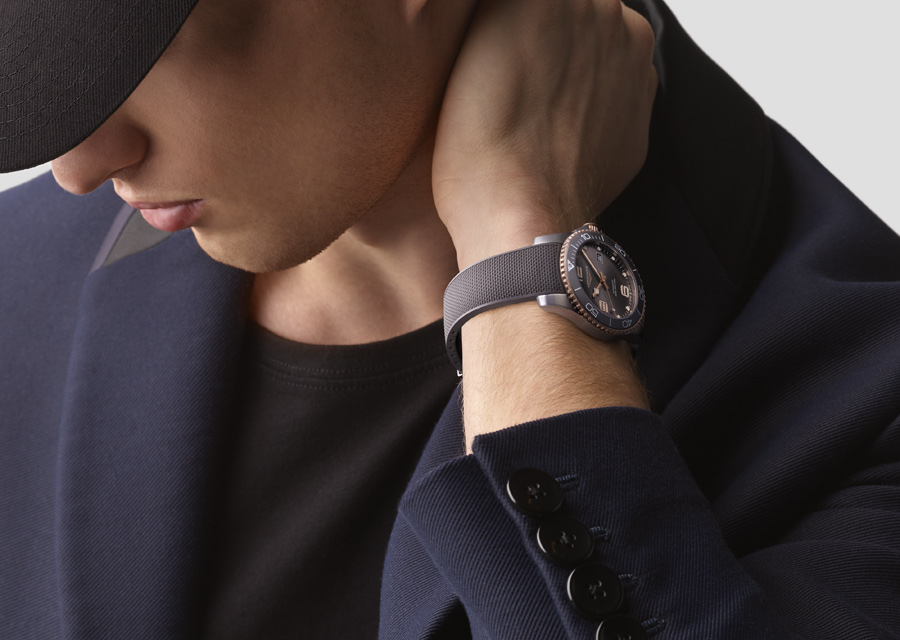 The instrument is powered by a last-generation automatic calibre, comes with a silicon balance spring which is a cutting-edge non-magnetic material, features a 3-day power reserve and is adorned with retro hands straight out of the sixties and seventies.
And its snowflake hours hand with its angular shape and the lollipop seconds hand are quite distinctive.
Our rose gold PVD-coated Longines HydroConquest technical data sheet
MICHEL HERBELIN Newport Héritage Diver, a seventies style
Michel Herbelin went back deep into its archives to find the 1970s' instrument which inspired the Newport Héritage Diver. Unlike the round Newport watches – the signature models of the French house – this piece features a cushion-shaped case (42 x 42 mm).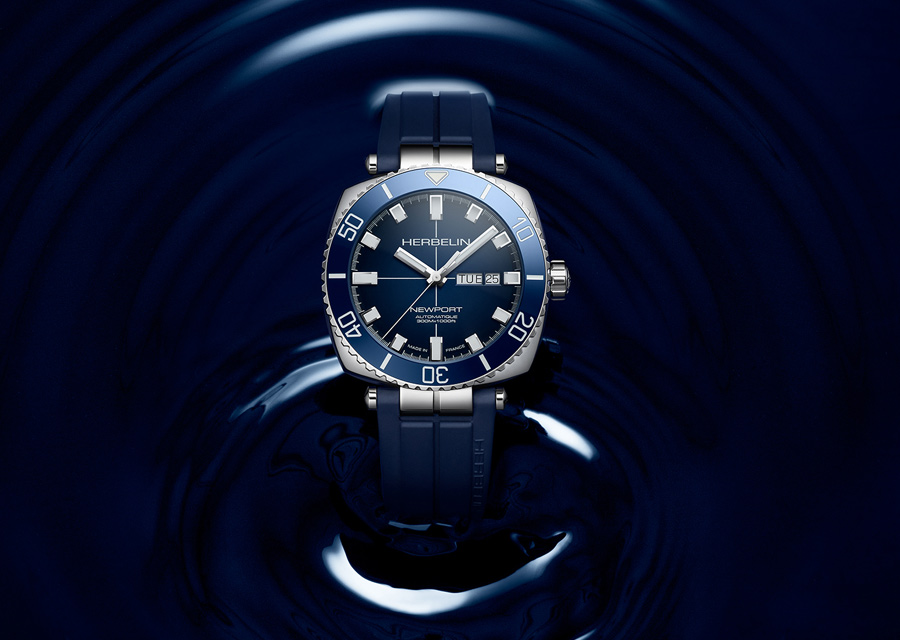 This 316L steel edition comes with a uni-directional rotating bezel which features a blue ceramic insert and a luminescent dot at 12 o'clock.
And keep in mind that ceramic is a high-tech material possessing numerous attributes. It is made of zirconium oxide powder, which makes it lightweight, extremely resistant to scratches and wear, unalterable and non-allergenic. When heated to a very high temperature, these particles are transformed into a block almost as hard as diamond.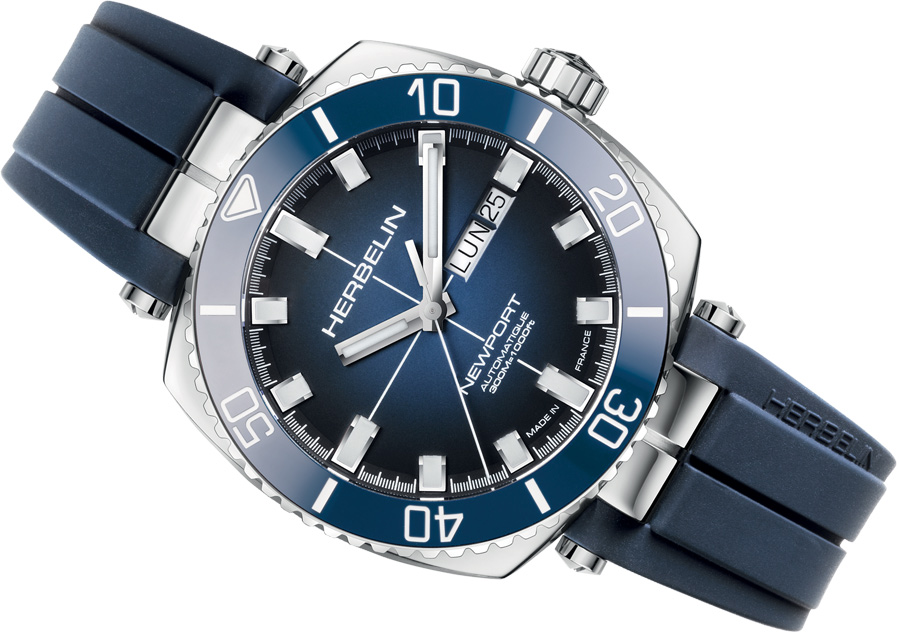 The watch – which is water-resistant up to 300 metres – features a smoked navy blue dial. It is adorned with wide white luminescent hands and indices and two day and date windows.
The blue strap of the Newport Héritage Diver is also worthy of attention. Indeed, Michel Herbelin made it with high-performance FKM elastorm. It is an extremely resistant material and the bracelet is guaranteed for ten years. Moreover, it comes with a folding buckle and an extension system. Bravo.
Our Michel Herbelin Newport Héritage Diver technical data sheet
MIDO Ocean Star GMT, a globetrotter's dive watch
The house Mido was philosophically inspired by the Europa Point lighthouse to design its Ocean Star dive watch collection. Built in 1841, the structure can resist both time and storms as it stands on the Strain of Gibraltar in Spain to guide sailors between the Mediterranean Sea and the Atlantic Ocean.
That being so, on a technical point of view, the Ocean Star is impressive.
Featured on the set of Frank sans C, the "GMT" Ocean Star version is a watch which features a second time zone on top of its diving attributes.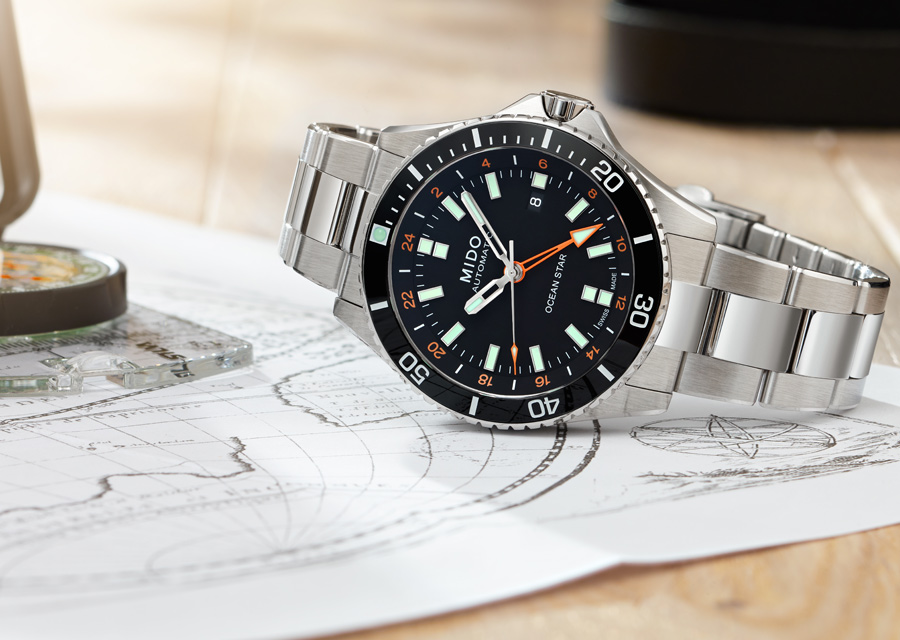 Perfect for travelling divers, the watch comes with an additional big hand which points out the other time zone with the 24-hour scale of the internal bezel.
The readability of the information is impressive and made possible thanks to an orange chromatic colour code – Mido's emblematic colour. The steel Ocean Star GMT features a 44 m diameter dial which is water resistance up to 200 metres. The instrument is also equipped with a uni-directional rotating bezel with a black ceramic insert.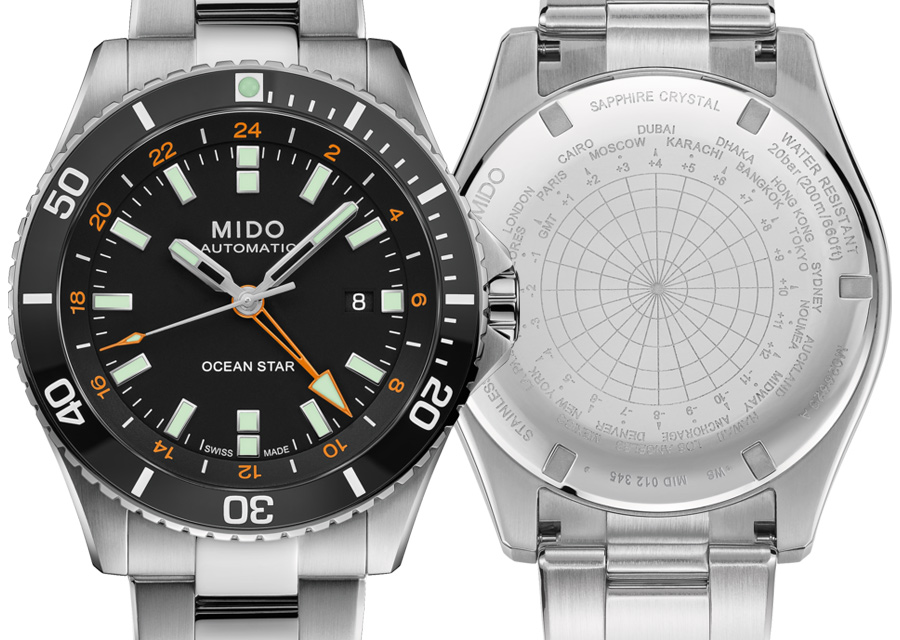 This reference completes its diving attributes with the green luminescent indices and hands, as well as a folding clasp.
On the mechanics side, the instrument is powered by a high-performance automatic calibre. And the movement is decorated with "Côtes de Genève" and offers an 80-hour power reserve. However, you won't be able to take a look at its inner workings because it is protected by a solid screwed down case back engraved with the time-zone indications.
Time to take the plunge!
Read also: