Sustainable collab'
Oris and Cervo Volante: deer leather bracelets
By teaming up with Cervo Volante, Oris has found a new partner to make sustainable bracelets produced from wild deer leather harvested from Swiss forests. Let's take a look at this collaboration and this surprising material.

By Nicolas Yvon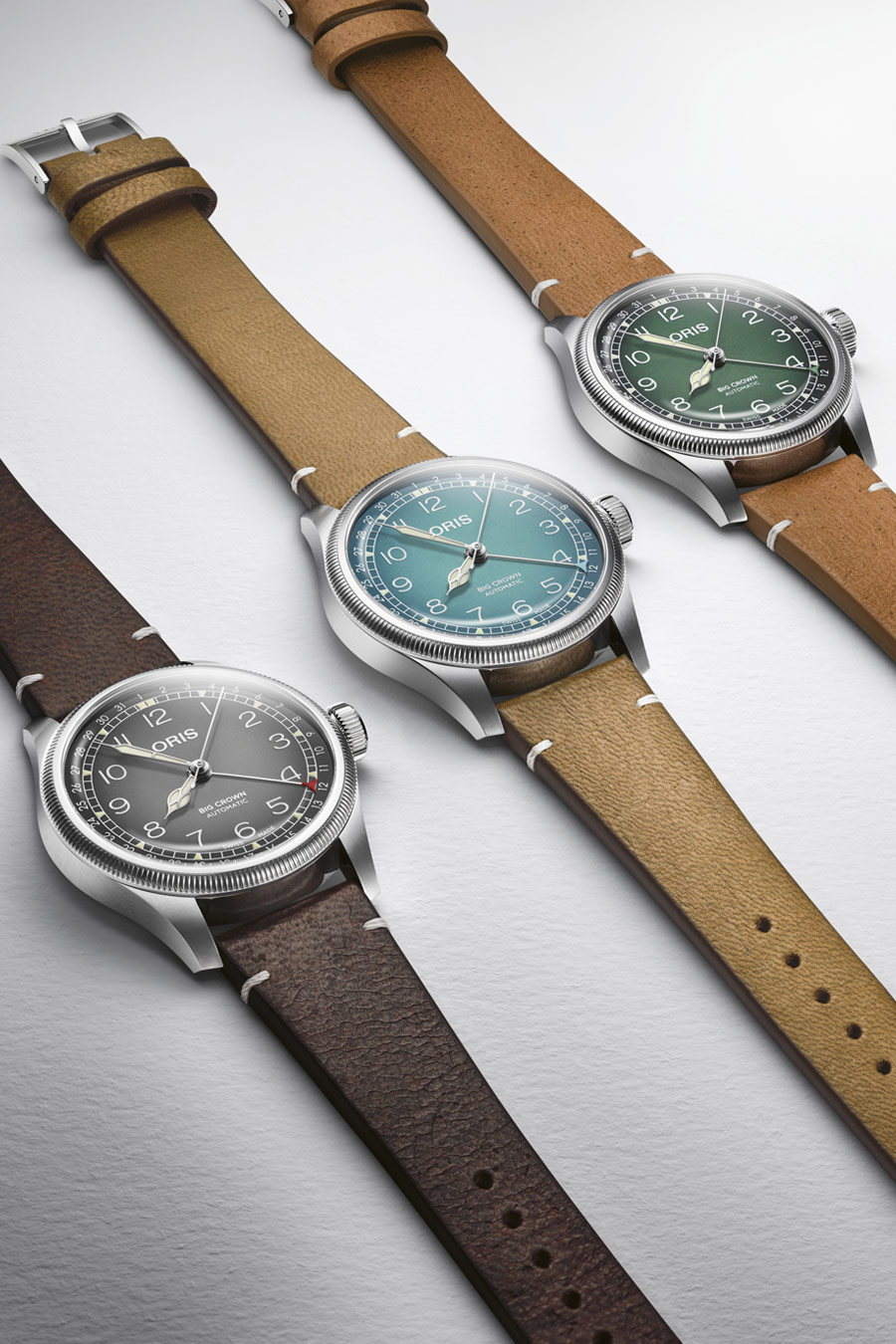 Here's a green partnership that's out of the ordinary: Oris has teamed up with Cervo Volante, a Swiss shoe and accessory manufacturer that uses a very special sustainable material: wild deer leather. Nonsense? Not really, quite the opposite! You should know that every year, some 15,000 wild red deer are harvested in Switzerland. We prefer to say "harvested" rather than "hunted" because here, the sport or leisure activity has little place. This slaughter is indeed a very regulated operation, perfectly legal and necessary. Necessary because it allows to regulate the deer population and to protect the Swiss landscape.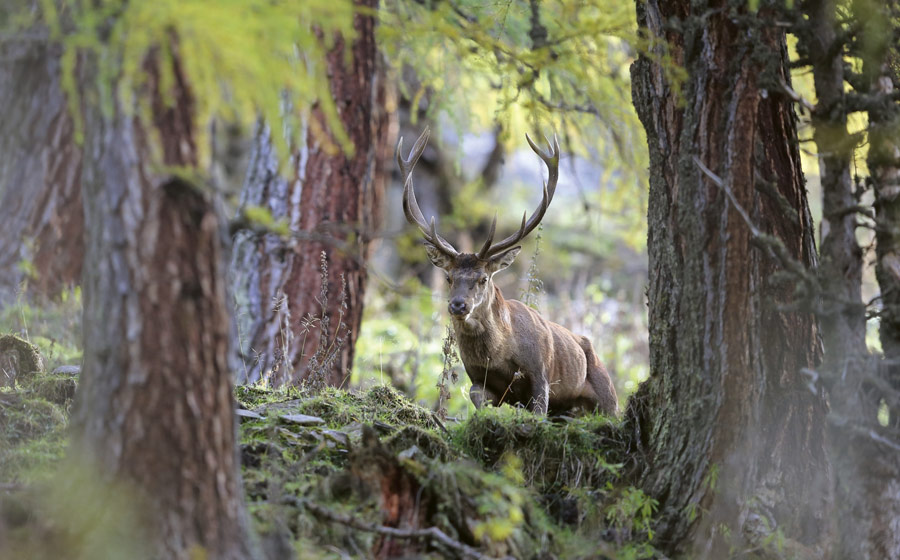 However, once the meat was collected, the natural residues of the animals were discarded. For example, their skins were purely and simply burned. It is in front of this observation that two associates founded Cervo Volante to value these leathers according to environmentally friendly artisanal processes.
Who is behind Cervo Volante?
Cervo Volante, pronounced in Italian, literally means "kite". Nothing to do with the colored canvas object. The name refers here to a completely different "kite": it is indeed the nickname given to the Lucanus or stag beetle, recognisable by its large and powerful mandibles shaped like … antlers.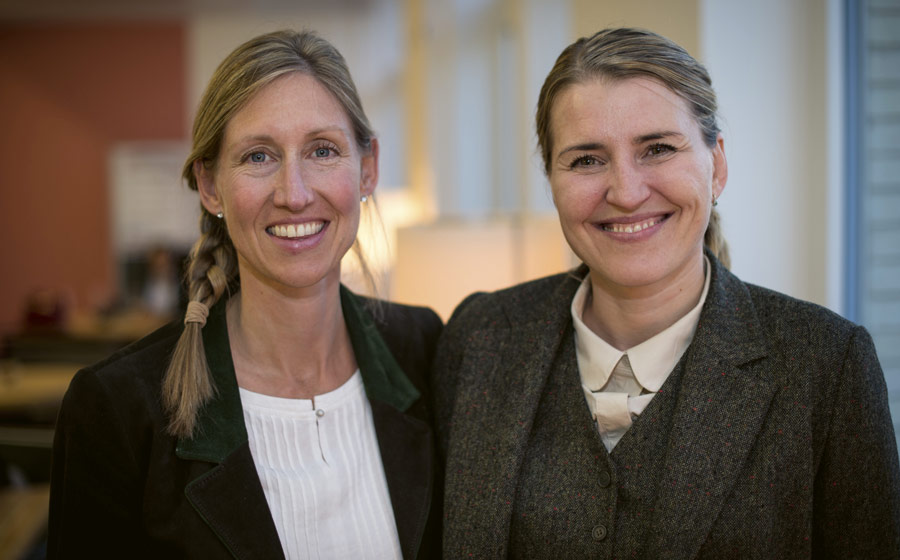 In fact, the insect is the logo of the handcrafted company founded in 2017 by two friends, Kadri Vunder Fontana and Conny Thiel-Egenter. One is a biotech engineer and businesswoman, the other is a biologist, specialised in the fields of nature protection, wildlife and habitat management.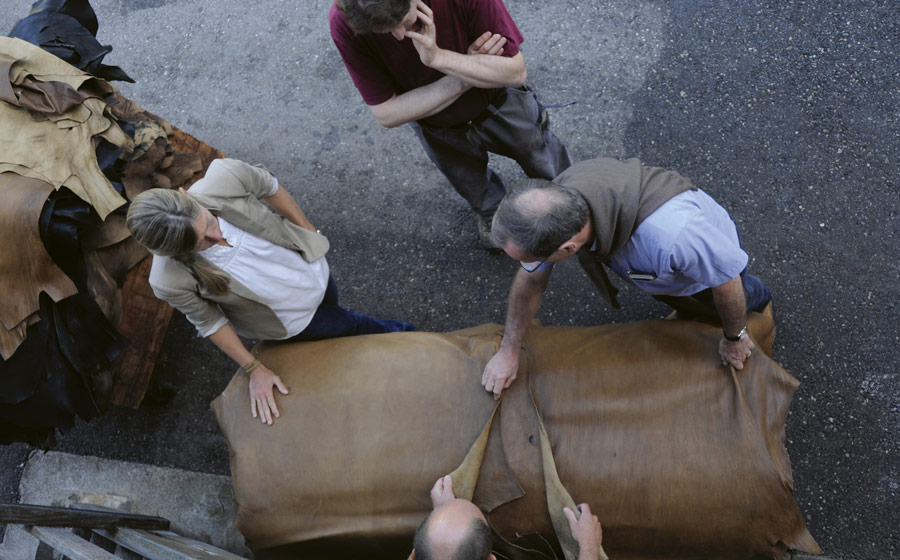 Their goal? To recover red deer hides and transform them into resistant and durable luxury products using low environmental impact methods. Cervo Volante turned to the last two tanneries in Switzerland that use a 100% vegetable tanning process.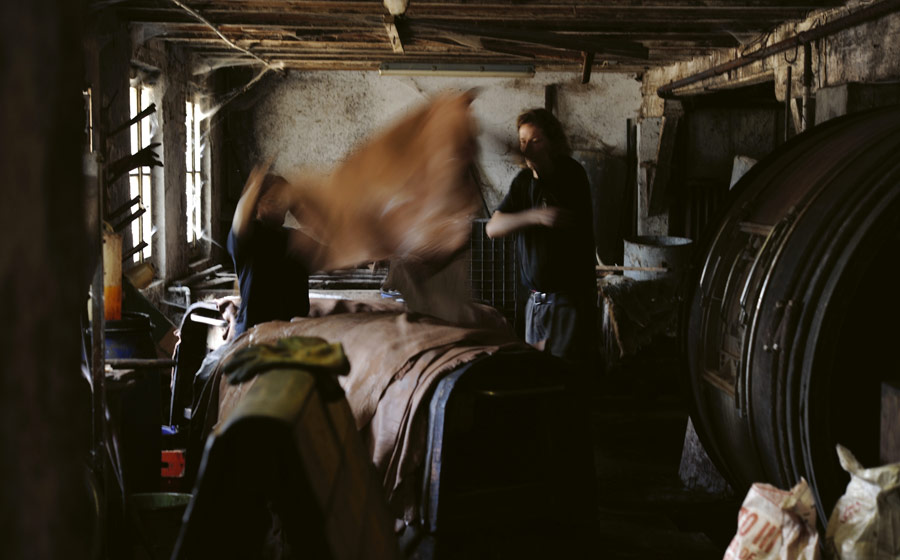 The skins keep, moreover, the imperfections and the marks (scratches, scrapes, bumps…) which tell the life of the animal. This gives a special character to the material.
Durable leather bracelets like no other
After shoes and other various accessories, Cervo Volante contacted Oris to create sustainable, resistant and unique bracelets. Located in Hölstein, the independent watchmaking company has been committed to an ecological approach for years. This commitment to protecting our planet has become a true corporate philosophy for Oris. A mission that even has a name: "Change for the Better". It takes shape both on the front line with associations for the protection of the oceans, for example, and in the evolution of its own production tool. Oris is now a "Climate Neutral Company" certified by Climate Partner.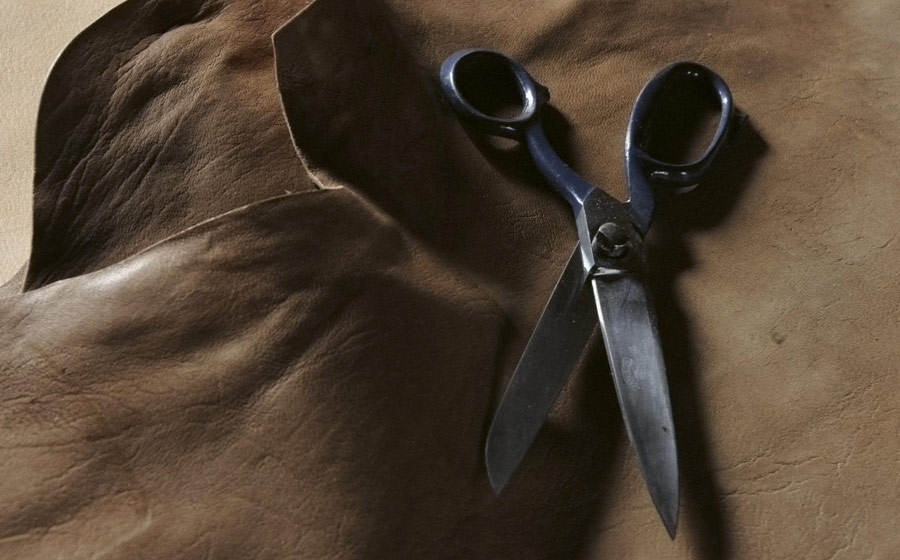 The watchmaking company immediately embraced the Cervo Volante project, whose wild deer hides do not require animal breeding, factory farming or over-fertilisation of meadows and have no climate impact.
An emblematic piece, the Big Crown with its vintage look was ideal to inaugure the Cervo Volante bracelets.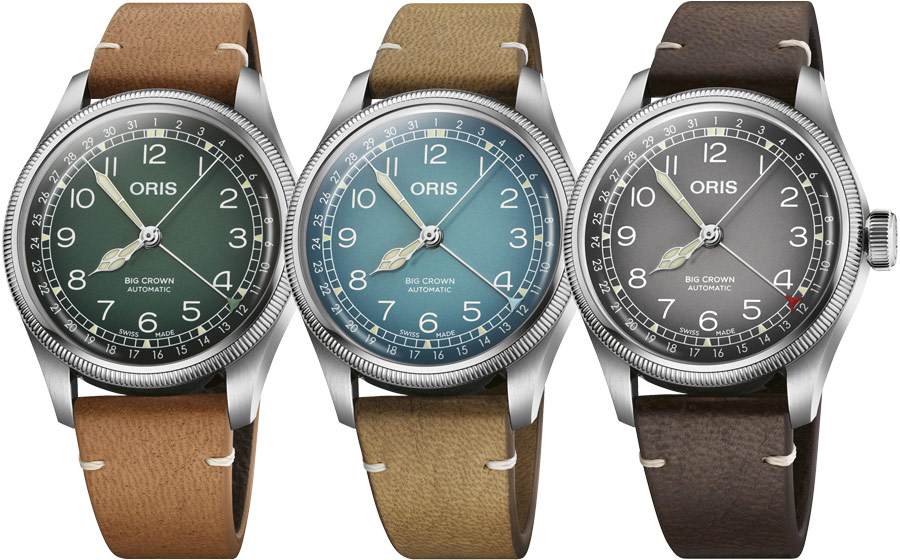 Three Oris Big Crown x Cervo Volante watches to launch the partnership
Oris offers three 38mm diameter Big Crown x Cervo Volante variations in steel (€1,750). Each has a different dial and strap. Available in grey on dark brown leather, blue on oak brown leather or green on cognac leather.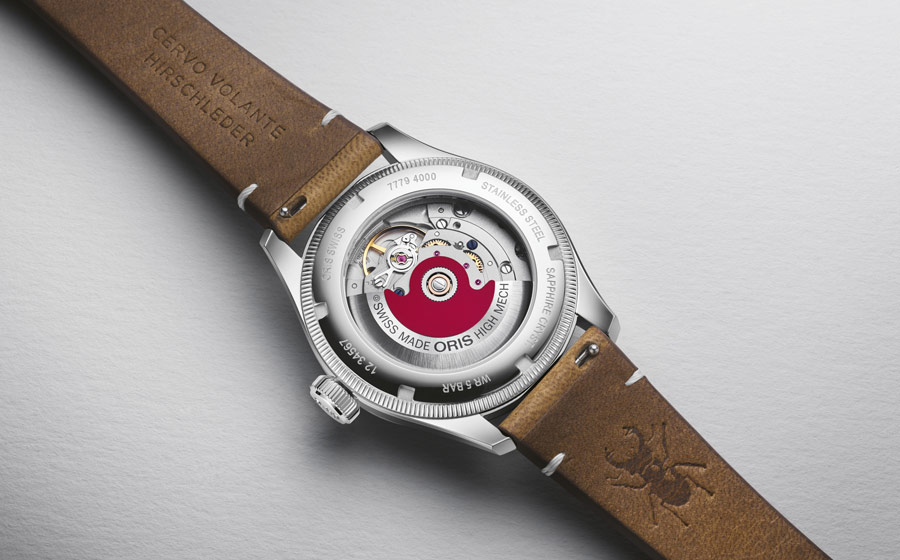 All of them have the identifying features inherited from the old Big Crowns designed from 1938 onwards for aircraft pilots. They have a big crown, a fluted bezel, luminescent "cathedral" type hands for the hours and minutes, a "chemin fer" minute track and, of course, the indispensable "Pointer date" hand.
These instruments also have a sapphire caseback to reveal their beautifully crafted automatic calibre. This movement has a red rotor: a sign of recognition and a registered trademark (since 2002) against counterfeiting.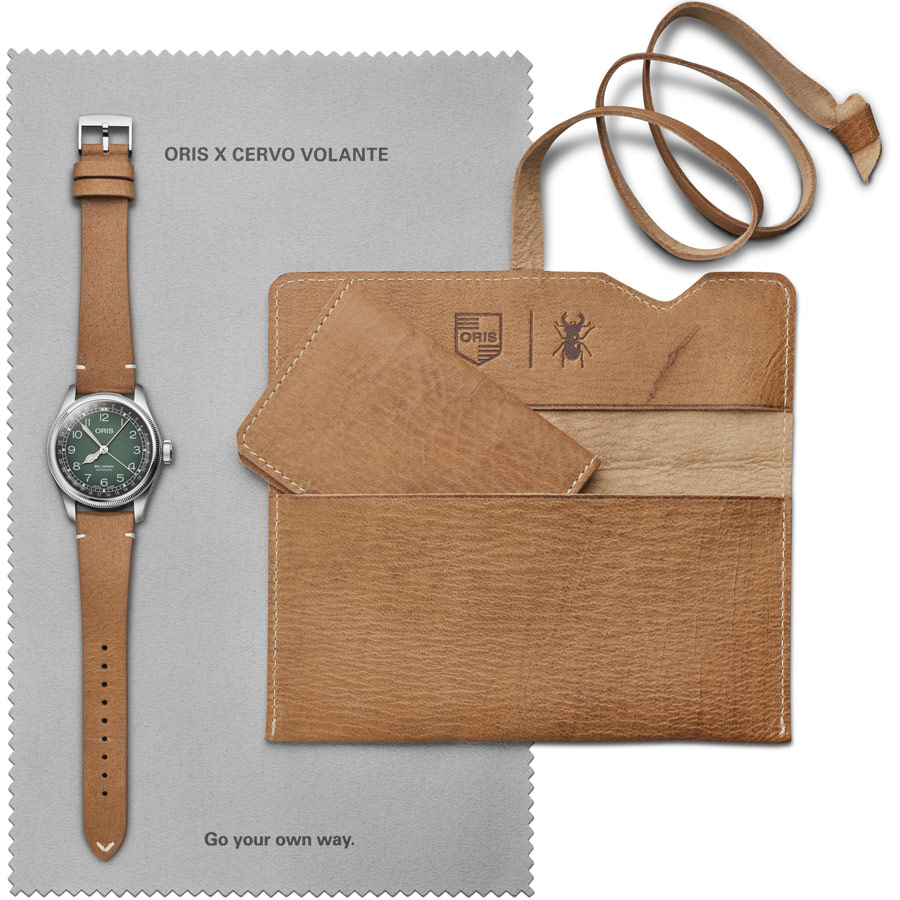 As a special edition, the Big Crown x Cervo Volante comes with a travel case and a Cervo Volante deer leather card holder.
To find out more, see our detailed watch descriptions for the Oris Big Crown x Cervo Volante watches: grey dial version, blue dial version and green dial version.
Read also: