Time travel
Patek signs a new pilot design
Patek Philippe proposes this time a beautiful trip into aviation history with its watch series Calatrava Pilot Travel Time. The instruments family has been expanded with a new blue model which moderate diameter makes it perfect for any wrist.

By Nicolas Yvon
Five years ago at Baselworld, Patek Philippe amazed with a Calatrava Pilot Travel Time of a bold design. This instrument with a strong vintage spirit was truly breaking away from the classical spirit of the usual timepieces presented by the Genevan house at the watchmaking fair…
This very successful stylistic caprice was not the first try of the Manufacture, who had already revamped its traditional Swiss watchmaking aesthetics habits. First with the iconic stainless-steel Nautilus and its waterproof case with lateral hinges (1976) then with the perfectly balanced and sublime Golden Ellipse based on the golden ratio.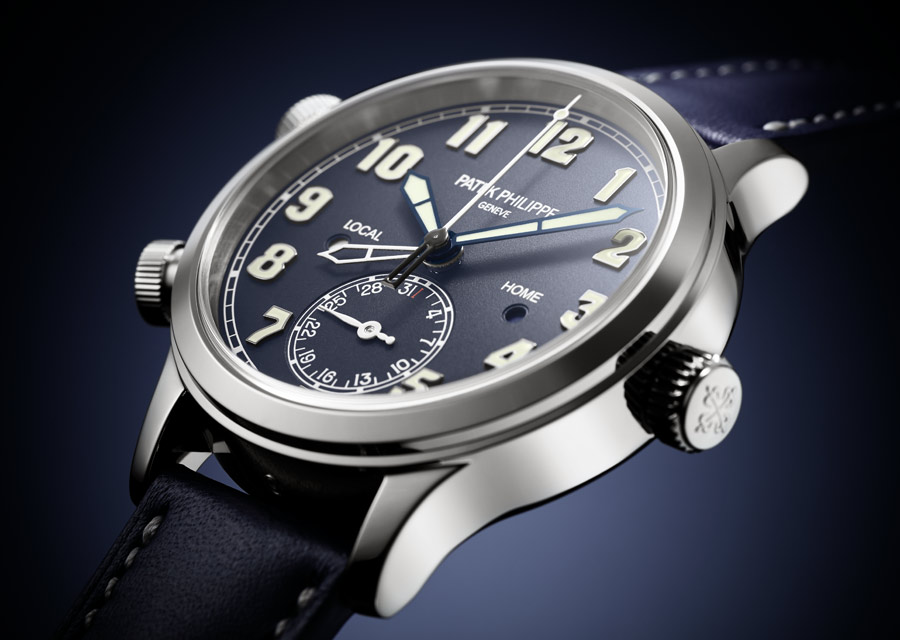 An original Calavatra, inspired from other pilot watches kept in the Patek Philippe Museum in Geneva
With the first Calatrava Pilot Travel Time in 2015, the Manufacture obtained a good position among the successful "vintage" watches. These well-liked type of pieces feature technical qualities and additional functions and often mirror the feats of great adventurers who marked – even changed – History. Suffice to say, Patek Philippe made the right choice with his Calatrava Pilot Travel Time.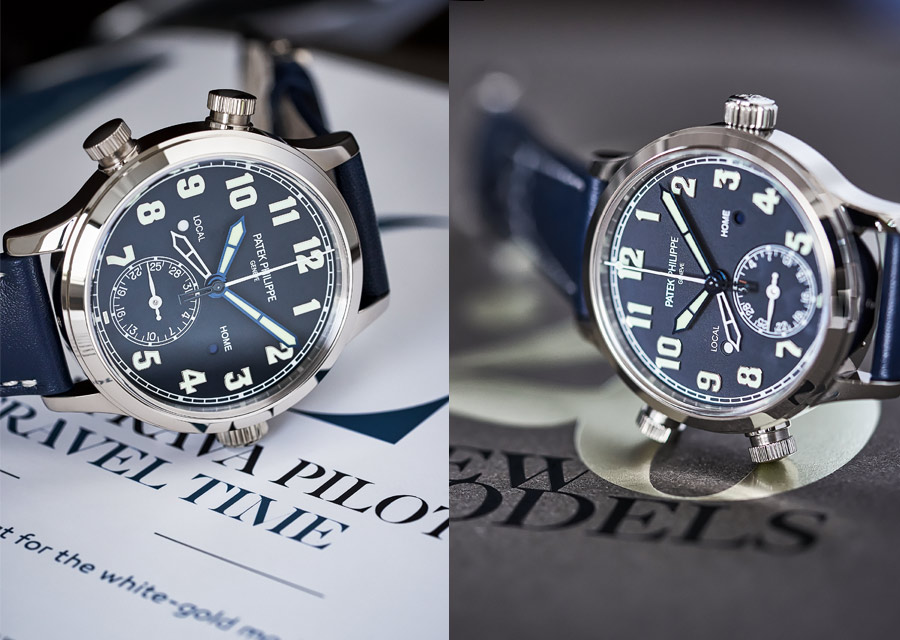 This piece is an homage to the golden hours of the conquest of the skies, drawing inspiration from two wristwatches designed in 1936 for the aviators. Preciously kept in the Patek Philippe Museum in Geneva, these peculiar timepieces both have a siderometer (hour-angle dial): an intuitive tool that enabled pilots to promptly and precisely determine their position.
A new Calatrava Pilot Travel Time version for every wrist
The actual Calatrava model does not have a navigation device, but boasts an additional mechanism to display a second time zone. A technical feature that shapes naturally the aesthetic originality of the 2020 edition just unveiled by Patek Philippe. This new reference 7234G-001 in white gold (€42 180) flaunts a varnished dial and a navy blue calfskin strap. The moderate size of its dial – called "medium" format by Patek – is its main particularity, since it makes for a unisex watch dimension. The Genevan House had already presented in 2018 a version of same diameter, but which associated pink gold with a brown sunburst, black gradated dial and a vintage brown strap.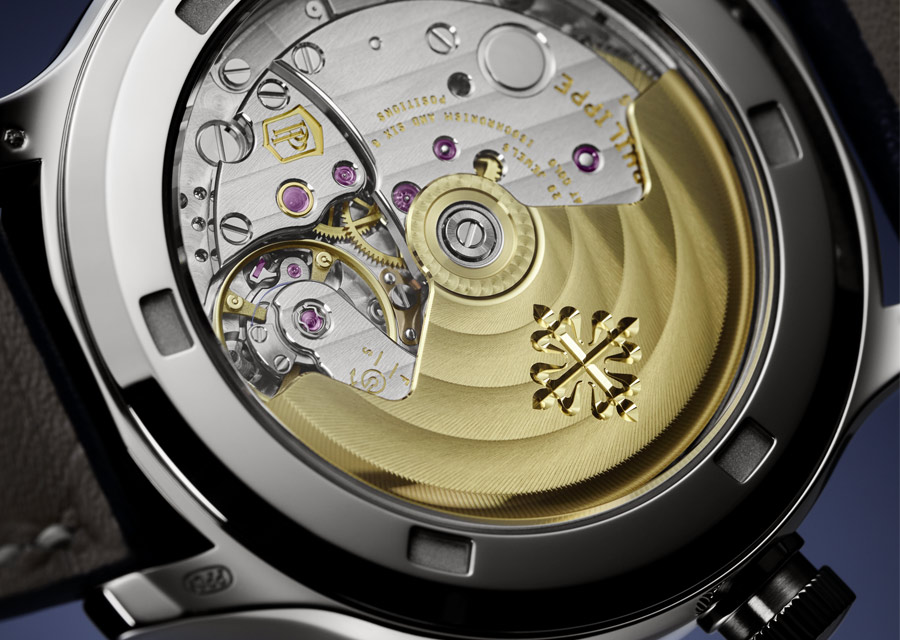 With this blue version, Patek Philippe accomplished the feat of proposing a vintage instrument with distinct aesthetics seducing men and women alike. A model which will be the perfect traveling companion for wealthy globetrotters – but also for remarkable timepieces admirers. The Calatrava Pilot Travel Time boasts the Patek Philippe self-winding calibre 324 S C FUS. Visible through the sapphire-crystal case back, this movement with its oscillating weight in 21K solid gold and its impeccable finishes sports the Patek Philippe Seal and is decorated with Geneva Stripes (Côtes de Genève).
When Patek Philippe invents an intuitive GMT feature
Like the precedent Calatrava Pilot watches, this new variation boasts a second time zone and is equipped with the exclusive mechanism baptized "Travel Time", patented by Patek Philippe in 1959 and 1996.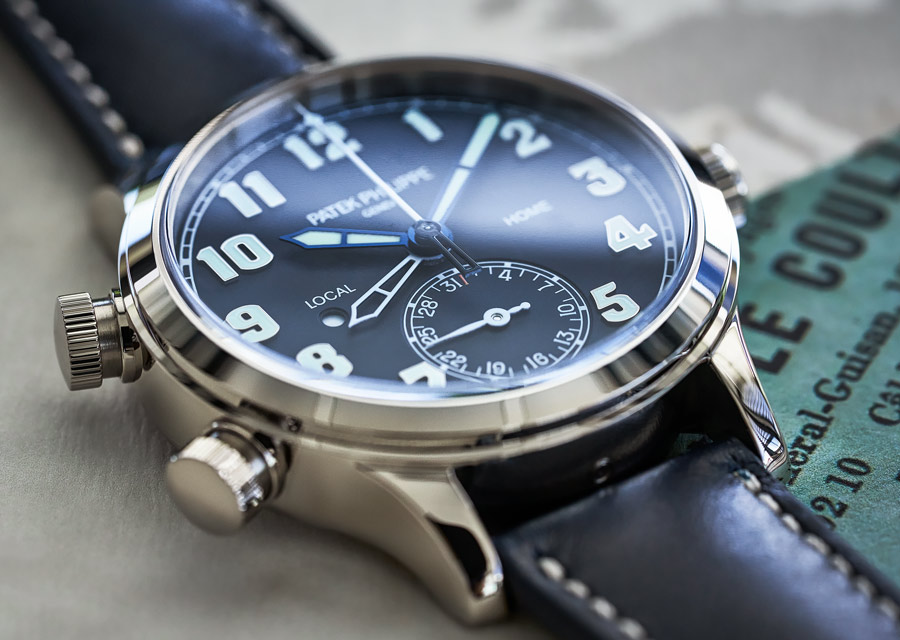 Easy to use, two distinct pushers enable to move forward (8 o'clock) or backward (10 o'clock) the solid local hour hand of the time zone in which you are currently located (one hour at a time). A skeletonized second hand continues to indicate the time in your home zone (your normal place of residence). Useful addition: a patented safety lock enables to lock the pushers with a quarter turn in the clockwise direction.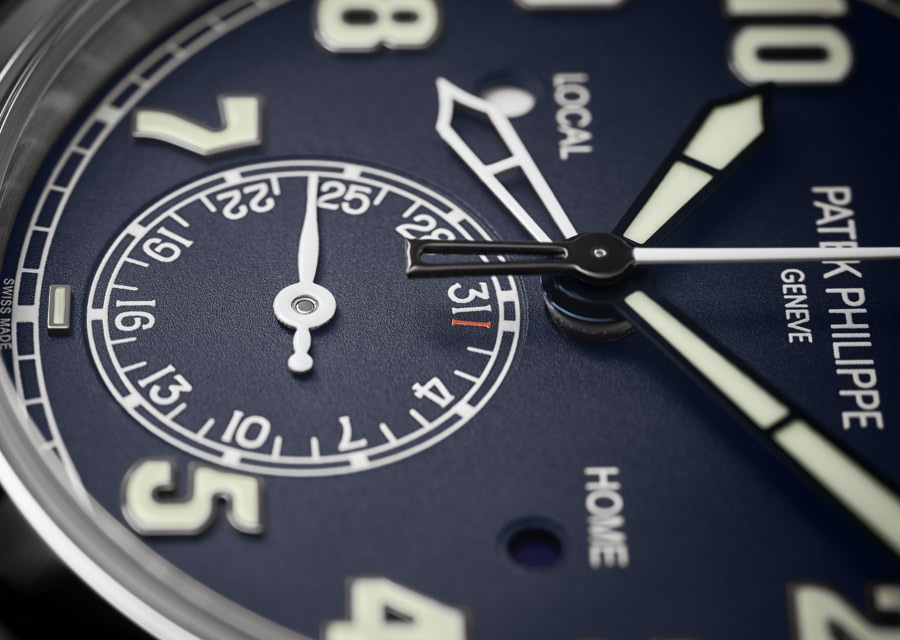 The Manufacture's ingenuity also shines through the presence of two day/night indicators (HOME and LOCAL), one for each time zone. A great idea: since both hands progress over twelve hours, a simple glance is enough to prevent any accidental nighttime call that would wake up an acquaintance on the other side of the world.
Birth of a new watch family in the Patek Philippe collection

With the new 2020 blue version, Patek Philippe is creating over time a new timepiece line in its collection. 42mm or 37,5mm, white or pink gold case back, black dial and brown strap or blue dial and coordinated strap, masculine/feminine or unisex design… the Calatrava Pilot Travel Time also allowed for limited editions in stainless steel (New York Special Edition with a three-hand display for the Patek Philippe "The Art of Watches Grand Exhibition New York 2017", but also Singapore Edition for the "Watch Art Grand Exhibition Singapore 2019"). The Manufacture also reinterpreted it as a Grand Complication with a luxurious Alarm Travel Time version made of platinum.
Price: €42 180
>> See our data sheet to know everything about this new Calatrava Pilot Travel Time 7234G-001 by Patek Philippe