Piaget presented in New York a new watch with strong personnality
By MyWatch
Piaget presented in preview in New York its new steel watch: the Piaget Polo S. The swiss manufacture brought together the international watchmaking press, the most important of its retailers and some elegant muses for a very hype event in a hangar on the Brooklyn docks.
From our special correspondent in New York: Frank Declerck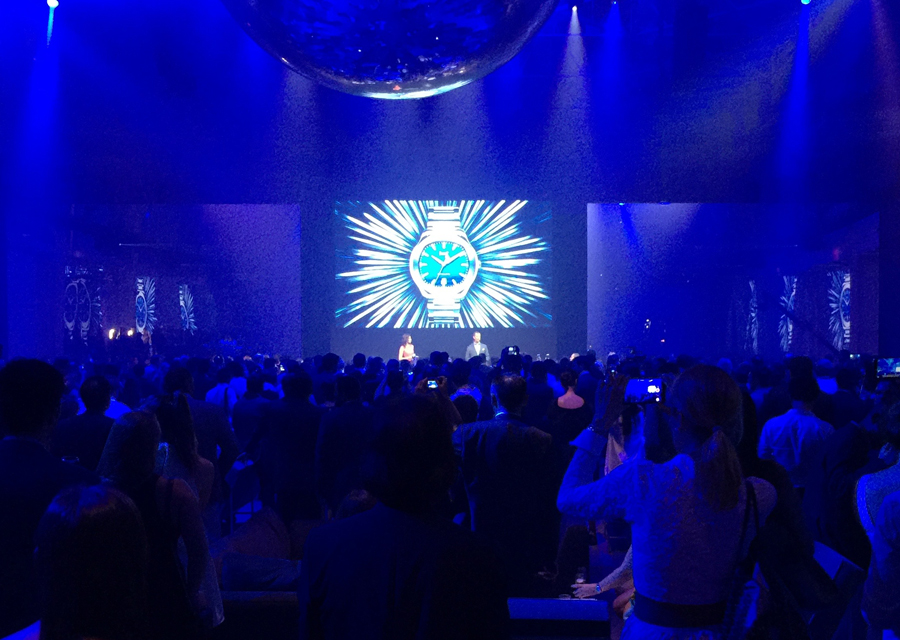 Piaget Polo S, the steel watch with style
Piaget has unveiled new versions of Piaget Polo in New York where the polo team Piaget was celebrated in 1985 this icon of manufacture downhill riding the famous Fifth Avenue. Today, steel Polo S remains faithful to the original model created in 1979, while speaking to a new generation.
The Polo S is available since september in several versions: Piaget Polo S Automatic (with blue, silvered or slate-gray dial) at 10 900 € and Piaget Polo S Chronograph (silvered or blue dial) at 14 500 €
The rules rewritten
It takes its name from the elegant and demanding sport of polo. It is infused with the ethos of Piaget Society that was founded on the lasting friendships the brand has formed in the world of music, film, art and sports. It expresses the grammar of shapes that is at the heart of the Piaget DNA. And yet, the Piaget Polo S is the watch for those who challenge conventions. Because, on this exceptional occasion, Piaget has housed an automatic precision movement in a watch of stainless steel.
Featuring an ingenious shape-within-shape that is Piaget's distinctive hallmark, the Piaget Polo S displays the unique association of a cushion-shaped dial within a round 42mm case. Designed by Piaget, its automatic movement discreetly reveals its beauty through a sapphire case-back. A bracelet of meticulously hand-assembled links alternatingly polished and with a satin finish, completes the experience. The result? A watch that – by day or by night, at work or at play – speaks to and for a new generation.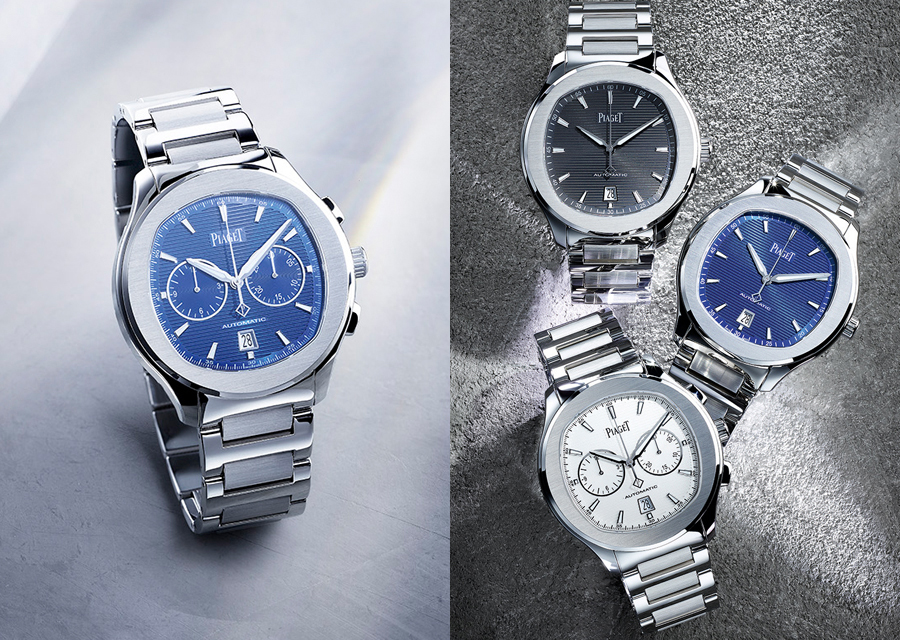 Five Watches, One Philosophy
The collection is composed of the automatic Piaget Polo S, equipped with the 1110P movement, and the Piaget Polo S Chronograph, equipped with the 1160P movement. Both of these movements have been developed specially for the Piaget Polo S. The automatic Piaget Polo S is available with a blue, silvered or slate-gray dial, while the Piaget Polo S Chronograph is available with a silvered or blue dial.
The Game Changers of Piaget: Nine men, One Spirit
Piaget created the Piaget Polo S for a new generation: a generation of game changers. Like the Piaget Polo S, these men are ready to rewrite the rules. By choosing Piaget for a steel watch, they show with elegance and distinction that they play a different game.
Around the world, in recognition of their exceptional talent, Piaget has selected eight such men to wear the Piaget Polo S and to be a Friend of the Maison for their country. These men are not followers. They are driven by passion to make their dreams come true, and impact their world differently. Each a Game Changer in his own profession and an influencer with digital power, they have proved in life and through their careers that they truly embody the spirit and ethos of this unique watch.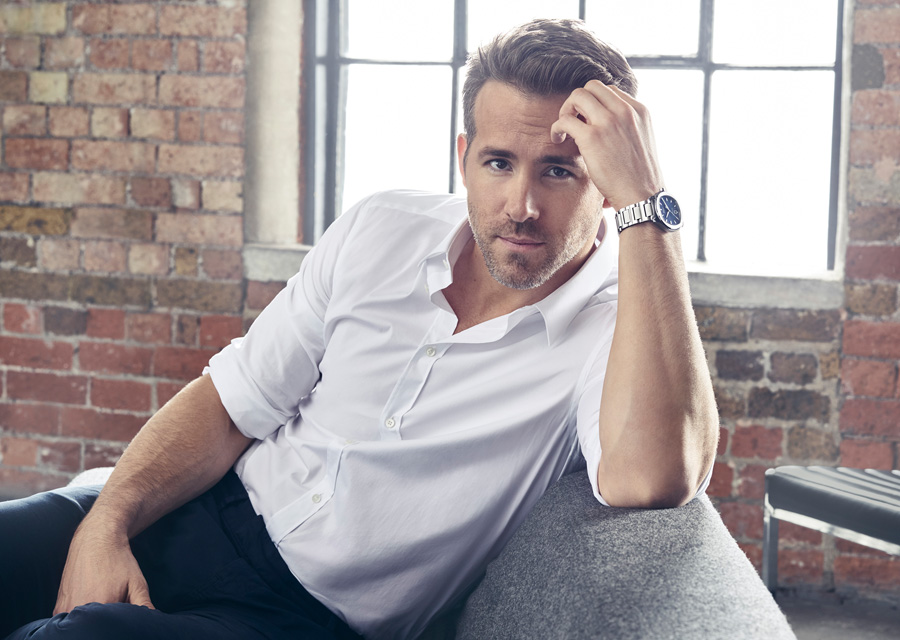 Ryan Reynolds – International Brand Ambassador
Ryan Reynold's quote: «One of the things I have in common with this watch is that I like the idea of relaxed luxury, the idea that what you wear with a tuxedo, you can also wear with casual clothes. I really like this timepiece because it is incredibly versatile. I would wear it anywhere. I'd wear it to an awards show as easily as I'd wear it to my kids' first graduation".
Actor & Producer
Canadian-born Ryan Reynolds started his career in TV before making his first major film breakthrough in the 2002 comedy and cult classic National Lampoon's Van Wilder. He has proven his versatility as an actor by taking on ultimate superhero roles in X-Men Origins: Wolverine (2009) and The Green Lantern (2011), as well as earning critical acclaim and awards for his performances in the independent drama Buried (2010) and the critically acclaimed film, Mississippi Grind (2015). He has starred alongside Sandra Bullock in the hit romantic comedy, The Proposal, and made his much-anticipated return to the Marvel Comics series in 2016 with Deadpool. Deadpool quickly became the highest grossing R-Rated film in box office history and the most successful X-Men film to date. His upcoming film releases include the science fiction thriller Life (2017) along with the highly anticipated sequel to Deadpool (2018).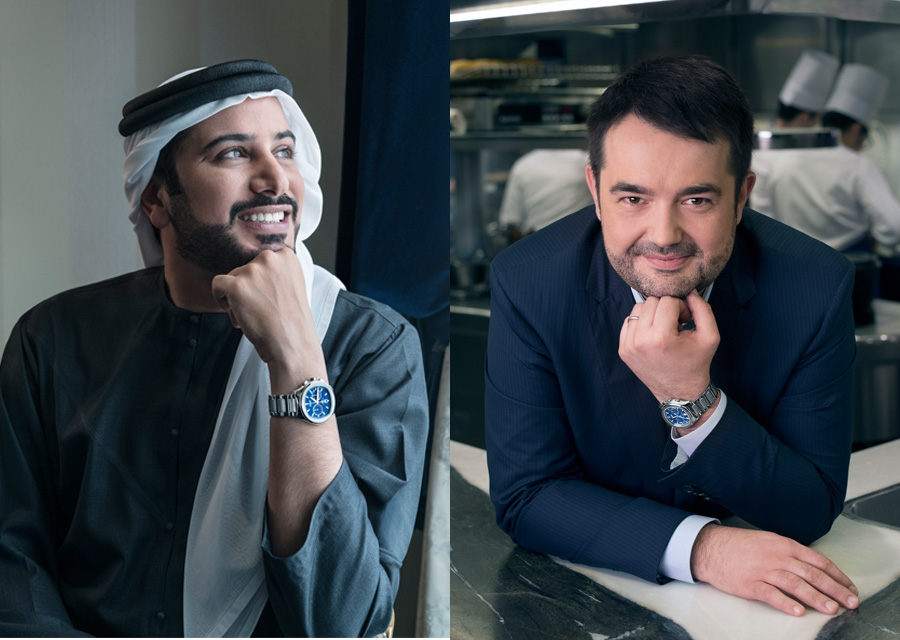 Mohammed Sultan Al Habtoor – Artist & Businessman
Through his work and innovative ideas, Mohammed has been one of the first to change the existing rules and set new trends in his country while always respecting traditions.
Born in United Arab Emirates into one of the most prominent and successful families in his country, Mohammed Sultan Al Habtoor is changing the way Arab men look at fashion. After officer training at the UK's Royal Military Academy Sandhurst and five years military service, he co-founded his own company specializing in healthy lifestyle products. Having made a name for himself at an early age, he is well known for his individual style statements
Jean-François Piège – Chef
Thought his creative cuisine and a mediatized carrier Jean-François Piège has been one of the first Chef to change the cooking rules and the image of this art in a country where «food» is a real religion.
Born in France, Jean-François Piège was exposed to the world of gourmet cooking from a young age, when he had the opportunity to meet world-renowned chef, Jacques Manière. Since then, he has worked with some of the world's most renowned chefs, including Alain Ducasse, before opening his own eponymous restaurant. His great culinary creativity has already been rewarded with two Michelin Stars and the accolades of food critics all over the world.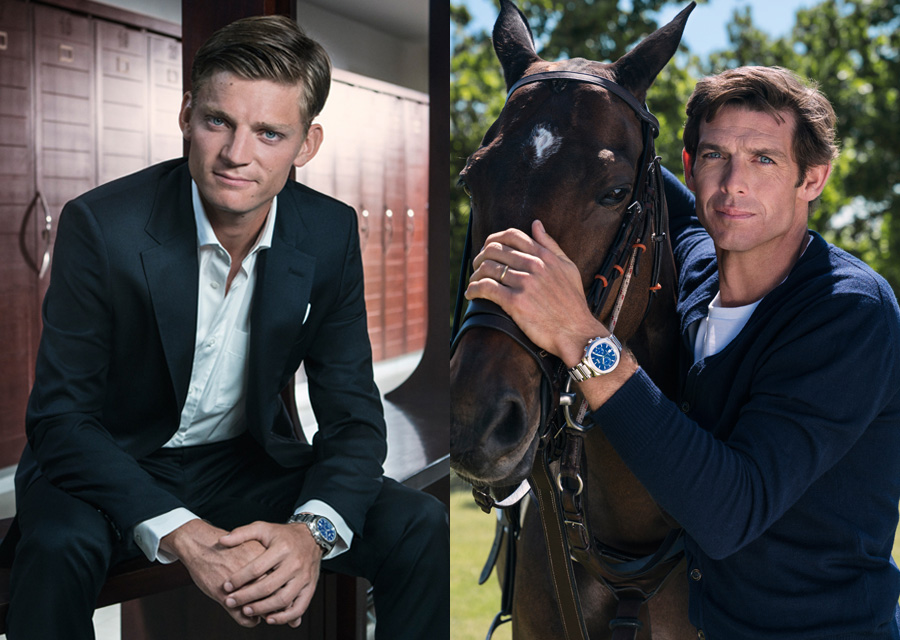 David Goffin – Tennis Player
Through his humility, his hard working and willingness of excelling, at only 25 years old, David is today one of the best youngest tennis players in the world. He is also the first of his country to reach such an amazing level.
Born in Belgium, David Goffin first came to the world's attention in 2012 when he reached the fourth round of the French Open. Since then, having defeated several higher-ranked players, he has continued to rise through the rankings to break into the top 20 in 2016.
Malcolm Borwick – Businessman & Polo Player
Through his involvement in sport, Malcolm has bought about change by spearheading initiatives including establishing the British Professional Polo Association. While managing and playing in the England first team Malcolm introduced personalised training routines and employed a sports psychologist creating a more professional environment. Today these are standard practice. He also developed a program nurturing British talent; many of these players have gone onto to play for England.
As one of Britain's best polo players, Malcolm Borwick has represented his country in more than 50 games around the world, including two World Cups. As a close friend of Prince Harry, he has captained the prince's polo team at the Sentebale Cup with proceeds going to the Sentebale charity founded by the prince in Lesotho.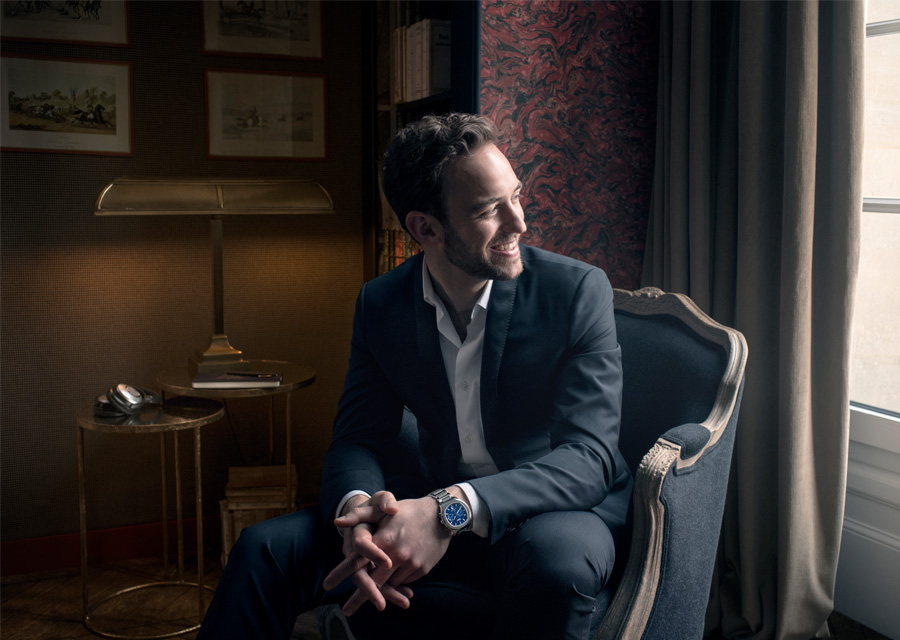 Joël Dicker – Novelist
"I changed the rules by deciding to yield to my dreams rather than yield to others rules."
Born in Switzerland, Joël Dicker knew from a very early age that he was going to be a writer. His bestselling second novel The Truth About the Harry Quebert Affair has won critical praise, including the Grand Prix du Roman de l'Académie Française and the Prix Goncourt des Lycéens. His books have been translated into over 30 languages and published in more than 45 countries.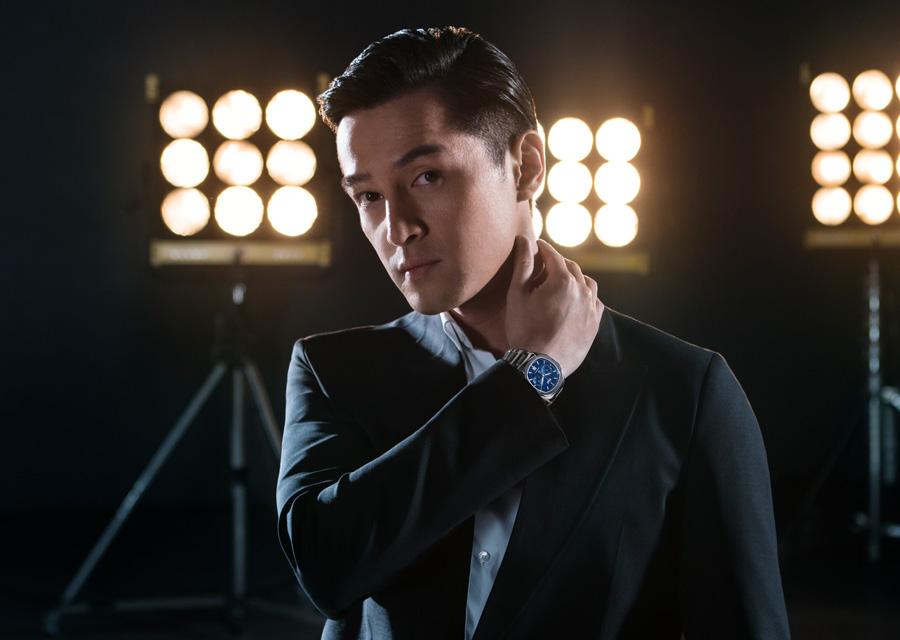 Hu Ge – Actor & Singer
Despite life challenges, HU Ge has never given up and always continues to fight not to accept the fate to become today not only a great actor but also a model of courage and tenacity.
As a well-known Chinese actor, HU Ge was invited to play the leading role Li Xiaoyao in the 2005 television series Chinese Paladin, and immediately skyrocketed to fame as one of China's most popular actors. In his ten years' acting career, he played leading roles in many well-liked Chinese TV series and films, he owns powerful skills on acting and he has received national wide recognition for his acting. In 2016, his excellent performance in "Nirvana in Fire", won HU a host of awards, including the Magnolia Award for the Best Actor at the 22nd Shanghai Television Festival.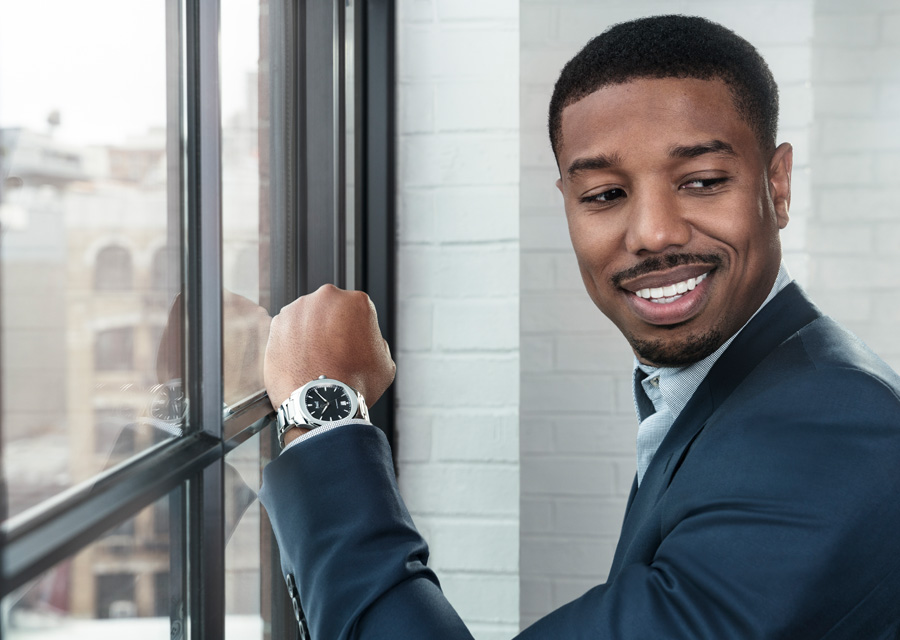 Michael B. Jordan – Actor
Considered one of Hollywood's brightest stars, Michael B. Jordan has defied convention with his choice in roles and critically acclaimed performances, making him an inspiration and role model for a new generation.
Born in California, Michael B. Jordan got his first significant break in The Sopranos before winning a pivotal role in the landmark television show The Wire. From there, he would go on to achieve critical acclaim as the star of the film Fruitvale Station, for which he won numerous awards. To prepare for his titular role in Creed, the Rocky sequel, he undertook a year of rigorous boxing training.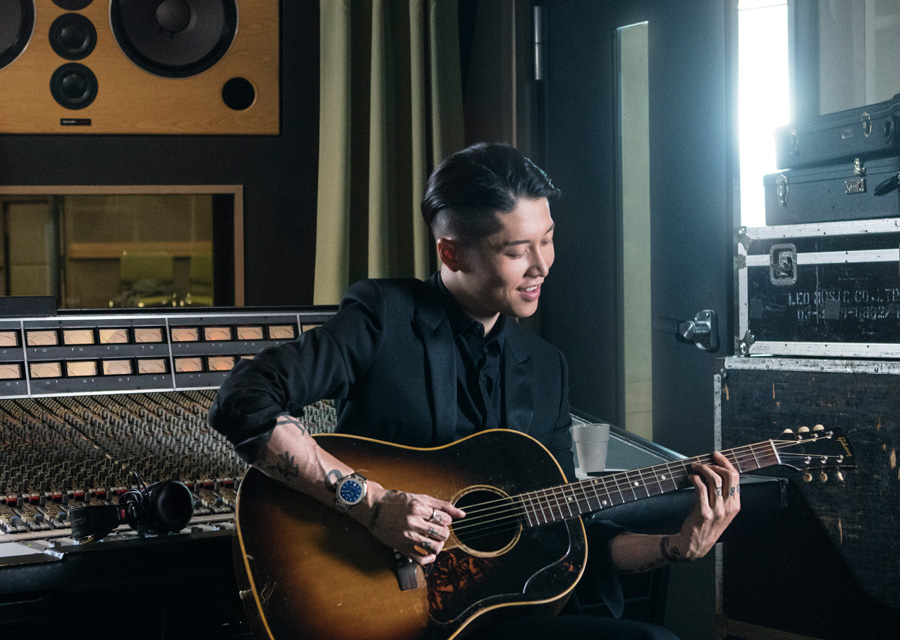 Miyavi – Musician, Singer, Songwriter & Actor
MIYAVI carves his own path by believing in his own music and is constantly enjoying the «game» of challenging himself. He is active both domestically and overseas and continuously explores uncharted territories. Therefore, we are presenting him the title of Game Changer with the expectation that he will surprise us with his own original game.
Born in Japan, Miyavi first became known in his home country as a guitar player of unique style and flair. Achieving top-ten success in Japan, he would step onto the world stage with sell-out concerts across Europe, Asia and America. An artist of multiple talents, he made his international acting debut in the film Unbroken directed by Angelina Jolie.
About Piaget
The unique allure of Piaget lies in the audacity of its style. Charismatic and flamboyant, dazzling watch and jewellery creations embody the radiance that defines the Maison. This passion for daring creativity was born in La Côte-aux-Fées, where Georges-Edouard Piaget set up his first workshop in the family farmhouse and devoted himself to producing high-precision movements. This was back in 1874 and marked the start of an ever-growing reputation. In 1943, the company took a decision that would prove crucial to its future by registering its brand name.
Faithful to its pioneering spirit, in the late 1950s Piaget set about designing and manufacturing the ultra-thin movements that would become one of the Maison's signatures and leave a lasting imprint on the art of watchmaking.
But Piaget has also always represented a style: a marriage of gold and an explosion of color, new shapes, precious gems, and dials made of hard stones. Swept to new heights of creativity driven by Yves G. Piaget, the Maison's jewellery collection grew in an original direction with a resolute emphasis on color, giving birth to the iconic Piaget look. Building on over 140 years of history, the ever-bold Maison continues to innovate by offering jewels in motion, elegant and extravagant High Jewellery collections, as well as remarkable watches. In a world unconstrained by boundaries, Piaget the watchmaker-jeweller continues to explore unexpected creative possibilities, turning gold, stones and gems into brilliant works of art.
Piaget has demonstrated a longstanding commitment to supporting cinema and the arts. In February 2017, Piaget will once again be serving as Premier Sponsor of the Film Independent Spirit Awards for the tenth consecutive year.