Racing for glory
By MyWatch
Oris ambassador and daredevil pilot Don Vito Wyprächtiger picks up another podium at the Reno Air Races
Against crystal-clear blue skies over the Nevada desert, Don Vito Wyprächtiger piloted his Scarlet Screamer to second place in the Formula One class of the world-famous Reno Air Races, which took place between 16 and 20 September. Oris has been the Official Time Partner of Don Vito's Swiss Air Racing Team since 2010.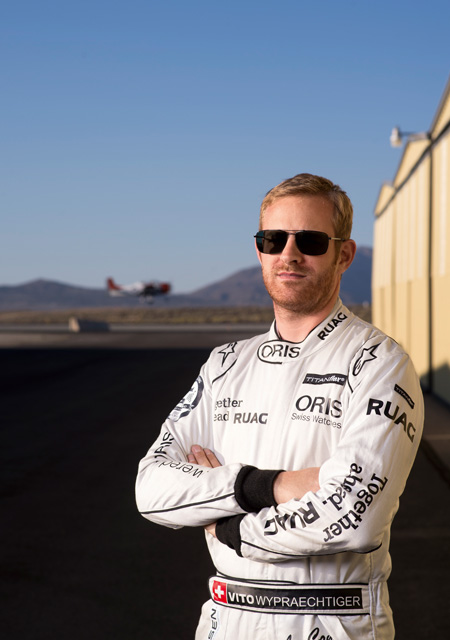 Don Vito, who was a co-favourite in the Formula One class, qualified in pole position for the Gold Cup on the Sunday, after winning the final heat the day before. Having lost the lead early on, he fought his way back to the front, before archrival Steve Senegal overtook him a few laps from the finish.
The rivalry between Don Vito and Senegal stretches back to 2010, the first year Don Vito entered the races. The two have shared the top two spots in four of the six years they've competed against one another, with Don Vito scooping the title in 2013. That year he became the first non-American to fly to victory since the event was first held in 1964.
This year's race proved another titanic tussle between two of the great pilots of their generation, and another brave, confident performance by the Swiss wingman, who averaged 238mph during the eight-lap, head-to-head closed-course pylon race.
'It's one of the highlights of my year, getting to fly in the Reno Air Races,' said Don Vito. 'It's such a traditional event, and the only remaining head-to-head closed-circuit pylon race in the world. Flying Scarlett Screamer 50 feet above the ground at over 200mph and with half a dozen planes on your tail is fantastically exciting and one of the greatest challenges you can experience as a pilot. The team did an incredible job preparing the plane and we're extremely pleased with another podium finish in what remains a hugely competitive class. We'll be back next year to push for another victory.'
Ulrich Herzog, Oris Executive Chairman said: 'We're extremely proud of Don Vito and the Swiss Air Racing Team's achievement at the 52nd Reno Air Races. The dedication, passion and skills that Don Vito demonstrates both in the air and on terra firma are inspirational.'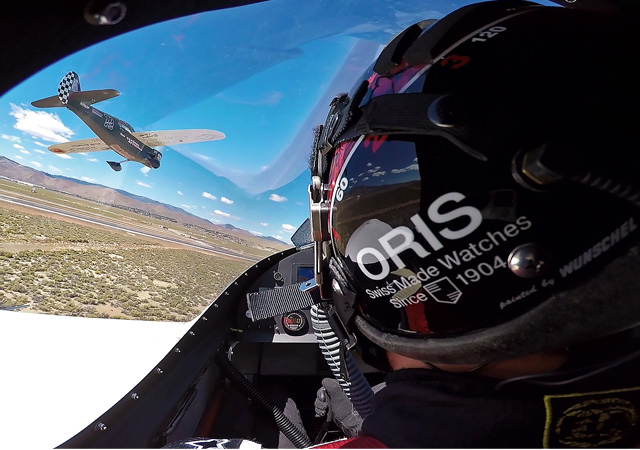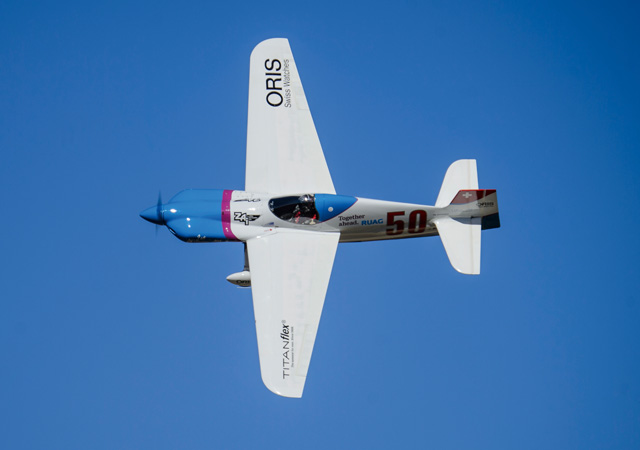 During the event Don Vito wore the Oris Air Racing Edition V, a special version of the Big Crown ProPilot line that's limited to
1,000 pieces. Coated in black DLC and with a black fabric strap lined with red leather, it's the sportiest Air Racing model to date. To commemorate Don Vito's achievements, it has an engraved outline of the Scarlet Screamer on its case back. The watch will be available from October.