Richard Mille on vibrate mode
By MyWatch
Richard Mille unveils the RM 62-01 Tourbillon Vibrating Alarm ACJ with a new grand complication. The most important feature of the watch is the alarm function, which does not produce any sound and stands out with its vibrating and silent mode.
Nicolas YVON with Chloé REDLER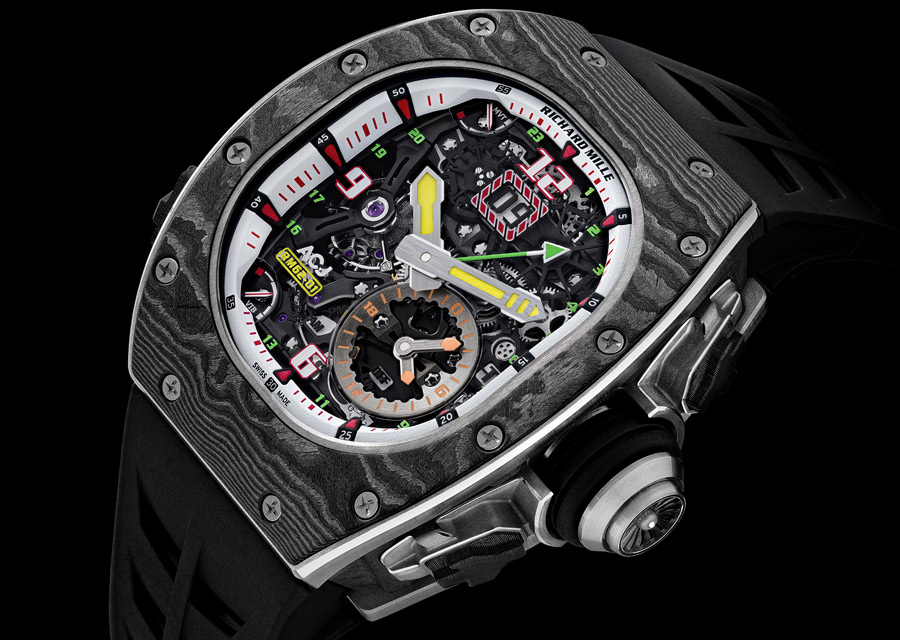 Known for its unique and avant-garde designs, Richard Mille continues a partnership with the high-end business airline Airbus Corporate Jets (ACJ). After the first model RM 50-02 Tourbillon ACJ released in 2016, the two companies combined their know-how and unveiled their sophomore watch: the incredible RM 62-01 Tourbillon Vibrating Alarm ACJ.
Limited to only 30 pieces, this titanium and Carbon TPT protects a hand-wound skeleton movement whose design has required more than five years of development. And for a good reason! This wonder of micromechanics, the RM 62-01, whose full name sums up the function, has a tourbillon calibre but also, and above all, an innovative alarm device that uses a vibration transmission…just like a cellphone! Designed to operate in a quiet and confined space, this unique and very ingenious complication is totally silent, to avoid disturbing those around it. Indeed, it is through a small vibration that the wearer is informed of personal events like schedule appointments/meetings or important moments, noted in his calendar. Setting this sensitive mechanical alarm is easy with a crown at three o'clock. The power reserve, on the other hand, can gradually be wound through a pusher at eight o'clock (twelve times to fully recharge the function).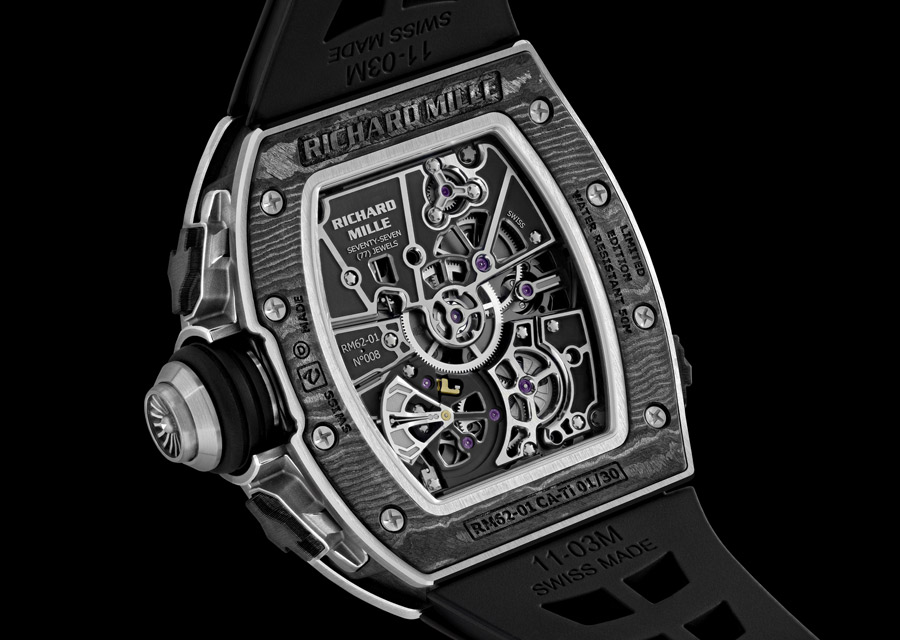 The RM 62-01 has a distinctive barrel-shaped case with a double bezel: one made in grade 5 titanium and a second one in Carbon TPT®. The frame of the watch is also made of this high-tech dark material and is said to be inspired by the wood grains from a custom cabin designed by Sylvain Mariat, Head of ACJ Creative Design. Carefully thought out by engineers, this titanium-carbon combination ensures that the vibrations are transmitted to the wrist. Technical in more than one respect, this watch is also aimed at globetrotters by displaying a second time zone, here called UTC (Coordinated Universal Time), over 24 hours, and an AM/PM indicator, not to mention a large date, a power reserve indicator (70 hours) and a function selector. All these are specific features that will appeal to wealthy businessmen used to deal with jet lags and collectors of avant-garde luxury timepieces.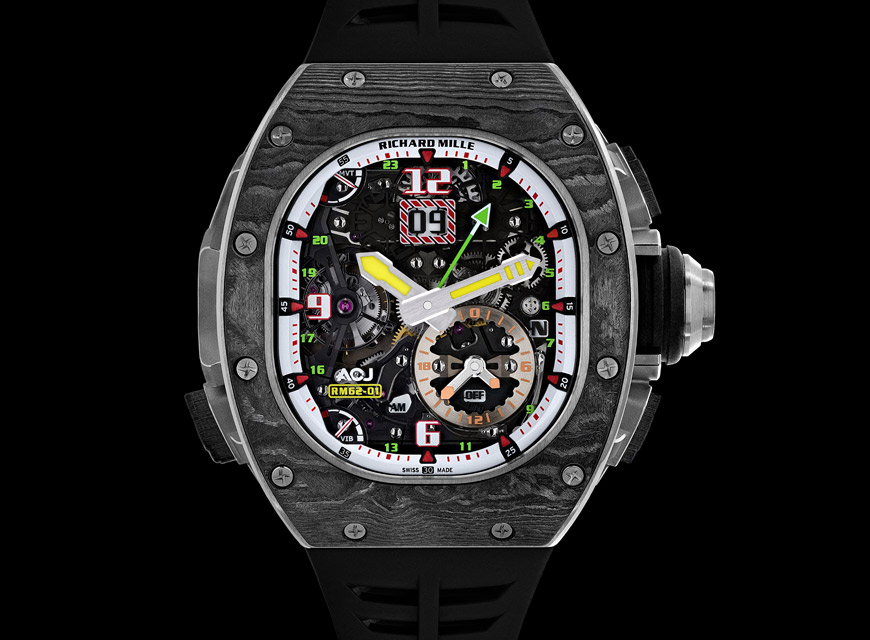 Last but not least, its porthole-shaped sapphire crystal and the crown decorated to look like the blades of a jet aircraft's turbines take its inspiration from aeronautics. With this playground, the Richard Mille manufacturer defines the RM 62-01 as its most complicated timepiece ever produced. There were 816 components to be housed, 2 barrels, 7 hands, 11 displays and a tourbillon cage in a single small space. It is true this watch is considered a prestigious demonstration of watchmaking prowess!
The thirty happy and privileged buyers of this atypical instrument do not need a calendar but a well-furnished bank account given its stratospheric price of 1,271,500 euros.