Richard Mille runs for McLaren-Honda
By MyWatch
Richard Mille has announced the establishment of a new partnership for a period of 10 years with McLaren-Honda Formula 1 team. Both brands cultivating the passion for modern technology, the avant-garde design and the precision engineering, this association was predestined to become a reality.
The Swiss brand, a relative newcomer to the watchmaking world, started making watches in 2001 but quickly established itself as one of the pre-eminent players within the industry, developing a unique, immediately recognisable architectural aesthetic. Founder and CEO Richard Mille continues obsessively to push the limits of haute horlogerie, his engineers creating increasingly intricate, innovative and elaborate designs. In comparison, McLaren has established itself as one of grand prix racing's most successful and enduring names, having won 20 world championships and 182 grands prix. This year, the team will celebrate its 50th anniversary on the Formula 1 grid (founder Bruce McLaren first raced a car bearing his own name in a Grand Prix at Monaco in 1966), while pushing hard to return to the front with works engine partner Honda.
The partnership will see Richard Mille timepieces grace the wrists of the team's world champion drivers Fernando Alonso and Jenson Button, distinctive branding appear on the new MP4-31 car, and a commitment to develop a unique and exclusive series of exceptional calibres inspired by the tremendous heritage of the McLaren brand.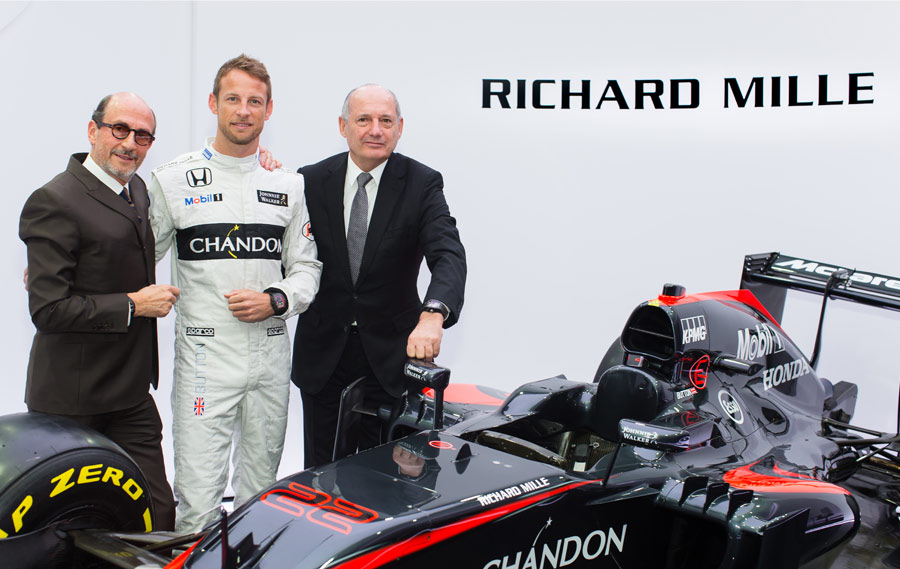 Richard Mille, CHAIRMAN & CEO Richard Mille Horometrie SA, said: "As both a passionate aficionado and long-time advocate of international motorsport, I'm incredibly pleased and proud to be able to announce our new partnership with McLaren-Honda. The McLaren brand has existed at the very pinnacle of Formula 1 racing for 50 years, and its reputation for continual technical innovation, painstaking attention to detail and race-winning success perfectly matches the philosophy of the Richard Mille brand. The chance to partner with McLaren is particularly timely: we've been evaluating Formula 1 on a restricted basis for several years, but this opportunity has enabled us to engage in a deeper, more meaningful way, with proper focus and effort directed on a major team. For me, the association with McLaren is so striking, because I still vividly remember, back in 1981, when McLaren was the first constructor to introduce an all-carbonfibre monocoque to Formula 1. It was a technology that would revolutionise the sport – and still does to this day. Years later, I was able to adopt the same technical solution – a carbonfibre structure – for the baseplates of our watch movements and cases. I feel strongly that the Maison Richard Mille embodies the very essence of motorsport: we're dedicated to the ultimate mechanical challenge, and we're inspired by the concepts and materials used in Formula 1. For everyone at Richard Mille, this will be a thrilling partnership."
Ron Dennis, chairman and CEO, McLaren Technology Group, added: "I've watched with quiet admiration as Richard and his team have built up the Richard Mille brand over the past 15 years. To have established himself at the vanguard of the watchmaking world in such a short space of time is an incredible achievement, and a testament to his vision and determination. For him to commit Richard Mille to a 10-year partnership with McLaren underlines our shared belief in the value of long-term agreements, and the benefits that can be derived from growing and developing together. The two brands share a distinct common DNA: a passion for design, technology and aesthetics, and I'm excited about the great work we can achieve together over the next 10 years."
Notes about McLaren:
New Zealand racing driver Bruce McLaren founded the McLaren team in 1963. Since 1966, when it entered its first Formula 1 race, McLaren has won over 180 grands prix, eight constructors' titles and 12 world championship titles with some of the sport's greatest drivers – Emerson Fittipaldi, James Hunt, Niki Lauda, Alain Prost, Ayrton Senna, Mika Hakkinen and Lewis Hamilton.
The McLaren-Honda team campaigns the 2016 FIA Formula 1 World Championship with the best driver pairing in the sport: world champions Fernando Alonso and Jenson Button. They drive the McLaren-Honda MP4-31.