Richard Mille won the Rally of Monte-Carlo with Sébastien Ogier
By MyWatch
French driver Sébastien Ogier, who is the most recent member to join Richard Mille's diverse line-up of partners, swept the first leg of the WRC (World Rally Championship) this season, thereby claiming his fourth victory (3rd consecutive) at Monte Carlo. A succes that the world champion celebrated with his Richard Mille "racing machine" on the wrist.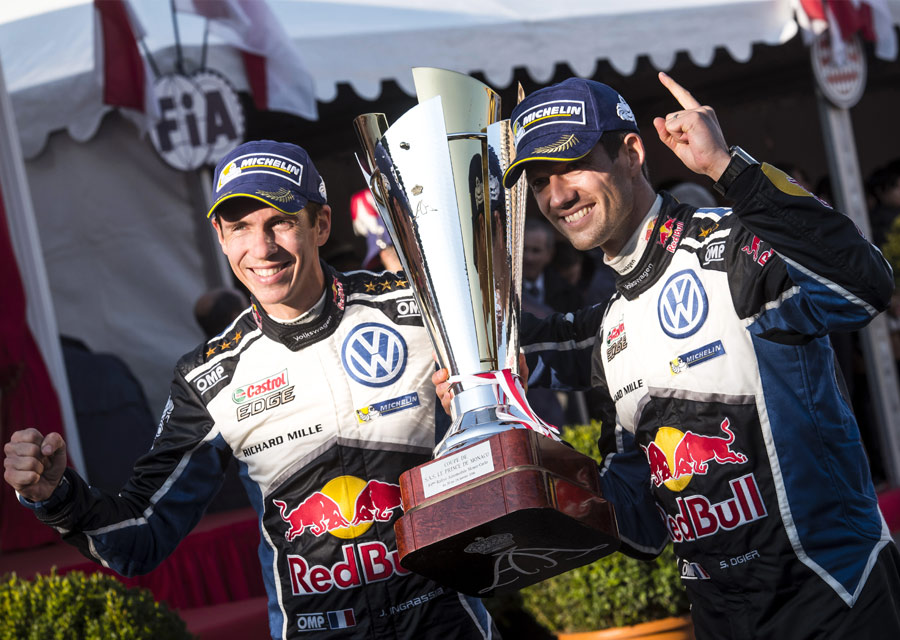 Sébastien Ogier, who hails from the French Alps (Gap, France), and his co-pilot, Julien Ingrassia, indefatigably led the pack in their VW Polo R for the duration of the race, crossing the finish line just under 2 minutes ahead of runner-up Andreas Mikkelsen, from Norway (also a Volkswagen driver), followed by the Belgian Thierry Neuville (Hyundai).
"This rally is the most important of the season, to my mind," rejoiced Ogier. The triple world champion went on to add: "It's deeply moving to have won here three times in a row, and something I've dreamt of since I was a little boy. To prevail in such a tough race three years running is fantastic—and definitely due to the extraordinary collective efforts of the whole team." With an enthusiasm rarely witnessed on the circuit, the driver celebrated this victory as though it were his first. This latest success serves to confirm Sébastien Ogier's dominance in the first part of the season.
Sébastien Ogier and Julien Ingrassia will next head to Karlstad, to participate in the Swedish Rally on 11–14 February, a remarkable leg of the WRC in which snow presides over the course.