Rotonde de Cartier Time Mysterious Skeleton: a mysterious movement unveils its workings at SIHH 2017
By MyWatch
For the first time by Cartier, skeleton work and a mysterious movement – two of the Maison's iconic Fine Watchmaking signatures – come together in the same watch. Cartier is launching this exceptional union of aesthetics and technical prowess with the Rotonde de Cartier watch and its calibre 9983 MC. Asymmetrical and structured, this two-sided movement exploits the visible and invisible with a stylistic audacity which is an essential component of Cartier's design tradition.
The invisible
The watch incorporates a mysterious movement, an in-house complication that was introduced more than a century ago with the first mystery clocks in 1912. Their mechanisms rely on an ingenious concept which Cartier has successfully transposed to the wrist. The hands are not directly linked to the movement, but are joined to two sapphire discs fitted with teeth around their circumference. These discs, activated by the movement, turn the hands – one disc for the minute hand and the other for the hour hand.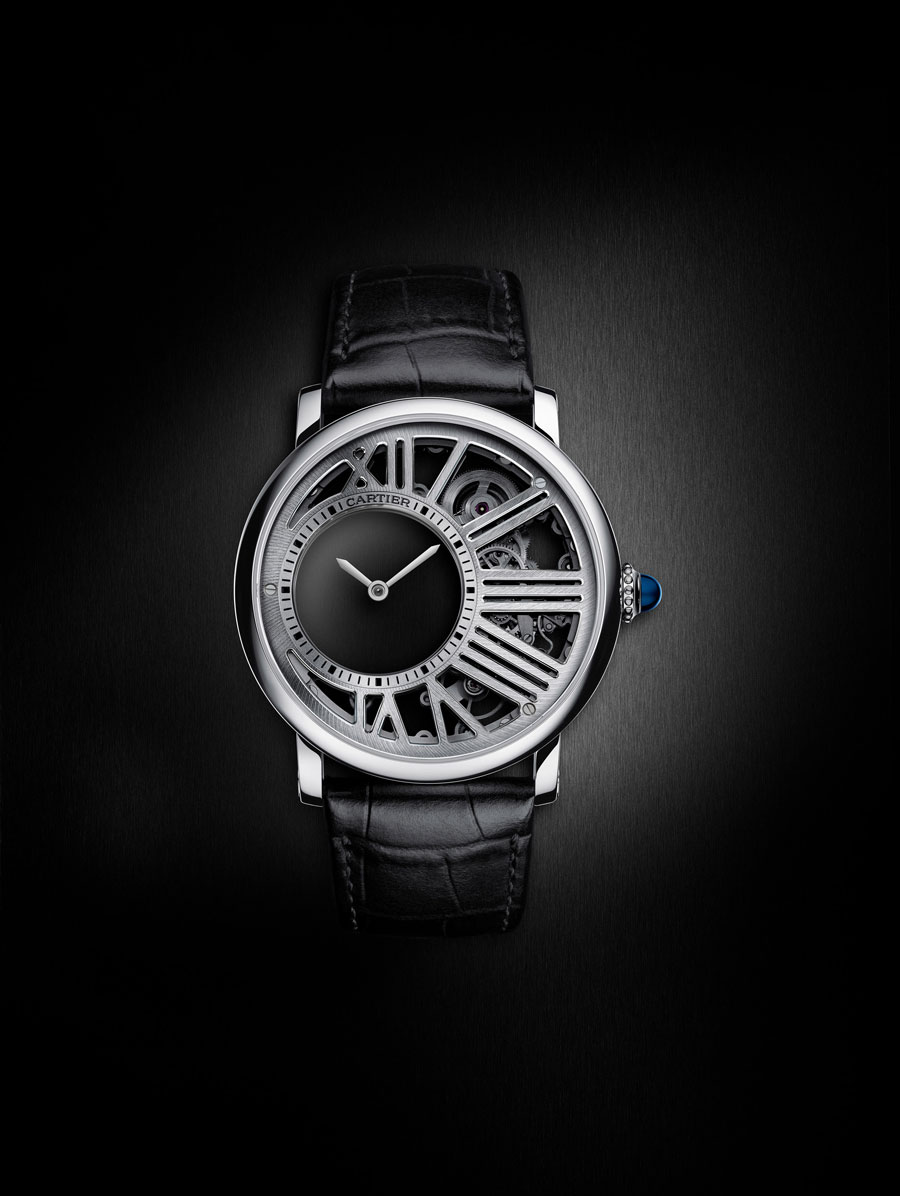 The visible
Then there is the skeleton work, the product of a long Cartier tradition that began in the 1930s. It achieved signature status in 2009 with the creation of the skeleton watch with sculpted mechanism in the shape of Roman numerals. Unmistakeable and instantly recognisable, it is protected by a patent, enabling Cartier to create a skeleton movement with
an architecture that helps to tell the time.
With the calibre 9983 MC, Cartier decided to reveal the gear train of the mysterious movement, which is usually hidden beneath the dial. This transparency exposes even the smallest details of the movement's architecture, but reveals nothing of the mysterious mechanism's magic.
Chosen for its balanced proportions and pure dimensions, the round shape of the Rotonde de Cartier watch provides the ideal setting for the original combination of these two signatures.