SIHH 2018: Cartier, freedom of artistic expression
By MyWatch
The Cartier Libre collection was born of a desire to play with the Maison's signature watch shapes. They are stretched, shrunk and transformed into objects of fantasy with unbridled creative licence. Cartier Libre appeals to the Collectionneuse, the figure of the watchmaking collector.
Hitherto unseen shapes echo the Baignoire and Crash watches. Their proportions are disrupted, volumes accentuated and lines lengthened. Seeking to disrupt the Cartier repertoire, these are adventures in extravagance where precious materials and contrasting colours are breathtakingly feminine and minimalist in design.
The aesthetic that emerges is like no other. It defies categorisation. The Cartier codes are present; whether visible or perceptible only to the eye of the connoisseur, they are the ultimate guarantee of authenticity. The result is radical, brazen, paradoxical: the tension between refinement and excess. Five limited-edition individually numbered jewellery watches meet a single definition: the immediately recognisable Cartier signature.
Baignoire Interdite
To disorient the eye, turn the oval dial of the Baignoire watch crosswise on the wrist. The gaze flickers between the top, where oversize Roman numerals wrap the white gold case in strips coated in glossy black ADLC, and the bottom, where the diamond-ringed dial alternately emerges and hides. The incontrovertible elegance of a classic aesthetic in love with freedom. Numbered limited edition of 50 pieces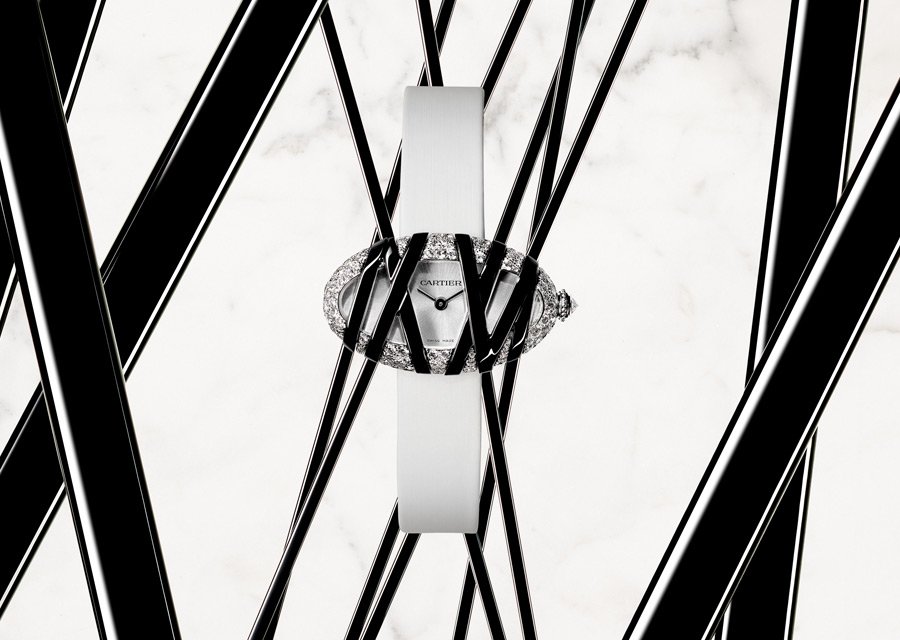 Baignoire Etoilée
A crystalline cascade of glittering diamonds and black spinels. Suspended, the light undulates across the skin from the white gold oval case. Black melts into white as contrasting colours cast illusions around a minuscule dial set with a double row of stones. Numbered limited edition of 15 pieces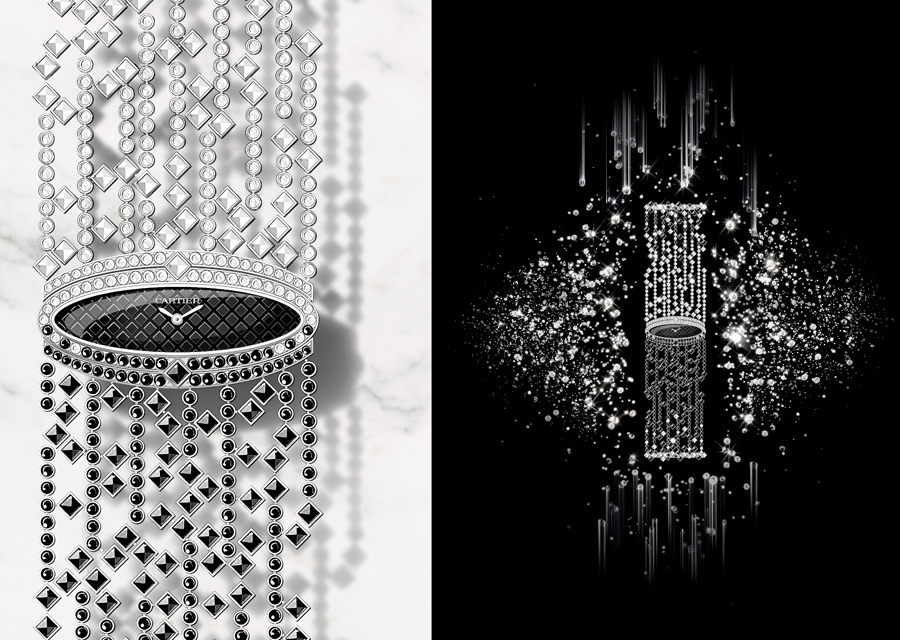 Crash Radieuse
Crash the Crash watch. Take it to the next level. Crumple the crushed dial with gadroons, stretch the outsize Roman numerals to the point of hallucination, and carve the shockwave right in the centre of the dial. Feminine and beyond categorisation, the yellow gold Crash watch appears in a version even more extreme than itself. The original accident is revealed as a feat of artistic value, elegance and affirmation. Numbered limited edition of 50 pieces (Manual movement 8970 MC)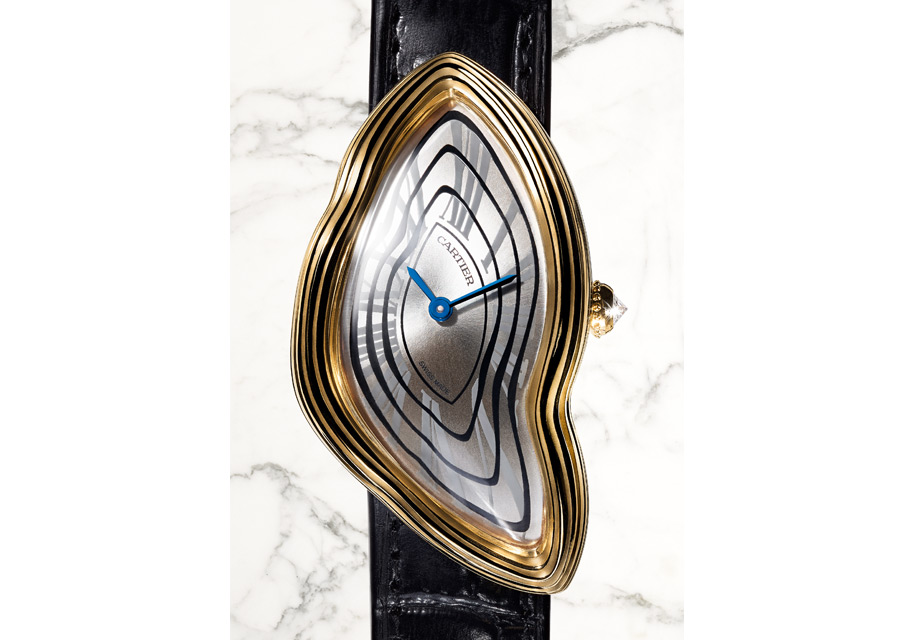 Baignoire Infinie
Take the Baignoire Allongée watch and discard all but the curves. Stretch out the white gold case, zoom in on the centre and invite the gaze into the hour circle. Dice with disequilibrium, and yield to the dizzying, shimmering sight of a dial paved with baguette-cut diamonds, white mother-of-pearl, Tahitian mother-of-pearl, and black spinels. The gems produce a sparkling spectacle played out over three crowns, a ring of diamonds encircling the absolute of a minuscule black dial. Shaped jewellery that flaunts the proportions of an extrovert. Numbered limited edition of 20 pieces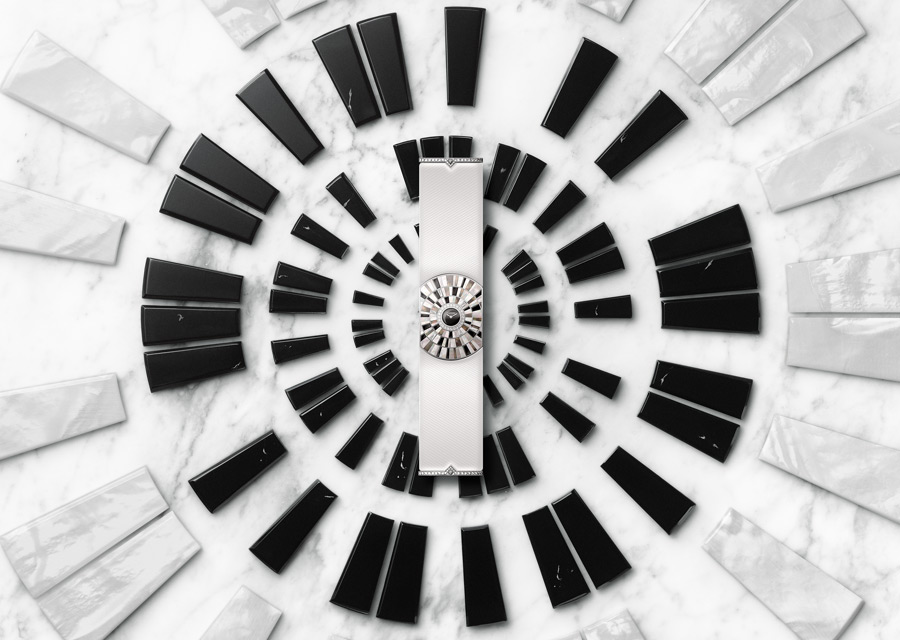 Baignoire Débordante
Master the solid as much as the hollow to craft an artful architecture. Pierce with openwork a ring of open petals around a white gold watch and sprinkle generously with precious and fine stones. Fear not the scale of the volumes, nor the sparkle of diamonds and black spinels. Do not hold back; simply savour and celebrate the passing of the hours. Numbered limited edition of 50 pieces