SIHH 2019, an atypical Toric as a unique piece at Parmigiani
By MyWatch
Parmigiani Fleurier pays tribute to the watchmaking works of the Edouard and Maurice Sandoz Foundation by recreating the mechanical wonders of this collection in the heart of its manufacture. The latest example to date, the Toric Capitole Rose Gold Brown is a unique piece equipped with an ingenious system for displaying time by sector and a minute repeater. Exceptional, this timepiece owes its name to the Capitol Square in Rome, whose helical and geometric floor tiles are reproduced in the dial decoration.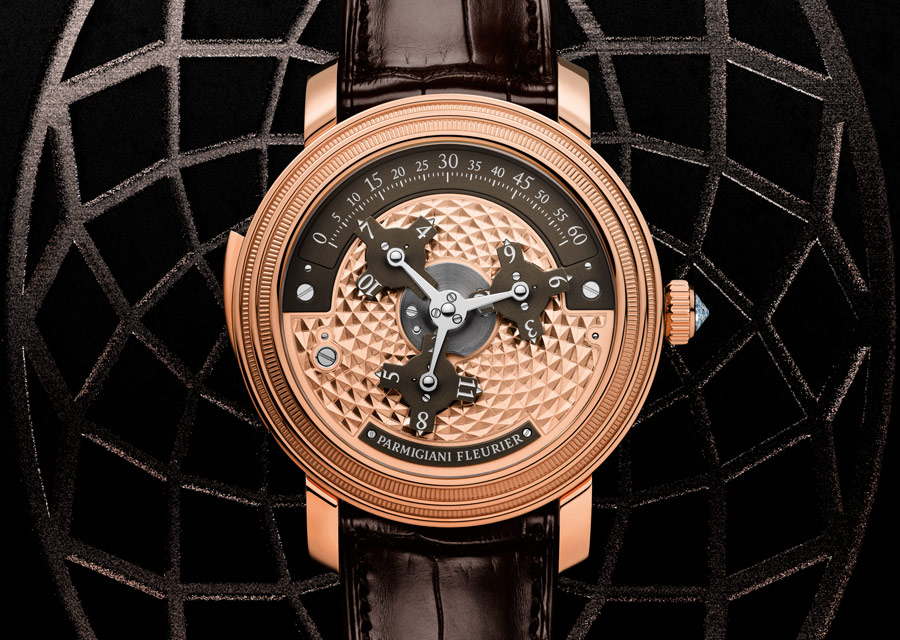 THE HAND-ENGRAVED DIAL
"The decoration is so captivating because it is based on the Golden Ratio. Within it, you see Fibonacci's spirals, reproducing a harmony that is everywhere in nature." This is how Michel Parmigiani describes the rose gold dial of the new Toric Capitole. It is hand engraved by a master artisan engraver who has left his lasting mark on the piece. The concentric pattern of the decoration evokes the arrangement of the scales on a pine cone – one of the innumerable examples of the Golden Ratio seen in the natural world.
The captivating dance of the planetary gears continues above the engraved decoration. Parmigiani Fleurier wanted to showcase the sector time display complication, instead of concealing it behind a bezel that would only reveal one numeral at a time.
SECTOR TIME INDICATOR
Inspired by the pocket watch made by Perrin Frères (Neuchâtel) dating from the early 19th Century, and now owned by the Foundation, the Toric Capitole reprises the unusual sector time display, translating it to a movement made by the Parmigiani Fleurier manufacture. The PF321 calibre features a module dedicated to the sector time display. This module, directly meshed with the hour wheel, incorporates a rotary system comprising three planetary gears with four arms, each end of which bears a numeral to indicate the hour (1 to 12). The time is displayed in a semi-circle on the upper half of the bezel, on a dial comprising 60 minute indexes. The set of discs is driven via a highly complex cam system.
THE MINUTE REPEATER
The timepiece's open case-back reveals the PF321 hand-wound mechanical movement and its minute repeater. Its gongs are known as "cathedral" gongs, a watchmaking term which means they form two sets around the case. This amplifies the acoustic quality compared with a single set, but makes the watchmaker's work on the housing considerably more complex. The rose gold case has been forged to ensure the minute repeater chime acoustics are perfect, with the sound wave oscillating at the optimum frequencies inside the case.