SIHH 2019, Cartier unleashes its creativity by revisiting women's watches
By MyWatch
Within the company's collections dedicated to women's wrists, the Cartier Libre series has become an appointment for watchmaking, jewellery and creativity that, year after year, shifts lines, reinterprets codes and shows the rich inspiration of Cartier's repertoire of shapes. For this new edition, Cartier Libre proposes a vision in technicolour : by what it emphasizes or puts into perspective, colour draws what we did not see.
TANK CHINOISE RED WATCH
In addition to its history of considering form, Cartier is also questioning names with the Tank Chinoise. Cartier chose to use this watch from 1921 for this stylistic exercise and to pair it with a colour imbued with strong symbolism in China: red, for passion and vitality. When placed in this prism of colours, the square is lengthened to become a rectangle bordered by two lintels of calibrated rubies highlighted by black enamel. A line of diamonds adorns the brancards and edge. The complete composition and the tension between the coloured elements and the diamonds strengthens the original architectural reference of this watch, available as a limited edition of 100 pieces. The challenge of Cartier Libre was to reconnect forms and origins intentions and aesthetic
DIAGONALE WATCH
Although quite unlike any other, this watch seems to be taken straight from the Maison's sketchbooks. With its contorted and distorted features, it lays all expectations to rest. The lines of red or black enamel are accompanied by paved diamonds, leading a new and daring harmony to emerge from the use of colour. With a minuscule dial distinctively stamped with Cartier's watchmaking codes, the Diagonale watch pays homage to a heritage of disrupting the classics.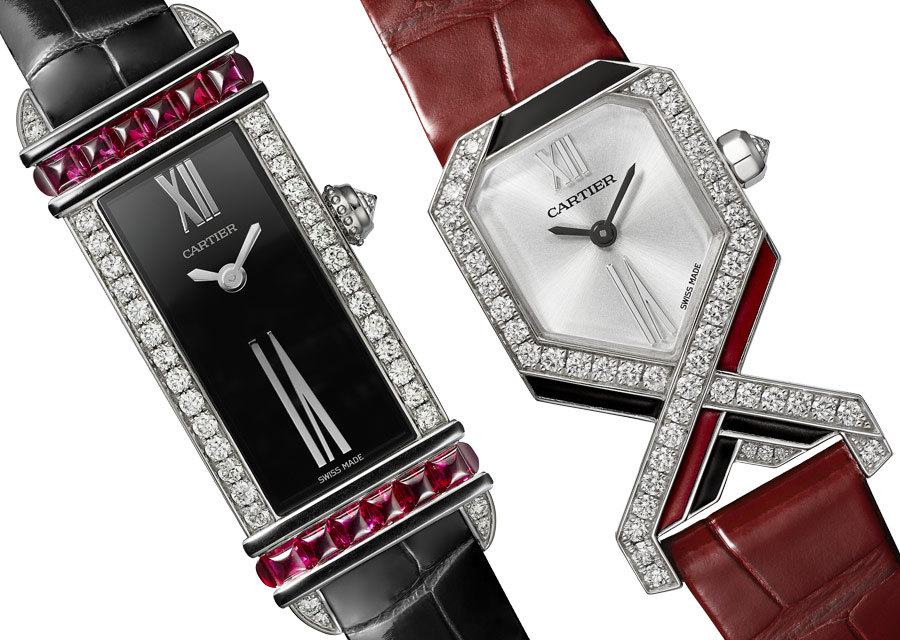 BAIGNOIRE ALLONGEE CELADON WATCH – BAIGNOIRE ALLONGEE BLACK WATCH
This watch's volume is viewed as a surface for creation. It is studded with emeralds and Paraiba tourmalines, black spinels, yellow sapphires or diamonds. When perceived with the eyes, each gemstone becomes a minuscule speck of light. Meanwhile the dial in the middle is paved with dazzling diamonds. Available in white or yellow gold and released as numbered editions of 50 pieces, the watches are disrupted by an unsettling eruption of colour, which by daring to venture into immoderation reveals the elegance of their signature aesthetics.