AUDEMARS PIGUET X MARVEL
Spider-Man enters the web of the Royal Oak Concept Tourbillon
SPIDER-MAN is the new hero of the AP X MARVEL saga, on a new watch revealed at the same time in Dubai and on Frank Sans C's channel. The Audemars Piguet x Marvel adventure continues, with a new Royal Oak model inspired by one of the most popular characters of the iconic American comic books: Spider-Man. CEO of Audemars Piguet François-Henry Bennahmias gave our tick-tock fanatic an exclusive preview of this superwatch with guaranteed supersuccess.

By Chloé Redler
The new Royal Oak Concept Tourbillon Spider-Man marks part two of the collaboration between Audemars Piguet and Marvel. An exclusive preview by Frank Sans C, and a perfect opportunity for yet another unique show with the now expected punchlines by CEO François-Henry Bennahmias! Beyond all expectations…
The atypical and high-tech Royal Oak Concept Tourbillon Spider-Man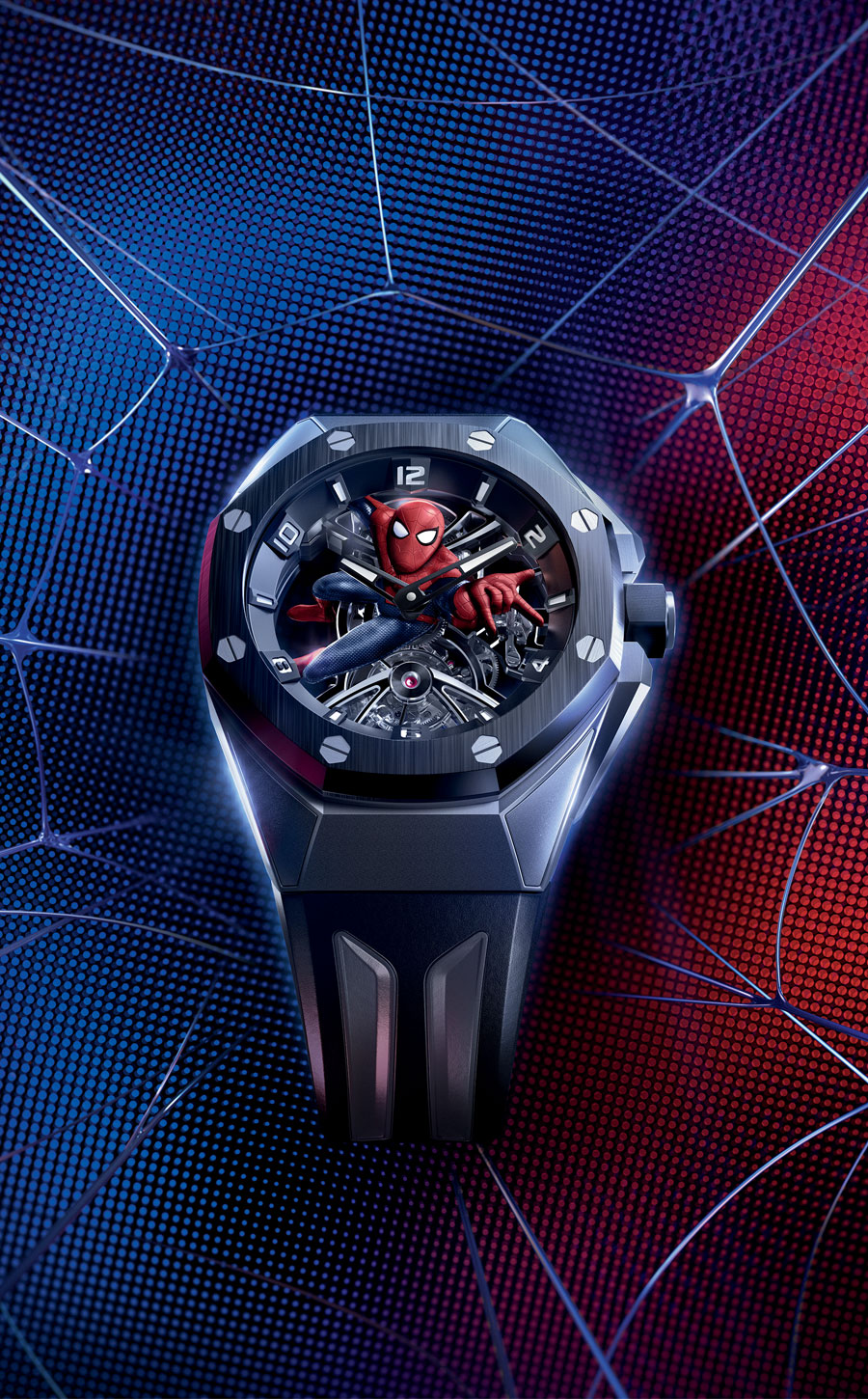 Entangled in the Audemars Piguet cobweb is one of the most iconic characters of the Marvel comic books: Spider-Man. Also known as Peter Parker ‒ a boy who receives superpowers after being bitten by a radioactive spider (not "retroactive", cf. Frank Sans C) ‒ Spider-Man is now the second hero to be displayed on the futuristic, high-tech design of the Royal Oak Concept Tourbillon after the Black Panther (see our previous article "Royal Oak Concept Black Panther: the supersuccess of a superwatch").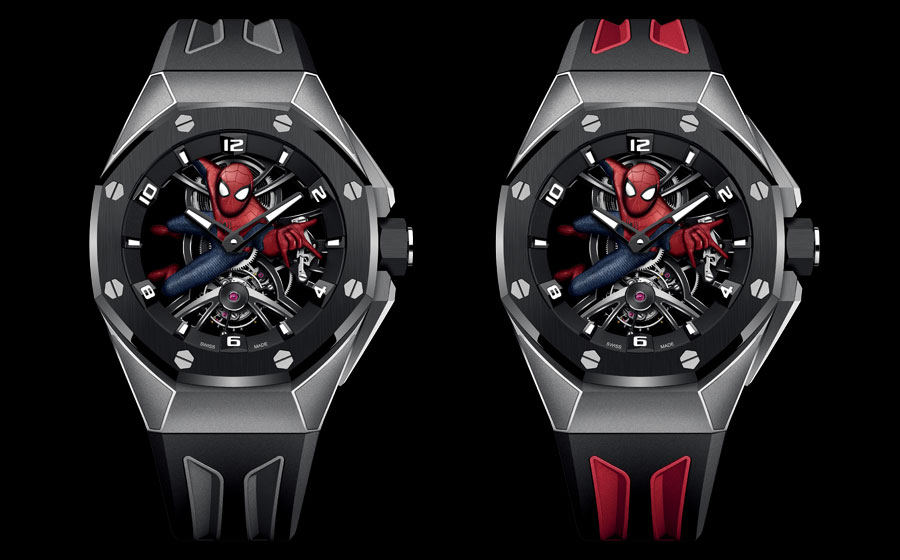 This 42-mm instrument is equipped with the interchangeable strap system and two rubber straps in black and grey or black and red, matching the superhero's signature colours. The titanium case alternates between polished and micro-blasted finishes and is contrasted by a bezel with eight visible screws and a black ceramic crown. It also houses the new, hand-wound Calibre 2974, developed for three years specifically for this super-edition.
Spider-Man in suspension in the Royal Oak Concept Tourbillon
The openworked movement, extremely skeletonised and stripped of anything unnecessary, has become Spider-man's playground. The superhero looks like he's suspended and ready to jump at you.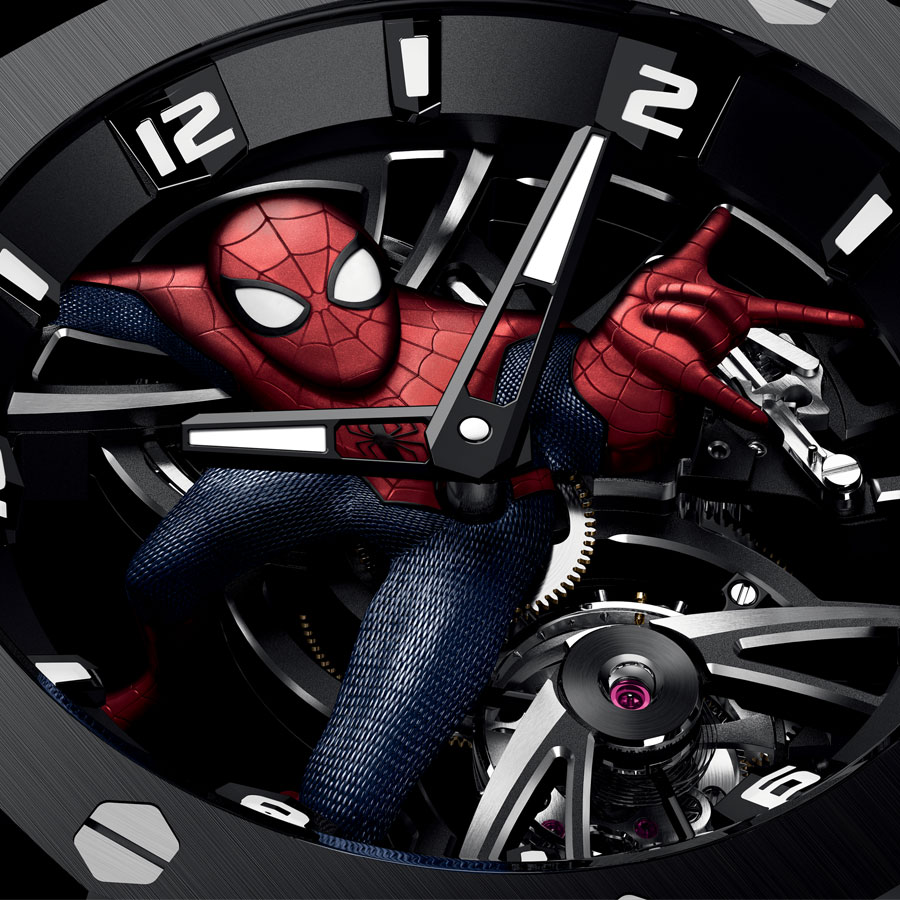 The light, tridimensional silhouette of Spider-Man seems to emerge from the dial. It was crafted from only one block of grey gold. As for his costume, it was meticulously laser-engraved to achieve a microscopic grained finish matching the texture of his famous suit. This careful technique required no less than 50 hours of work, with the intervention of a master engraver at the end for the last finishes. Therefore, every piece of the collection is unique. To perfect the overall design, the protagonist was hand-painted in matte red and metallic blue, his signature colours. The painter playfully emphasised the shadows and contrast.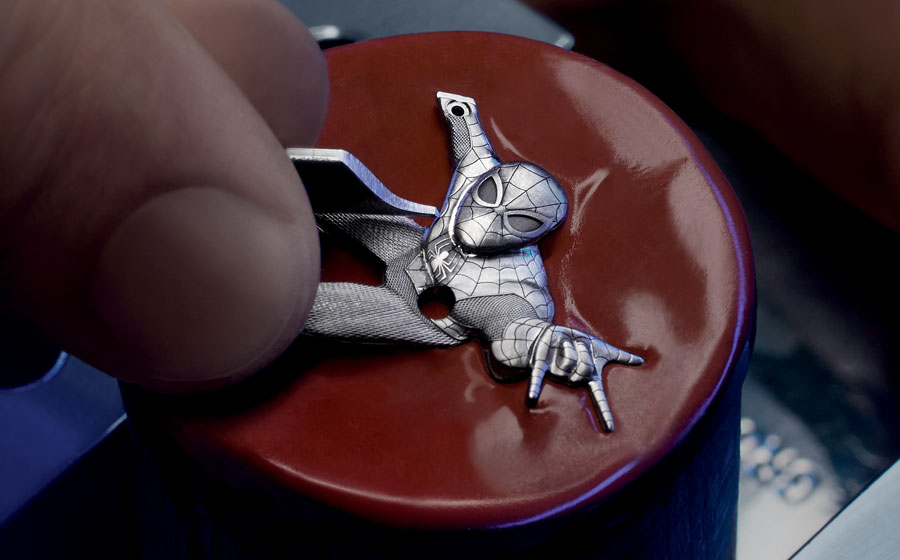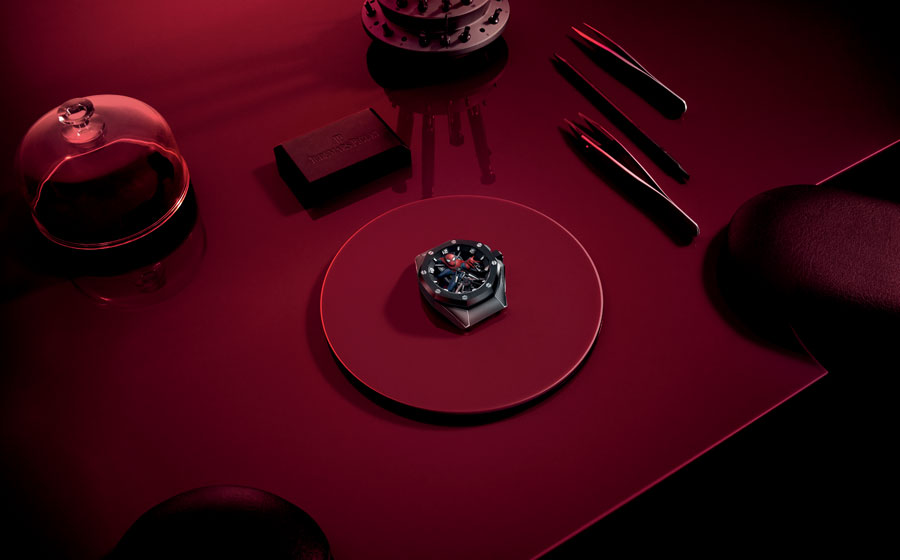 Spider-Man looks realer than ever with his outlined muscles, his hands and feet visible on the caseback, and his piercing, glowing eyes coated in luminescent material. This coating was also used for the hour markers and hands, crafted in 18K gold and covered with the black PVD present all across the dial.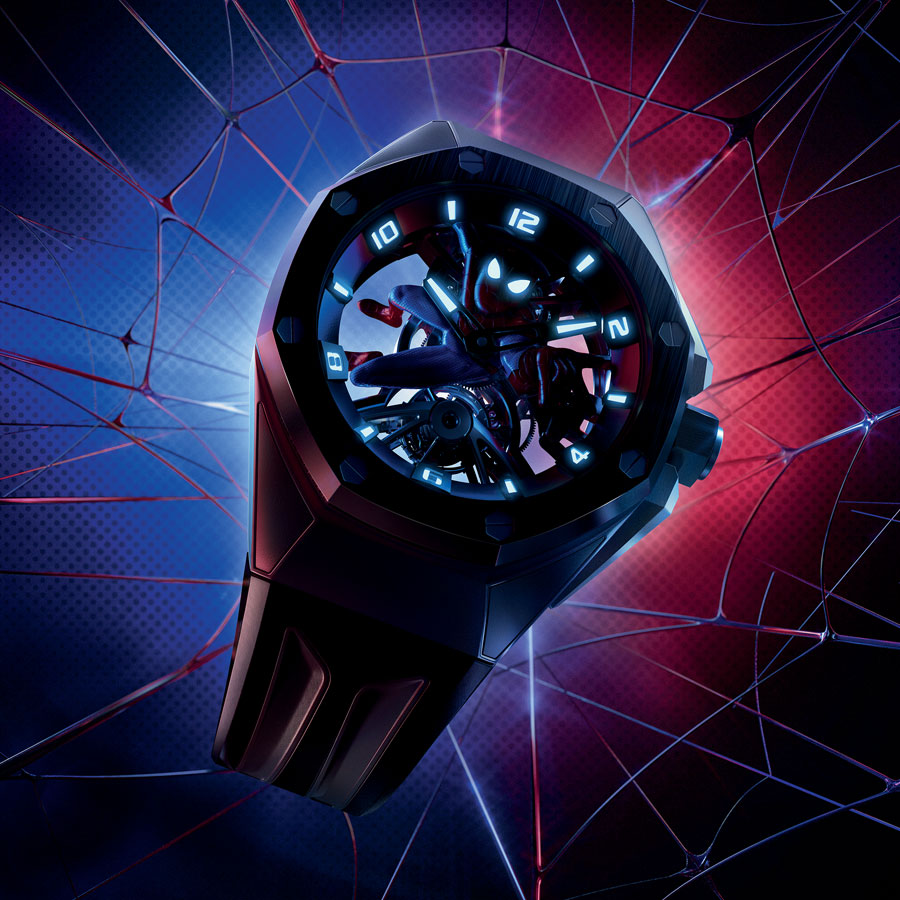 The signature tourbillon of the Audemars Piguet x Marvel collection
And the show is not over: the watch is powered by a tourbillon which regulates a precise, high-performance calibre. Our superhero is suspended from its inner workings. This feat of skeletonisation is hypnotising and can also be seen from the back.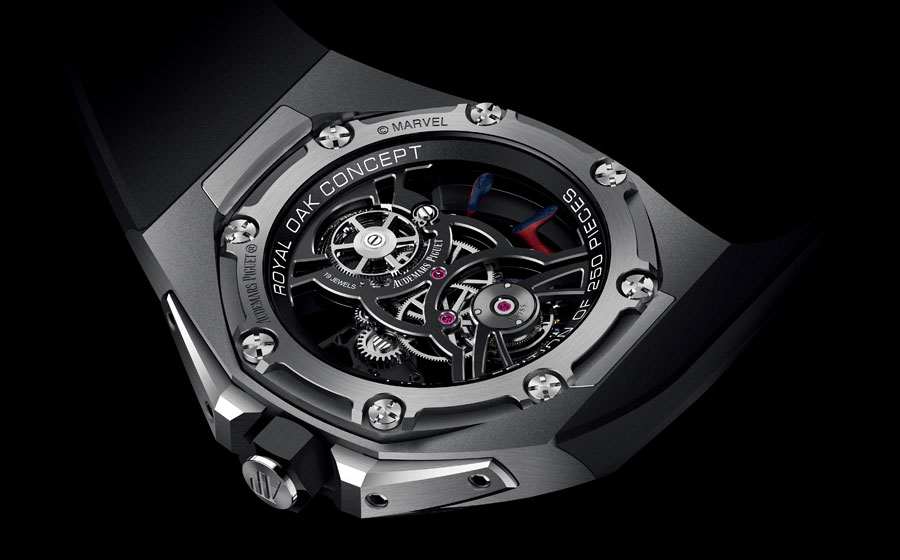 A unique piece sold in auction
Another, just as important thing to know: a unique piece of the Royal Oak Concept Tourbillon, called the "Black Suit Spider-Man", will be auctioned off in support of the First Book and Ashoka organisations. This particular piece displays a distinctive grey gold case band, laser-engraved with a spider leg design which is then filled in with high-tech luminescent ceramic. As for Spider-Man, he is wearing an all-black suit worn by the character in a few comic books from the 1980s. A true masterpiece.
Audemars Piguet x Marvel: who's next?
Despite Frank Sans C's tight interrogation, François-Henry Bennahmias did not spill the beans. All we know is the next character has already been decided and designed. The next watch will not be figurative, but heavily inspired by the superhero. It will still use a tourbillon, but also new technology: here are your only clues. So, who do you think it will be?
Limited edition of 250 pieces
CHF 195,000 (excl. taxes) so around €235,000 (all taxes incl.)
Click here to read the Royal Oak Concept Tourbillon Spider-Man full technical sheet.
AUDEMARS PIGUET WATCHES WEBSITE
See also:
Read also: