Frank sans C Video
Switch to French time
Switzerland is without a doubt the favourite country of watch lovers! Still, France does also have its own watchmaking history. It carried on to this day thanks to some masterfully run brands, which deserve our undivided attention! Take out your French flags.

By Frank Declerck
Herbelin makes the right changes
Newport – the flagship collection of the French house Michel Herbelin – is expanded with a new, flat, city watch. A first for the brand! The Slim is a real success because it was able to stay true to the collection's spirit while also updating its style by making it less of a sports model and more of a city reference.
And while some may find that the Newport inscription on the bezel is not very visible – as the watch is trying to be more classy – let's not forget that the name on the bezel at 6 o'clock is one of the signature elements of the collection. The elegance and finesse of the watch do not disappoint, and the piece is very comfortable to wear. This reference seems to be representing a milestone for the Maison as the quality of its finishes is exemplary considering its reasonable price. Available in June, let's wait and see.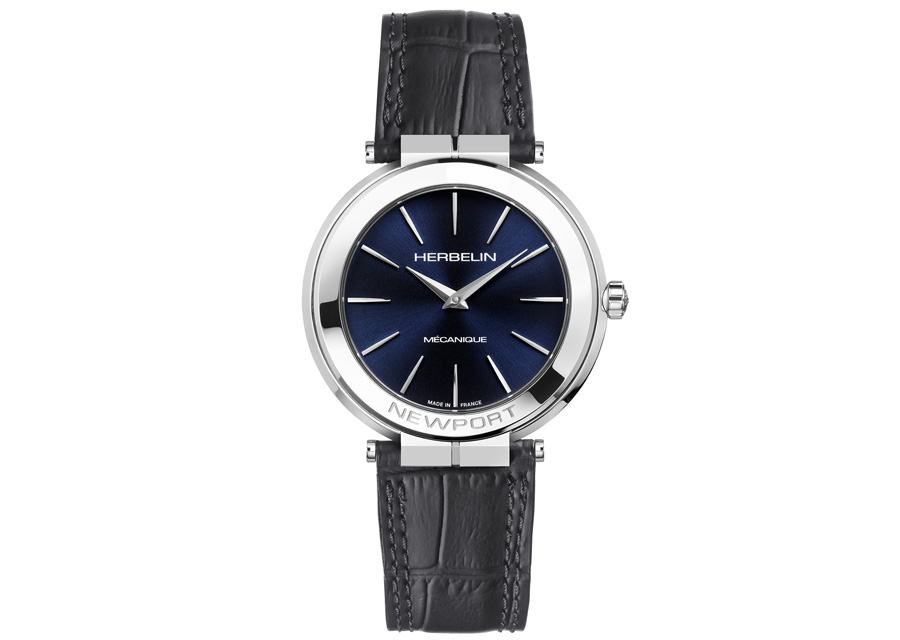 HERBELIN NEWPORT SLIM
Swiss-made manually wound mechanical movement.
Thickness: 7.30 mm
Diameter: 42.00 mm
Central horns and crown engraved with a ship's wheel
Dagger-shaped hands – or dauphine hands if you prefer (watch the video to find out why)
Well-crafted crocodile-embossed leather strap covered with a layer of rubber.
42-hour power reserve.
€750
Klockers… the comeback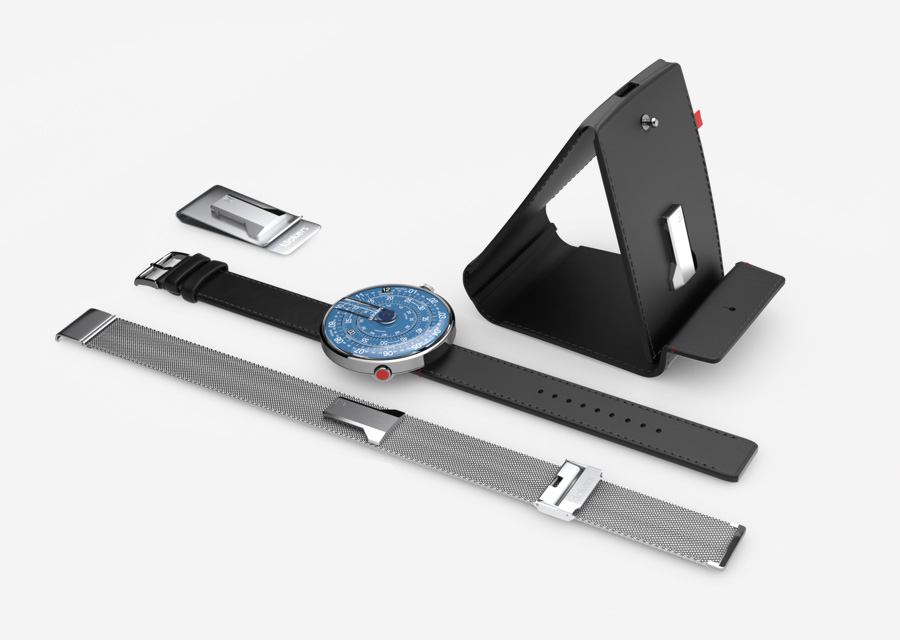 The brand first launched its models with some success in 2015 but stopped its activity because of technical issues concerning the rotating disks. Klocker is now coming back and will thrill everyone who – just like me – love watches that stand out.
Indeed, the watch is truly like a slide rule on your wrist. The style is fun, eye-catching and the interchangeable strap is easy to use. Worth noting: it will now also include a stunning Blue Note model featuring a black satin case which contrasts with the midnight blue dial. And now that the technical issues have been fixed, we can wager that the brand is destined for a bright future.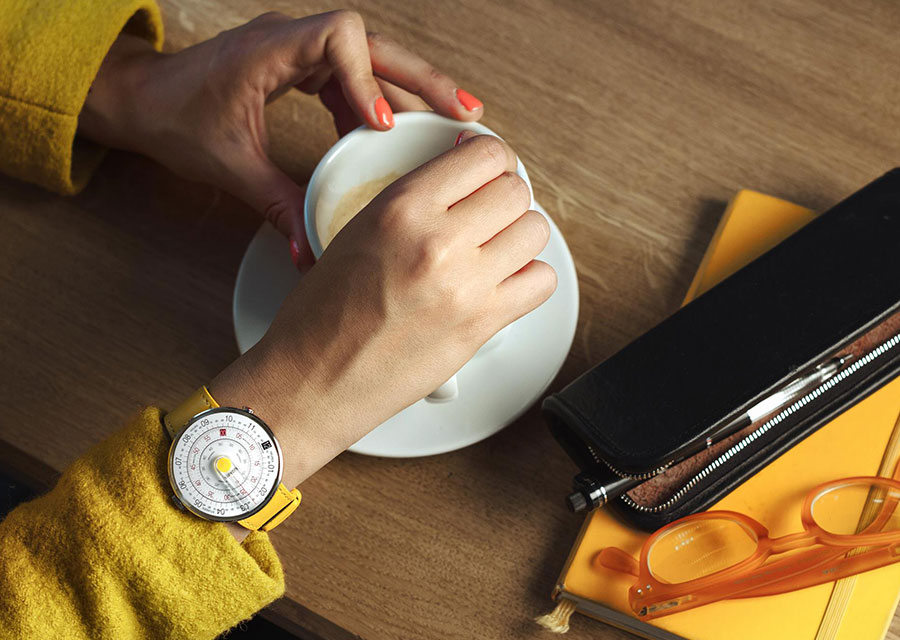 KLOK 01 Héritage
Ronda quartz movement
Time displayed on discs
44 mm diameter
316L stainless steel case
Push-piece at 8 o'clock to unlock the watch head from its base
Battery's lifespan: 16 months
€545
Grandval: original concept and founder
I like people who do not take themselves too seriously while doing serious things. When I asked Thomas Fontaine why he put a bezel with a 12-hour scale on his Atlantique Dual Club Time during an interview, he just said: "Basically, it's like a GMT for poor people". I thought his answer was brilliant. He added that "the watch is named Atlantique, and there are never more than a 12-hour time difference when you cross the Atlantic Ocean, right?". Well said. The guy is nice and the design of the watch is as original as he is, with its strap which directly comes out of the case and its crown put at 4 o'clock: "I wear my watch on my right wrist. I placed the crown there so it wouldn't bother me when moving my wrist". Well, he did not have any reason to deny himself the pleasure… And neither do we: pre-orders are now available for a delivery in September.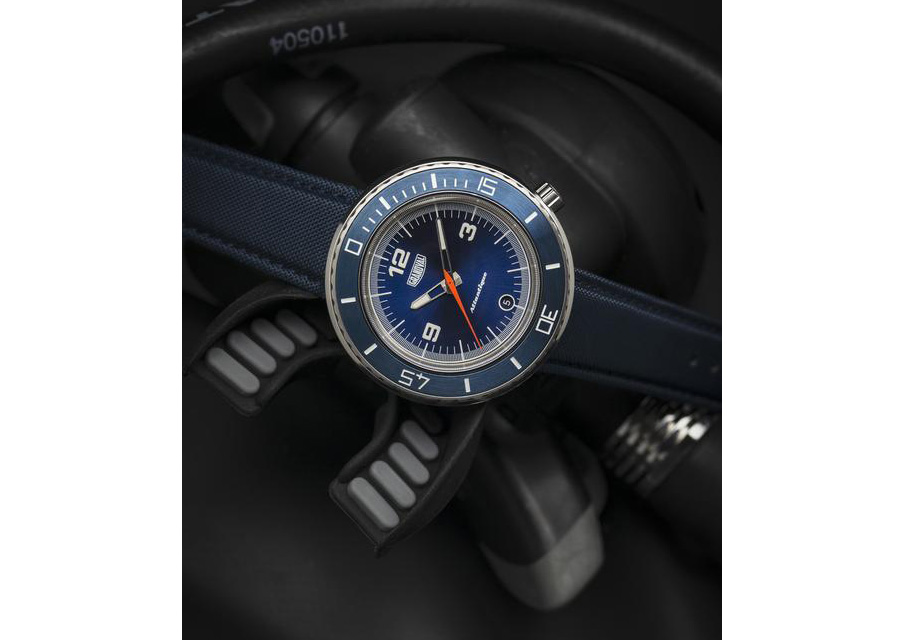 ATLANTIQUE DUAL CLUB TIME
Diameter: 44 mm
Water resistance: 200 metres
Domed sapphire crystal with anti-reflective coatings
Automatic Swiss made STP1-11 movement
44-hour power reserve
Brushed, Super-LumiNova hands
2 included straps: nylon strap and rubberized lining and tropic-like rubber strap
€890
Baltic: a family passion
The creation of a watchmaking brand is often the story of a deep-rooted passion. Baltic's watches are no exception. The founder, Etienne Malec, got his love for watches from the story of his father's own collection. The man was a real aficionado who kept all the information of his watch collection in a sort of logbook. Purchase, exchange, resale… He carefully kept track of everything. Etienne was still very young when he lost his father. It's when he immersed himself in the notebook that he got the idea of launching his own brand as a tribute to his father's passion.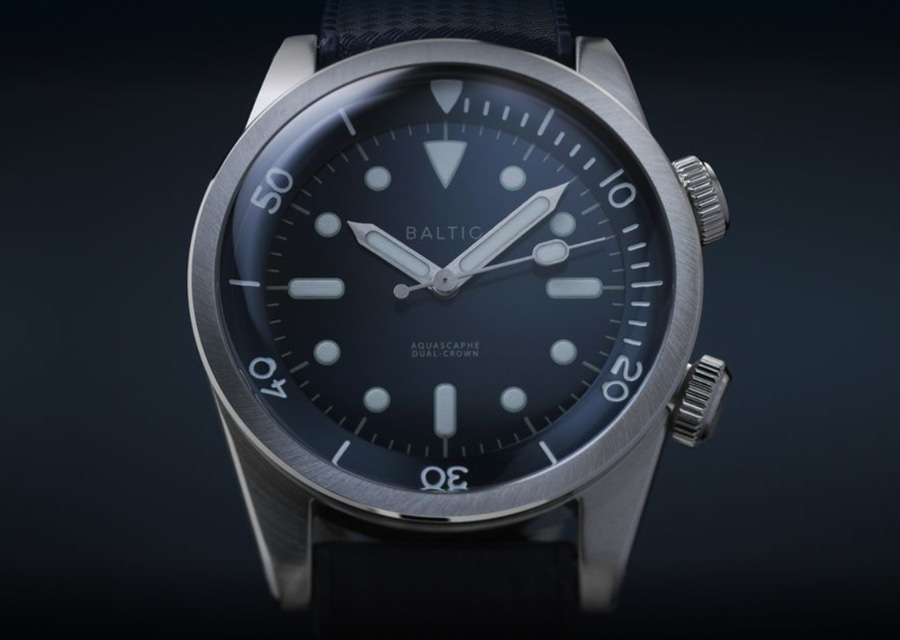 Nowadays, the brand – launched through the network Kickstarter – is a real success and the collections are very eye-catching. Baltic is not one for doublespeak speeches, the components come from all over the world and the brand proudly claims it! Still, the components are adjusted and assembled – according to the professional standards – in Besançon, a historic watchmaking city.
The Aquascaphe Dual Crown – the young brand's latest model – is as successful as the Classic, the – slightly – older model.
https://baltic-watches.com/en/collections/dual-crown-compressor

BALTIC AQUASCAPHE Blue Gilt
Diameter: 39 mm
316L stainless steel case
Water resistance: 200 metres
Double domed sapphire crystal
Sandwich dial
Automatic movement Miyota 9039
Beads of rice or tropic rubber straps
Sapphire bezel
€695
MATT EGG MASTER: a peculiar idea!
When a watch journalist – Paul Miquel – and the CEO of a watchmaking brand – Fabrice Pugez – share a drink, or several, one night during lockdown… it can only lead to the design of a completely crazy watch! That is all I am going to say, because the story is absolutely unbelievable. Find out all about it by watching the YouTube video. Here's a taste of what is to come: I talk about the ASOM, the egg mayonnaise protection association (yes, it does exist!), its co-president Monsieur Mayol (I could not make this up) and the brilliant Daniel Prévost (a great French actor and comedian) whose pun became the motto displayed on the dial: "Le temps passe, les oeufs durent" ("Time passes, but eggs stay firm").
And I almost forgot: this is the OFFICIAL WATCH FOR THE EGG MAYONNAISE WORLD CHAMPIONSHIP! The idea is as brilliant as it is far-fetched…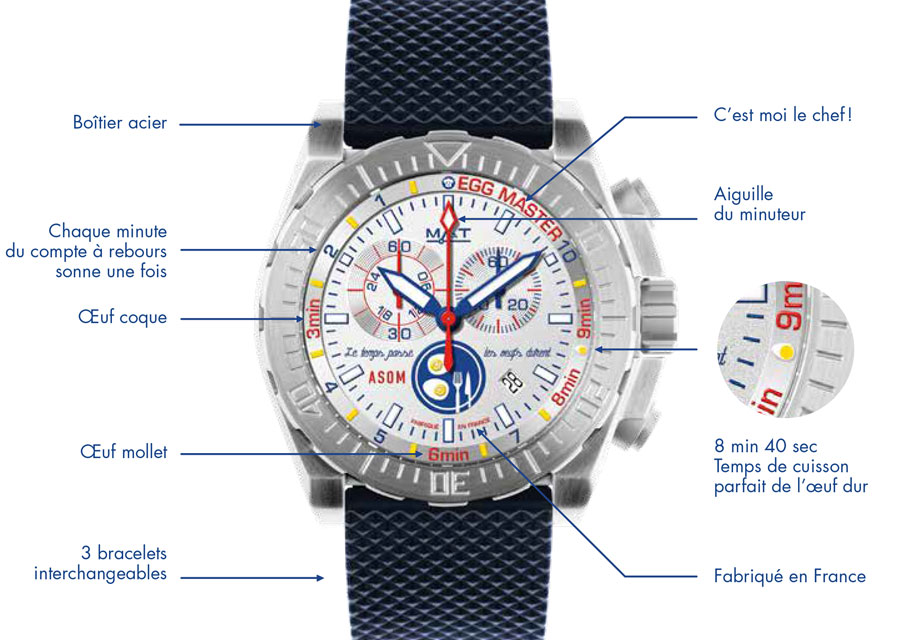 MAT EGG MASTER
44.0 mm case made of 316L steel
Water resistance: 100 metres
Scratch-resistant and anti-reflective sapphire crystal, 3.8 mm thickness
Swiss quartz calibre
Countdown function
Delivered with 3 interchangeable straps (rubber band, blue canvas and sand canvas).
€1,199