TAG Heuer Connected Modular : time for customization
By MyWatch
TAG Heuer Connected Modular 45 is the first TAG Heuer modular luxury watch bearing the Swiss Made label. Swiss watchmaker TAG Heuer unveiled the second generation of its connected watch, with its partners Intel and Google in complementing announcements taking place in Switzerland and California.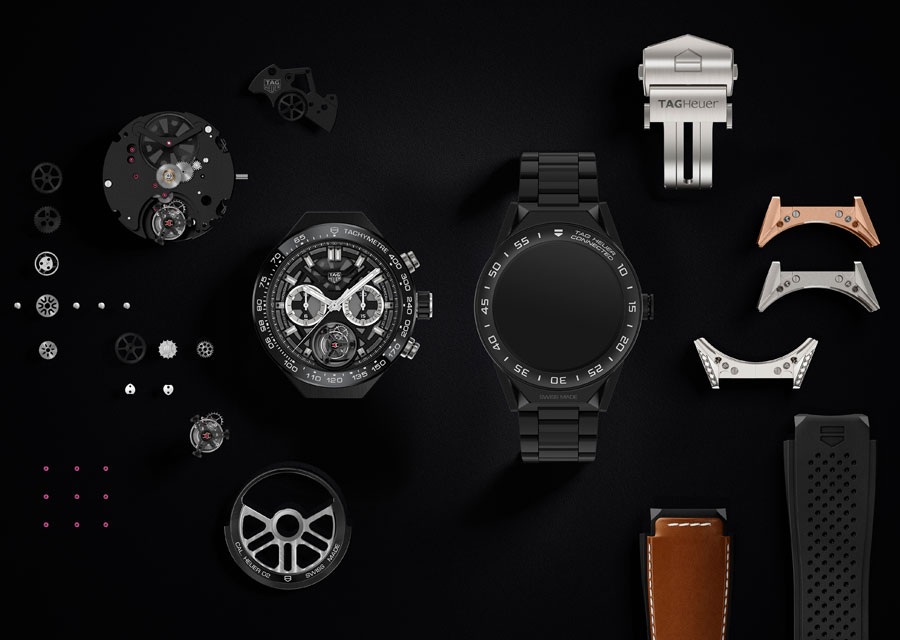 In Switzerland, the press conference, held near the highly symbolic Rütli Meadow in the heart of Switzerland, was led by Jean-Claude Biver, CEO of TAG Heuer & President of the LVMH Group Watch Division, accompanied by Josh Walden, Senior Vice President and General Manager of the New Technology Group at Intel, and David Singleton, Vice President of Android Engineering at Google.
In San Francisco, the press conference, held a few hours earlier at the St Francis Yacht Club, featured Intel CEO Brian Krzanich, TAG Heuer General Manager Guy Semon, and TAG Heuer Vice President of Connected Products & Technology Tom Foldesi.
Jean-Claude Biver, TAG Heuer CEO & President of the LVMH Watch Division, said: "After the huge success of the first TAG Heuer Connected watch, today I am very proud to present the Connected Modular 45. This is a Swiss watch which embodies the luxury codes of tomorrow, and which not only enables you to connect to the future, but also to connect to eternity thanks to its simple and smart modular design. This innovative, unique and distinctive watch is at the forefront of the latest technologies available in Silicon Valley and, at the same time, a genuine Swiss watch, bearing the Swiss Made label. It is the incarnation of our leading position with luxury connected watch and with this high level of technology."
"Engineering the next wave of smart and connected devices with iconic partners is a core strategy for Intel," said Josh Walden, Senior Vice President and General Manager, New Technology Group, Intel. "We are thrilled to continue our strong collaboration with TAG Heuer. With innovative design and technology, the TAG Heuer Connected Modular 45 redefines the capabilities of a luxury smartwatch."
"The first generation of the TAG Heuer Connected pushed the boundary of what is possible when you combine traditional watchmaking and cutting-edge technology," said David Singleton, Vice President of Android Engineering at Google. "We're excited to work with TAG Heuer again to create a new powerful connected watch that demonstrates the ongoing innovation of TAG Heuer's craftsmanship and the Android Wear platform."
Why choose Brunnen with the view on the Rütli, in the heart of Switzerland as the symbolic place in which to launch the watch?
Rütli in German means "Little meadow". It is Switzerland's founding legend and considered a national monument. Back in 1291, it was in this clearing, just above Lake Lucerne, that the representatives of the primitive cantons took the oath of Rütli to seal their alliance. Over time, the Rütli meadow has become a "national shrine". Here, on the 1st August every year, Switzerland celebrates an official national holiday. It was this deep-rooted connection to true Swiss values that Jean-Claude Biver wanted to highlight by gathering his partners from Silicon Valley and the world press here.
What is the essence of the TAG Heuer Connected Modular 45 watch?
The TAG Heuer Connected Modular 45 has been designed and engineered in the pure Swiss watchmaking tradition. It is a luxury Swiss watch which benefits from over 150 years of Swiss expertise, savoir-faire and heritage as cultivated by TAG Heuer, a watchmaker based in La Chaux-de-Fonds, the cradle of Swiss watchmaking (and a UNESCO World Heritage site). For more than 150 years, TAG Heuer has been inventing and manufacturing elegant sports watches here, including some of the most accurate chronographs produced by the Swiss watchmaking industry.
The finest of watch labels: Swiss Made
Just like the brand's famous mechanical chronographs, the Connected Modular 45 has been designed, developed, and assembled in the TAG Heuer Manufacture, in La Chaux-de-Fonds in Switzerland, in the same spirit and with the same high standards as a luxury product with Swiss Made quality. The same techniques, the same meticulous finish, the same attention to the minutest detail, the same exacting standards. This Swiss rigour and accuracy, this watchmaking expertise has earned it the "Swiss Made" label, the guarantee of the highest standards of Swiss quality.
The original concept of modularity: only a luxury and avant-garde watchmaker could offer this
Above all, the connected watch is a Carrera Model. It fits in this famous TAG Heuer collection, the perfect representation of avant-garde, Art of Manufacture and accessible luxury. Measuring an elegant 45 mm in diameter, the design of the TAG Heuer Connected Modular is primarily that of a genuine watch whose lugs, strap, buckle and, in particular, case – its central module – are interchangeable elements.
Made from satin or polished grade 5 titanium, or plated with 18K 5N rose gold, or in black ceramic, with or without diamonds: after choosing a watch from the 56 different versions available from its launch (a selection of 11 standard models are systematically offered in store + 45 others on request), the entire exterior of the watch can be customized.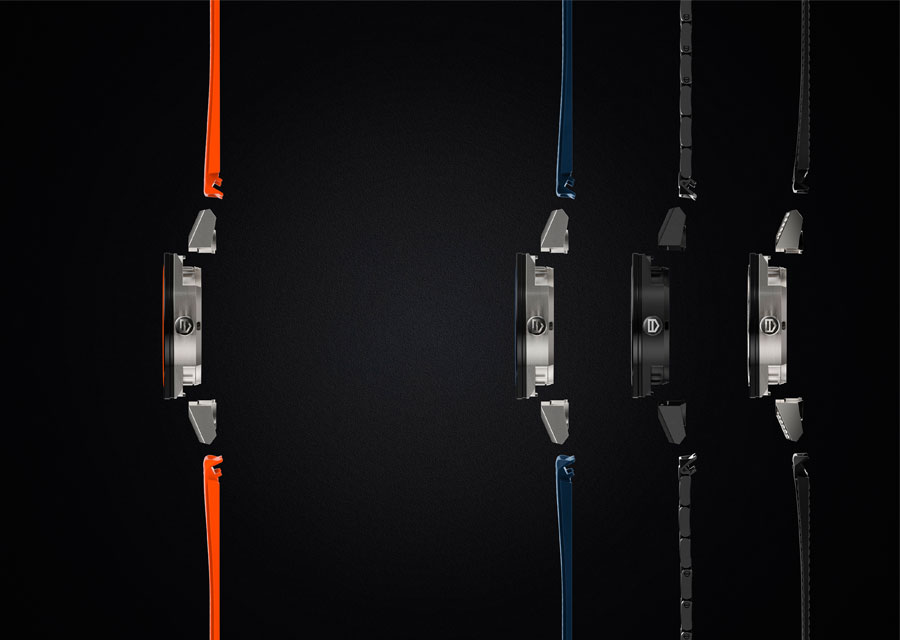 This customization will enable a multitude of combinations in terms of materials and colors. For the choice of strap alone, there are no fewer than 18 references available, made from rubber, natural leather or anthracite grey leather, titanium or ceramic.
Prepare to be amazed… a world-first in watchmaking? You can complete your connected module by purchasing a Swiss mechanical movement module such as a 3 hands calibre 5, or the most prestigious of Grande Complication timepieces, the ultimate expression of the watchmaker's art – the tourbillon. But not just any tourbillon. The manufacture chronograph Tourbillon Heuer 02-T, with a titanium and carbon case, COSC certified. TAG Heuer is today the only manufacture in the world able to reach this level of production.
In this way, you can very easily change the heart of your watch – the module – from a connected watch to a mechanical watch, and back again, to suit the occasion and your mood. Ultimately, this watch has all the elegance of a genuine timepiece, all the characteristics and the level of finish of a magnificent Swiss watch on your wrist.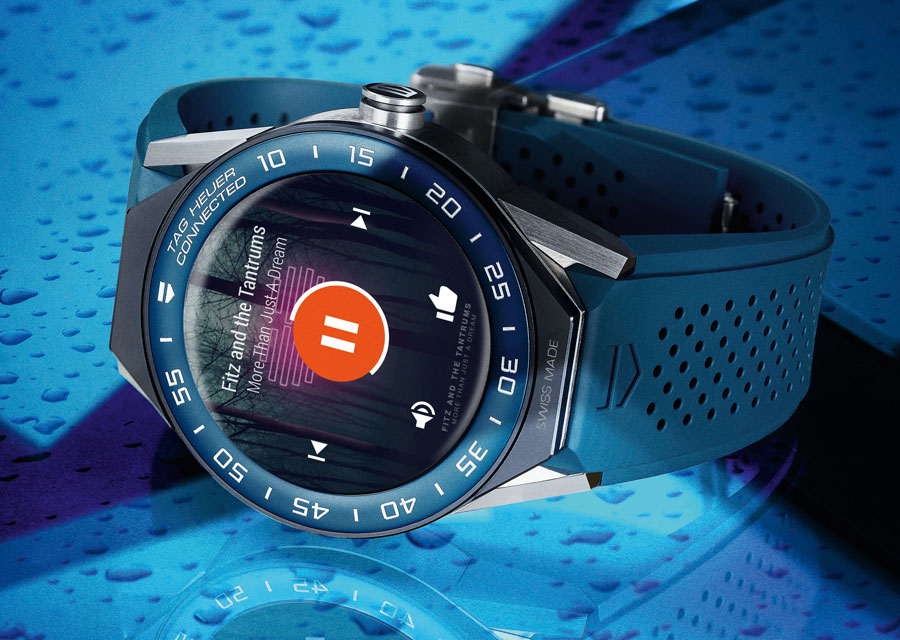 Smart and beautiful
The TAG Heuer Connected Modular 45 simplifies your life, thanks to our engineering collaboration with Intel. Incredibly practical, the built-in GPS enables you to track your journeys and sporting performance, with no need for your phone: all the information you need is right there on your wrist.
All this technology can also be taken with you into water, thanks to its 50m water resistance. So you can swim, run, ski, explore, and live life to the full. The watch also makes your day-to-day life easier, saving you time, as you can make contactless payments using its NFC chip and the Android PayTM app- means you can use your watch to pay directly at enabled points of sale.
Finally, screen uses OLED technology which offers incredible resolution and amazing colors, providing high contrast to stunning effect on the highly sophisticated watch dials – you won't believe your eyes!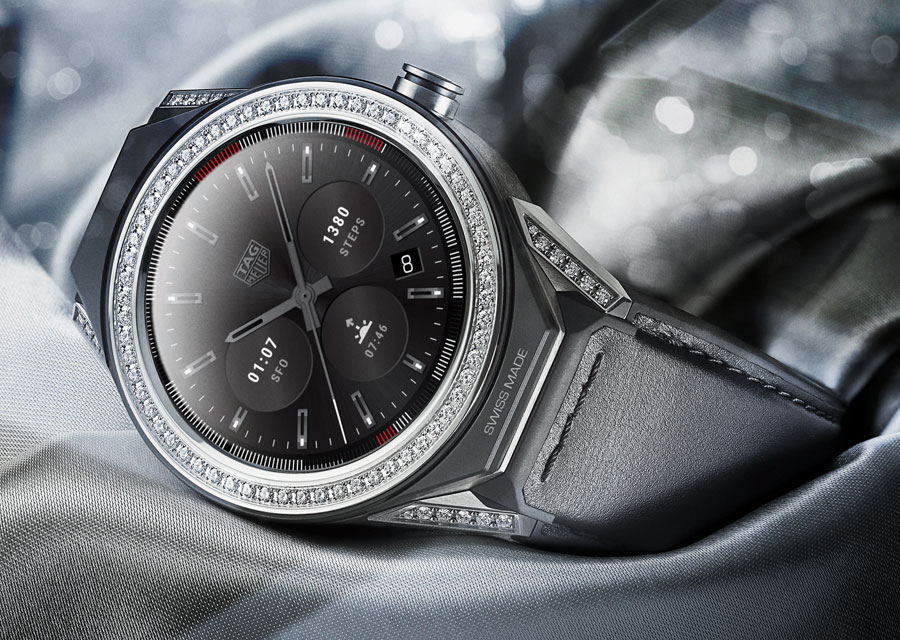 A wealth of digital watch dials bearing TAG Heuer's famous codes
The modularity concept extends to the watch's software, with dial customization. The brand has developed 30 watch dials, all retaining TAG Heuer's identity, some of which are inspired by historical pieces such as the famous panda dial, drawing on the brand's great heritage.
Colored white, black, light grey, anthracite grey, chocolate brown, navy blue or gold, with sunray finish, skeleton dial, 3 hands, GMT, a chronograph with 1, 2, or 3 counters, plus a date and day window, these dials are interchangeable with a single swipe of the finger.
Create your own dial… just like a watchmaker
The TAG Heuer Studio dial configurator also offers customers the chance to create their own dial, just like a watchmaker. In the blink of an eye, you can choose your standard dial with its functions, and customize all the colors, the look of the metals on the indices and hands, the details in SuperLuminova™ and the lacquered tips for the finishing touches! With TAG Heuer Studio, you can coordinate your watch to match your business suit, your running gear or even your swimsuit. And if you fancy setting the wallpaper to show one of your own photos – perhaps a photo of a loved one, a beautiful sunset or a fond memory – you can give your creativity free rein, because anything is possible.
Customize the interactive counters
Thanks to interactive counters, customers can choose to display up to three of their favorite apps on the dial: the number of steps taken, the number of calories burned, the dollar rate, free time before the next meeting… these are just some of the many options depending on your interests. Everything you need, at your fingertips.
A new TAG Heuer Connected app available on Android, with iOS support coming soon
The new Companion app is designed to help you get started with your new watch and make the whole experience nice and easy. To take advantage of all the options available on these watches, Android users can download the new TAG Heuer Connected app to preview the various dials available and benefit from TAG Heuer Studio on a larger screen. You can also set your watch screen to show one of your own photos using this app.
Coming soon
TAG Heuer will soon be launching a brand new world exclusive time management experience: as modular as the watch faces, its unique watch display and companion app understand your plan for the day, and show you what you need to know about your meetings, tasks, calls, plans, travels and more. This isn't about remembering to swing by for flowers at 6pm anymore – the new experience adapts to your schedule, and if you're behind, it'll still remind you when you're on your way, even if that's 15min later than originally planned. Tag Heuer Connected Modular 45 is redefining time, for an experience that reflects the modern lifestyle. Stay connected and experience a watch that reflects what time means to you.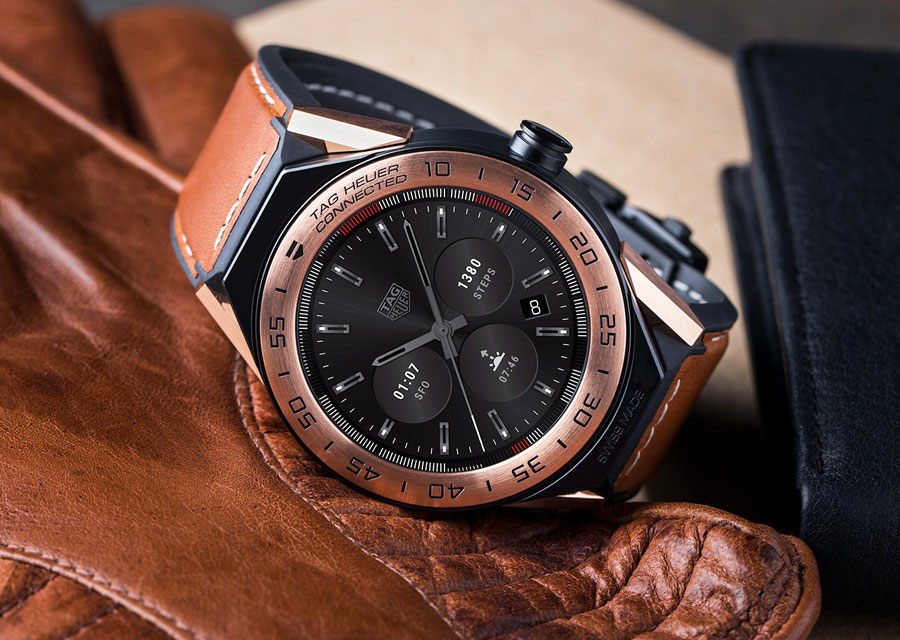 To conclude…
TAG Heuer has worked closely with Intel and Google to create a luxury watch which combines connectivity and smart technology with Swiss watchmaking expertise. The watch is powered by an Intel® Atom™ processor Z34XX series and operates on Android WearTM 2.0. Power meets technology, like in a modern GT car.
TAG Heuer collaborated with Intel to engineer the smart technology behind the watch's superior performance and multitude of connectivity options including Bluetooth, Wi-Fi, GPS and NFC, and which also enables users to benefit from a wide range of functions offered under the Android Wear operating system. The motherboard is produced in Switzerland. The final assembly step and testing are completed in TAG Heuer's own workshop in La Chaux-de-Fonds.
Featuring 4 GB of storage memory and a latest-generation lithium battery providing more than a full day of power, the TAG Heuer Connected is fitted with a small water-resistant microphone enabling the wearer to communicate with it using Google Assistant, as well as a sapphire crystal touchscreen, to be used alongside the command crown at 3 o'clock.
What if the phone is off? No problem: the watch will continue to compute, display and exchange information while you have a Wi-Fi connection and so remain in contact with the Cloud. Naturally, the applications installed on the watch (music, timer, alarm, pedometer, etc.) remain active even when no connection is available.
Thanks to the very latest Android Wear 2.0 update, iPhone users can now benefit from the almost infinite universe of platforms with apps available for download directly on that watch, and an enhanced ecosystem.
The watch can easily be synchronized with a mobile phone operating on Android 4.3+ or iOS 9+. It is recharged using a contact charger. Simply place the watch on top to recharge it.
Warranties and prices
The connected and mechanical modules benefit from a two-year warranty. This period – longer than usually offered on a product of this type – meets the same high warranty standards which luxury Swiss watchmaker TAG Heuer offers for its timepieces. All the accessories (strap, buckle, lugs, charger) are covered by a one-year warranty.
The TAG Heuer Connected Modular 45 is on sale from 1690 CHF, 1650 USD (ex.VAT), 1600 Euros, 1400 GBP, 13,100 HKD, 175,000 JPY (ex.VAT), 2300 AUD, 7350 MYR, 2400 SGD.
A Deluxe box set including a connected watch (in grade 5 titanium, with titanium lugs and brown natural leather strap), complete with the prestigious COSC-certified chronograph Heuer-02T tourbillon mechanical module, plus an additional black rubber strap is available for a total price of 17,900 CHF/16,650 Euros/17,000 USD (ex.VAT).
The set comes in a magnificent presentation case with three drawers, complete with a desktop display stand to hold the watch and its charger.