Breitling novelty
The Chronomat becomes a Super-model
A few months ago, we presented Breitling's Chronomat collection with several feminine versions. To ensure no one gets jealous, we're now going to reveal the new masculine variations, with the Super Chronomat B01 44 and the Super Chronomat 44 Four-Year Calendar.

By Chloé Redler
Super Chronomat, the super chronograph is bac
After the quartz crisis shook the Swiss watch industry in the 1970s and 1980s, Breitling returned brilliantly to the world of mechanical watches – and more specifically of chronographs – with the Chronomat collection and its generous size. This sports collection, which is inextricably linked to the history of aviation, has become since then an emblematic model of the house.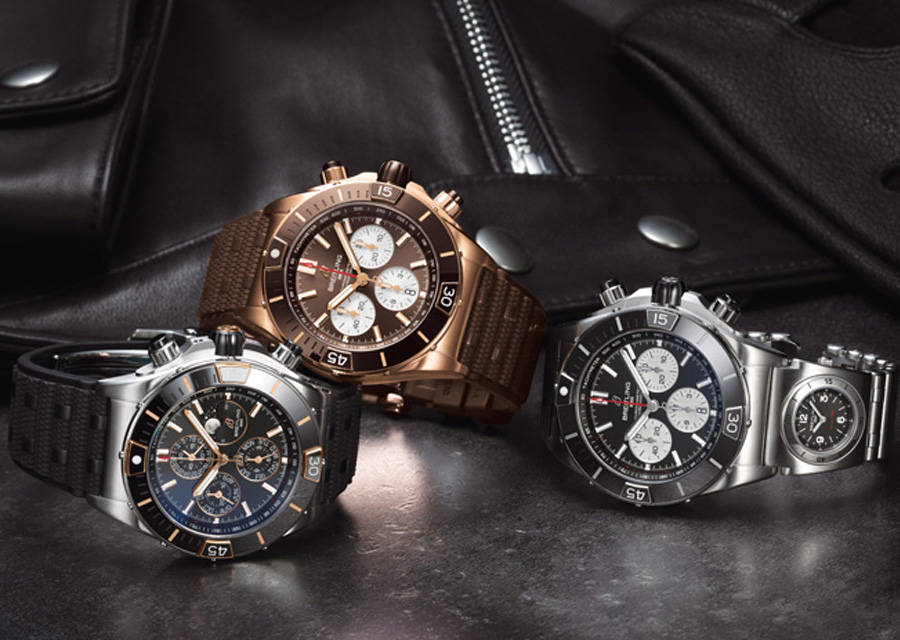 Last November, we presented the Chronomat watches made for women's wrists with their delicate size of 36 and 32 mm (read our article about Breitling and the new feminine Chronomat). The brand released a vast range of different cases – from steel to red gold and two-coloured models – and some are even adorned with a case and indices set with diamonds to look like a jewel. Still, Breitling did not forget the male population as it completed the iconic collection with resistant and bold variations. Let's turn the spotlight on these new editions.
One watch, multiple possibilities
The Super Chronomat B01 44 and its three colours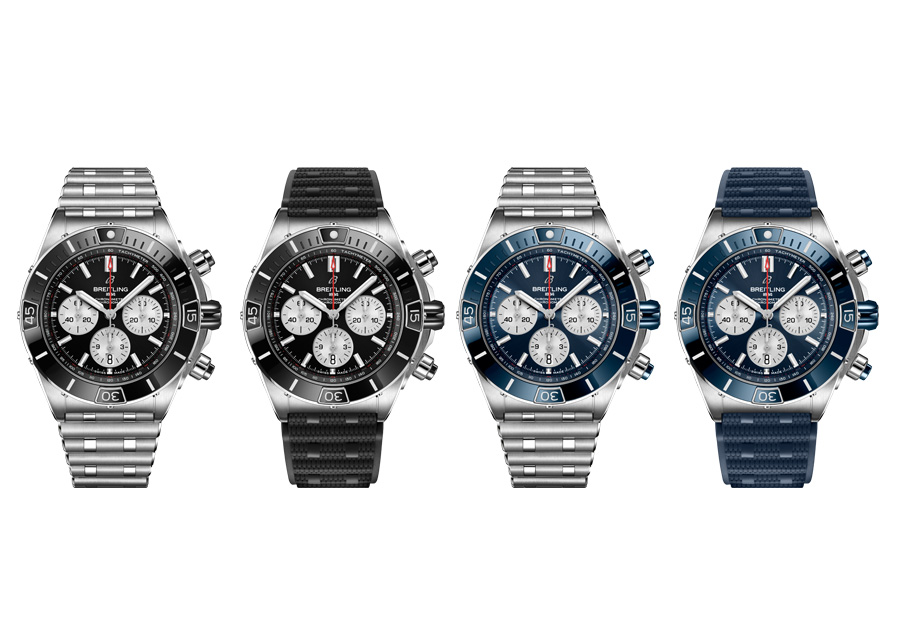 For the design, Breitling was inspired by a model named Frecce Tricolori made by the house in 1983 for the pilots of the Italian aerial squadron. Available in three versions, the 44 mm diameter chronograph – in steel or red gold – combines a vintage look and a modern dial – in black, blue or brown – which features a unidirectional bezel with a matching ceramic insert. It is a first on a Chronomat. The indices and the rider tabs numerals – aesthetic signature of the collection – are coated with a luminescent material to ensure readability in any given situation.
The instrument is water-resistant up to 200 metres and is equipped with an automatic movement which is COSC-certified (Official Swiss Chronometer Testing Institute). It powers a dial which contrasts with the silver subdials and offers a 70-hour power reserve.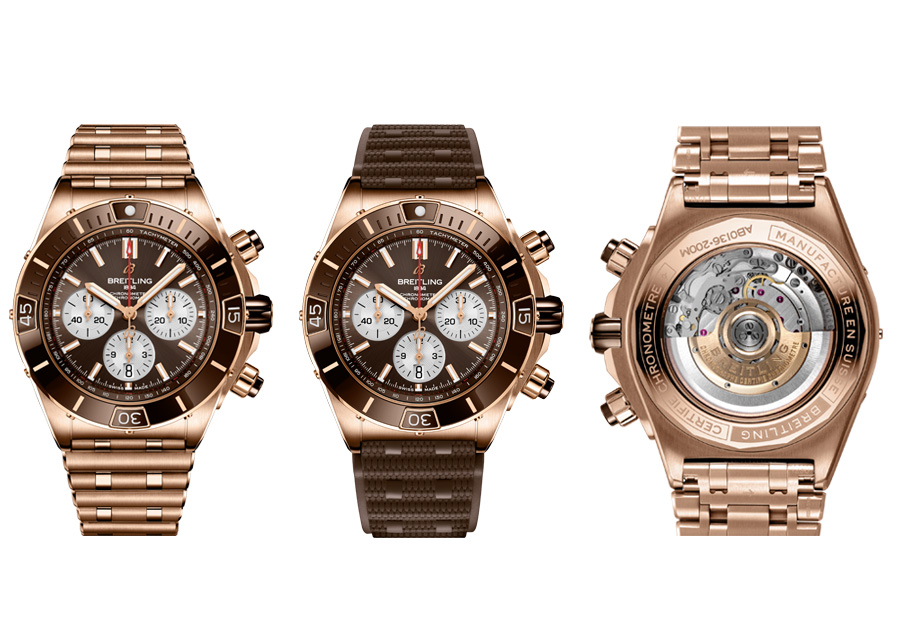 Our Super Chronomat B01 44 technical data sheet
Universal version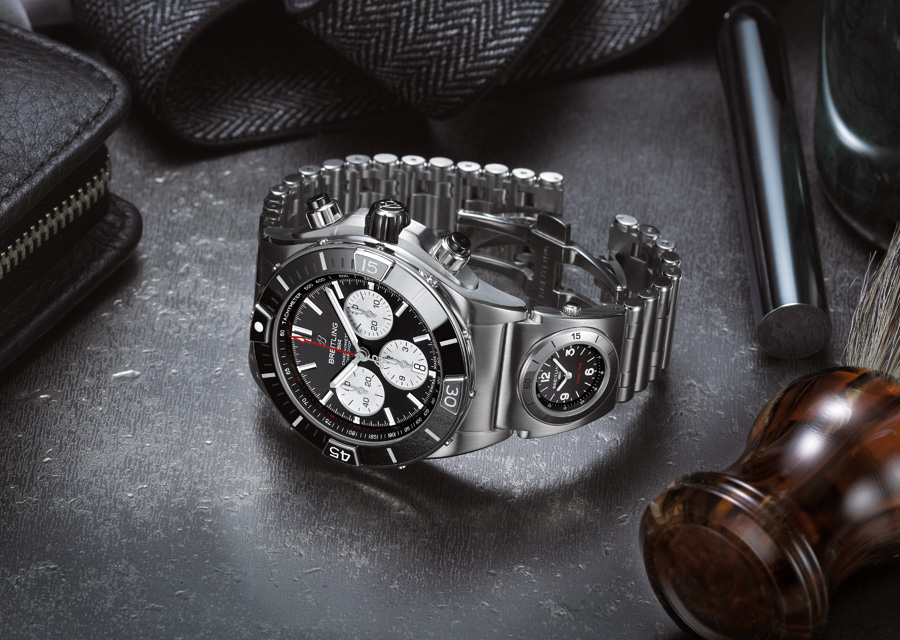 A special version, with the same features as its fellow watches, comes with an additional black dial with a UTC module integrated to the Rouleaux bracelet. This very clever function tells the universal time and displays a second time zone. This detail will appeal to business men and explorers who travel through different countries in only a few days.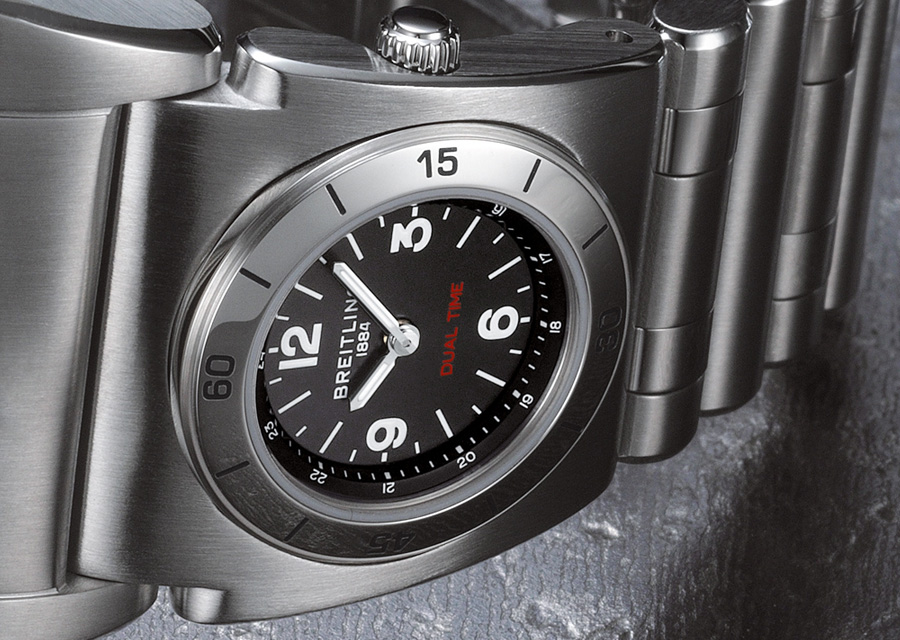 Our Super Chronomat B01 44 UTC module technical data sheet
The Super Chronomat 44 Four-Year Calendar: leap year mode on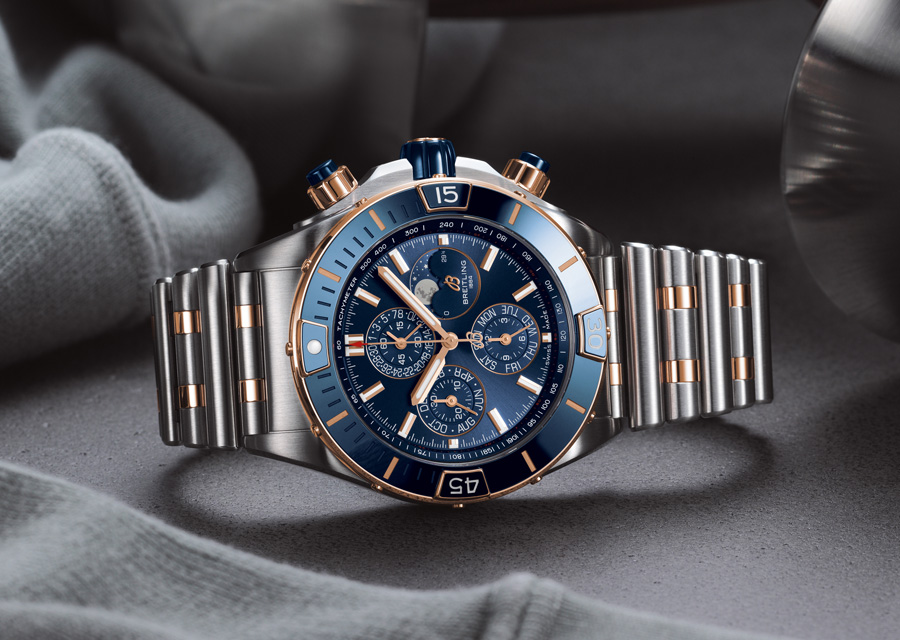 The two versions of the Super Chronomat 44 Four-Year Calendar – featuring a black or blue dial and a steel or red gold with a black or blue ceramic insert bezel – integrate a semi-perpetual calendar which needs adjusting once every leap year, or every 1,461 days.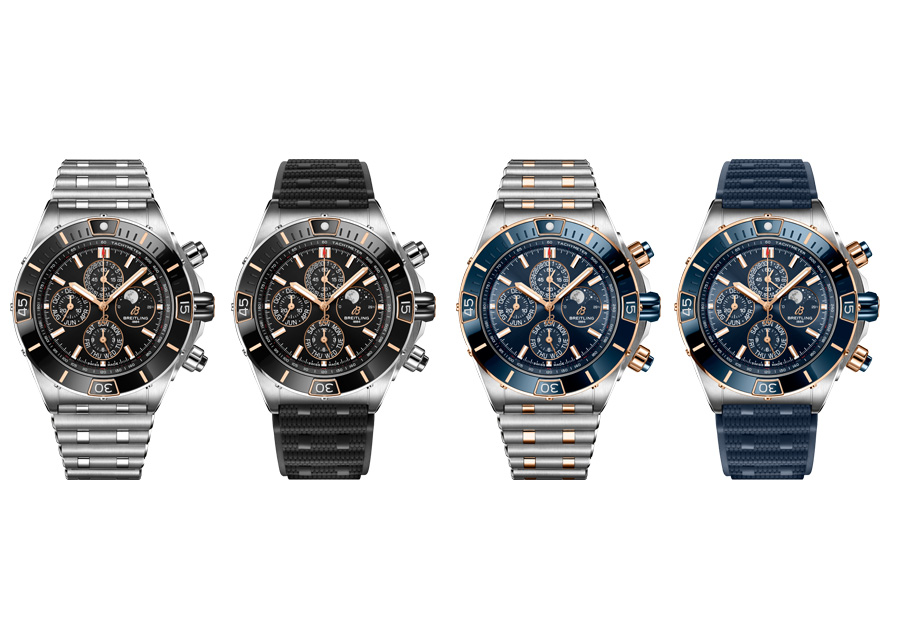 Powered by a chronograph movement – once again COSC-certified – this mechanism also displays the day, the date, the month and the moon phases. The piece comes with either a Rouleaux steel bracelet, a two-coloured bracelet (steel and red gold) or rubber strap (blue or black) – which offers at the same time a matte, sleek and textured look. Small but significant detail: this last strap is made thanks to an extremely precise and technical moulding injection technique.
Read also: