Frank sans C Video
Tissot, Swatch, Awake, LIP, Breitling: the perfect watches to wear on vacation
Wondering which watch you should wear this summer to laze around or to practice extreme sports? "Frank sans C" shares some good ideas for every style, materials and price range.

By Nicolas Yvon
Choosing a watch for the summer is above all a case of love at first sight. Excitement and colours, as well as resistance and functionality spur the purchase. This summer, the trendy watches are sustainable and ethical instruments. But also don't forget to opt for textile and rubber straps because of the heat.
AWAKE: eco-responsible summer watches
The small French brand became known – thanks to the President Emmanuel Macron – during the G7 in Biarritz in 2019. And it kept on innovating and paving the way for eco-responsibility.
It is also notorious for its models made of recycled fishing nets (exclusive PolyCarbon named Re:Nylon) and is constantly coming up with new ideas. And new propositions. For instance, at AWAKE, "summer watches" rhymes with "respect and protection of the environment". The AW.01 models are the perfect example.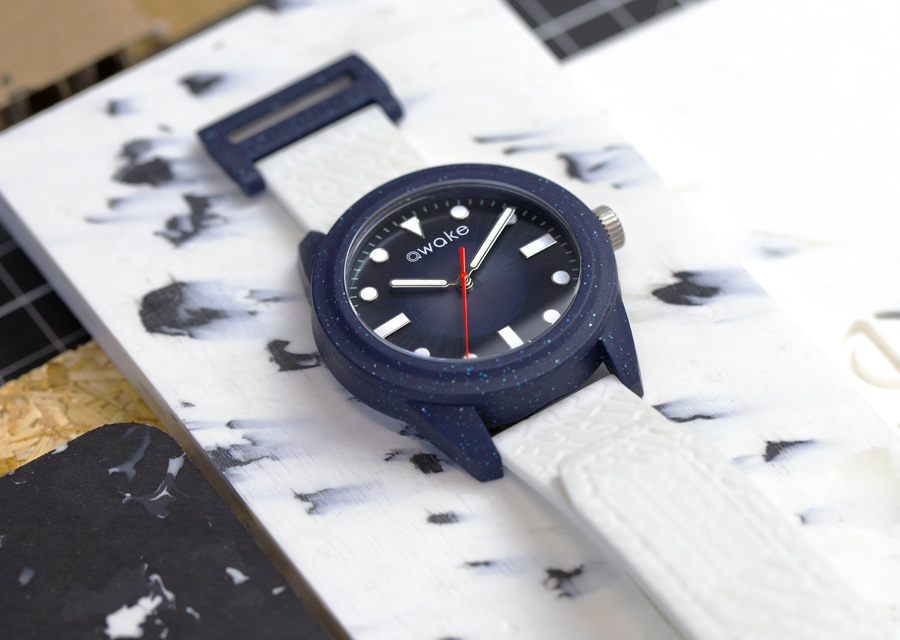 The timepieces are equipped with a solar Miyota Japanese movement. The photovoltaic sensors are located within the dial and a complete charge offers a 6-month autonomy.
This AW.01 ATELIER version issued in only a hundred pieces sports the French flag's colours
Because the AW.01 Atelier edition boasts red, white and blue, it will be one of the most appropriate watches to wear this summer in France. The watch combines a blue Re:Nylon case to a white strap with Velcro fasteners – which is also innovative as it is made of BioPoly. This material is a biopolymer made of fair trade castor seeds and is manufactured by the French company Arkema.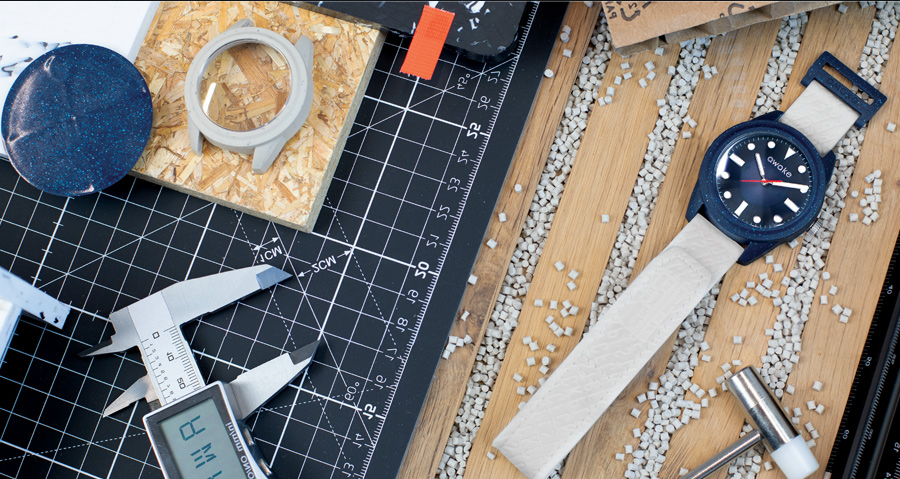 The AW.01 ATELIER comes with a 42 mm diameter case which is water-resistant up to 50 metres. The case is also extremely comfortable as it only weighs 29 grams.
And even the packaging is eco-responsible, though it does look like a hamburger box. It is even biodegradable and can be composted as it is made of sugar cane fibres!
Awake is committed to develop short supply chains and chose to set up its workshops in Besançon to assemble its entire production there. The brand thus shows its intent to achieve a 100% "made in France" production!
Awake AW.01 Atelier technical specifications:
Lug width: 22 mm
Thickness: 11 mm
Weight: 29 g (case only)
Anti-reflective mineral crystal
Photovoltaic Solar Miyota EL31 Movement
Strap: BioPoly made from castor seeds, 20 mm
TISSOT T-Touch Connect Solar: the summer watch connected to the sun
Tissot's T-Touch is a modern "tool watch" which was – when it was first released in 1999 – the first multifunction tactile watch.
In 2021, the last generation named T-Touch Connect Solar is a connected device compatible with iOS, Android and Harmony. Solar sensors are located under the dial to recharge the battery thanks to the sun's energy (up to 6-month power reserve).
Titanium, ceramic, sapphire crystal, rubber: the T-Touch is made of extremely resistant and light materials
Though the 47 mm case is quite large, it is very light since it is made of titanium. The case also showcases a 100 m water resistance and comes with a ceramic bezel featuring the four cardinal points (compass).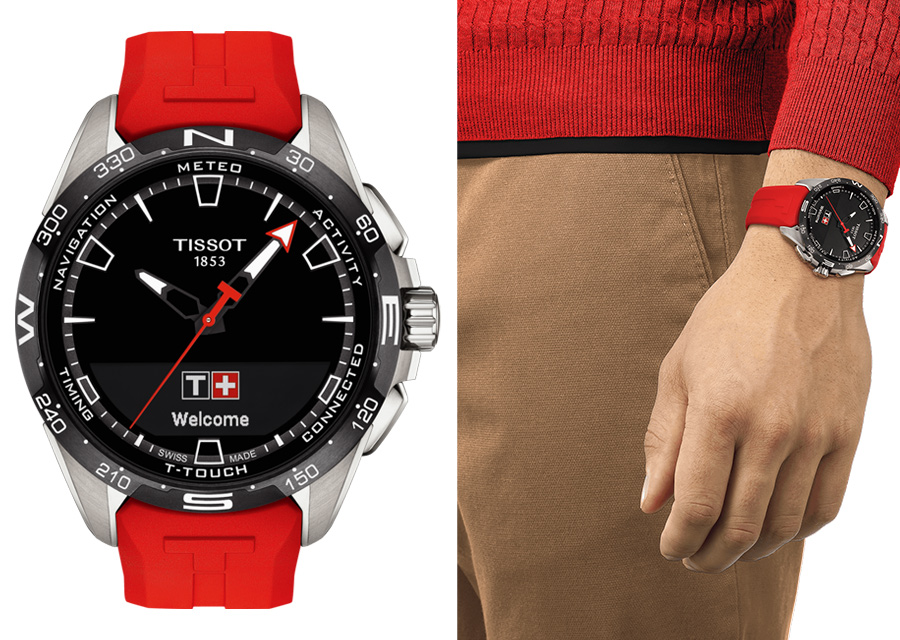 The various functions can be accessed easily thanks to features such as the tactile scratch-resistant sapphire crystal, the push-pieces and the electronic crown.
Intuitively "pilot" your Tissot's T-Touch Connect Solar with the tips of your fingers
The watch features traditional complications such as: weather trends, altimeter, compass, countdown, chronograph, GMT, alarms…
As a connected device, the Tissot T-Touch Connected Solar also offers, of course, all the functions of the application that can be downloaded on your smart phone (sports, physical activities). The level of consumption caused by exchanges and notifications (calls, messages, e-mails…) is substantially reduced by a Bluetooth Low Energy chip.
Moreover, it is important to note that your personal data is entirely protected thanks to several security systems.
Anyway, with the Tissot T-Touch Connect Solar you have a true Swiss Made multifunction connected watch in the palm of your hand.
And, truth be told, the red rubber strap looks rather stunning!
Tissot T-Touch Connect Solar technical specifications:
SW-ALPS low-energy operating system
47.0 mm diameter and 15.3 mm thickness
Electronic crown
Ceramic bezel
Luminescent cardinal markers
Tactile scratch-resistant sapphire crystal
Water-resistant up to 100 m (10 ATM)
Quartz movement, solar recharge
Solar sensors under the dial
Low-energy MIP (Memory In Pixel) digital screen
Tissot's T-Touch Connect Solar
SWATCH Space Collection: when summer watches take you up to space
It is no secret that Swatch is right in the middle of an ecological revolution.
It started in 2020 with the launch of bio-sourced plastic models made of castor seeds (they are everywhere!). And it continued in April 2021 with the invention of Bioceramic – a mix of two thirds of ceramic and one third of bio-sourced plastic. This material is bound to be found more and more within the Swiss manufacture's collection.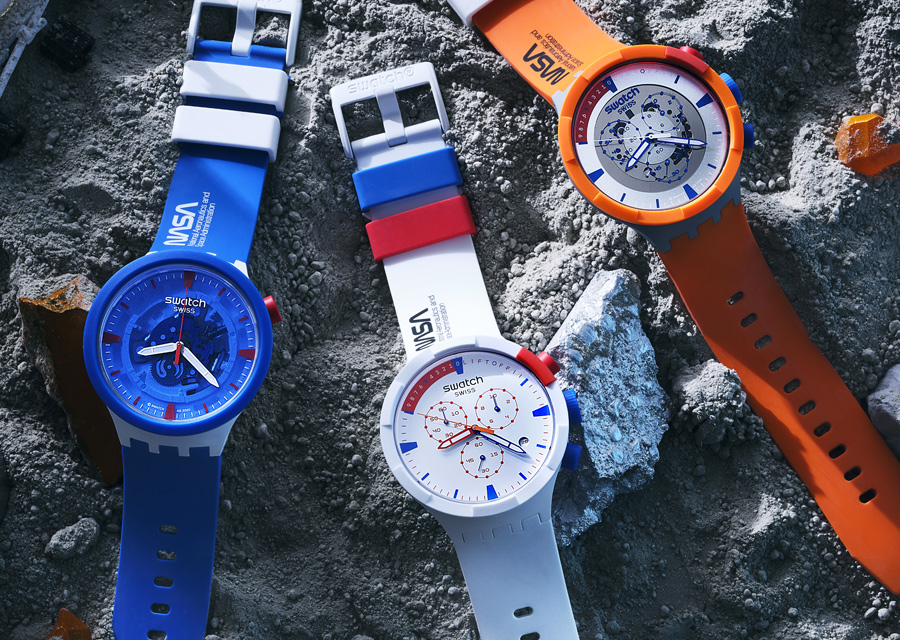 The Space Collection's three new Big Bold watches – which pay tribute to the NASA – are no exception to the rule. With their 47 mm, each model is inspired by one of the suits worn by the astronauts.
Blue, orange or white: choose the colour of your Swatch Space Collection watch
The Big Bold "Jumpsuit" piece (€125) is reminiscent of the blue outfit worn on Earth or during press conferences. The Big Bold "Extravehicular" version (€155) reminds of the spacesuit while the "Launch" one (€160) is the same colour as the escape suit worn by the astronauts when they launch into space.
They are all powered by a quartz movement. The blue variation features three hands while the other models come with a chronograph function. They are water-resistant up to 30 metres, so going for a swim is ruled out, and this summer watches come with a matching silicon strap sporting the NASA logo.
Our Swatch Big Bold Space Collection technical data sheets
LIP Courage
Be careful, LIP warns that this watch is not a medical device. Still, it was designed as a decision-making tool for first-aid professions!
LIP Courage: a watch named after the French fire-fighters motto
The name of the Courage watch is far from random. It is partly inspired by the motto of French fire-fighters: "courage et dévouement" ("courage and devotion"). Why? Simply because the watch is a partnership with the French Fire-fighters' National Federation (Fédération Nationale des Sapeurs-Pompiers de France).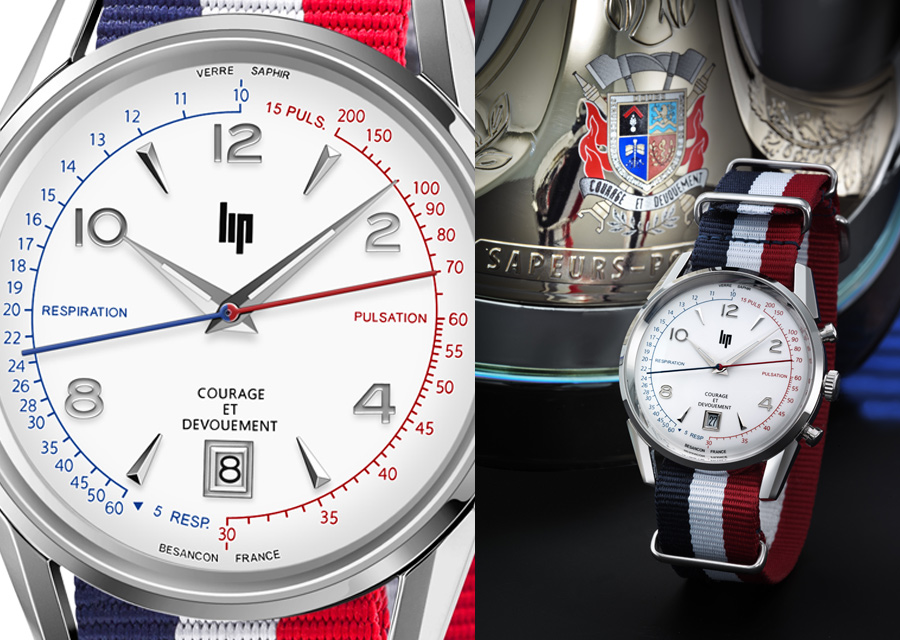 Behind its vintage "doctor's watch" style, this 40 mm diameter steel chronograph featuring a tricoloured NATO strap is reliable as well as easy to use and carry for every fire-fighter, doctor, nurse or volunteer first-aid workers.
The two scales help determine the heart rate (red heart scale) as well as the respiratory rate (blue respiratory scale) – the latter being even rarer on a watch.
LIP Courage: a doctor's watch that can measure the number of heartbeats and breaths
A clever double red and blue hand points out the information on the corresponding graduations. It enables to check vital functions very quickly.
By the way, this very special hand is an exclusive modification of the quartz Miyota movement that powers the instrument. It thus comes as no surprise that LIP registered a patent for the device.
LIP Courage technical specifications:
316L steel case
Screw down crown
Water resistance: 10 ATM
Domed sapphire crystal
Quartz Miyota OS21 movement featuring an exclusive "LIP Courage" double measuring hand for respiration and heartbeats
Includes a NATO and a blue "tropic" straps
Made in France – Besançon
RISKERS Chapter 3
With Riskers, French brands are once again in the spotlight in Frank sans C's video about summer watches.
The young house had the brilliant idea to reinterpret the iconic watch worn by soldiers in the tranches, during World War I. And, at the same time, to pay tributes to unknown people who, nowadays, risk their lives for others.
Riskers puts on the forefront ordinary citizens, whose courage and devotion to help others command respect
But there is more to the story as Riskers is a very committed brand. Indeed, it financially supports its ambassadors' humanitarian causes. It also works closely with the Troupes de Montagne (Mountain troops), an elite corps of the French army.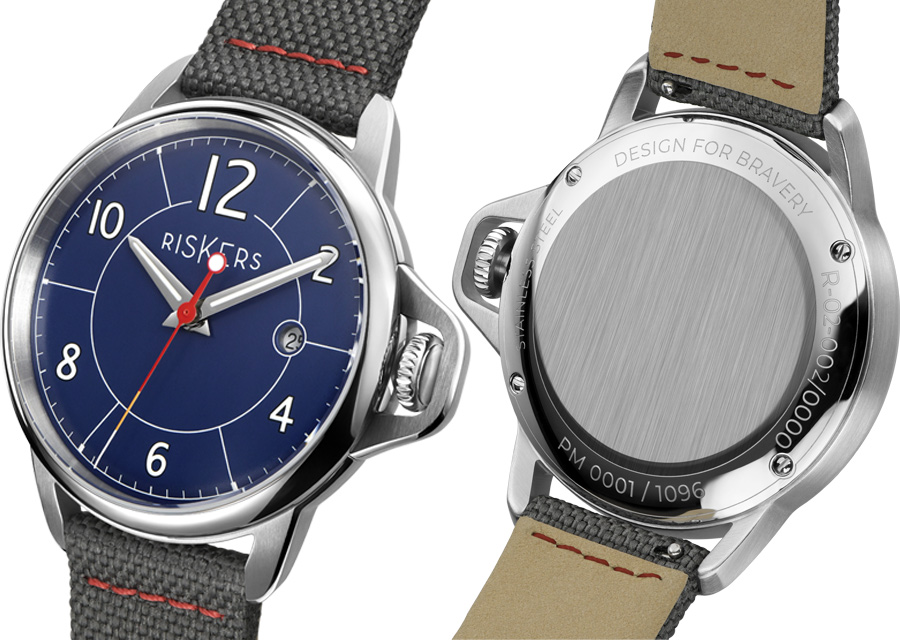 Fourth watch released since Riskers was founded in 2019, Chapter 3 is a 43 mm diameter steel piece. It is equipped with a very original and distinctive crown guard shaped like a clapper ring. Does it ring any bell? Maybe not, but know that it actually is the name of the piece on which bells are usually hung.
The Chapter 3 is a great mix between traditional elegance and a sports chic spirit, with a bit of vintage inspiration as well, that comes on a canvas strap. Moreover, the stunning blue dial is protected by a domed sapphire crystal. The small-seconds sports the colour of the Dragon 74, a famous French mountain rescue helicopter.
The piece is equipped with a Ronda quartz movement and does homage to Pierre Muller. This remarkable emergency doctor worked for a long time at a free clinic in New Caledonia before joining mountain rescue teams. He also is a volunteer at the NGO Douleurs Sans Frontières (Pain Without Borders). And Riskers donates to the NGO a part of the benefits of the Chapter 3, issued in 1,096 pieces.
Riskers Chapter 3 technical specifications:
Thickness: 12.35 mm
Dial: Sandblast Blue, Superluminova numbers; silvered and Superluminova hours and minutes hands; red, yellow and Superluminova seconds hand
Movement: Ronda 715, Quartz, Swiss Made, central seconds, date at 3'
Strap: Interchangeable, blue canvas, alzavel calfskin lining, red topstiches
Tang buckle
BREITLING Emergency II
The Breitling Emergency really is one of a kind! Aviation, navigation, mountaineering, trekking, hiking, extreme sports: this watch is made for those who believe vacation is synonymous with adventure. Whether you are on land, out at sea or in the air, the Emergency is designed to be taken with you all over the world.
This titanium and orange dial version of the Emergency is a true survival tool. Indeed, it is the first watch to feature a distress beacon (Personal Locator Beacon/PLB).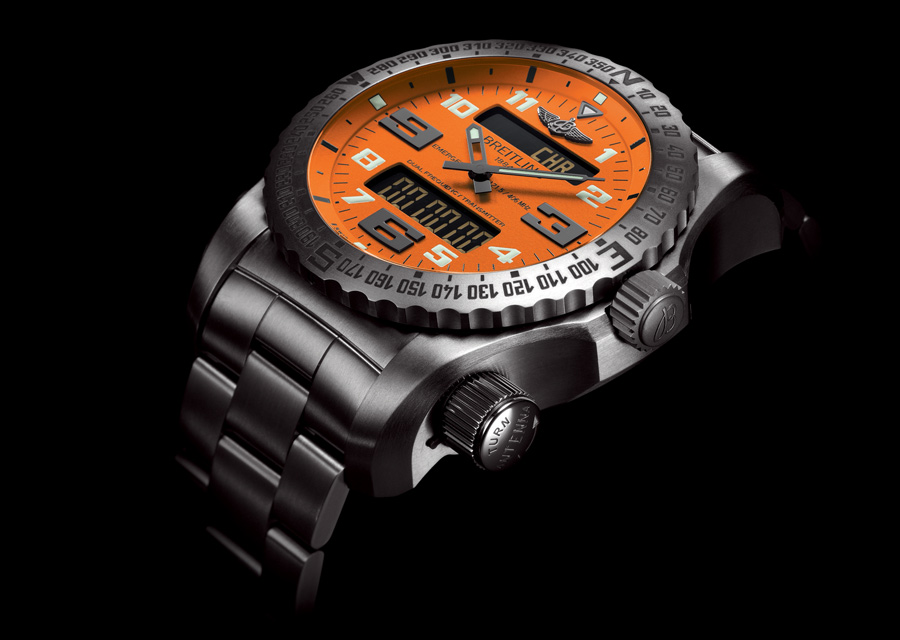 Here, you won't find a traditional quartz movement featuring a button cell, but a Breitling Calibre 76 thermocompensated SuperQuartz. It is ten times more accurate as well as COSC-certified and it comes with a special rechargeable battery.
And the date when the battery has to be changed is written on the back of the 5 mm and 50 m water-resistant case of every model.
How to use Breitling's Emergency
In concrete terms, the main antenna of the beacon is hidden within the big screw down crown (or cap) located down on the right lug of the case. When it is deployed, it releases the cap of the second, smaller section on the opposite side on the left, to deploy the second antenna.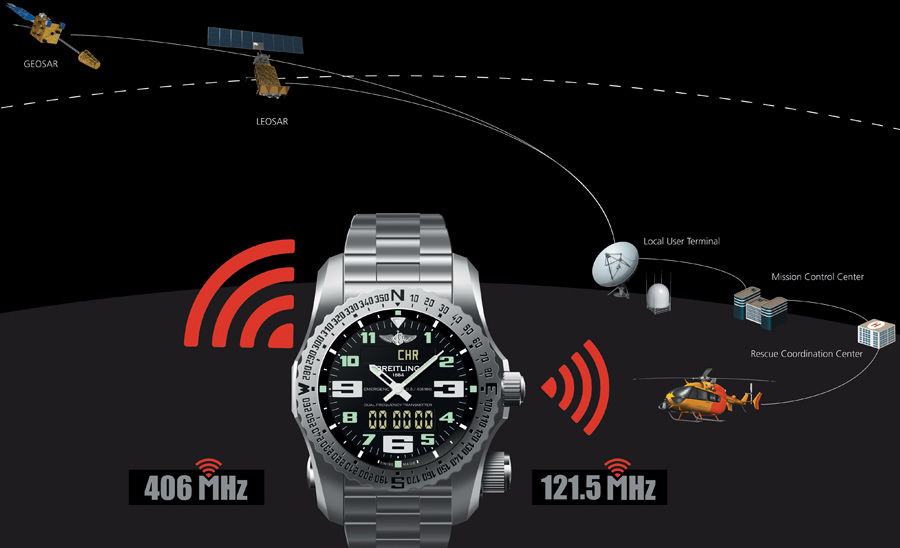 The watch turns into a dual frequency transmitter which sends a distress signal and the wearer's position on the Cospas-Sarsat network, which regroups satellites, ground receiving stations as well as control and coordination centres.
The Emergency comes with a rotating bezel featuring the cardinal points and is a miniaturization wonder which also includes a lot of other functions that should not be forgotten. For instance, it is equipped with a 1/100th second chronograph, a timer, a 2nd time zone and a multilingual calendar.
Read also: