Novelty Watches & Wonders
Trilobe Une Folle Journée: the three-dimensionality of time
Appreciated by lovers of fine mechanics for its originality, the young manufacture Trilobe proposes with its new opus entitled "Une folle journée", a volume setting of its X-centricity in order to offer more relief to the passing time.

By Vincent Daveau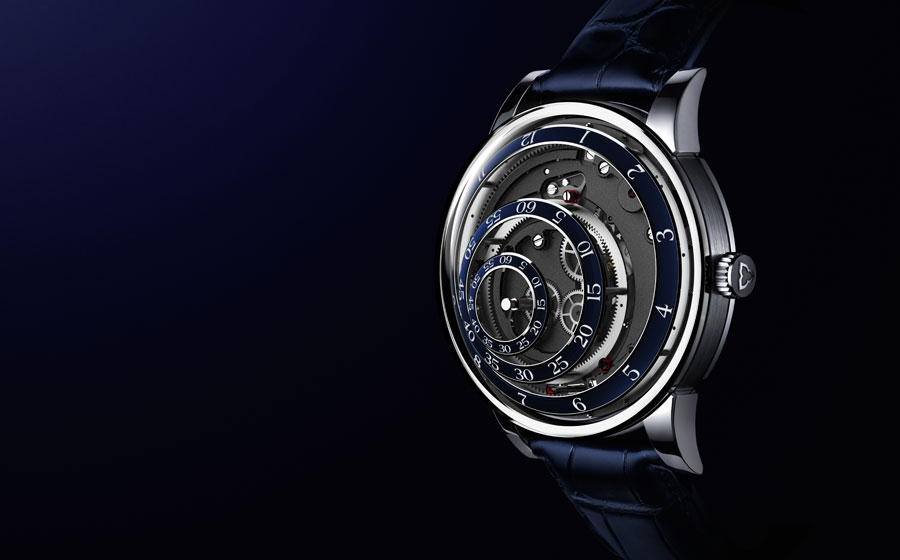 The brand new watch named "Une Folle Journée" from the young Trilobe manufacture is a tribute to Leonardo Fibonacci (1170-1245), as the aerial shape of its dial essentially associates it with the spiral of this mathematician, defined by tracing arcs of a circle connecting the opposite corners of the so-called Fibonacci squares. Extrapolated from the golden ratio, this shape recalls the origins of this young watchmaking brand, whose name is based on a geometric motif widely used in medieval and particularly Gothic architecture. As Gautier Massonneau, the brand's CEO, said, this new generation timepiece takes us on an unforgettable journey. One of enthusiasm, ardour and panache. In the manner of Figaro, to whom this marvel lays claim, it intends to follow with passion the choice of freedom and deliverance… Literary scholars will understand the allusion to Pierre-Augustin Caron de Beaumarchais (1732-1799), the famous 18th century watchmaker and successful author of the Figaro trilogy and in particular here of La Folle Journée or Le Mariage de Figaro. This comedy in 5 acts and prose from 1778, performed at the Comédie Française on 27 April 1784, helped to awaken the popular conscience against the elites and their abuses. In its own way, this timepiece, both original and graphically pleasing, reflects the desire of the founder of this Maison to go ever further in destructuring the display of time to make it both more intense and more poetic.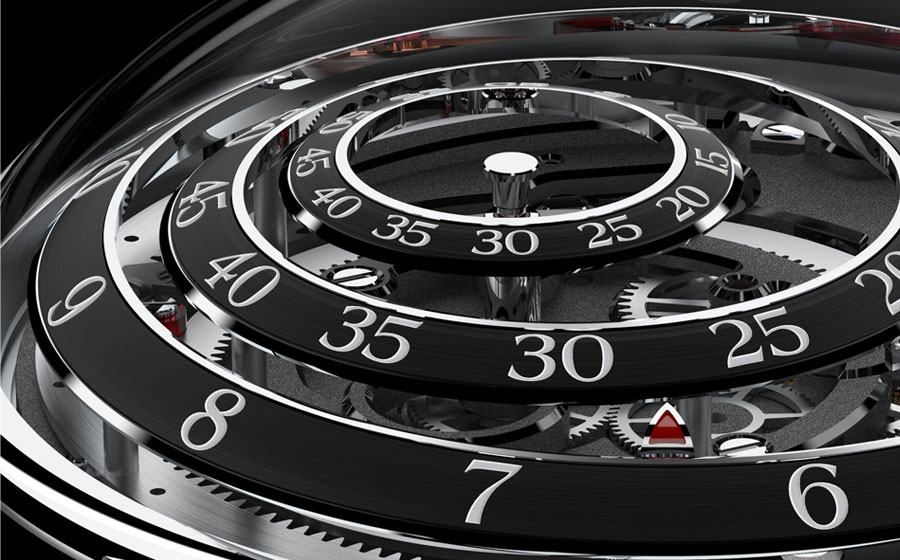 Aerial mechanics
The volume setting of this interpretation of the passing of time, designed by Trilobe, allows the curious eye to admire a movement that has been completely redesigned to give it a chance to get to the heart of things. Its three-dimensional nature offers the viewer an assembly of 196 custom-made components that constitutes a new iteration of the mechanical self-winding X-Centric movement. It takes shape around bridges and a plate architecturally structured in volume, whose edges have been patiently polished and diamond-polished to enhance the Anthradec graining work carried out on their flat surfaces. Harmonious and practically sidereal, this marvel plays with reflections and clairs-obscurs to give its rightful dimension to the tenuous balance formed by its three counter-clockwise rotating discs, suspended under a dome of anti-reflective sapphire. The airy, spider-like structure protected by its 40.5 mm diameter, polished and satin-finished grade 5 titanium case completes the magic. More than an invitation, this piece urges lovers of fine mechanics to emphasise their difference.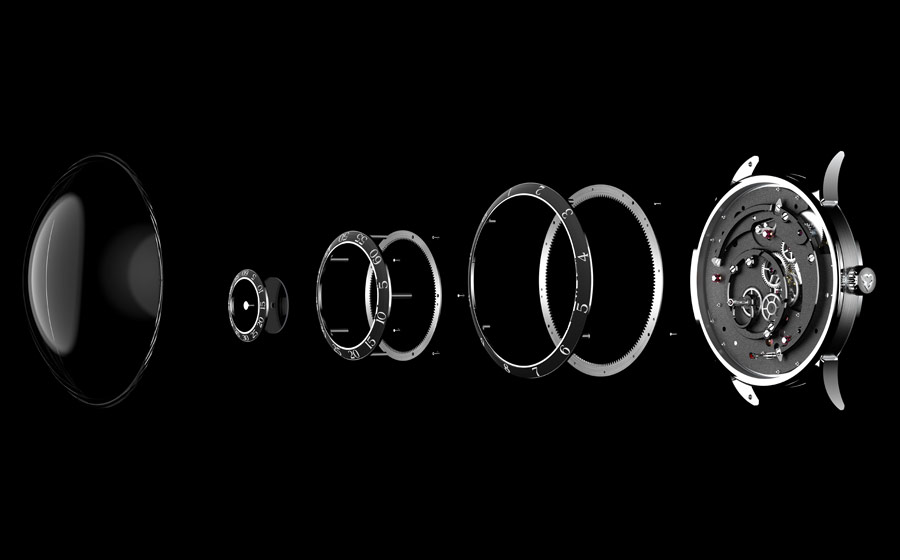 To achieve this, the openwork of the dial is obtained by raising the various discs used to read the hours, minutes and seconds by almost 10 mm. Balanced by 9 columns, the Trilobe rings are each the result of a complex assembly in which a hollowed and polished titanium cornice accommodates a curved and satin-finished inner ring, also made of titanium.
This incomparably light assembly makes it possible to visually propel into the air the three eccentric rings, the brand's true graphic signature, which, crafted with extreme care, appear to float beneath the 10.2 mm high sapphire dome, each one individually hand-crafted.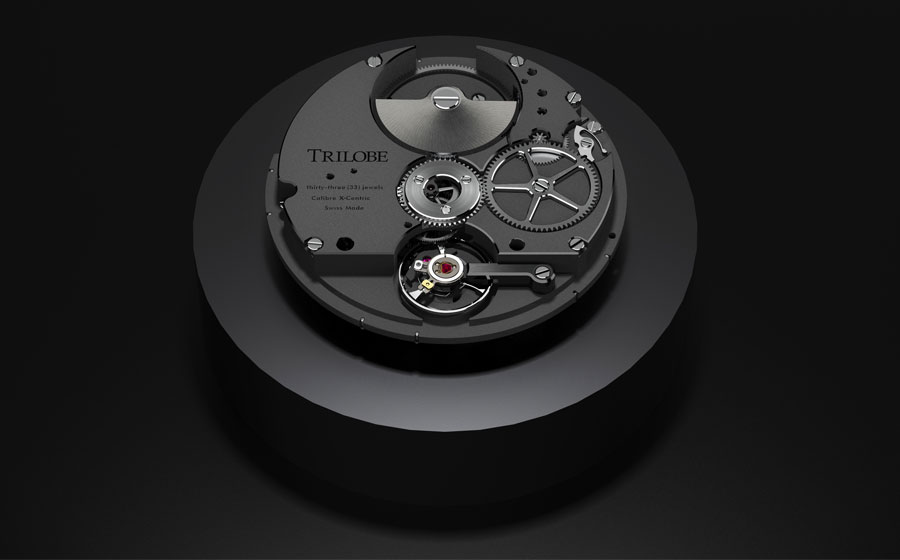 An accomplished synthesis of mechanical complexity elevated to gain perspective on the passing of time, Une Folle Journée watch, driven by its self-winding X-Centric calibre, is a concentrate of the best of a vision in which sobriety and complexity flourish in parallel to offer lovers of fine mechanics a unique time-measuring instrument of original sophistication on their wrists.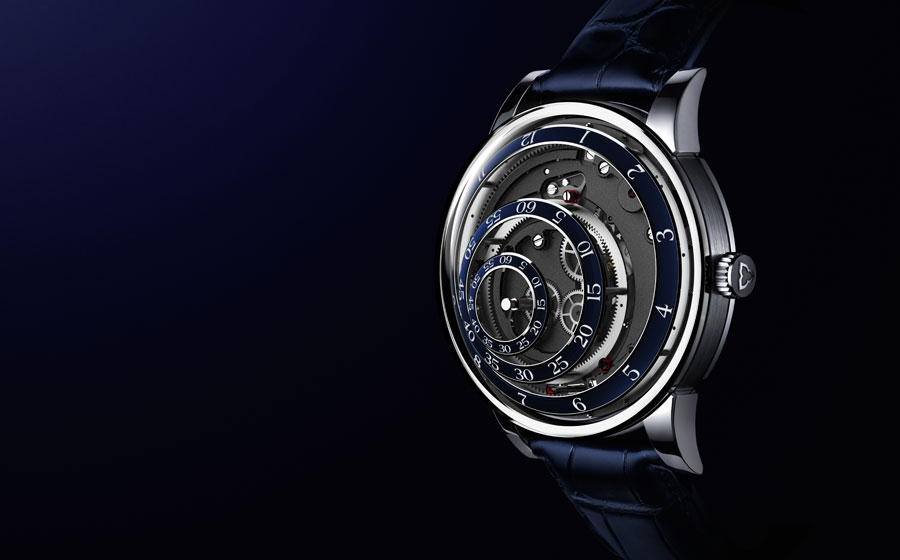 Price – Une Folle Journée Noire ou Bleue : €21,500.
Technical details:
Grade 5 titanium
Diameter 40.5 mm
X-Centric 3 calibre, self-winding integrated mechanical calibre with micro-rotor
48 hours power reserve.
Balance frequency: 28'800 vph (4 Hz)
Thickness: 6.49 mm – Diameter: 35.2 mm
Hours, minutes, seconds subdial displayed by rotating rings and a fixed pointer
Leather strap.
Water-resistance tested to 5 bar (50 meters)
2 years warranty.
See also :
Read also: