Vacheron Constantin on the way to the roof of the world with Cory Richards
By MyWatch
At an event in New York, Vacheron Constantin honored its ambassador Cory Richards, american explorer and photographer, to celebrate his attempt to climb Everest by the most difficult route. To accompany him in this extraordinary epic, rich in emotions and obstacles, the adventurer was able to count on a prototype of an ultra-resistant Overseas watch.
Nicolas YVON and Chloé REDLER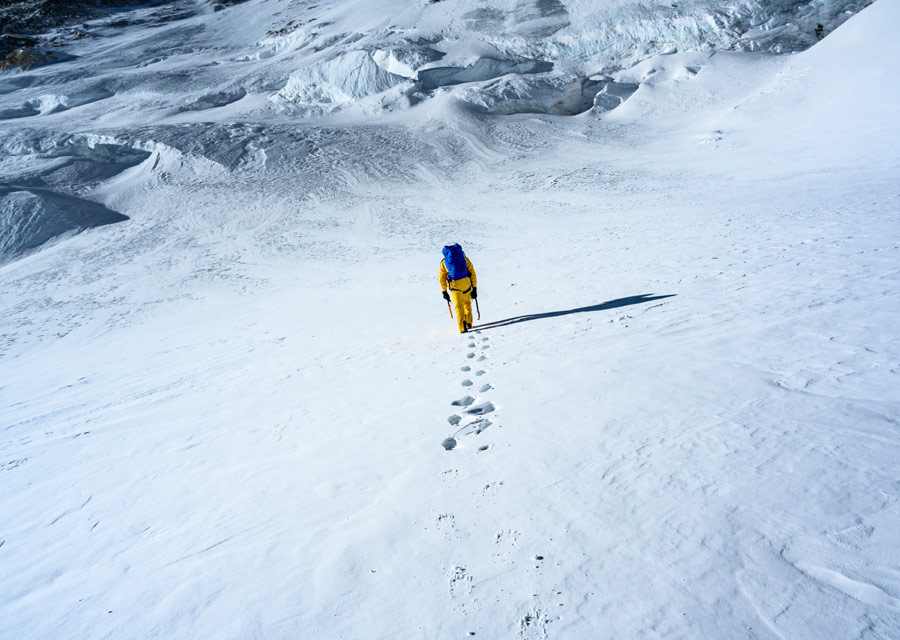 New ambassador of the Swiss manufacturer to embody its "One of not many" communication campaign, Cory Richards has already climbed Everest twice and is returning from a new expedition to the roof of the world, reaching an altitude of 8848 metres. Accompanied by the Ecuadorian Esteban "Topo" Mena, the american explorer with a mind of steel had decided this time to take one of the most difficult and dangerous route – the North-East ridge – and to climb without breathing assistance. A physical feat marred, however, by extremely difficult and gruelling weather conditions that, unfortunately, pushed experienced mountaineers backwards.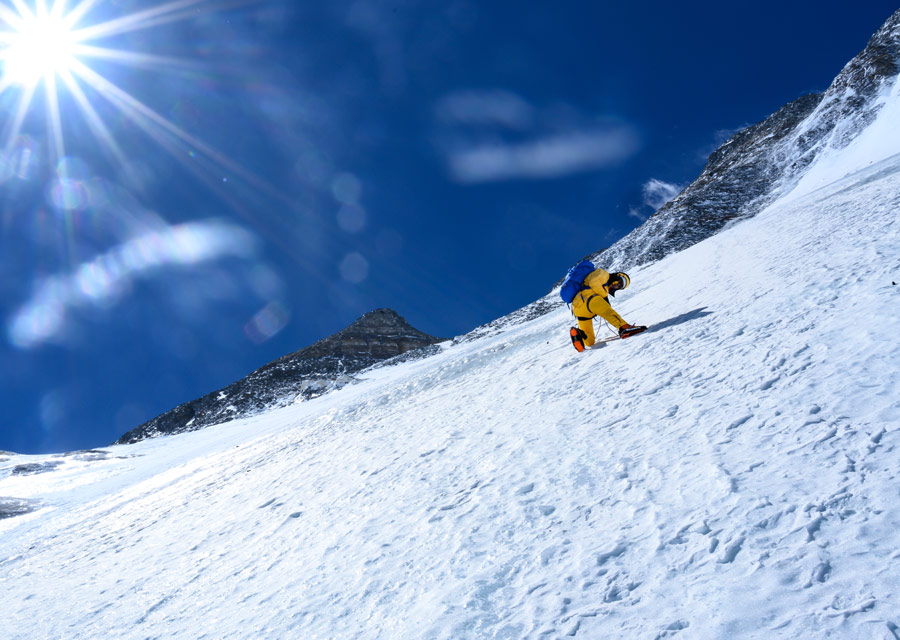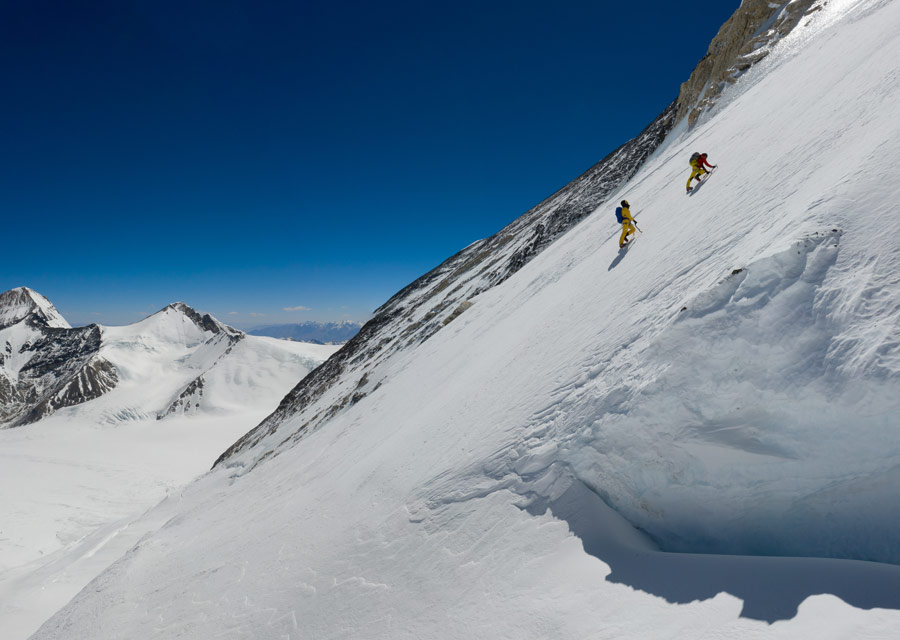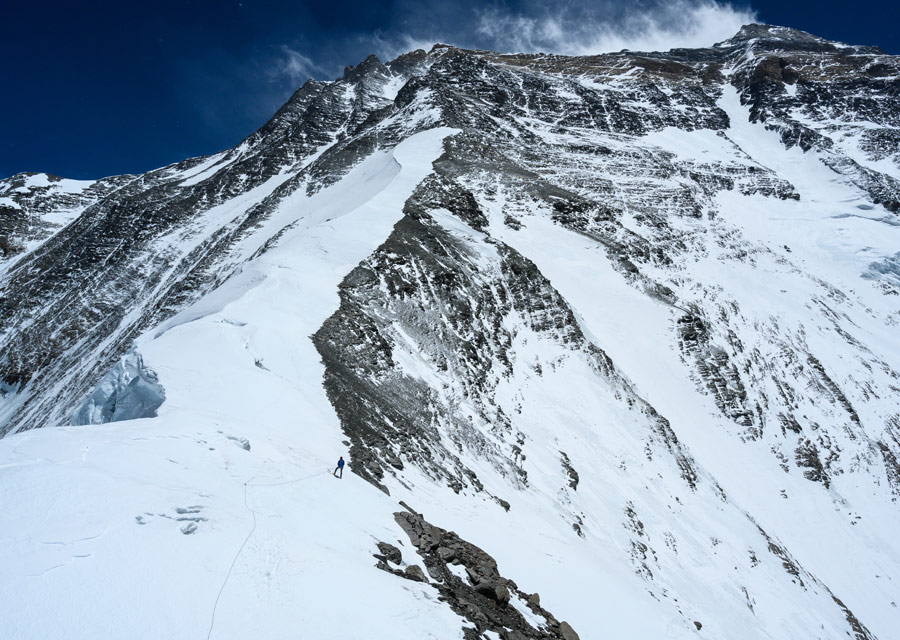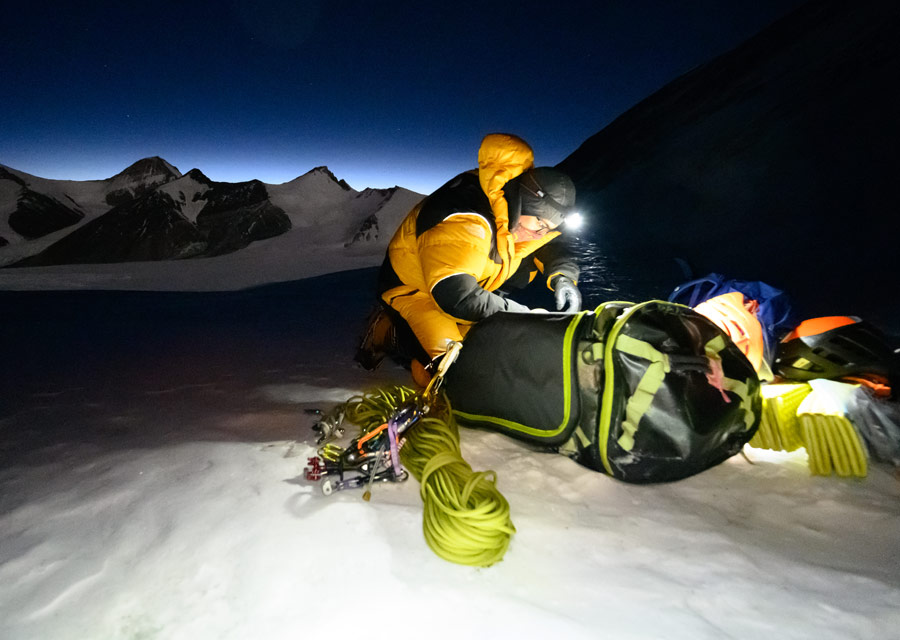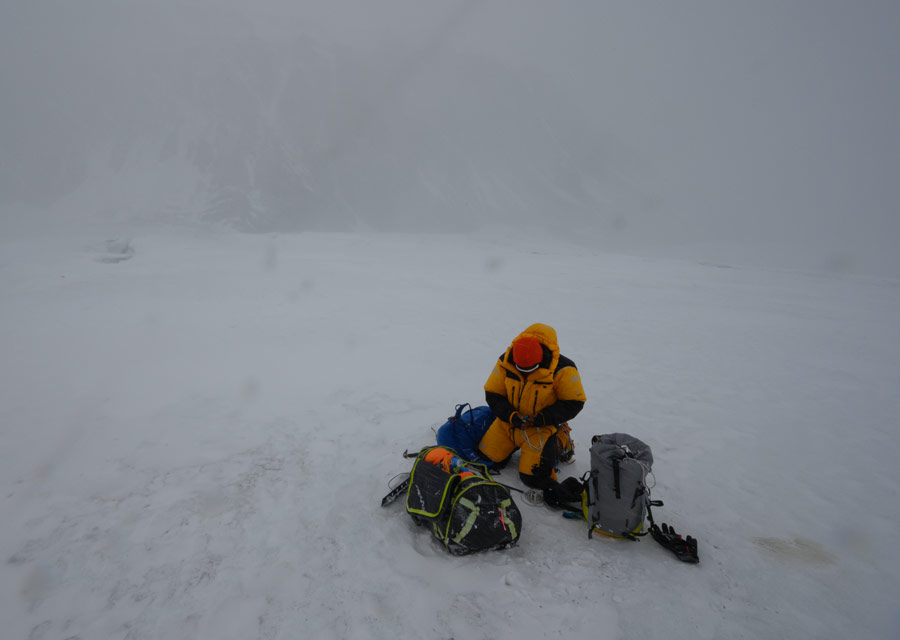 After ten months of intensive physical and mental preparation to acclimate to the hostile environment and extreme climate of Everest, the two men had to give up their adventure to stop at 7,600 metres after forty hours spent outside the base camp. The cause was more than unfavourable weather and a significant lack of sleep due to particularly low temperatures, which overwhelmed Cory and forced him to stop his journey.
It is 'a year worth of work came to an end. I join scores of other expeditions and routes that have taken multiple seasons to complete and start the process to return next season to try again! Disappointing? For sure. Realistic? Totally. Only 12 months to be better, stronger, more refined, and more dialed! Thanks Everest to keeping it very real this season!', said the interested.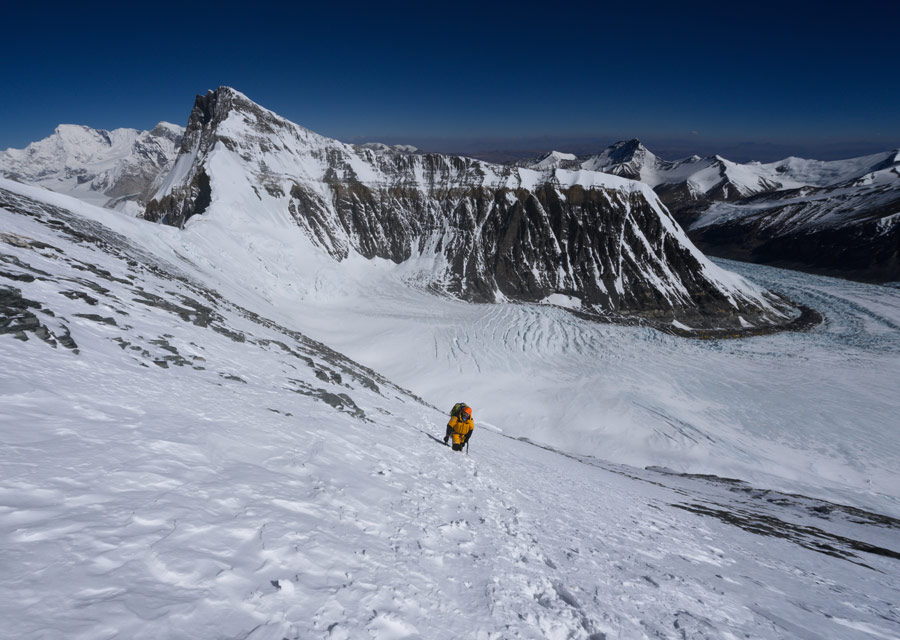 On the occasion of this expedition, Vacheron Constantin, in collaboration with Cory, created a prototype Overseas Dual Time watch to support him. It displays a double time zone because the climber wanted to know at all times both the time in Nepal and the time at home in the United States. Technical, the instrument is also aesthetic and personalized with the drawing of one of the photographer's images, engraved on the gold oscillating weight of the calibre.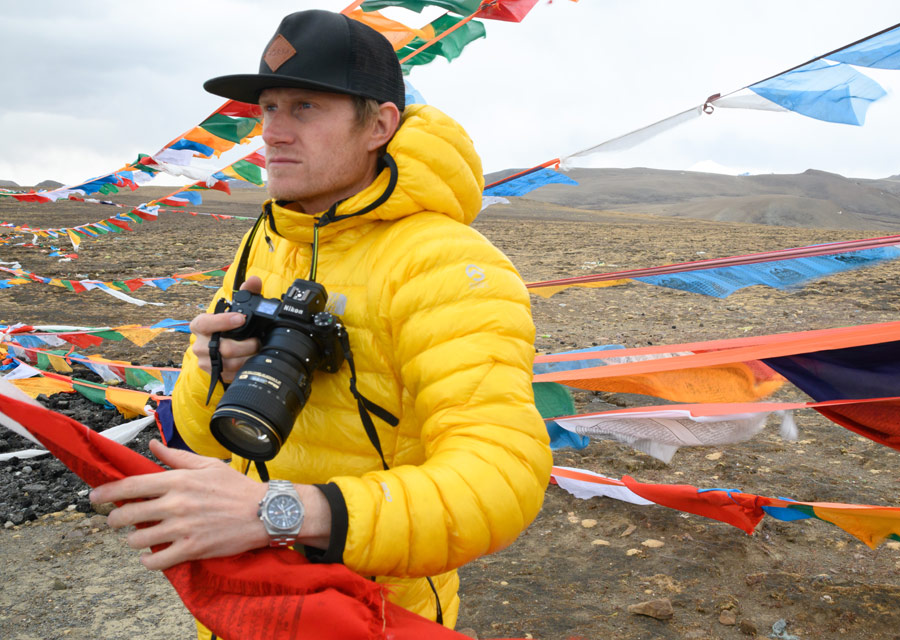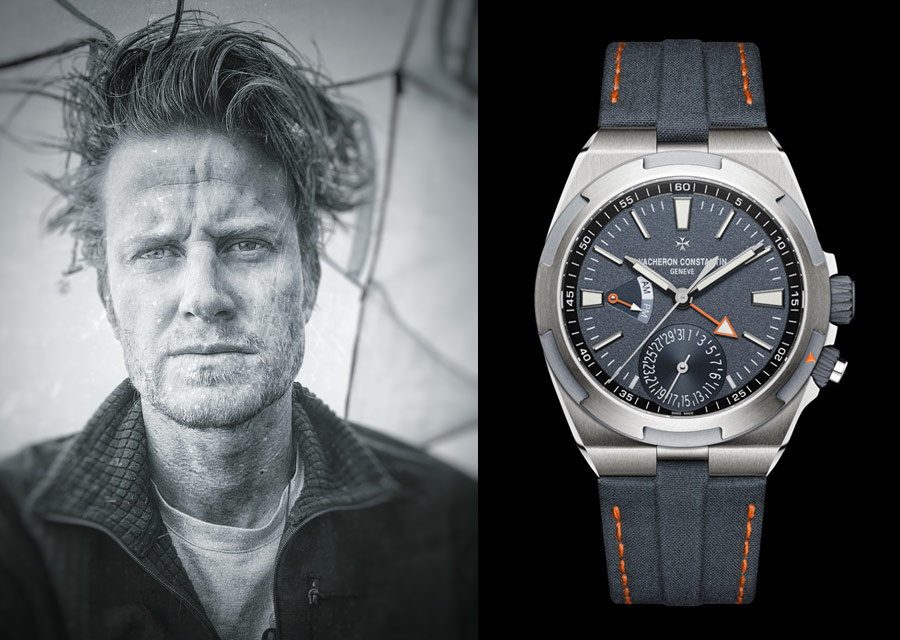 Water-resistant to a pressure of 15 bar, this 41 mm diameter watch has been developed for use in extreme conditions. Very light, because it is made of titanium, it also has a crown and a reinforcement under the tantalum bezel, an extremely hard and resistant metal. Certified with the prestigious Poinçon de Genève, this unique self-winding watch displays the second time zone (orange hand with arrow tip) on a dark grey granulated dial, equipped with hands and indexes covered with Super-LumiNova®. Robust and lightweight, the model is combined with a Ventile® grey blue strap, a textile material made from particularly weather-resistant cotton.
Bold and passionate, Cory Richards is an adventurer of extreme who has not given up on the idea of returning to the Everest to succeed in a third ascent to grab his track record. And if the failure of this expedition reminds us how little we are in the face of the force and whims of Nature and there are more happy endings in the films than in reality, Cory was able to capture original and magical moments of his adventure with photographs and videos taken on the steep slopes of the snow-covered summit. These will be exhibited in Vacheron Constantin boutiques around the world.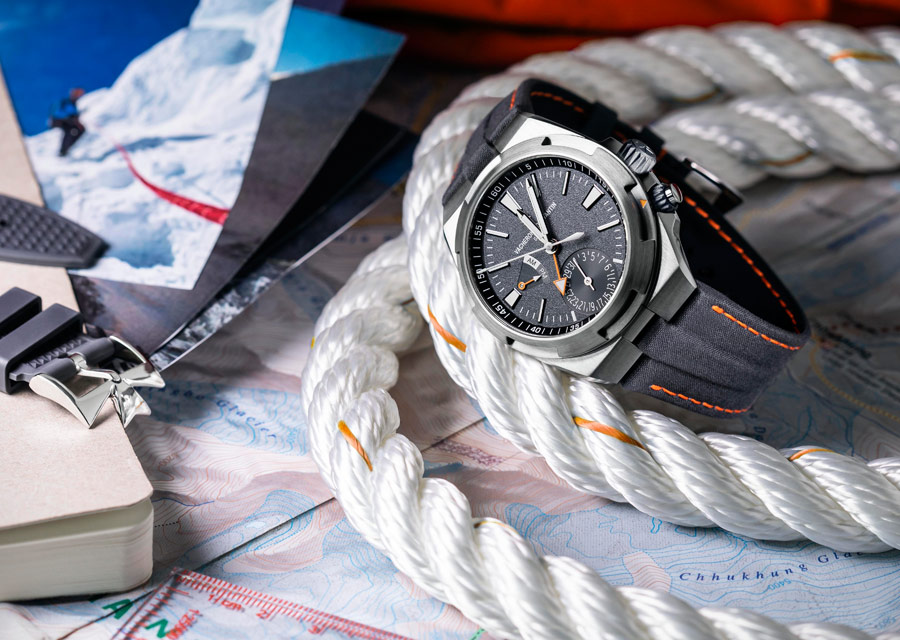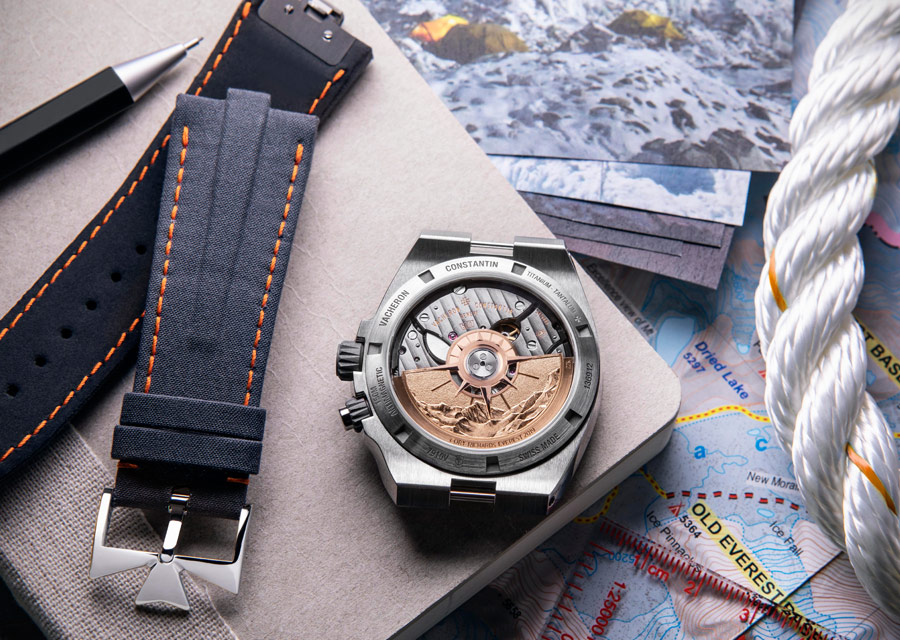 To know more :
With already two ascents of the roof of the world to his credit, Cory Richards has just wrapped up a new Everest expedition, with the Ecuadorian Esteban "Topo" Mena, this time via one of the most difficult routes and without any oxygen supply. The extremely harsh and exhausting weather conditions did not allow him to complete his journey, which means postponing the challenge until later.
Vacheron Constantin wishes to pay tribute to the courage and strength of this extraordinary personality who is undoubtedly "one of not many".
Reaching the roof of the world at an altitude of 8,848 metres/29,000 feet remains an outstanding performance. Since May 29th 1953, when pioneers Edmund Hillary and Sherpa Tensing Norgay first summited Everest, less than a third of the climbers having taken on the challenge have actually conquered the Himalayan giant. And among them, only 2% have done so without respiratory assistance. Cory Richards is one of them. His first two ascents on 2012 and 2016 – including one without oxygen in 2016 – gave him a taste for adventure and for a fresh challenge that he knew would require pushing his own limits: climbing Everest via the North-East ridge, located in Tibet, considered the most difficult and dangerous of all.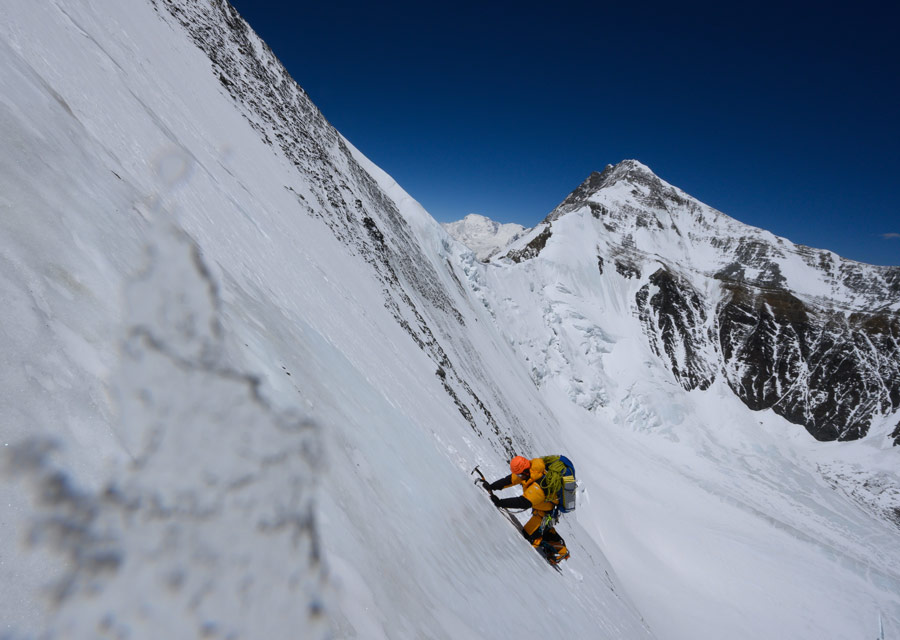 This human adventure, which began ten months ago with stringent physical and mental preparation, as punctuated by long phases of acclimatisation, waiting for favourable weather windows and long, very slow hikes. Going from usual atmospheric pressure (1 atm) to that found at an altitude of 8,000 metres / 26,245 feet (0.32 atm); suffering potential impacts during the ascent; as well as experiencing thermal shocks at temperatures reaching -40°C / -40°F: such were the constraints, risks and challenges to which the mountaineer and his watch had to adapt, as nature asserted its authority through imposing particularly extreme conditions on the mountaineers.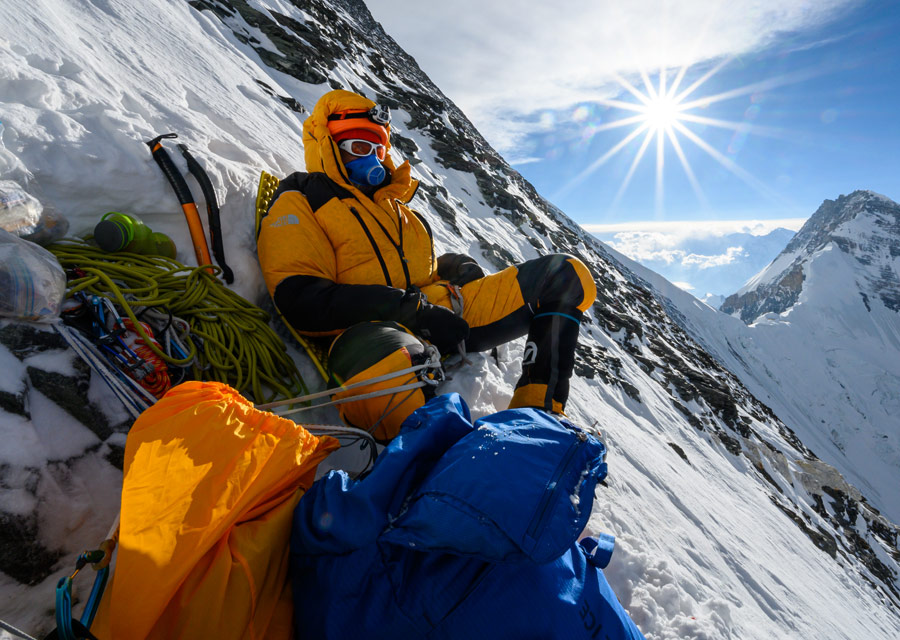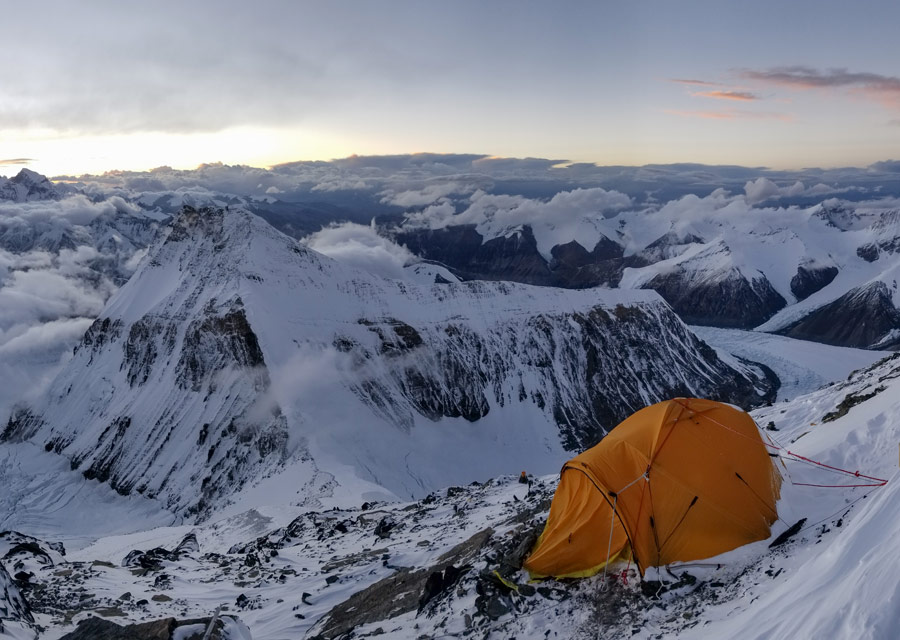 The ultimate phase of Cory's and Esteban ascent was marked by a 40-hour stint out of base camp that ended with Cory having to turn back at 7,600 metres (24,934 feet) because of extreme weather conditions. After pushing for 12 hours on the first day, Cory ended up taking refuge in an ill-advised open bivouac at 7,300 metres (23,950 feet) where he could not rest due to the very cold temperatures. The next morning, he decided to continue his ascent despite the lack of sleep and physical exhaustion. After three hours of climbing in mixed terrain and knowing how far he still had to go, he chose to turn back and wait for a more favourable weather window. Unfortunately, a second suitable weather window did not materialise for Cory, who therefore decided to leave the mountain for this year.
The next 12 months will doubtless be spent fine-tuning preparations for a new expedition to the top of the world.
Vacheron Constantin celebrated Cory Richards' adventure on Everest at a press conference and customer event. The American explorer and photographer took the opportunity to review his recent expedition, undoubtedly "One of not many".
For Cory Richards, professional photographer and long-distance explorer, the world is brimming with discoveries of which one never tires. Among his many journeys, the Himalayas occupy a special place in the heart of this experienced mountaineer who has already conquered it twice, once without oxygen in 2016. Never short of a challenge, he was keen to undertake a third ascent, this time along the North-East ridge in Tibet, one of the most difficult routes to the roof of the world. Unfortunately, weather conditions decided otherwise. Despite over a year's careful preparation, Cory Richard had to give up his attempt to reach the top. A wise decision in the face of Mother Nature's whims.
A mutual commitment
Driven by passion, the same openness to the world and taste for innovation, along with audacity and a desire to push existing limits, the American explorer-photographer and Vacheron Constantin decided to embark together on the path of achievement and a discovery of the planet's beauties.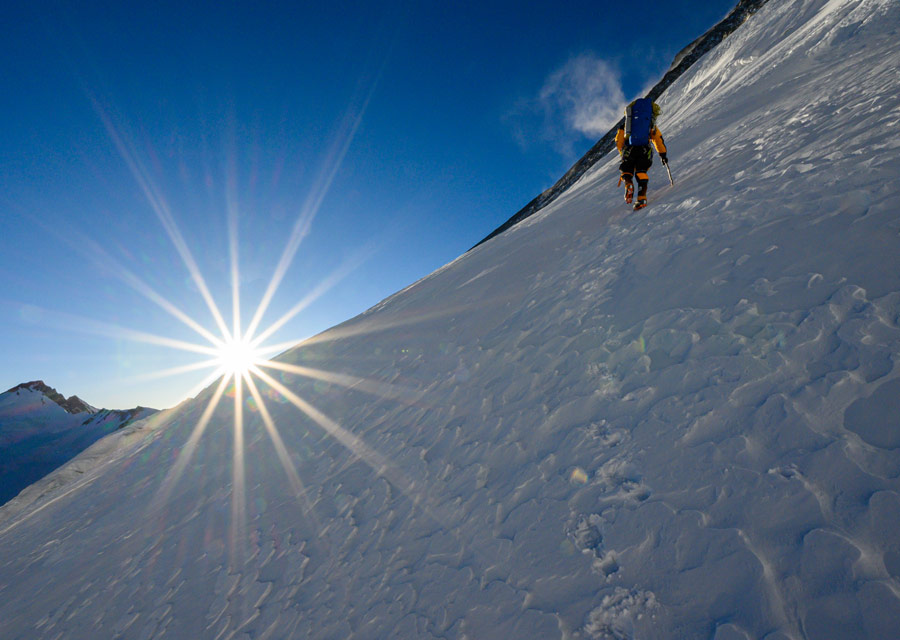 Cory Richards thus joined the very select group of personalities chosen by Vacheron Constantin to embody its "One of not many" communication campaign. Expressing an exceptional universe, this signature accompanies creative collaborations with talents acknowledged for their expertise and their steadfast quest for excellence.
Embodying the beauty of the Earth and Nature, the photographs and videos taken on the dizzying slopes of Everest during Cory Richard's new attempted ascent will be exhibited in Vacheron Constantin boutiques around the world. This creative collaboration with the Manufacture has also given rise to an Overseas dual time prototype that the explorer wore on his wrist during his ascent.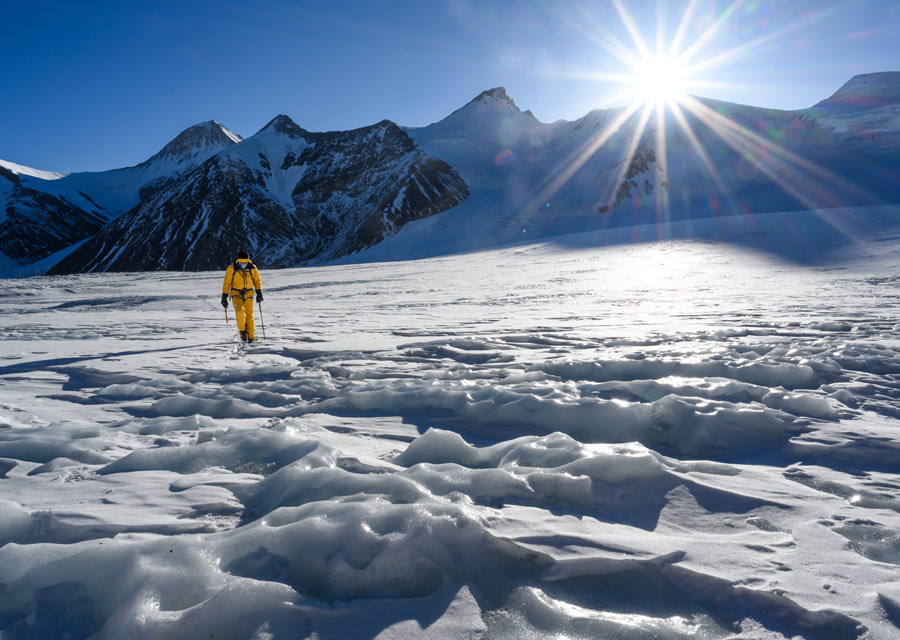 In tribute to the challenge taken on by Cory Richards: an Overseas dual time prototype
To set the pace for his adventure on the slopes of Everest, Cory Richards wanted to have a watch enabling him to keep track of the time in Nepal, as well as back home in the United States. He chose an Overseas dual time. In honour of his challenge and his constant quest to excel, the Manufacture created a prototype especially with him in mind and featuring an oscillating weight engraved with a design based on one of his Everest photos.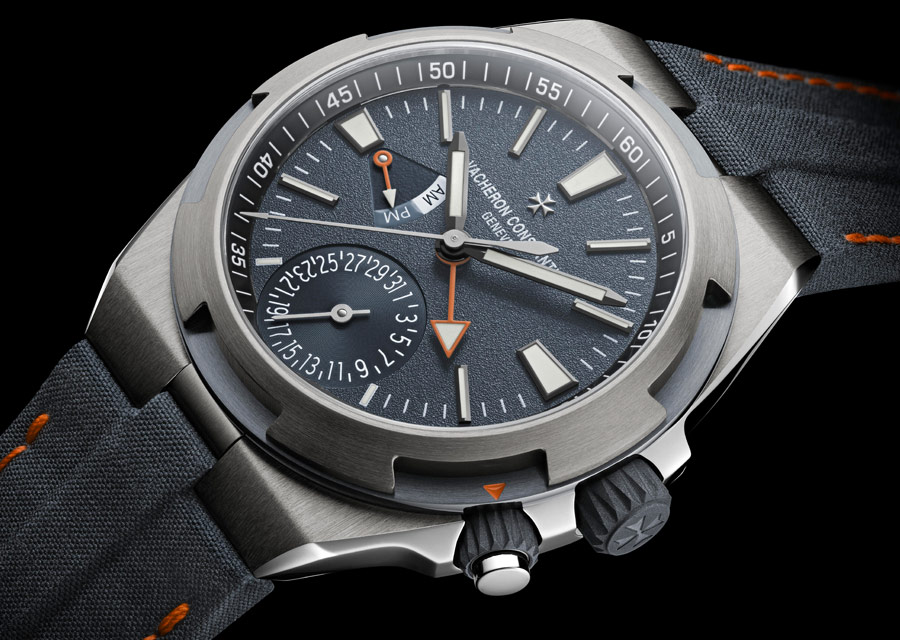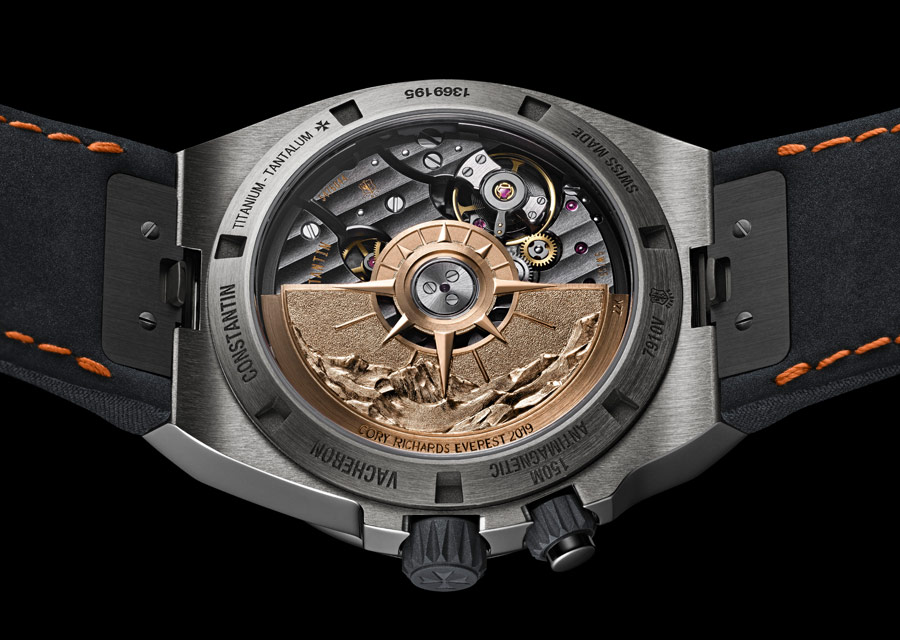 The 41 mm case is forged from sturdy and light titanium, while a reinforcement made of tantalum – a particularly hard metal – has been integrated beneath the bezel and the crown protection is reinforced by two titanium guards. This model is fitted with an orange-stitched grey blue Ventile® technical fabric distinguished by its density along with its exceptional waterproofness. The sporty nature of the prototype is likewise expressed in the orange-accented grey blue frosted dial as well as in the NAC treatment applied to its movement.