GENEVA SPECIAL
Watches and Wonders 2023: EPISODE #1
A promise is a promise! Watch as Frank Sans C's takes us backstage of the 2023 edition of Watch and Wonders. Once again this year, it really did show us watches and wonders for one intense week of meeting the cream of the crop. Join us for an immersive visit to the Geneva exhibition. Our tick-tock authentic fanatic was able to conduct exclusive interviews, just for you.

By Chloé Redler
CEOs from many watchmaking household names have gotten in touch with Frank Sans C during this very special exhibition. Among the interviewees of our first episode are President and CEO of Cartier France Cyrille Vigneron, CEO of Hublot Ricardo Guadalupe, CEO of Van Cleef & Arpels Nicolas Bos and Product Manager Technics at IWC Schaffhausen Virginie Feno. For their interviews, they seized the opportunity to show us their latest creations. Watches and Wonders episode 1, cue!
CARTIER
In this year's new Cartier collections, the strap is the star of the show. Both shapes and materials wrap around your wrist in coherent, outstanding harmony.
The Tank Normale watch wears full platinum
Within the luxury household, Cartier Privé is a unique and exclusive collection as it is entirely dedicated to the mythical timepieces of the watchmaking brand. After the Crash watch, the Tank Cintrée watch, the Tonneau watch, the Tank Asymétrique watch, the Cloche watch and the Tank Chinois watch, the Tank Normale watch is the next precious item to come out of Cartier's archive. A treat for collectioners and lovers of rare, emblematic timepieces.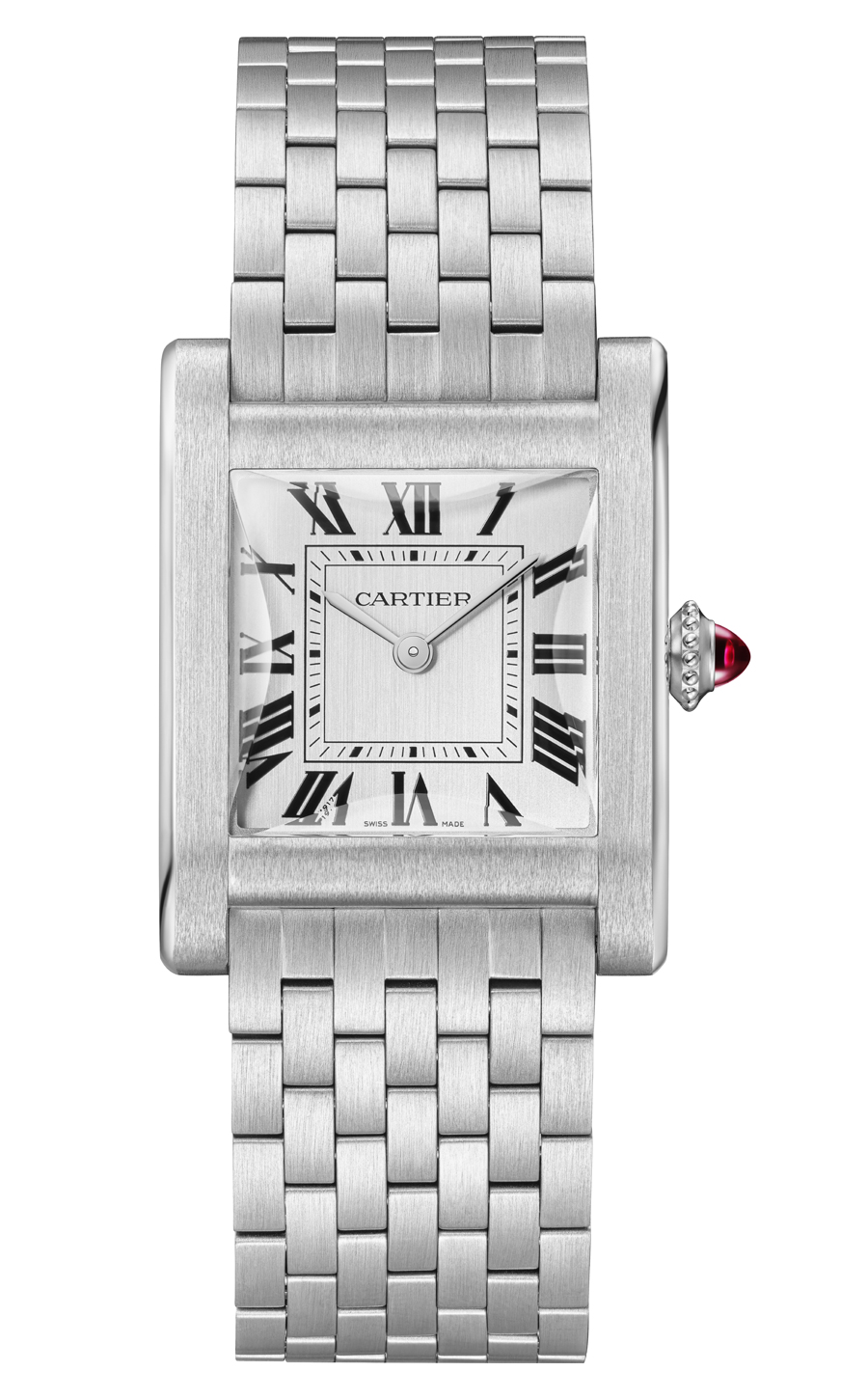 The Tank Normale watch, which was created in 1917 by Cartier, is back wearing full platinum and largely gives off a 70s style. Although it shows off a polished and satin finish, a rectangular case with iconic potruding lugs and slightly bevelled sapphire crystal, the Tank Normale does not lose its identity as a Cartier shape watch. The sword-shaped hands in blued stainless steel, the beaded crown set with a (ruby for this version) cabochon and the railway minute-circle are all there. If you are observant, you have already noticed the secret reference hidden in the Roman numbers "VII", where it reads "1917". The watch is animated by a mechanical movement with manual winding caliber 070, and a movement thickness of only 2.15 mm. It was manifactured in the workshops of Le Temps Manufactures, an external partner whom Cartier is collaborating with for the first time.
Limited edition of only 100 timepieces.
Price: €58,000
Click here to read the Tank Normale in platinum full technical sheet.
The Tank Normale: a watch with an open heart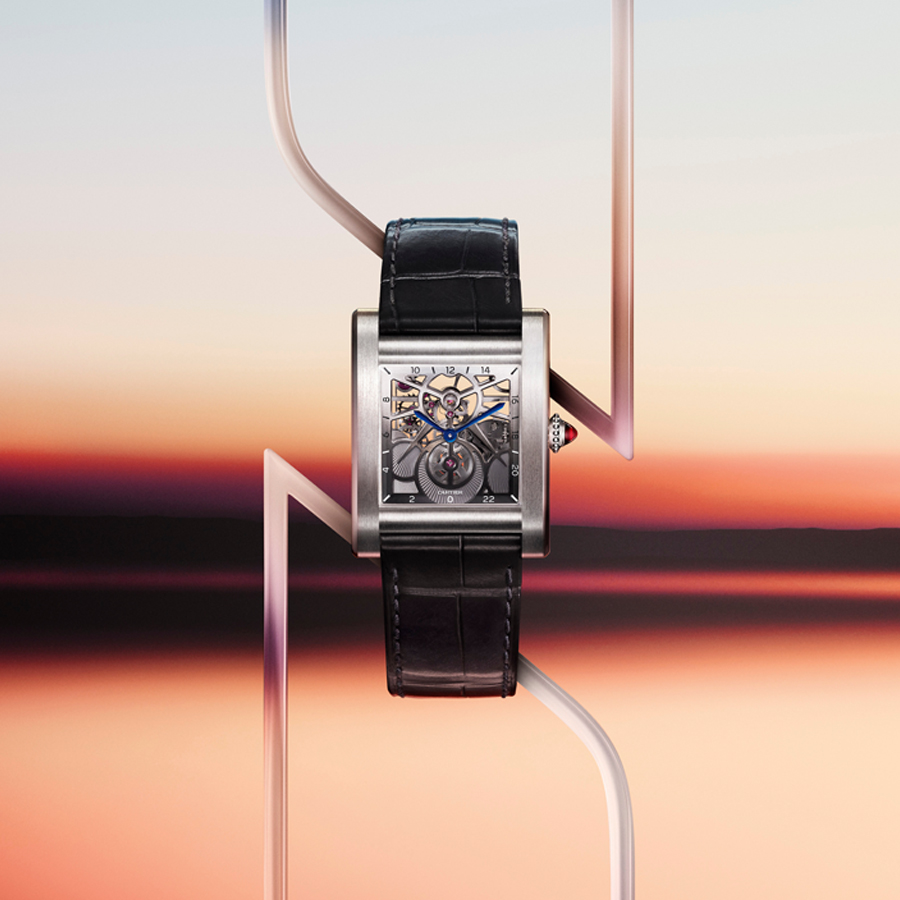 With a smiliar design to its sister's, this Tank Normale speaks with an open heart, as it uses a skeleton watch movement. With this complication, the new neo-vintage watch becomes nothing short of the link between past and present.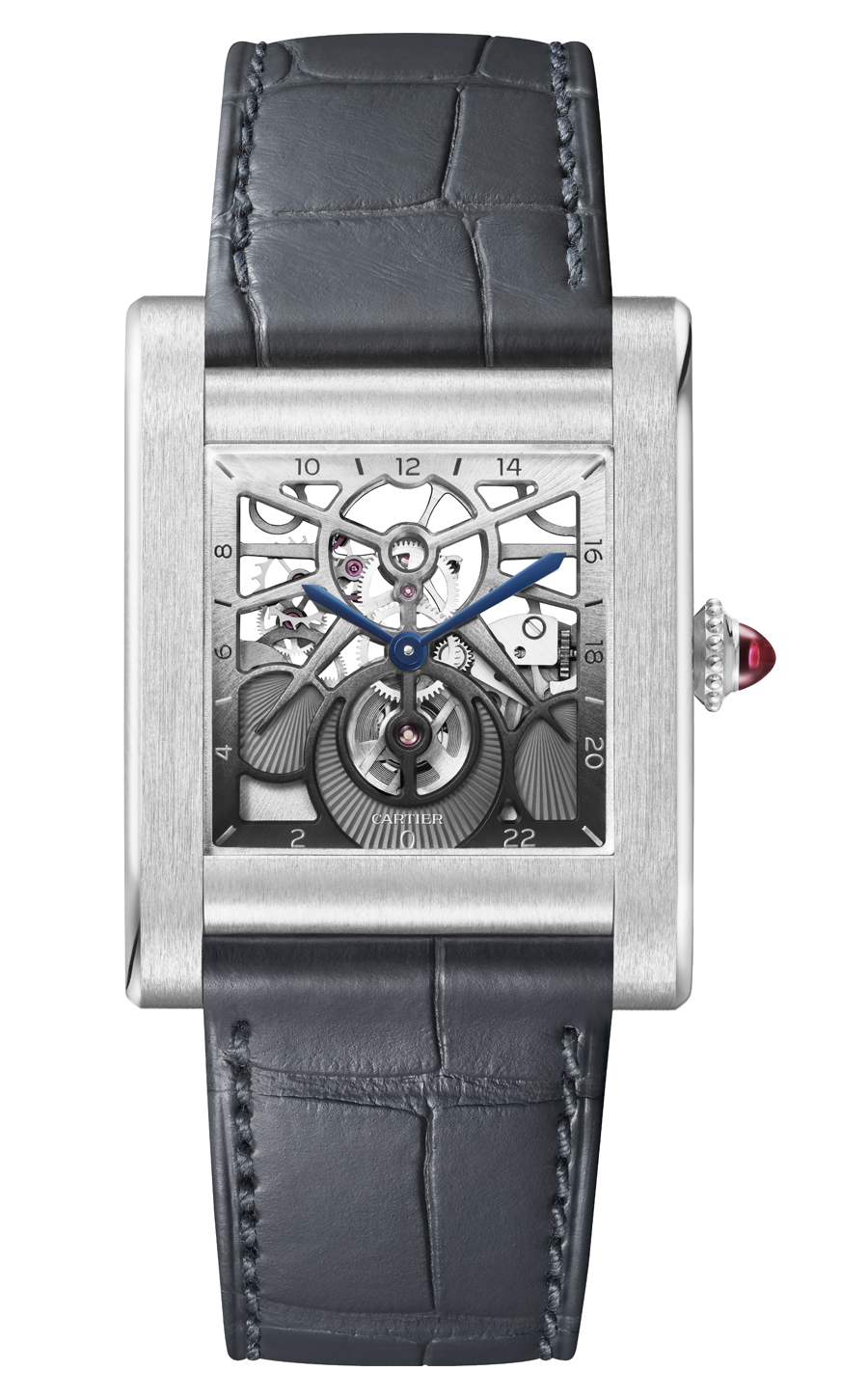 This edition of mechanical lace design is twice as complicated as is offers an atypical way to read the time. The minute hand completes the dial in an hour, but the hour hand takes 24 hours. Hours of the day can be read at the top of the dial, which explains the skeleton-shaped sun at noon. On the contrary, hours of the night can be read at the bottom of the dial with the moon crescent. These subtle and poetic references to the different times of the day are accentuated by the fading colors of the two skeleton-shaped bridge designs.
Price: €86,500
Click here to read the skeleton Tank Normale full technical sheet.
The [Un]limited Clash watch by Cartier
We have specifically dedicated the article "Clash at Cartier" to the new [Un]limited Clash watch. This collection is the result of mathematical, perfectly mastered manufacturing agility.
The bevelled and curvy figures are intertwined in orderly disorder and form a meaningful structure. A touch of jewellery where precious stones twirl around the more traditional yellow gold, white gold and rose gold – and even a surprising type of gold developed by Cartier, purple gold.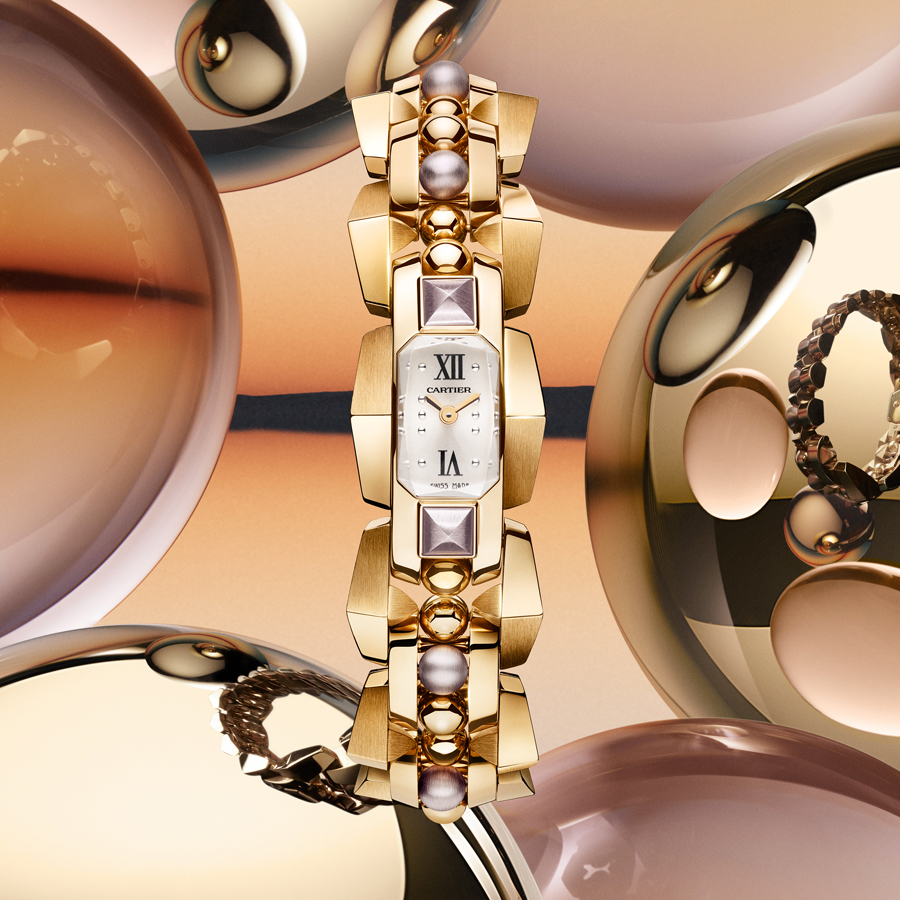 Here is an example among the five models designed by Cartier: the yellow gold and purple gold version. The piece, which is animated by a quartz movement of Swiss manufacture, shows off a silver, slightly sun-brushed dial where the time indexes look like they are cascading down the dial.
Price: €36,000
Click here to read the Cartier Clash [Un]limited watches full technical sheets.
The Panthère de Cartier is on the hunt
We know of Cartier's masterful treatment of the strap: the Panthère watch is no exception. Designed and developed by the manufacture's design studios, it is both flexible and easily tamed around the wrist.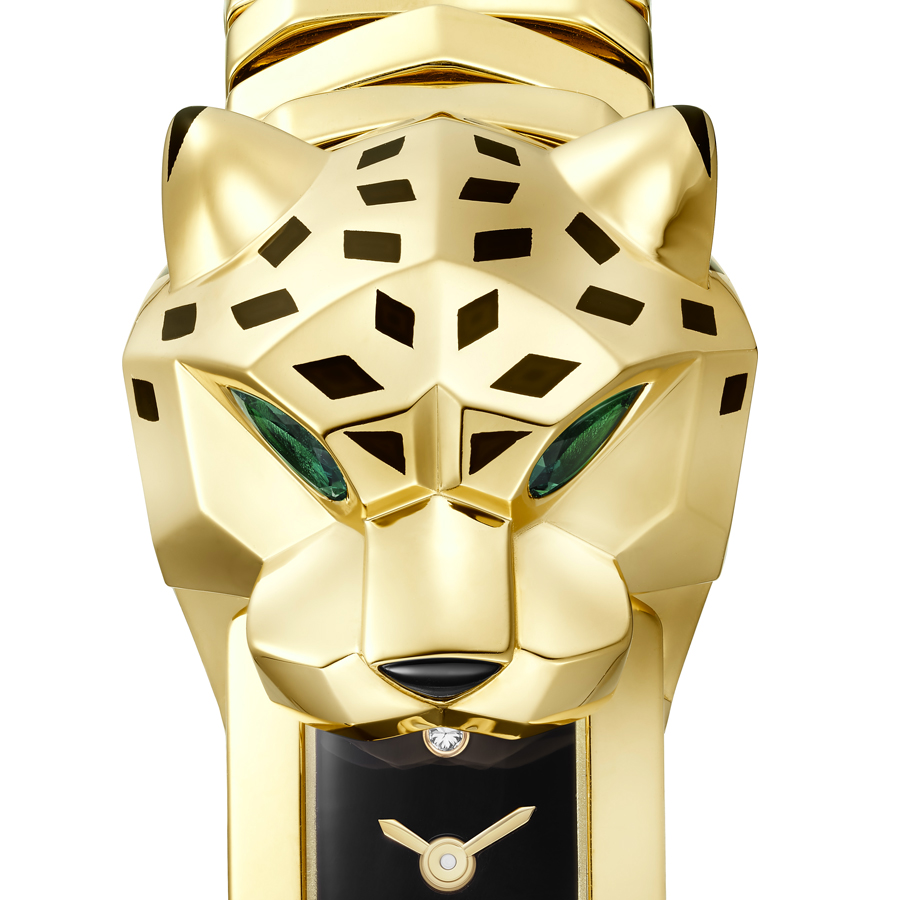 The feline's head, shaped in yellow gold for this model, is nothing short of a three-dimensional sculpture. Its jaw is biting the black lacquered dial, an intense color which is a call back to the animal's dotted fur. The panther's eyes, sculpted in tsavorite, are hypnotising. This was an intentional choice by Cartier so that the eye shines more than with emerald, which is of a darker shade, less penetrating although just as precious.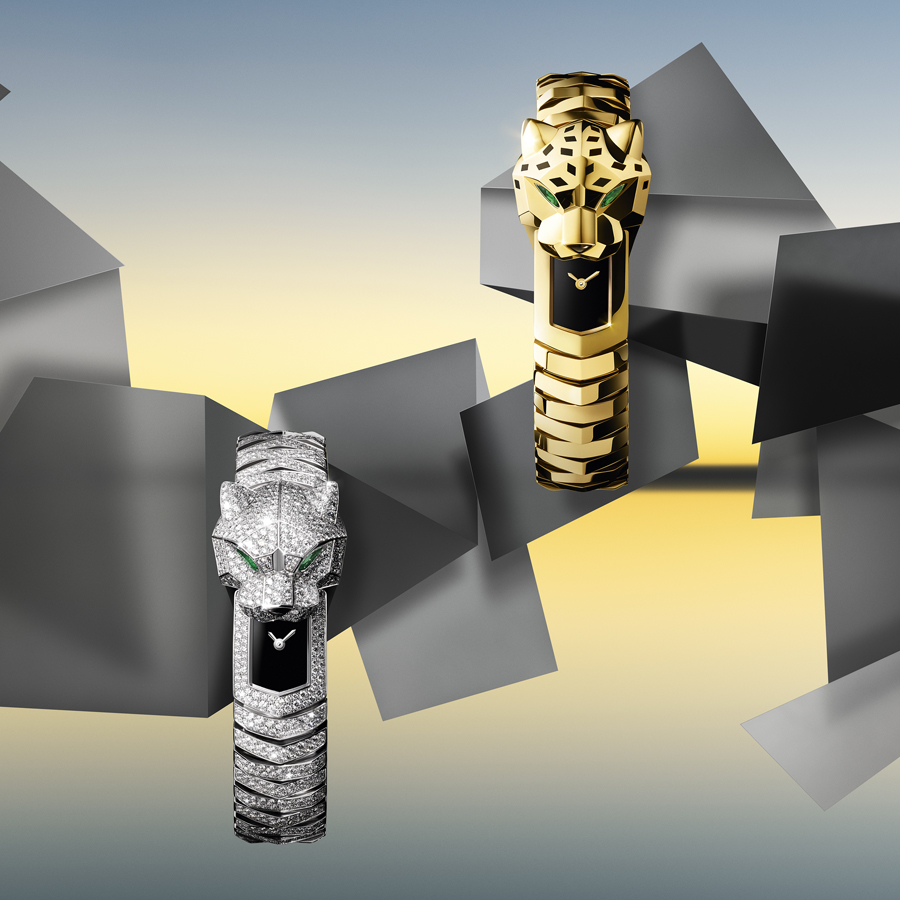 Price: €72,000
For more informations on the Clash [Un]limited watch, refer to our previous article linked here.
CARTIER OFFICIAL WATCH WEBSITE
HUBLOT
Big Bang Integrated Tourbillon Full Carbon: it's a "turn" for lightness
In watchmaking, achieving lightness is like achieving mechanical finesse: a goal which only the most invested manufacturers can try to reach, as it requires control over the entire chain of production. And the teams working at Hublot do not get easily scared by having to associate different concepts if it means to birth new trends. Their desire to continuously push boundaries has a name: the Big Bang Integrated Tourbillon Full Carbon.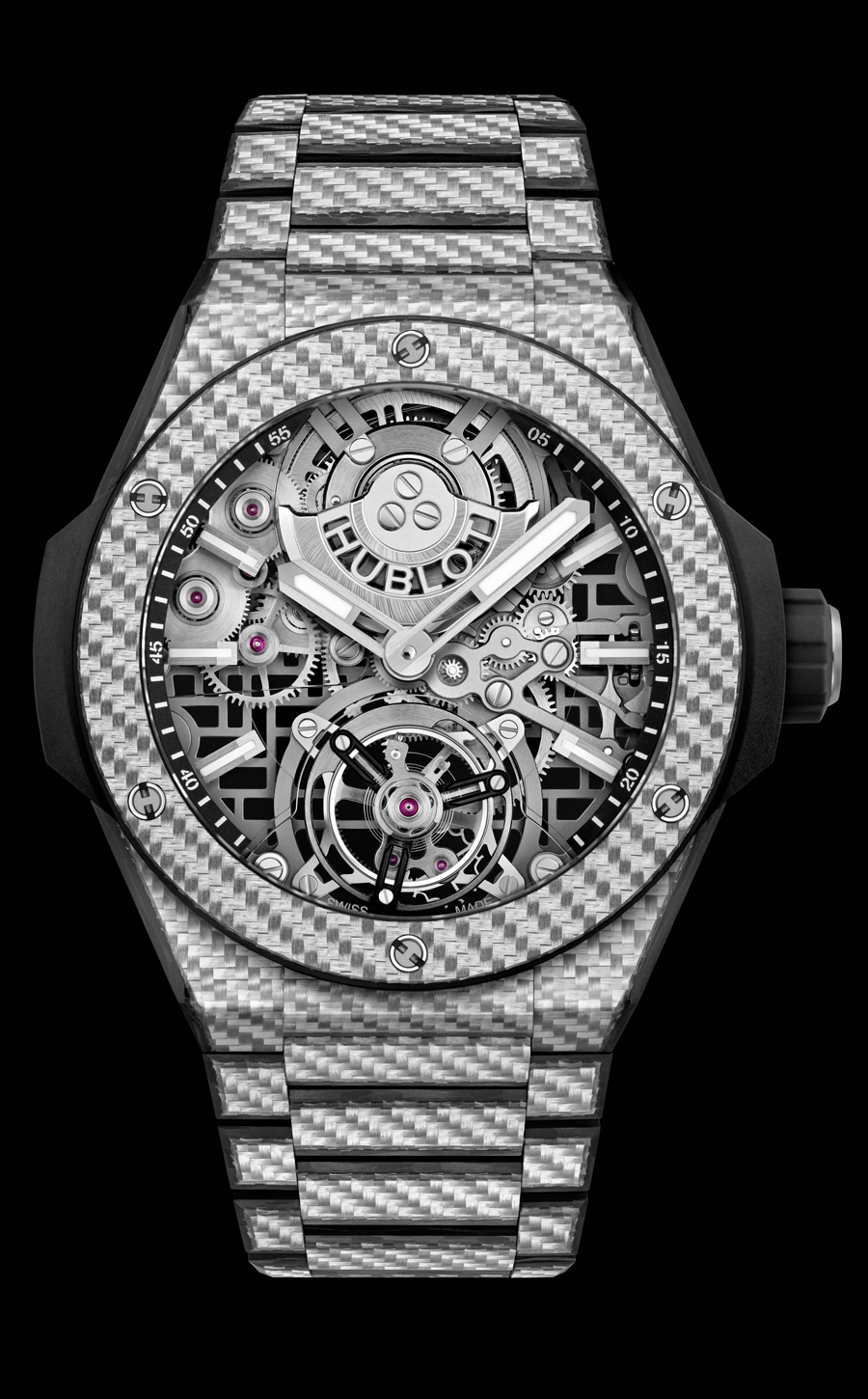 This surprisingly light piece, with its 43mm diameter, challenges all common preconceptions. At first sight, it may seem that the overall design weighs around 150 grams, when in fact, it is far lighter. All components included, this watch, as part of a limited edition of only 50 individually numbered pieces, weighs only 68 grams including the strap – 42 grams for the head of the watch and 26 grams for the articulated strap. The ultra-lightweight watch is covered in carbon and Texalium fibers, which includes glass fiber embedded in a special type of resine, thinly overlayed with 99.99%-pure aluminium.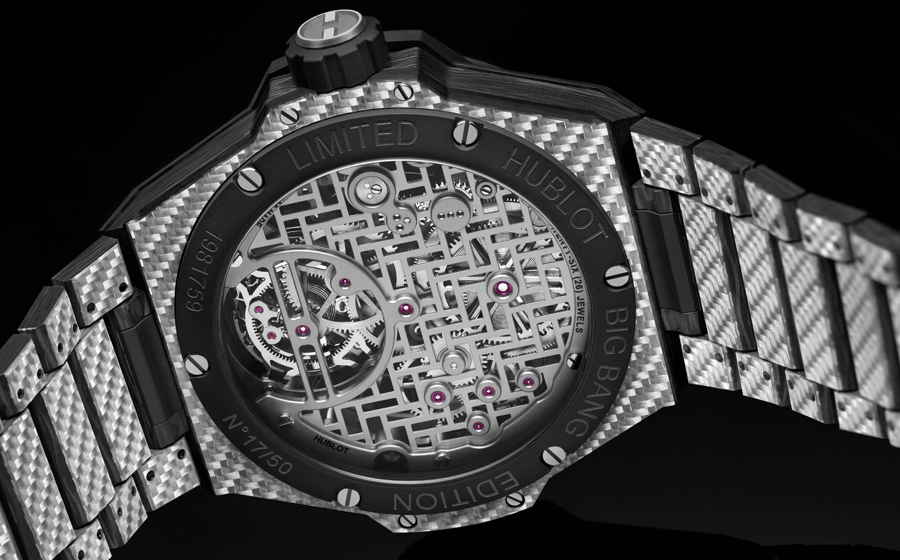 This composite mixture is resistant to both collisions and scratches, which protects the automatic caliber of HUB6035 manufacture. This caliber is regulated by a tourbillon: its position at 6 o'clock makes it the counterpart to the micro-rotor winding mechanism, positioned at 12 o'clock. This symmetry is enhanced by the alveolar, openwork structure of the back top plate. This object, with 30m water resistance and a 72-hours long power reserve, undoubtedly illustrates Hublot's determination to combine the techniques of all fields in order to push the boundaries of what is or is not possible.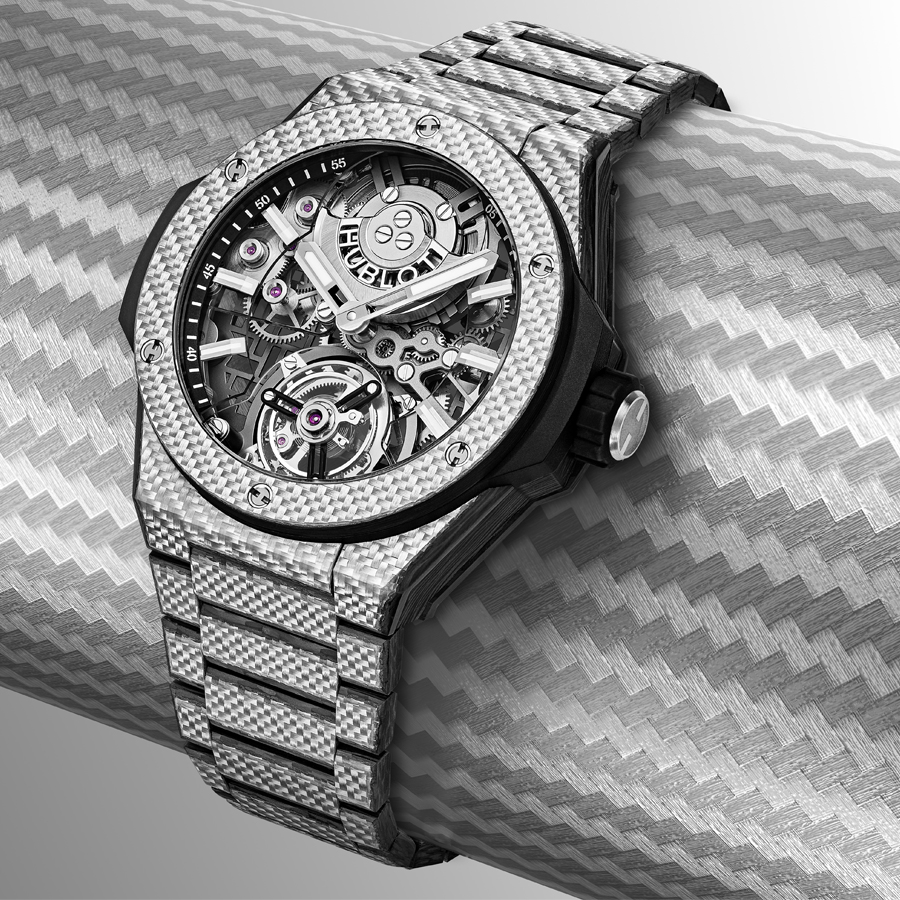 Price: €132,000
Click here to read the Big Bang Integrated Tourbillon Full Carbon full technical sheet.
The MP-13 Tourbillon Bi-Axis Retrograde turns heads
Since its creation in 1980, Hublot's determination to not observe the conventional watchmaking techniques has always made it different from other brands. Today, teams at Hublot continue to prove it, maybe better than ever: they are pushing the boundaries of mechanics with the new MP-13 Tourbillon Bi-Axis Retrograde watch. They have been working on their calibres for 14 years and this year, they are launching their entirely manufactured 13th MP movement.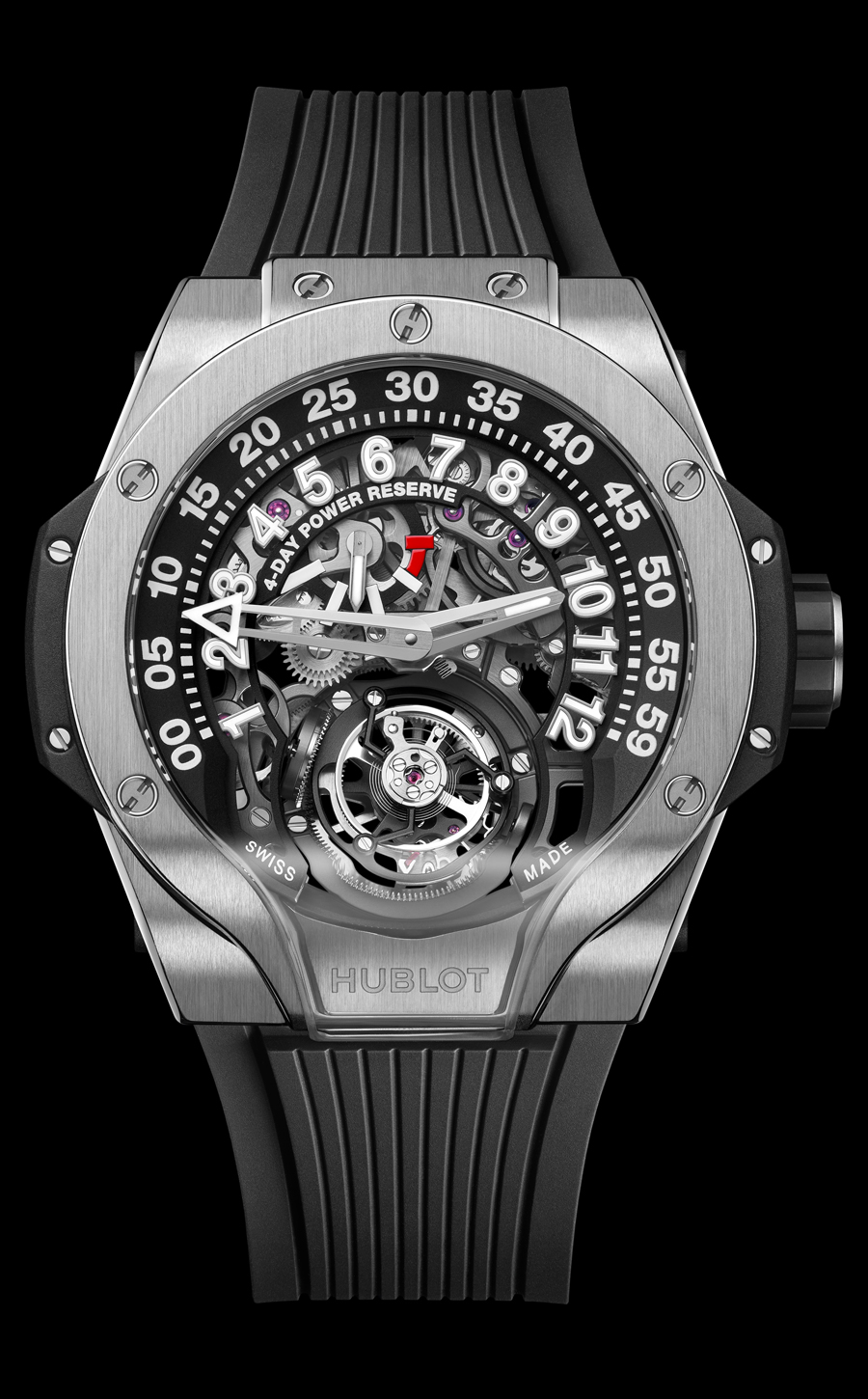 This year's newly developed product is a watch with a 44 mm diameter and made of polished brushed titanium. Its sapphire crystal gives it the shape of a hull and forms a sort of bubble through which the bi-axis tourbillon can be seen with a beautiful pespective. This exceptional regulator, visible from all angles, was manufactured internally and can complete a full rotation in one minute on the first axis, and 30 seconds on the second axis. To make it seem like the movement is levitating inside the case, the watchmakers gave it a skeleton shape to draw the eye to the moving components. They also got rid of the upper bridge to give the illusion that the tourbillon is in suspension. It is thanks to this almost architectural design and to the panoramic sapphire crystal with anti-reflective treatment that the tourbillon can be seen from all angles.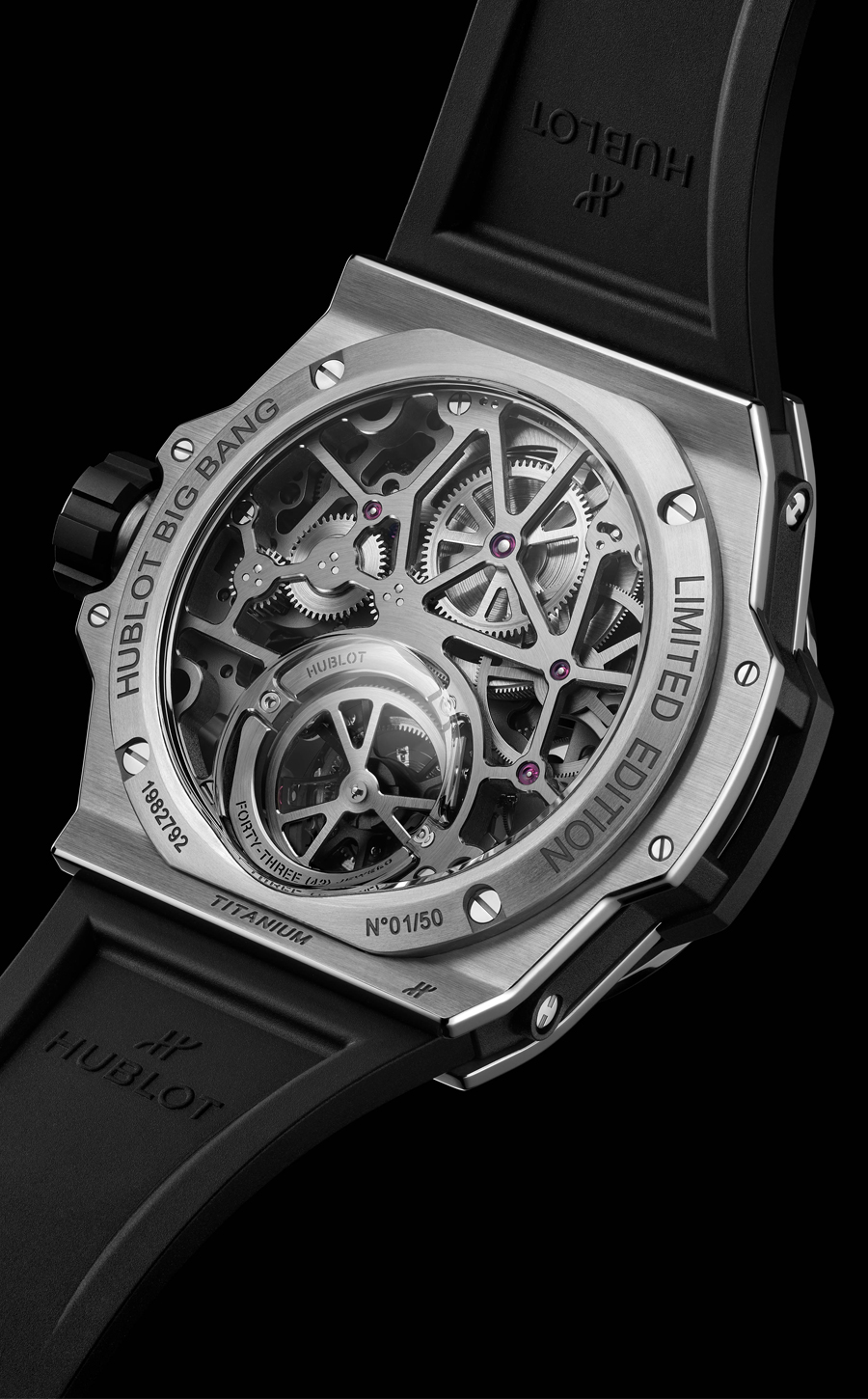 However, this gravity regulator is not the only technical feat that was achieved with this watch, which looks like a futuristic spaceship. The self-winding mechanical calibre of 374 components comes with a 4-day power reserve and a bi-axis retrograde display. In this type of display, the hour hand goes from index to index each hour then rapidly goes back to its starting point every 12 hours. The minute hand advances for 60 minutes until it reaches the end of the 59 graduations of the minute-circle then goes back to the "00" mark.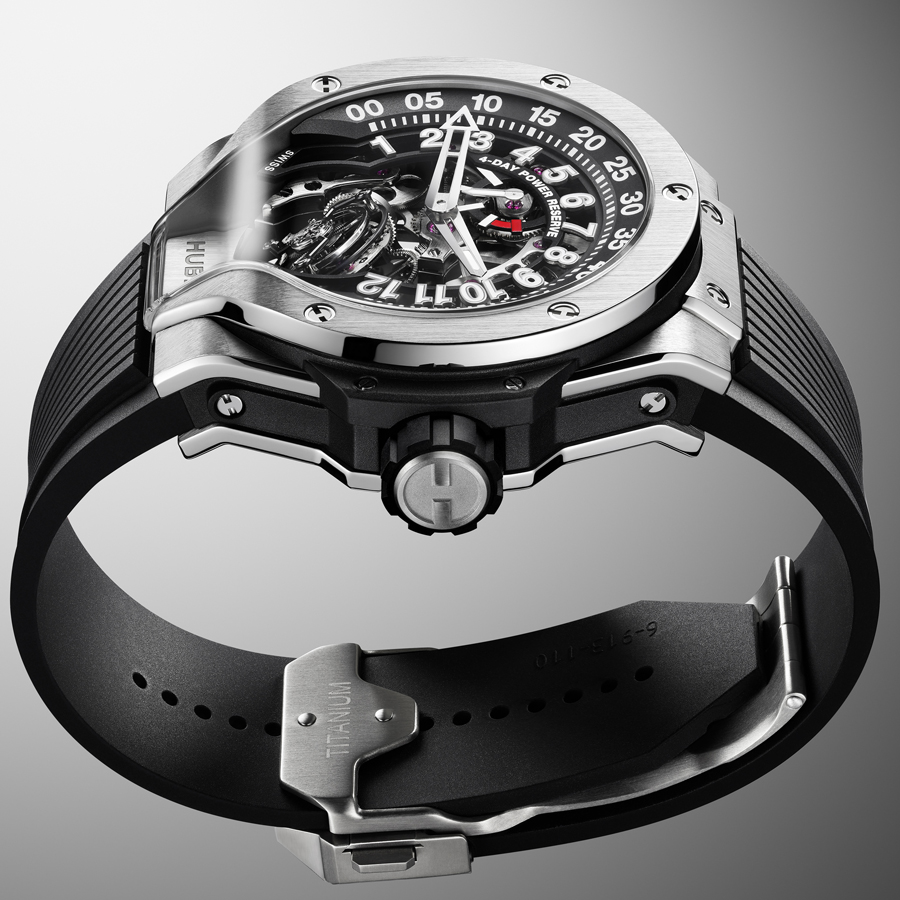 This is completely new for Hublot, who wanted to show that something which has an extremely complex mechanism can also be visually attractive and easily adjustable. In fact, it can be handled instinctively without any risk of breaking a component. That is also why the winding by a neophyte can only be done in one direction: to prevent anything breaking during the process. Therefore, it is impossible to rewind the hands. With its efficiency, impressive graphics and above all its great exclusivity, the MP-13 Tourbillon Bi-Axis Retrograde was produced in a limited edition of 50 pieces, all attached to a black rubber strap closed by an unfolding buckle made of titanium.
Price: €165 000
Click here to read the MP-13 Tourbillon Bi-Axis Retrograde full technical sheet.
IWC – The Ingenieur model: icon of – magnetic – attraction
An emblematic design
This year, IWC chose to focus on the Ingenieur model. This line of watches with automatic calibres was created in 1955 as the electrical and electronics industries needed watches that would resist and not be disturbed in the presence of powerful magnetic fields. This watch, centerpiece in the catalogue of IWC – a manufacturer historically based in German-speaking Switzerland in Schaffhausen, a few hundred meters away from the famous Rhine Falls – was to be remodelled in 1976 by Gérald Genta, the legendary watchmaking designer.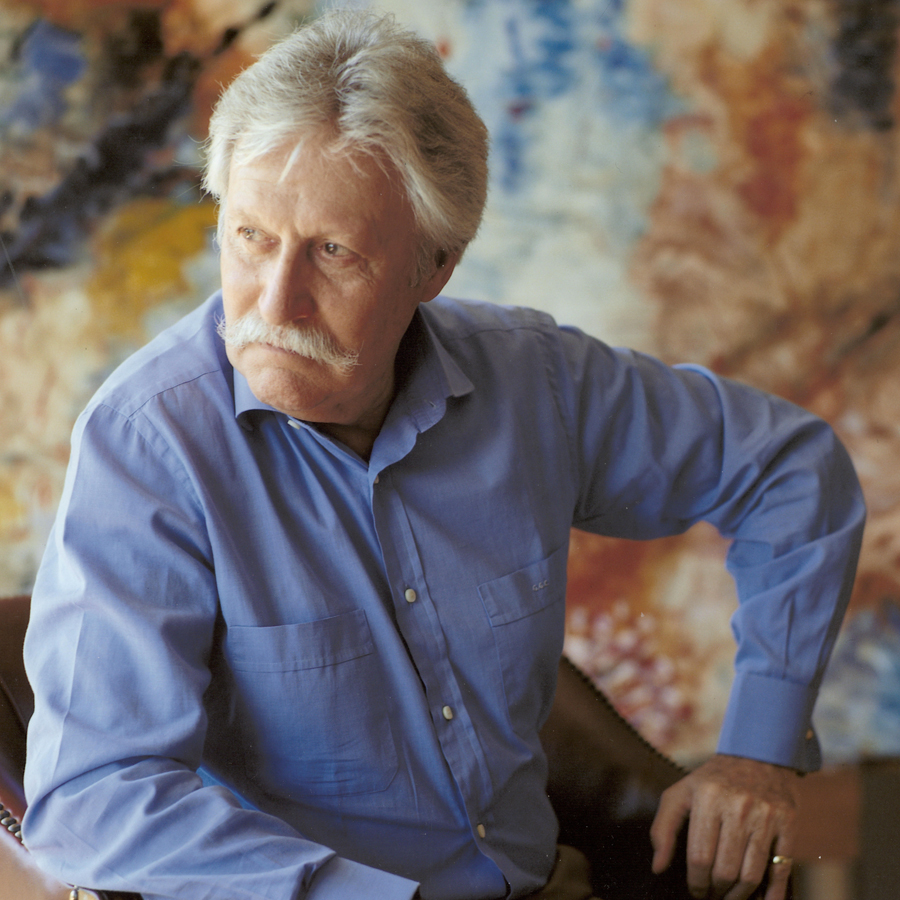 This collaboration gave birth to the IWC's SL-Ref. 1832, a steel piece with a massive design which was intentionally inspired by industrial aesthetics. It was revisited in 2004 then regularly appeared on the brand's catalogue when it was associated with the field of motorsports.
Four new references
In the context of watchmaking, where the focus is on simple models with three hands and strong charisma worn on a metal strap, it makes sense that IWC, who is sensitive to design, would decide to reproduce this emblematic reference. Indeed, this model is the perfect embodiment of the idea of efficiency enhanced by flashy, easily noticeable design, which has been in style for almost five years.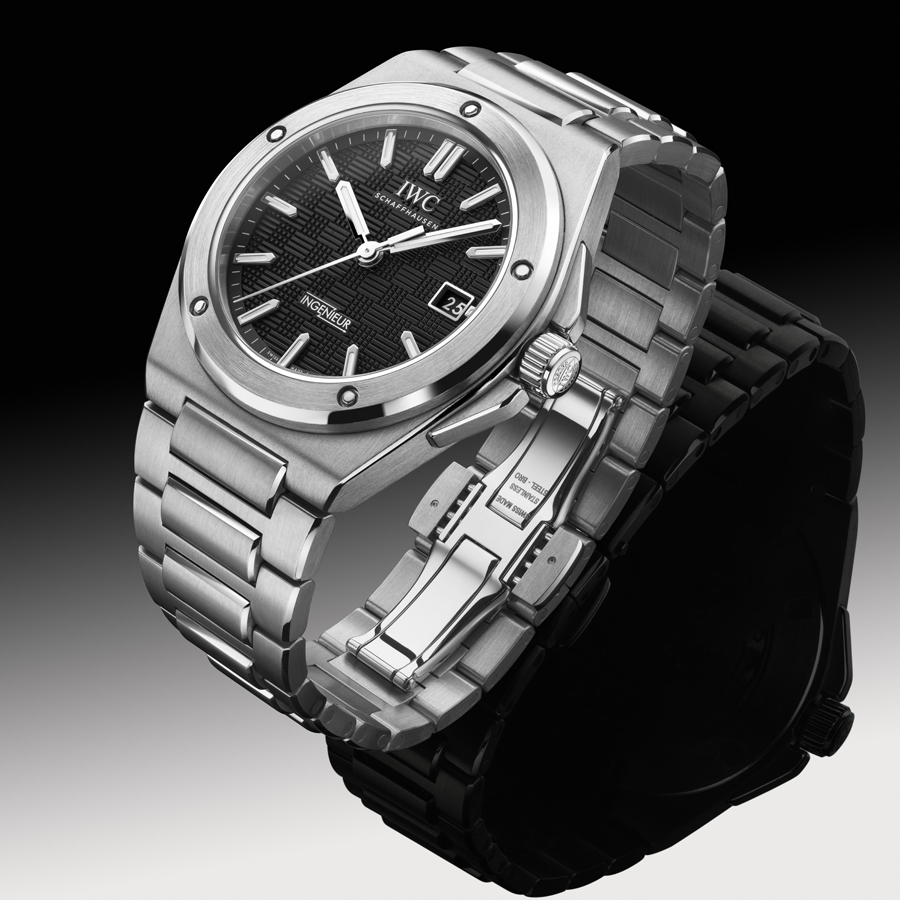 This reference is not an exact replica of the 1976 model as it includes today's ergonomic design and finishing norms. This slimmed model of 10.8mm movement thickness is presented either in an extra-fine steel 316L case with a 44mm diameter, or in another version, in a titanium grade 5 case. With a water resistance of over 100m, the model has a mechanical sef-winding new-generation calibre (Ref.: 32111) with a 120-hour power reserve. To ensure its protection from magnetic radiations, the movement is confined to a soft iron inner case, as in the original version.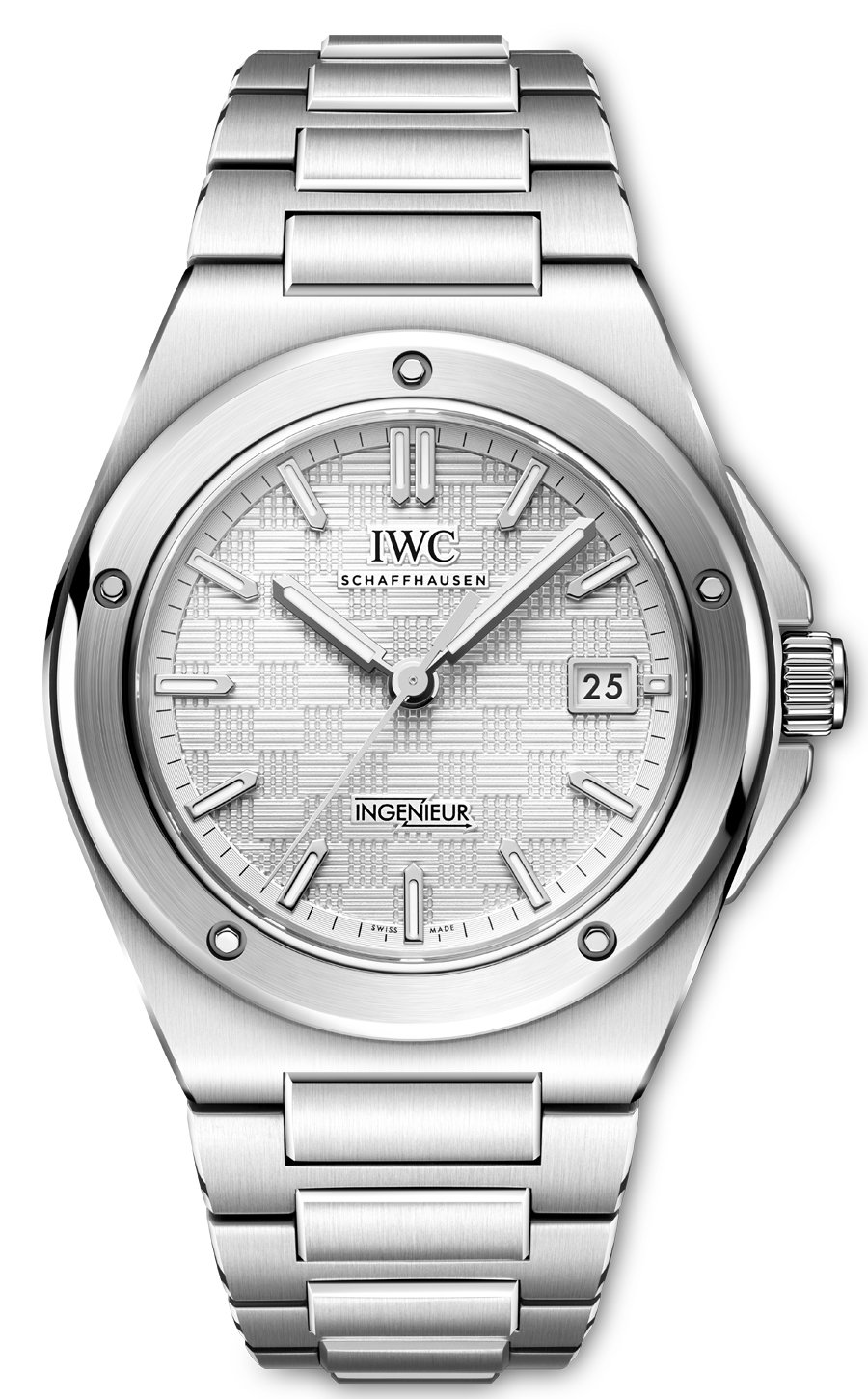 Designed to resist to any situation a scientist could encounter at his job, this model comes with a bezel screwed-down by five hexagonal screws. The bezel has five holes, used to screw it down on the case band. This model is available in three versions, each with a different dial. Besides two classical dials with a black and a silver finish, a more original, very trendy emerald green finish called "Aqua" is available for purchase.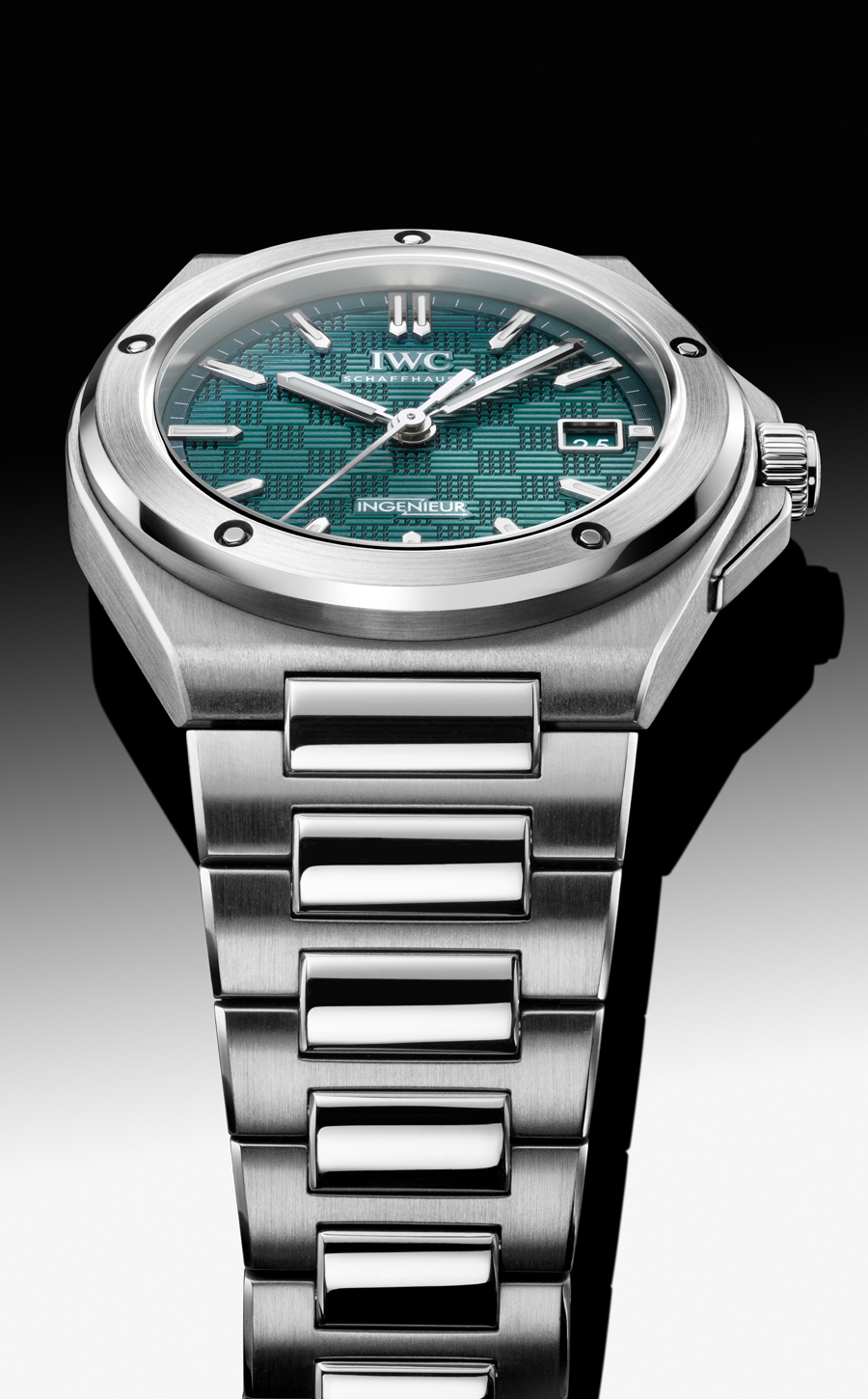 For the titanium version, the dial is grey. All versions of the model show a checkered pattern where a square motif alternates between lines and dots. The indexes of these efficient, but understated dials are made of luminescent material and can therefore be read in the dark. This piece also shows the date in an aperture at the 3 o'clock mark.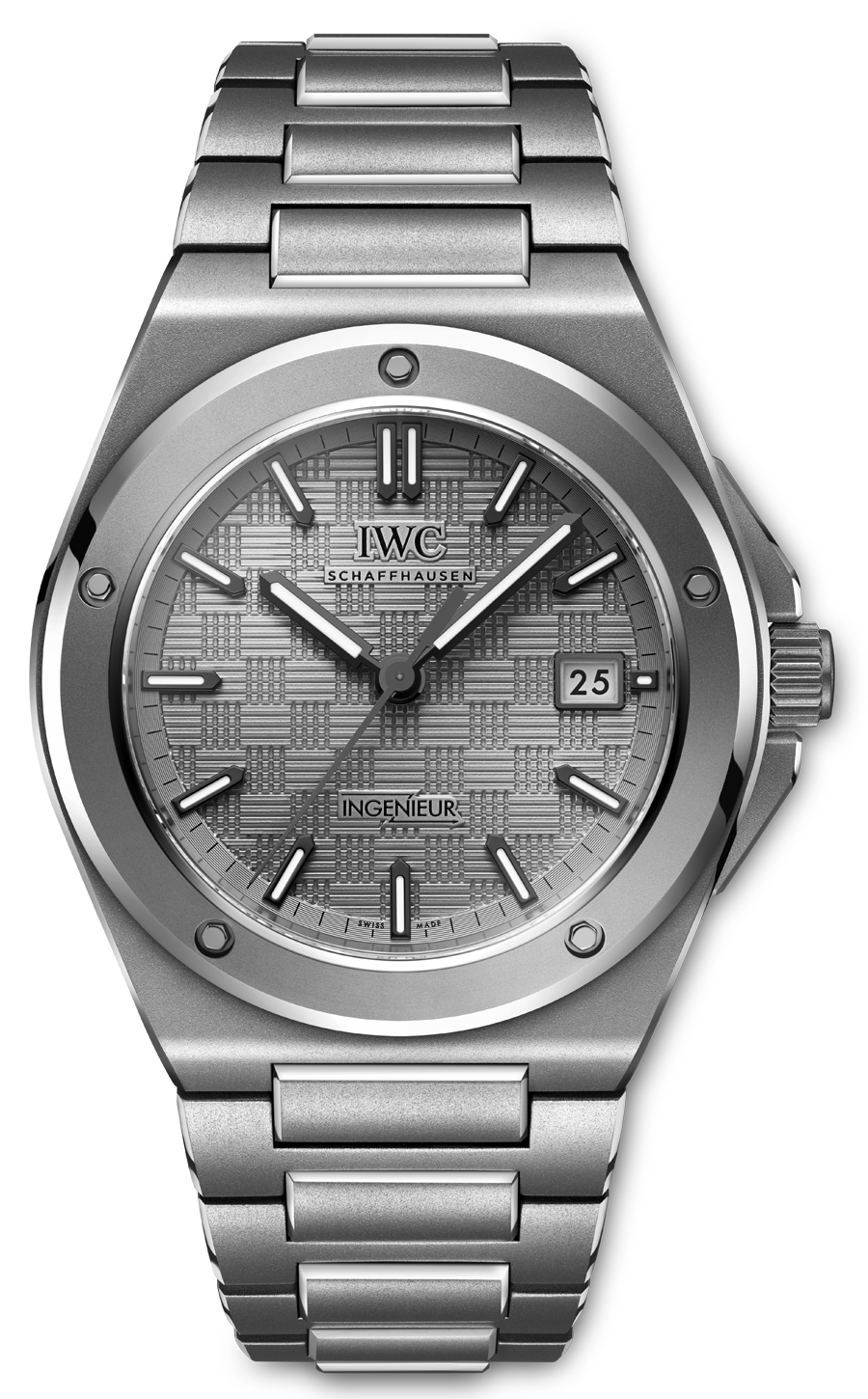 Rich in both its design and its history, the new watch is worn with a steel strap. The one in titanium is attached to a link made of the same metal. All the straps come with the IWC emblematic wearing system which allows you to adjust the length of the bracelet without any tool. The very coherent new generation Ingenieur watch also comes with a 2-year guarantee, which can be extended to 6 years by registering to the My IWC Care program. It will be available in a selection of specialised IWC boutiques.
Prices:
Ingenieur Automatic 40 in steel – €12,700
Ingenieur Automatic 40 in titanium – €15,800
Click here to read the new Ingenieur Automatic 40 watches full technical sheets.

IWC WATCHES WEBSITE
VAN CLEEF & ARPELS
The Ludo Secret watch
At Watches and Wonders, the space dedicated to Van Cleef & Arpels is both very popular among visitors and an unmissable part of the exhibition. With its otherwordly space design and poetic plant decorations, where famous automats patiently wait for the watchmaker to rewind their breathtaking mechanism, the Van Cleef & Arpels exhibit cannot be missed.
There, you can also find the new luxury jewellery items, a craft which the brand has excelled at since its creation. It mostly shows through the Ludo Secret jewellery watches, which marry rose gold and pink sapphires. The bracelet, which was named "Ludo" after Louis Aprels's nickname in 1934 and binds this beautiful watch and its owner, was made through a meticulous process of assembling briquette links by hand to achieve the best possible fit for the piece.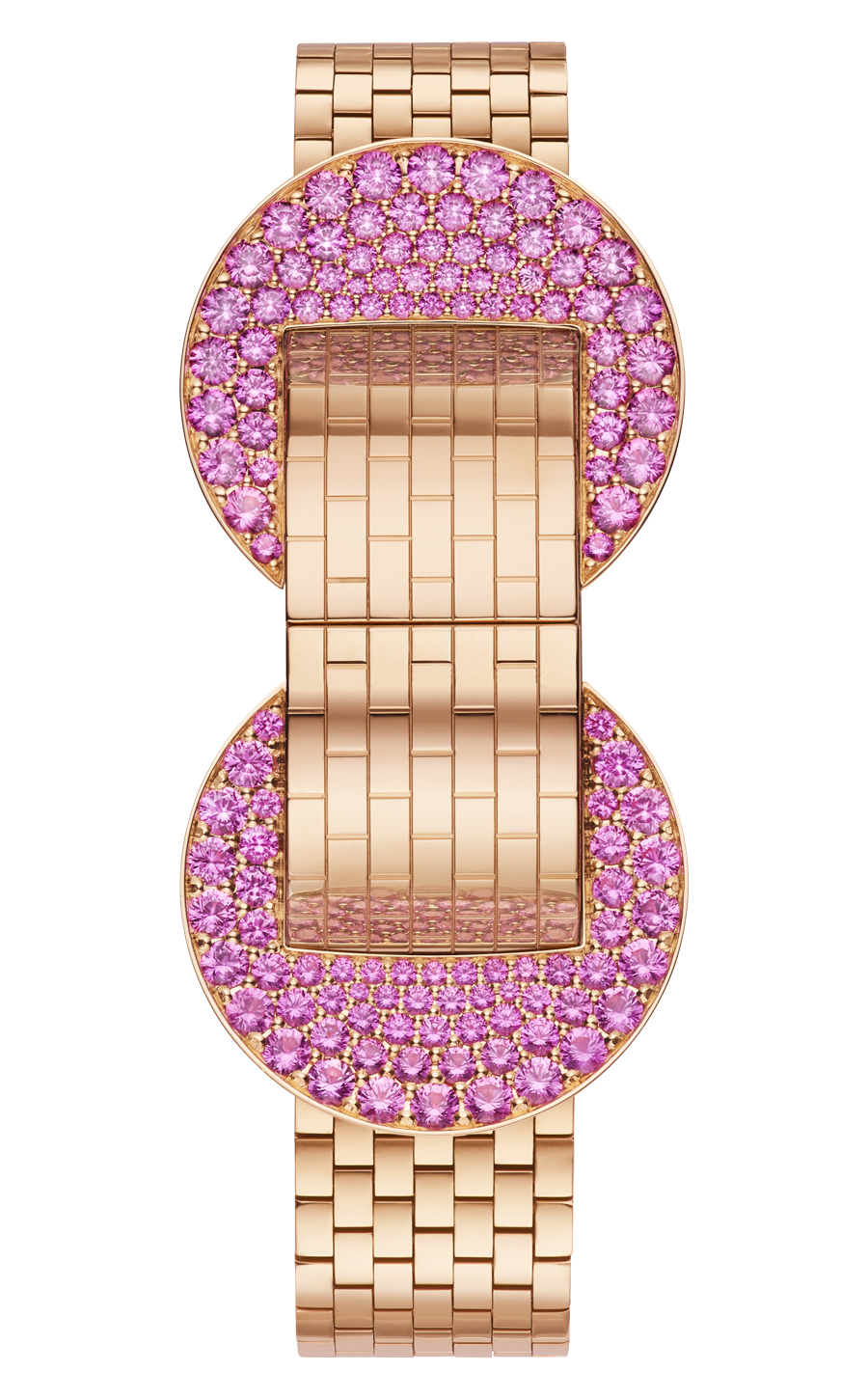 This method perfectly results in a very flexible bracelet which emulates the shape of a belt. Thanks to the meticulous work of the brand's artisans, the bracelet is almost blending with the case like a precious ribbon. Inside the case, which is designed in a rectangular shape to perfectly hug the feminine wrist, rests a dial in carefully guilloché-worked white mother-of-pearl. This dial can be opened on demand merely by pressing simultaneously the two pavé-set pink sapphire buckles.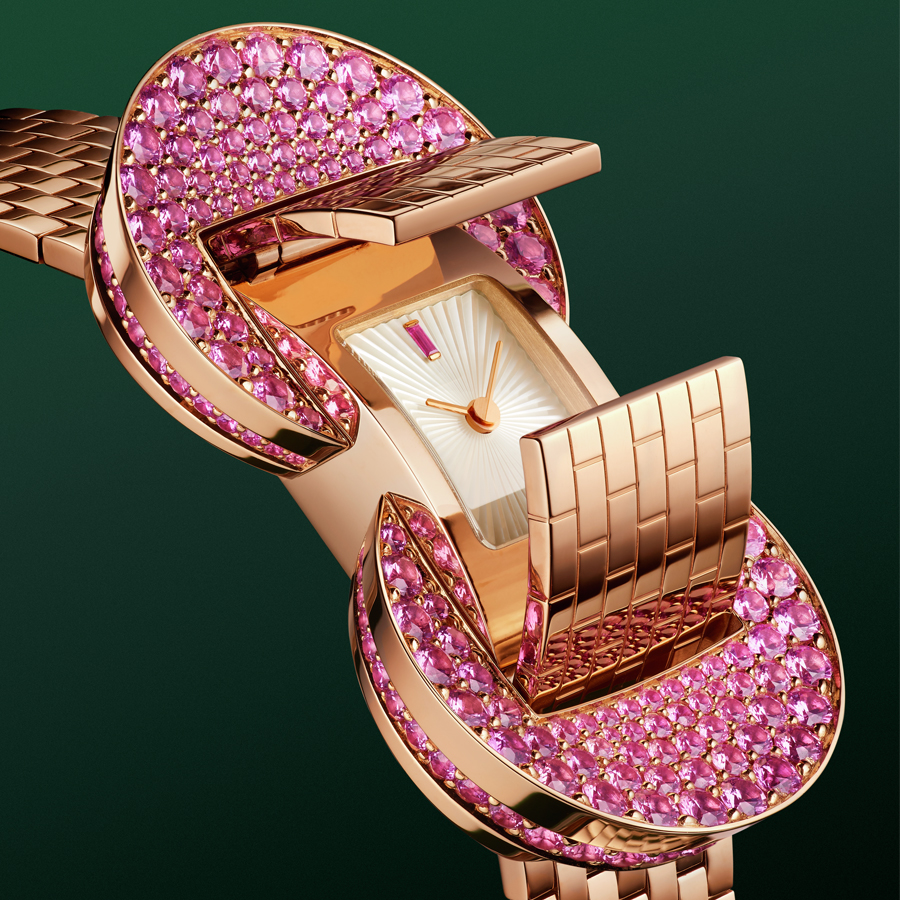 Price: €161,000
click here to read the Ludo Secret technique de la Montre Ludo Secret's full technical sheet.