Zenith Defy Lab: future is now
By MyWatch
On Thursday, September 14th 2017, we have assisted to the presentation of a real revolution at Le Locle (Switzerland), by Zenith. The manufacture has gathered the international press to reveal the Defy Lab watch, from which the totally innovative oscillator opens a new era in the mechanical watchmaking world.
Written by Nicolas YVON
Translated by Charlotte SITRUK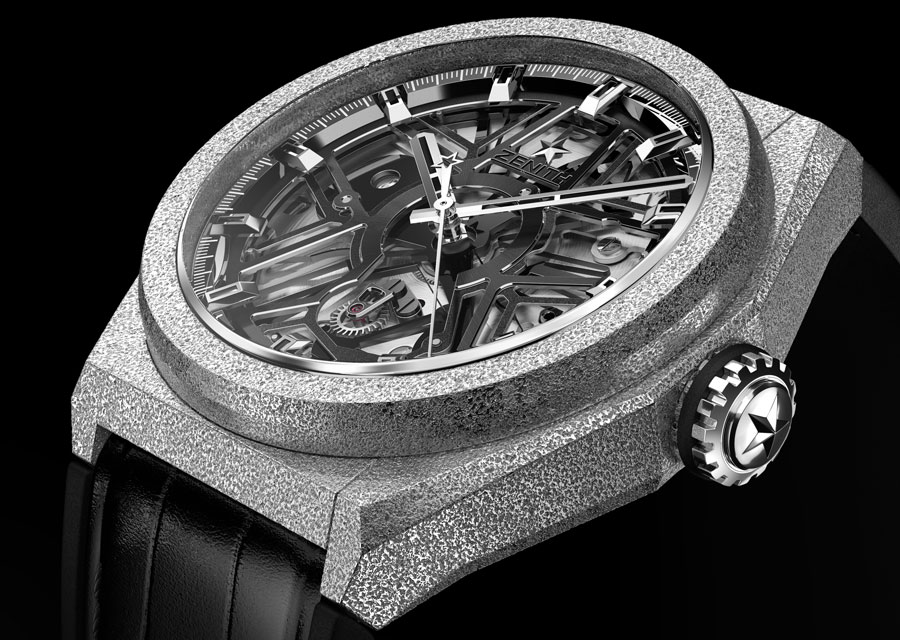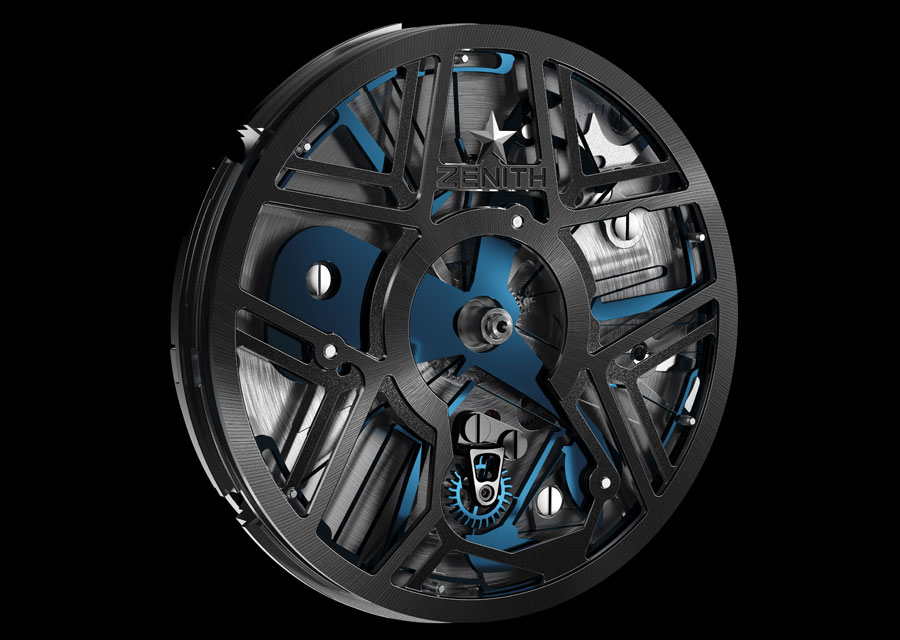 With the Defy Lab watch, Zenith just brings the mechanical watchmaking into the future. In fact, its automatic caliber is equipped with a revolutionary regulating organ, which has all chances to return the sprung-balance regulator back to the Stone Age. Present in all the traditional mechanical watches, the device that we know has certainly been greatly improved over time, but had never really evolved (identical mechanical scheme) since its creation by Christian Huygens … in 1675. This is now done with Zenith's patented system that has been praised by Jean- Claude Biver, President of LVMH's Watches Division. This system whose palpitations can be observed through the five-pointed star-shaped open dial (Zenith's emblem), breaks the boundaries of what is possible and is actually, only a first step in the world of tomorrow's watchmaking…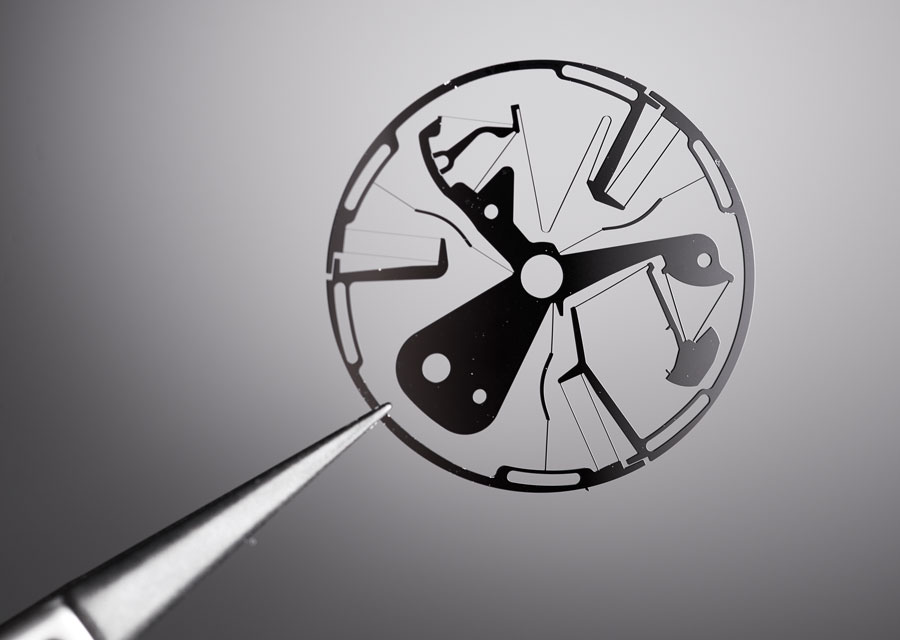 Zenith Defy Lab, when engineers revolutionize watchmaking mechanics
It is about a shape memory mechanism, partially flexible, cut from one side in a single-crystal silicon plate (wafer). Advanced technology is the same as the one used for the spirals and other movements silicon pieces; however, the structure is way more complex and in theory impossible to reproduce. The result of three years of development by engineers from LVMH's Institute R&D of the watch division, this major invention in watchmaking's history revolutionizes the regulation system of mechanics watches. Easier to produce and to integrate to the caliber, this monolithic piece (to compare with a standard sprung-balance which is constituted of 30 pieces) is free from frictions or wear points, in other words it doesn't require lubrication and beats at 108000 vibrations per hour, which equals to 15 Hz !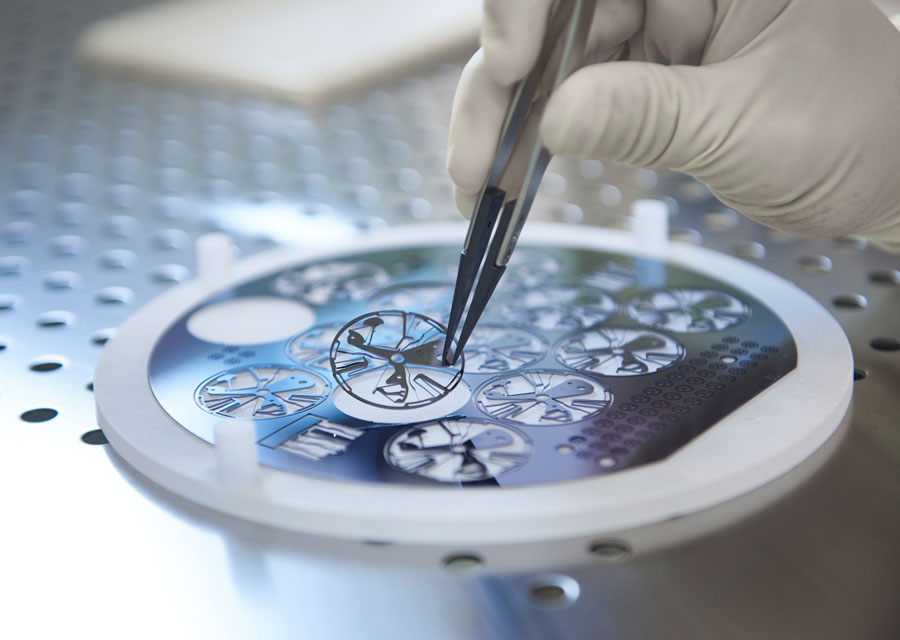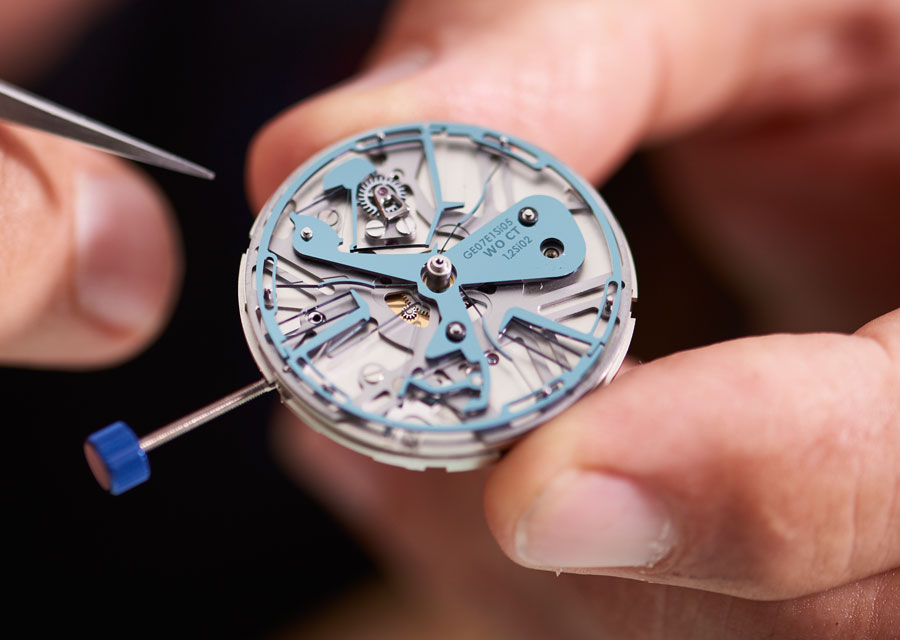 Associated to specific construction and high-tech material, the very high frequency of Zenith's oscillator allows the caliber to reach abnormal chronometry accuracy, exclusive for a mechanical watch designed to be mass-produced: +/- 0,5 second/day. Notice here that the oscillator can reach until an accuracy of 0,3 second/day (isolated system, non-nested caliber). This is a real exploit when we know that the tolerated gap by the COSC (Swiss Official Chronometer Testing Institute) is -4/+6 second/day, and that the more efficient sprung-balance of classic caliber has an accuracy of +/-2 second/day.
This prowess is even more impressive as the movement keep the same accuracy, on almost all of its 60 hours power reserve (95%)… for the moment. We have learnt that it was just a beginning; in fact some tests have already been made on much longer durations, with different barrels…
If this concept is revolutionary, its application will lead to a drastic decrease of the watchmaker's role. This invention is just constitute of 3 screws and 3 small adjustment springs to install and connect this innovation to the movement, via a silicon escapement wheel provided with a specific serration. If the first idea was the complete redefinition of a proven mechanisms dating from the 17th century through the prism of simplification thanks to science and new technologies, Zenith's device remains a rare conceptual complexity. In fact, all the elements that constitute a sprung-balance system are gathered in just one piece. The shape of the piece is neither a hazard nor an inspiration aesthetic. For example, we can guess that the very fine zones (thinner then a hair) are matching with the spiral, or another one that the design remind us the lever escapement.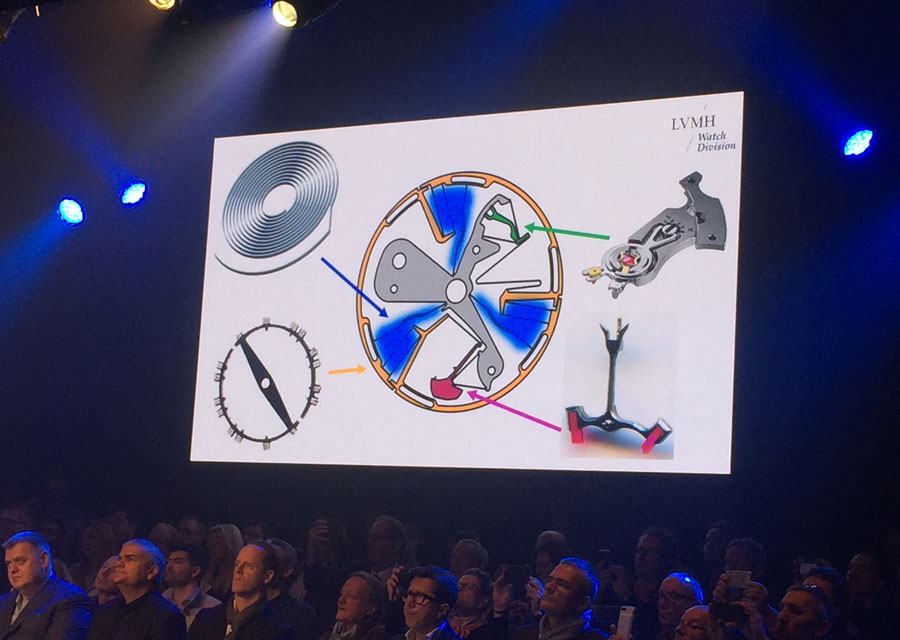 A revolution for all ?
Everyone know that this revolutionary system, even if nowadays, its cost remain high – let's remind that we are only in the early stage – is devoted to an advanced industrial production. Guy Semon, CEO of the Science Institute LVMH, has entrusted his hope to reach the same production cost as a conventional regulating tool. In this way, for this oscillator, robotic high-tech machines, controlled by engineers in bleu hermetic combination, will replace watchmakers in white blouses. But do not panic, those ones will still keep their power with high-hand watchmaking as their existence is based on the perfection of the hand making and in the traditional know-how.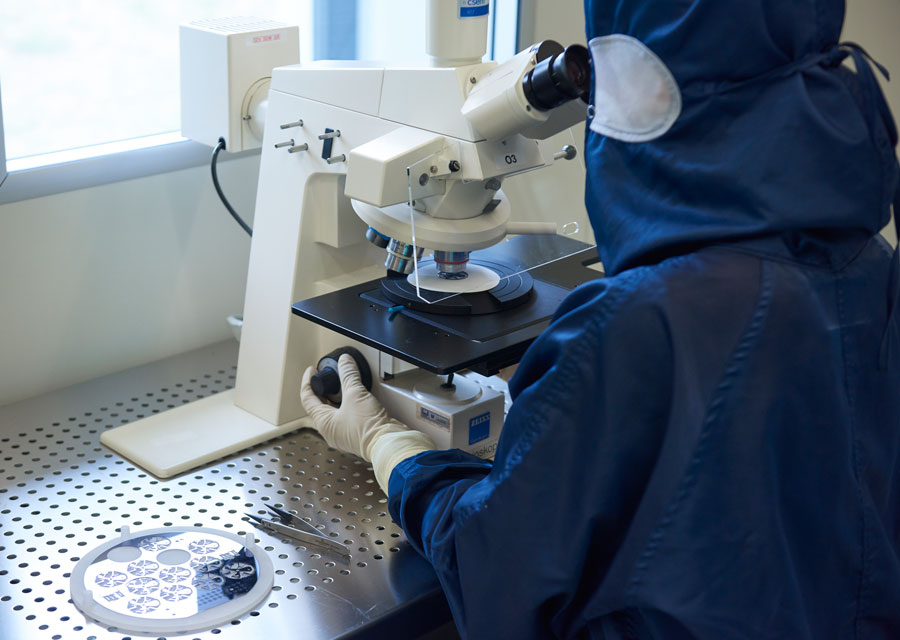 Nevertheless, it seems that the watchmaking just has entered in a new era… And Jack Heuer, the founder and the honor president's grandson of TAG Heuer, present at the conference, agree with this. For him, this is simple; it is just the beginning of revolution for Zenith's system, which is going to become the integrant part of mechanic watches within few years. He adds that the traditional sprung-balance is committed to disappear. Firstly, the future will tell us if Zenith's oscillator will equipped the manufacture's collection (even chronos El Primero?) and secondly, if the other brands of their group (TAG Heuer, Hublot…) will adopt it… before the other watch brands will benefit of it. Patience, we will see.
A surprising case signed Hublot for the Zenith Defy Lab
As the Defy Lab revolution reaches such level of hope for the future of watchmaking, we almost forgot to look at the case, which protect this mechanism. Proof of the synergy in which, the manufactures of group are involved in, the watch is wearing a 44 mm diameter box, water-resistant to 50 meters, realized in Aeoronith by Hublot's engineers. This high-tech material, for which R&D department from the watchmaker asked for a brevet, is constitute of an aluminum foam obtained by melting metal, whose open pores are injected in a special polymer to rigidify the whole after cooled. Particularly resistant to wear and corrosion, this hybrid material can be machined as easily as precious metals. Its higher differences are resulting in its aspect and its lightness. For you to have an idea, it is 2,7 times slighter then titanium and 10% slighter then ceramic. For having tried it, the Defy Lab is clearly a featherweight.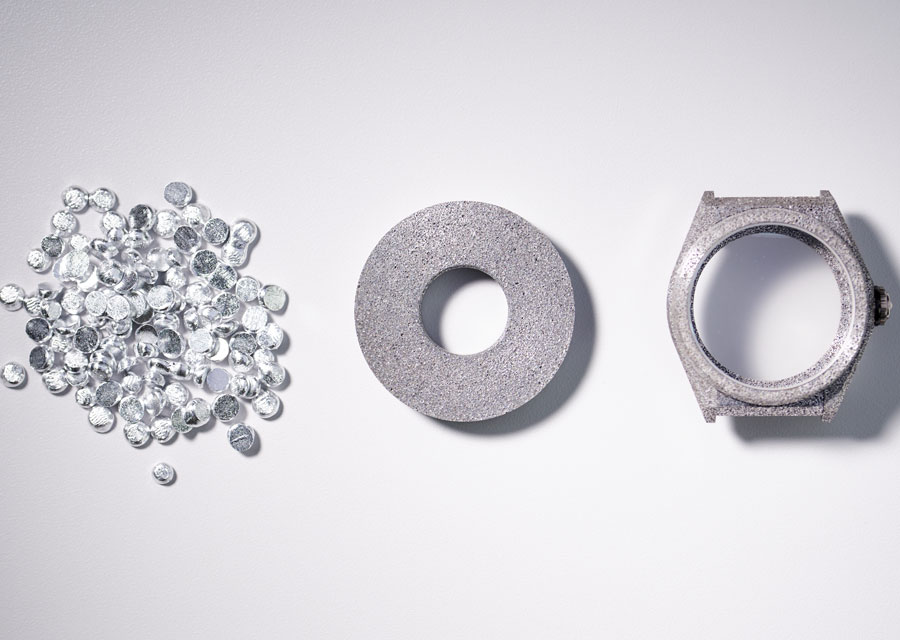 Of course, all Zenith watches devoted to be equipped with the oscillator will not have an Aeronith case. But the launching of the Defy Lab and its revolutionary mechanism had to be very exclusive to start it story.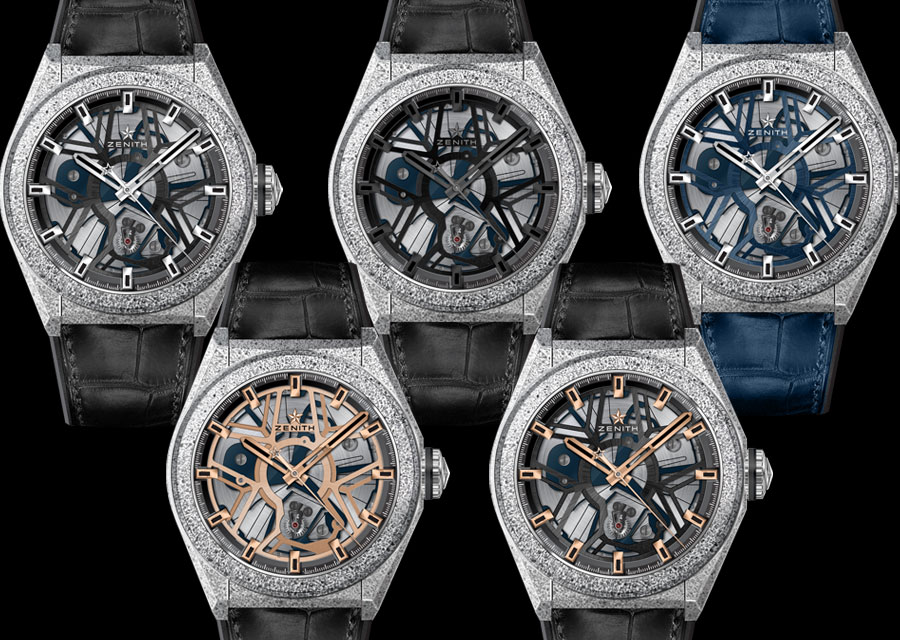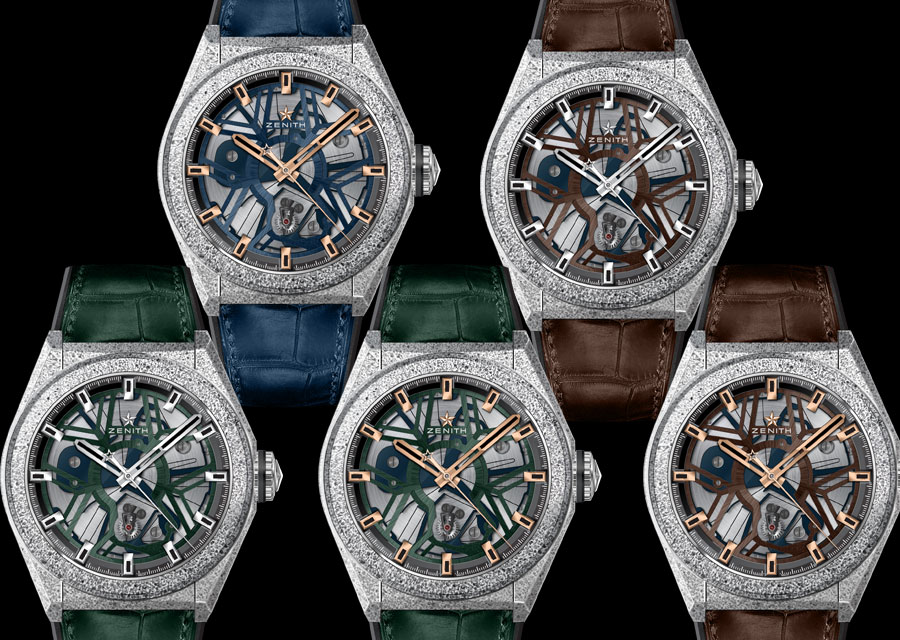 While waiting for the Zenith system to be integrated in other models (in steel, in titanium?), we count just 10 unique models of the Defy Lab watch for the moment, (each one is different: bleu, black, green, brown…). They are all already sold- the happy purchasers were present at the launching- each watch was delivered with a superb box, including a visit of the manufacture founded in 1865, with Jean-claude Biver, Guy Semon and Julien Tornare, the brand's CEO, and a tasting of a Chateau Yquem from the 19th century. The price? 29900 Swiss francs. Objectively, the amount isn't really seductive but it is sure that this system will soon regulate way more attainable watches. It is just a matter of time and things can go fast…
The History will "just" remember that Zenith has opened, this Thursday, September 14th 2017, the doors of the future of watchmaking.