The flavors of black gold
A Moment To Enjoy, A Guide To Savouring Caviar
Caviar remains indissociable from New Year's Eve meals, and is yet to be dethroned among the rarest and most prized luxury dishes. An exceptional product requires an exceptional selection ans sampling. Here are a few tips to savour black gold like a true connoisseur.

By Kassandre Fradelin
If nowadays caviar is the star of all the great tables, the palates that know how to appreciate it are not widespread. History itself is full of anecdotes that remind us that before reaching the status of an exceptional product, the small black and shiny sturgeon eggs disconcerted more than one. Starting with Louis XV, who is said to have spat out the spoon of caviar offered by the ambassador of the Tsar of Russia in 1723. Could have been enough to provoke a diplomatic incident…Closer to our times, French writer Proust obviously didn't like it either: 'On the other side of my plate there was a smaller one filled with a blackish substance that I did not know to be caviar. I had no inkling of what to do with it, but I was determined not to eat it.' (in À l'ombre des jeunes filles en fleurs). This blackish matter, as the author describes it in his book, would nevertheless be acclaimed throughout the world, and called black gold or black pearl. Its certainly peculiar flavor is both powerful and delicate, and its price is at an all-time high.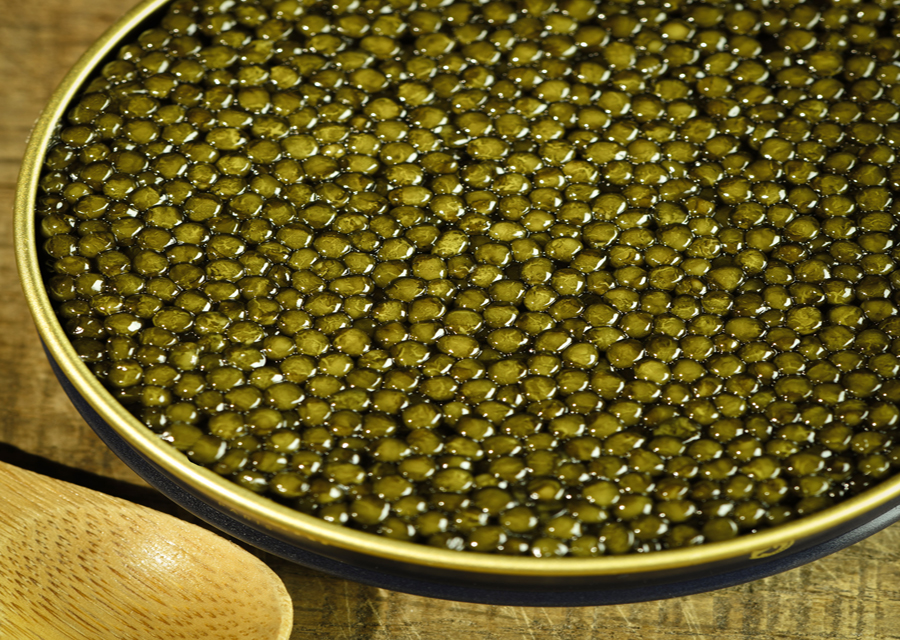 A Protected Species
Because it is a rare dish, caviar is selected with the greatest care. There are many criteria coming into play when one seeks to determine which is the best of them: origin, breeding, production, conservation…
A first distinction must be made between wild and farmed caviar. Sturgeons have fallen victim to intensive fishing, which has permanently reduced the various populations that make up its species. It is now a protected species and only lives in the Caspian Sea, the Sea of Azov, the Black Sea and the Amur River. Its fishing is highly regulated, in particular by the Convention on International Trade in Endangered Species of Wild Fauna and Flora (CITES) and since 2006, only caviar from farmed sturgeons has been authorized for sale—which means that if you ever come across a box marked 'wild caviar,' then you know for certain that it is necessarily smuggled.
Caviar: More Than a Name, A Protected Designation and a Know-How
To obtain "caviar" name is no easy feat, it is a highly regulated designation. No need to even try and pass off lump or snail eggs as caviar: the application will go straight to the bin—the only exception being caviar made of…eggplant!
For many years, farmed caviar has suffered from a much lower quality than wild caviar, mainly due to the inherent fragility of the fish. Today, however, fish farmers' professionalism has reached such a level of knowledge and perfection that farmed caviar is now just as good as wild caviar. It should be noted that France is one of the largest caviar producers in the world: with sturgeons raised in the greatest respect for environmental and animal welfare standards, the country produces caviar of extremely high quality.
But fish farming always proves to be a real challenge! Fish farmers have to wait for more than ten years before their first harvest: females must be at least seven years old to produce eggs and even older in some cases.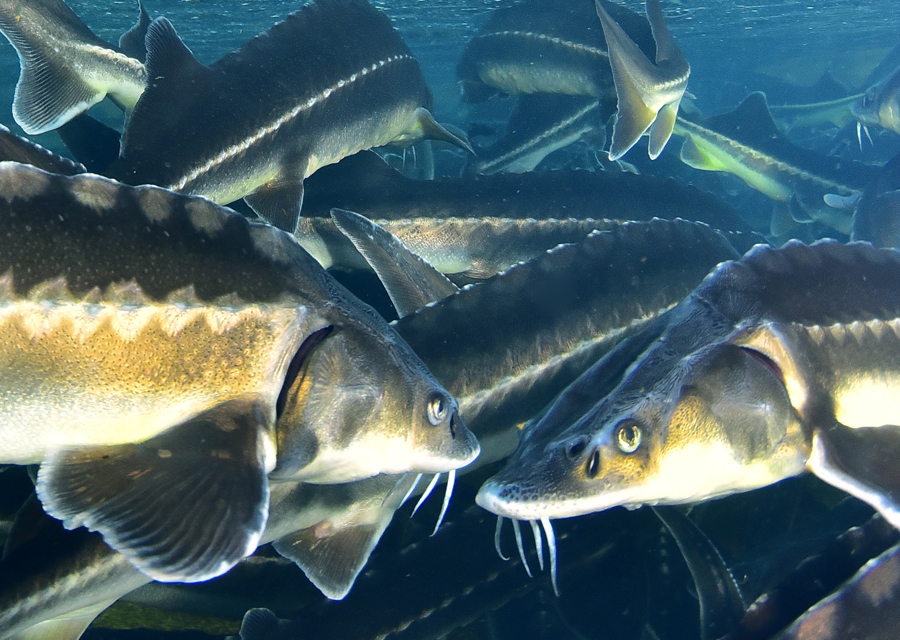 The quality of the water is, of course, another key element. As a freshwater fish, the sturgeon is very sensitive to its environment's purity and oxygen levels—especially in the few days before the eggs are harvested, because if the water is not adequate, then the eggs take on a muddy taste. The other major challenges are of a technical nature. An ultrasound scan of the sturgeon is used to determine the sex (only females are kept for farming) and a second ultrasound, much later, is used to determine there are any eggs. When this is the case, the fish is opened by hand and the eggs are carefully removed and placed in a container after passing through a sieve. This is followed by the salting process, a crucial step that varies according to the size of the caviar. If salting is too strong, the caviar dries out; if it is too weak, it deteriorates quickly. Then comes the drying: this is what makes the caviar soft i.e. neither too sticky nor too dry. The cans are then filled and put under pressure to expel excess liquid and air bubbles. Then begins the refining work, very last stage of the production. Tell us again about the price of these black pearls…
The Art of Choosing the Right Caviar
While each grain is its own explosion of flavour when bursting under the palate, there are different nuances depending on the species. And the choice will be made according yo the taste as well as the size and color of the grains. The main caviar sturgeons are Beluga, Oscietra, Baeri and Sevruga. Each has its own visual and gustative characteristics.
The Beluga (Huso huso) is one of the largest fish in the world: it can reach up to six metres in length and weigh 1,000 kilos! It is also the rarest species, therefore the most precious…and the most expensive. Its grains are the largest, varying from light grey to dark grey. Their membrane is very thin and fragile, but the eggs are firm, making it one of the softest caviar.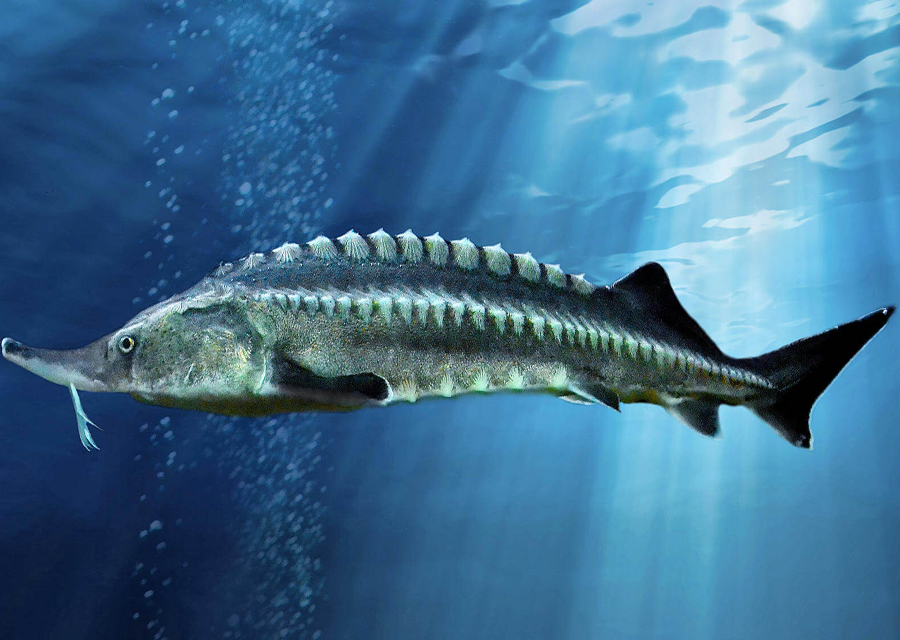 Oscietra, also known as Ossetra or Russian sturgeon, produces small and firm, golden eggs. Their special feature resides in its delicate hazelnut flavour.
The Baeri is the most widespread species in Europe. In France, it is at the origin of Aquitaine caviar. Its delicate, dark burgundy grains are easily detachable.
The Sevruga, commonly known as the starry sturgeon, produces a caviar that has long been considered inexpensive because of the small size of its grains. Yet Sevruga eggs are extremely delicate and particularly tasty. Of an almost black dark grey, they have a subtle, iodized flavour that makes them the caviar closest to its wild counterpart.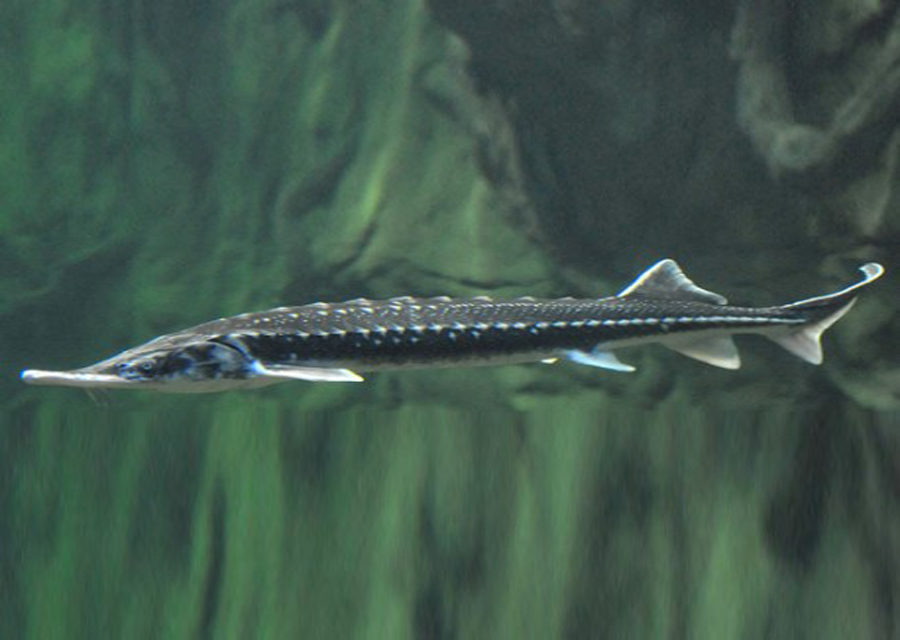 The Art of Tasting Caviar…
Quantities vary according to the occasion, and one should know that caviar is served with a teaspoon! Which is why a portion of 10 grams will be perfect for a discovery, 20 to 30 grams will be a quality tasting, and 50 grams a really generous tasting. Now, proper conservation is essential between the time of the purchase and the time of consumption. Caviar should be kept in a cool place, between—2° and + 2 °C, to prevent the eggs from becoming too shiny, hardening or sticking together. It is recommended to take it out several minutes before serving, so that it returns to an optimal temperature of around 8° C. This way allows it to fully exhale its fresh and salty flavour.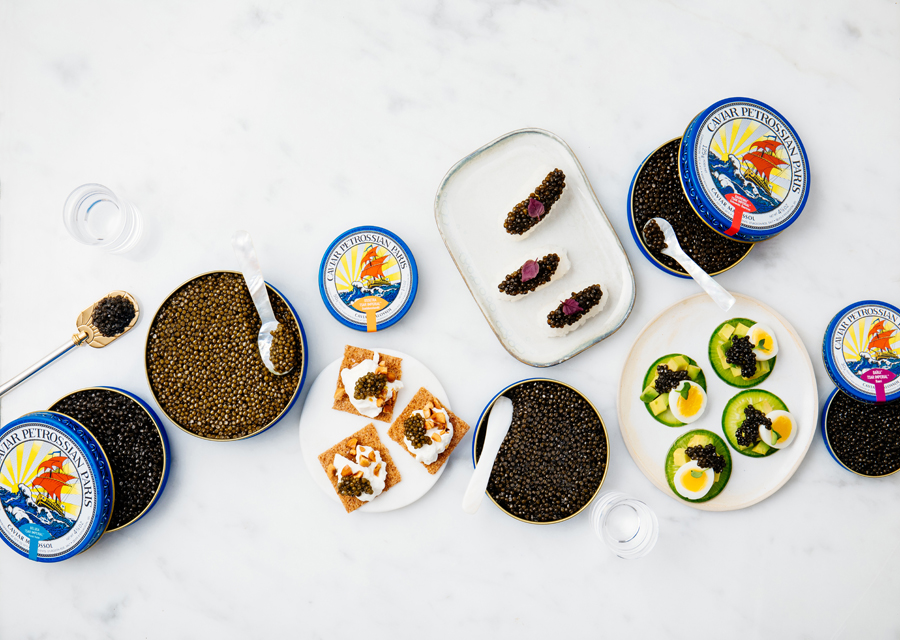 Service is a crucial moment before any tasting, whether one is a great restaurateur or a simple host receiving friends for dinner. The ideal way to serve caviar is in a mother-of-pearl service: it is a noble material that will sublimate this 'black gold' without altering its taste. This is why silver and stainless steel, which give a metallic taste, should be avoided at all costs. If mother-of-pearl services are not available in your cupboards, then glass, crystal or porcelain are the best choice.
To Be Tasted With a Teaspoon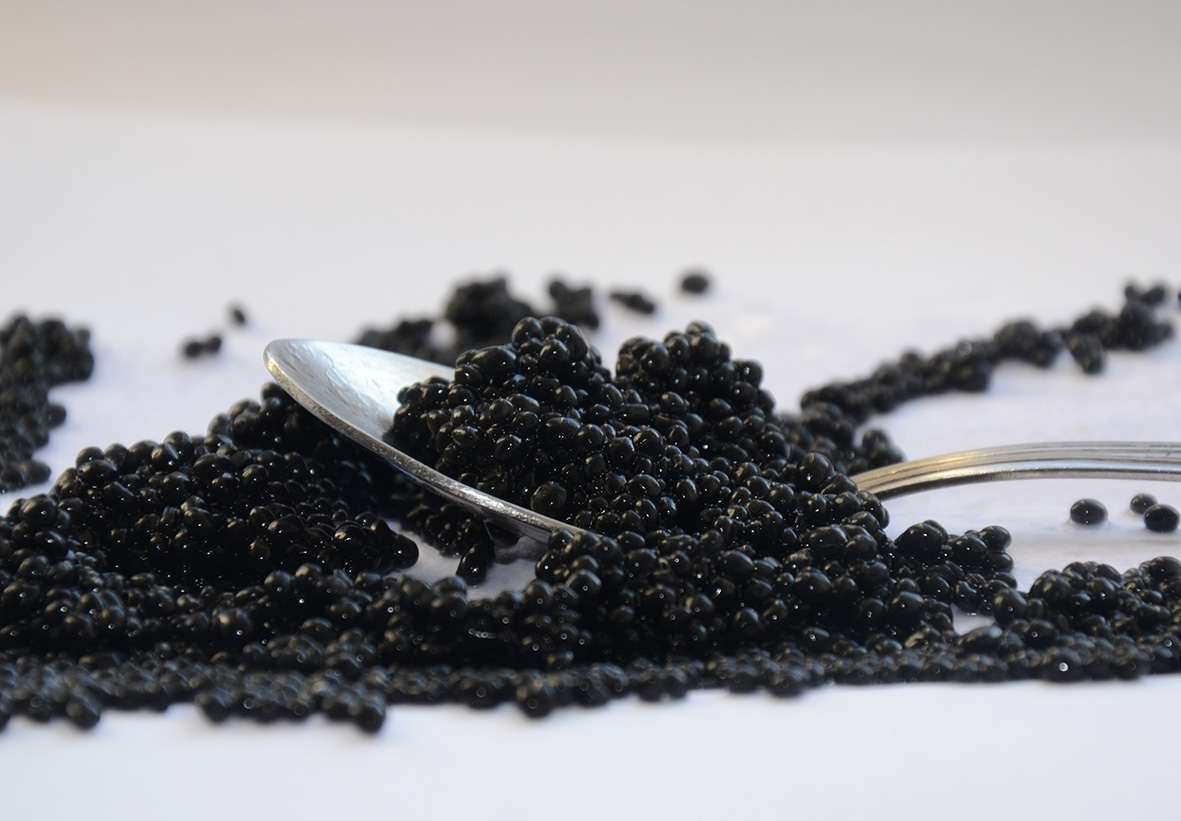 Finally, the long-awaited moment of tasting has come. Everyone has their own way of savouring black pearls, but what is truly important to know is that this exceptional dish—without advocating for formal ceremonies—deserves all the attention it deserves. Many chefs and illustrious cooks have also looked into the great question of its accompaniment, the most common answer being that caviar should be eaten 'au naturel' ('without anything else' in French) with a spoon. The delicate little grains roll gently under the palate until they burst and release a fresh, salty liquid. The strange sensation is due in large part to the product's richness.
Another way of tasting black gold would be on hot toast or blinis with—why not!—a little creme fraiche spread carefully to gently welcome the caviar and counterbalance its powerful taste.
On the other hand, great chefs advise us to never season it with lemon, as the acid would oxidize the grains, thus changing their taste. Caviar is definitely a very precious dish that must be shown the utmost care.
As for the drink, tradition would have it best enjoyed with a glass of iced vodka, the famous Russian drink that purifies the palate and allows you to feel the full flavour of the grains. But unless one plans to limit this exercise to a single tasting—or is insensitive to strong alcohols—it is better to opt for equally tasty but lighter drinks, such as a glass of champagne or a glass of fairly dry white wine.
Where to Buy and Enjoy the Best Caviars in Paris?
But more specifically, where should a desperate soul turn to for quality caviar to celebrate the end of the year in style? A number of French brands are particularly attracting our attention. First among these shining stars is Petrossian, a French company founded in 1920 which also happens to be one of the main producers of high quality caviar. But excellence, and the consumer's assurance of having caviar of impeccable quality also distinguish Café Prunier, La Maison du Caviar, Caviar de Neuvic, Caviar Kaspia, Caviard'Aquitaine, Kaviari, Fauchon, Caviar de France, La Maison Nordique…All these brands have stores in Paris and in some major cities. They also have online sales sites where one can buy different varieties of caviar, as well as adequate delicatessen products to accompany them. Generally, the tins on offer range from 30 g to 1 kg, for prices that vary between €60 and €12,800. Some Maisons even offer tasting boxes (with blinis, vodkas…) or accessories (mother-of-pearl spoons) to help you enjoy caviar at its best.
Professionals or amateurs, delicate palates or simply curious ones…To each their own caviar tasting! Four excellent Parisian restaurants offer an unforgettable experience to discover or rediscover black gold.
Kaspia, an exceptional address
Founded in 1927, the Maison has a bar at the Galeries Lafayette where you can taste caviar, but more importantly spend an exceptional moment with a glass of champagne accompanied by Baeri imperial caviar (10 g) for €39. For the more gourmet among us, a detour to the brand's restaurant at La Madeleine is a must. There is caviar of all varieties, as well as the incredible Raspoutine menu at €84 which not only includes Norwegian smoked salmon, but also 20 g of Baeri imperial caviar accompanied by baked potatoes. This remarkable restaurant with its blue tablecloths and chequered curtains is a high place of French gastronomy, and is thus not to be missed.
Petrossian: mythical place for caviar lovers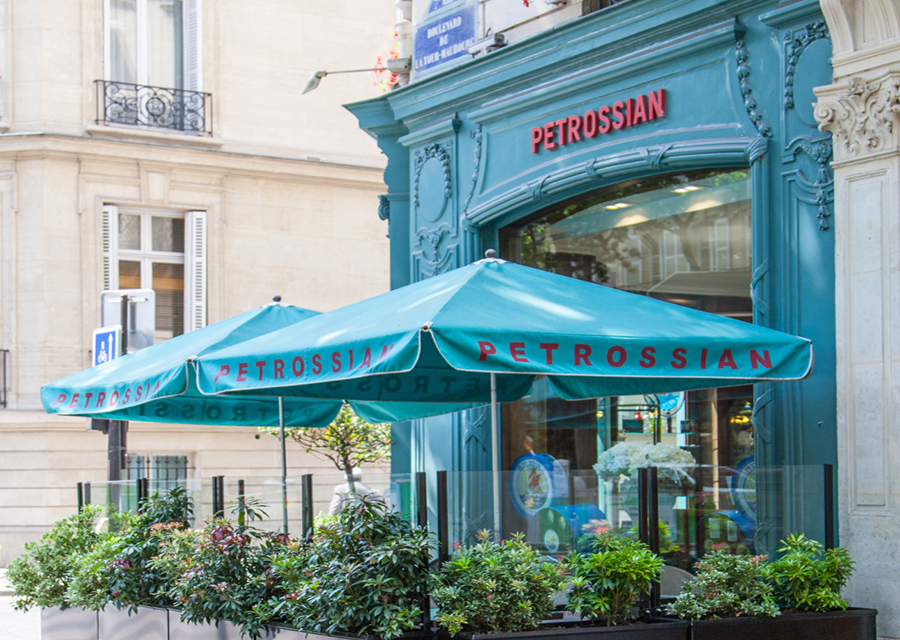 At Petrossian, the menu is in two parts. First a tasting of the House caviar selection, then the menu of the day. Most of the dishes are enhanced and spiced up with a delicate touch of caviar—as is the case with the iodized poultry supreme with mature caviar and artichokes, or the Ossetra caviar potato millefeuille. For the more purist among us, caviar can also be enjoyed au naturel, at the bar, with the expert advice of 'caviarologists.' This restaurant, with its beautiful wooden decoration in the style of a ship's hull, is a luxurious place for Russian specialities that you can discover and rediscover endlessly.
Kaviari, the caviar à la française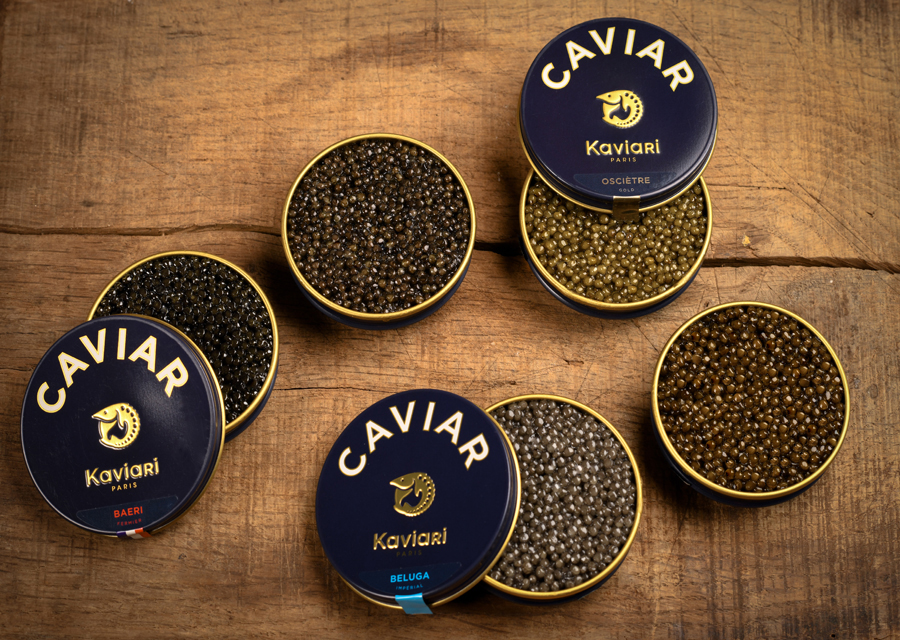 This Maison is an absolute reference in the world of caviar and French haute gastronomy. Although it does not have a formal restaurant, the factory, the fridge boutique (where you can come and resupply) as well as the workshops are open to the public. There, everything is possible, from taking classes on caviar, cooking lessons or even meeting Michelin-starred chefs. Let's not forget that Kaviari supplies many of them, such as Alain Ducasse, Mathieu Pacaud or Éric Pras. There are 3 discovery workshops in total: firstly an initiation, then a 'trilogy' to get a bit further, and finally a Master-level course with tastings included. Enough to delight amateurs and professionals alike.
Prunier, a real institution in Paris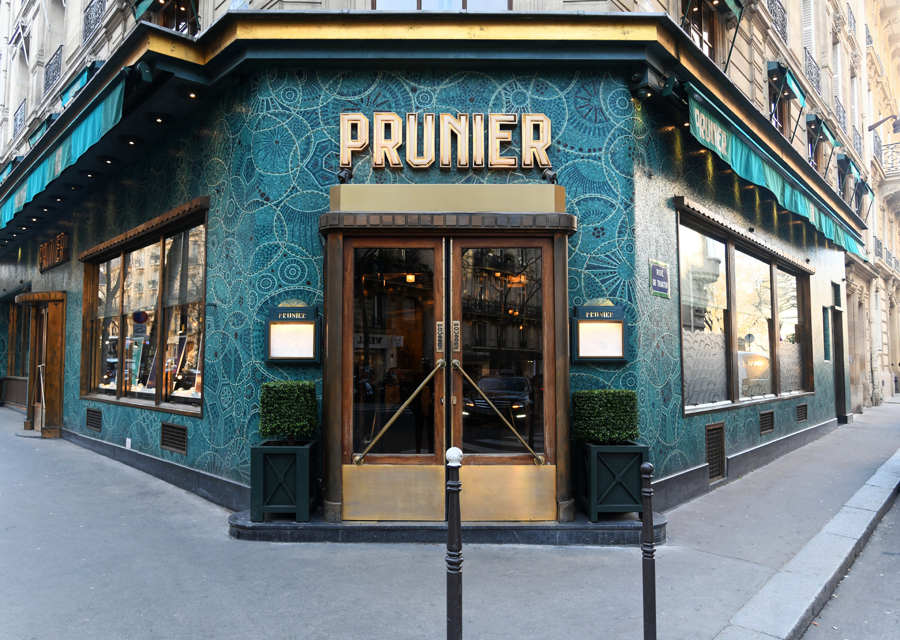 The Maison is best known for its restaurant in the 16th arrondissement of Paris, with its superb blue front adorned with art deco motifs. Founded by Alfred Prunier in 1924, the establishment was already of such high quality that it quickly attracted a wealthy clientele. Here, a cuisine that mixes traditional and contemporary dishes puts caviar and seafood in the spotlight. The Prunier family house was one of the very first French companies to breed sturgeons, thus becoming a pioneer in caviar production in France. This restaurant also has one of the finest fish menus in Paris.