Swatch Bioceramic
Materials to watch out for
Last September, Swatch began its green revolution with the 1983 BIORELOADED collection, made from organically grown plastic derived from castor seed extracts. The company's continue its journey toward ecological awareness with the introduction of bioceramics. Two-thirds ceramic, one-third bio-sourced plastic: a unique blend to style the new Big Bold Bioceramic.

By Chloé Redler, Frank Declerck
Swatch, switches on the 'Reloaded' mode
Innovative ideas, new technologies and a touch of fantasy and provocation – and you find yourself with the explosive mix that has been making up Swatch's DNA since its creation in 1983 by the brilliant Nicolas Hayek.
In September 2020, this creative brand surprised everyone with the arrival of watches using materials from natural resources. Ecologically aware and keen to continually reinvent itself, Swatch launched a collection with the same emblematic design as the original models but which was, this time, made of bio-sourced plastic! Barely six months later, Swatch is back again to present a revolutionary material: bioceramic. A material that uses a third of this bio-sourced plastic. And that's the stroke of genius…
The Big Bold meets bioceramic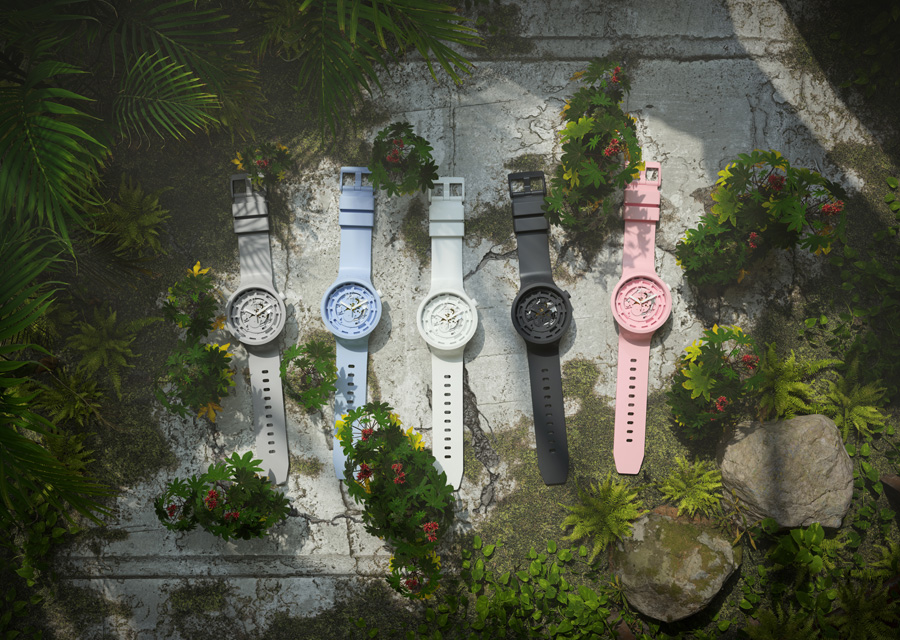 With its 47 mm diameter and atypical design, the Big Bold sports this new material, which is composed of 2/3 ceramic, 1/3 bio-sourced plastic and a touch of secrecy. A patented formula, made by Swatch for Swatch. In addition to the inherent qualities of ceramics (resistance, hypoallergenicity, scratch resistance, etc.), this bioceramic presents a certain elasticity that makes it much less fragile and very pleasant to wear thanks to its velvety appearance and softness. Its composition allows it to immediately adjust to the body's temperature immediately after putting it on the wrist.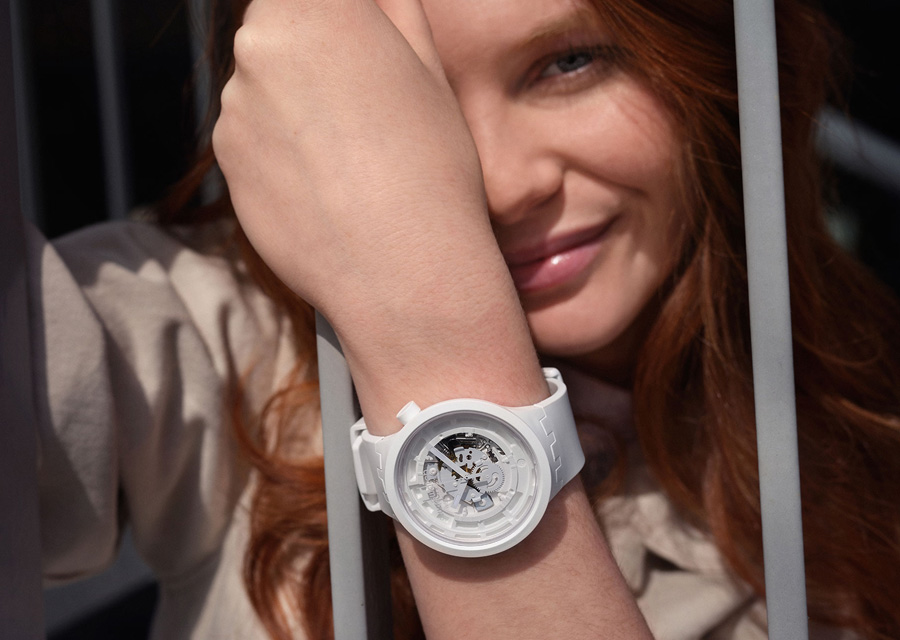 Swatch is the realm of design and colour. We love the five colours created for this first edition. White and black, the emblematic design colours, grey (this year's colour) and a baby blue (Frank's favourite) and candy pink (Chloé's favourite). This monochrome accessory has a very graphic and slightly skeletonised bioceramic dial that allows you to admire the cogs of the quartz mechanism at your leisure. Lovers of the brand who like bright colours can rest assured that they are already in the making.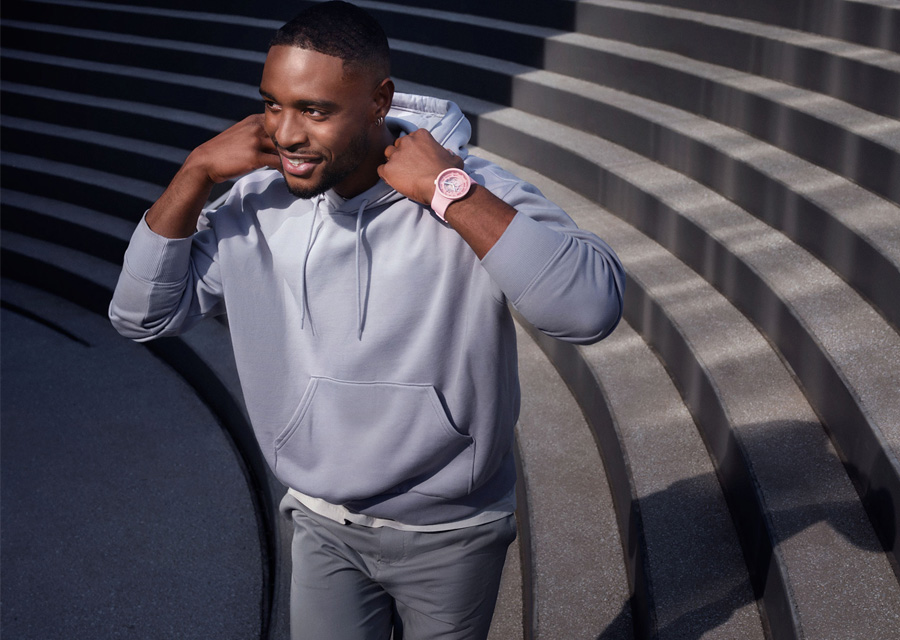 The Big Bold is not an innocent choice. It also allows the eye to plunge into a successful monochrome depth. And if the generous size may reign in some desires, you can be sure that Swatch's bioceramic will quickly find its way into all the company's collections. There is no reason for the brand not to let its creative imagination run free with such a material available!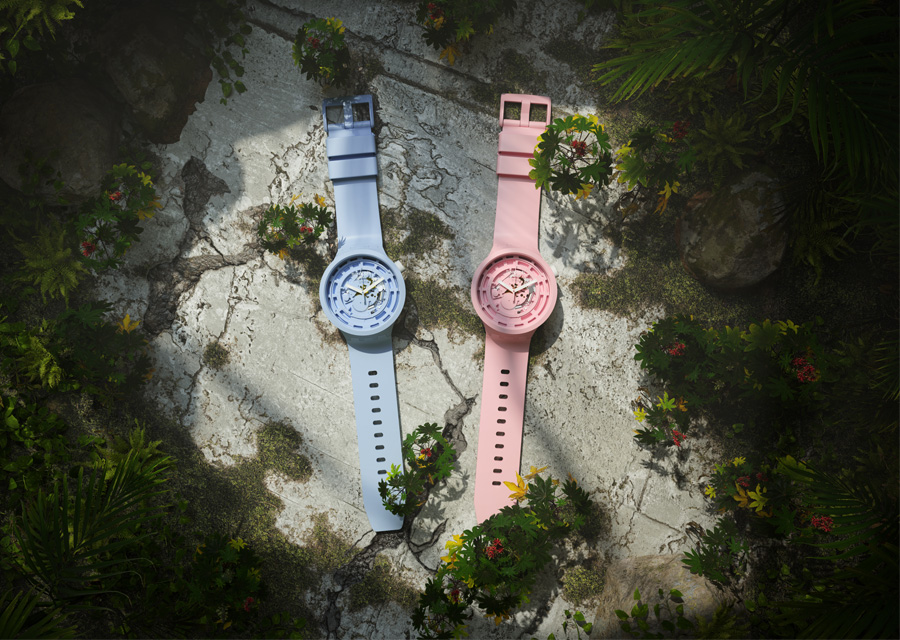 The bracelet, the glass and the straps are made from bio-sourced materials. Every aspect is considered in the Swatch Next program in order to respect the brand's responsible orientations.
In terms of fashion and trends, the watch seems to be well-born. Inspired by the world of streetwear, these Big Bold watches will bring a casual touch to all your outfits and will undoubtedly be on everybody's wrist this summer! A guaranteed success that is also good for the planet…
Price: €125 – The Big Bold Bioceramic Swatch available on www.swatch.com.
The BIORELOADED collection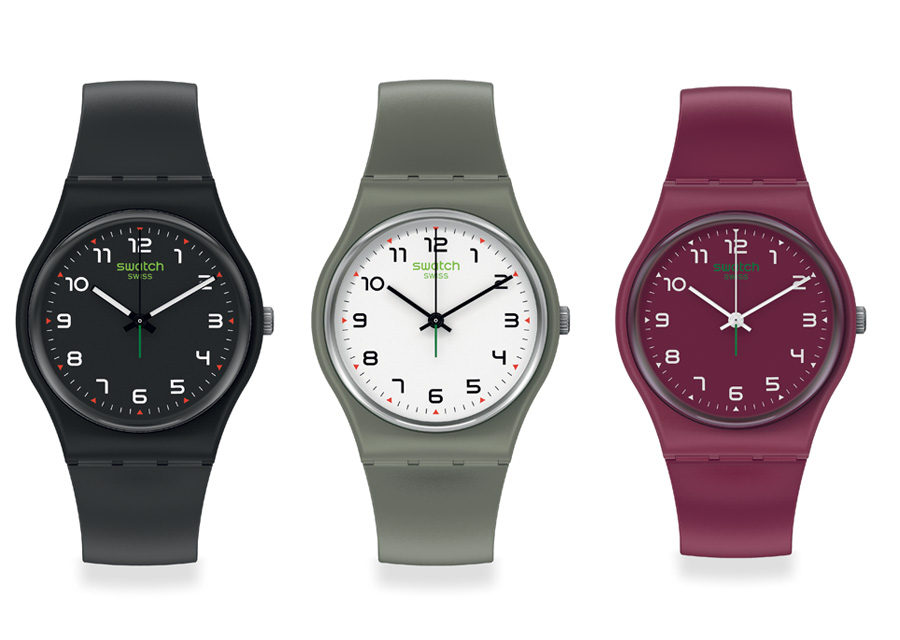 The 1983 BIORELOADED Swatch collection.
The video that explains quartz and mechanics!
An article that may also interest you…