FRANK SANS C VIDEO
Arthur & Frank: two "vintage" tick-tock authentic fanatics
Watchmaking auctions are taking the lead in a growing market and conquering collectors' and amateurs' hearts and wrists. To be interested in fine watchmaking auctions means to ferret out treasures, discover new models and listen to beautiful stories.

By Arthur Frydman
Here is the first video of a new rendez-vous on Frank Sans C's YouTube Channel! In this monthly series, we will try to find out why we tend to buy the beautiful inner workings that go under the hammer, both analysing great Maisons like Christie's, Sotheby's or Antiquorum and observing auctions in Drouot or in the French province. All sorts of places where the greatest (vintage) tick-tock fanatics can easily achieve some really good deals and find real gems… only if they know where to go, what to buy and how to buy it.
Some great finds
On March 19th, we watched a sale unfold at the Bordeaux Quinconces Enchères, which had previously organised 14 auctions dedicated to watchmaking.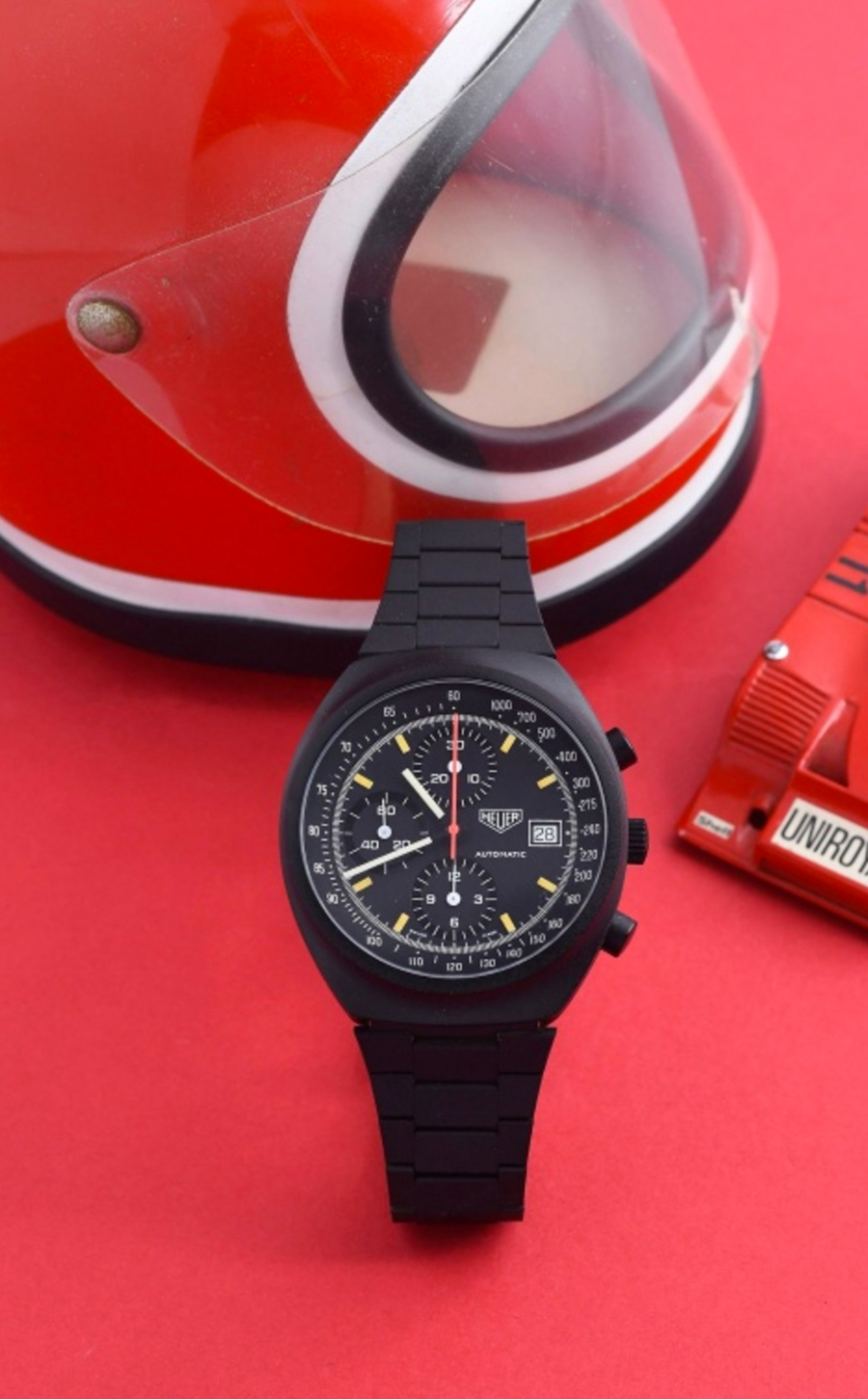 Under the hammer, a 1982 HEUER pilot chronograph, with a similar feel to that of Porsche Design watches. This brand-new piece was estimated at €3,500 and sold for €3,600. A contemporary iteration of a Montblanc Exo Tourbillon Minutes Chronograph – Winner of the Tourbillon Watch Prize at the 2016's GPHG – was also sold for €25,000, which is almost €15,000 less than a new model's worth.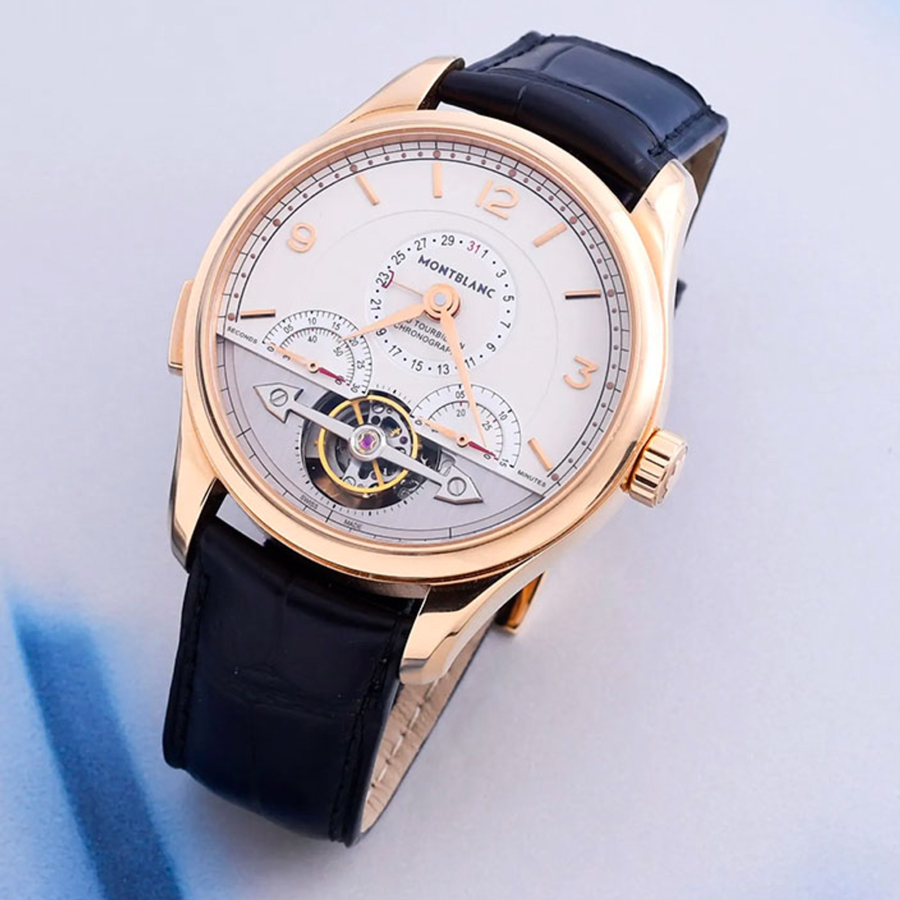 When second-hand pieces and new pieces cross paths
According to experts, second-hand watches have been ticking for at least two decades on average. The recent entry of brand-new watches in auctions, such as a Rolex Tiffany Blue – very recently sold at Sotherby's in Paris for approximately €17,000, which is more than €10,000 over the market price for new pieces – is putting the notion of second-hand into perspective. However, it would be very difficult – not to say impossible – to find such a watch easily available for sale in shops, hence the usefulness of stepping in the second-hand market.
Vintage is an Eldorado for brands. Notice the arrival of second-hand in-house programs in several watchmaking Maisons, such as Jaeger-Lecoultre, Cartier, Zenith and last but not least, Rolex. The announcement by the crowned brand of its upcoming official program Certified Pre-Owned was no less than an earthquake within the small world of fine watchmaking. Pre-owned pieces are obviously not as reassuring as new ones regarding matters such as origin or authenticity, which all buyers of expensive pieces are concerned about. These criteria, besides the quality and scarcity of the pieces, are checked closely by collectors who often turn to second-hand as they are unable to purchase new watches in shops. Rolex, the most copied watchmaking star brand in the world, is no exception. Therefore, to secure its watchmaking heritage and reassure its clients, the crowned manufacture has just announced the launch of the Rolex Certified Pre-Owned (RCPO) in-house program. In other words, an official system of reselling second-hand certified watches, and a new way to regulate the market and prevent speculation.
A 35-billion-euro market by 2030
Watches are the best-selling pieces of art on the internet, for they are a sure value, a social attribute and a currency that knows no cultural or generational barrier. In a way, to sell a watch is to sell a dream, which, as shown by recent numbers, is a bubble bound to explode. By 2030, the pre-owned watch market is estimated to grow to €35 billion and make up more than half of the primary market. These estimations come from the ninth study conducted by the Deloitte cabinet on the watchmaking industry. Moreover, the second-hand watch market is expected to outperform that of new watches by 2033, as stated by Founder of LuxeConsult Olivier Müller.
According to the Mercury Project annual report, global watch auctions from Antiquorum, Bonhams, Christie's, Sotherby's and Philips reached a total value of over €700 million in 2022. Sales rose 11% compared to 2021 and were up 80% compared to 2019. Some other surprising data: according to a Morgan Stanley report, Swiss Made turned out to be more profitable than cryptocurrency in 2022. Need I say more?
Focus: past auctions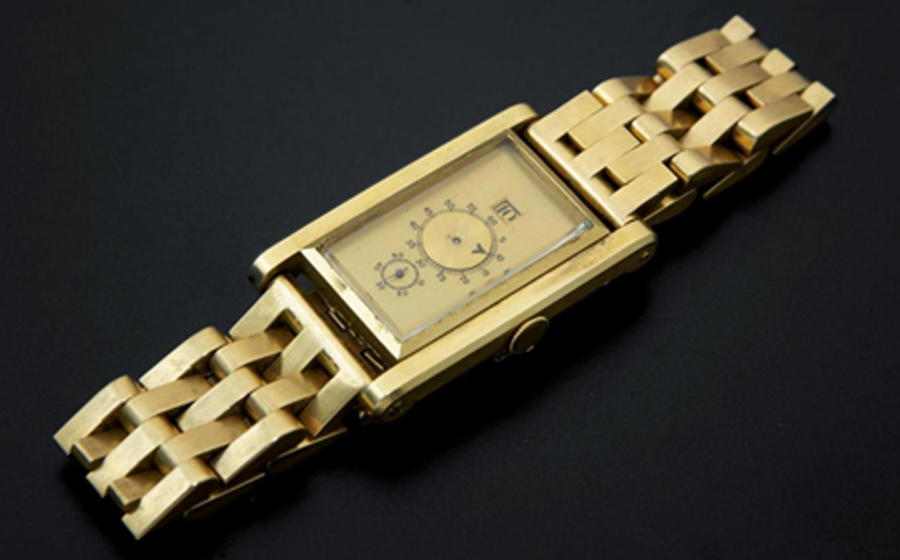 On March 12th, we spotted a curious, yellow gold, men wristwatch at the Le Floc'h Study in Saint Cloud, equipped with a golden dial and a jumping hour display, a rotating disk for the minutes and a sub-dial for the seconds. A 1920 piece by a small Genevese watchmaking manufacture called Niton, created in 1919 by two craftsmen from Vacheron Constantin who produced different kinds of calibres and sold them directly to shops. The model we have here is a perfect example of an Art Deco style watch. Its lines are inherited from World War I, with a bracelet that emulates Cartier's "Tank" model inspired by tank tracks, and a rectangular case reminiscent of stretchers then used to carry the injured. Estimated at €2,000-€3,000, it was finally sold for €24,375. Which shows that sometimes, originality is enough, and it pays.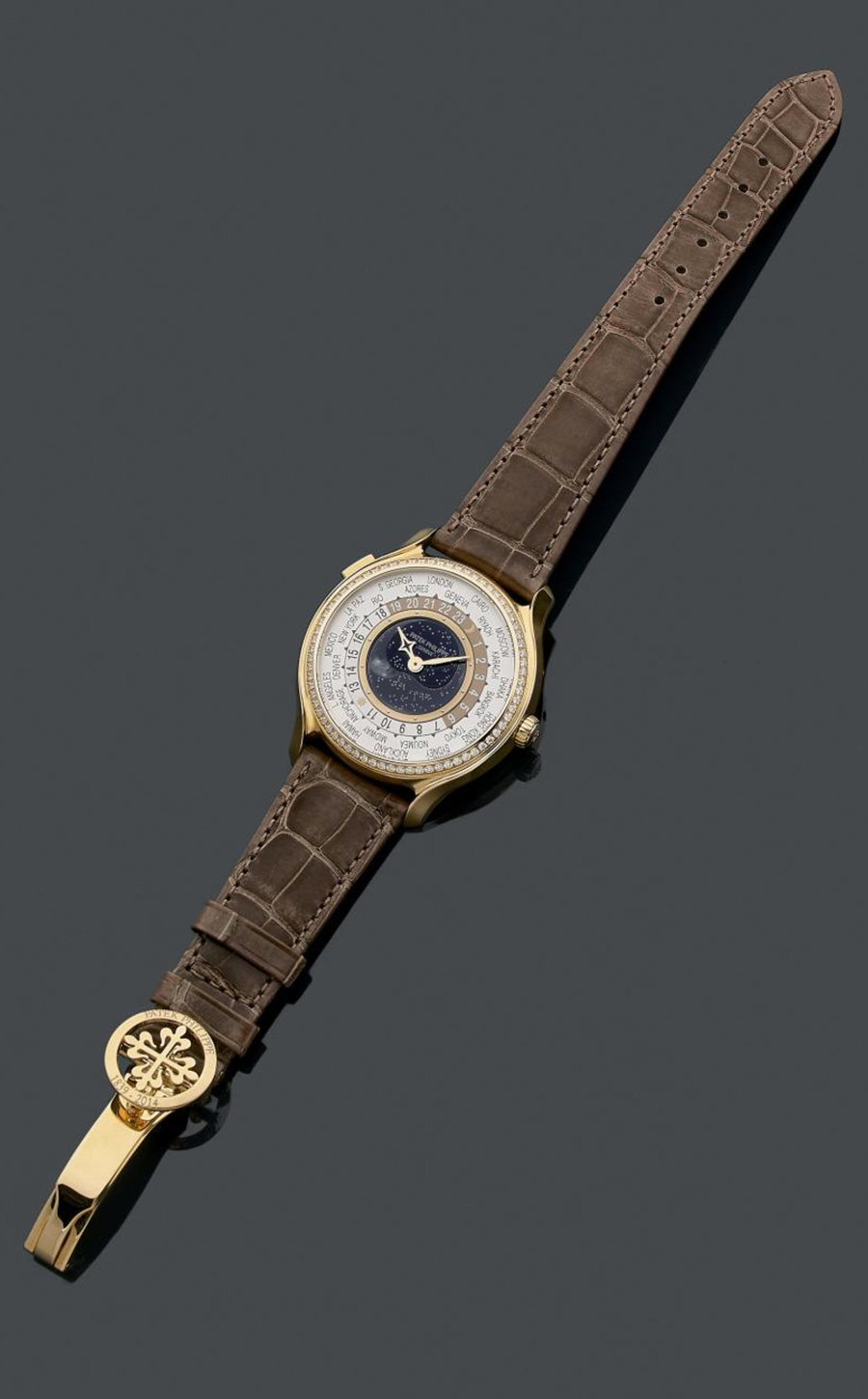 On February 14th, still in Drouot, Olivier Doutrebente's sale included a rare and beautiful Patek Philippe "Heure Universelle" World Time Moon, ref. 7175R-001. This gold and diamond wristwatch was engraved with the inscription "175e anniversaire 1839 – 2014" ("175th anniversary 1839 –2014") and displayed a silver dial as well as rotating moon phases in the centre. The watch came from a limited edition of 450 pieces, specially made for the brand's 175th anniversary in 2014. This is now only its second appearance in auction, and the first in France. Estimated at €80,000-€120,000, this Patek Philippe watch was sold for only €70,000. It unfortunately did not reach the moon.
Still at Olivier Doutrebente's, we found a specimen of Lange 1 Time Zone watches from Maison A. Lange & Söhne. This reference from 2005-2006, made of platinum, has a dual time zone and a silver dial, a mechanical movement and a balance spring with micro spring calibration. €30,000 to €50,000 were asked for the watch, which proudly left the auction room after the hammer hit at €37,800.
Lastly, on March 16th, a beautiful auction at Philips's in Geneva honored independent watchmakers. One of them, Daniel Roth, is currently quite active. He was celebrated with a near-legendary watch, the Daniel Roth Quantième Perpétuel ref. C117 made in 1996 with the help of watchmaker Philippe Dufour. Estimated at €25,500-€50,000, this first-of-its-kind instant quantum movement piece rose above expectations as it was sold for more than €90,000. That is not surprising though, given the recent revival of the brand with the production of new, limited pieces, with help from La Fabrique du Temps by Louis Vuitton.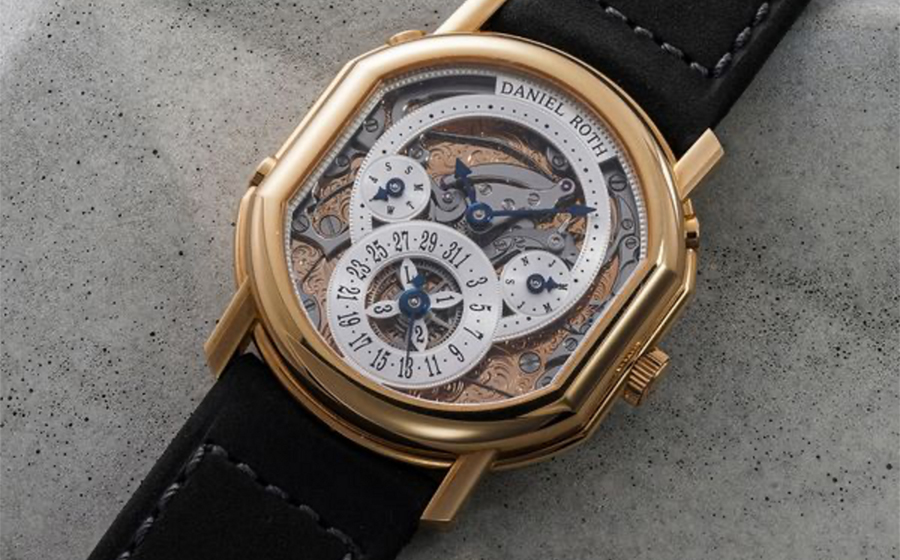 Focus: upcoming auctions
The first will take place at Antiquorum in Geneva, next May 14th and 15th. We cannot leave out Rolex and a certain vintage Daytona Chronograph with manual winding, which makes every collector go crazy. A "Paul Newman" version known by all Rolex aficionados for its two-to-three-colours dial. It is the most coveted reference by the manufacture, especially since the real "Daytona" by Paul Newman was auctioned in New York City for more than €15 million euros on October 26th, 2017. A little history: the chronograph was created in 1963 and was then worth only $210. In limited production at first, a few references were created until 1987, called the "Paul Newman" watches – an unofficial name not recognised by Rolex for the references 6239, 6262, 6263, 6264, 6265 or 6241. The one we have here is a 1968, 6241 reference, currently up for auction with its exotic tricolour dial in black (sub-dial) and white (dial). It is expected to be sold somewhere between €130,000 and €230,000, but its value will probably go up by a lot. To be continued.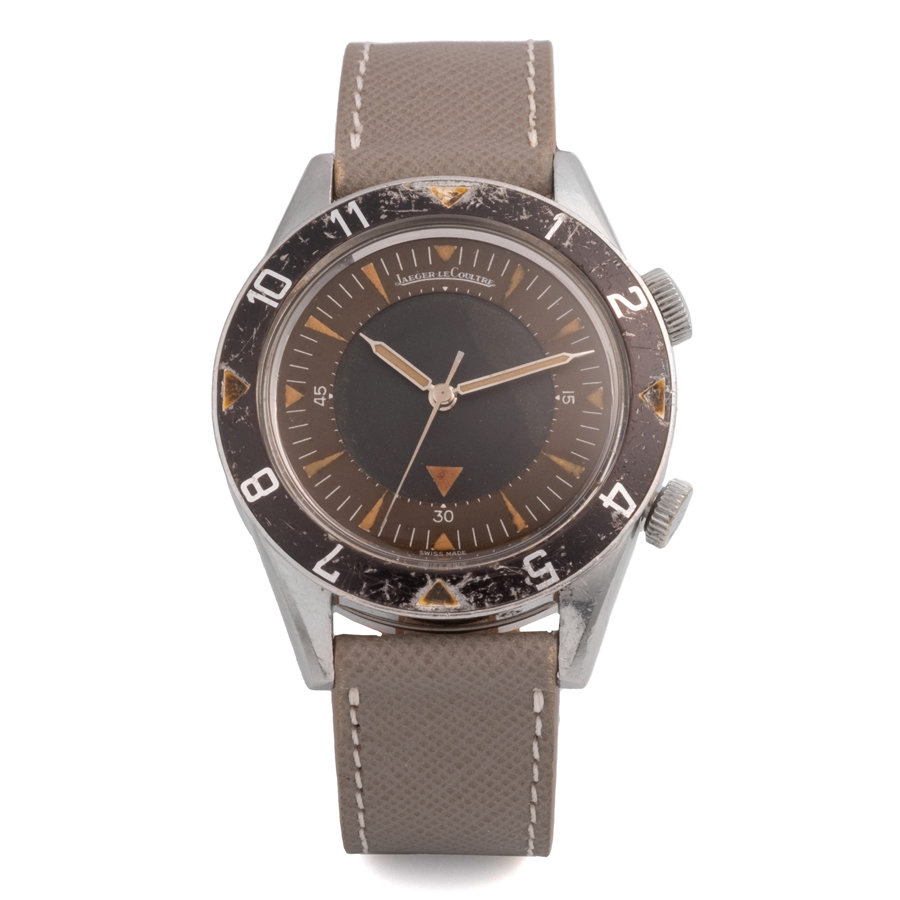 At that same auction, a very rare, almost invisible reference will also resurface on the market: a Jaeger-LeCoultre Deep Sea ref. E857. This watch was only produced for three years between 1959 and 1962, in 1061 pieces – even fewer than the Polaris, later manufactured in 1714 pieces. It was produced in two lots: one for the European market and the other for the American market. Experts agree that about 800 pieces were made for the American market (with a completely different dial), and about 200 pieces for the European market. As the first reckoned Jaeger-LeCoultre diving wristwatch, but also the first mechanical alarm diving watch, this piece is expected to be sold somewhere between €20,000 and €30,000.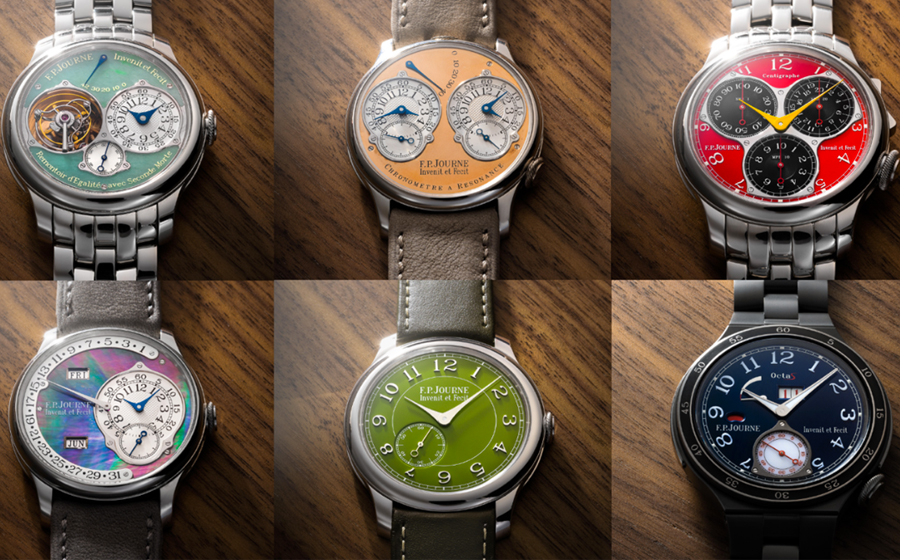 On May 12th, in Geneva, Christie's will celebrate the art of F.P. Journe. This auction will be the most important sale of F.P. Journe watches ever held to this day. With a catalogue of 40 F.P. Journe timepieces, this great sale will highlight François-Paul Journe's genius with a selection of emblematic references, from early days to now. First, it will include an exclusive piece from 2010, a platinum sovereign Centigraphe ergonomic chronograph with registers for a 100th of a second, a 20th of a second and 10 minutes, as well as a red chromed dial and a platinum bracelet. This piece is only available on special demand and shows off F.P. Journe's emblematic red Ferrari dial. If you want it, be prepared to spend €400,000 to €600,000. Then, the sale will include a wonderful platinum Chronomètre à Résonance 'Pré-souscription'", launched in 2000 and expected to be sold somewhere between €500,000 and €1,000,000.
Today's storytime
Let's focus on a real discovery, since no one knew the existence of the watch we are about to introduce. Before announcing an official date for the sale, the Maison Philips revealed a platinum Patek Philippe Calatrava ref. 96 Quantième Lune. A piece that belonged to Aisin-Giro Puyi – also known as Xuan Tong, his regnal name – the twelfth and last Chinese emperor of the Qing dynasty. The sovereign lived a complicated life in China, inheriting the throne of the Qing dynasty when he was only 2 years old but having to abdicate four years later. His life actually inspired the Oscar-winning movie The Last Emperor by Bertolucci (1987).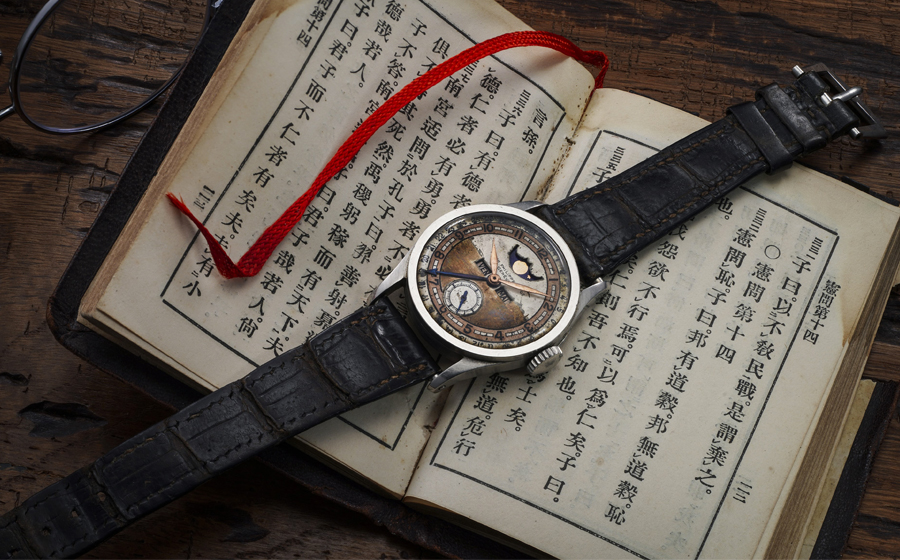 This legendary reference piece is of capital importance for Patek Philippe's heritage since it is one of the main pieces that have never resurfaced. Although only seven Patek Philippe 96 references with this complication were previously known to exist, this particular piece is new on the market, and the eighth one to have come to light. Only two other examples with the exact same dial configuration – an enamel "Roulette" configuration of Arabic numerals – have resurfaced to this day. One of them is now part of the Patek Philippe Museum collection, whereas the other was sold in 1996 to a private collector. The auction house has not estimated a price yet, but we expect it to be sold for at least €1,000,000.
See also:
Read also: