FRANK SANS C VIDEO
Awake, Hamilton, Herbelin, Seiko, Tissot, selection for less than €600 
Finding beautiful watches, sometimes technical and very good without bankrupt yourself? It is possible. Here are some pieces for less than €600 selected by our watch enthusiast in chief: Frank sans C.

By Chloé Redler
AWAKE X FRANK SANS C – La Grande Bleue: Made in Frank!
Watches for less than €600? At last affordable prices! We could not miss the first collaboration of Frank Sans C with the Awake team. And with Awake like with other, this is just the beginning…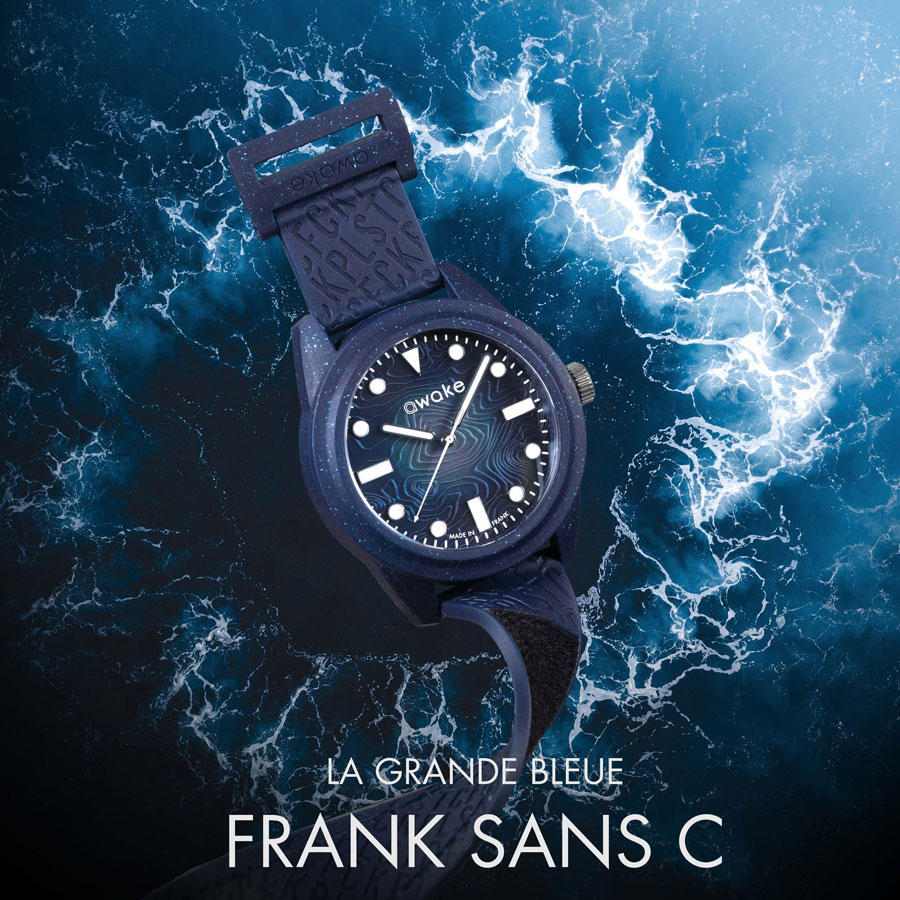 For the little story…
It is by making a programme on the watches to wear in vacations that our watch enthusiast had the idea to add a second hand on one of the emblematic watches of the young Maison, the G7. Remember at the G7 in Biarritz in 2019, president Emmanuel Macron had put the spotlight on the watchmaking brand and on this reference.
The appointment is made!
Frank meets Lilian, one of the Awake founders, to refine the technique of this solar watch that can run out of battery. Indeed, it is a Japanese movement with solar energy that drives this special edition. It recharges itself with daylight or artificial light. Therefore, no need to change battery, no waste. And so, an excellent alternative – durable and economical – with traditional quartz movement. Its strap is made of BioPOLY, a vegetal polymer made from castor seed, what makes it soft, robust, and ultra-comfortable.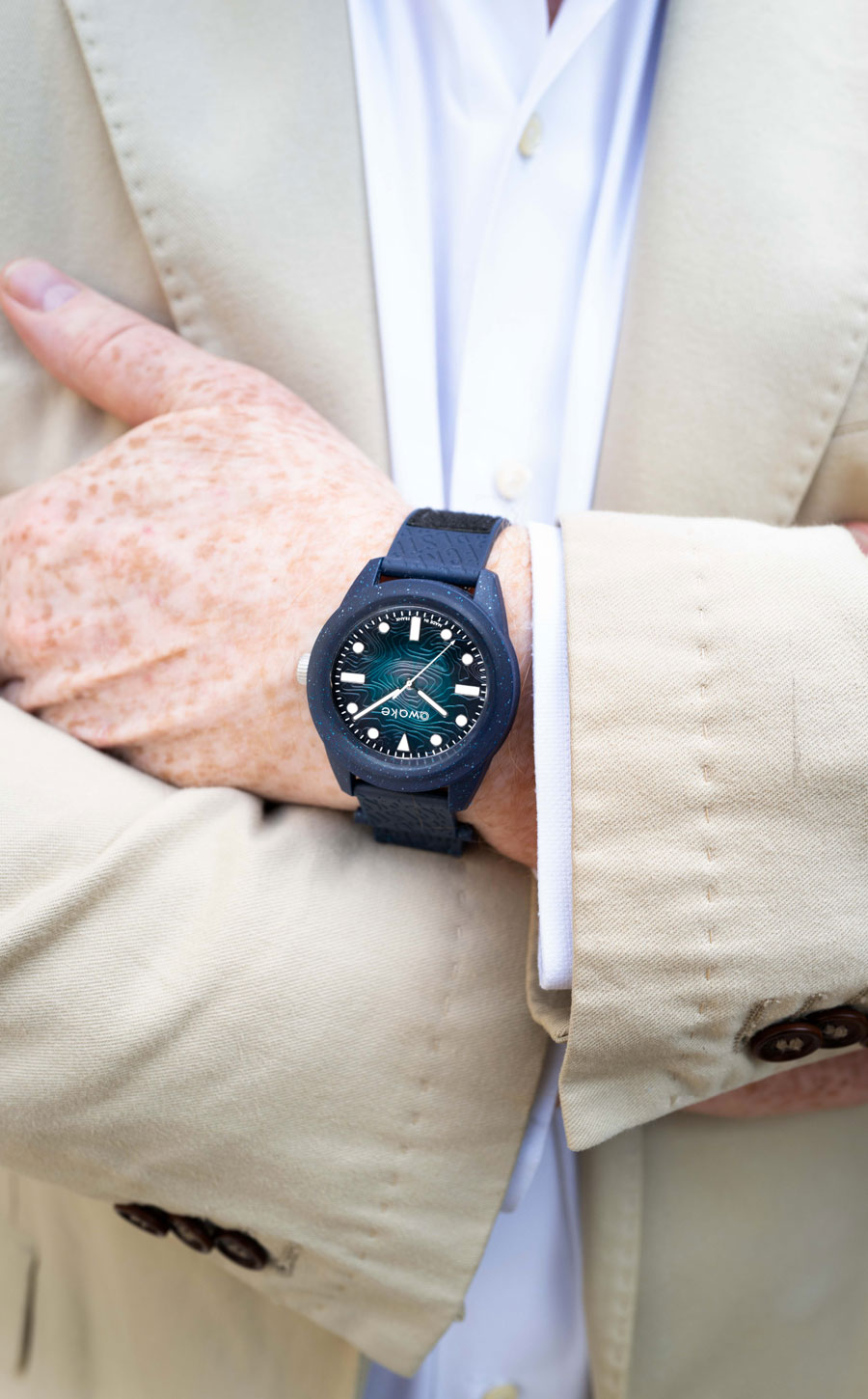 Its case is made from recycled fishing nets and fibreglass, hallmark of Awake. A combination that makes sense when we think of this upgraded material coming from the sea and another one known for its robustness and lightness.
Will there be enough for everyone? Not sure! Because it is a limited edition available to order on the Awake website until June 16th.
Price: €280
Movement: solar technology developed in Japan
Power reserve: 4 months
Case: ReNYLON
Diameter : 42mm
Thickness : 11mm
Weight : 29g (case only)
Water-resistant : 5 ATM
Crystal : mineral with anti-reflective coating
Strap : BioPOLY
TISSOT – Seastar 1000 Quartz Chrono, the big diver is part of the watches for less than €600 selection
With this Tissot Seastar 1000 Quartz Chrono, you are ready to dive in the Great Sea. Indeed, it has all the characteristics of a true dive watch: water-resistant to 300 m, rotating bezel, luminescent hands and hour markers for a better legibility in the depths, crown and case back screw-down.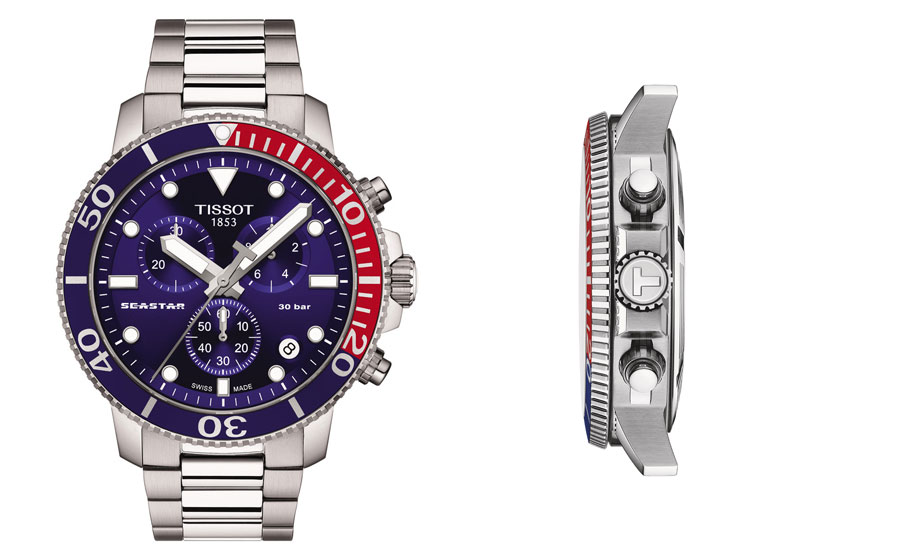 Also equipped with a folding clasp bracelet having a clasp extender to wear it easily on a diving suit.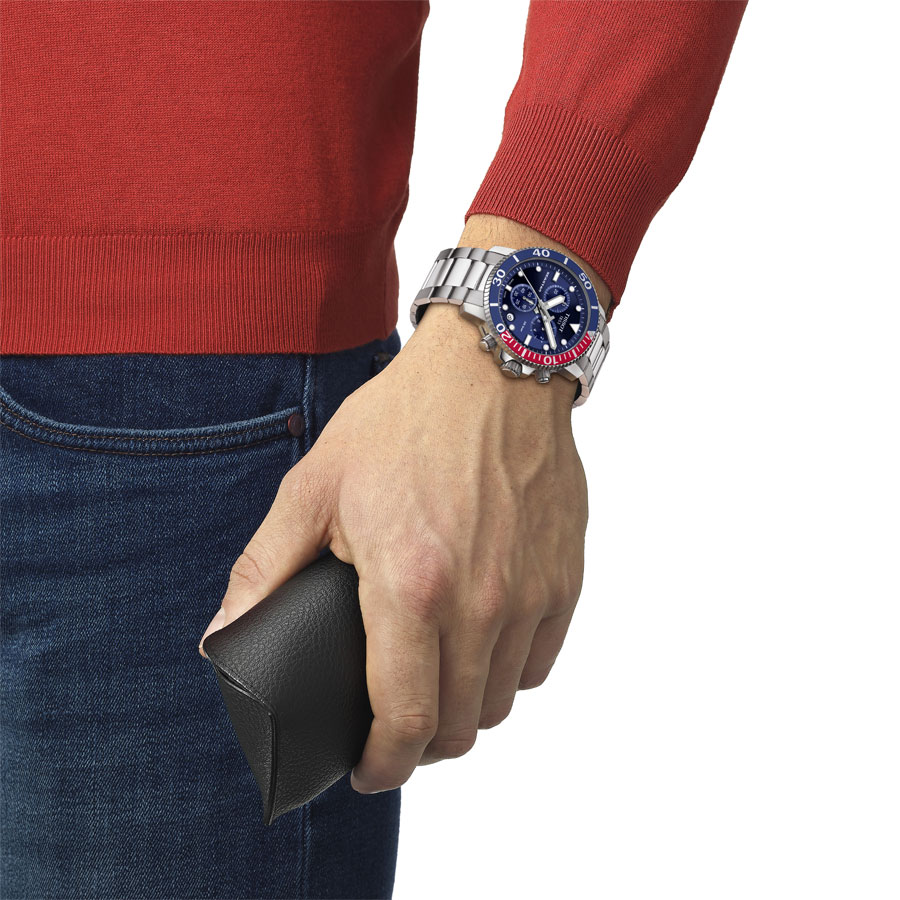 On the case back, an engraved seahorse puts the finishing touch to the sailor spirit of this instrument with an impressive 45.5 mm-diameter shape. A size that unfortunately will not fit all wrists.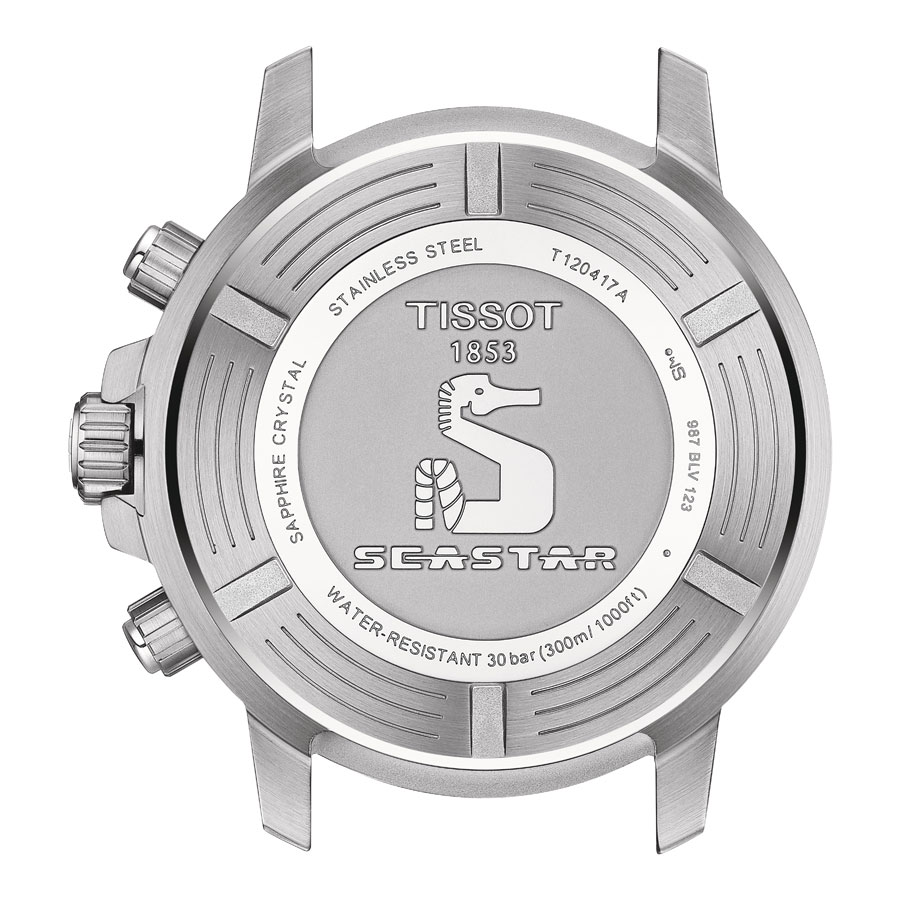 Price: €565
Technical specifications:
316L steel 45.5 mm-diameter case
Blue dial
Aluminium, anti-clockwise rotating bezel
Screw-down crown, caseback and push-buttons
Scratch-resistant sapphire crystal with anti-reflective coating on both sides EOL quartz movement, Swiss made
Functions: 60 seconds chronograph hands in the centre, 30 minutes and a tenth of second counters, additional time (ADD) et intermediate time (SPLIT)
Steel bracelet
HAMILTON – Khaki Field Auto
Several times presented on the channel– see the programme on the military watches –the Khaki Field collection cannot not be mentioned when we talk about beautiful watches and above all, affordable. A self-winding movement equipped with an 80-hour power reserve drives this 38 mm-diameter edition. More urban than the others, this range has a silver-plated dial, coming elegantly with a dark brown leather strap while keeping the DNA of the range.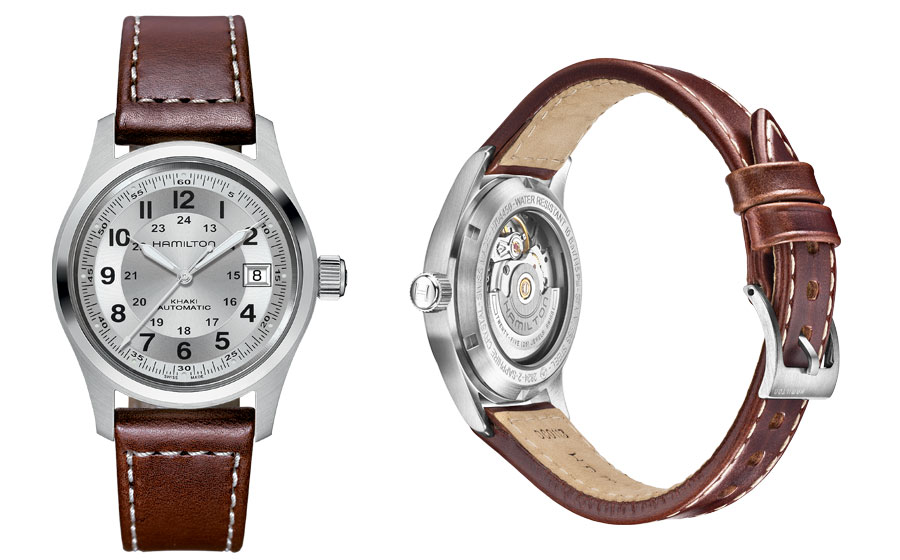 Price: €575
Technical specifications:
Steel case 38 mm
Self-winding movement
Silver-plated dial
Sapphire crystal
Power reserve of 80 hours
Water-resistant to 100 m
Calf leather strap
Pin buckle
HERBELIN – Lunar phase quartz inspiration, the ultimate « no gender » watch
Incredibly vintage, this watch is inspired by vintage watchmakers' standards from the 1950's. We like its 38 mm-diameter that fits male and female wrists.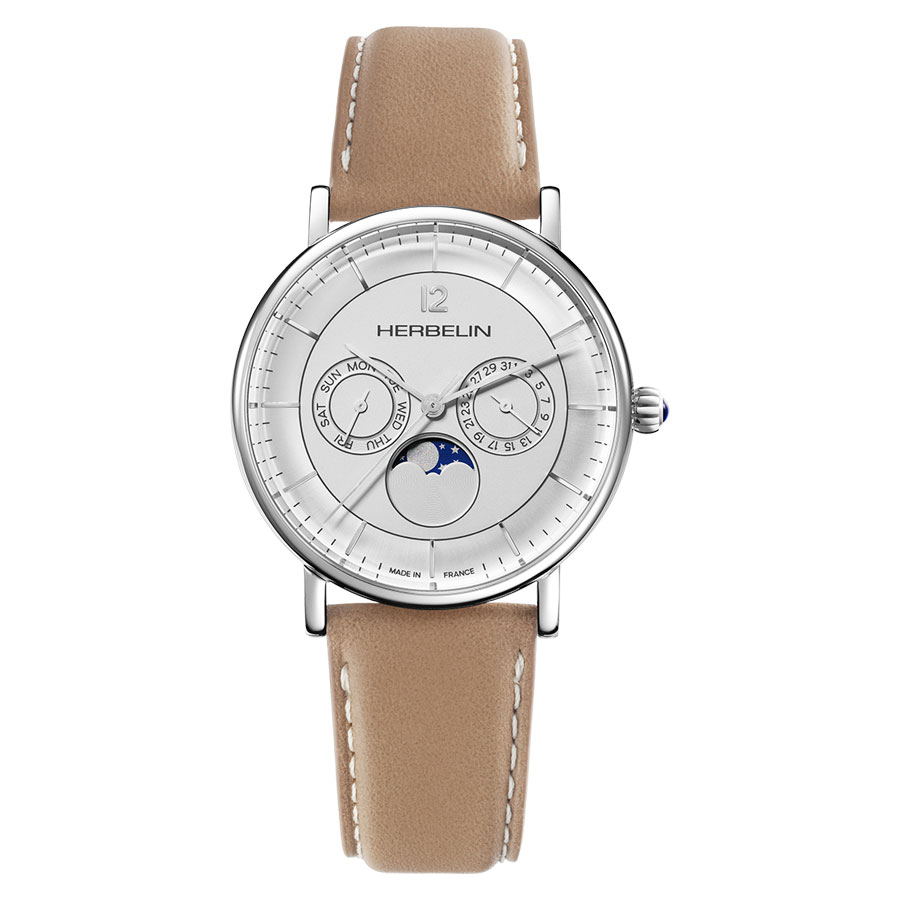 In polished steel, its case has a round case middle and a fluted ball crown set with a blue spinel cabochon. Protected by a domed sapphire crystal, a slightly rounded dial is highlighted thanks to a bezel of great fineness. It displays two counters at 3 and 9 o'clock corresponding respectively to the day and date. Then, a lunar phase poeticises the assembly by moving on a blue lacquered disc sprinkled with stars. Not very useful but it highlights the fineness of the piece. Coming with a light beige saddle stitch leather strap, this edition is driven by a beautiful Swiss-made quartz movement equipped with a stop second device allowing a very accurate time setting.
Price: €550
Technical specifications:
Swiss-made quartz movement
316L polished, stainless-steel bezel
Domed sapphire crystal
Crown set with a blue spinel cabochon
Diameter: 38 mm; thickness: 8.45 mm
Water-resistant to 30 m
Domed dial, applied hour markers
Date counter by pointer at 3 o'clock
Day counter by pointer at 9 o'clock
Nude saddle stitch leather strap
SEIKO – Prospex Tortoise
Inspired by the profile of a turtle shell, this edition that celebrates the 45 years of the collection has a 42.5 mm-diameter case with atypical shape.
THE WATCH BECOMES COMPASS
A promise is a promise, here is how you can use your watch like a compass, during the day obviously because we need to see the sun. Put your hand flat and point the hand of the hours towards the sun. Turn the bezel so that the SOUTH is exactly half the angle formed at 12 o'clock (noon) and the hour hand. You have the 4 cardinal points. For example, if it is 6 o'clock and that you point the 6 towards the sun, the SOUTH will be at 3 o'clock and the NORTH at 9 o'clock. This also works with a watch without rotating bezel…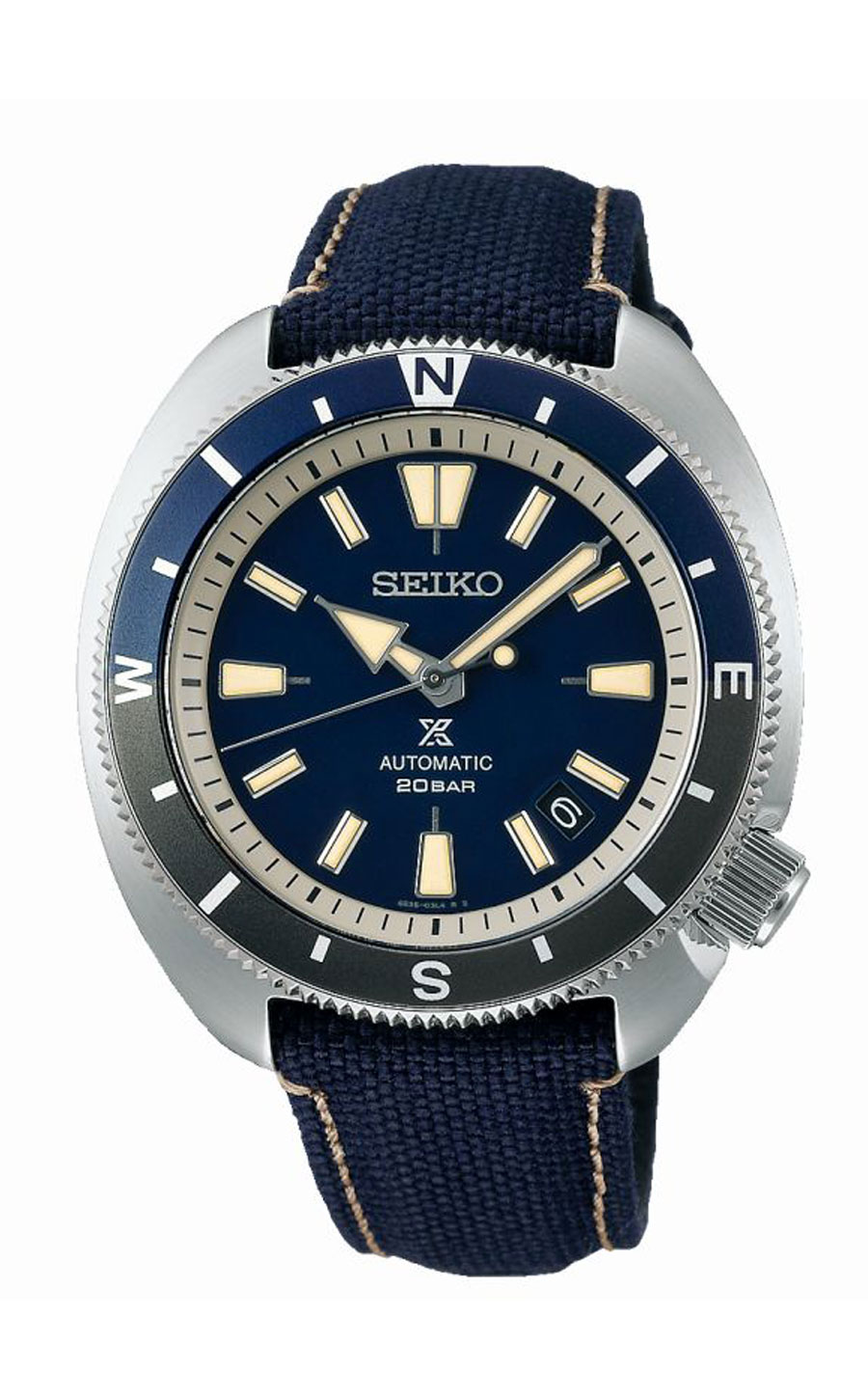 Unidirectional rotating bezel, screw-down crown at 5 o'clock, water-resistant to 200 m, with its characteristics, the turtle can meet the tortoise without fearing the depths.
Price: €540
Technical specifications
Calibre 4R35
Movement: self-winding with manual wind
Functions: analogue display (hands), 3 hands, Date, stop second function
Power reserve: 41 hours
Stainless steel rotating bezel and case– Screw-down crown and case back – Sapphire crystal Lumibrite on the hands and hour markers
Water-resistant: 20 Bar
Diameter: 42.4 mm, thickness: 11.7 mm
ICE WATCH – Ice Chrono, the dynamic and technique watch to wear this summer for less than €600
We hold our breath with these new versions of the Ice Watch Chrono with bright colours available in L (€139) and XL (€149) size.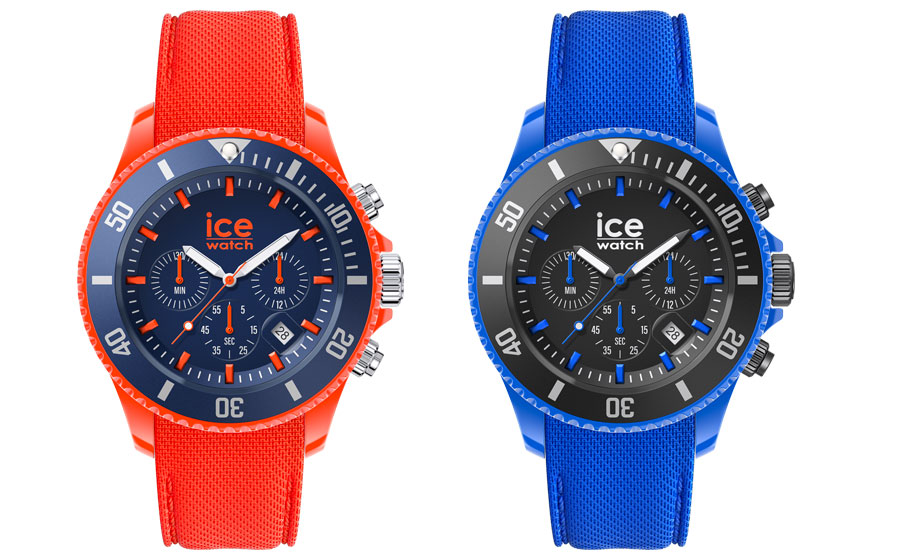 Present on the set of the Frank Sans C programme, the flashy orange and the electric blue are made of biological plastic called Bioplastic (polymerisation of castor seed oil and polyamide-melon alloy). A material that illustrates the eco-friendly commitment of the brand.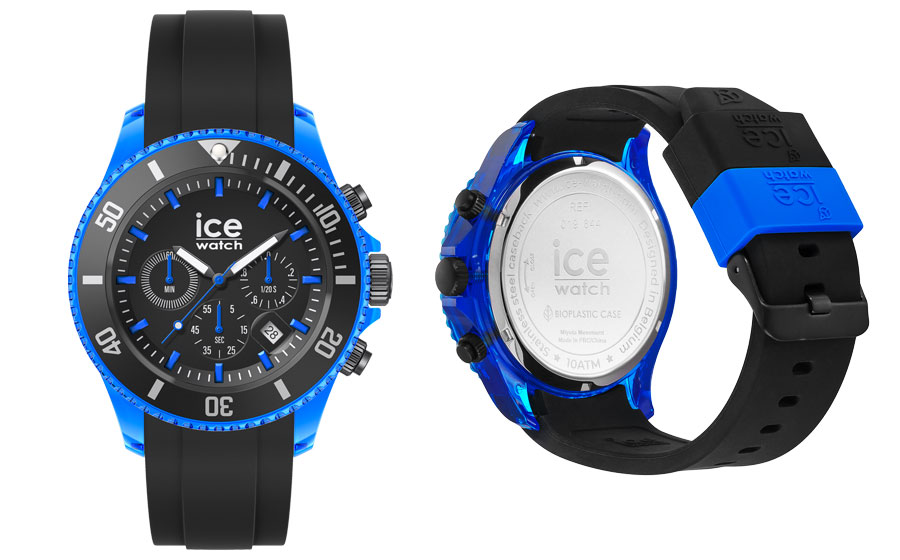 This deserves to be highlighted because it is difficult to juggle between the will to reduce its carbon print and design the watches in Belgium before making them in China.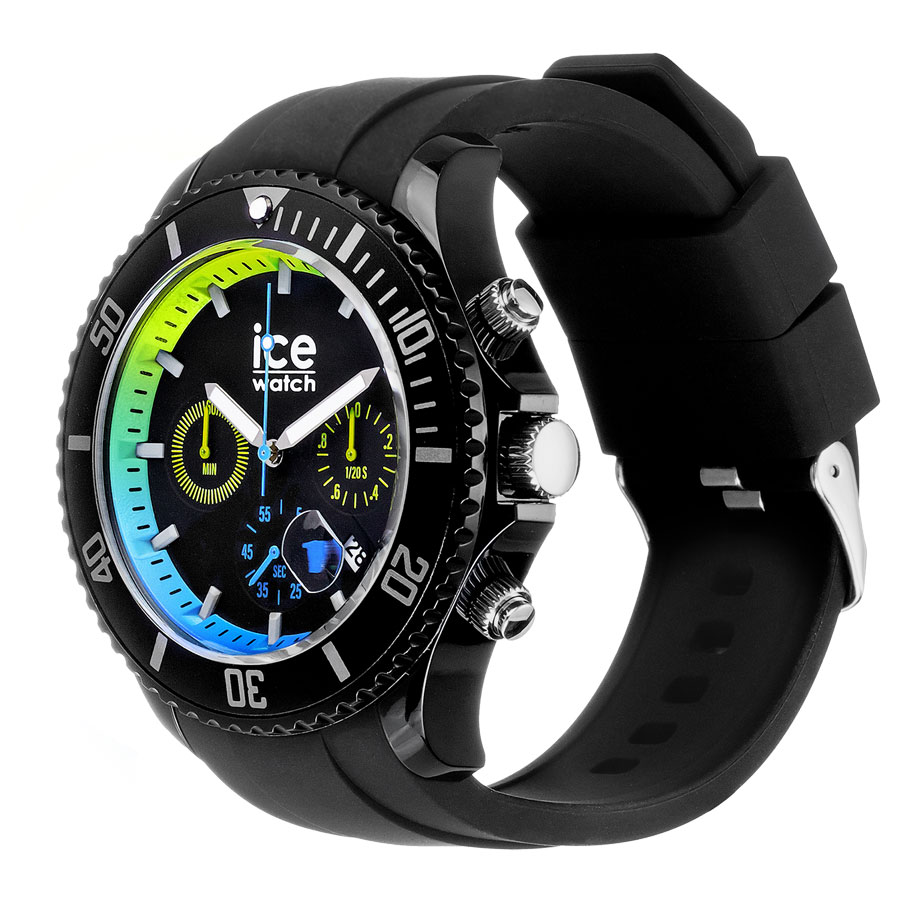 Special mention to the XL piece, whose flange is shaded off, from sun to abyss.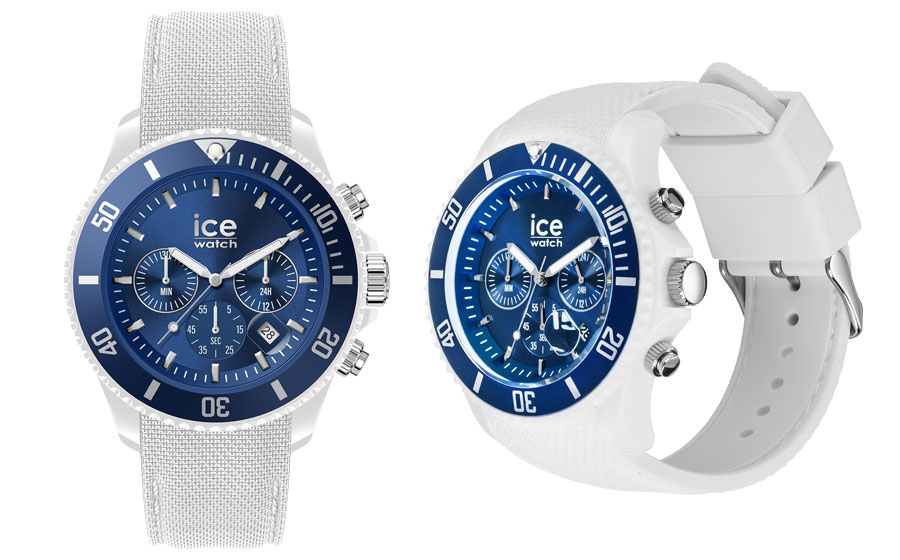 Finally, last piece, the one that currently wears Jean-Pierre Lutgen, the president of Ice Watch, a white and blue version, perfect to show it on the beaches this summer.
GLOCK – P80 Anniversary – Limited Edition 40th anniversary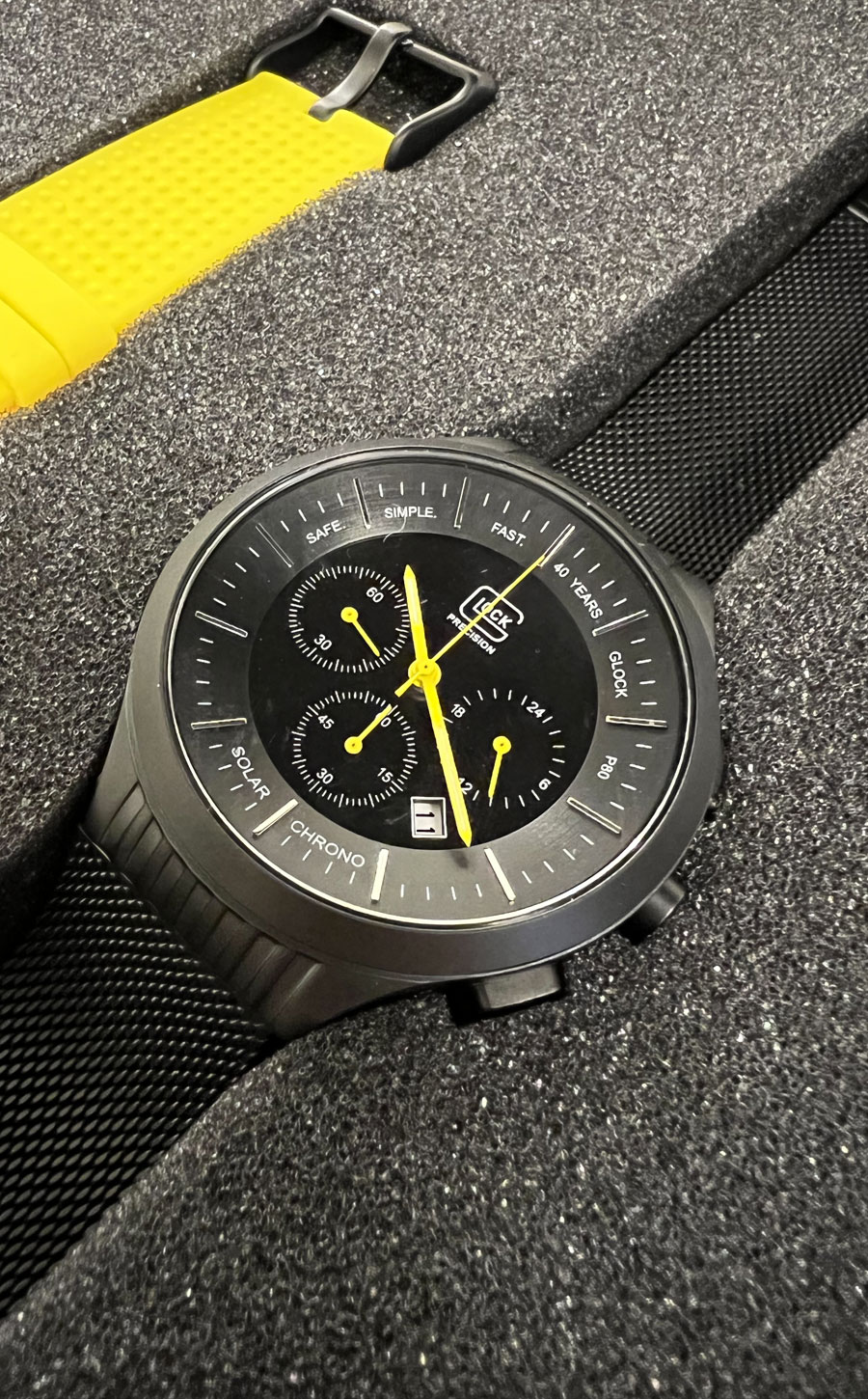 «Cherry on top» as likes to say Frank sans C in his videos, the Glock P80 is a limited edition of 4,000 pieces that celebrate the 40 years since the first Glock pistol was created, the P80 piece. Powered by solar or artificial energy, this anniversary edition is a chronograph equipped with three counters. On the flange, it features words that will obviously speak to shooters such as SAFE, SIMPLE and FAST, the trilogy of TSV, speed sports shooting and IPSC in international language (practical shooting). In another nod to this, the logo reads GLOCK precision and not perfection as the usual logo does, while the winding crown is reminiscent of a primer.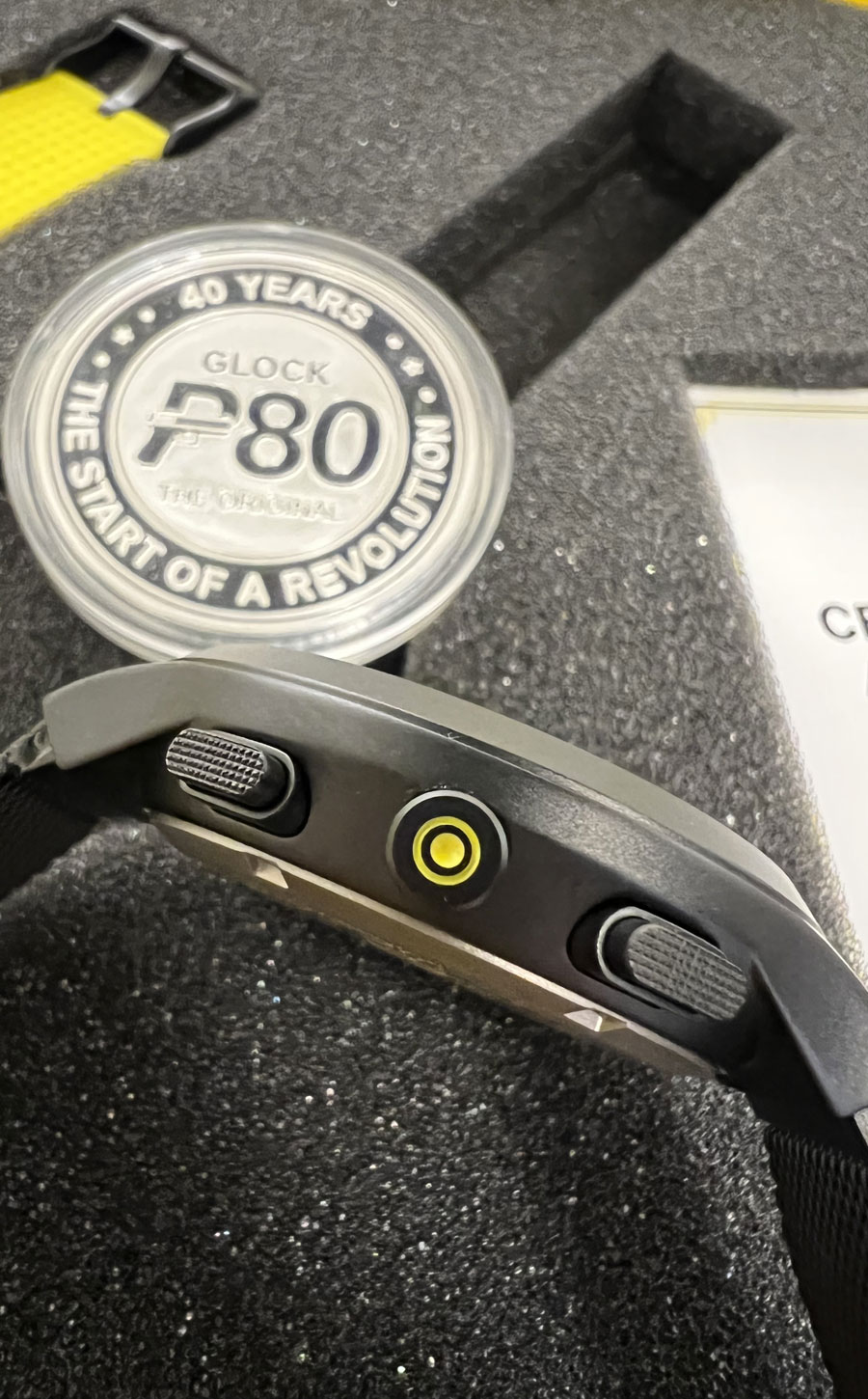 Tested like a Glock pistol, it has been tested against corrosion, extreme temperatures, leaks, vibrations, and scratches.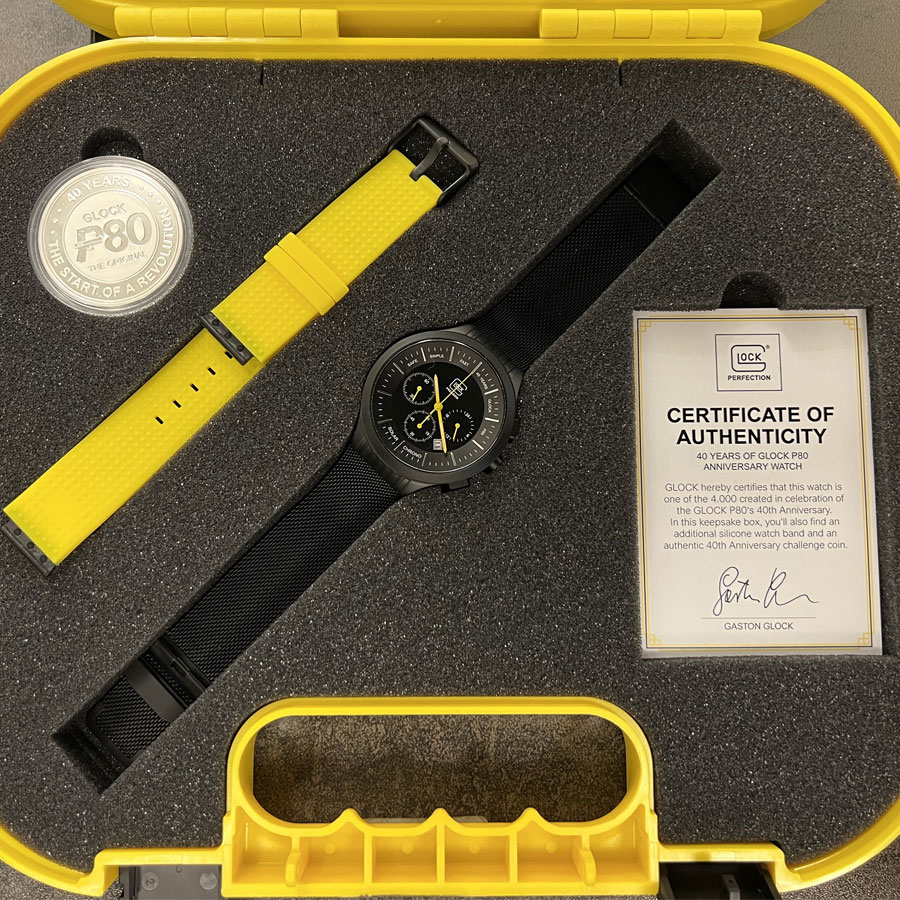 Delivered in a yellow Glock box, it comes with a black Milanese stitch strap, or a yellow silicone strap printed with the grip that we can see on the grip of the well-known pistols' grip.
Price: €359
Where to find it? At the Armurerie de la Bourse – 37, rue Vivienne, Paris 2e.
Technical specifications:
Case height: 11.35 mm
Case width: 48.5 mm
Case diameter: 42 mm
Strap width : 20 mm
Chronograph function
Water-resistant to 100 m
Solar power
Titanium case
Sapphire crystal
Read also: