Baselworld 2016: a mechanical heart under mother-of-pearl for Rado
By MyWatch
Limited to only 500 pieces for each of its versions, the Rado Open Heart True watch, dressed in matt black ceramic for men or in polished white ceramic for women, reveals on dial-side its automatic caliber through an ultra-thin layer of mother-of pearl of only 0.6 mm thick.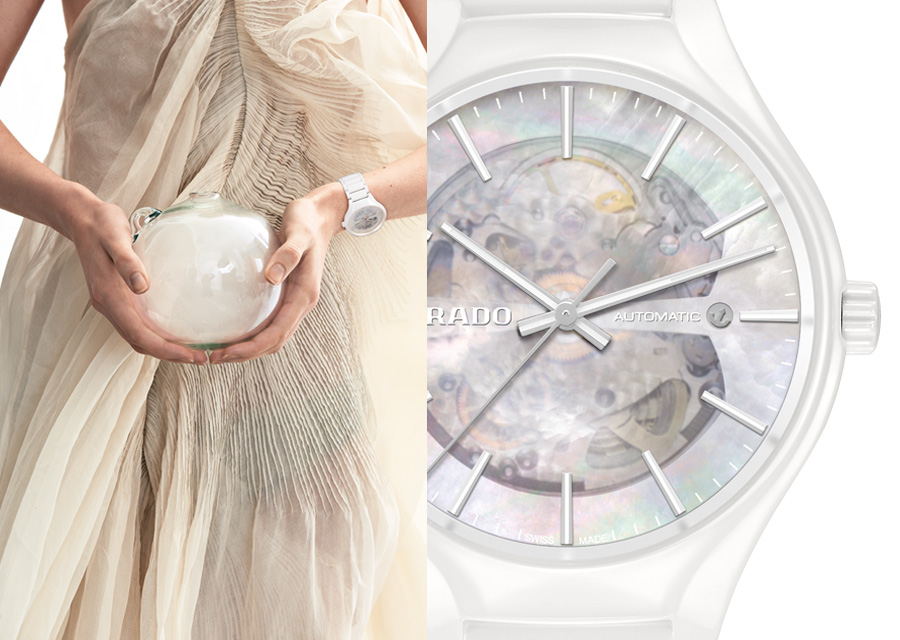 Timeless, weightless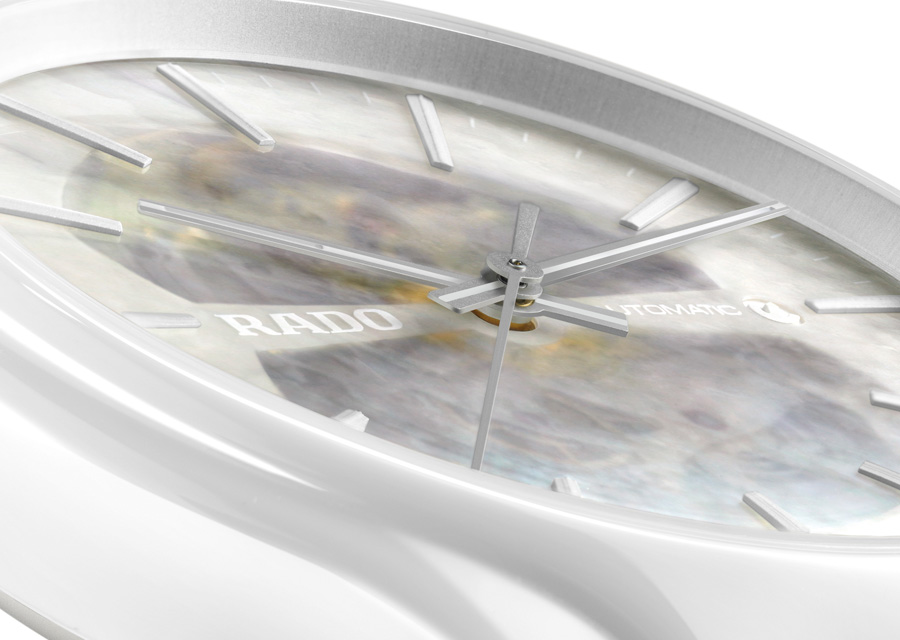 The shimmering colours of the True Open Heart's delicate, razor-thin mother of pearl dial change along with the lighting conditions and angle of view. Like an aurora borealis on your wrist, the diaphanous 0.6 mm dial evokes feelings of weightlessness, as if floating through time and space. Beneath this sheer iridescent layer is a sight to behold: the bare naked movement, or literal heart of the watch, effortlessly glides and twirls, powering what is both a precision instrument and an object of beauty.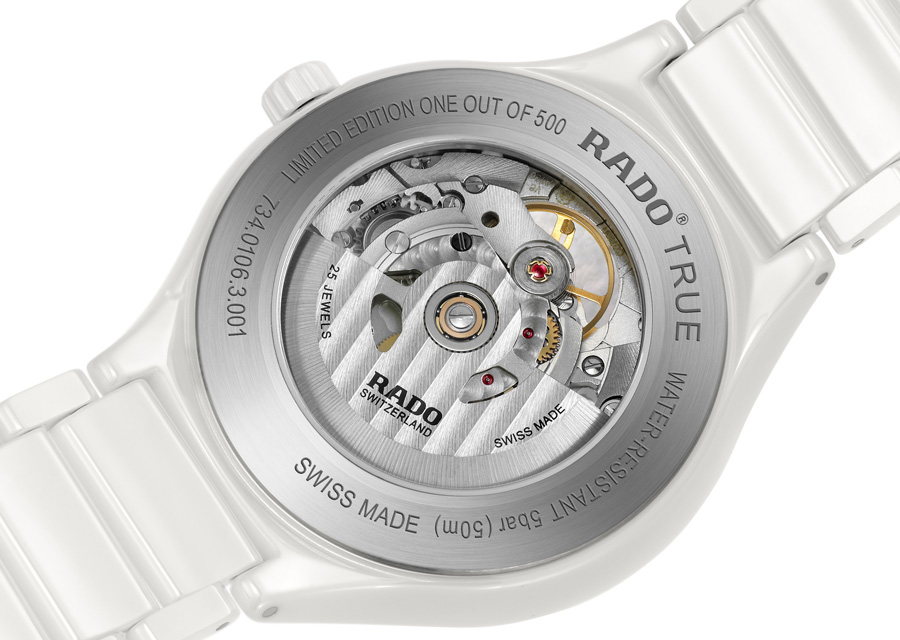 A walk on the light side
Housed in the brand's signature monobloc case, the Rado True Open Heart offers all the benefits of a watch crafted from Rado high-tech ceramic. Engineered from ultra-fine zirconium oxide powder, high-tech ceramic is an incredibly light material: At 25% lighter than steel by volume, it is among the lightest materials used in luxury watchmaking. In addition to its remarkable lightness, ceramic adapts to the wearer's body temperature almost immediately, so it will never feel too hot or too cold against the skin. Smooth and lightweight, it floats on the wrist, becoming an extension of the wearer.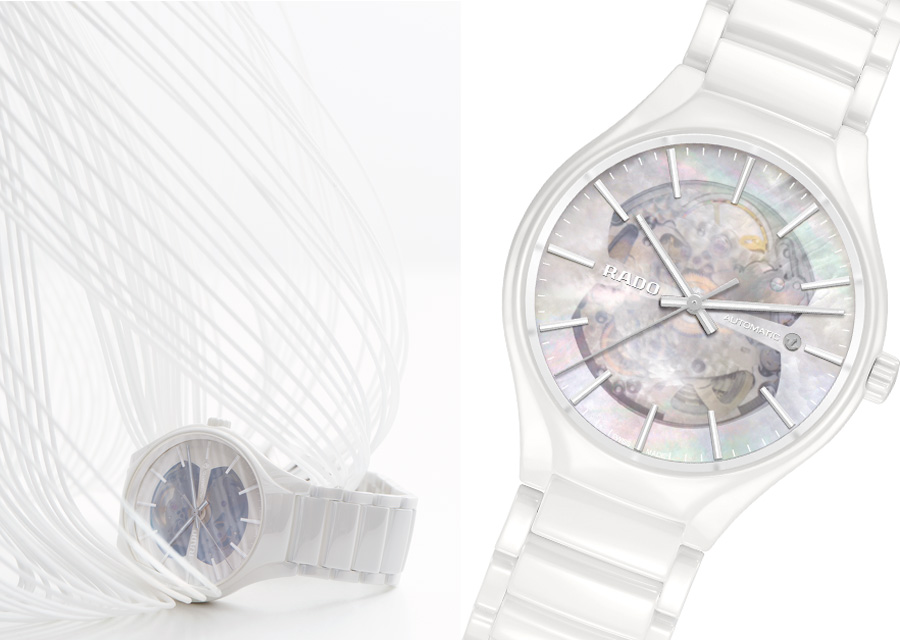 Although its light weight may suggest otherwise, high-tech ceramic is impressively hard and durable. With a hardness rating of around 1,200 Vickers, high-tech ceramic is nearly five times harder than steel (250 Vickers) while being only a fraction of its weight. As a non-metallic material, high-tech ceramic is also gentle and hypoallergenic, meaning it can be worn by anyone with metal allergies or sensitive skin.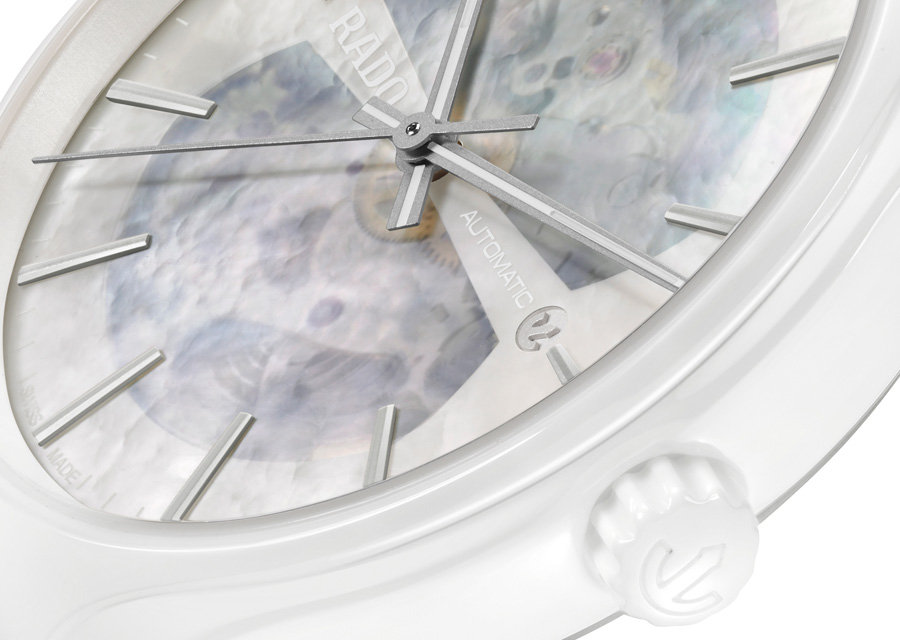 The Rado True Open Heart: an ode to luxury, lightness and comfort.
About Rado
Rado is a globally recognised brand, famous for innovative design and its use of revolutionary materials to create some of the world's most durable watches. Ever since its beginnings in Lengnau, Switzerland, Rado has had a pioneering spirit, with the brand philosophy "if we can imagine it, we can make it" still holding true today.